These homemade cookie dough protein bars are so easy to make that you will be wondering why you haven't made them sooner! They're no-bake, gluten free, vegan, and nut-free using SunButter. Just mix, press, chill, and you have a fresh batch of protein bars that will last all week!
This post is sponsored by SunButter and all thoughts and opinions are my own. Thank you for supporting the brands that make Butternut Bakery possible!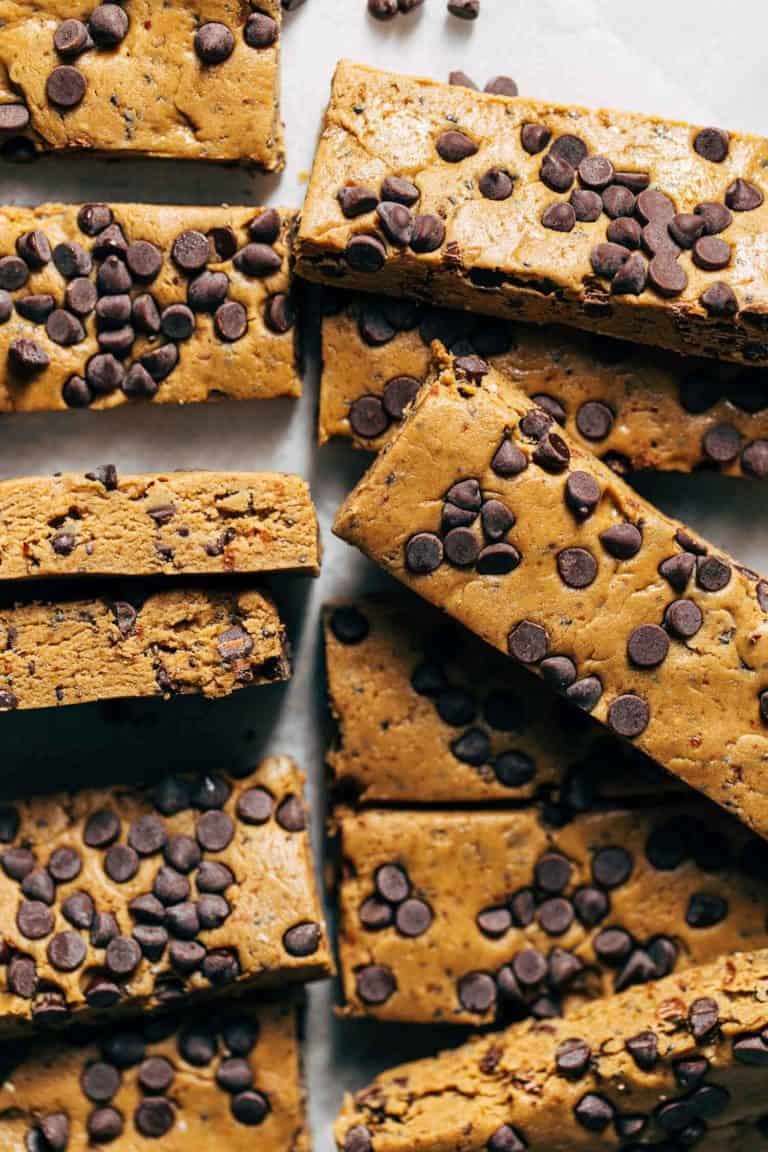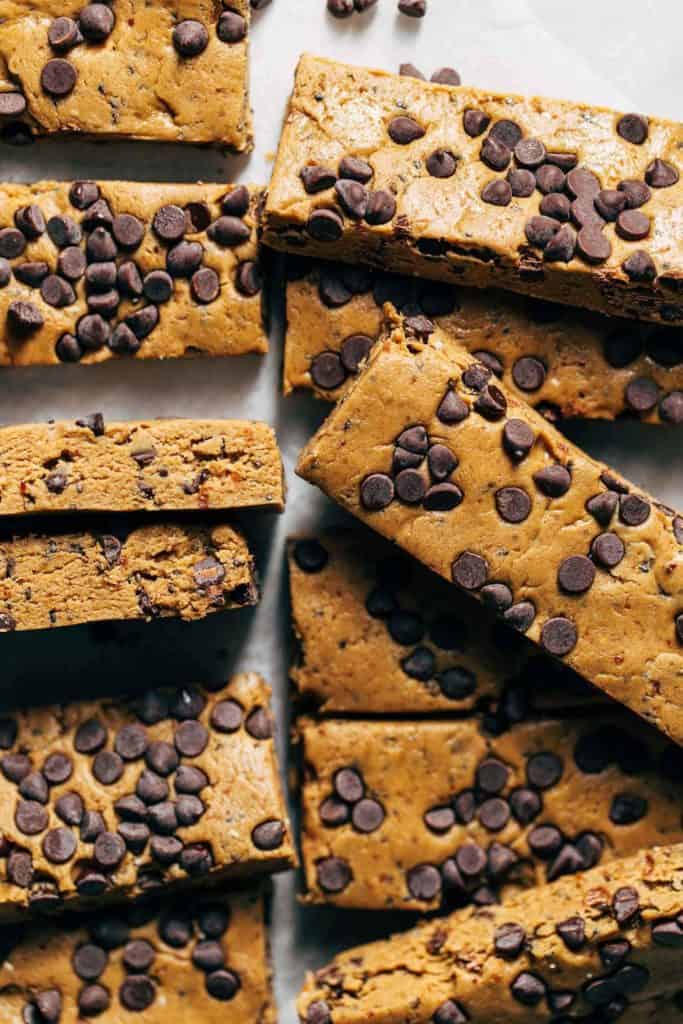 Why make homemade protein bars
Let's be honest, a majority of store bought protein bars are not that good. Especially when trying to find one with minimal ingredients that you can actually read.
The obvious alternative is to make them yourself, but is it worth the extra effort to do so? Luckily, this recipe is VERY quick and easy to make using only 7 ingredients. Making the bars takes a total of maybe 15 minutes, and then they just have to chill for about an hour before eating.
It's really that simple! You don't need any special equipment like a food processor or blender. Just mix everything in a bowl by hand and press into a baking dish.
Not to mention the flavor. I call these cookie dough protein bars because they taste exactly that. The texture is also soft, thick, and tender like cookie dough. You'll be surprised just by how good homemade protein bars can be!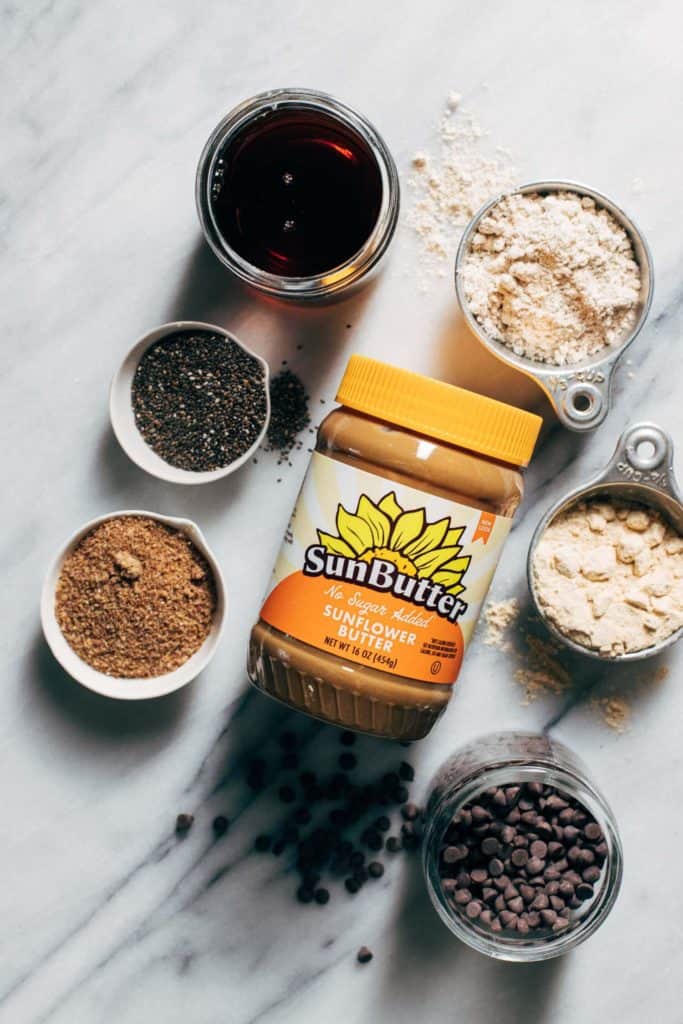 How to make nut-free cookie dough protein bars
When going the store-bought route, it's hard to find protein bars that don't use some sort of nut product. That's why I wanted to make this a nut-free protein bar recipe – whether you're allergic or just trying to avoid nuts, this recipe will be your new go-to.
So, what's the secret? SunButter! I absolutely love SunButter both for baking and for daily consumption. It's super rich and is made up of sunflower seeds. It's also savory just like any other nut butter but, in my opinion, is way creamier.
Not only does it help hold these protein bars together, but it also adds to the cookie dough flavor. SunButter has a mellow flavor that pairs perfectly with the chocolate chips in these bars.
Since these bars are mixed by hand, the ultra creamy SunButter consistency also ensures that each bite of these protein bars is soft and smooth. It really is the MVP of this recipe.
What makes these vegan protein bars?
Besides being both gluten free and nut-free, these protein bars are also vegan using pea protein powder. The protein I used is pure pea protein with natural vanilla flavor and that's it! My goal was to make these bars with very minimal ingredients, and pea protein allows just that.
But feel free to use your favorite protein powder whether it's plant-based or regular. The beauty of this recipe is its versatility and can easily be customized to your liking.
How to make oat flour
I recommend using store-bought oat flour as it has the finest grain, but if you're in a pinch it's easy to make your own from whole oats. Just blend the oats in a food processor on high speed for a few minutes. Try to ground it as fine as possible for the best protein bar consistency.
Are the flaxseed and chia seeds optional?
Flaxseeds and chia seeds are used in this recipe to boost the nutrients and protein. If you don't have these or don't prefer to use them, they can be left out of the recipe.
How to make protein bars into energy bites
The dough for this recipe is very soft and moldable, which means the options are endless! Instead of making full blown protein bars, here are some other options for this recipe:
Energy Balls – Roll into 2 tablespoon-sized balls and roll in cocoa powder. Store in the refrigerator and grab a few as a quick snack.
Cookie Dough Bites – Press the dough into the baking dish and once chilled, cut into tiny bite-sized squares. These can then be added to banana nice-cream or a morning bowl of oats.
Protein Bar Minis – Cut the bars into 24 mini bars and dip in chocolate. Then chill again to set the chocolate in place.
Optional protein bar toppings
Sticking with the cookie dough theme, these bars are topped with even more chocolate chips. Here are a few other options:
Sunflower Seeds – SunButter is used in the protein bars, so accompany it with a sprinkle of sunflower seeds on top! They add a nice crunch and a bit of saltiness to balance out the sweet.
Melted Chocolate – If you prefer chocolate but want to use a bit less, melt it down with some coconut oil and drizzle on top of the bars before chilling.
Coconut – Shredded coconut flakes and also be pressed into the surface of the bars before chilling.
How to store cookie dough protein bars
After the bars are chilled and sliced, they can be stored in an air-tight container in the refrigerator where they will keep for up to 10 days. The longer they chill, the more firm the texture.
By firm, I do not mean hard or stiff. The protein dough will just continue to thicken as they chill, but will still remain a soft consistency.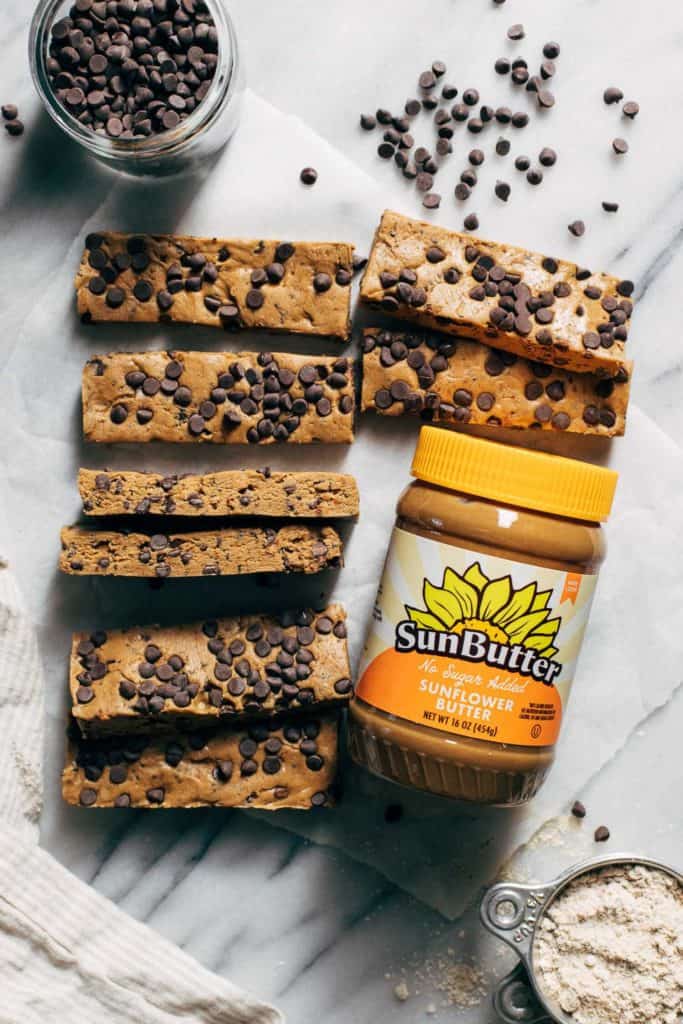 For more healthier dessert recipes, check out my:
Make sure to tag me @butternutbakery on Instagram and leave a review below if you make these cookie dough protein bars. To pin this recipe and save it for later, you can use the button on the recipe card, the buttons above or below this post, or on any of the photos above. Happy baking!
Print
Homemade Cookie Dough Protein Bars
---
Author: Jenna Barnard
Total Time: 15 minutes + 1 hour chilling
Yield: 12 bars
Description
These homemade protein bars taste like cookie dough but are completely gluten free, vegan, nut-free, and are naturally sweetened with maple syrup. They're made by hand and SO quick and easy to make. A batch makes 12 bars with each having 12 grams of plant-based protein!
---
1 cup (250g) no sugar added SunButter
1/2 cup (145g) pure maple syrup
3/4 cup (65g) vanilla pea protein powder
3/4 cup (85g) oat flour
2 tbsp ground flaxseed
2 tbsp chia seeds
1/3 cup dairy free chocolate chips, plus more for sprinkling
---
Instructions
Add the SunButter and maple syrup to large a bowl. Use a rubber spatula to mix the two together.
Once smooth, add in the rest of the ingredients and stir to combine. This part takes a little elbow grease, but keep working and it will come together.
Right before it's fully combined together, add in the chocolate chips and continue to mix until the dry ingredients have disappeared and the chips are evenly distributed.
Line a 8×8 square baking dish with parchment paper and allow it to hang over the sides for easy removal.
Press the dough into the baking dish and spread it as even and as smooth as possible.
Sprinkle a handful of chocolate chips on top (optional) and press them into the surface.
Chill the bars for at least 1 hour. At the 1 hour mark they may still be a bit soft, but definitely manageable. The longer the bars chill, the more solid/thick they become (but not tough or hard).
Remove from the pan and slice into 12 bars. Store the bars in an airtight container in the refrigerator where they will keep for about 10 days. Enjoy!
Notes
NUTRITION INFORMATION per bar – PROTEIN: 12g | CARBS: 25g | FAT: 16g | CALORIES: 293g
Prep Time: 15 minutes
Cook Time: 0 minutes
Category: Snack
Method: No Bake
Cuisine: American
Keywords: homemade protein bars, protein bars, vegan protein bars, gluten free protein bars, cookie dough protein bars, nut free protein bars
Recipe Card powered by