These puppy chow marshmallow treats are the ultimate no bake dessert! It's the BEST combination of puppy chow and rice krispie treats all in one bar. They're crunchy, ooey gooey, and just as addictive as a big bowl of puppy chow.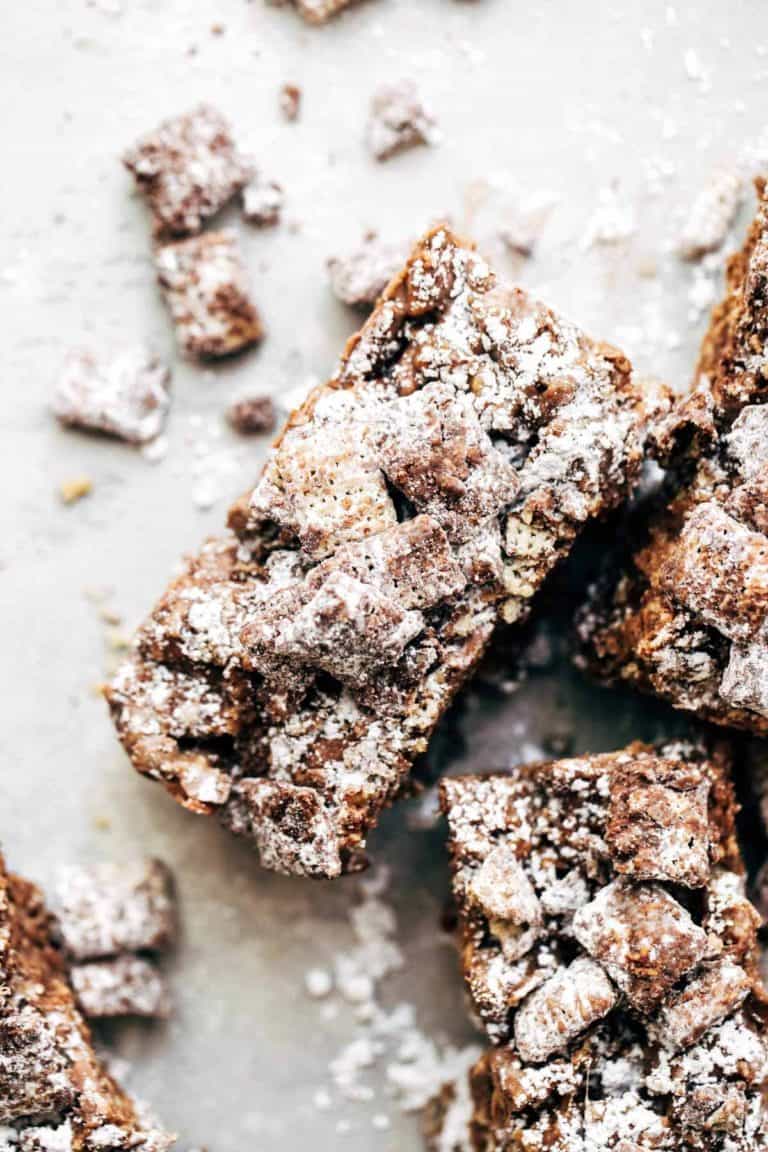 What is puppy chow?
Puppy chow is alllllways a crowd pleaser and yet it's so easy to make. Seriously, who's ever been upset by a fresh bowl of puppy chow? It always disappears so fast!
It's also known by many names. I'm from the midwest where we all call it puppy chow…and no it's not for dogs! I've also heard people call it muddy buddies or monkey munch. Either way, it's a big bowl of Rice Chex cereal coated in peanut butter, chocolate, and powdered sugar. Absolute HEAVEN.
How to make puppy chow
First, measure out the amount of cereal needed. For this recipe, we're using Rice Chex cereal. You could also use corn or wheat chex, but I prefer Rice because it's gluten free and it doesn't have much flavor…making it the perfect vessel for all the chocolate peanut butter goodness.
I also recommend using name brand Rice Chex cereal. Off-brand chex cereal tends to be a bit more delicate so it can easily break when coating the puppy chow.
The next step is to melt peanut butter, chocolate, and butter in a microwave safe bowl. Heat in 30 second increments, stirring between each time, until smooth. It shouldn't take more than 60 seconds.
Stir in a little vanilla and pour the mixture over top the Rice Chex. Stir to coat. Gently fold the two together to prevent the cereal from breaking. You'll definitely crunch a few along the way, but try to leave a majority of the cereal in tact.
Finally, dump in your powdered sugar and toss to coat. This is when a lid comes in handy because you can just close the bowl and shake it. If not, you can also use a spatula to coat OR dump the entire mixture into a large ziplock bag and shake it that way.
Reserve 1 cup of puppy chow to sprinkle on top of the finished bars.
For a typical puppy chow recipe, you'll want to use about twice as much sugar as there is in this recipe. I cut back on the powdered sugar here because if I used too much, the marshmallow won't stick and hold these bars together.
How to turn puppy chow into marshmallow treats
From here, you treat the puppy chow like any other cereal when it comes to making marshmallow treats.
With the puppy chow setting aside, melt your butter in a large pot over medium heat. Once melted, stir in the marshmallows and melt completely.
To help thin out the marshmallow and make it easier to toss in the puppy chow, adding a tablespoon of milk and a touch of vanilla makes all the difference. It also creates a melty and delicious texture.
Pour the melted marshmallow over the puppy chow and gently stir to coat. You want to work quickly but carefully here. Fold in the marshmallow just enough to coat the puppy chow without melting the coating.
Dump the entire mixture into a greased 8×8 baking pan for thick bars (shown here) or 9×13 for thin bars.
Spray your hands with some nonstick spray and press the treats into the pan. They should be nice and snug in order to help strengthen these bars.
Coating and serving puppy chow marshmallow treats
Once they're pressed in, sprinkle on the reserved 1 cup of puppy chow. Gently press them in.
Not all of them will stick due to the powdered sugar coating, but they do look great on the finished bars!
Dust the top with more powdered sugar and leave the bars to set at room temperature uncovered for about an hour.
Now they're ready to slice! I created long slices here, but that's mainly for pretty photo purposes. Using an 8×8 pan creates 16 square bars.
To finish these off, you can either coat the entire outside in powdered sugar or just the bottoms. The bottoms are VERY sticky, so I like to dunk them in a bowl of powdered sugar.
How to store puppy chow marshmallow treats
Always keep these bars at room temperature. Once they've set, cover in plastic wrap and leave at room temp. If you've already served the bars and have leftover slices, place them in an air tight container at room temp. They'll keep for up to 3 days (then the puppy chow starts to get a little stale).
Are these gluten free?
Yes! Rice Chex are gluten free and most marshmallows are also gluten free.
Can I just make the puppy chow?
Sure! If you just want a big bowl to munch on, toss the puppy chow in an additional 1 cup of powdered sugar.
For more delicious no bake recipes, check out my:
Make sure to tag me @butternutbakery on Instagram and comment below if you make these Puppy Chow Marshmallow Treats. To pin this recipe and save it for later, you can use the button on the recipe card, the buttons above or below this post, or on any of the photos above. Happy baking!
Print
Puppy Chow Marshmallow Treats
---
Description
A delicious combination of sweet and crunchy puppy chow with ooey gooey marshmallow. The ultimate no bake treat!
---
9 cups Rice Chex
1 cup semi-sweet chocolate chips
1/2 cup creamy peanut butter
1/2 cup unsalted butter
8 cups mini marshmallows
2 tsp vanilla extract
1 tbsp milk
1 cup powdered sugar (+ more for dusting)
---
Instructions
Grease and line either an 8×8 or 9×13 pan with parchment paper, depending on how thick or thin you want your marshmallow treats. Set aside.
Start by making the puppy chow. Measure out the Rice Chex in a large bowl fitted with a lid.
In a microwave safe bowl, microwave 1 cup of chocolate chips, 1/2 cup of peanut butter, and 1/4 cup of butter. Microwave in 30 second increments, mixing between each time. It should take about a minute total.
Stir in 1 teaspoon of vanilla. Pour the mixture of the Rice Chex and mix. Once fully coated, add the 1 cup of powdered sugar and with the lid on, shake it! (You can also use a spatula and gently stir to coat OR shake to coat in a large ziplock bag)
Reserve about 1 cup of puppy chow to sprinkle on top of the bars later.
To make the marshmallow treat gooey-ness, add 1/4 cup of butter to a large saucepan and melt over low heat. Once melted, add in the marshmallows and stir. Once those are just about melted, add in 1 teaspoon of vanilla and 1 tablespoon of milk. Continue to stir the marshmallow mixture until it's completely smooth.
Add the marshmallow into the bowl of puppy chow and stir until the puppy chow is coated. Careful not to over-mix so that the puppy chow doesn't lose too much of its coating or shape. Pour the puppy chow mixture into your prepared pan and spread evenly. It helps if you lightly spray your hands with nonstick spray and press the marshmallow treats into the pan.
Gently press the remaining 1 cup of puppy chow on top.
Allow to fully cool at room temperature before cutting (about 1 hour). You can either dust the top or coat the pieces entirely in powdered sugar. Either way, I recommend dunking the bottoms in powdered sugar since the base is pretty sticky. Enjoy!
Prep Time: 10 minutes
Cook Time: 10 minutes
Keywords: puppy chow, muddy buddies, marshmallow treats
Recipe Card powered by