You guys! I'm working on building a new website and I'm so excited to show you! I'm moving on up to the big bad world of WordPress (sorry Squarespace). I've felt kinda stuck lately and I'm only able to do so much with this site. It's taking a ton of time but I know it'll be so worth it.
I honestly can't remember what it's like to come home from my 8-5 job and NOT work more. I've been struggling internally with what to do with this little blog and how to turn it into something more. I'm constantly hearing that voice in my head that tells me I'm not enough, you can't do it, you're going to fail. One night I just broke down and started crying to my boyfriend. To my surprise it helped me find some clarity. I've had so many thoughts floating around in my head and to just verbally cry out those words made me realize just how silly they are. Bottling things up isn't healthy. 1o out of 10 would not recommend.
Kind of a heavy post for such a fun treat, right? Oy, I'll stop there. But when I'm feeling lost, I just like to take it back to my roots and this coconut almond crunch reminds me of home. I grew up in the Midwest where the desserts are simple, quick, but oh so delicious. I first tried this at my sister's bridal shower a few years ago and I could not. stop. eating it. It's crunchy, sticky, salty, sweet and incredibly easy to make. If you've never had this, you HAVE to try it but proceed with caution. I recommend having someone around that can pry the bowl out of your hands when you've lost all self control.
Print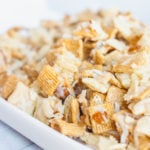 Coconut Almond Crunch
Prep Time:

15 minutes

Cook Time:

5 minutes

Total Time:

10 minutes

Yield:

6 cups

1

x
---
Description
Sweet, gooey, and crunchy with sliced almonds, golden grahams, and shredded coconut
---
Scale
Ingredients
3 cups

Golden Grahams

3 cups

Rice Chex

1 cup

shredded coconut

1/2 cup

sliced almonds

1/2 cup

unsalted butter

1/2 cup

sugar

1/2 cup

corn syrup

1 tsp

vanilla extract
---
Instructions
Combine the Golden Grahams, Rice Chex, coconut, and almonds in a large bowl. Set aside. In a saucepan, boil the butter, sugar, and corn syrup over medium heat for about 4-5 minutes. Stir constantly so the bottom doesn't burn. Remove from heat and stir in the vanilla. Pour over the cereal mixture and stir to coat. Pour it onto waxed paper to cool. It's that easy!
---
Recipe Card powered by