These cookie butter marshmallow treats are so easy to make but are packed with loads of flavor! Cookie butter is added to the gooey marshmallow mixture which then coats a combination of crispy rice cereal and buttery Biscoff cookies. It's sweet, chewy, gooey, crispy, and covered in a spread of silky white chocolate.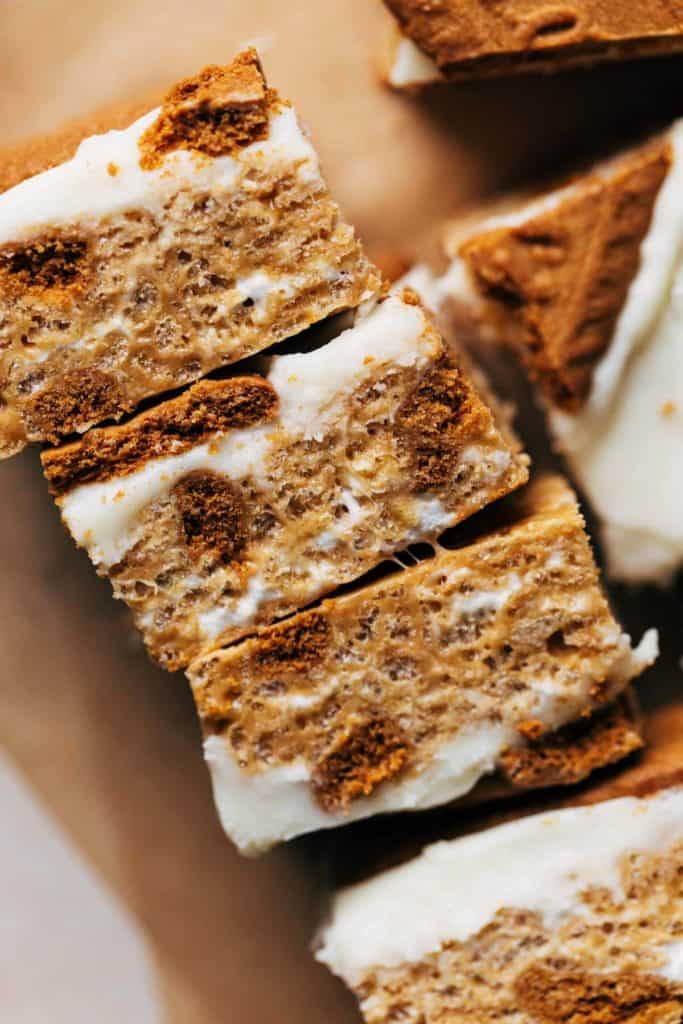 WHAT IS COOKIE BUTTER?
If you've never tried cookie butter, you are in for a TREAT. Cookie butter is a spread with a very similar texture and color to peanut butter. It's made up of ground speculoos cookies which are a buttery spiced cookie created in Europe.
The ground cookies are then mixed with oils and other ingredients to create a smooth spread. Its flavor is very similar to gingerbread, but with more of a light spiced flavor rather than a deep molasses flavor.
WHERE CAN I FIND IT?
The most popular and well known cookie butter can be found at Trader Joe's. They have a variety of speculoos cookie butters ranging from original to cocoa swirl.
But if you don't have a Trader Joe's near you, Lotus Biscoff Cookie Butter is also a great option. It can be found in most grocery stores right by the peanut butter.
Biscoff is the Lotus brand name given to Speculoos. Speculoos is a type of cookie, where Biscoff is a Speculoos cookie made by Lotus. Because of this, they also make the cookie by itself which is what's scattered on top of these cookie butter blondies.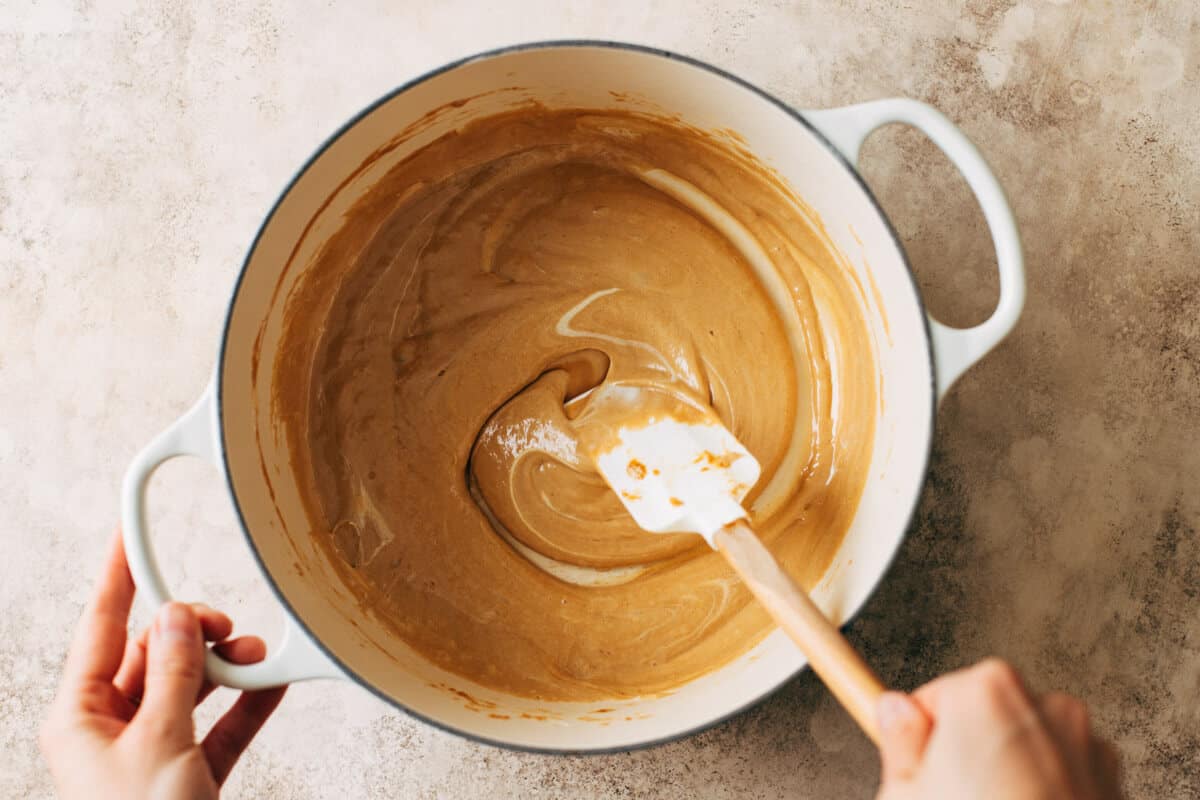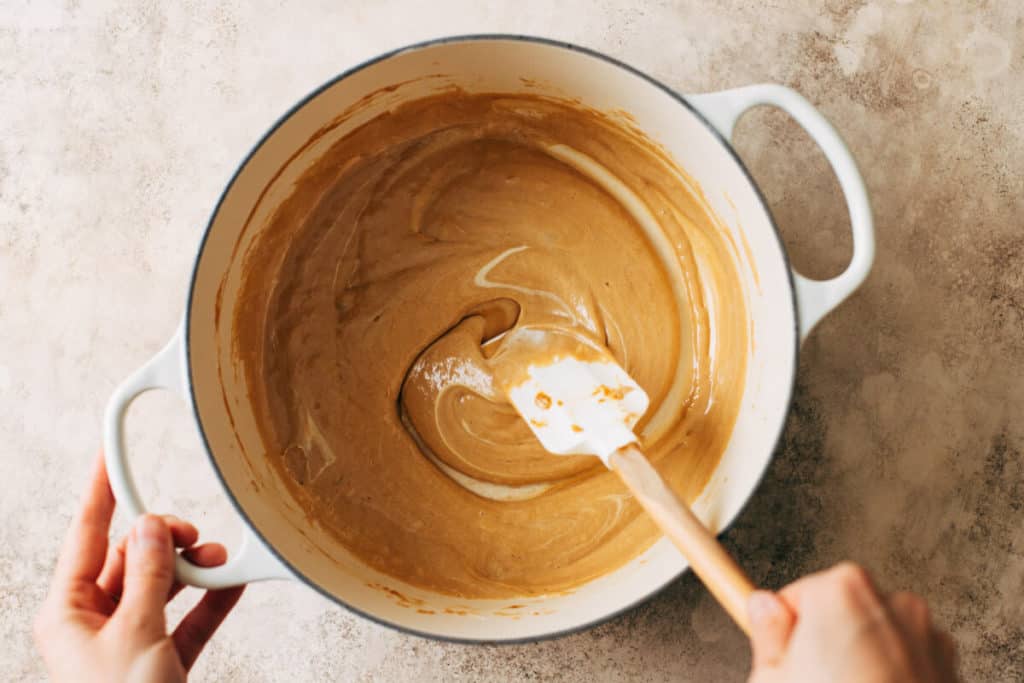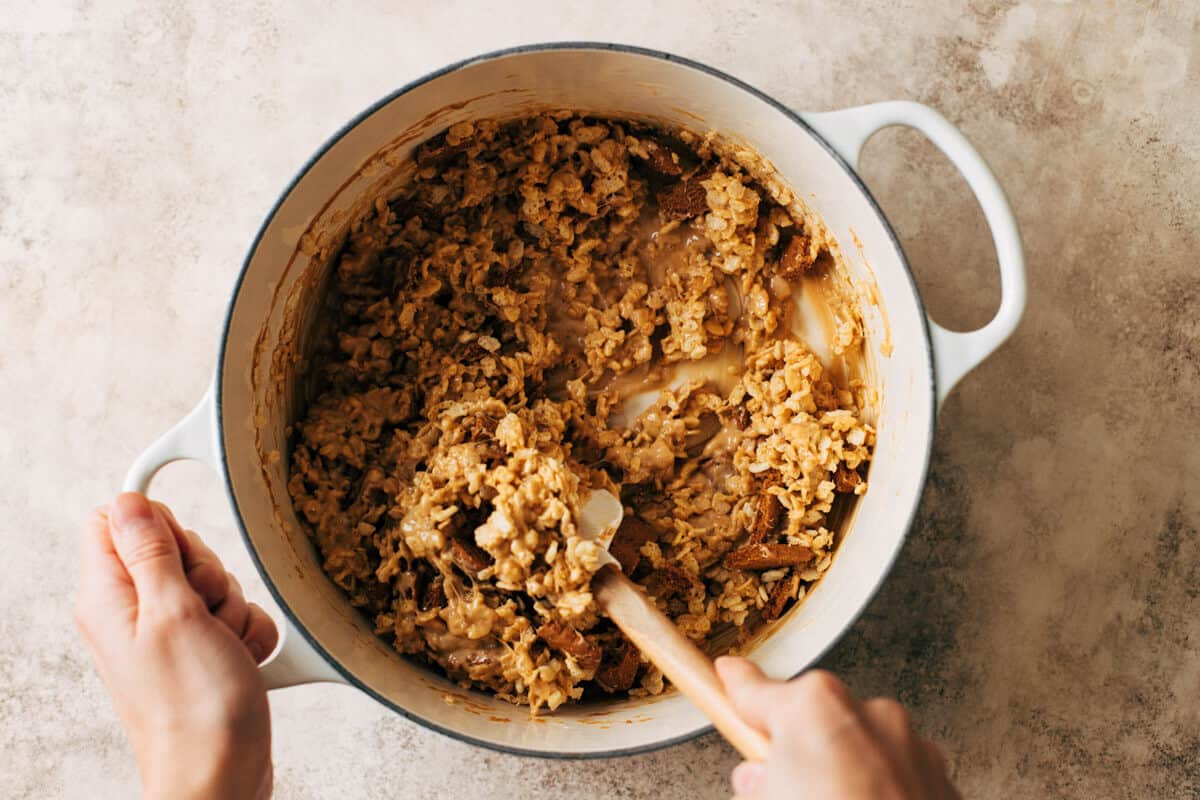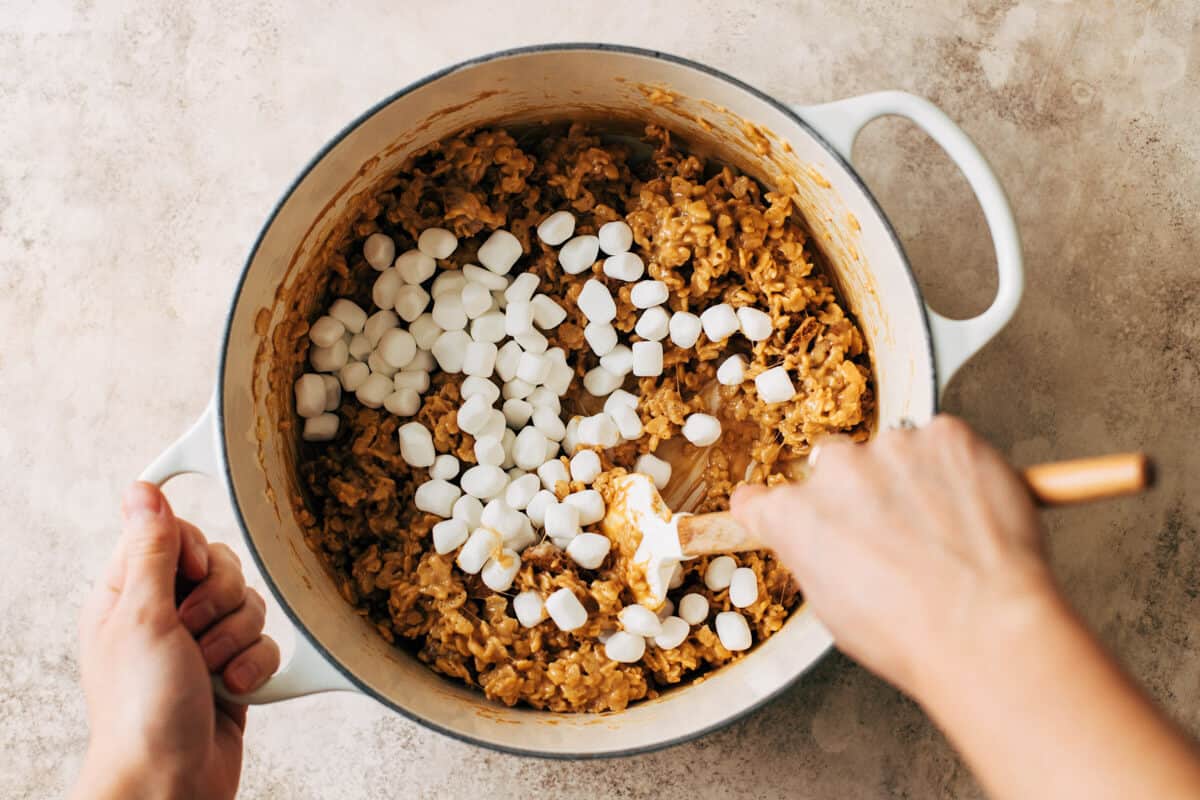 How to make extra gooey marshmallow treats
For me, marshmallow treats HAVE to be soft, gooey, and chewy. Nothing is worse than biting into a dry marshmallow treat that's 80% cereal and 20% marshmallow. I'd much prefer a ratio of 60/40 cereal to marshmallow ratio for that tender pull apart texture.
To achieve an extra gooey no bake treat, here are my top marshmallow treat baking tips:
Use Jet-Puffed marshmallows as I find these give me the best results. It's lighter and fluffier than any other marshmallows and provides that perfect bouncy and pillowy texture.
Reserve about 1 cup of marshmallows and mix them in AFTER the cereal has been added. Mixing in this extra cup at the very end will give you pockets of whole marshmallow all throughout these treats. And mixing them in at the end will prevent the marshmallows from melting in to the bars.
A bit of milk goes a long way with marshmallow treats. Mixing in a couple tablespoons will soften the mixture, so each bite is tender and gooey.
Pack the bars in as tightly as you can. Compacting will not only give you a better shape, but it will also leave very little room for any air to find its way in. This will prevent the bars from drying out and also ensure the center stays soft.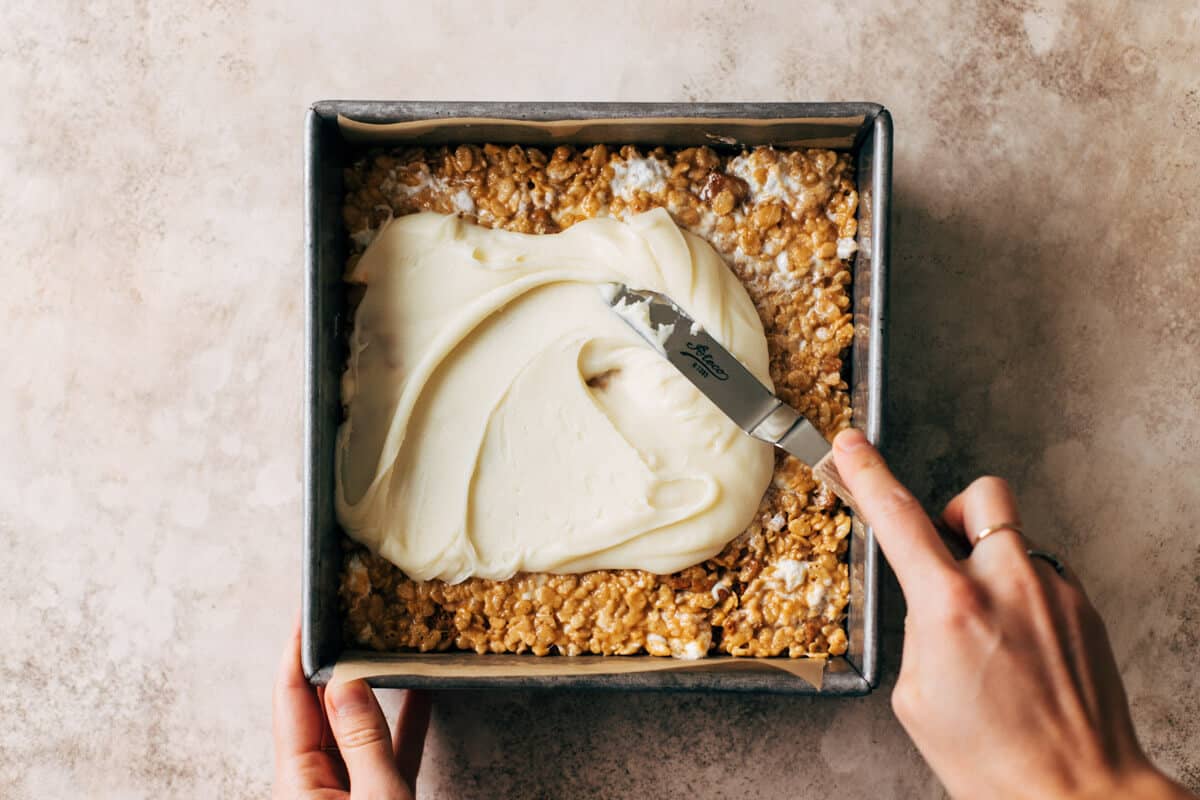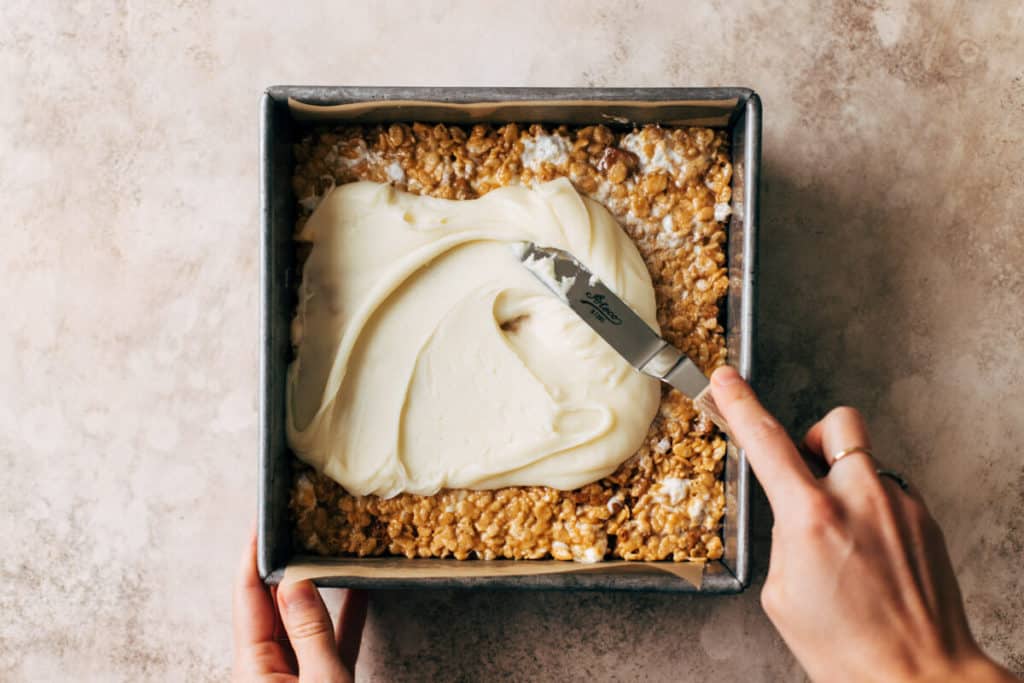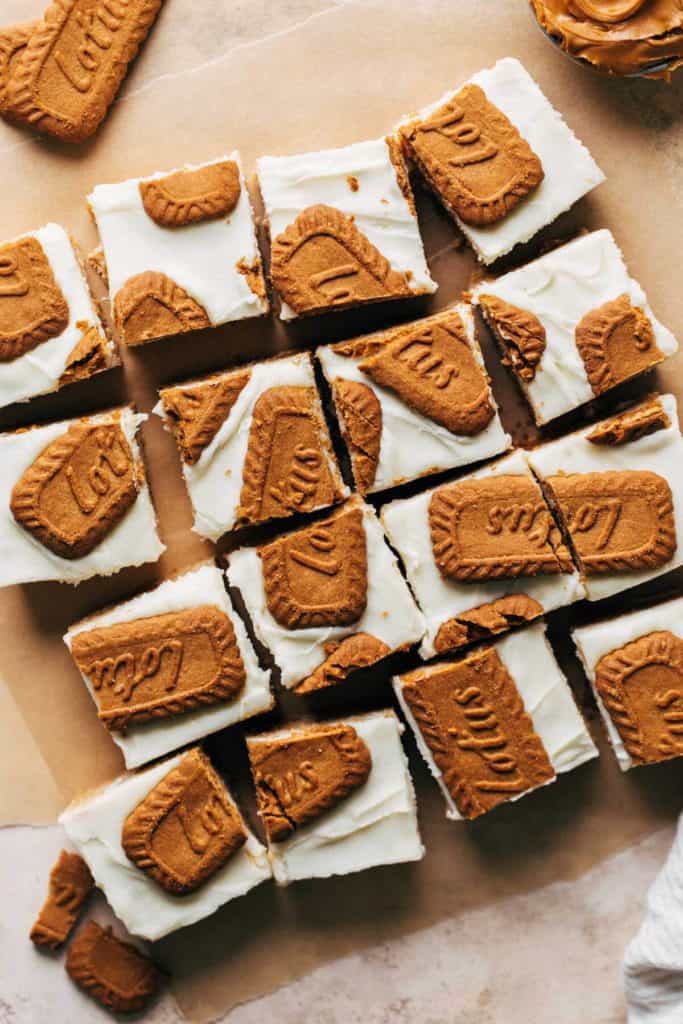 How to make creamy white chocolate ganache
After these bars are packed in to the pan, they are then topped with a silky white chocolate ganache. This added layer provides a contrasting creamy texture to the gooey and chewy bars. White chocolate also pairs perfectly with cookie butter as it doesn't outshine the flavor but provides a bit of extra sweetness.
The very first step in this recipe is to make the white chocolate topping. This is because it needs a chance to chill and thicken before adding on top of the bars. When it's hot and fresh, the consistency is very fluid. If this is poured on top of the bars right away, it will sink into all the little nooks and crannies of the bars, leaving you with an uneven layer on top.
Instead, the white chocolate is chilled in the refrigerator while the bars are being made. This will thicken the white chocolate and allow it to turn much more white and opaque. When it's ready, it should be nearly the consistency of cookie butter, only a bit thinner.
What is the best chocolate to use?
I recommend using white melting chocolate as this will provide you with the best bright white color. I find mine in the baking aisle at my local grocery store, or you can always find it at Michael's craft store in the baking section.
If you can't get your hands on some, you can also use regular white chocolate. Just make sure to use good quality white baking chocolate bars. If you use chips, there's a good chance the ganache will turn out lumpy. I recommend Ghirardelli white chocolate baking bars.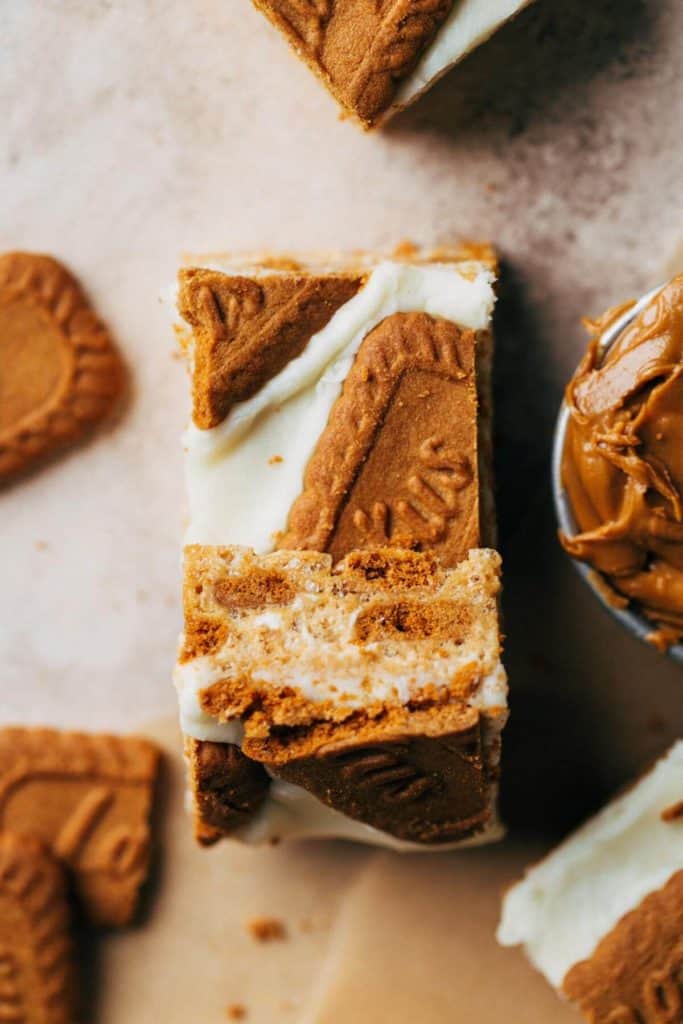 Can I make this recipe vegan?
Luckily Lotus Biscoff cookies and cookie butter are naturally vegan so this is a great recipe to utilize if you following a vegan diet. And although I haven't tested it, here are the swaps I would make:
Swap the butter for plant-based butter
Swap the marshmallows with vegan marshmallows
Swap the milk for plant-based milk (any will work)
Swap the white chocolate for cacao butter (or vegan white chocolate if you can find it)
Swap the heavy cream with full fat coconut milk (or vegan heavy cream if you can find it)
For the white chocolate, melt the cacao butter and milk in a heat-safe bowl over a pot of simmering water. Once smooth, chill for about an hour to thicken before spreading on top.
How long will these cookie butter marshmallow treats keep?
Store in an air tight container at room temperature for up to 4 days. And although storing them in the refrigerator will help them last longer, I don't recommend this as they become too tough when chilled.
For more no bake recipes, check out my:
Make sure to tag me @butternutbakery on Instagram and comment below if you make these Cookie Butter Marshmallow Treats. To pin this recipe and save it for later, you can use the button on the recipe card or on any of the photos above. Happy baking!
Print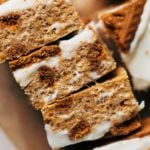 Cookie Butter Marshmallow Treats
---
Description
These easy to bake marshmallow treats are made with cookie butter, speculoos cookies, and white chocolate ganache.
---
Cookie Butter Marshmallow Treats
3 tbsp unsalted butter
1/2 cup (170g) cookie butter
Pinch of salt
1 (10oz) bag mini marshmallows
1 1/2 tbsp milk
3 cups (85g) puffed rice cereal
1 cup (70g) chopped Lotus Biscoff cookies (or any speculoos cookie)
White Chocolate Topping
1 cup (180g) white melting chocolate
1/3 cup (80ml) heavy whipping cream
Lotus Biscoff cookies (or any speculoos cookie)
---
Instructions
Start by making the chocolate topping.
Add the chocolate to a medium bowl and heat the heavy cream in the microwave for about 1 minute, or until steaming and bubbly. 
Pour the cream over the chocolate and let it sit for 30 seconds, then whisk to combine. 
Chill the chocolate while you make the marshmallow mixture. It will thicken and turn more white/opaque.
Line an 8×8 square baking dish with parchment paper and set aside.
In a large saucepan, melt the butter, cookie butter, and salt over medium heat.
Once smooth mix in all but one cup of the marshmallows as well as the milk.
When it's completely smooth and all the marshmallows are melted, remove from heat and mix in the cereal and cookies.
Once the cereal and marshmallow mixture are well combined, mix in the remaining 1 cup of marshmallows.
Press the mixture into your baking dish. I found the best way to do this is to lightly grease your fingers and press it in with your hands.
Spread the cooled chocolate mixture on top and press a few Biscoff cookies into the surface.
Let the bars chill for about 20 minutes to set, then slice and enjoy!
Notes
BISCOFF COOKIES – If you can't find speculoos cookies, you can swap them with gingersnap or vanilla butter cookies or just use all cereal. 
Keywords: cookie butter marshmallow treats, marshmallow treats, cookie butter, cookie butter bars
Recipe Card powered by