This vegan fudge is so rich and creamy that you would never even know it's dairy free! Delicious vegan dark chocolate fudge is mixed with crunchy toasted almonds and layered with an almond butter topping. It's not overly sweet and has the perfect balance of crunch, salt, and fudginess.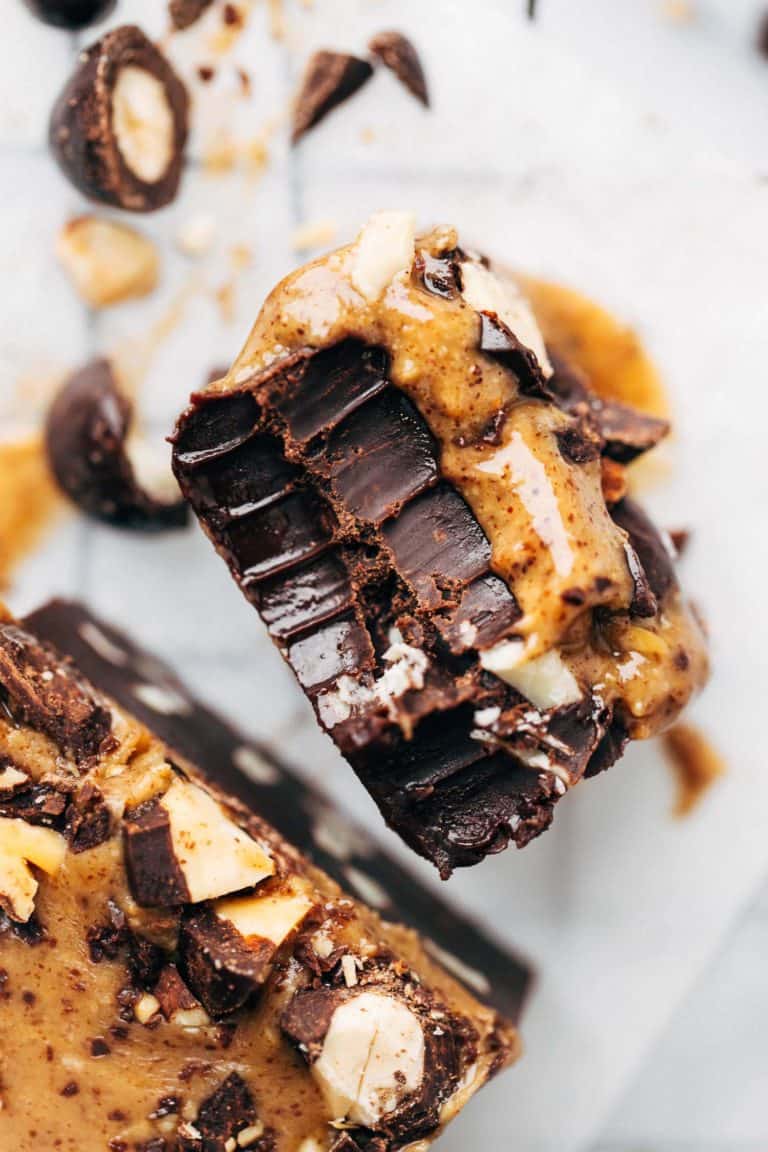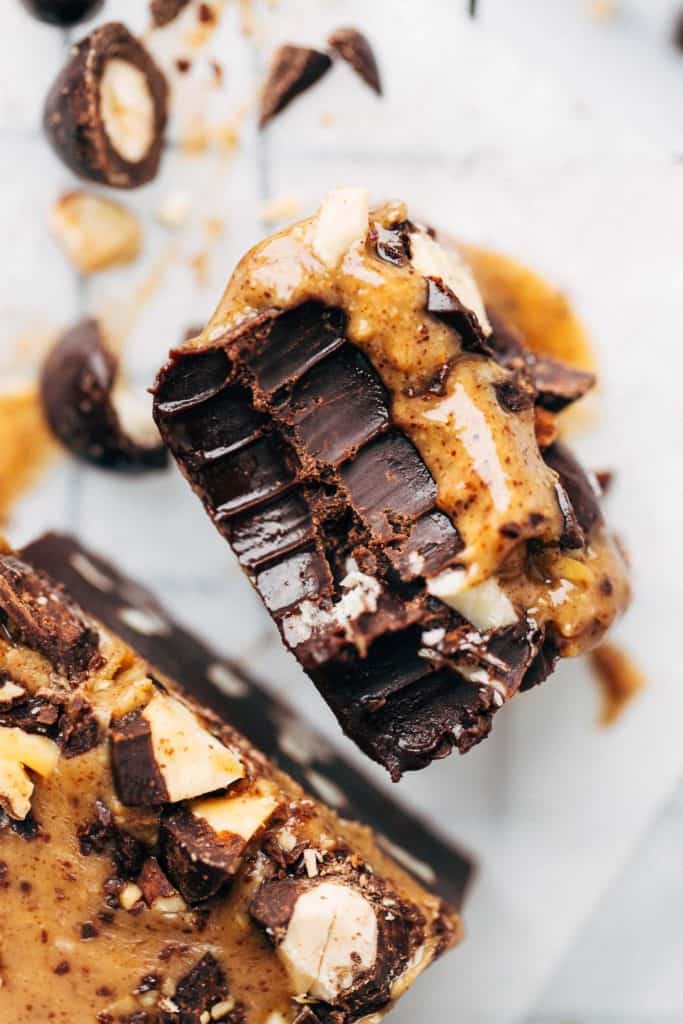 How to make vegan fudge
This recipe actually starts out just like most fudge recipes, with chocolate and sweetened condensed milk. Only this time, it's sweetened condensed COCONUT milk. I just love how far the vegan and dairy free industry has come.
Sweetened condensed coconut milk is basically identical to the regular kind as it has the same color, sweetness, and consistency. It also doesn't have a strong coconut flavor, so this fudge does not taste any bit like coconut in case you were wondering!
This is melted down with vegan dark chocolate and natural almond butter. I use Hu dark chocolate gems as they're vegan and taste delicious. Also make sure to use natural almond butter (only ingredient listed should be almonds) as this will give the most flavor payoff.
All ingredients are melted down in a bain-marie, which is just a fancy term for melting over hot water. The contents are combined in a heat-safe bowl and placed over a pot of simmering water. The heat below will gradually melt the chocolate, giving it a super rich and fudgy texture.
Once it's melted, vanilla and toasted almonds are added for both flavor and a bit of crunch. Spread the fudge into a baking pan so that it's ready for the almond butter topping!
Almond butter vegan fudge layers
The almond butter topping is even easier to make than the dark chocolate fudge. Simply mix together melted coconut oil, natural almond butter, and maple syrup and pour it over the fudge layer. Then it's frozen until firm.
To add even more texture, I like to top the fudge with dark chocolate covered almonds. They aren't 100% necessary, especially if you can't get your hands on a vegan option, but I do still recommend adding a bit of something on top.
This could be more chopped chocolate, chopped almonds, or anything with some crunch.
Slicing frozen fudge
When the fudge is firm and set, it will be VERY hard to slice. Because of this, it's best to thaw the fudge for about 20 minutes at room temperature. This will help loosen it up just enough to slice, but not enough to where it's completely melted.
Use a very large and sharp knife for cutting and try not to drag the knife along the fudge. Make one downward motion and lift straight up to cut one large slice across the entire hunk of fudge.
What can I use instead of almond butter?
If you aren't a fan of almonds, it's easy to substitute any nut or seed butter. Just make sure it's natural with no added ingredients. Natural is much stronger in flavor and the more dripping consistency will yield a much creamier fudge.
Can I substitute with regular sweetened condensed milk?
If you don't need this recipe to be vegan, you can definitely sub in regular sweetened condensed milk and non-vegan dark chocolate. It should provide the same exact result, just with dairy instead.
How to store vegan fudge
After the fudge is sliced, store it in the refrigerator (not the freezer). In the refrigerator, the fudge will remain firm but not rock hard. It can be eaten straight from the fridge, or thawed at room temperature for about 45 minutes for fudgier consistency.
Just note that the almond butter topping softens quick faster than the dark chocolate fudge, so I don't recommend leaving the fudge out at room temp for more than an hour.
How long does vegan fudge keep?
I had loads of leftover fudge in my refrigerator that I was snacking on for weeks. This fudge holds up really well in the refrigerator, as long as it's stored in an air tight container. It will keep for up to 12 days.
Alternatively, it can be stored in the freezer where it will keep for a couple months. Then just thaw in the fridge overnight when you're ready for some fresh fudge!
For more no bake vegan dessert recipes, check out my:
Make sure to tag me @butternutbakery on Instagram and comment below if you make these vegan caramel pecan cheesecake bars. To pin this recipe and save it for later, you can use the button on the recipe card or on any of the photos above. Happy baking!
Print
Dark Chocolate Almond Butter Vegan Fudge
---
Author: Jenna Barnard
Total Time: 30 minutes + 1 hour freezing
Yield: 16 pieces
Description
This super creamy vegan fudge is made with a dark chocolate base with crunchy toasted almonds and a smooth almond butter topping. It's so easy to make and tastes so rich that you would never even know it's dairy free!
---
Dark Chocolate Fudge
Almond Butter Topping
---
Instructions
Dark Chocolate Fudge
Grease an 8×8 square baking dish and line all sides with parchment paper. Do so by cutting two strips the same width as the pan, then lay each one inside the pan so it covers the bottom and sides. Set aside.
Fill a medium sauce pan about 1/3 of the way with water and bring to a simmer
Once simmering, place a heat safe bowl on top of the pot. Make sure the pot does not touch the water. If you have too much water, carefully pour out a bit.
To the bowl, add the sweetened condensed milk, chocolate, and almond butter. 
Stir and melt down until smooth (about 10 minutes). Mix in the vanilla followed by the toasted almonds. Remove from heat and pour the fudge into the prepped pan. Spread it even and place in the freezer while we make the topping.
Almond Butter Topping
Mix together the almond butter, coconut oil, and maple syrup until smooth and runny.
Remove the fudge from the freezer and pour the almond butter mixture on top. Spread it even, then sprinkle with the chopped chocolate covered almonds.
Return to the freezer and freeze for about an hour.
Once firm, lift the bars out of the pan, sprinkle with a bit of sea salt, and cut into 16 squares. If it's too solid to cut, wait about 15 minutes, then try again. 
Place the chopped fudge the fridge and you can either serve it chilled or close to room temp. The warmer it gets, the softer the texture. Enjoy!
Equipment
Notes
TOASTED ALMONDS – Spread the almonds on a baking sheet and bake at 350F for about 7 minutes. 
STORAGE – Store the fudge in the refrigerator in an air tight container. It will keep for a good 10-12 days.
Keywords: fudge, vegan fudge, dark chocolate fudge, vegan chocolate fudge, almond butter fudge, vegan almond butter fudge
Recipe Card powered by