These giant bakery-style sugar cookies are extra soft and tender, making them the perfect base to these Lucky Charms cookies. Each cookie is smothered in smooth vanilla buttercream and topped with a heaping pile of Lucky Charms. It's all that classic childhood cereal nostalgia wrapped up in one giant cookie!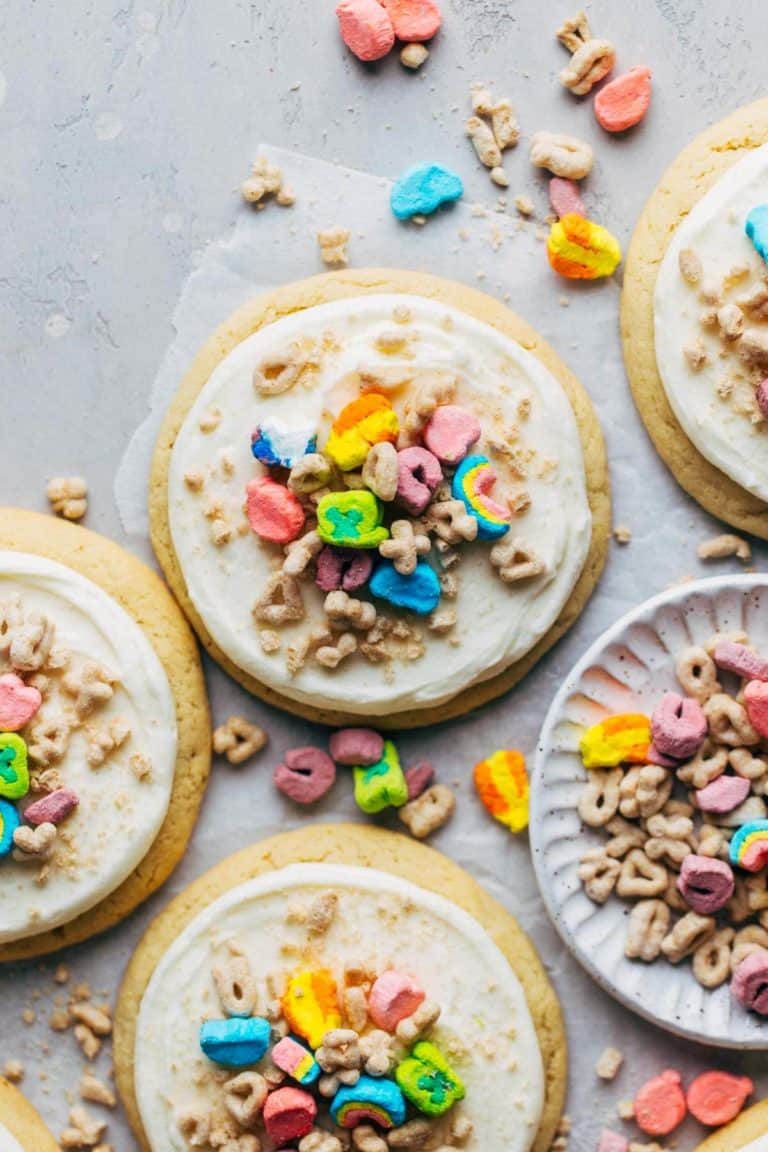 How to achieve a soft and tender sugar cookie
This cookie recipe is actually inspired by Crumbl cookies which is a chain bakery specializing in, well, giant cookies. They're known for their unique flavors, but I've always been interested in how they got their cookies to be so big but also so dense and soft.
Through many test trials, this is what I've found to be the magic formula for homemade bakery-style cookies:
Oil – Mixing oil in to cookie dough is very unconventional, but after this recipe I may have to add it in to my future cookie-testing trials. Oil provides an additional hit of fat alongside the unsalted butter, so these cookies turn out really rich and dense. Oil also helps these cookies spread AND keeps them soft and tender for days after. It's the secret ingredient to getting bakery-quality cookies at home.
Egg yolk – In addition to the oil, an extra egg yolk is added to these cookies for extra richness. It helps provide an all around chewier texture.
Cornstarch – But to ensure these cookies don't turn out TOO chewy or dense, cornstarch is added to the mix to help create a very tender bite. Cornstarch is also a thickener, which prevents the edges of the cookie from spreading too flat.
Chilling – After the dough is mixed, it is then chilled for 30 minutes. I found the cookies were less oily when baked after 30 minutes compared to baking them right away. This time allows the dry ingredients to fully absorb the wet ingredients, giving you a stronger and more well-rounded dough.
How to make giant bakery-style sugar cookies
Since these cookies are to be topped with a mound of Lucky Charms cereal, it's important to start with a BIG cookie. The dough makes roughly 7 large cookies. For reference, this amount of dough would typically make around 15-18 cookies.
Each cookie is weighed out to ensure accuracy. I found 4 oz is the magic number. It gives you a very large cookie without it being TOO over the top. It also provides a really nice spread it in oven, giving you a thick but flat cookie that's the perfect surface for spreading buttercream.
If you don't have a food scale, 4 oz is also equal to 1/2 cup.
I also don't recommend making these cookies any smaller. Giant cookies will provide you with the best bake, giving you a soft and dense texture all the way through to the center. The reason why they bake this way is because it takes a longer amount of time for the oven heat to reach the very center of the dough, giving the cookie less time to bake all the way through.
And since the cookies are so big, allow them to rest on the baking sheet for about 3 minutes before transferring to a cooling rack. These few minutes will allow the cookies to settle, making them much easier to slide on to your spatula.
Tips for perfectly frosted Lucky Charms cookies
The perfectionist in me HAD to ensure the buttercream was spread into a perfect circle on the tops of each cookie. If you don't care about looks and just want to dig in to these cookies, you can skip over this section. But if these perfectly round frosted cookies bring you as much happiness as they do for me, this is how it's done:
Scoop the buttercream into a piping bag fitted with a large round tip.
Pipe an even swirl on the top of each cooking, working from the outside in to the center.
Once all the buttercream is piped on (it should make the perfect amount for 7 cookies) switch to a small offset spatula to smooth out the swirls.
Gently spread the edges of the buttercream and then work your way inward, constantly working in a clockwise motion as you twist the spatula in one hand and rotate the cookie in the other.
Once it's pretty well spread even, turn the spatula to where it's nearly parallel with the cookie and do a quick circular swoop across the entire surface of the buttercream. Now you should be left with a very satisfying and even application of frosting.
How to add Lucky Charms sprinkles
This is the perfectionist in me again, but I had to ensure that each unqiue marshmallow shape made it to the top of each cookie. To do so, I dug out a couple cups of Lucky Charms cereal and separated out the marshmallows from the oat cereal pieces.
Then I placed each marshmallow piece on top of each cookie and then followed up with the oat cereal pieces. Again, this is a completely optional step but it does ensure that each bite has the perfect ratio of cookie, marshmallow, and oat cereal.
How long do these cookies keep?
I was very surprised by how well these cookies held up because they tasted fresh even after 5 days. They actually stay soft and tender because of the oil in the dough!
I recommend storing them in an air tight container at room temperature for up to 5 days. I found storing them in the refrigerator made the marshmallows oddly stale.
For more cookie recipes, check out my:
Make sure to tag me @butternutbakery on Instagram and comment below if you make these Lucky Charms Cookies. To pin this recipe and save it for later, you can use the button on the recipe card or on any of the photos above. Happy baking!
Print
Lucky Charms Frosted Sugar Cookies
---
Author: Jenna Barnard
Total Time: 1 hour + 30 minutes cooling
Yield: 7 large cookies
Description
Soft and tender sugar cookies topped with smooth vanilla buttercream and a pile of Lucky Charms cereal
---
Sugar Cookies
2 1/2 cups (320g) all purpose flour
2 tbsp cornstarch
1 tsp baking soda
1/2 tsp salt
10 tbsp unsalted butter, room temp
1 cup (200g) granulated sugar
1/4 cup (50ml) vegetable or canola oil
1 large egg + 1 egg yolk
2 tsp vanilla extract
Frosting
3/4 cup (165g) unsalted butter, room temp
2–3 cups powdered sugar
1 tsp vanilla extract
1–2 tbsp milk
Lucky Charms cereal
---
Instructions
Sugar Cookies
In a medium bowl, whisk together the flour, cornstarch, baking soda, and salt.
In a large mixing bowl using a hand or stand mixer with the paddle attachment, cream together the butter and sugar until light and fluffy (medium high speed for 2-3 minutes).
With the mixing running on medium-low speed, pour in the oil in a slow and steady stream.
Once combined, scrape down the bowl and mix in the eggs one at a time.
Mix in the vanilla and scrape down the bowl again.
Dump in half of the dry ingredients and give it a light mix, then add in the rest and mix until just combined. Don't over mix.
Use a rubber spatula to scrape down the bowl and ensure everything is evenly incorporated. The dough should be thick but tacky. Cover the bowl with plastic wrap and chill for 30 minutes.
After 20-25 minutes, preheat the oven to 350F and line a large baking sheet with parchment paper.
Take the dough out of the refrigerator after the 30 minutes is up. If you have a food scale, weigh out each cookie to be 4oz (or 1/2 cup). Shape into a ball and place on the baking sheet, only baking 3-4 cookies at a time. The ball should be somewhat flat on the top (see picture in post for reference).
Bake for 13-16 minutes or until the edges are a very pale golden color.
Let the cookies rest on the baking sheet for 5 minutes, then transfer to a cooling rack and continue to bake the rest of the dough.
Frosting
When the cookies have completely cooled and are no longer warm to the touch, make the frosting.
In a large bowl using a hand or stand mixer with the whisk attachment, mix the butter until smooth.
Mix in 1 cup of powdered sugar at a time, followed by the vanilla and just enough milk to smooth out the buttercream.
Spread the buttercream on to each cookie and top with a hefty amount of Lucky Charms cereal. Enjoy!
Prep Time: 30 minutes
Cook Time: 30 minutes
Keywords: sugar cookies, frosted sugar cookies, sugar cookie recipe, lucky charms cookies
Recipe Card powered by