These are the BEST butterscotch chocolate chip cookies! They're crispy on the outside, gooey and chewy on the inside, and loaded with chocolate and butterscotch chips. I've also added chopped pecans and a bit of extra flaky sea salt salt to balance out the sweetness of the butterscotch…making these cookies absolute perfection.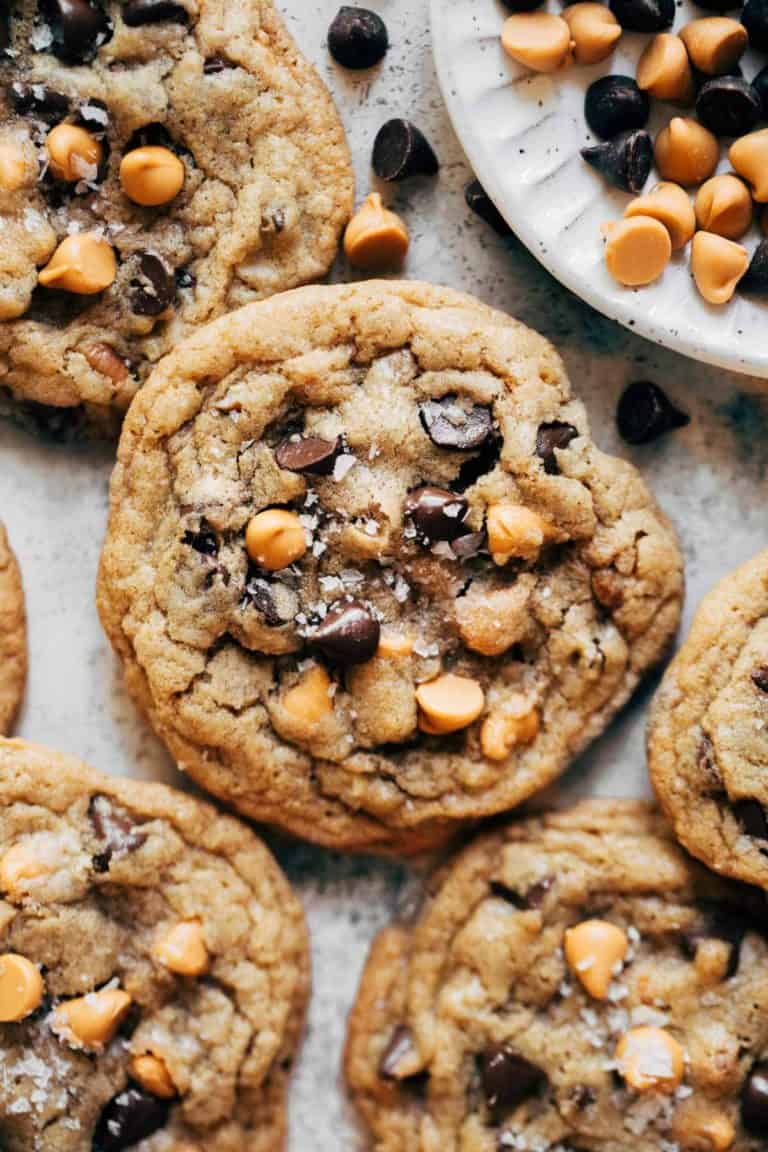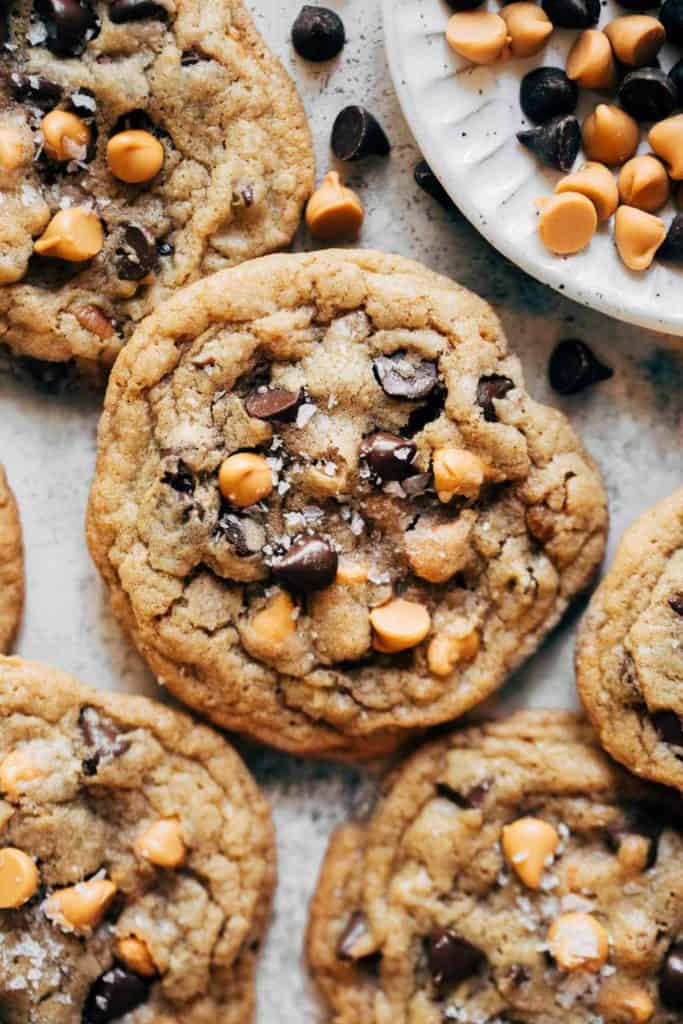 What makes these cookies so good?
For starters, can we talk about how these cookies require ZERO time in the fridge? If you've baked one of my cookie recipes, then you know I'm a big fan of chilling cookie dough. But not this time! These cookies can be made in under an hour but taste like they've been chilling for days.
The flavors are super rich with the melted butter, cinnamon, extra salt, and pecans. It creates a savory element in an otherwise super sweet cookie. Butterscotch is very sweet, so using a few salty and warm ingredients really help to balance out the flavors.
Last but not least, the texture of these cookies is absolute perfection. The outside is nice and crispy while the inside and soft and gooey…everything a cookie should be! Top with a little extra flaky sea salt and you now have the BEST butterscotch chocolate chip cookies.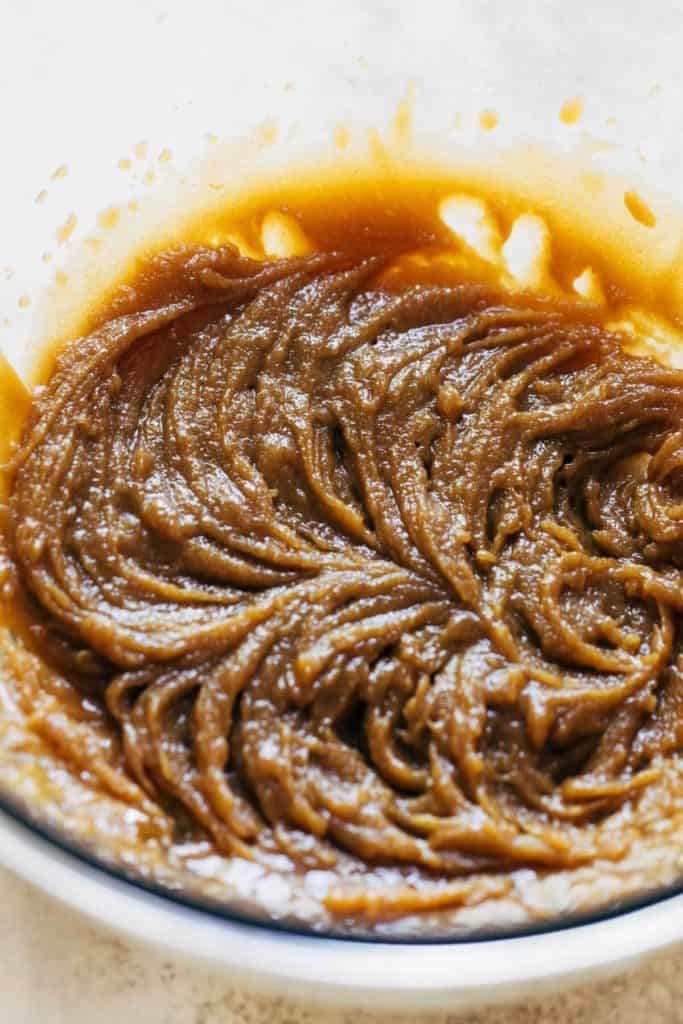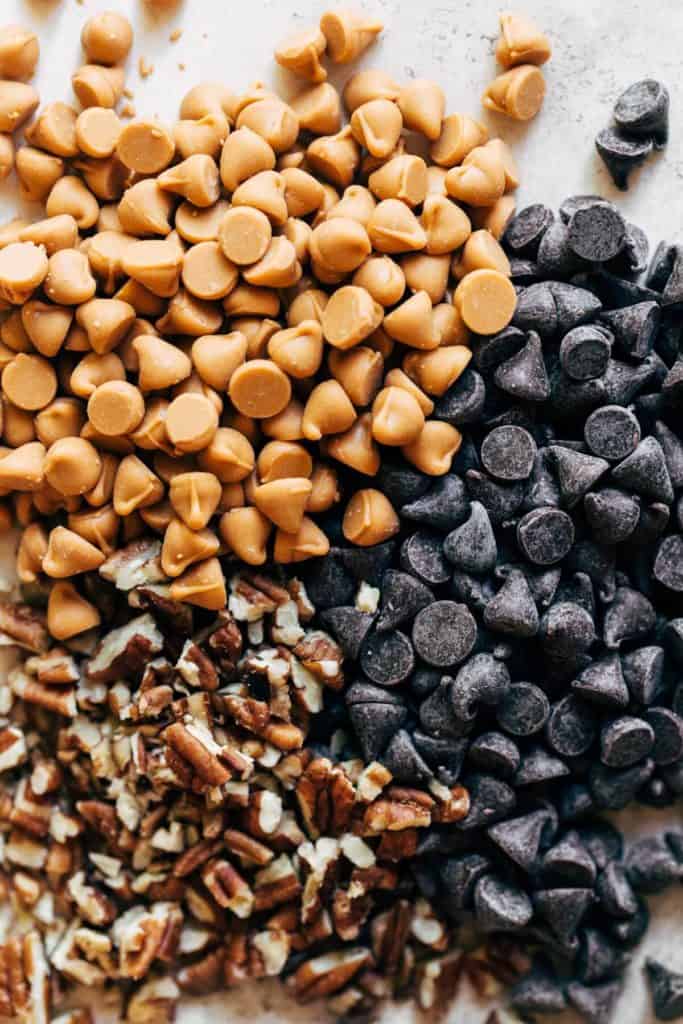 How to make the BEST butterscotch chocolate chip cookies
These cookies are made just like any other, by combining the wet ingredients and then mixing in all of the dry ingredients. But here are a few extra tips to ensure they turn out perfect:
Measuring the flour – To make sure your cookies spread evenly when baked, you must use the correct amount of flour. When measuring, spoon the flour into your measuring cup and level it off with a flat edge. Don't shake it down into the cup or scoop directly into the bag, this will lead to way too much flour in the dough and your cookies will turn out pale and puffy rather than rich and chewy.
Creaming the butter – When mixing the butter and sugar, you want to end up with a paste-like consistency (like the picture above). It will take a couple minutes of mixing on medium-high speed, but don't cut this step too short. Otherwise your cookies will turn out too tough and grainy.
Sugar – You can either use light or dark brown sugar in this recipe. I used light brown sugar here, but dark brown sugar will give you a bit more chew and richness.
Size – These best size for these cookies is 2 tablespoons worth. Most standard cookie scoops are this exact size. To test, pour two tablespoons of water into your cookie scoop to see if it's the right size. If not, you can scoop by hand using a tablespoon.
Baking – These cookies only bake for 10-12 minutes. Pull them out of the oven when the edges are golden brown and the center still looks a bit pale and underdone. They will continue to bake outside of the oven, giving you a gooey center and chewy outside.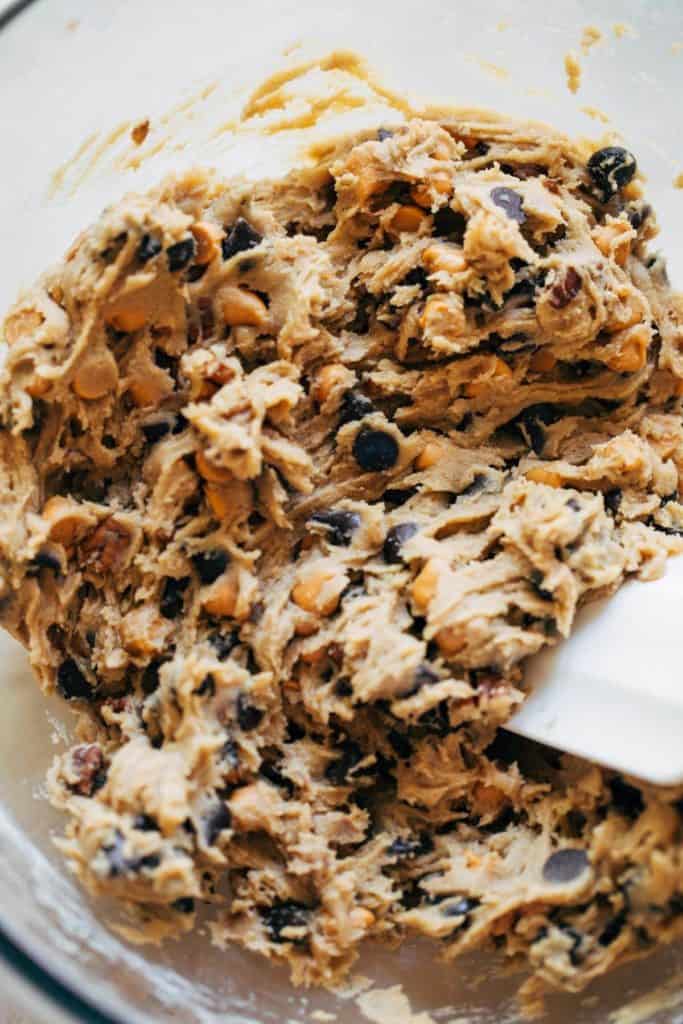 Mix-in options
A classic butterscotch chocolate chip cookie consists of just chocolate chips and butterscotch chips. But for my recipe, I opted to include chopped pecans as well. They help balance out the sweetness of the butterscotch and add a bit more body to these cookies. You can't even taste them, but you can tell a difference when they're not there.
If you LOVE the bold flavor of butterscotch, you can leave the pecans out. Otherwise, they work perfectly in these cookies.
Other options include dark chocolate chips, chopped toffee, macadamia nuts, or pressing pretzels into the tops after they're baked.
Don't forget the salt!
What sets these cookies over the edge is the bit of sea salt on top. It adds a savory element to these cookies and helps enhance all of the flavors.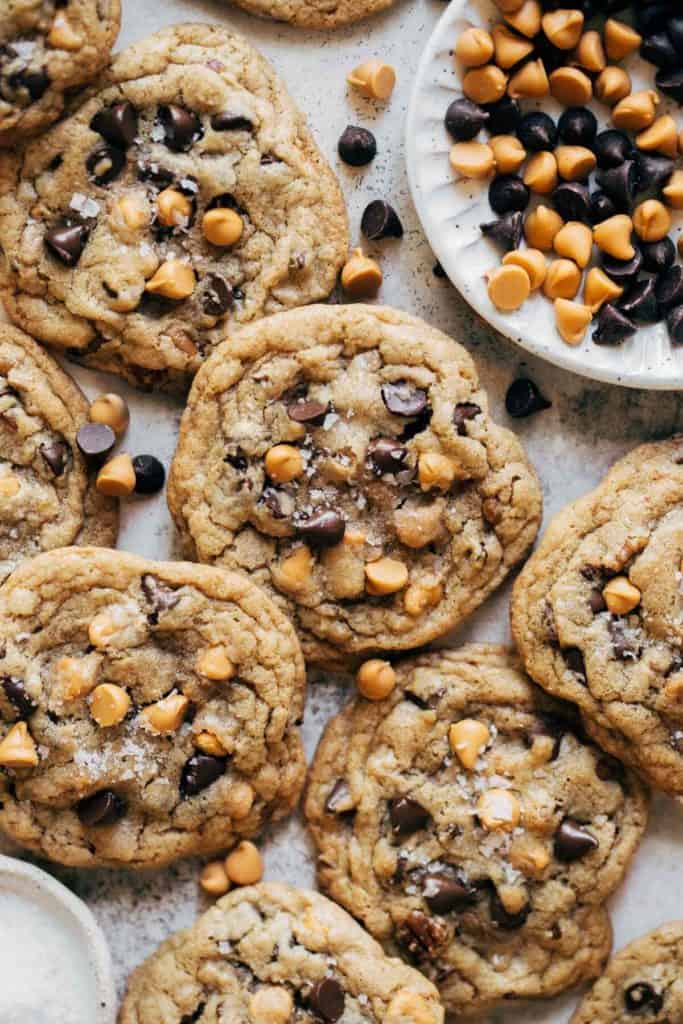 Can I make these without the butterscotch chips?
Yes! This recipe would be absolutely delicious as just plain old chocolate chip cookies. Swap the butterscotch chips for more semisweet chips or dark chocolate chips and the pecans with chopped walnuts (or omit completely).
How to store leftover cookies
These cookies are best served warm (just like most cookies) but remain delicious at room temperature. Store any leftovers in an air tight container at room temp and they'll keep for up to 4-5 days before going stale.
Can I freeze the dough?
Yes you can. Scoop the dough into individual balls and place onto a small tray or plate. Chill uncovered for about an hour, then toss the cookie dough balls into a freezer safe bag.
Store in the freezer for up to 1 month. When you're ready to bake, remove as many cookie dough balls as you need and let them come up to room temperature (about 30-45 minutes). Then bake as instructed.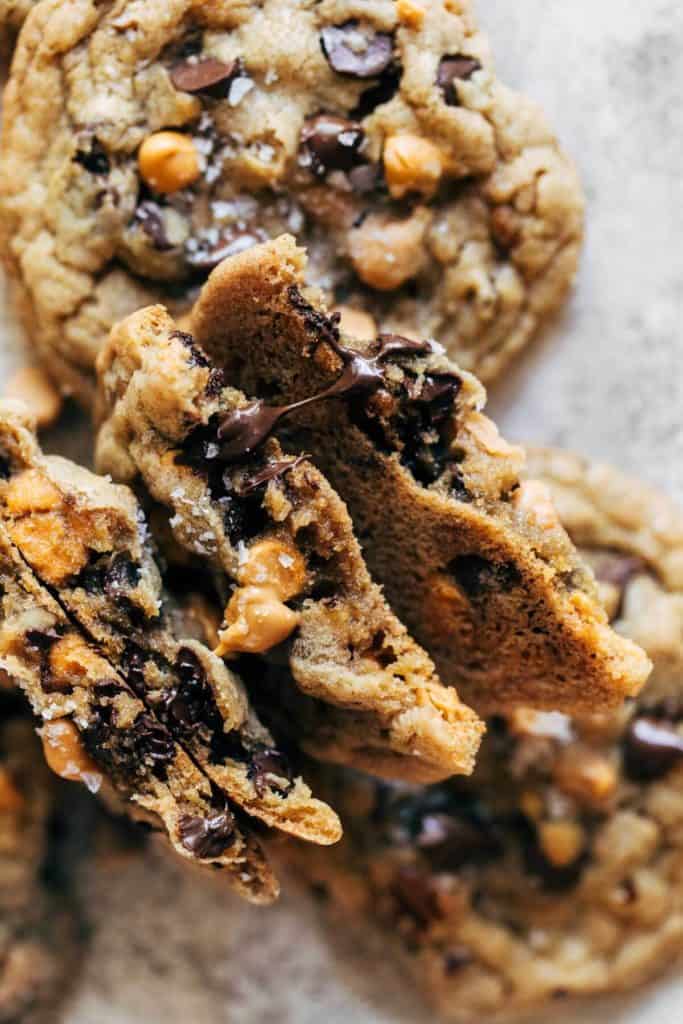 For more of the best cookie recipes, check out my:
Make sure to tag me @butternutbakery on Instagram and leave a review below if you make these Butterscotch Chocolate Chip Cookies. To pin this recipe and save it for later, you can use the button on the recipe card, the buttons above or below this post, or on any of the photos above. Happy baking!
Watch how to make these cookies:
Print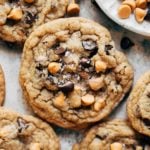 Butterscotch Chocolate Chip Cookies
---
Description
These cookies are crispy on the outside, gooey and chewy on the inside, and loaded with butterscotch and chocolate chips. Pecans and flaky sea salt are added to balance out the sweetness, making them SO GOOD!
---
1 1/4 cup (165g) all purpose flour *see notes
1/2 tsp baking soda
1/2 tsp baking powder
3/4 tsp salt
1/4 tsp cinnamon
1/2 cup (110g) unsalted butter, melted
1/2 cup (100g) light or dark brown sugar, packed
1/3 cup (75g) granulated sugar
2 tsp vanilla extract
1 large egg
3/4 cup (120g) semisweet chocolate chips
1/2 cup (90g) butterscotch chips
1/4 cup (25g) chopped pecans*
Flaky sea salt for sprinkling
---
Instructions
Preheat the oven to 350F and line a large baking sheet with parchment paper.
In a medium bowl, whisk together the flour, baking soda, baking powder, salt, and cinnamon. Set aside.
In a large bowl, cream together the melted butter and sugars either by hand or using an electric mixer. Keep mixing on medium high speed until the mixture lightens and thickens (about 3 minutes, see picture in post for reference).
Mix in the vanilla and egg until smooth.
Dump in the dry ingredients and mix to combine.
Fold in the chips and nuts using a rubber spatula.
Scoop the cookies out on to the baking sheet, spacing them a few inches apart as they spread quite a bit. Use a regular cookie scoop (2 tablespoons) for the best results.
Bake for 10-12 minutes or until the edges are a light golden brown and the center is pale and puffed. The cookies will continue to bake and settle once they're out of the oven so it's ok if they look a little underdone.
Sprinkle with a little sea salt and transfer to a cooling rack. Let them cool for about 10 minutes then dig in!
Notes
FLOUR – To measure the flour, spoon it into your measuring cup and level it off with a flat edge. Don't shake or press it down into the cup and don't scoop directly from the flour bag. This will lead to too much flour in your cookies and they won't spread nice and even. 
NUTS – If you don't like nuts, you can leave these out.
Prep Time: 20 minutes
Cook Time: 12 minutes
Keywords: butterscotch chocolate chip cookies, butterscotch cookies, cookie recipes
Recipe Card powered by