These crispy chocolate chip cookies have the most satisfying crunch! The edges are so buttery and crisp and the center is thin and chewy. They're also SO easy to make as they're mixed by hand all in one bowl and baked right away. By using chopped dark chocolate and flaky sea salt, these cookies aren't too sweet and bake with the most incredible flavor.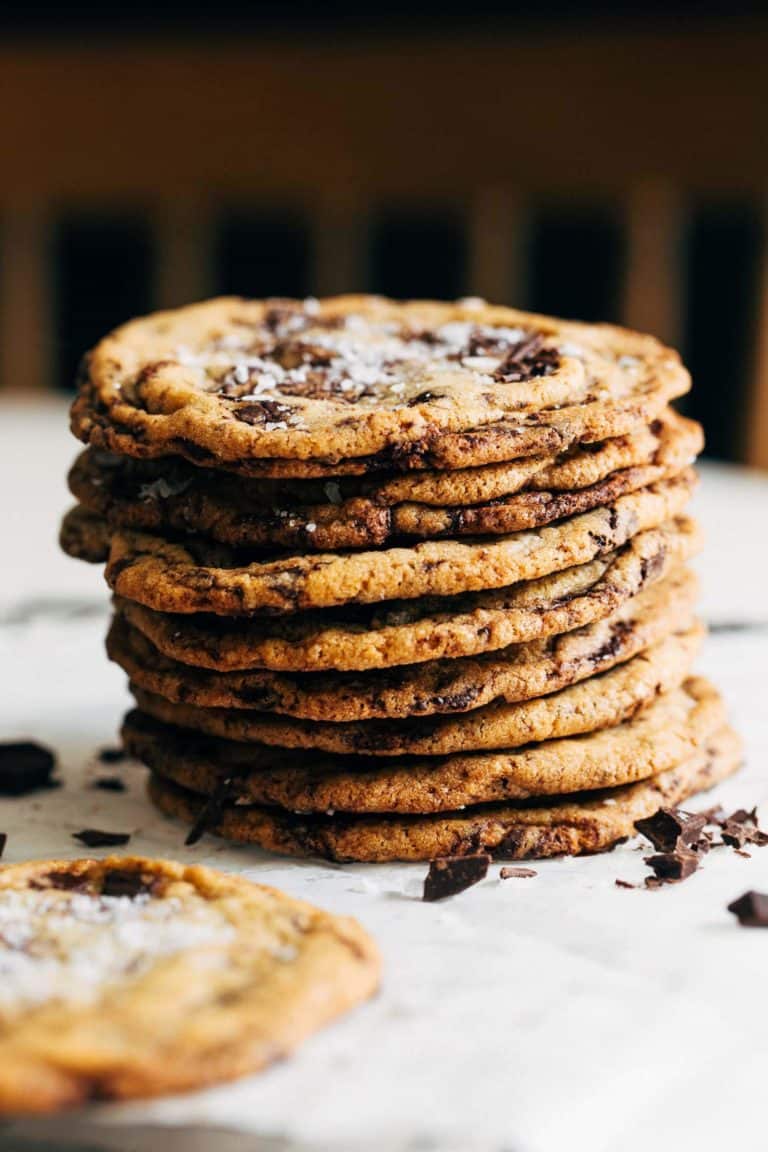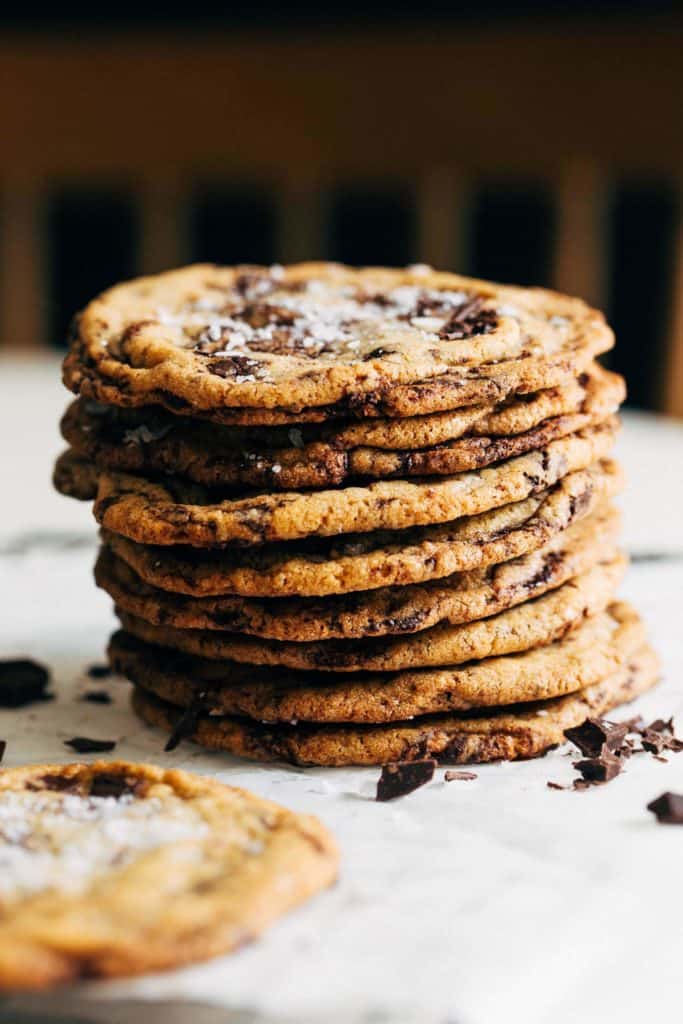 What makes these the BEST crispy chocolate chip cookies?
To be quite honest, crispy chocolate chip cookies just aren't my thing…but this recipe converted me. I love a good soft and chewy cookie but these?? I never thought I could love a crunchy cookie so much!
This is mainly because these cookies are crispy…but they're also so much more. The edges are so buttery and wrinkly which provides LAYERS of crunch with so much flavor.
Then, as you work your way towards the center of the cookie, the entire bottom remains crispy but the very center is thin and chewy. So these may be crispy chocolate chip cookies, but they also contain layers of textures and flavors.
Especially since these cookies are made with quality cultured butter and good dark chocolate. Instead of chocolate chips, these cookies are swimming in finely chopped 85% dark chocolate. This high percentage of cocoa means the chocolate melts as it bakes, thus furthering the spread and providing little pockets of melty chocolate throughout.
To round out these cookies, they're topped with flaky sea salt when they're fresh from the oven. This extra bit of salt helps round out the flavors. It balances the sweetness while also allowing the chocolate and butter to stand out a bit more. It also takes these cookies from homemade to gourmet.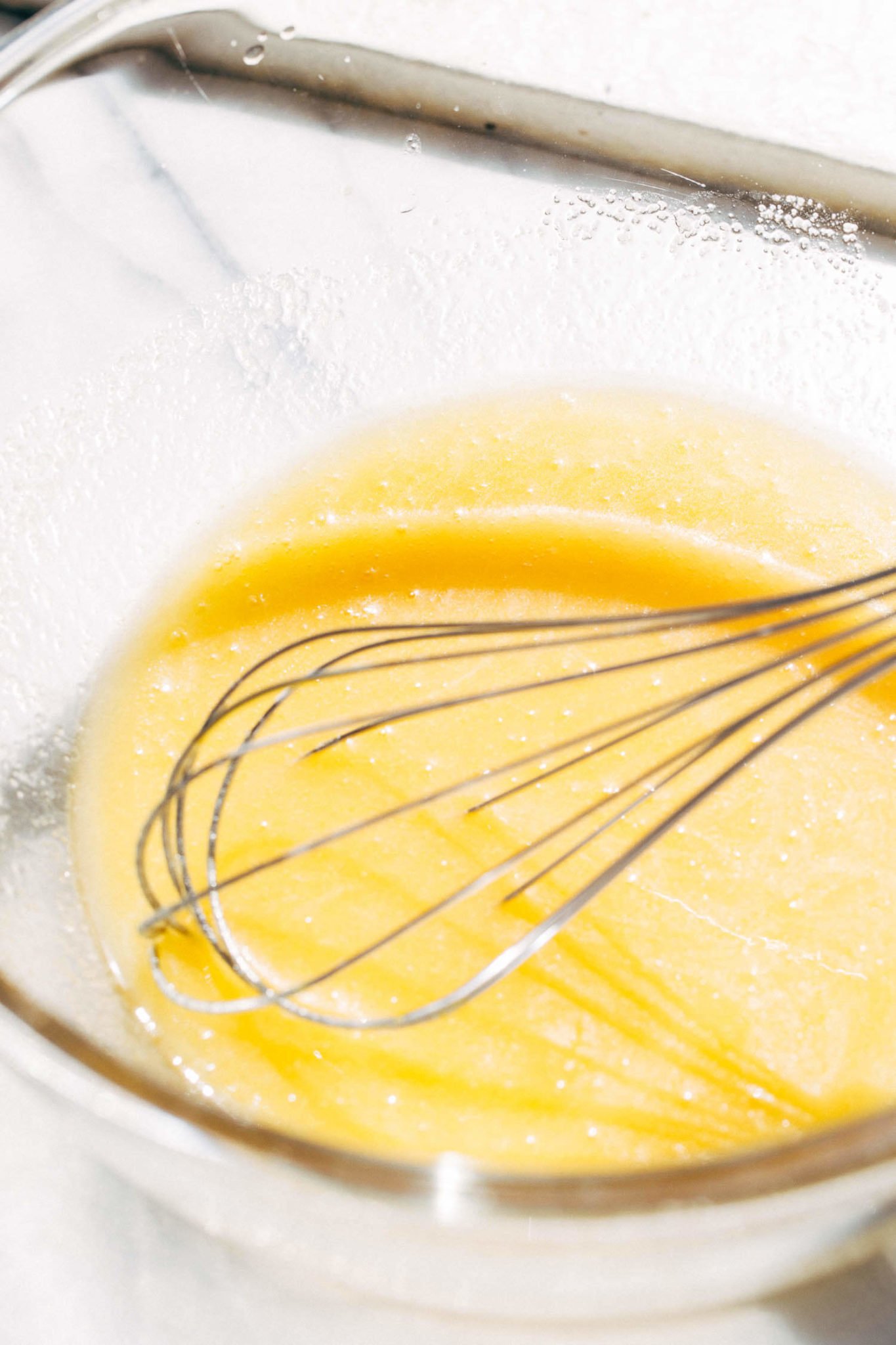 Tips for baking thin and crispy chocolate chip cookies
While this cookie recipe is easy to make, it's also easy to create a dough that bakes a bit too thick! Here are my top tips to achieving super thin and crispy cookies:
Flour – I say this in every post, and for good reason. It's the number one reason why most recipes fail, especially for cookies. If there's too much flour, the cookies will not spread as much as they should. If possible, measure the flour with a food scale. Otherwise, to ensure the exact amount, gently spoon the flour into the measuring cup and level it off with a flat edge. If you scoop directly into the flour container, the flour becomes packed down into the cup which could leave you with 1/4 cup or more of added flour.
Butter – For the best flavor, I suggest using cultured butter (also known as European-style butter). I like to think of this type of butter as a fine aged wine. Cultures are added to allow the cream to ferment. This fermentation period is what creates a super creamy consistency with a more pronounced butter flavor. And since these cookies contain more butter than most, it's worth the splurge!
Chocolate – Use a chocolate bar instead of chocolate chips. This is because chocolate chips are meant to hold their shape under high heat, but chocolate bars are not. So as these cookies bake, the chopped chocolate melts along with the cookie to create a seamless thin and crispy cookie. Plus, high quality chocolate has much more flavor!
Consistency – After the dough is mixed, it should appear thinner than most but it should still hold its shape when scooped. If the dough appears TOO thin, let it rest at room temperature for 30 minutes before baking.
Size – For the most texture variation, use a large 3-tablespoon cookie scoop. As larger cookies bake, the edges melt and crisp up while the center remains slightly under baked. This is the key to super crispy edges and a chewy center. If you prefer a crispy cookie throughout, a smaller scoop can be used.
How to tell when crispy cookies are done baking
Crispy cookies are actually much easier to bake than most chocolate chip cookies because even if they're over baked, they'll just be extra crispy!
But to achieve the perfect crispy and wrinkly edges with a chewy center, pull the cookies when the edges look well done but the center looks just a shade lighter and slightly puffed. As the cookies cool, the center will flatten out and darken.
Right when they're pulled from the oven, top with a sprinkle of flaky sea salt. When they're warm, the surface is extra buttery which will allow the salt to stick.
How to store crispy chewy chocolate chip cookies
Another great thing about crispy cookies is that they're so easy to store! After they've cooled completely, store in an air tight container at room temperature where they'll keep for about 5 days.
Just know that the cookies are the crispiest when they're fresh!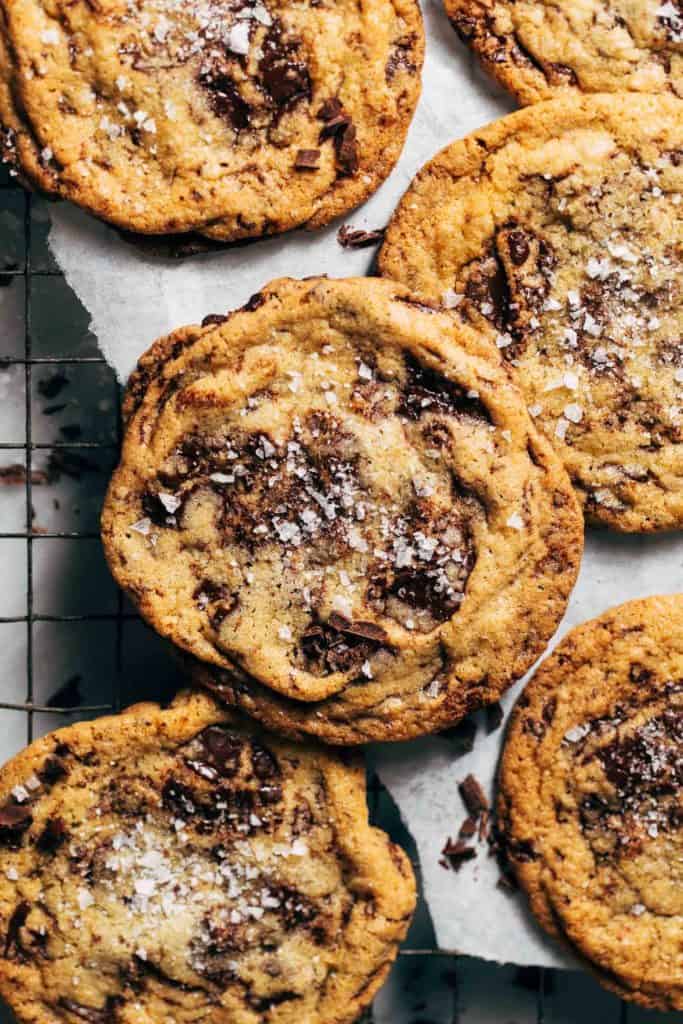 For more chocolate chip cookie recipes, check out my:
Make sure to tag me @butternutbakery on Instagram if you make these crispy chocolate chip cookies. I love seeing my recipes come to life in YOUR kitchen! To pin this recipe and save it for later, you can use the button on the recipe card, the buttons above or below this post, or on any of the photos above. Happy baking!
Watch how to make these thin and crispy chocolate chip cookies:
Print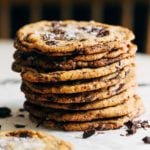 Crispy Chocolate Chip Cookies
---
Description
These thin and crispy chocolate chip cookies have super buttery and crisp edges with a thin and chewy center. They're SO easy to make, mixed by hand, and baked right away! Made with rich dark chocolate and a sprinkle of sea salt, these cookies are so flavorful and taste gourmet.
---
1 cup (130g) all purpose flour, spooned and leveled*
1/2 tsp baking soda
1/2 tsp kosher salt
1/2 cup (110g) unsalted butter**, melted and cooled
3/4 cup (150g) granulated sugar
1 tbsp pure maple syrup
1 tsp vanilla extract
1 large egg yolk
1 tbsp milk
3.5oz 85% cocoa dark chocolate bar, chopped***
Flaky sea salt, for sprinkling
---
Instructions
Preheat the oven to 350F and line a large baking sheet with parchment paper.
In a medium bowl, whisk together the flour, baking soda, and salt. Set aside. *I recommend weighing the flour with a kitchen scale if possible. If you're more comfortable with cups, spoon the flour into the measuring cup and level it off. Don't scoop directly into the flour as this will pack it into the cup (adding way too much to the dough) and prevent the cookies from spreading thin and crispy.
In a large mixing bowl, whisk together the butter, sugar, and maple syrup, followed by the milk, egg yolk, and vanilla.
Pour in the dry ingredients and use a rubber spatula to fold the dough together.
Add the chopped chocolate and fold to combine.
Using a large 3-tablespoon cookie scoop, scoop the cookie dough out onto the baking sheet and space them well apart. I suggest baking only 3-4 cookies at a time as they spread quite a bit.
Bake for 12-15 minutes or until the edges are golden brown and the center looks a bit lighter than the outside.
Sprinkle with flaky sea salt and transfer to a cooling rack to cool completely. They're turn super crisp and chewy once cooled. Enjoy!
Notes
**BUTTER – For the best flavor, use cultured (AKA European-style) butter. Since these cookies have a high amount of butter to flour, using really good quality butter will yield a super rich cookie.
***CHOCOLATE – Chop into tiny bite-sized pieces to get an even spread of chocolate throughout the cookie. Also stick with a dark chocolate bar as this will help the cookie spread even more. Chocolate chips hold their shape when baked which will prevent the cookie from spreading as thin as possible.
Prep Time: 20 minutes
Cook Time: 15
Category: Dessert
Method: Baking
Cuisine: American
Keywords: crispy chocolate chip cookies, crispy chewy chocolate chip cookies, thin chocolate chip cookies, thin and crispy chocolate chip cookies
Recipe Card powered by