Chocolate and carrot isn't your typical combination, but they work so well together! Loads of carrots help make this chocolate carrot cake incredibly moist while also allowing the chocolate flavor to really shine. To take things up a notch, this loaf is topped with a quick chocolate pudding frosting and it's all completely gluten free and vegan!
This post is sponsored by SunButter and all thoughts and opinions are my own. Thank you for supporting the brands that make Butternut Bakery possible!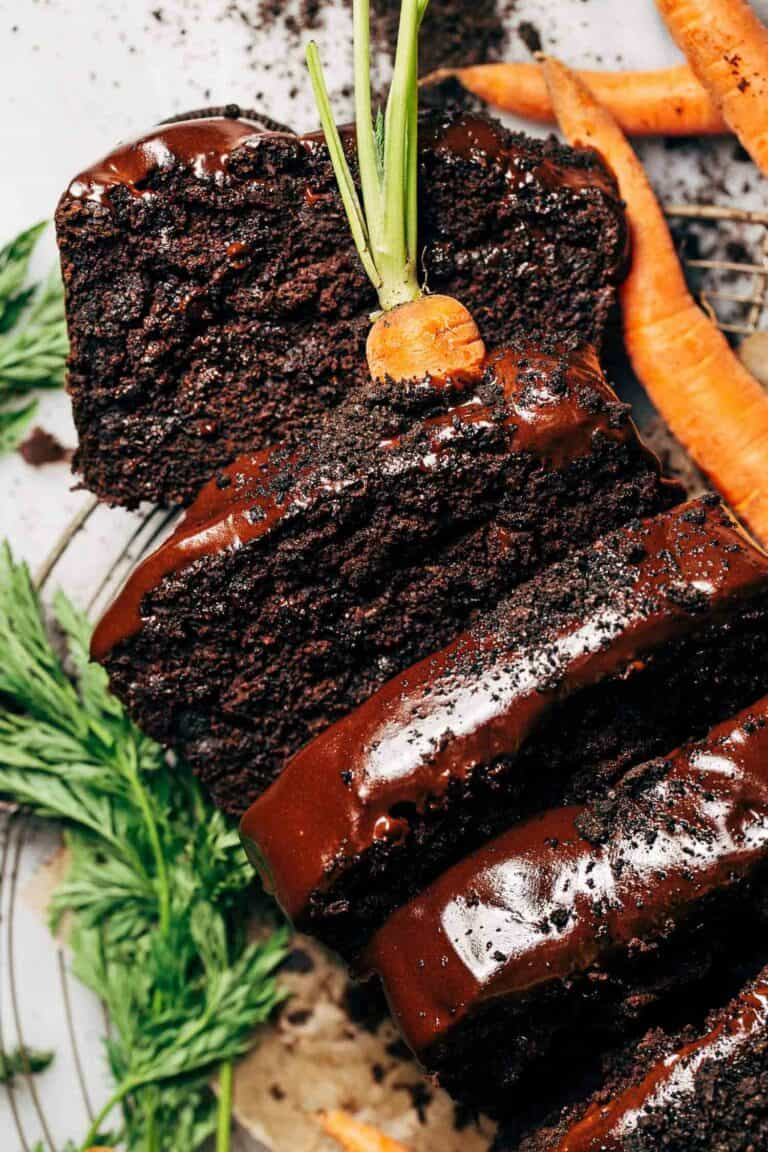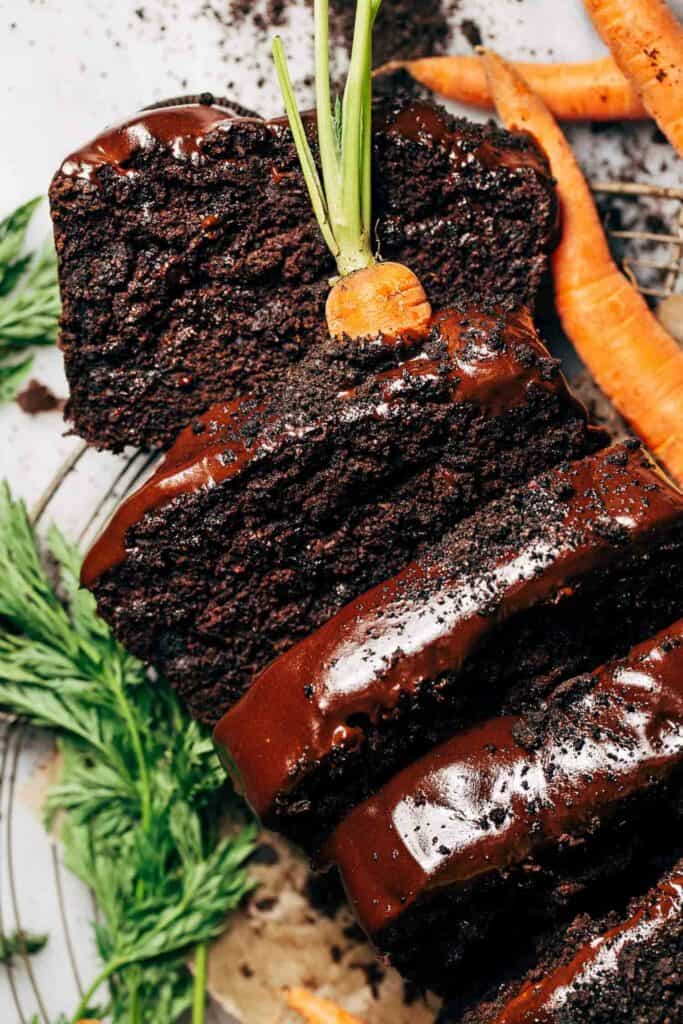 Ingredients for gluten free chocolate carrot cake
This is the PERFECT Easter dessert that everyone can enjoy! Not only is it incredibly delicious, but it's also gluten free, dairy free, vegan, and nut free. Here's what you will need to make it:
Carrots – Of course it wouldn't be a carrot cake without carrots. This cake uses finely grated carrots (using the small holes on a box grater) and they're packed into a measuring cup to ensure we use LOADS of carrots.
Gluten Free Flour – Use a good gluten free flour blend that's made for baking. These typically have xanthan gum in the mix which helps mimic a fluffy cake texture.
Unsweetened Cocoa – This recipe uses classic and standard unsweetened cocoa powder. No need to go for the fancy dutch processed! Although it can be used if you prefer it.
Natural SunButter – SunButter does a lot of the heavy lifting in this cake. Not only does it help bind the cake (since the batter is sans eggs) but it also adds a layer of richness that is often lost in dairy free cakes. SunButter is also SUPER creamy so it blends seamlessly into the batter!
Olive Oil – To help boost the moisture of this cake, a little bit of olive oil is added. I prefer olive oil because I always have it on hand, but any oil will work here.
Granulated Sugar – No cake is completely without sugar!
Maple Syrup – To help cut back on the processed sugar, this cake is supplemented with pure maple syrup. Make sure to use the real deal and not pancake syrup.
Baking Soda and Baking Powder – These will leaven the cake, and the combination both activates when the batter is mixed and again as the cake bakes. The double action is great for gluten free cakes!
Milk – This can be any milk you prefer whether it's plant-based or whole. Using extra milk in this batter creates the most delicious soft and tender texture.
Vinegar – This is a common ingredient in gluten free and vegan cakes, mainly because it boosts the activation of the baking soda. Without gluten, it can be much more difficult for a cake to bake with a fluffy structure. So when the vinegar reacts with the baking soda, bubbles begin to form which helps lift the cake as it bakes.
Chocolate Chips – Mini chocolate chips are scattered throughout this chocolate carrot cake to add little dots of melty chocolate in each slice. Just make sure to use vegan chocolate chips if needed.
Unlike traditional carrot cake, this chocolate carrot cake does not require any sort of spices. I personally don't prefer the flavor combination of chocolate and cinnamon but feel free to add in your favorite warm spices if you like!
Tips for baking chocolate snack cake
Baking Pan – For the best results, use an aluminum alloy loaf pan or a light colored aluminum pan. This material conducts heat very well, providing the cake with an even bake.
Prep – Lightly spray the pan with nonstick spray. Then cut a sheet of parchment paper that fits the width of the pan. Lay the sheet inside to cover the bottom and two sides. Allow the sheet to hang over those two edges. This makes it easy to release the cake from the pan later on.
Bake – The cake bakes for about 50 minutes. It's done when the cake appears to be evenly puffed with some cracks around the sides. A toothpick should also come out clean with some muddy/sticky batter stuck to the tip.
Cool – Gluten free cakes are more delicate, so cooling the cake helps lock in that structure. Allow the cake to cool for about 30 minutes, then frost and cool for another15 minutes before slicing.
Chocolate pudding frosting
This frosting is so addicting I think I could just eat it straight with a spoon. It's not actually pudding, but it does have a very similar flavor and consistency. The flavor isn't too sweet and it is so light and creamy. Here's what you need to make it:
Natural SunButter – SunButter is what gives this frosting a rich and silky consistency. Because of its incredibly smooth consistency, it's the secret to that pudding-like texture and it pairs so well with chocolate.
Powdered Sugar – This not only thickens the frosting, but it also adds just the right amount of sweetness that isn't too over the top.
Cocoa Powder – Instead of melted chocolate, cocoa powder is used to flavor the frosting. It helps thicken the frosting while also preventing it from hardening.
Milk – This is used to thin out the frosting to create a smooth and spreadable consistency. Start with 5 tablespoons and assess before adding the 6th.
Vanilla – Just a little bit for added flavor!
Allow the cake to cool for about 30 minutes before frosting. If the cake is too warm, the frosting will just melt off. It's perfect when the cake is just slightly warm, which allows the frosting to slowly drip down the sides.
Chocolate carrot cake decorations
The cake is delicious as is with just the frosting, but I really wanted this cake to show its ingredients so let's turn this into a little carrot garden!
First chop the tops off of a few stemmed carrots and cut the long stems short.
Press the carrots into the frosting to help them stick.
Then, add some chocolate cookies into a sandwich bag (I used gluten free chocolate sandwich cookies but only used the cookie part, not the cream). Smash to create our garden dirt.
Sprinkle the "dirt" around the grounded carrots to finish off the garden. Now just slice and enjoy!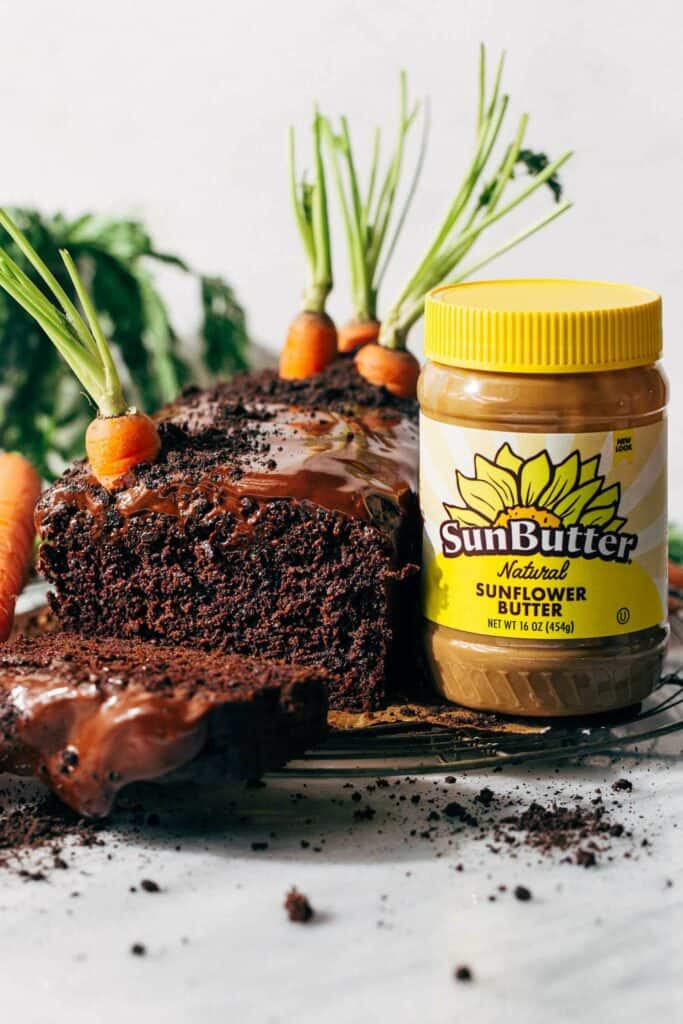 For more gluten free and vegan dessert recipes, check out my:
Make sure to tag me @butternutbakery on Instagram and leave a review below if you make this chocolate carrot cake. To pin this recipe and save it for later, you can use the button on the recipe card, the buttons above or below this post, or on any of the photos above. Happy baking!
Print
Moist Chocolate Carrot Cake
---
Author: Jenna Barnard
Total Time: 2 hours
Yield: 8 slices
Diet: Gluten Free
Description
This chocolate carrot cake is SO moist, SO fudgy, and topped with a creamy chocolate pudding frosting. It's baked in a loaf pan for perfect snack slices and is completely gluten free and vegan!
---
Chocolate Carrot Cake
1 cup (180g) finely grated carrots, tightly packed
1 1/2 cups (195g) gluten free baking flour
1/2 cup (50g) unsweetened cocoa powder
2 tsp baking soda
1 tsp baking powder
1/4 tsp salt
1/3 cup (67g) granulated sugar
1/4 cup (60g) pure maple syrup
3 tbsp Natural SunButter
2 tbsp olive oil
1 cup (240g) plant-based milk
1 tbsp apple cider vinegar
1 tsp vanilla extract
1/2 cup (100g) mini semisweet chocolate chips (vegan if needed)
Chocolate Pudding Frosting
3 tbsp Natural SunButter
1/3 cup (35g) unsweetened cocoa powder
1/3 cup (35g) powdered sugar
5–6 tbsp plant-based milk
1/2 tsp vanilla extract
Gluten free chocolate cookies, crushed (for decoration)
3–4 stem carrots (for decoration)
---
Instructions
Chocolate Carrot Cake
Preheat the oven to 350F and grease and line a 1 pound loaf pan with parchment paper.
In a medium bowl, whisk together the flour, cocoa powder, baking soda, baking powder, and salt.
In a large bowl, whisk together the sugar, maple syrup, SunButter, and olive oil.
Once smooth, mix in the milk, vinegar, vanilla, and carrots.
Switch to a rubber spatula and pour in the dry ingredients. Gently fold to combine.
Just before the batter fully comes together, toss in the chocolate chips and fold to bring the batter together.
Pour into the loaf pan and spread even.
Bake for 50-60 minutes or until a toothpick comes out clean with some tacky crumbs.
Allow the cake to cool for about 30-40 minutes, then make the frosting.
Chocolate Pudding Frosting
Whisk together all of the ingredients with just 5 tablespoons of milk.
It should reach a pudding consistency. If it's still too thick, mix in the additional tablespoon of milk.
Remove the cake from the loaf pan and spread the frosting on top.
Cut the tops off of a few stemmed carrots and stick them into the surface. Sprinkle crushed chocolate cookies to resemble the dirt in our carrot garden.
Now slice and enjoy!
Equipment
Prep Time: 30 minutes
Cooling Time: 30 minutes
Cook Time: 1 hour
Category: Dessert
Method: Baking
Cuisine: American
Keywords: chocolate carrot cake, carrot cake loaf, gluten free carrot cake, vegan carrot cake, gluten free chocolate carrot cake
Recipe Card powered by