This is carrot cake on a whole other level! Moist carrot cake is baked with a layer of sweet cream cheese and topped with a brown sugar walnut crumble. It creates the most delicious carrot coffee cake with everything you could ever want in one bite!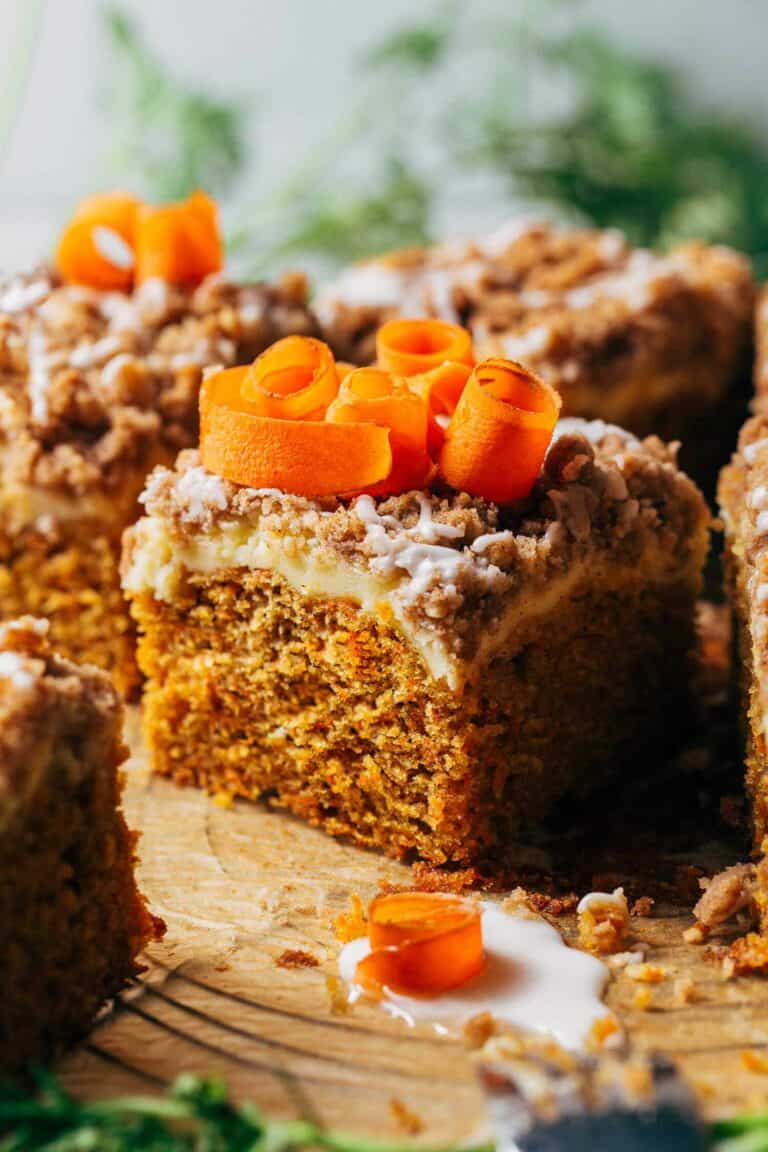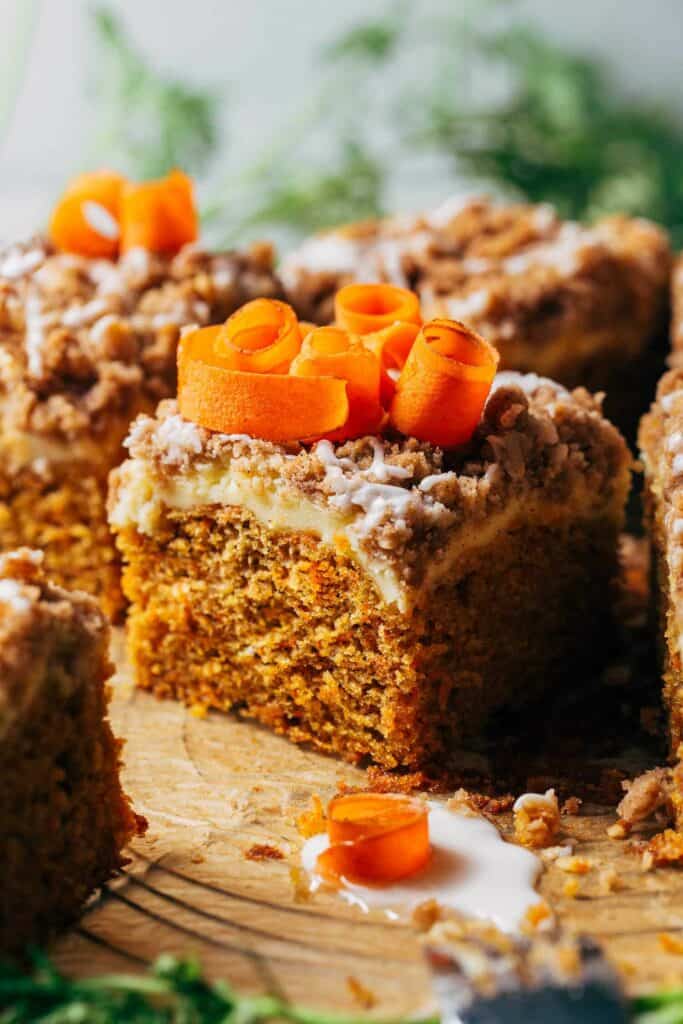 What makes this carrot coffee cake so good?
This dessert basically has all of my favorite things – carrot cake, cheesecake, and a crunchy crumble topping.
Carrot Cake – The base is a moist and fluffy carrot cake with warm spices and loads of fresh grated carrots. I modeled this recipe off of my popular banana coffee cake so it could be just as moist and delicious!
Sweet Cream Cheese – On top of the carrot cake batter is a thin layer of cream cheese. It's a quick cheesecake batter made up of cream cheese, sugar, flour, and egg. Once baked, it creates a smooth and creamy layer on top of this carrot cake.
Brown Sugar Walnut Crumble – This isn't your basic crumble. The entire mix is sweetened with brown sugar and mixed with walnuts. It pairs so well with the carrot cake flavors.
All three layers are baked into one magical coffee cake! Oh, and there's no actual coffee involved here. It's name is due to the fact that it is meant to be enjoyed with a cup of coffee. This could also be called a crumble or carrot crumb cake, but coffee cake is the term I've always used and grew up with!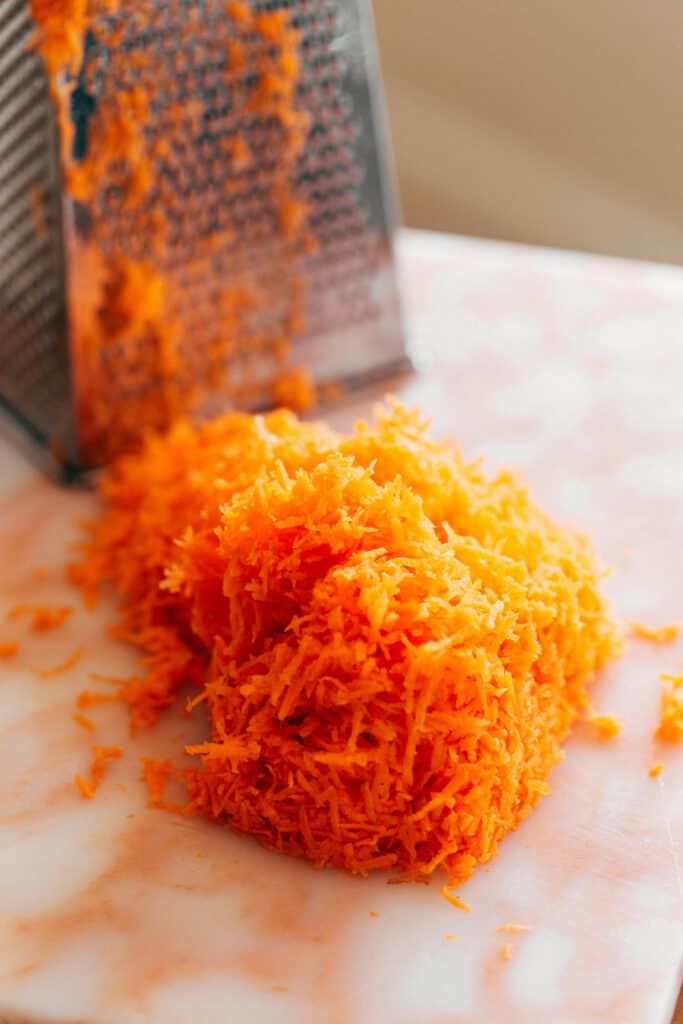 Tips for making moist cream cheese carrot coffee cake
Carrot cake should be so moist with loads of fresh carrots and a hint of warm spices. Here are my top tips to ensure yours turns out just like this!
Carrot Cake Batter
Carrots – Finely grate the carrots using the small holes on a box grater. The smaller shreds bake a much more even carrot flavor throughout the cake. Plus, a finer shred releases even more juices. Also make sure to pack the carrots down into the measuring cup to ensure you use just the right amount.
Flour – I say this in every post, and for good reason. It's the number one reason why most recipes fail. If there's too much flour, this cake will turn out tough and dry. If possible, measure the flour with a food scale. Otherwise, to ensure the exact amount, gently spoon the flour into the measuring cup and level it off with a flat edge. If scooped directly into the flour container, the flour becomes packed down into the cup which could leave you with 1/4 cup or more of added flour.
Mixing – Mix as much as needed for the wet ingredients, but gently mix once the dry ingredients are added to the batter. Over mixing can lead to a tough cake so less is more.
Cream Cheese Batter
Cream Cheese – Use room temperature cream cheese! This is very important, otherwise the layer will turn out very lumpy. I also prefer to use Philadelphia full fat cream cheese for the best flavor and consistency.
Orange Zest – This is optional, but it does help brighten up the cheesecake layer. Just a teeny tiny bit is all that's needed.
Mixing – Start by mixing and mashing with a fork, then switch to a whisk when the egg is added. This will create the smoothest consistency.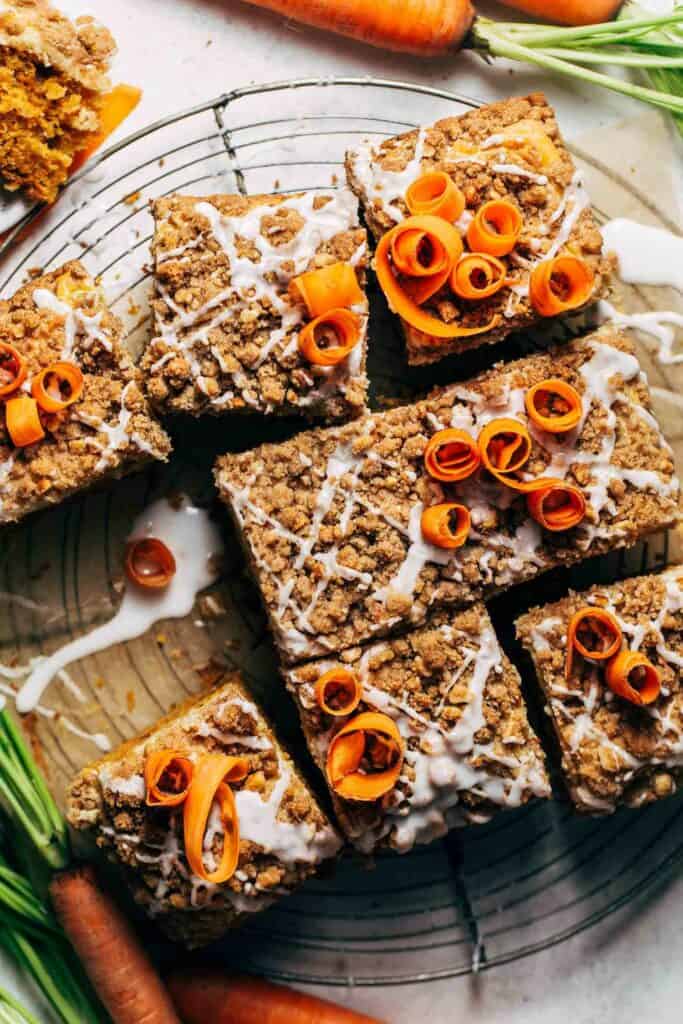 How to bake carrot coffee cake with cream cheese
First the carrot cake batter is made, and then the cheesecake batter.
When the two are ready, the carrot cake batter is spread in a prepared 8×8 baking dish. Meaning, it's lightly sprayed with nonstick spray and lined with parchment paper.
Once it's nice and even, use a spoon to gently blanket the cream cheese over the cake batter. Evenly ladle the cream cheese in order to cover most of the surface. Then, gently spread it even.
It's ok if the cream cheese doesn't tough right up against the sides of the pan. You should be left with about a half inch gab around the edges.
Now all that's left is the crumble! Sprinkle on top in an even layer, ensuring absolutely no cream cheese is peaking through.
The cake bakes for about 50-60 minutes. It's a bit difficult to tell when it's done as the toothpick test won't work here. It will just drag through the sticky cream cheese layer.
So to test for doneness, give the pan a little shake. If the center wobbles like liquid, give it another 5-10 minutes. If the center gives a tight jiggle, it's ready.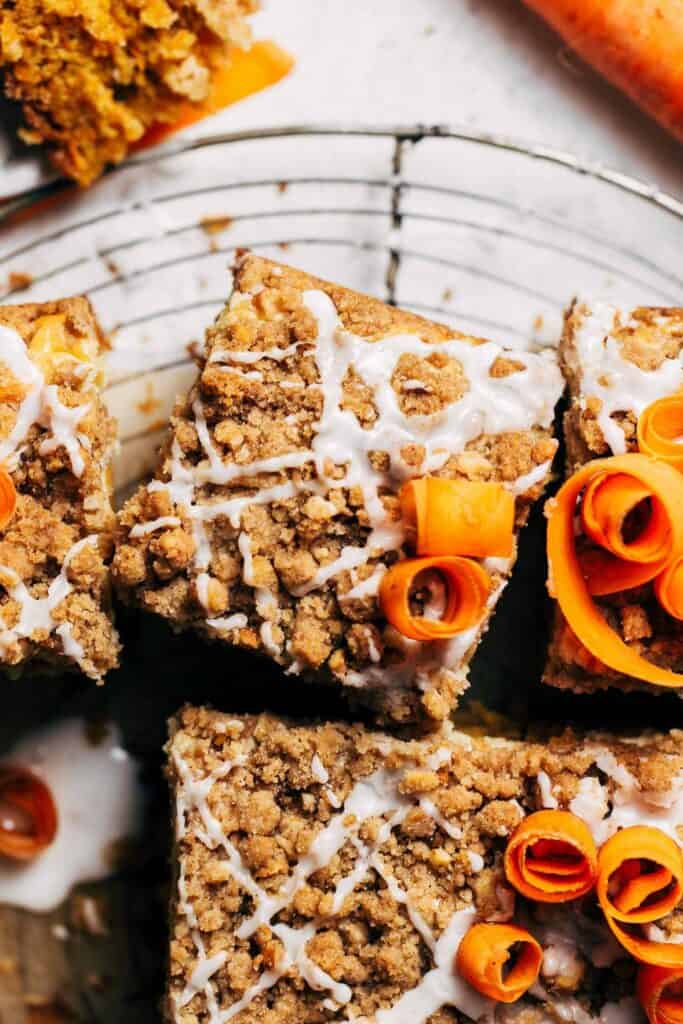 How to make carrot curls
When the cake is baked and slightly cooled, there are two decoration options. Although to be honest, this cake is perfectly delicious on its own!
First is the icing. This is a simple quick icing using just milk and powdered sugar. The drizzle on top actually helps our carrot curls stick.
So to make the carrot curls, lay the carrot down on a cutting board and cut a long strip down one side. Discard this strip as it's too dry and will not stick to itself.
Then make another long strip slicing over the same spot. Continue this process until you have a bunch of carrot ribbons.
Roll the carrot ribbons around your finger. The strips should be somewhat damp to where they stick to themselves. You might end up with a few thick boys that just won't hold their shape so that's to be expected.
Now just place the little carrot curls on top and marvel at your work!
For more carrot dessert recipes, check out my:
Or for more coffee cake recipes, check out my:
Make sure to tag me @butternutbakery on Instagram if you make this carrot coffee cake. I love seeing my recipes come to life in YOUR kitchen! To pin this recipe and save it for later, you can use the button on the recipe card, the buttons above or below this post, or on any of the photos above. Happy baking!
Print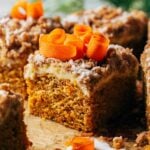 Cream Cheese Carrot Coffee Cake
---
Author: Jenna Barnard
Total Time: 1 hour 45 minutes
Yield: 9 slices
Description
This is the ULTIMATE carrot cake dessert! Carrot cake batter is baked with a layer of sweet cheesecake and topped with a brown sugar walnut crumble. It makes the most delicious carrot coffee cake that's so moist and so delicious.
---
Brown Sugar Walnut Crumble
1/2 cup (65g) all purpose flour
1/2 cup (105g) light brown sugar, tightly packed
1 tsp ground cinnamon
1/4 cup (30g) finely chopped walnuts
3 tbsp unsalted butter, melted
Carrot Coffee Cake
1 1/2 cups (230g) finely grated carrot, tightly packed
1 1/2 cups (195g) all purpose flour
3/4 tsp baking soda
1/4 tsp salt
1 tsp ground cinnamon
1/4 tsp ground ginger
1/4 tsp ground nutmeg
1/3 cup (72g) vegetable oil*
1/2 cup (100g) granulated sugar
1/2 cup (105g) light brown sugar, tightly packed
1/4 cup (62g) sour cream, room temp
1 large egg, room temp
2 tsp vanilla extract
Cream Cheese
8 oz full fat cream cheese, room temp
1/4 cup (50g) granulated sugar
1/8 tsp orange zest (optional)
1 tbsp all purpose flour
1 large egg, room temp
Icing (optional)
1/2 cup powdered sugar
3/4 tbsp milk
---
Instructions
Brown Sugar Walnut Crumble
Combine all of the ingredients in a small bowl and mix to combine. It should turn into a crumbly consistency.
Place in the refrigerator to chill while we make the rest of the recipe.
Carrot Coffee Cake
Preheat the oven to 350F and grease and line an 8×8 square baking dish with parchment paper.
In a medium bowl, whisk together the flour, baking soda, salt, cinnamon, and nutmeg. Set aside.
Prep the carrots – using the small holes on a box grater, grate the carrots and tightly pack into a measuring glass.
In a large mixing bowl using a rubber spatula, mix together the oil, sugars, sour cream, egg, vanilla, and carrots.
Once smooth, pour in the dry ingredients and fold to combine. Set aside.
Cream Cheese
Using the same bowl we used to mix together the carrot cake dry ingredients, add the cream cheese, sugar, and zest.
Use a fork to mash and mix together.
Once smooth, mix in the all purpose flour followed by the egg.
Mix into a smooth and silky consistency. If needed, whisk vigorously to work out any tiny lumps.
Now to bring everything together, spread the carrot cake batter in the baking pan.
Then gently blanket the cream cheese over the cake batter, careful not to disrupt the even layer. When the cream cheese is well distributed, gently spread even.
Now top with the crumble, making sure to cover the entire surface.
Bake for 50-60 minutes. Test for doneness by shaking the pan. If the cake wobbles in the center, it needs another 5-10 minutes. If it has a firm jiggle in the center, it's done.
Allow the cake to cool for about 30 minutes before lifting out of the pan.
Icing is optional, but whisk together the two ingredients until it reaches the consistency of craft glue. If it's too thin, add more sugar. If it's too thick, add more milk.
Drizzle over the warm cake and then slice and enjoy!
Equipment
Notes
VEGETABLE OIL – If you prefer not to use vegetable oil, use any mild-flavored oil. But I actually think olive oil could work great in this recipe as an added layer of flavor!
Prep Time: 45 minutes
Cook Time: 60 minutes
Category: Dessert
Method: Baking
Cuisine: American
Keywords: carrot cake, carrot coffee cake, carrot cake coffee cake, cream cheese coffee cake, carrot crumb cake, carrot crumble cake, cream cheese carrot cake, cream cheese carrot coffee cake
Recipe Card powered by