This bright pink lemon raspberry cake is as flavorful as it looks! Layers of white lemon cake are stacked with homemade lemon pastry cream, raspberry jam, and a whipped raspberry cream cheese frosting. It has the perfect balance of sweet and tart with the textures of moist cake and creamy filling. In other words, it's absolutely delicious.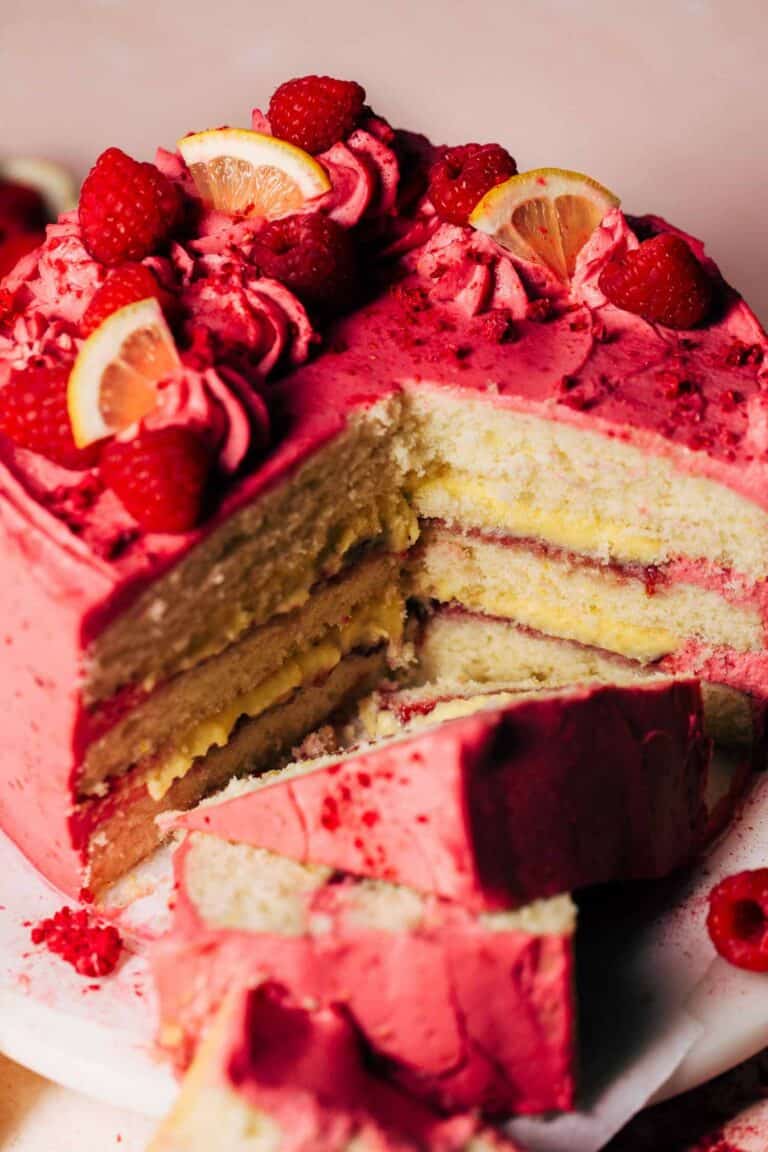 Lemon raspberry cake layers
This gorgeous cake is stacked with delicious layers of:
White Lemon Cake – Moist white cake is baked with lemon zest for bright flavor. It's also perfect because it uses the egg whites that are separated from the yolks for our lemon pastry cream.
Lemon Pastry Cream – Speaking of, this pastry cream has tons of zesty lemon flavor. Think lemon curd, but creamier and thicker with a more mellow lemon punch.
Raspberry Preserves – Since every other component is homemade, we're taking a little shortcut here by using store bought raspberry preserves. Most are made with really basic ingredients (fresh raspberry, sugar, lemon, pectin) so it's close to homemade!
Whipped Raspberry Cream Cheese Frosting – This is as good as it sounds. Whipped cream cheese frosting is mixed with ground freeze dried raspberries. It creates a gorgeous color and an incredibly addicting frosting.
Tips for baking moist lemon cake
Cake Strips – If you have them, use them! These damp strips warp around the cake pans to help the cake layers bake nice and even.
Flour – I always say to measure the flour if you can. If a scale isn't available, gently spoon the flour into a measuring cup and level it off for a light and fluffy cup of flour. Never scoop directly down into the flour as this packs it down into the cup, leaving you with way too much excess flour in the batter.
Zest – Rub the zest into the sugar as this will loosen up the oils to create an even stronger lemon flavor.
Eggs – Fully mix in the eggs. Don't be a afraid to crank up the speed!
Buttermilk – This can be store bought your make your own with milk and vinegar. Measure out 1 1/2 cups of milk, remove 1 1/2 tablespoons, and replace with 1 1/2 tablespoons of vinegar. Mix and let it sit for about 5 minutes before use.
Baking – The cakes only need about 25 minutes, so start there and add on one minute at a time until they're done.
Lemon pastry cream tips
If you've never made pastry cream before, it may sound intimidating but it's actually very easy. Especially if you follow these tips:
Egg Yolks – When mixing the yolks and sugar together, REALLY mix until it's smooth and pale. This is important as it starts the sugar dissolving process.
Milk & Cream – Only heat the milk, cream, and zest just until it's steaming. If it starts to bubble, you run the risk of scalding the egg yolks which creates a lumpy cream.
Mixing – When pouring the hot cream into the yolks and sugar, take it nice and slow and continuously whisk throughout.
Heating – Once the yolks and hot cream are combined, everything goes back into the saucepan. This is when the mixture heats to thicken, so whisk continuously to prevent any lumps.
Strain – Run the cream through a fine mesh strainer to remove the zest. This is optional, but it does help create a very smooth pastry cream.
Lemon Raspberry Cake FAQs
Can this cake be made gluten free?
I haven't tested it, but I do think it could work with gluten free baking flour. Alternatively, you could use my gluten free vanilla cake recipe and add 2 tablespoons of zest to the batter, rubbing it into the sugar like we do here. I would also suggest slicing the two layers in half to create 4 thin layers. This ensures the perfect amount of filling and cake in every bite.
How long does lemon pastry cream keep?
The pastry cream can be made a few days in advance if needed. It will keep in the refrigerator for about 5 days.
Can I substitute all purpose flour for cake flour?
Yes just make sure that when you measuring the flour, it's light and fluffy cups (don't scoop directly into the flour as this packs it in). Once the 3 1/4 cups are measured out, remove 6 tablespoons of flour and replace with 6 tablespoons of cornstarch. Whisk to combine and it can now be used for cake flour.
Can I use strawberry instead of raspberry?
Sure! Just use strawberry preserves and freeze dried strawberries.
How do you store a lemon raspberry cake?
Keep the cake in an air tight cake container and store in the refrigerator. It will keep nice and moist for about 3 days.
For more cake recipes, check out my:
Make sure to tag me @butternutbakery on Instagram if you make this lemon raspberry cake. I love seeing my recipes come to life in YOUR kitchen! To pin this recipe and save it for later, you can use the button on the recipe card, the buttons above or below this post, or on any of the photos above. Happy baking!
Print
Lemon Raspberry Cake
---
Author: Jenna Barnard
Total Time: 2 hours 25 minutes
Yield: 10-12 slices
Description
This lemon raspberry cake is bursting with flavor, including layers of white lemon cake, lemon pastry cream, raspberry jam, and whipped raspberry cream cheese frosting.
---
Lemon Pastry Cream
1/2 cup (100g) granulated sugar
2 tbsp cornstarch
4 large egg yolks (save whites for cake)
3/4 cup (180ml) whole milk
3/4 cup (180ml) heavy cream
Zest of 2 lemons
2 tbsp unsalted butter
2 tbsp lemon juice
1 tsp vanilla extract
Lemon Cake
3 1/4 cups (397g) cake flour
2 tsp baking powder
1/2 tsp baking soda
1 tsp kosher salt
1 1/2 cups (300g) granulated sugar
2 tbsp lemon zest
1 cup (200g) unsalted butter, room temp
3 tbsp oil
4 large egg whites
1 large egg
1 tsp vanilla extract
1 1/2 cups (360ml) buttermilk*
Heaping 1/2 cup raspberry preserves (for between cake layers)
Raspberry Whipped Cream Cheese Frosting
8 oz cream cheese, chilled
1 cup (100g) powdered sugar
1/2 cup ground freeze dried raspberries
1 1/2 cups (360ml) heavy cream
---
Instructions
Lemon Pastry Cream
In a mixing bowl, whisk together the sugar, cornstarch, and egg yolks until smooth, creamy, and lightened in color.
Dampen a paper towel and place it under the bowl.
Now add the milk, heavy cream, and zest to a saucepan over medium-low heat. Heat just until it starts to steam.
While whisking, slowly pour the steaming cream into the egg yolk mixture. Continue whisking until everything is mixed together.
Pour the entire mixture back into the saucepan and place over medium heat.
Whisk continuously until the mixture thickens. Once it's bubbling, cook for 1 minute then remove from heat and whisk in the butter, followed by lemon juice and vanilla.
Run the cream through a fine mesh strainer. Then cover the cream with a sheet of plastic wrap, patting the plastic wrap up against the surface of the cream.
Chill while we make the cake.
Lemon Cake
Preheat the oven to 350F and grease three 8″ cake pans. Cover the bottoms with a sheet of parchment paper and wrap the pans in damp cake strips if you have them.
In a medium bowl, whisk together the cake flour, baking powder, baking soda, and salt.
In a large mixing bowl (using a hand or stand mixer with the paddle attachment), add the sugar and zest and use your fingers to rub the zest into the sugar.
Add the butter and mix on medium high speed until smooth and fluffy (about 2 minutes mixing).
Scrape down the bowl and mix in the oil.
Then mix in the egg whites, followed by the whole egg and vanilla.
Alternating between the dry ingredients and buttermilk, mix in 1/3 of the dry, 1/2 of the milk, 1/3 of the dry, 1/2 of the milk, and 1/3 of the dry.
Using a rubber spatula, scrape down the bowl to ensure everything is well mixed.
Divide the batter between the three pans and bake for 25-30 minutes.
Allow the cakes to cool either at room temp or sped up in the refrigerator. Once chilled, level off the tops of the cakes if needed.
Raspberry Whipped Cream Cheese Frosting
In the bowl of a hand or stand mixer with the whisk attachment, mix the cream cheese until smooth.
Then add the powdered sugar and slowly mix to combine.
Mix in the ground freeze dried raspberries.
With the mixer running on medium speed, slowly stream in the whipping cream. Once it's all mixed in, crank up to high speed and mix until light and fluffy.
Assemble
Add about half of the frosting to a piping bag with a large star tip and the chilled lemon pastry cream to another piping bag with a large round tip.
Lay down a layer of cake and pipe a border of frosting around the edge.
Spread half of the raspberry preserves within the border. Pipe a layer of lemon pastry cream on top and gently spread it even, making it level and flush with the frosting border.
Lay another cake on top and repeat this process.
Once all three layers of cake are placed, cover the cake with the remaining frosting and use an excess to pipe swirls on top.
Decorate with raspberries and lemon slices, then chill the cake for about 30 minutes to allow the layers to set.
Now slice and enjoy!
Notes
BUTTERMILK – This can also be made with whole milk and vinegar. Measure out 1 1/2 cups of milk, remove 1 1/2 tbsp, and replace with 1 1/2 tbsp of vinegar. Mix and let it sit for about 5 minutes to curdle.
Prep Time: 1 hour
Chill Time: 1 hour
Cook Time: 25 minutes
Category: Dessert
Method: Baking
Cuisine: American
Keywords: lemon raspberry cake, raspberry lemon cake, lemon cake with raspberry filling, lemon pastry cream
Recipe Card powered by