Drawing inspiration from the iconic Matilda cake, this moist chocolate cake recipe is so fudgy, so chocolatey, and so incredibly rich. It makes one large cake with tons of glossy chocolate fudge frosting! With that said, this will definitely be your new go-to chocolate cake recipe.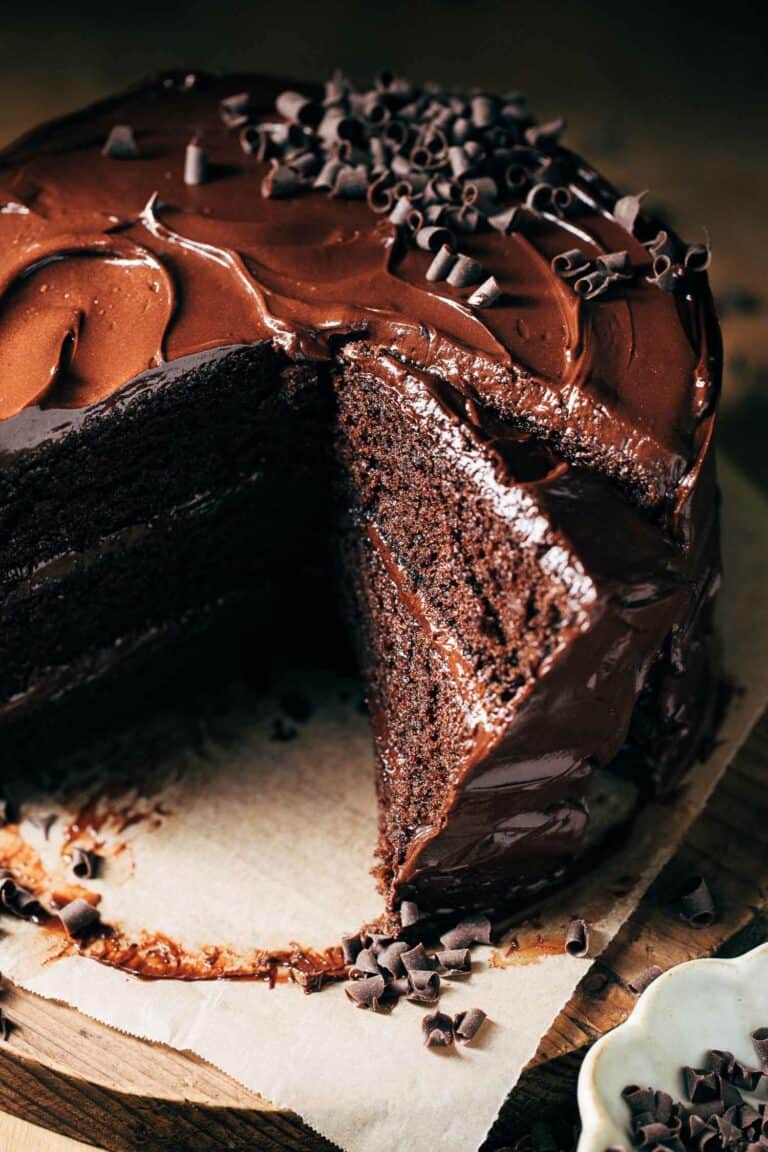 What makes this the best chocolate cake recipe?
With so many chocolate cake recipes all over the internet, why make this one?
Inspired by the iconic and ultra fudgy Matilda cake, I was incredibly picky with how I wanted this cake to turn out. It had to be so incredibly soft and moist that you wanted nothing more than to dig straight into the cake and eat it out of your hand.
And for the first time in my life, I'm proud to say that I tested this theory and I now only want to eat cake using this technique from here on out.
With how soft and fudgy and jiggly (yes this cake is so moist it JIGGLES when you nudge it), I just could not resist.
Plus, it took quite a bit of trial and error to get just the right ratios of fat to chocolate to flour to sugar and throughout my testing, I found that these were the most essential ingredients to achieving an incredibly moist chocolate cake:
Mayonnaise – Listed in many old fashioned recipes (and the famous Portillo's chocolate cake), mayonnaise is used to create tons of richness in chocolate cake. It's essentially just a mix of eggs, oil, and vinegar so it adds loads of protein and fat to the recipe. And don't worry, you can't taste it one bit!
Cornstarch – The first test I did with this recipe was with all cake flour because I wanted a really delicate cake, but I found it actually made the cake a bit TOO soft. So I then tried all purpose flour which didn't make the cake soft enough. The fix – I replaced some of the all purpose flour with cornstarch and it made the perfect texture. The cake is tender and spongey without being too soft and crumbly.
Vinegar – With a secret ingredient list of mayo, cornstarch, and vinegar I really don't see how any wouldn't want to try this cake! But trust me, all three work in harmony to create an incredibly delicious chocolate cake. And taking notes from ultra moist red velvet cake, a tablespoon of vinegar is added to further that soft texture. Vinegar slows the gluten formation to create a very tender cake.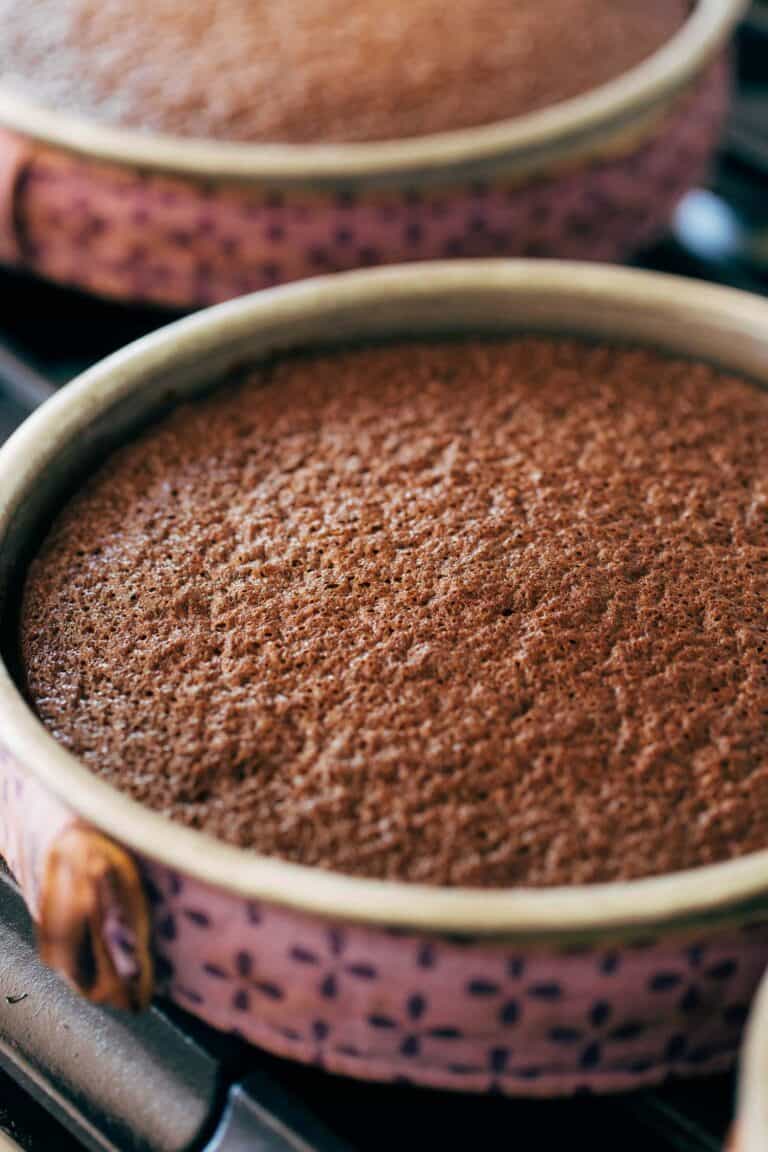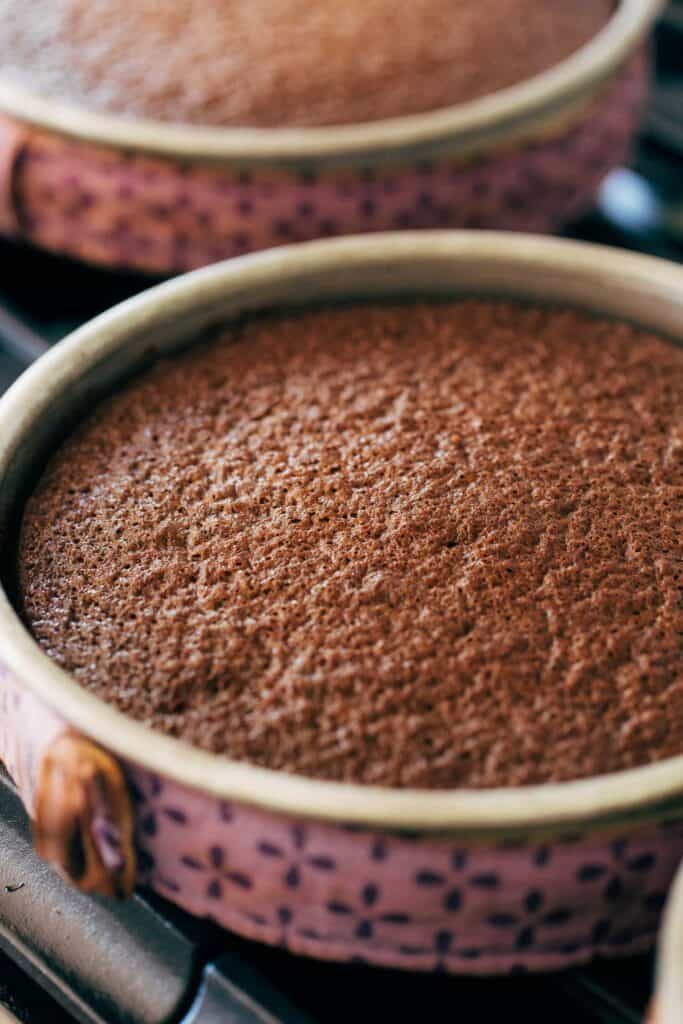 Tips for baking moist chocolate cake
To ensure your cake turns out as fudgy and moist as possible, here are my top chocolate cake baking tips:
Flour – I say this in every post, and for good reason. It's the number one reason why most recipes fail. If there's too much flour, this cake will turn dry. If possible, measure the flour with a food scale. Otherwise, to ensure the exact amount, gently spoon the flour into the measuring cup and level it off with a flat edge. If scooped directly into the flour container, the flour becomes packed down into the cup which could leave you with 1/4 cup or more of added flour. The same goes for the cornstarch and cocoa powder!
Cocoa powder – Speaking of, this recipe calls for regular unsweetened cocoa powder. Refrain from using dutch process as this can throw off the acidity of the cake and it may not rise properly. But if you prefer a richer color, I suggest swapping just 10-15 grams of the regular cocoa powder with dutch process. This will provide a deeper color without disrupting the batter.
Dark brown sugar – This is used for a reason so if you can help it, I suggest sticking with it. The extra molasses in dark brown sugar adds an added layer of moisture to this cake.
Hot coffee – When mixing in the coffee, make sure it's hot or at least warm. This heat will activate the cocoa powder to bring out even more chocolate flavor.
Mixing – When the dry ingredients are added to the batter, be cautious of how fast you're mixing. Only just just enough to bring the batter together. Otherwise, an over worked batter can lead to a sunken cake.
Cake strips – This is optional, but they do help produce incredibly even cakes. Cake strips are pieces of fabric that are moistened and wrapped around the cake pans before baking. They prevent the oven heat from hitting the outside of the cakes too fast, resulting in more well-done edges and a soft inside. With cake strips, these cakes bake perfectly even and moist from the inside out.
Doneness – Pull the cakes when a toothpick in the center comes out clean with a few moist crumbs. The cakes should also appear slightly puffed in the center with somewhat bubbly surfaces.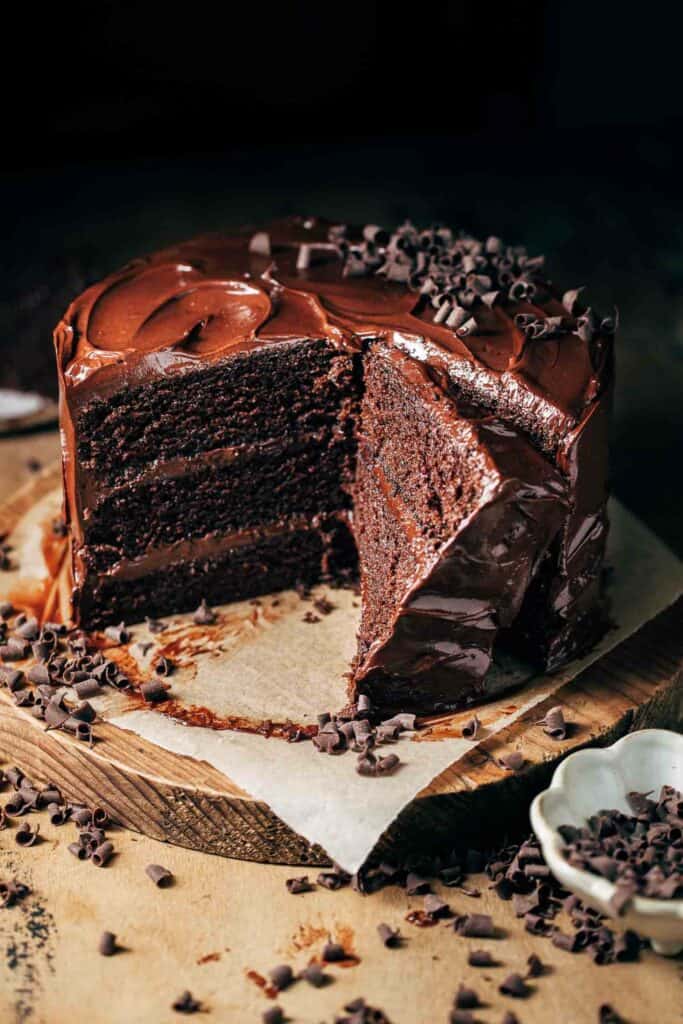 How to make chocolate fudge frosting
What brings this entire cake together is the super glossy chocolate fudge frosting. Not only does it make this chocolate cake look absolutely mouth watering, but it adds another layer of chocolate that's not too sweet and not too heavy.
First, butter is mixed until smooth and then powdered sugar, salt, vanilla, and corn syrup are mixed in. The corn syrup is used to keep the frosting glossy so don't skip out on it!
Off to the side, warm water is mixed with cocoa powder. This is then poured into the butter mixture. It will cause the frosting to turn a bit thin but don't be alarmed. This amount of liquid is intended to thin out the frosting as it helps create a very fudgy consistency.
Then an entire bag of chocolate chips is melted down and mixed in. The frosting will thicken slightly after the chocolate is added, but it will end with a soft pudding consistency.
To make this frosting sturdy and spreadable, chill it for about 45 minutes. Then give the frosting another good mix using a rubber spatula and test the consistency. If the frosting holds its shape in the bowl (like the picture in this post) then it's ready. If it's still too thin, chill until thickened.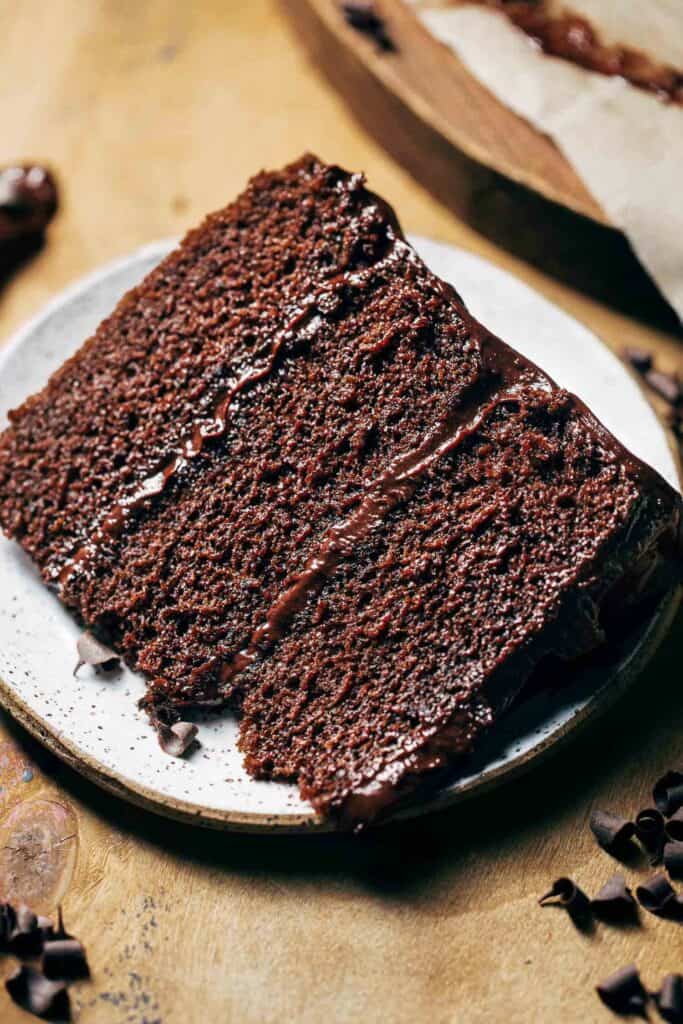 Chocolate Cake FAQs
Can I use cake flour instead of all purpose flour and cornstarch?
I tested this cake with all cake flour and, personally, I think it makes the cake a bit too delicate. I formulated this recipe to create the most perfect tender and spongy consistency without being too soft and this mix of all purpose flour and cornstarch does just that.
Can this chocolate cake be made gluten free?
I actually have a gluten free chocolate cake recipe that's also very moist and delicious!
Can this chocolate cake be made vegan?
I also have a vegan chocolate cake recipe that's so rich and moist.
How can I make this chocolate cake recipe into cupcakes?
I haven't tested this specific batter as cupcakes, but I do have a very moist chocolate cupcake recipe that I know yields delicious cupcakes.
Can I use light brown sugar instead of dark brown sugar?
I suggest sticking with dark brown as the extra molasses adds another layer of moisture to the cake. Light brown sugar can be used, but dark brown is definitely recommended.
Can I use dutch process cocoa powder in the cake?
I use dutch process cocoa powder in the frosting because I prefer the darker color (although regular unsweetened can be used). But for the cake batter, I suggest sticking with regular unsweetened as the batter was built around this level of acidity. Dutch process cocoa powder is alkalized so it may through off the baking process. If anything, I would swap about 10-15 grams of the regular unsweetened with the dutch process in order to create a richer chocolate cake color.
Can the cakes be baked in advance?
Yes, bake the cakes and then cool at room temp. Once completely cooled, wrap each layer in plastic wrap and store in the refrigerator. They'll keep moist for a couple days.
Can I make the frosting in advance?
Yes once the frosting is made, cover and chill. It can be stored in the refrigerator for about a week. Then, bring the frosting up to room temp and give it a good mix to smooth out before use.
How do I store chocolate cake?
Since the frosting is pretty soft at room temp, I suggest storing this cake in the refrigerator. It will keep moist for about 5 days. But for the best eating experience, serve at room temperature.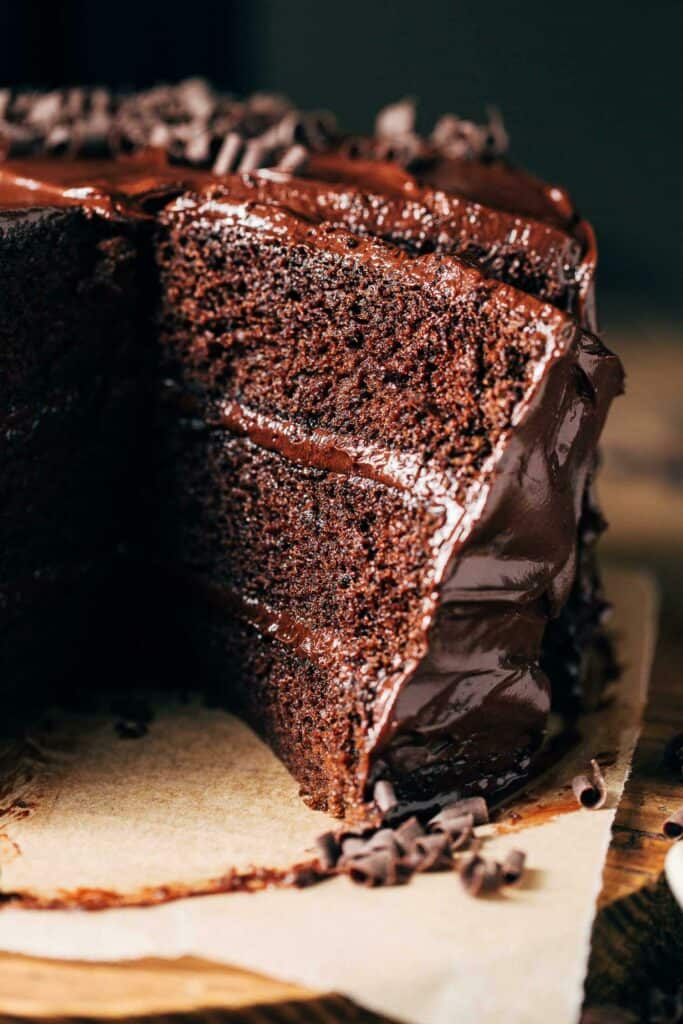 For more of the BEST cake recipes, check out my:
Make sure to tag me @butternutbakery on Instagram and leave a review below if you make this chocolate cake. To pin this recipe and save it for later, you can use the button on the recipe card, the buttons above or below this post, or on any of the photos above. Happy baking!
Print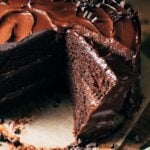 Moist Chocolate Cake
---
Author: Jenna Barnard
Total Time: 2 hours 20 minutes
Yield: 10-12 slices
Description
This chocolate cake is so moist, so fudgy, so chocolatey, so rich, and so so delicious! Inspired by the Matilda cake, this recipe has three layers of moist chocolate cake that are smothered in a glossy chocolate fudge frosting.
---
Chocolate Cake
1 3/4 cups (230g) all purpose flour
1/4 cup (30g) cornstarch
1 cup (100g) unsweetened cocoa powder
2 tsp baking soda
1 tsp baking powder
1/2 tsp kosher salt
1 cup (200g) granulated sugar
1 cup (205g) dark brown sugar, packed
1/2 cup (108g) vegetable oil
1 cup (230g) mayonnaise
3 large eggs + 1 egg yolk
1/2 cup (128g) milk
1 tbsp vinegar
2 tsp vanilla extract
1 cup (240g) hot coffee (or 1 cup hot water + 2 tsp instant espresso powder)
Chocolate Fudge Frosting
2 cups (450g) unsalted butter, room temp
1 1/2 cups (165g) powdered sugar
3 tbsp corn syrup
1 tsp vanilla extract
Pinch of kosher salt
3/4 cup (177g) warm water
3/4 cup (75g) dutch process cocoa powder (or unsweetened cocoa powder)
10 oz dark chocolate chips (one bag), melted and cooled slightly
---
Instructions
Chocolate Cake
Preheat the oven to 350F and prep 3 8″ cake pans. Grease the inside and line the bottom with parchment paper. If you have them, wrap the pans in damp cake strips and set aside.
In a medium bowl, whisk together the flour, cornstarch, cocoa powder, baking soda, baking powder, and salt. Set aside.
In a measuring glass, add the milk and stir in the vinegar and vanilla. Set aside.
In a large mixing bowl, whisk together the sugars, oil, and mayo, followed by the eggs and egg yolk.
Mix in the milk mixture.
Pour in half of the dry ingredients and whisk to combine.
Pour in the hot coffee and whisk to combine, followed by the remaining dry ingredients. The batter should be very thin and liquid.
Evenly distribute the batter between the three pans.
Bake for 30-35 minutes or until a toothpick in the center comes out clean with a few moist crumbs.
Allow the cakes to cool in the pan for about 10 minutes, then run a knife around the edges and turn out onto a cooling rack. Cool the cakes completely before frosting, either at room temperature or in the refrigerator.
Chocolate Fudge Frosting
Right when the cakes are done baking, make the frosting.
Using a hand or stand mixer with the paddle attachment, beat the butter until smooth.
Then mix in the powdered sugar, corn syrup, vanilla, and salt.
In a measuring glass, whisk together the warm water and cocoa powder.
Pour into the frosting and mix to combine, scraping down the sides and bottom of the bowl as needed.
Then pour in the melted chocolate and mix to fully combine. 
The frosting should now be smooth and glossy but somewhat thin. To thicken, place the bowl in the refrigerator for about 45 minutes.
Once chilled, give the frosting a good mix by hand using a rubber spatula. If the frosting holds its shape inside the bowl, it's ready to go.
Before assembling, make sure the cake layers are completely cooled.
Level off the top of each cake layer if needed.
Lay one layer down on a cake turntable and spread a layer of frosting on top. Lay the next cake layer on top, repeating the process.
Once all the layers are stacked, place the cake in the refrigerator for about 20 minutes to allow those layers to set. Once set, cover the entire outside of the cake with frosting.
Now slice and enjoy!
Equipment
Prep Time: 40 minutes
Chill Time: 1 hour
Cook Time: 40 minutes
Category: Dessert
Method: Baking
Cuisine: American
Keywords: moist chocolate cake, chocolate cake recipe, moist chocolate cake recipe, chocolate cake, fudgy chocolate cake, matilda chocolate cake
Recipe Card powered by