This mint chocolate chip cake is the perfect combination of rich chocolate and bright mint flavor. The cake is super moist with a hint of mint, all smothered in a mint chocolate chip buttercream. It's heaven in a slice for mint chip lovers!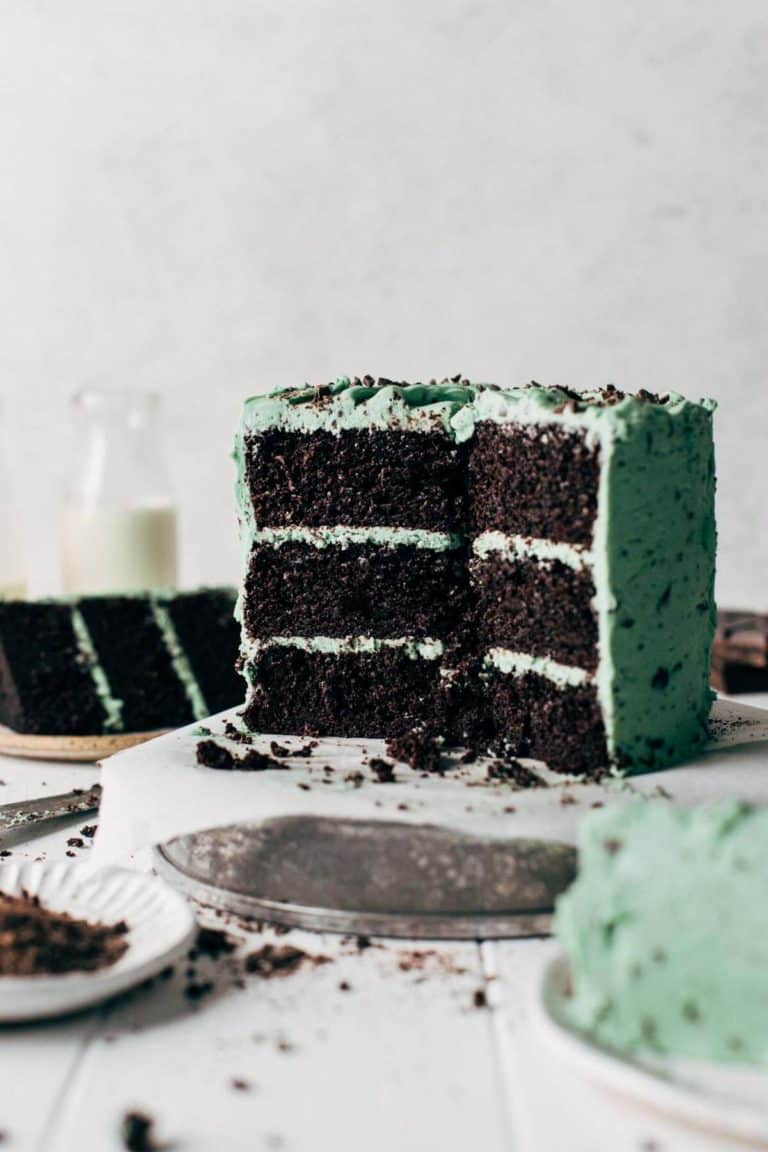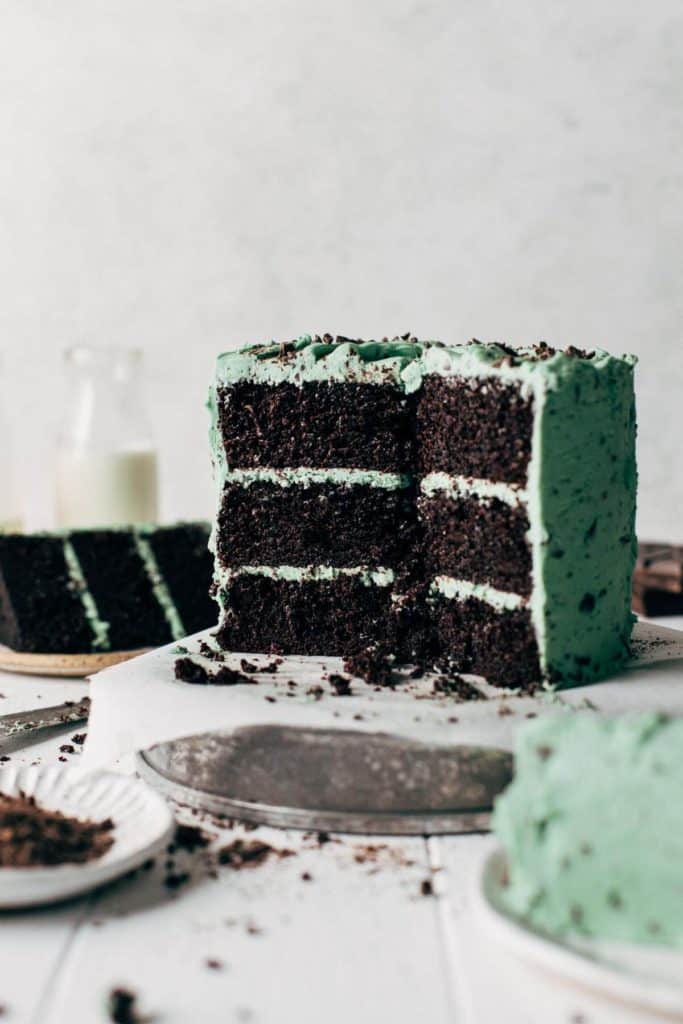 Tips for making extra moist mint chocolate cake
What I love about this recipe is just how MOIST the chocolate cake is. It's tender, rich, and has the perfect texture. Here's how to achieve the most perfect chocolate cake:
Properly measure the flour – I say this in every post, and for good reason. It's the number one reason why most recipes fail. If there's too much flour, the cake will turn out dry and crumbly. If you can, measure the flour with a food scale. Otherwise, to ensure you use the exact amount needed, gently spoon the flour into your measuring cup and level if off with a flat edge. If you scoop directly into the flour container, it packs it down into the cup which could leave you with 1/4 cup or more of added flour.
Use dark cocoa powder – My favorite is Hershey's special dark cocoa powder because it's a mix of regular and dutch processed cocoa powder; the best of both worlds! Dutch processed is great for baking because it gives a really rich flavor and color but it does not react with baking soda, so it can sometimes be an issue in cakes. Due to the acidity in the buttermilk, this will react the baking soda thus still giving you a lifted cake.
Buttermilk – Like mentioned above, buttermilk plays a big role in the leavening of this cake. But it also helps tenderize the gluten, giving you a really soft and rich cake. Because of this, do not swap buttermilk with regular milk in this recipe.
How to make your own buttermilk
If you don't have buttermilk for this recipe, you can easily make your own with milk and white vinegar. Simply measure out the milk to 3/4 cup. Then remove a scant 1 tablespoon and replace it with a scant 1 tablespoon of vinegar. Stir the two together and let the mixture sit for about 10 minutes to thicken and curdle – just like buttermilk.
How to make mint chocolate chip buttercream
The real star of the show is the mint chocolate chip buttermilk that looks just like a scoop of mint chip ice cream – and tastes just as good too!
It's a basic buttercream recipe, just taken up a notch. Once the buttercream is mixed into the perfect consistency, it's time to add the color and chocolate bits.
For the color, I highly recommend using gel food coloring. It will give you the biggest color pay off and it's the easiest to control. You also only need a tiny amount so you wont disrupt the consistency of the buttercream.
Start by mixing in a few drops of green food coloring, turning the buttercream into a pastel green color. To make it more mint, add a tiny drop of blue. To take it a step further, I like to dip the tip of a toothpick into brown gel food coloring and add a few dashes to the buttercream. Brown helps mellow out the color so it's not as saturated and vibrant.
As for the chocolate, you have two options. You can either finely chop the chocolate by hand or run it through a food processor. Either way, you want the smallest bits possible without turning the chocolate into complete dust.
When adding it to the buttercream, scoop it up with your two hands and try to shake off any fine and powdered bits. If you add too much chocolate powder to the buttercream, it can disrupt the color. See the photo above for reference.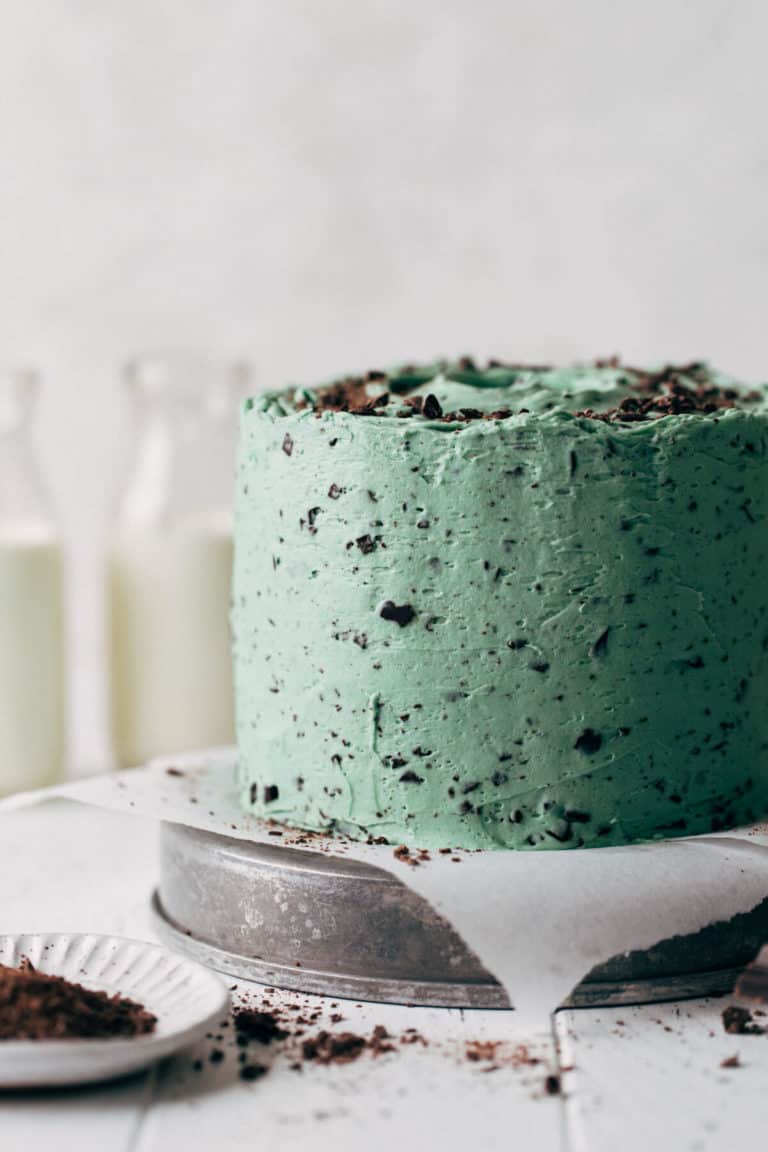 Tips for frosting a mint chocolate cake
Since there are chunky bits in the frosting, it can be a bit tricky to apply a smooth and even layer all around the cake. Here are a few tips to help you frost your cake:
Apply a thick layer all around the outside. This thickness will help create a barrier between the chocolate chunks and the soft cake on the inside, preventing the chocolate from dragging through the cake.
To get smooth edges, you typically need to drag a cake scraper all around the sides of the cake (see my post on how to frost a cake). But not for this cake. Ditch the scraper and gently smooth out the sides using an offset spatula. Work in small areas and carefully smooth out the buttercream as you go.
Don't worry about getting a perfect application. The best part about this cake is that it looks good when it's a bit messy – resembling a bowl of mint chip ice cream. You can go as messy or as neat as you like!
Can I make this recipe gluten free?
For a gluten free version, I recommend using my chocolate cake recipe from my Toasted Coconut Chocolate Cake. Simply swap out the extracts for what is used in this chocolate cake recipe and you'll be good to go.
Can I bake this into a sheet cake?
Yes, bake the cake in a 9×13 baking dish that has been well greased and lined with parchment paper. Bake at 350F for 35-40 minutes or until a toothpick in the center comes out clean. Then cut the buttercream recipe in half and spread it on top of the cooled chocolate cake.
How to store mint chocolate cake
If you are storing the cake whole and unsliced, it will keep for up to 24 hours in the refrigerator uncovered. Any longer and it will need to be stored in a cake container.
For leftovers, you can either store the whole sliced cake in a layer cake container or slice the remainder of the cake and store the slices in an air tight container. Either way, store the cake in the refrigerator where it will keep for up to 5 days.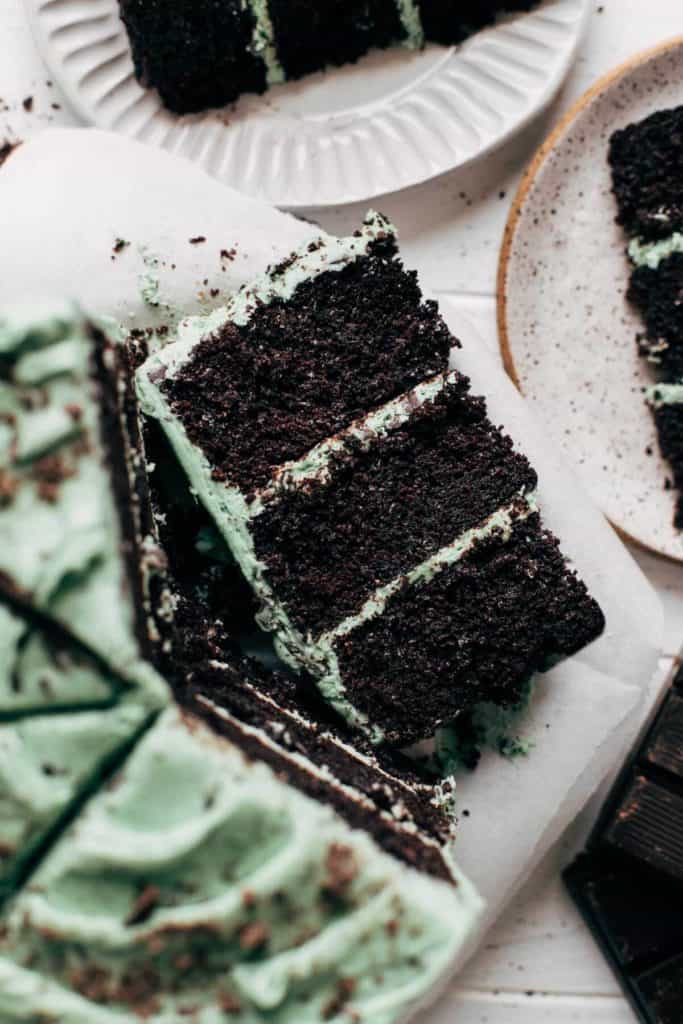 For more layer cake recipes, check out my:
Make sure to tag me @butternutbakery on Instagram and comment below if you make this Mint Chocolate Chip Cake. To pin this recipe and save it for later, you can use the button on the recipe card or on any of the photos above. Happy baking!
Print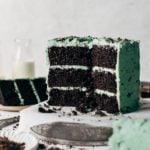 Mint Chocolate Chip Cake
---
Author: Jenna Barnard
Total Time: 2 hours + 1 hour chilling
Yield: 10-12 slices
Description
Fudgy mint chocolate cake smothered in mint chocolate chip buttercream.
---
Mint Chocolate Cake
1 3/4 cup (230g) all purpose flour *see notes for GF option
3/4 cup (65g) dutch process cocoa powder
1 1/2 tsp baking powder
1 tsp baking soda
1/2 tsp salt
1 3/4 cup (360g) granulated sugar
1/2 cup (120ml) canola or vegetable oil
2 large eggs, room temp
2 tsp vanilla extract
1/4 tsp peppermint extract
3/4 cup (190ml) buttermilk*, room temp
3/4 cup (175ml) hot water
Mint Chocolate Chip Buttercream
1 1/2 cups (330g) unsalted butter, room temp
4 cups (480g) powdered sugar
1–2 tbsp milk
1 tsp peppermint extract
3–4 drops green gel food coloring (blue and brown gel coloring optional)
4 oz dark or semisweet chocolate, finely chopped
---
Instructions
Mint Chocolate Cake
Preheat the oven to 350F and prepare either (3) 6″ round cake pans or (2) 8″ round cake pans. Coat in nonstick cooking spray and place a parchment paper round at the bottom of each pan. If you have cake sleeves, use those as well.
In a medium bowl, whisk together the flour, cocoa powder, baking powder, baking soda, and salt. Set aside.
In a large mixing bowl, whisk together the sugar and oil, followed by the eggs, vanilla, and peppermint extract.
Now alternating with the dry ingredients and buttermilk, mix in the dry, buttermilk, dry, buttermilk, dry. Once smooth, stir in the hot water. The batter should be very thin now.
Evenly distribute the batter among your cake pans. Bake for 35-40 minutes or until a toothpick in the center of each cake comes out clean.
Allow the cakes to cool in their pans for about 30 minutes, then turn the cakes out onto a cooling rack and chill in the refrigerator for about 1 hour. If you need to store them overnight, let them cool completely at room temperature and then wrap in plastic wrap before chilling.
Mint Chocolate Chip Buttercream
Once the cakes have chilled, make the buttercream.
In a large bowl using a hand or stand mixer with the whisk attachment, mix the butter until smooth.
Mix in 1 cup of powdered sugar at a time, followed by the milk and extract.
Now mix in your green food coloring, just until you get a light green pastel color. You can stop there or follow it up with 1 drop of blue gel food coloring and a half a drop of brown. This will give you a more natural mint color.
Now for the chocolate, make sure it's chopped as finely as possible without it turning into complete dust. If chopped by hand, you likely have a good mix of small bits and chocolate powder. Try not to add that much of the powdered chocolate into the buttercream. Scoop up about 1/2 cup of the chocolate with your hands and gently shake off any powdered bits. Fold into the buttercream and leave the remaining chocolate for decoration.
To assemble, level off the cake layers if needed. Then spread an even layer of buttercream between each cake and chill for about 30 minutes to set. Then slather a thick layer of buttercream all around the outside and smooth out by hand. I recommend smoothing the sides with an offset spatula rather than a cake scraper as this will drag the chocolate chunks around. For more info, check out my post all about how to frost a layer cake.
Now slice and enjoy!
Notes
BUTTERMILK – You can also make your own buttermilk using milk and vinegar. Measure out the milk to 3/4 cup. Then remove a scant 1 tbsp and replace it with a scant 1 tbsp vinegar. Stir the two together and let the mixture sit for about 10 minutes to thicken and curdle – just like buttermilk.
GLUTEN FREE – For a gluten free version, I recommend using my chocolate cake recipe from my Toasted Coconut Chocolate Cake. Swap out the extracts with what is used in this Mint Chocolate Cake recipe and you'll be good to go.
Prep Time: 40 minutes
Cook Time: 40 minutes
Keywords: mint chocolate, mint chocolate cake, mint chocolate chip, mint chocolate chip cake
Recipe Card powered by