These hazelnut blossoms have a soft and chewy Nutella cookie with a hazelnut truffle on top. It's a fun spin on classic peanut butter blossoms, but with hazelnut! The truffles also have a delicious crunch, so each bite has the best combination of soft cookie and crunchy truffle.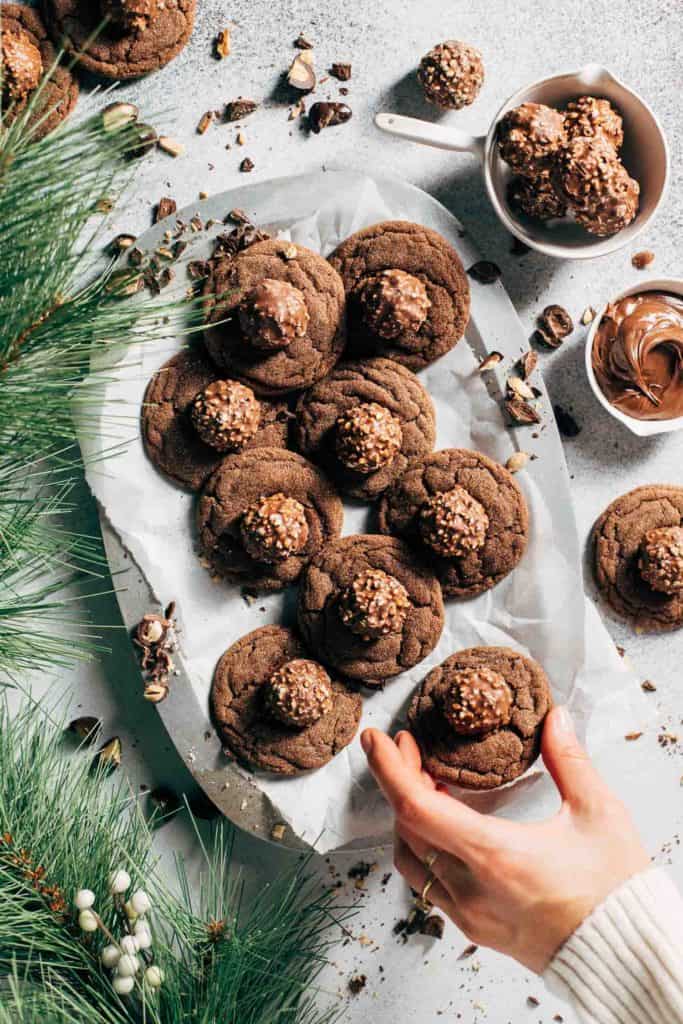 How to make Nutella cookies
The base of this recipe is a soft and chewy Nutella cookie that's so easy to make. Here are my top baking tips to ensure they turn out just right:
Dry Ingredients – Carefully measure the dry ingredients to prevent the cookies from going thick and cakey. To do so, spoon the flour into the measuring cup and level it off with a flat edge. Don't scoop directly into the flour and don't shake or pack it down into the cup. This is not the true measurement of a cup of flour. It should be light and fluffy in the cup!
Mixing Speeds – Mix on medium-high speed up until adding the dry ingredients. After those are added, switch to medium-low speed. Mixing too high for too high will yield a tough cookie, so low and slow is key.
Scraping – Scrape down the bowl after all of the wet ingredients are combined and then mix again. Then, after all of the dry ingredients are mixed in, scrape down the bowl and continue to mix the dough by hand. Some dry bits may still rest at the bottom of the bowl, so it's important that those also get incorporated into the dough.
Chilling – The dough is covered and chilled for 30 minutes before baking. Covering will prevent the dough from drying out, and chill just allows the flour to really absorb in the dough to provide a stronger structure.
Scooping the chocolate hazelnut dough
After the dough is chilled, it's time to scoop and bake. Use a 1 oz cookie scoop (the same amount as 2 tablespoons) and roll the dough into balls.
Roll the balls in a bowl of sugar and place on a large baking sheet lined with parchment paper. They spread quite a bit, so I suggest spacing each about 2 inches apart.
Baking chocolate hazelnut blossoms
These cookies only need to bake for about 8-10 minutes. They're ready when the edges are crackled and the center is evenly puffed.
To get the best crackly surface, press the truffles into the center of each cookie RIGHT when they're pulled from the oven. If you wait too long, the cookies will form an odd lip around the edge with a puffed center.
This is why it's best to unwrap the truffles while the cookies bake, that way they're ready to go.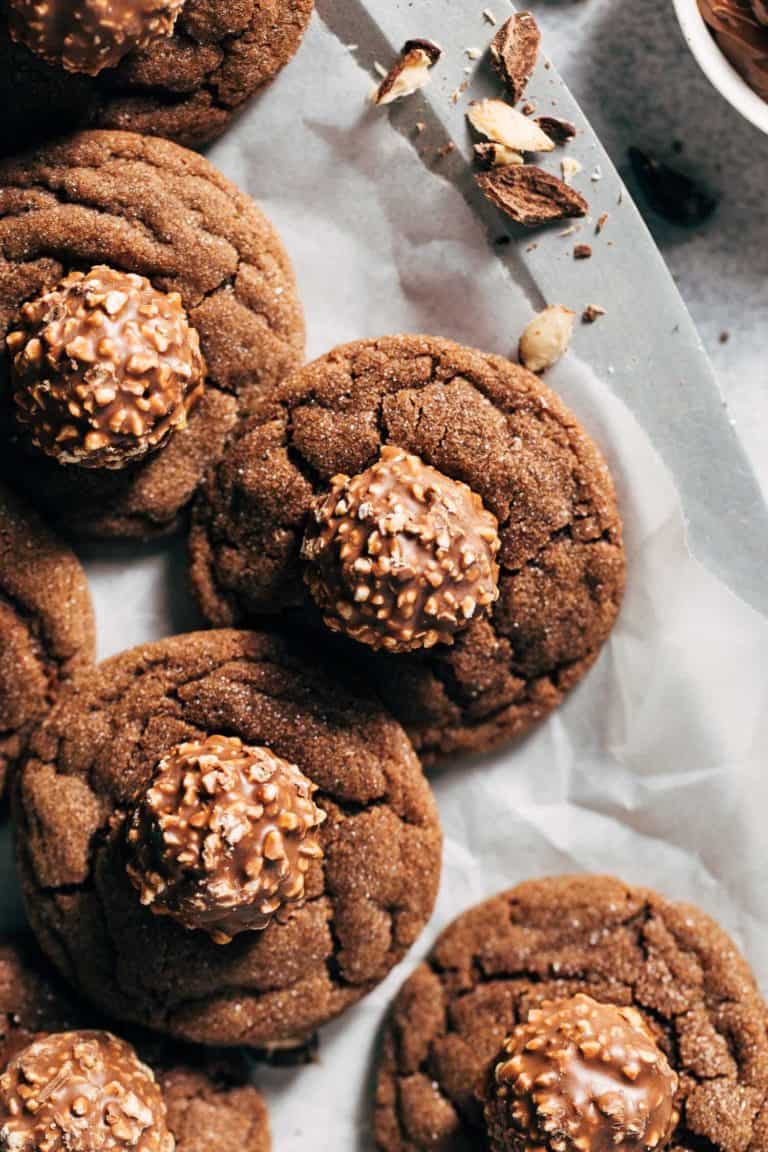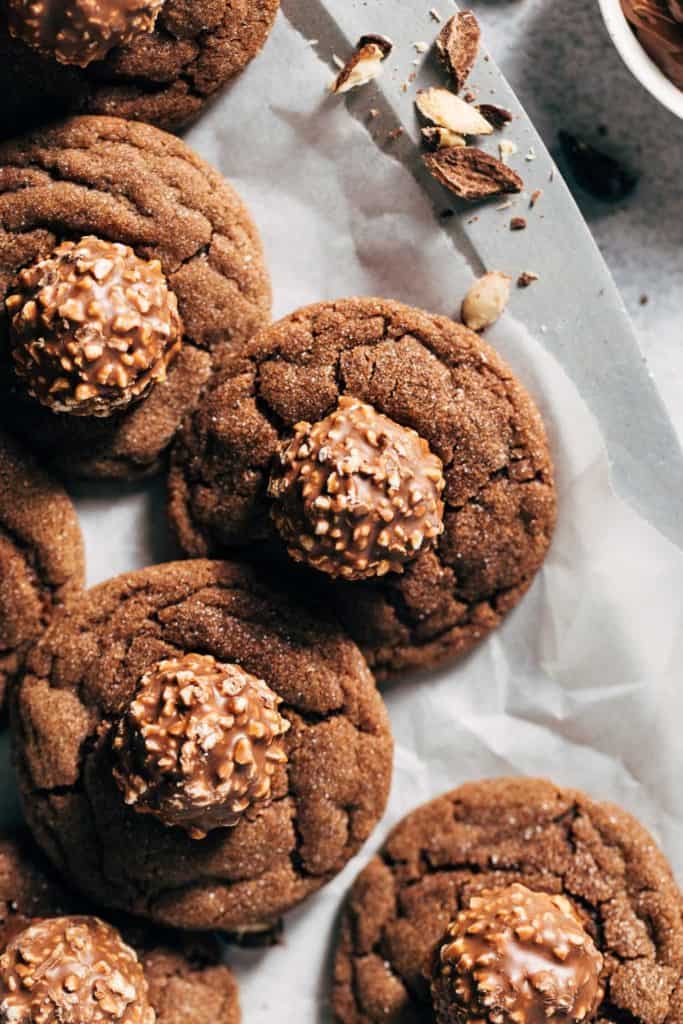 Can the dough be chilled for longer than 30 minutes?
Yes, the dough can be chilled for a couple hours but any longer and it becomes very difficult to scoop!
Can I use Hershey's kisses instead?
Yes, if you prefer to stay true to classic blossom cookies these can be used in place of the hazelnut truffles. The cookies just won't have AS strong of a chocolate hazelnut flavor.
Can these cookies be made gluten free?
I haven't tested it, but I would suggest using a good quality gluten free flour blend in place of the all purpose flour in this recipe. Also note that these hazelnut truffles are not gluten free, so swap those with kisses!
How to store chocolate hazelnut blossoms
After the cookies have cooled, store in an air tight container at room temperature where they'll keep for about 3 days. Any more than that and they start to taste a bit stale.
For more Nutella recipes, check out my:
Make sure to tag me @butternutbakery on Instagram and comment below if you make these chocolate hazelnut blossom cookies. To pin this recipe and save it for later, you can use the button on the recipe card or on any of the photos above. Happy baking!
Print
Chocolate Hazelnut Blossoms
---
Author: Jenna Barnard
Total Time: 28 minutes + 30 minutes chilling
Yield: 23 cookies
Description
These chocolate hazelnut blossoms are inspired by classic peanut butter blossoms! They have a soft Nutella chocolate with a hazelnut truffle on top. Each bite is sweet, crunchy, and so so good!
---
1/2 cup (110g) unsalted butter, room temp
1/2 cup (100g) light brown sugar, packed
1/4 cup (50g) granulated sugar
1/2 cup (160g) Nutella 
1 large egg
1 tsp vanilla extract
1 3/4 cup (230g) all purpose flour
2 tbsp unsweetened cocoa powder
1/2 tsp baking soda
1/4 tsp salt
1/2 cup granulated sugar (for rolling)
23 Ferrero Rocher truffles
---
Instructions
Whisk together the flour, cocoa powder, baking soda, and salt and set aside.
In a large mixing bowl using a hand or stand mixer with the paddle attachment, cream together the butter and sugars until light and fluffy. About 2-3 minutes on medium-high speed.
Add the Nutella, egg, and vanilla and mix to combine. Scrape down the bowl and mix again.
Pour in the dry ingredients and mix until just combined. Use a rubber spatula to scrape down the bowl and incorporate any dry bits that may be left at the bottom.
Cover the bowl and chill for 30 minutes.
Preheat the oven to 350F and line a large baking sheet with parchment paper.
Scoop out 2 tablespoon-sized cookie dough balls and roll in the sugar. Place each ball a few inches apart and bake for 8-10 minutes.
While those bake, unwrap the truffles.
Right when the cookies are pulled from the oven, press a truffle into the center of each cookie. The surface should crack. 
Allow the cookies to cool for about 3 minutes on the baking pan, then transfer to a cooling rack and continue to bake the rest of the cookies. Enjoy!
Prep Time: 20 minutes
Cook Time: 8 minutes
Keywords: hazelnut blossoms, chocolate hazelnut blossoms, blossom cookies, nutella cookies, nutella blossom cookies, nutella blossoms
Recipe Card powered by