You've never had a brownie quite like this one! These molten chocolate hazelnut tahini brownies are made with a rich and fudgy tahini brownie that's baked with a layer of Nutella right in the center. When sliced, the brownies remain extra fudgy with a molten and melty chocolate hazelnut filling. The savory tahini helps balance out the sweetness of the Nutella, creating a well balanced brownie with a completely unique flavor.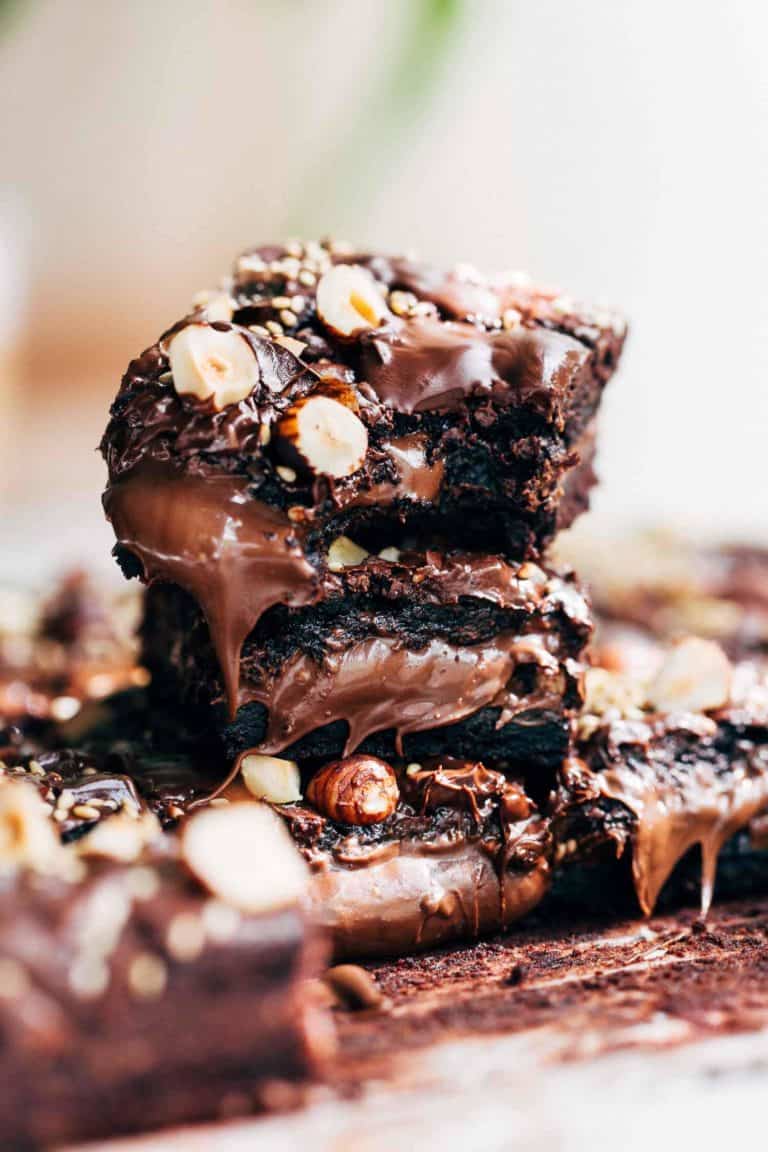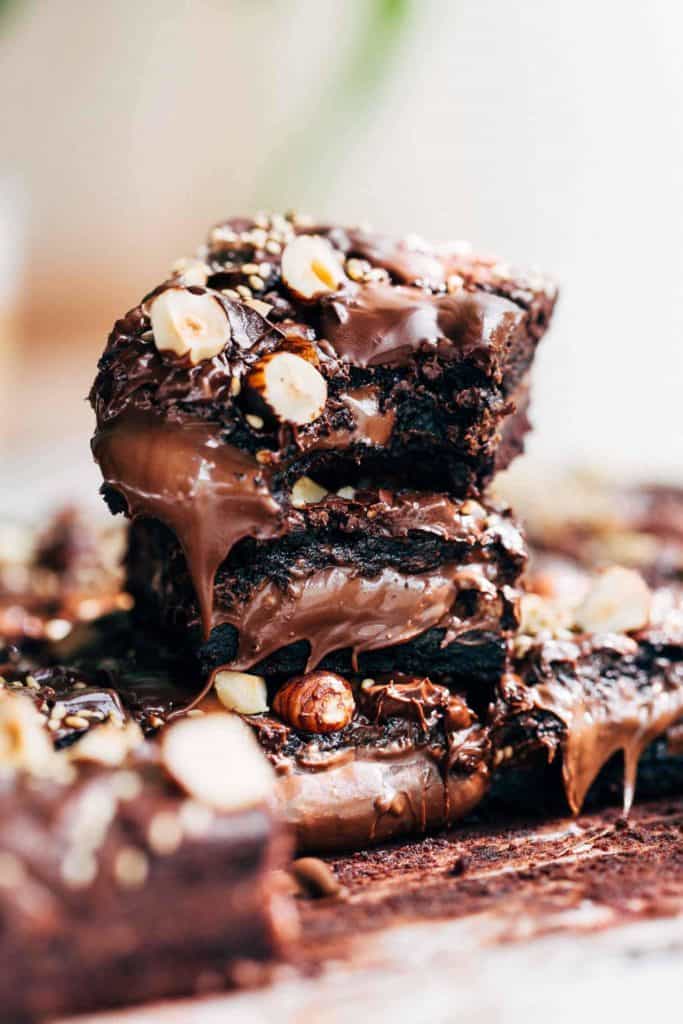 What is tahini?
Think peanut butter but instead of peanuts, it's sesame seeds. Tahini is made up of ground toasted sesame seeds, giving it creamy texture and savory flavor. It's a staple Middle Eastern ingredient that can be used in dishes such as hummus or halva, but it can also be used alone as a dip.
But not all tahini is created equal. It's important to use a good quality tahini, otherwise you will find it can taste pretty bitter. My favorite is by Soom Foods because it's not too bitter and bakes really well. A couple other favorites include the Trader Joe's tahini and the Whole Foods or Sprouts brand tahini.
Why use tahini in brownies?
These brownies are an absolute dream. They bake into this perfectly fudgy texture that's not too gooey or runny. The secret is using tahini. By replacing the butter with tahini, we've increased the fat content of the batter to create a rich texture.
Tahini is also an emulsifier, meaning it allows both the oil and water particles within a substance to become finely dispersed rather than separated. Eggs are also an emulsifier, so pairing the two together gives you a well rounded brownie that's both fudgy and chewy all at the same time.
Tips for making fudgy tahini brownies
Properly measure the flour – I say this in every post, and for good reason. It's the number one reason why most recipes fail, especially for brownies. If there's too much flour, the brownies will become dry and cakey. If you can, measure the flour with a food scale. Otherwise, to ensure you use the exact amount needed, gently spoon the flour into your measuring cup and level if off with a flat edge. If you scoop directly into the flour container, it packs it down into the cup which could leave you with 1/4 cup or more of added flour.
Dutch processed cocoa powder – This type of cocoa powder is darker and color with a smooth chocolate flavor as it as been treated with an alkalizing agent to reduce the natural acidity of the cocoa. For the best results, stick with dutch processed. If you can't get your hands on some, you can use regular unsweetened cocoa powder. Just know that your brownies may vary in color and flavor.
Stir the tahini – If you're cracking open a fresh jar of tahini, make sure you stir it really well before use. The oil tends to separate the top of the jar, so it's important to fully stir the tahini until you reach a runny but creamy consistency.
Don't over mix – This goes for ANY brownie recipe, as over mixing is one of the main downfalls in making homemade brownies. Over mixing is what will give you a tough brownie rather than a tender and fudgy brownie. If you still have a few sparse streaks of flour throughout the batter, that's totally fine. Otherwise, stop stirring RIGHT as the batter comes together.
How to stuff a brownie with nutella
There's something so rewarding about lifting out that first slice of your Nutella filled brownie to see that melty gooey center just oozing out. It makes these brownies look and taste so irresistible.
To achieve that ooey gooey layer, you must first freeze a slab of Nutella. Otherwise, if you try to spread room temperature Nutella into the center of this brownie batter, it will mix in with the batter thus ruining those distinct layers. Freezing allows us to nest the Nutella right in between two layers of brownie batter, preventing the two from blending together.
Now the trickiest part about this process is not the Nutella, but the super thick brownie batter. Tahini tends to seize up when mixed with a bit of water, so the batter becomes very thick. To make things easier, follow these extra tips:
When you grease and line your baking pan, just cut one strip of parchment paper that's a bit smaller than the width of the pan. I find that this helps the paper stick to the bottom and sides of the pan, preventing the paper from sliding around as you spread out the batter.
If you have a small offset spatula, use it. It makes this process much easier.
Make sure you chop the chocolate into tiny bite-sized pieces before mixing it in to the batter. If you have big chunks of chocolate, the batter will be very clunky and difficult to spread even.
If your Nutella starts to melt, don't worry. It's okay if it bleeds into the edges a bit, as long as the Nutella as a whole is still in tact before baked.
When to slice your brownies
Patience is key with these brownies, as it's important to NOT slice into them when they're still hot or warm. Allow the brownies to cool completely before slicing. First, let them cool at room temperature for about 30 minutes. Then transfer to the refrigerator for about an hour to filly set. You know they're ready when the bottom of the pan is no longer warm to the touch.
At this point, the brownies should be very easy to lift out of the pan and slice. If the brownies start to cave in the middle as you lift them out, they need more time to chill. They may also stick to the sides of the pan that have no been covered in parchment paper. Simply run a knife along those two edges before lifting them out.
When you go to slice, use a very large and sharp knife if you have one. Swift one-motion cuts are ideal for brownies, especially layered ones. Otherwise, sawing down the brownies with a small knife will drag the crumbs all along each cut, giving you clunky and uneven slices.
What can I substitute for the tahini?
If you're on the fence about tahini, or if you've never tried it before, I urge you to not shy away from it. Its slightly bitter and savory flavor is the perfect pairing to the super sweet and rich Nutella. The flavor is also not overpowering, so if you don't like the flavor of tahini chance are you will still like these brownies.
If you are completely against it, you an replace the tahini with melted butter or any other type of natural nut butter (made with just one ingredient). Just know that your brownies will vary in texture and flavor depending on what you use.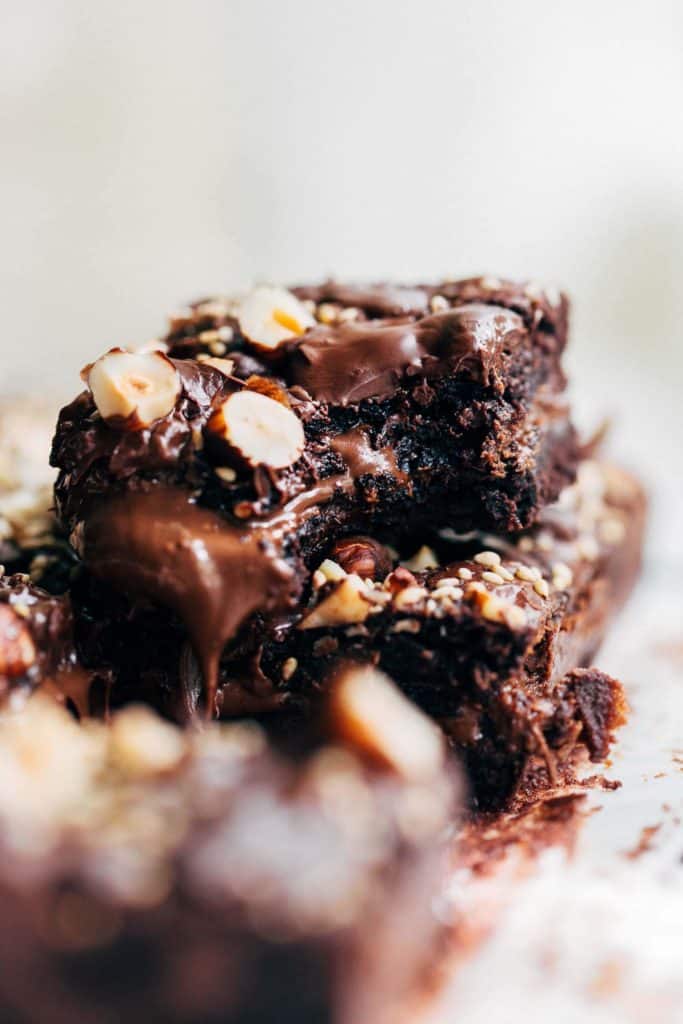 Can I make these gluten free?
I have not tested this, but I recommend using a good quality 1-to-1 gluten free baking flour if you want to give it a try. This one by Bob's Red Mill is my favorite.
Can I make these vegan?
Luckily, the tahini replaces the butter in these brownies. But as far as the eggs, you can try using 3 flax eggs (3 tbsp ground flax seed mixed with 6 tbsp water) or replace with an additional 1/2 cup of tahini. For the Nutella, swap with vegan Nutella. Just know that I have not tested this myself.
How to store your Nutella tahini brownies
Store the brownies in an air tight container in the refrigerator. You can heat one up for about 10-15 seconds in the microwave if you prefer a more melty brownie, or they can be eaten chilled. They will keep for up to 6 days.
For more brownie recipes, check out my:
Make sure to tag me @butternutbakery on Instagram and comment below if you make these Molten Chocolate Hazelnut Tahini Brownies. To pin this recipe and save it for later, you can use the button on the recipe card or on any of the photos above. Happy baking!
Print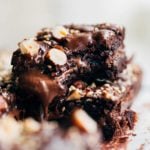 Molten Chocolate Hazelnut Tahini Brownies
---
Author: Jenna Barnard
Total Time: 1 hour 15 minutes + 1 hour chilling
Yield: 16 brownies
Description
Extra fudgy tahini brownies are baked with a layer of nutella right in the center, making for a perfectly balanced sweet and savory brownie.
---
1 1/2 cups (about 13 oz) Nutella (use vegan Nutella to make these dairy free)
2/3 cup (86g) all purpose flour, spooned and leveled
1/2 cup (50g) dutch processed cocoa powder
1/2 tsp salt
2 large eggs + 1 egg yolk
1/2 cup (100g) light brown sugar, packed
1/2 cup + 2 tbsp (125g) granulated sugar
1/2 cup (120g) unsalted tahini
2 tsp vanilla extract
4 oz dark chocolate, chopped and divided
1/4 cup unsalted hazelnuts, roughly chopped (optional)
1 tbsp toasted sesame seeds (optional)
---
Instructions
Line a square 8×8 baking dish with wax paper.
Measure out the Nutella in a heat proof bowl and microwave for 30 seconds. 
Pour the warm Nutella into the wax paper-lined dish and spread it in an even layer. Freeze for about 30 minutes or until firm.
Once firm, lift out the Nutella (still on the wax paper) and transfer to a plate or tray and place it back in the freezer. This now frees up your baking pan to make the brownie batter.
Preheat the oven to 350F and grease and line your 8×8 square baking dish with parchment paper, allowing the paper to hang over the edges for easy removal.
In a medium bowl, whisk together the flour, cocoa powder, and salt. I recommend weighing the flour and cocoa powder (if you have a food scale) to ensure accuracy. Otherwise, spoon them into your measuring cup and level it off with a flat edge. Do not scoop directly into the flour/cocoa powder as this will pack it down into your cup and leave you with way too much.
In a large mixing bowl, whisk together the eggs and sugar until pale and creamy (about 2 minutes of vigorous whisking).
Mix in the tahini and vanilla. Switch to a rubber spatula and stir in the dry ingredients, careful not to over mix. Then fold in half of the chopped dark chocolate.
Scoop half of the batter into your prepared baking pan and spread it even. Remove the Nutella from the wax paper and place it on top. Then spread the remaining brownie batter on top of the Nutella.
Sprinkle with the rest of the chocolate as well as hazelnuts and sesame seeds (optional).
Bake for 28-32 minutes or until the top is crackly and glossy and the center does not wobble when the pan is jiggled. A toothpick test will not work here as the Nutella will just coat the toothpick. 
Allow the brownies to cool completely before slicing. Let them to cool at room temperature, placing the pan on a wire rack, for about 30 minutes. Then chill in the refrigerator for about 1 hour or until the bottom of the pan is no longer warm. Then lift the brownies out, slice, and enjoy!
Prep Time: 45 minutes
Cook Time: 30 minutes
Keywords: tahini brownies, nutella brownies, fudgy brownies, brownie recipe
Recipe Card powered by