One day I just had the urge to make a giant chocolate chip cookie…so I made a chocolate chocolate chip cookie. Then I took it a step further and stuffed Nutella in the center! This cookie has everything a standard chocolate chip cookie should have with crispy and chewy edges and a soft and gooey enter. It just so happens to also be the size of your head!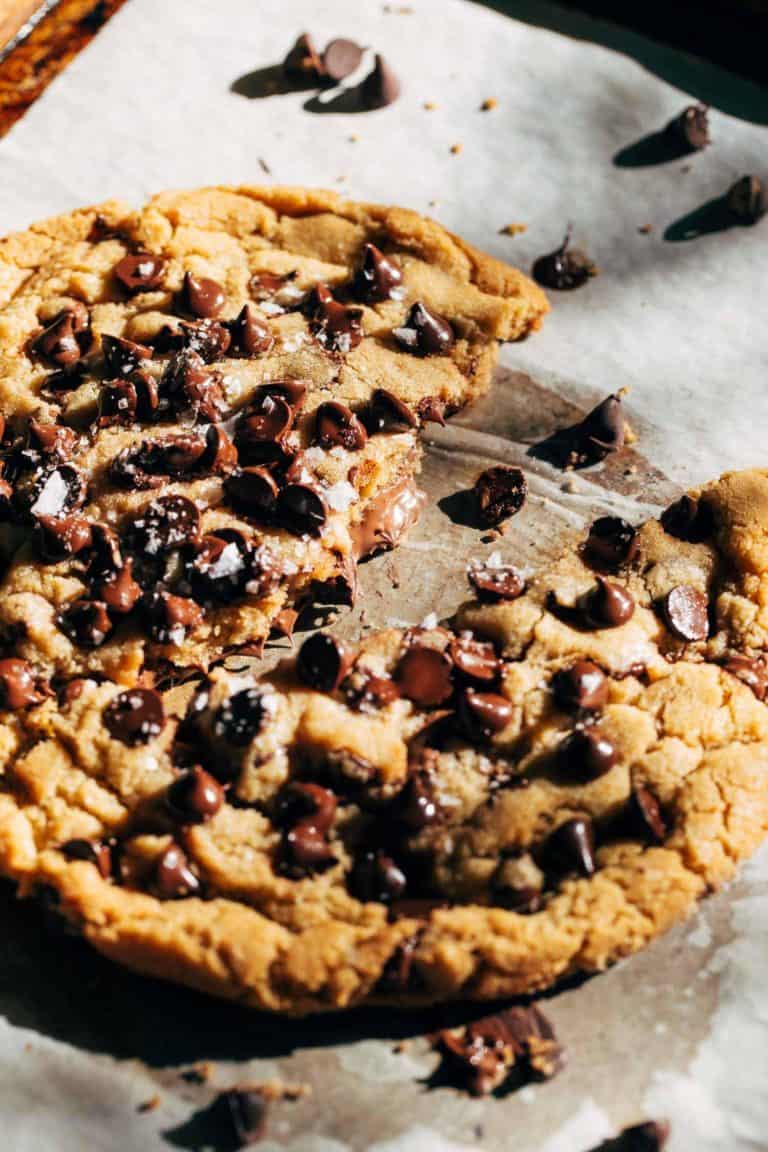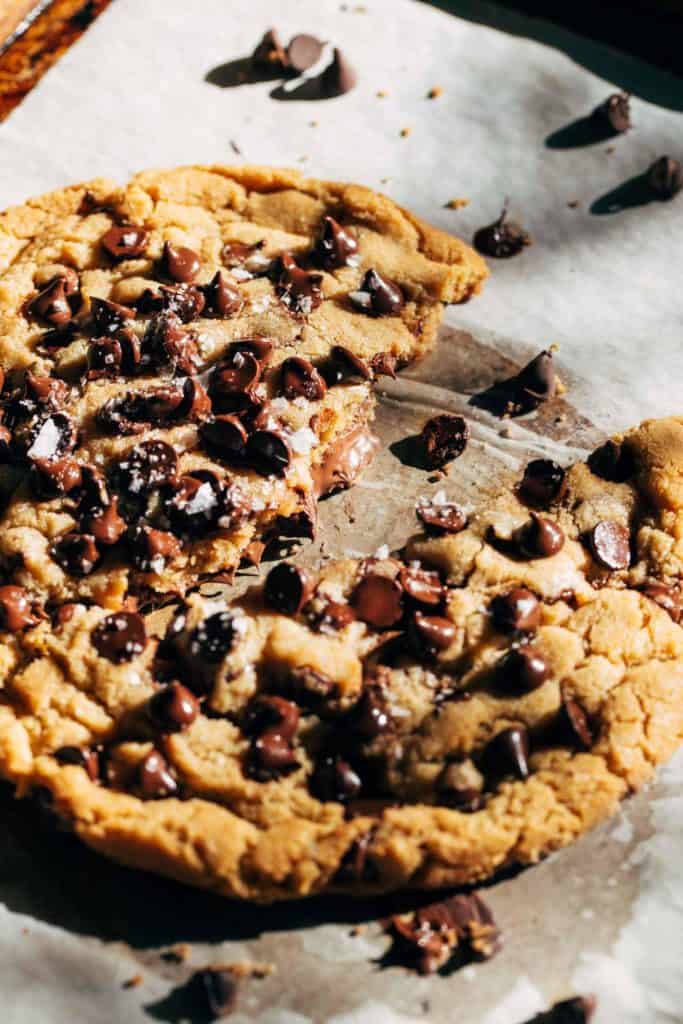 How to make a giant chocolate chip cookie
First and foremost, this giant chocolate chip cookie is WAY easier and faster to make than a batch of chocolate chip cookies.
For starters, this recipe is based off of my BEST chocolate chip cookies recipe which is already incredibly quick and easy. The dough is mixed by hand and comes together in a matter of minutes.
The longest step is just waiting 15 minutes for the dough to chill. This step is crucial because it makes the dough much more moldable and it also prevents the dough from spreading too thin in the oven.
Now instead of scooping out individual cookies, the dough is split in two. One half is pressed flat and filled with Nutella, and the other half is placed on top to seal everything in.
From there, it bakes for 15 minutes and then it's done! See? Quick and easy.
As far as the amount, the standard batch of cookie dough would have been too much for one giant cookie. So instead, this is a small batch version that makes the perfect head-sized cookie. That's the measure we're going for here.
How to brown butter
To make this recipe even MORE delicious, the butter is browned before mixing it into the dough. This browning process adds a nutty and toasty flavor to the butter which in turn creates a super rich cookie flavor.
I have an entire post dedicated to the browning process, but in a nutshell:
Add butter to a saucepan over medium heat.
Melt down the butter.
Continue to cook and stir the butter until it goes from loud and bubbly to foamy and quit.
When it goes quiet, continue stirring until you see brown toasty bits resting at the bottom of the pan. The browning process happens within a matter of seconds at this point, so don't step away from the pan!
Pour the brown butter into a measuring glass, making sure to scrape in all the brown bits.
Drop in 1 tablespoon of chilled butter to speed up the cooling process.
The butter chills for about 5 minutes in the refrigerator before use. It's important NOT to use the butter when it's piping hot, as this could melt the sugar in the dough.
Tips for stuffing a giant chocolate chip cookie
Stuffing a giant chocolate chip cookie is much easier than stuffing a standard cookie because there's more surface area to work with.
To stuff this giant chocolate chip cookie, the dough is first split into two:
First Half – This is rolled into a ball and pressed flat on the baking sheet. It should be about the thickness of a burger patty. The sides are then moulded to create a short wall around the dough.
Filling – The Nutella is spooned into the center of the first half of dough. The wall around the dough will hold it in.
Second Half – This is rolled into a ball and pressed flat. It should be a bit larger than the diameter of the first half of dough. This is then laid on top of the Nutella filled dough. Cup your hands around the edges to seal everything in.
Once formed, the cookie dough ball should look like a small dome that's about 1.5 inches thick. If there are any cracks on the surface, use your fingers to pinch the dough back together. Top with a layer of chocolate chips and then bake!
Why is salted butter used?
Between the brown butter, Nutella, and extra chocolate chips, this cookie is very rich. Using salted butter helps cut through the sweetness to create a well balanced cookie.
So why not just use more salt?? Salt is added separately to the dough, but using salted butter adds a savoriness that's not as sharp as salt itself. By using a combo of salt, salted butter, and flaky sea salt, this cookie has the perfect balance of sweet and savory!
How to bake a giant cookie
This cookie is baked on a large baking sheet lined with parchment paper. It's baked at 350F for about 15 minutes.
It's ready when the edges are wrinkly and a light golden brown, and the center looks barely underdone. It's best to pull the cookie when it looks under baked because the residual heat outside of the oven will continue to bake the cookie.
When it's fresh from the oven, top with a sprinkle of flaky sea salt. Since the Nutella is so sweet, this will help balance out the flavors.
How to serve a giant cookie
Allow the cookie to cool on the baking pan for about 15-20 minutes. Definitely don't try to move it before then! Since it's an XL cookie, it's much more delicate than a standard sized cookie.
After the 20 minutes, this cookie can either be eaten straight from the pan or transferred to a cooling rack to cool completely.
But for the best results, I suggest digging in after those 15-20 minutes when it's still slightly warm. It'll be extra gooey and so delicious! Just slice into it like a pie and enjoy on its own or with a scoop of ice cream.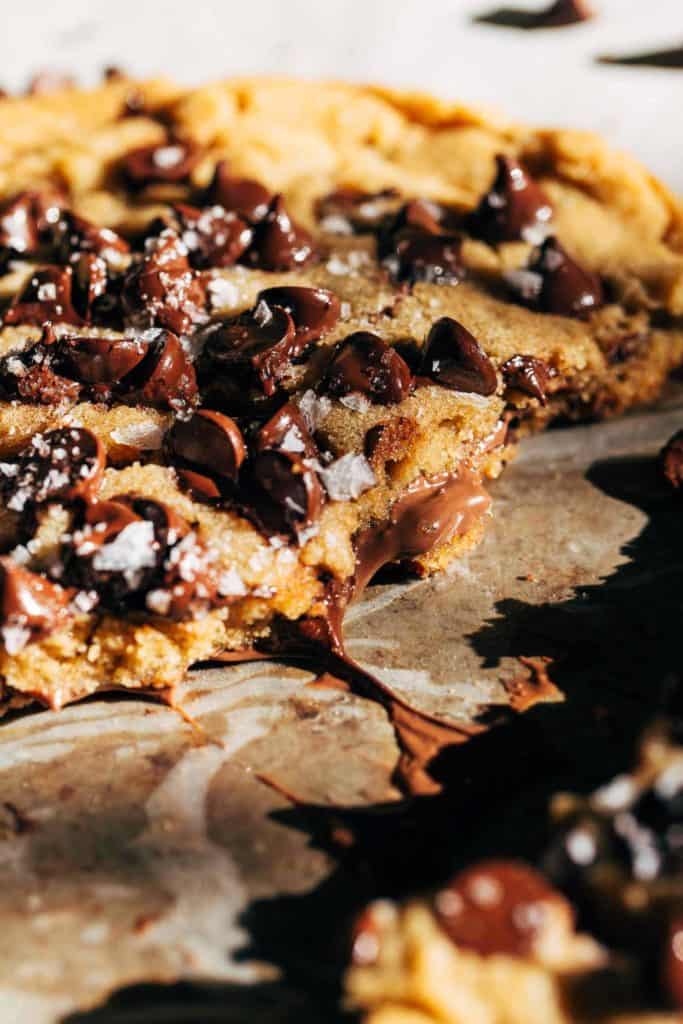 For more chocolate chip cookie recipes, check out my:
Make sure to tag me @butternutbakery on Instagram if you make this giant chocolate chip cookie. I love seeing my recipes come to life in YOUR kitchen! To pin this recipe and save it for later, you can use the button on the recipe card, the buttons above or below this post, or on any of the photos above. Happy baking!
Print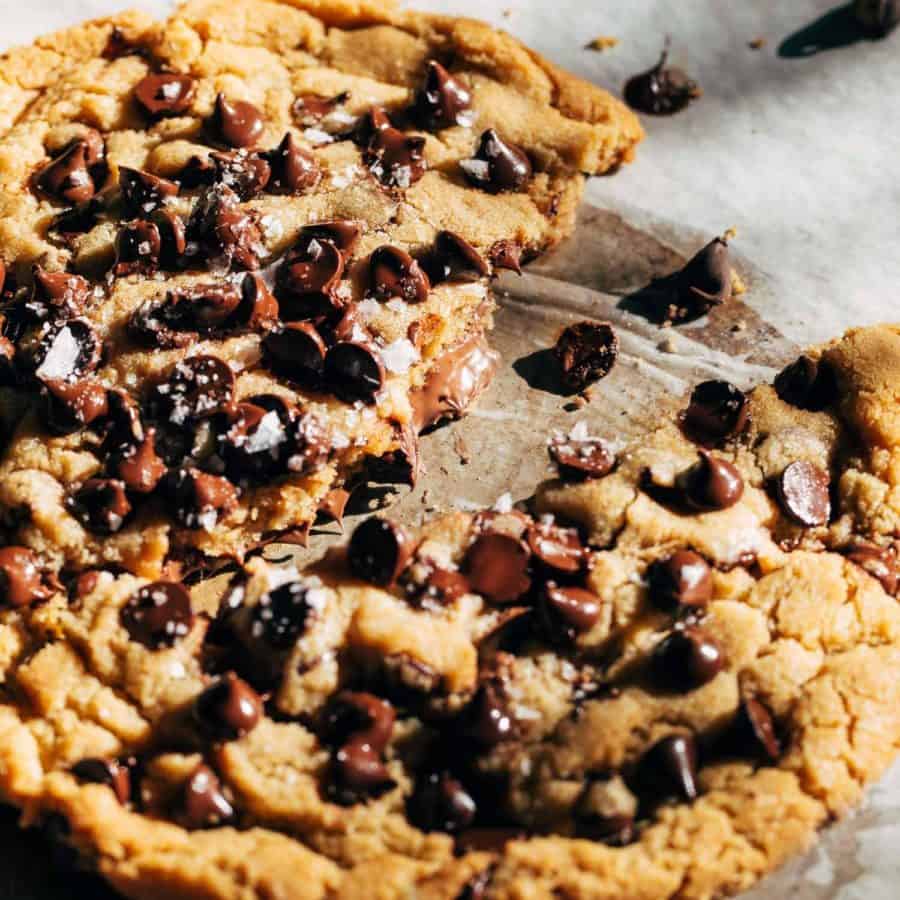 Giant Nutella Stuffed Chocolate Chip Cookie
---
Description
Why have a regular chocolate chip cookie when you can have a giant chocolate chip cookie that is as big as your head! And stuffed with Nutella! It's then taken a step further, made with brown butter, melty semisweet chocolate, and flaky sea salt.
---
1/2 cup (65g) all purpose flour, spooned and leveled
1/4 tsp baking soda
1/4 tsp baking powder
1/4 tsp salt
1/4 cup (55g) salted butter + 1 tbsp
1/4 cup (50g) light brown sugar, packed
3 tbsp granulated sugar
1 tsp vanilla extract
1 large egg yolk
1/3 cup semisweet chocolate chips + 2 tbsp
2 heaping spoonfuls of Nutella
Flaky sea salt, for sprinkling on top
---
Instructions
Add 1/4 of butter to a saucepan over medium heat.
Heat until melted and browned. Pour into a measuring glass and mix in the remaining 1 tablespoon of butter. Place in the refrigerator to cool.
In a small bowl, whisk together the flour, baking soda, baking powder, and salt. Set aside.
In a mixing bowl, whisk together the brown sugar, sugar, and cooled brown butter (it's ok if it's still a bit warm, just not piping hot).
Whisk in the vanilla and egg yolk. Mix well until completely smooth.
Add in the dry ingredients and use a rubber spatula to mix together the dough. Then mix in 1/3 cup of chocolate chips.
Cover the bowl and chill for 15 minutes. Preheat the oven to 350F and line a large baking sheet with parchment paper.
Once chilled, divide the dough in half. Roll one half into a ball and press it flat into the center of the baking pan, forming a burger patty shape.
Mold the edges of the cookie dough to create a small wall around the sides (see picture in post for reference).
Add two heaping spoonfuls of Nutella to the center of the dough.
With the remaining dough, roll into a ball and press it flat in your hands so that it's slightly larger than the Nutella filled dough.
Lay the second half of dough on top of the first half and cup the edges to seal in the Nutella.
Gently seal in any potential cracks on the surface and then add about 2 tablespoons of chocolate chips on top.
Bake for 15-18 minutes, or until the edges are a light golden brown and the center looks barely underdone. Sprinkle with flaky sea salt when it's fresh from the oven.
Allow the cookie to cool on the baking pan for about 15-20 minutes. Transfer it to a cooling rack if desired, or just eat straight from the pan. Enjoy!
Prep Time: 30 minutes
Cook Time: 15 minutes
Category: Dessert
Method: Baking
Cuisine: American
Keywords: giant chocolate chip cookie, nutella stuffed chocolate chip cookie, giant cookie, giant chocolate chip cookie recipe
Recipe Card powered by