You guys, these Caramel Filled Nutella Truffles are like little chocolate bites of heaven! They are so easy to make since it's a no bake truffle recipe. Using store bought soft caramels, you can make these Nutella truffles in a snap!
Caramel Filled Nutella Truffles
There are many different brands of hazelnut spread out there but when it comes to baking, I always use Nutella. It tends to be smoother, sweeter, richer, and just better quality overall. Plus, I really wanted that hazelnut flavor to come through since we have chocolate and caramel in the mix.
What makes this truffle recipe so easy is that you just mix everything together, refrigerate it for a bit, scoop, and serve. If you're feeling a little extra ambitious, you could make a homemade caramel filling but it's not absolutely necessary. Werther's soft caramels are a little cheat for this recipe because who has time to make caramels?? Or at least caramels for this recipe. Homemade caramels on their own are totally worth it!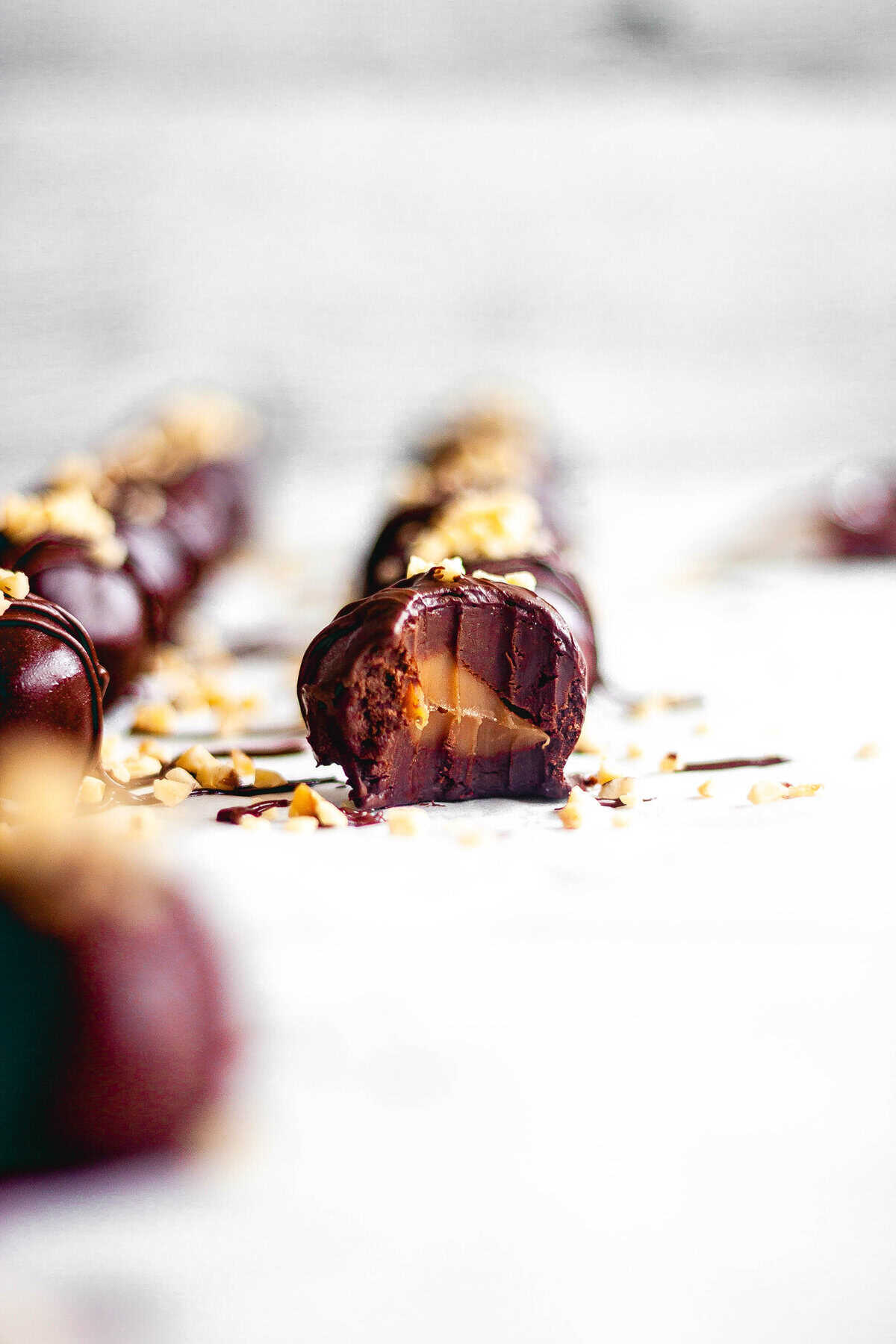 Chocolate truffle ingredients
To make this recipe, I needed to start with a base. Typical chocolate truffle recipes contain chocolate, heavy cream, and butter or another form of fat. You heat the cream to melt the chocolate, stir in the butter, chill, and you've got truffles. Since I added Nutella to these truffles, they turned out a bit thicker and creamier, which I am all for!
Chocolate truffles are usually rolled in cocoa powder but you can have free reign with these Nutella truffles. I coated mine in dark chocolate and sprinkled some hazelnuts on top but you could go the cocoa powder route, roll them in chopped hazelnuts, drizzle a little chocolate on top, or leave them plain. It's up to you! Because the only thing that matters here is the truffle and caramel. The rest is just extra!
How to make a caramel filled truffle
Desserts where something is stuffed inside of something else always look so complicated. Even though I have a proven track record in doing this all the time…especially with my pumpkin cheesecake cookies. But, just like most things in life, it's much less work than it seems. You want to make sure the truffle mixture is chilled enough so it's not sticky but also not too cold to where you can't scoop it. It should be malleable so that you don't run into any issues with stuffing the caramel inside.
Using some store bought SOFT caramels (soft is key here), you unwrap them and roll them into little balls. Scoop out a truffle ball, flatten it in your palm, place the caramel in the center, fold over the truffle, and roll in your hands so that no caramel is exposed. Boom! You have a fancy stuffed truffle. Now you'll want to put everything in truffles! I think some chopped up peanut butter cups would be amazing inside a truffle. Hmmm….new recipe idea?? Lindt, I'm coming for your brand.
If you try out these caramel filled Nutella truffles, make sure to tag me on Instagram @butternutbakery. If you want even more truffle recipes, you can check out my graham cracker truffles. They're one of my most popular recipes! And make sure to pin this recipe for later using the button on the recipe card, above or below this post, or on any of the photos. Happy baking!
Print
Caramel Filled Nutella Truffles
---
Description
These easy Nutella truffles are stuffed with a soft and chewy caramel and drizzled in chocolate. They're rich, creamy, and absolutely delicious!
---
10 oz dark chocolate or semisweet, plus more for coating
1/3 cup heavy cream
3/4 cup Nutella
2 tbsp unsalted butter, melted
20 Werther's Original Soft Caramels
1/4 cup chopped hazelnuts (optional)
---
Instructions
In a large bowl, measure out the chocolate. Set aside.
In a microwave safe bowl, heat the heavy cream for about 1 minute. Pour the hot cream over the chocolate and let it sit for a couple minutes. Make sure the chocolate is completely covered in the cream.
Mix the chocolate and cream together until it's smooth and shiny. Then, mix in the Nutella and melted butter until well combined.
Let it sit out for about 15 minutes then cover in plastic wrap, pressing it against the surface of the mixture. Refrigerate for 1 hour.
Before taking the truffle mix out of the fridge, unwrap the caramels and roll them into balls.
Taking a small cookie scoop (about 1-2 tablespoons) scoop out the truffle into your hand, press it flat, place the caramel in the center, and roll the truffle around it to conceal. Place on a small tray lined with wax paper and repeat. You should end up with about 20 truffles.
If you want to roll them in chopped hazelnuts or cocoa powder, you can do that now. If not, place the truffles back in the fridge for 2 hours to set.
Once chilled, prepare the chocolate to coat the truffles. Measure out 1 1/2 cups of chocolate and melt in the microwave in 30 second intervals until smooth.
Using two forks, dunk a truffle into the chocolate to completely coat it. Scoop it out with the fork and tap it against the edge of your bowl a few times to let the excess chocolate drip off.
Place it back on the same pan by sliding it off your fork using another fork at the base of the truffle.
If you want to add some extra hazelnuts on top, you can do that now before the chocolate sets.
Place the truffles back in the fridge for one hour to set.
Do not serve cold as the caramel in the middle will be too hard. Let them sit out for about 15 minutes before eating. Enjoy!
Keywords: nutella truffles, easy truffle recipe, chocolate truffles
Recipe Card powered by