These lemon blueberry muffins are bursting with fresh blueberries and zesty lemon flavor. They're also incredibly moist and topped with a crunchy crumble topping with extra lemon zest. With how easy these are to make, you can have a fresh batch of warm muffins in no time!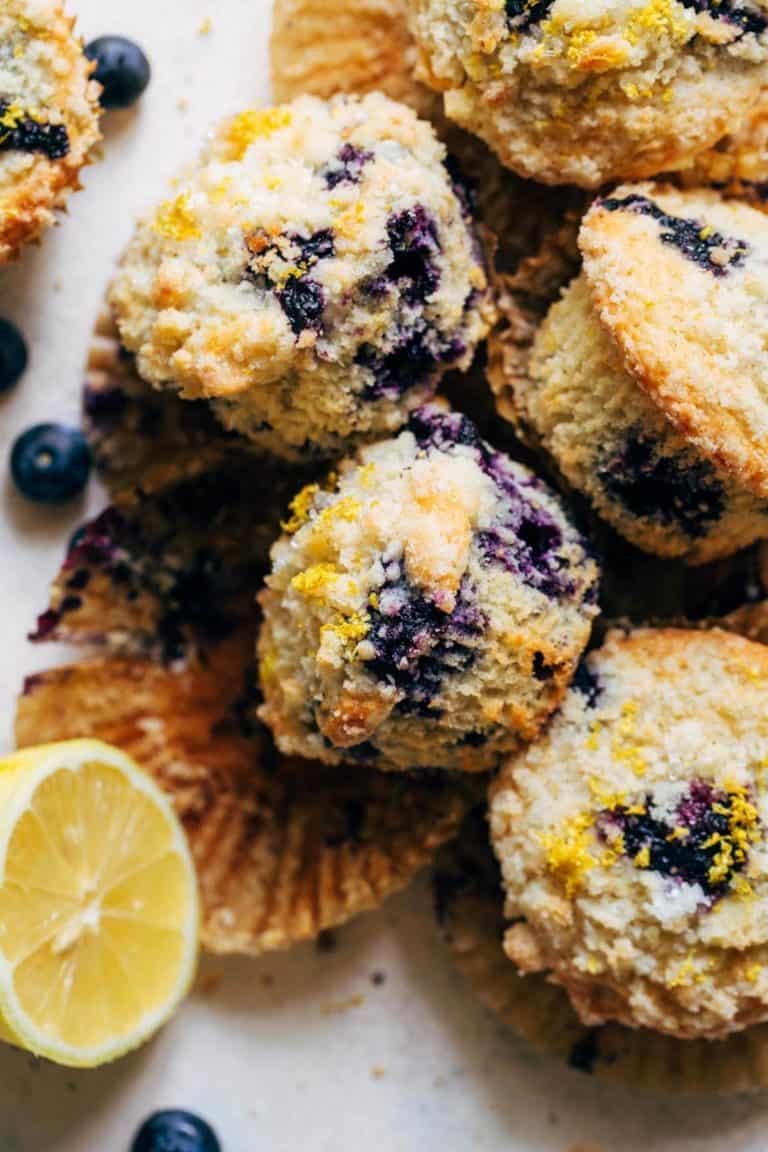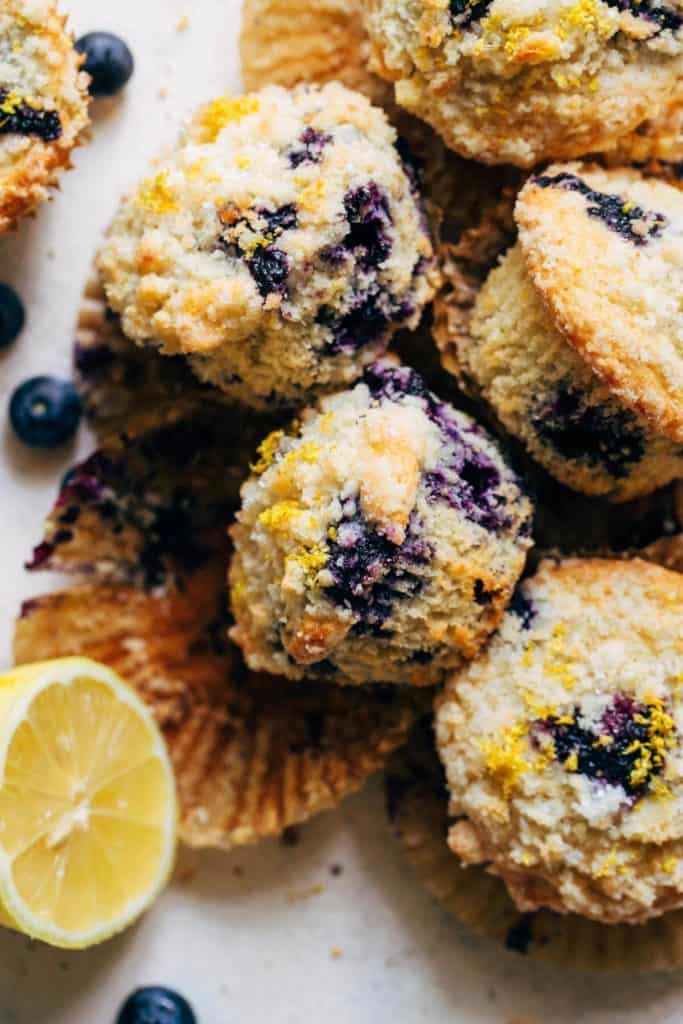 What makes this lemon blueberry muffin recipe so good
Muffins are always so easy to make, but are tricky to get just right. It's a balance between really puffy and tall muffins and still managing a really moist texture. These muffins tick both boxes! They puff up in the oven while maintaining a super moist texture that stays that way for days.
These muffins definitely don't lack in flavor either. Both fresh lemon juice and lemon zest are added to the batter alongside a heaping amount of fresh blueberries. Each bite gives you a burst of lemon and blueberry with a moist texture and crunchy crumble topping.
Speaking of the topping, this one goes perfectly with these muffins. It's crunchy but not too sweet, which pairs perfectly with the flavorful and soft base. Top them off with a little extra lemon zest if you really love that lemon!
Last but not least, these muffins are super moist and STAY moist. Since the batter is made with oil and not butter, it creates a super soft and moist texture to keep this muffins tasting fresh for days.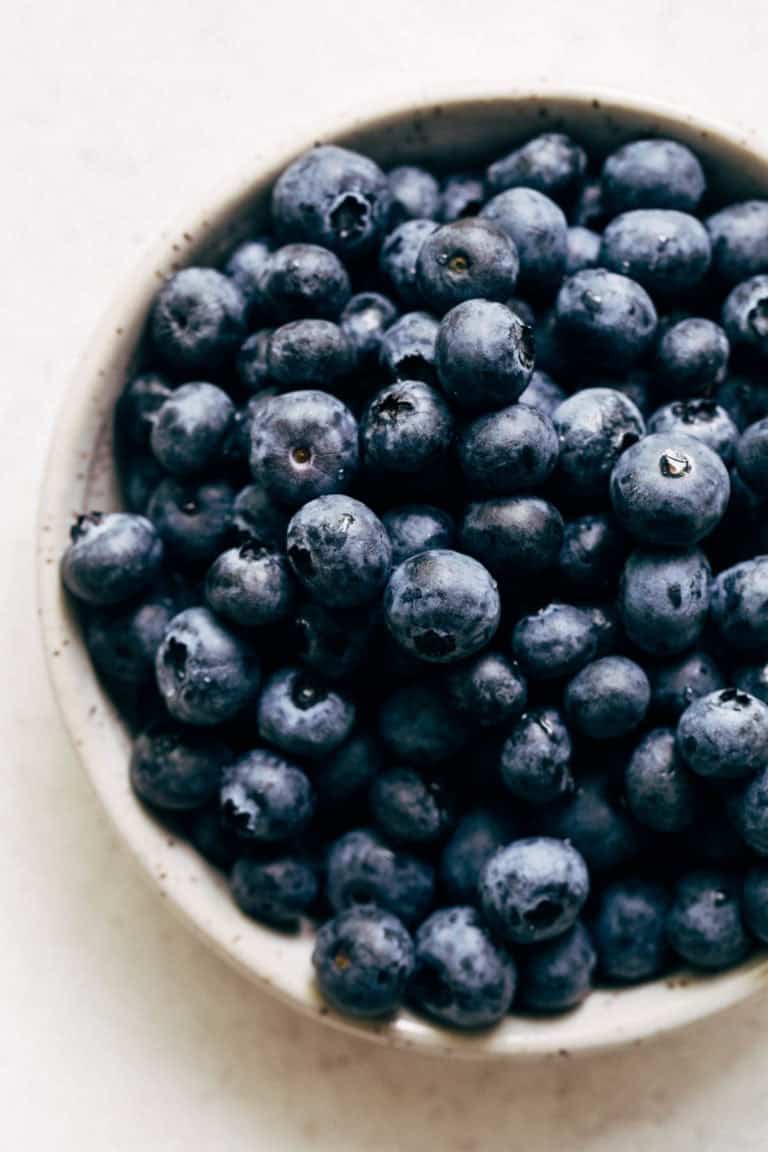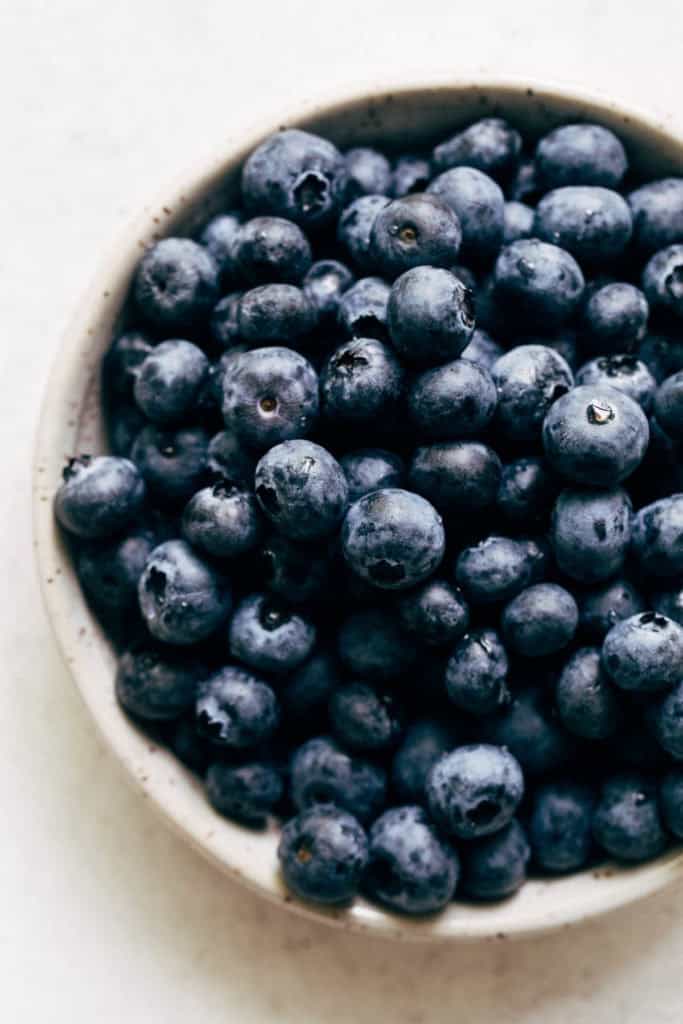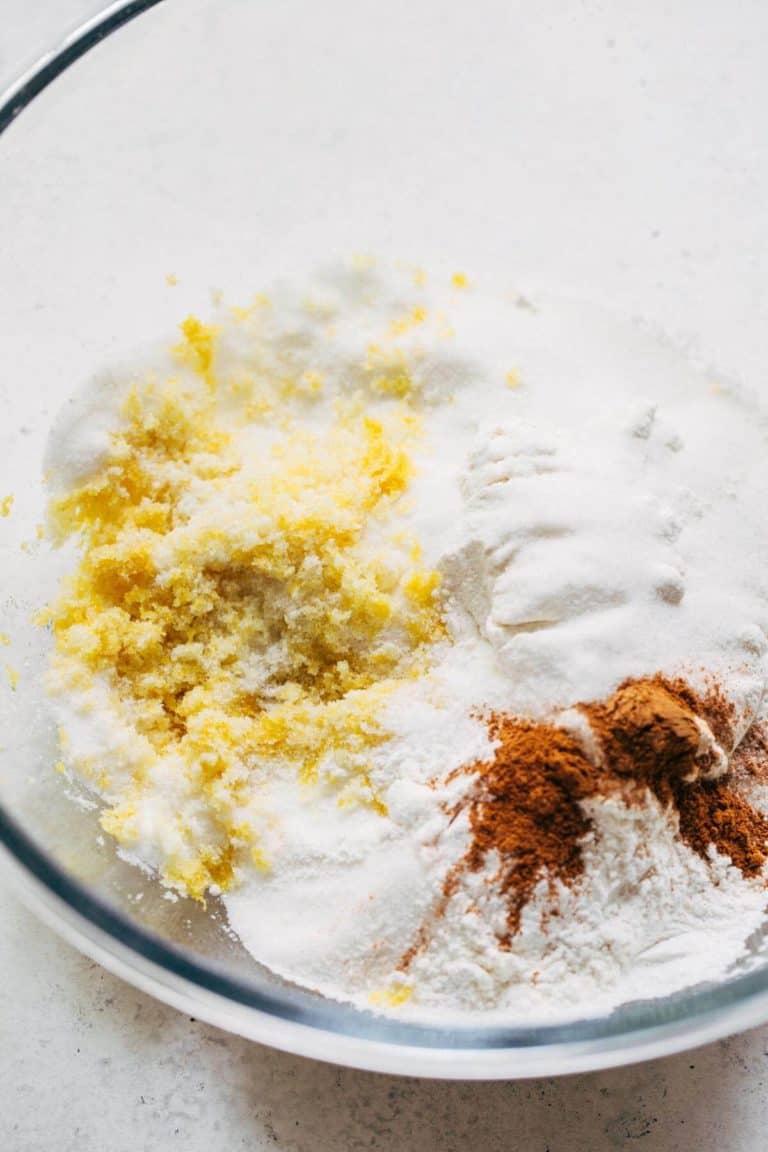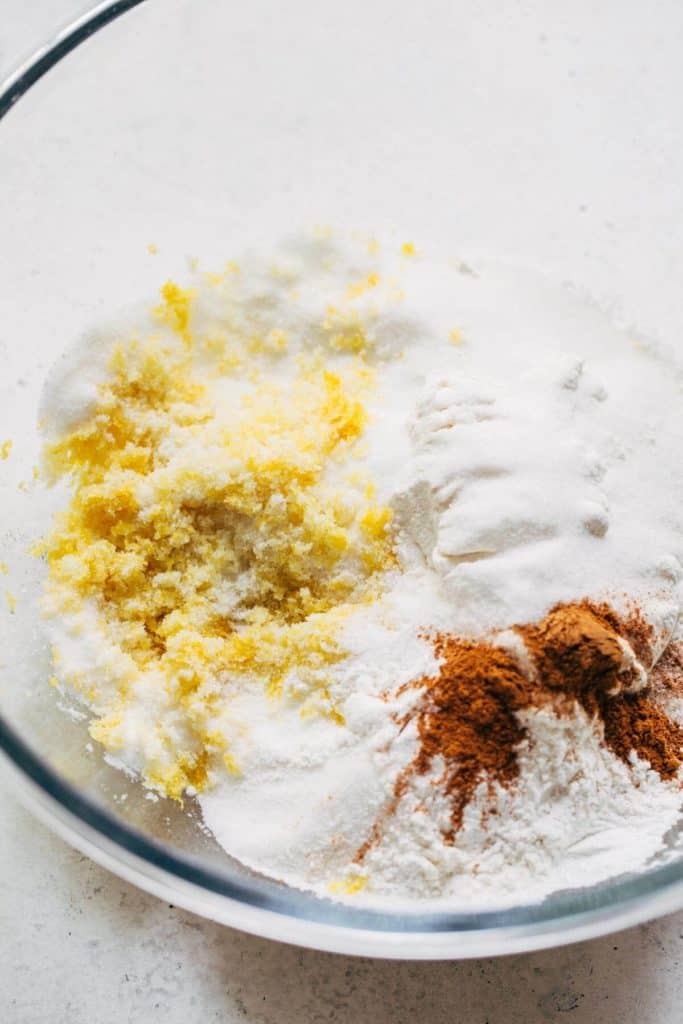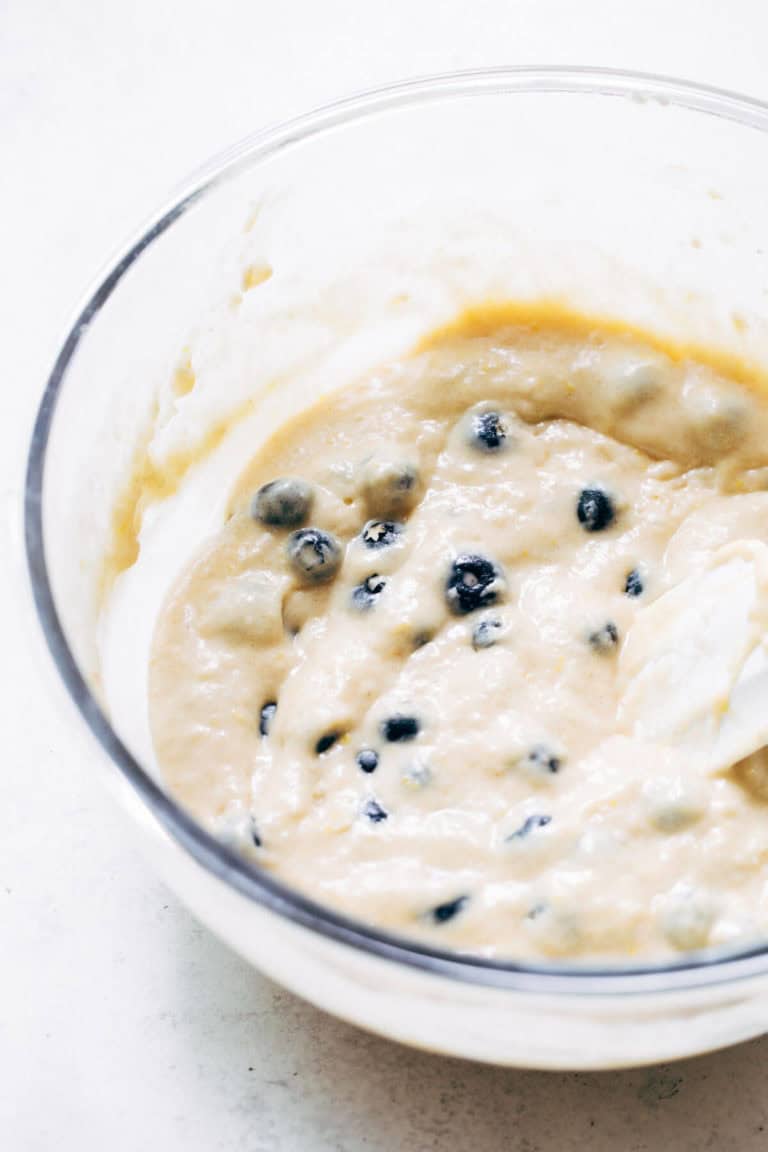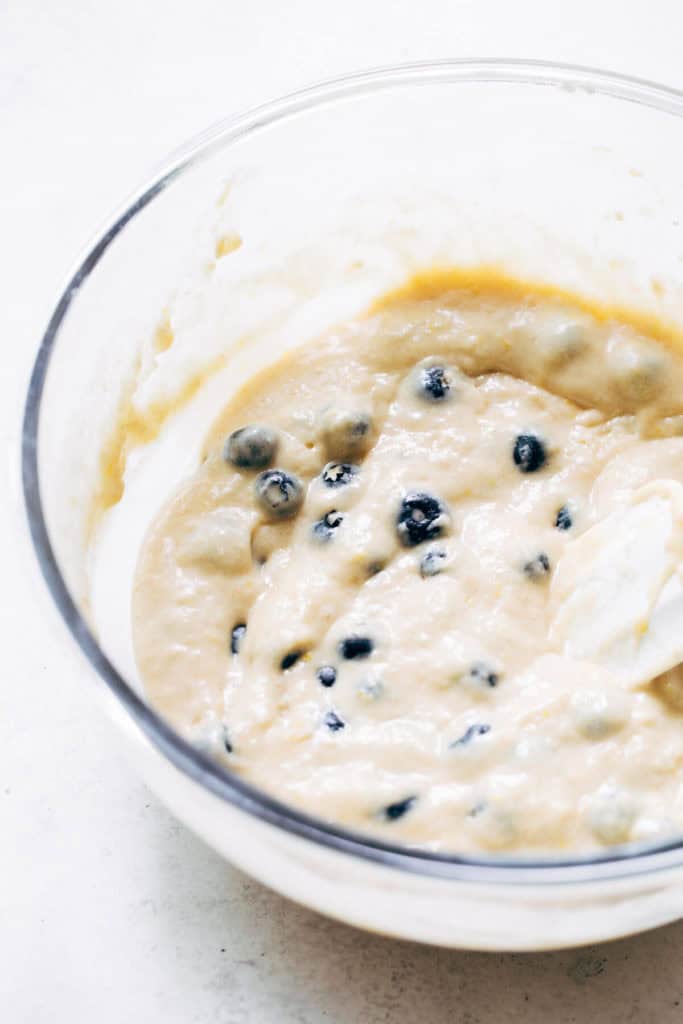 How to make lemon blueberry muffins
First and foremost, pick through those blueberries! If using fresh blueberries, pick out any stems or moldy berries…there's always a couple bad ones in the bunch. Then give them a good rinse before starting.
Once the blueberries are prepped, start by combining the dry ingredients.
A unique step in this recipe is to rub the lemon zest into the sugar. Add the two ingredients to a large mixing bowl and use your fingers to rub the zest into the sugar. This helps release even more of that lemon flavor. If you've ever rubbed dry herbs when cooking, it's the same principle. You're releasing the natural oils to expose even more flavor.
Once combined, whisk in flour, baking powder, salt, and cinnamon. The cinnamon just adds a touch of warmth to the muffins but doesn't actually provide much flavor. So don't worry, they won't taste like coffee cake!
At this point, you'll mix in the washed blueberries into the dry ingredients. This coats them in the flour to prevent the berries from sinking to the bottom of the muffins.
In a separate smaller bowl, combine all of the wet ingredients. This includes, oil, canned coconut milk, lemon juice, eggs, and vanilla. Canned coconut milk is used here because of its richness. It has a high fat content to create a really moist muffin. I've listed some alternatives in the recipe card if you can't get your hands on it.
Add the wet ingredients into the dry ingredients and use a rubber spatula to fold the two together. It's really important not to over mix because we want a tender muffin, not a tough muffin.
Muffin crumble topping
Add the crumble topping before popping these muffins in the oven. Combine a flour, sugar, and melted butter to create a wet sand consistency. Crumble a hefty amount onto each muffin and bake!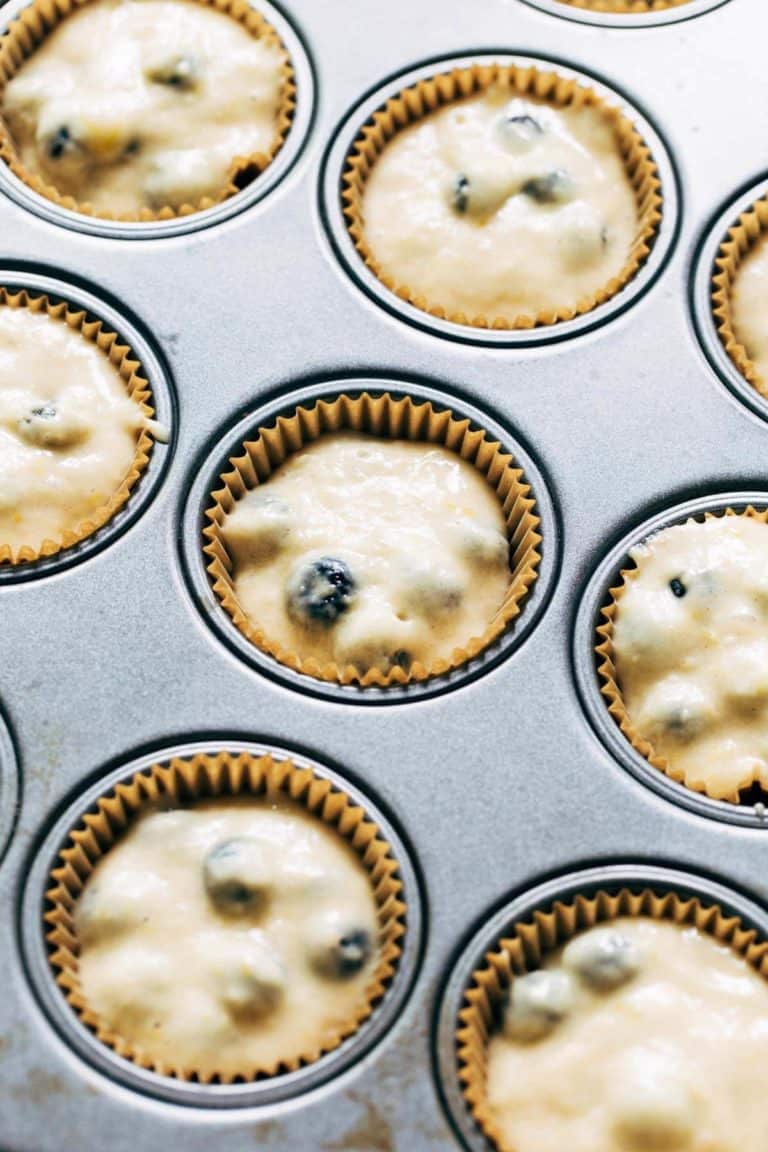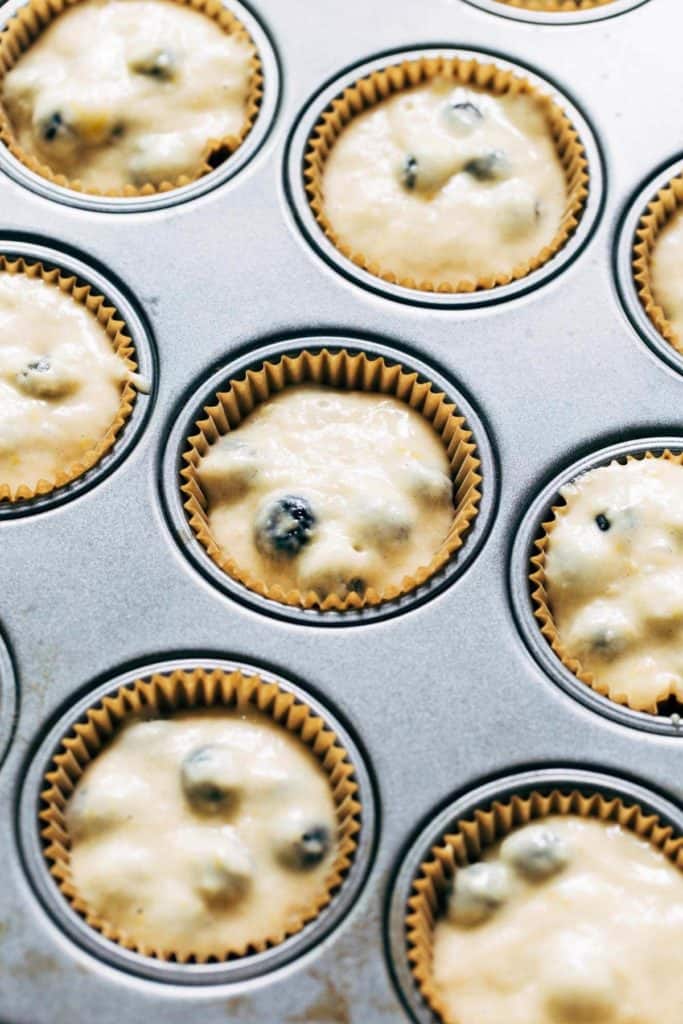 How to bake muffins for a domed muffin top
After testing these muffins 6 times before landing on this recipe, I went through so many different baking times and temperatures. This method turned out to be the absolute best:
First bake the muffins at a really high temperature (450F) for just 10 minutes. It won't burn the muffins, but it will allow the outside to puff up and set. This helps prevent the muffins from spreading as the inside bakes, creating a domed top that grows up and not out.
Drop the oven temperature to 375F for the rest of the time. This allows the center to bake through without burning the outside.
This technique gives you a super crunchy crumb topping with a really tender center. These muffins now have a dome top with bursted blueberries all throughout. They're absolute perfection!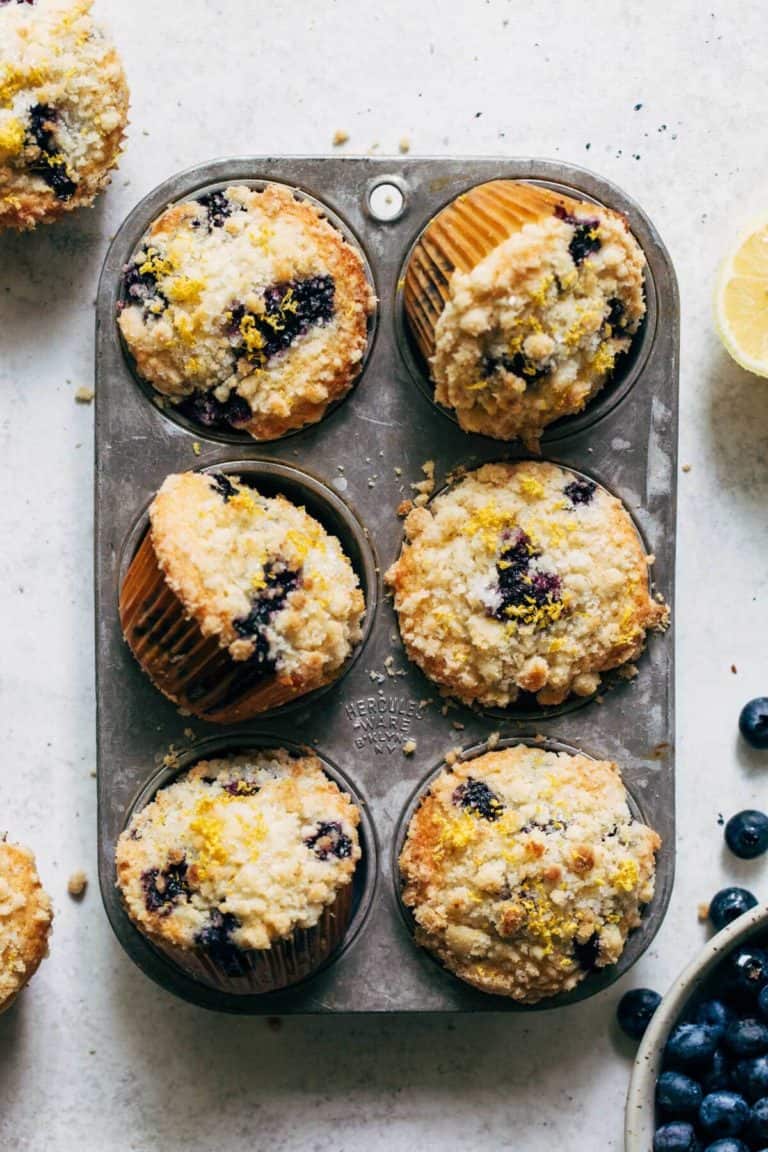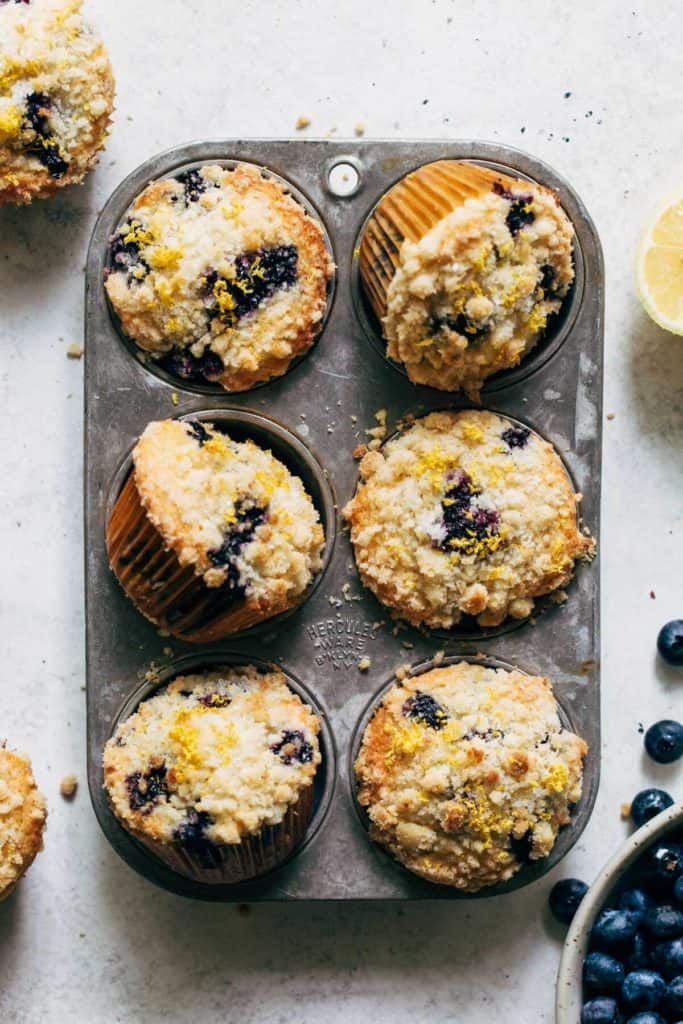 Can I use frozen blueberries?
Yep! There are just a few things to keep in mind. First, make sure to thaw the blueberries before adding them to the batter. Otherwise, the muffins will have to bake for much longer if frozen berries are used.
Second, the berries may or may not bleed into the batter, turning your muffins blue. It's not a huge deal and not all frozen berries do this, but it's something to consider if going the frozen route.
Substitutions for coconut milk
Coconut milk is one of my holy grail baking ingredients. It adds tons of richness and it can be used in so many different ways. I used coconut milk in this recipe for its high fat content and to create a completely dairy free muffin.
If you don't have full fat coconut milk on hand or prefer to use something else, sour cream, plain yogurt, or whole milk are all great options.
Swaps for Dairy Free Lemon Blueberry Muffins
Like I said, these muffins on their own are completely dairy free! The only problem we run into is with the crumble. I tested a few different crumbles, subbing the butter for coconut oil or just using a completely dry crumble. Unfortunately nothing works as well as butter!
But the good news is that there are tons of plant based butters out there that work just like regular butter. Sub it into the crumble mixture and your blueberry muffins are now completely dairy free.
How long do blueberry muffins keep?
Store the muffins in an air tight container in the fridge. Since they're full of blueberries, leaving them out at room temperature leaves them susceptible to mold.
The muffins will keep in the fridge for up to a week. You can eat them chilled or pop them in the microwave for a few second before eating.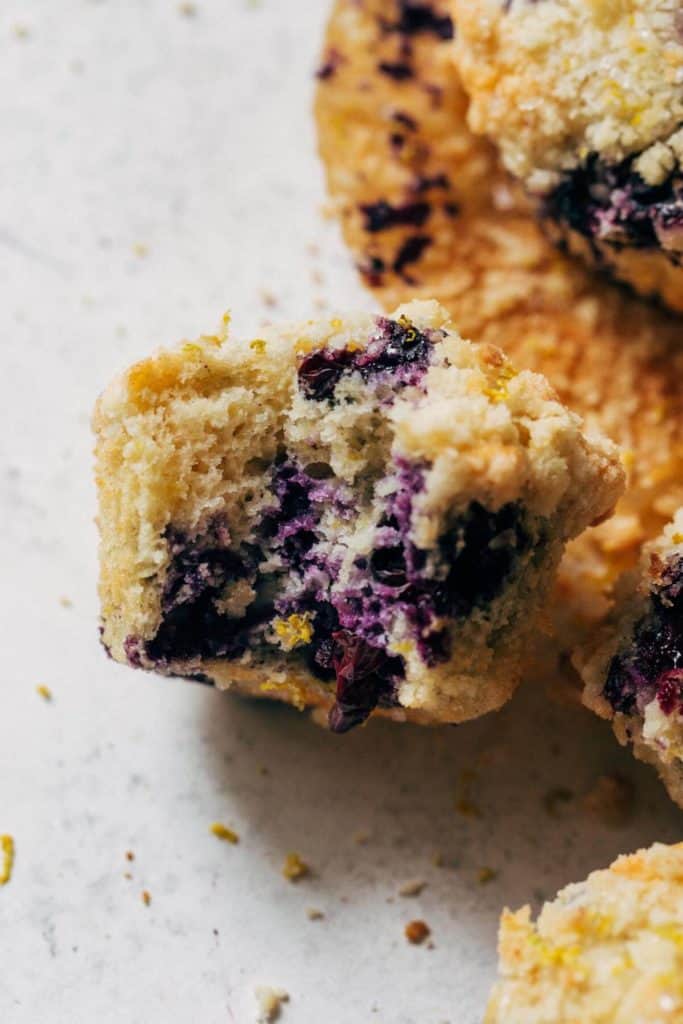 For more muffin recipes, check out my:
Make sure to tag me @butternutbakery on Instagram and leave a review below if you make these Lemon Blueberry Muffins. To pin this recipe and save it for later, you can use the button on the recipe card, the buttons above or below this post, or on any of the photos above. Happy baking!
Print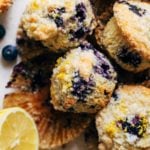 Lemon Blueberry Muffins
---
Description
These lemon blueberry muffins are super moist and bursting with fresh blueberries. Lemon juice and lemon zest are added to create a bold flavor that pairs perfectly with these blueberry muffins.
---
Lemon Blueberry Muffins
3/4 cup (160g) granulated sugar
2 tbsp fresh lemon zest (about 3 large lemons)
1 3/4 cups (230g) all purpose flour
1/2 tsp salt
2 1/2 tsp baking powder
1/2 tsp cinnamon
1/4 cup (50g) any mild oil (canola, vegetable, melted coconut)
1/2 cup (110ml) canned full fat coconut milk*
2 large eggs
2 tbsp fresh lemon juice (about 1 large lemon)
1 tsp vanilla extract
2 cups (280g) fresh blueberries, picked through and rinsed**
Crumb Topping
1/4 cup (25g) all purpose flour
3 tbsp granulated sugar
1 1/2 tbsp unsalted butter, melted***
1 tbsp fresh lemon zest
1 tbsp raw sugar (optional)
---
Instructions
Crumb Topping
Combine the flour, sugar, and melted butter. The mixture should resemble crumbly wet sand. Place in the fridge while you make the muffins.
Lemon Blueberry Muffins
Preheat the oven to 450F and line a muffin tin with 12 liners, or coat with some nonstick spray.
Add the sugar and lemon zest to a large mixing bowl. Use your fingers to rub the zest into the sugar. This helps release even more flavor.
Mix in the flour, salt, baking powder, and cinnamon. 
Toss in the blueberries to coat in the flour mixture. This prevents them from sinking in the muffins.
In a smaller bowl, combine the oil, milk, eggs, lemon juice, and vanilla.
Add the wet mixture to the dry mixture and fold the two together using a rubber spatula. Careful not to over mix.
Evenly distribute the batter into the liners to make 12 muffins.
Take the crumble out of the fridge and sprinkle a liberal amount on the tops of each muffins. Sprinkle with some raw sparkling sugar if desired.
Bake for 10 minutes, then drop the oven temperature to 375F and bake for an additional 8-10 minutes.
While the muffins are hot from the oven, sprinkle with a little extra lemon zest.
Allow the muffins to cool in the pan for about 20 minutes, then transfer to a cooling rack to cool for another 20 minutes.
Enjoy while warm, room temp, or chilled. They're delicious at any temperature!
Notes
*Coconut milk is used for its high fat content, making a really moist muffin. Make sure to shake the can before use. You could also sub sour cream, plain yogurt, or whole milk.
**Fresh blueberries are best, but you can use thawed frozen blueberries. They may just bleed into the batter and turn your muffins blue. You can also use 1 or 1 1/2 cups of blueberries, depending on how jam packed you want your muffins to be. If using 1 or 1 1/2 cups, reduce the amount of muffins to 10 or 11.
***Use plant based butter for a completely dairy free muffin option
Prep Time: 20 minutes
Cook Time: 20 minutes
Category: Muffins
Method: Baked
Cuisine: American
Keywords: blueberry muffins, lemon blueberry muffins, blueberry muffin recipe, lemon blueberry muffin recipe
Recipe Card powered by