These are the most perfect lemon poppy seed muffins. In fact, they're so good you would think they came straight from a bakery! Between the super tall muffin tops, fluffy and moist texture, and homemade lemon simple syrup brushed on top, it's safe to say that this will be your new favorite lemon poppy seed muffin recipe.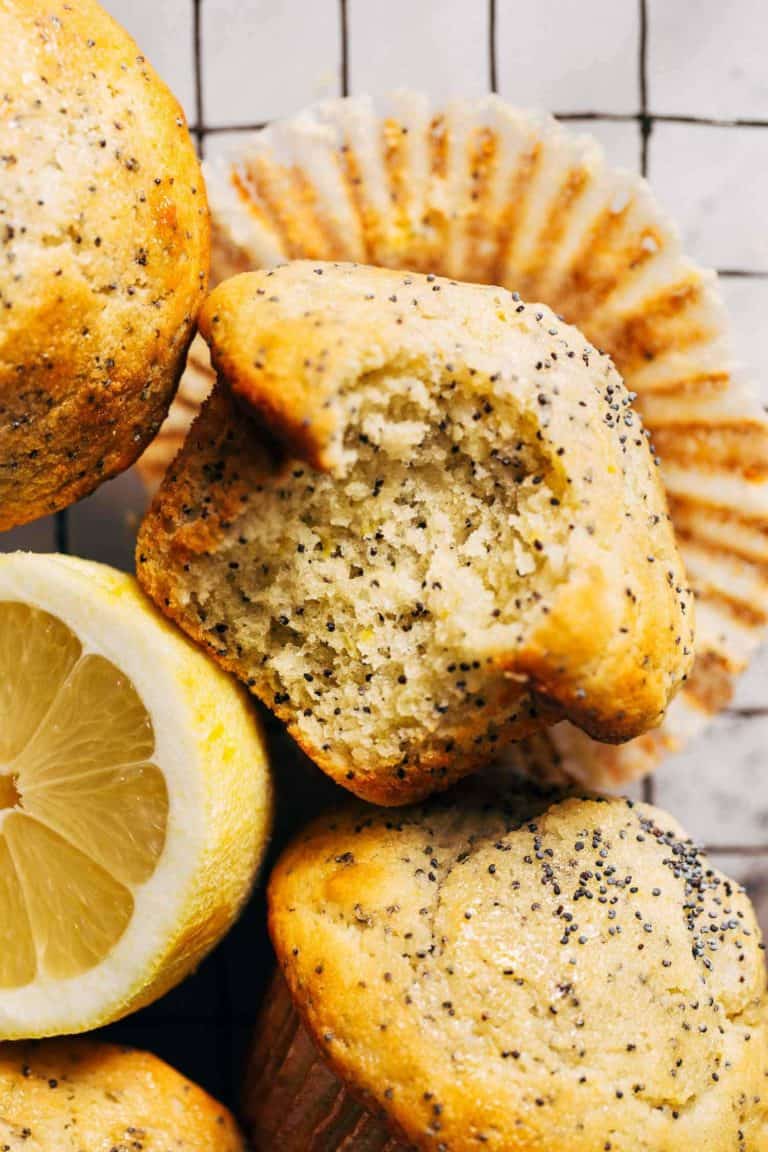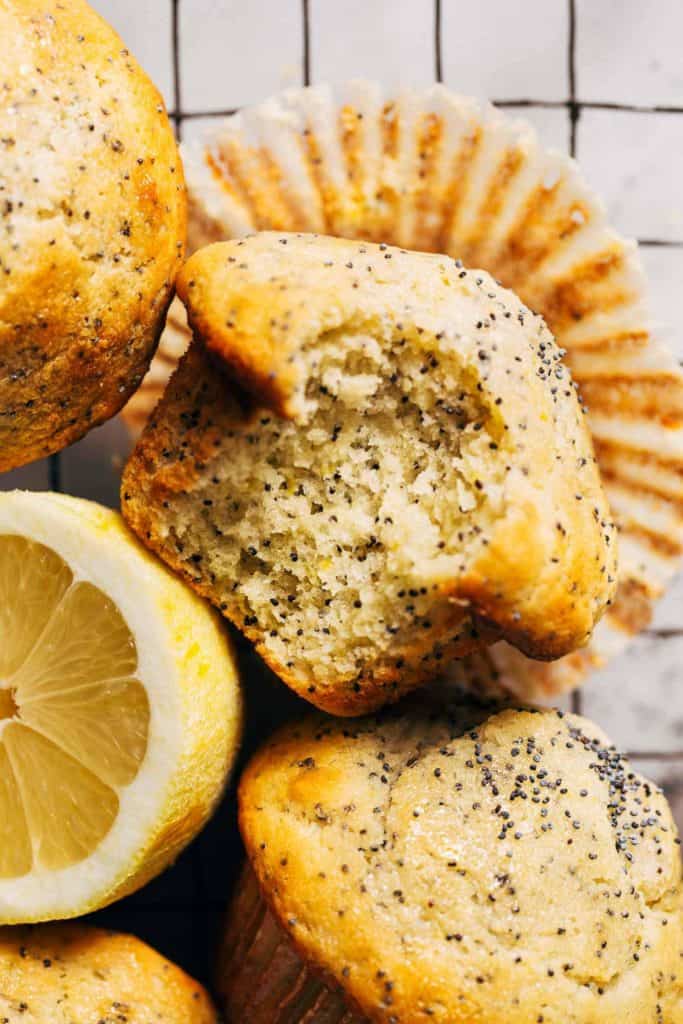 How to make lemon poppy seed muffins
I LOVE baking muffins because they are so easy to make! It really comes down to three main steps:
Dry Ingredients – All of the dry ingredients are combined in a large mixing bowl. This includes the flour, baking powder, baking soda, poppy seeds, AND sugar. It may seem a bit backwards to combine the sugar and flour but it's essential to making fluffy muffins.
Wet Ingredients – The rest of the ingredients are combined in a separate bowl. This includes the butter, oil, eggs, sour cream, extracts, lemon zest, lemon juice, and milk.
Combine – The wet ingredients are mixed into the dry ingredients to finish out the batter.
The reason why this is done in such few steps is because there is too little sugar to fat, so if these two are combined using the creaming method (mixing the sugar and butter together from the start), the two won't be able to create an airy and whipped consistency needed to aerate the batter.
This is also the main difference between muffins and cupcakes. Cupcakes contain more sugar which allows for this creaming process. So if you find a muffin recipe that calls for the creaming method, it's likely closer to a cupcake!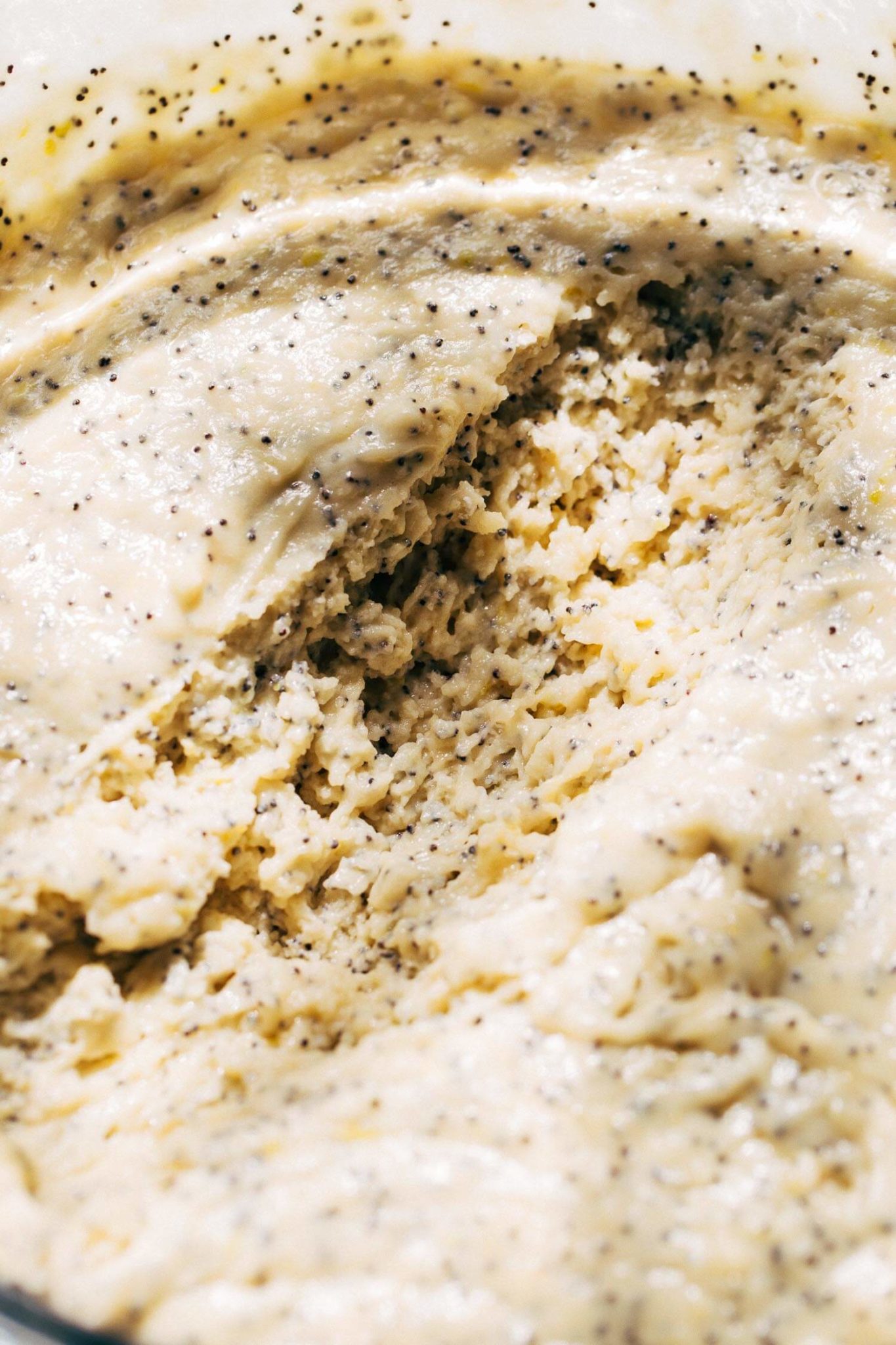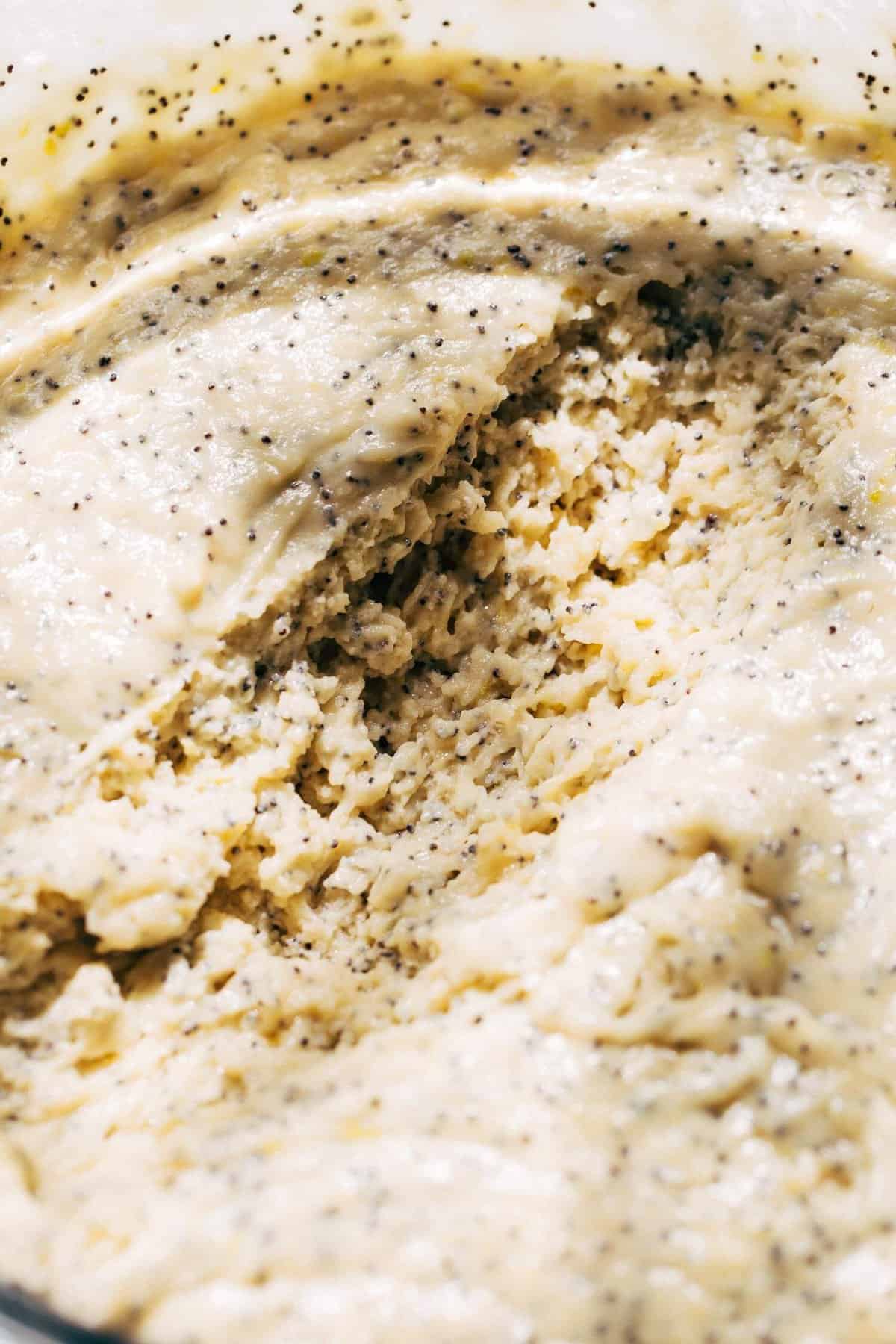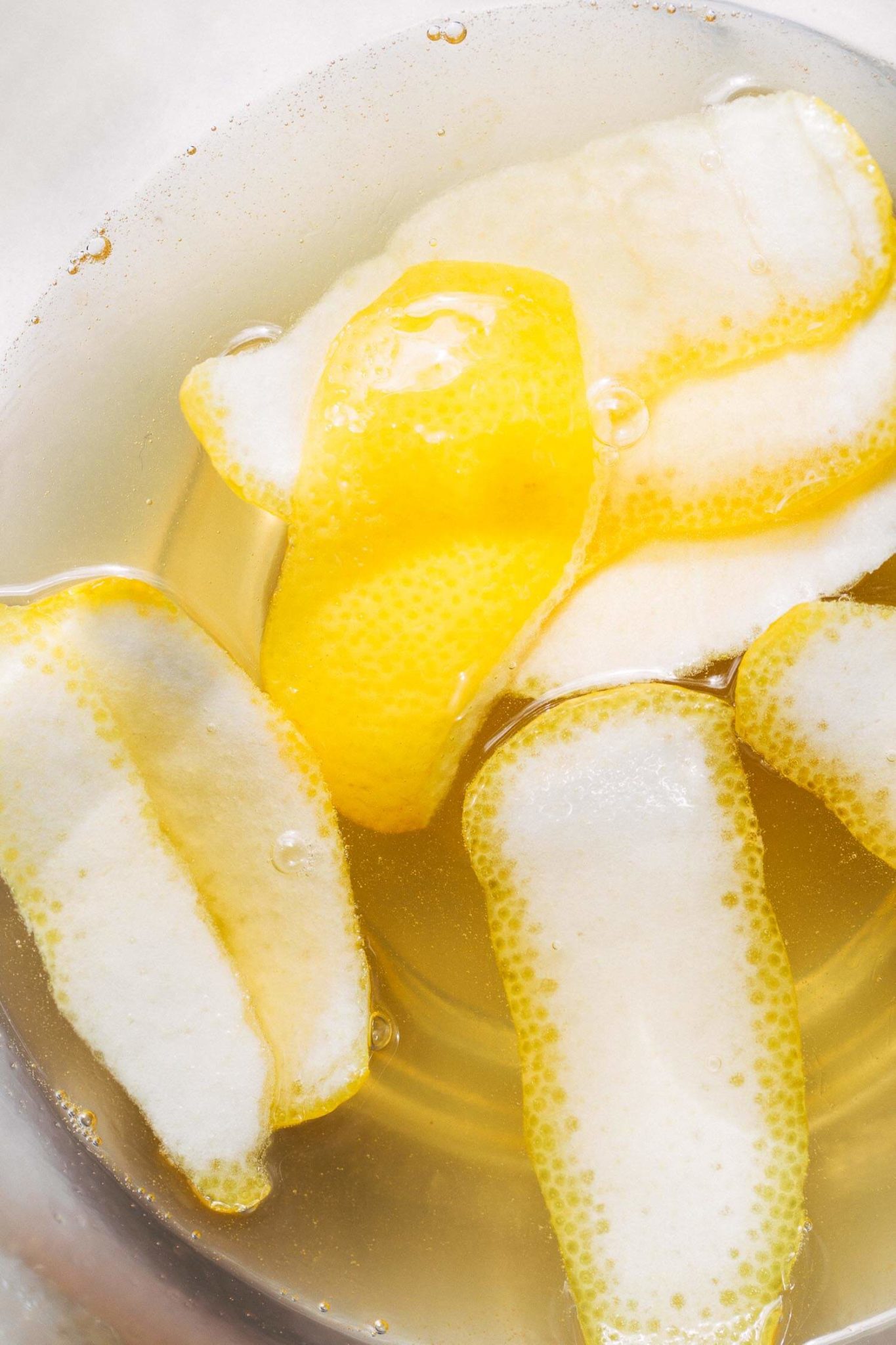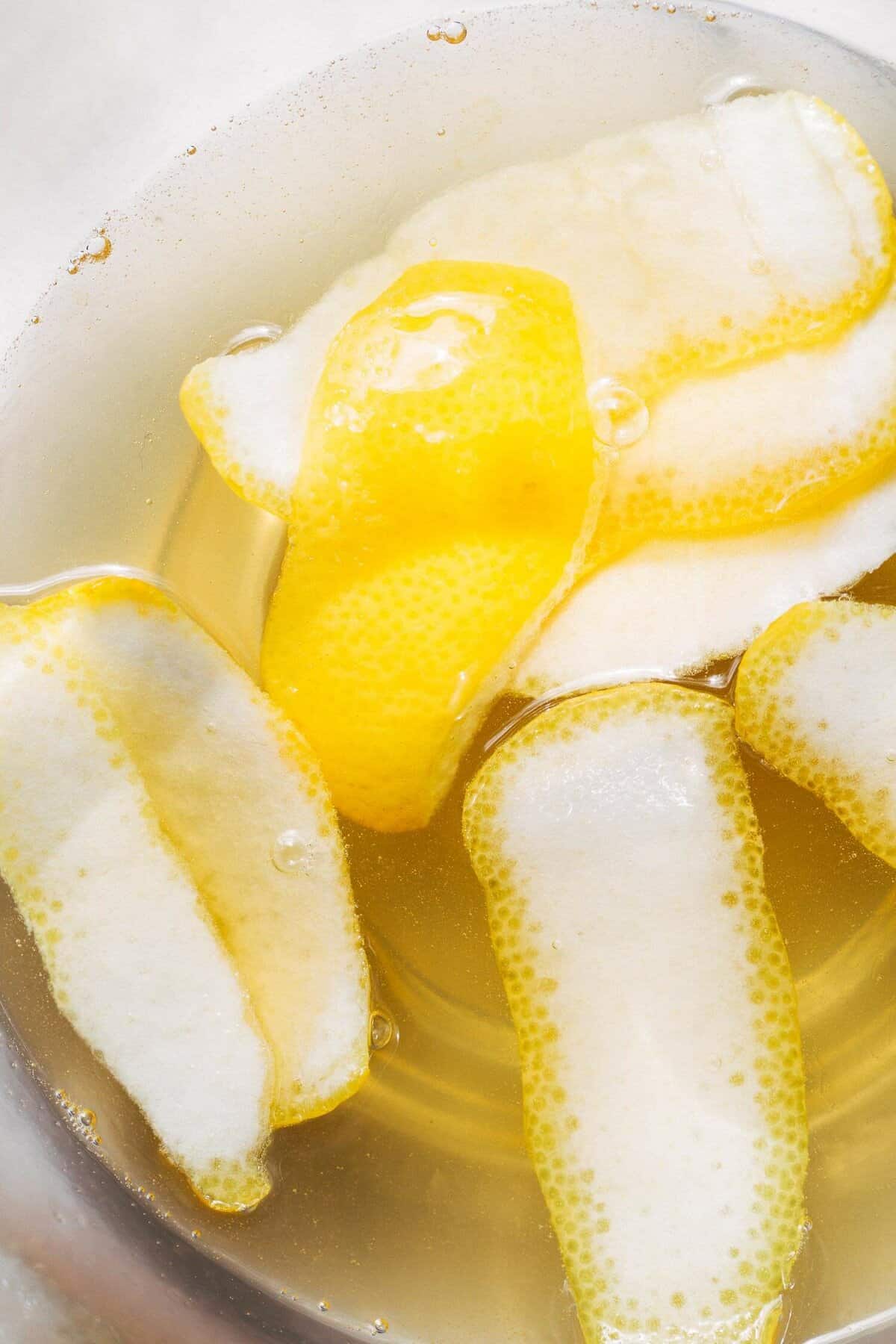 How to bake tall lemon poppy seed muffins
Ok so here comes the bad news…the batter has to rest for 1 hour before baking. But it's an hour well worth it!
During this resting period, the baking powder goes to work and fluffs up the batter even before it hits the oven. This is because baking powder has a double activation – once when it comes in contact with liquid and another when it's heated.
This is essentially giving the batter a head start and you will notice that after the hour is up, the batter will turn really light and fluffy. This fluffy batter is what produces a super tall muffin! I use this technique in almost all of my muffin recipes because it works like magic. I go into more detail on my post for chocolate chip muffins if you'd like to learn more!
Now that the batter is well activated, it's important to be careful when scooping it into the pan. Simply scoop and plop! Don't mix the batter or agitate it too much as we don't want this hour of activation to deflate and go to waste.
Another extra insurance to baking really tall muffins is to bake them in alternating cups. To do so, line a cupcake tin with just 6 liners and leave every other cup empty. Leaving tons of space between each muffin allows the oven heat to freely and evenly flow throughout each which creates a taller muffin top.
This baking step is optional, but I definitely recommend it if you want to bake beautiful and tall lemon poppy seed muffins!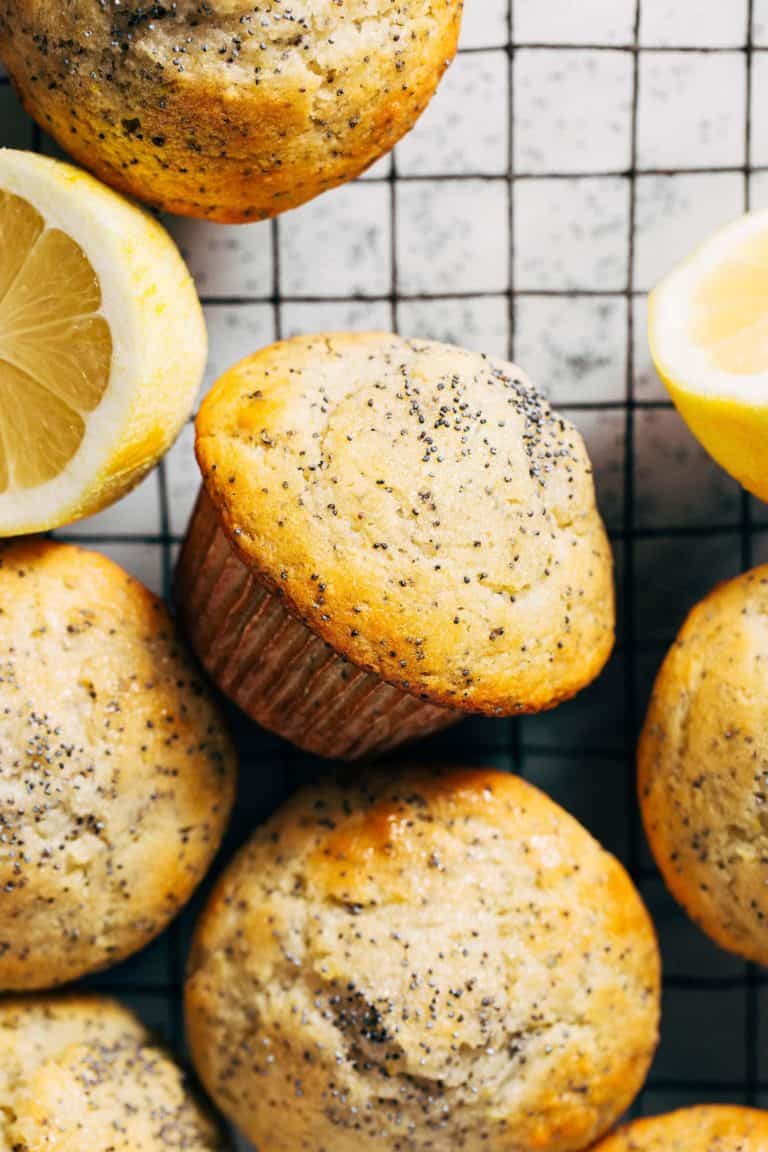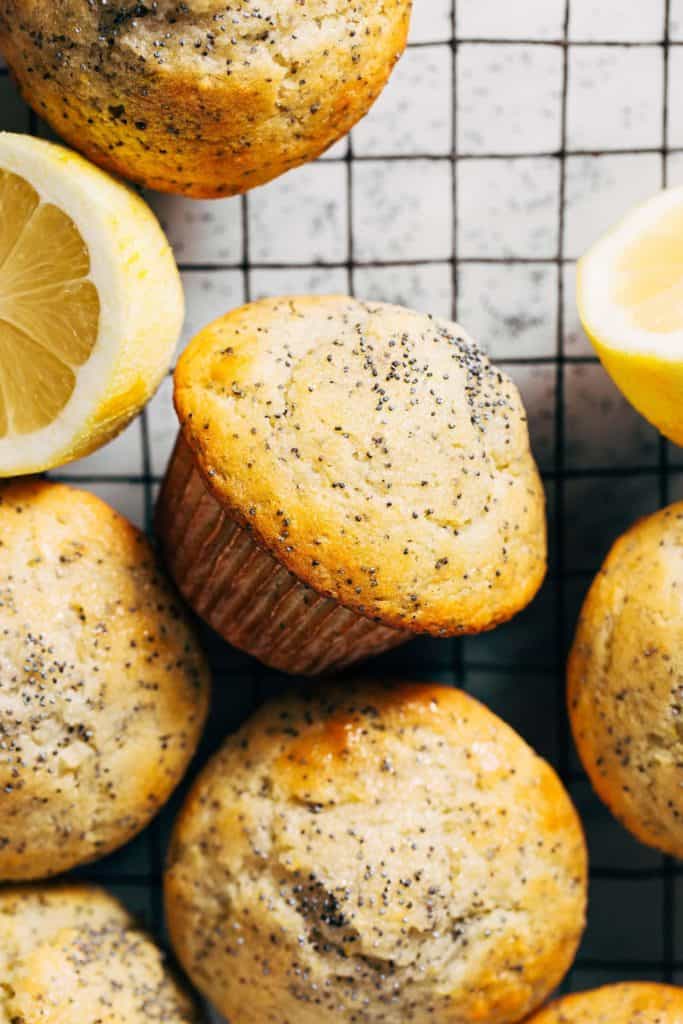 Homemade lemon simple syrup
To bring in even more fresh lemon flavor, these lemon poppy seed muffins are brushed with a homemade lemon simple syrup RIGHT after they're pulled from the oven.
When they're warm, they're more porous which allows the syrup to sink into the top layer of these muffins. If you want it to seep down even further, poke the muffins with a toothpick before brushing on the syrup.
Lemon simple syrup may sound daunting, but it's actually very easy to make! All you need is lemons and sugar.
First, lemon juice and sugar and heated in a saucepan for about 10 minutes. Just until the sugar is fully dissolved!
This hot mixture is then poured over a bowl containing lemon zest peels. These are big chunks of the zest that have been cut from the surface of a lemon with a small paring knife.
The heat from the hot syrup helps bring out even more of the flavor in the zest. The two fuse together to create a bright and sweet lemon simple syrup that pairs PERFECTLY with these lemon poppy seed muffins.
How long do lemon poppy seed muffins keep?
For BEST flavor and texture consume these the day you make them, especially when they're still warm. Otherwise, store them in an airtight container in the refrigerator for a couple days.
If you need to eat them later, warm in the microwave for about 10 seconds. If you have any leftover syrup, brush some on top before eating!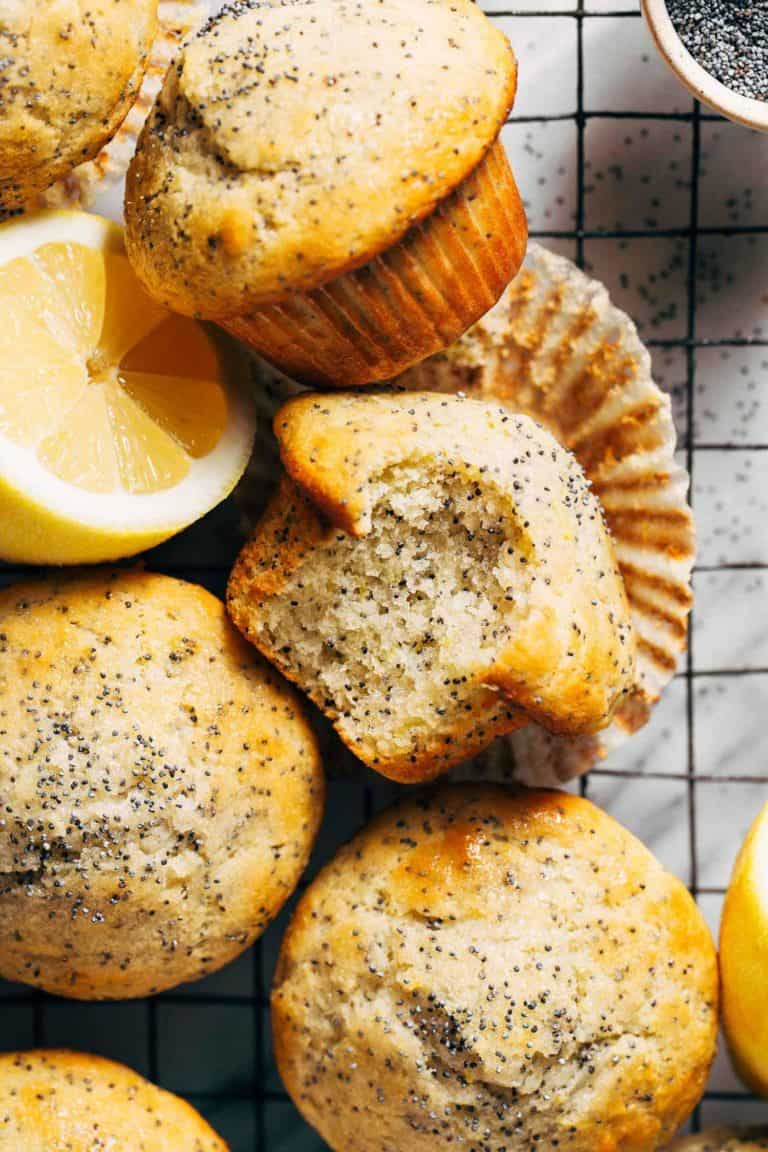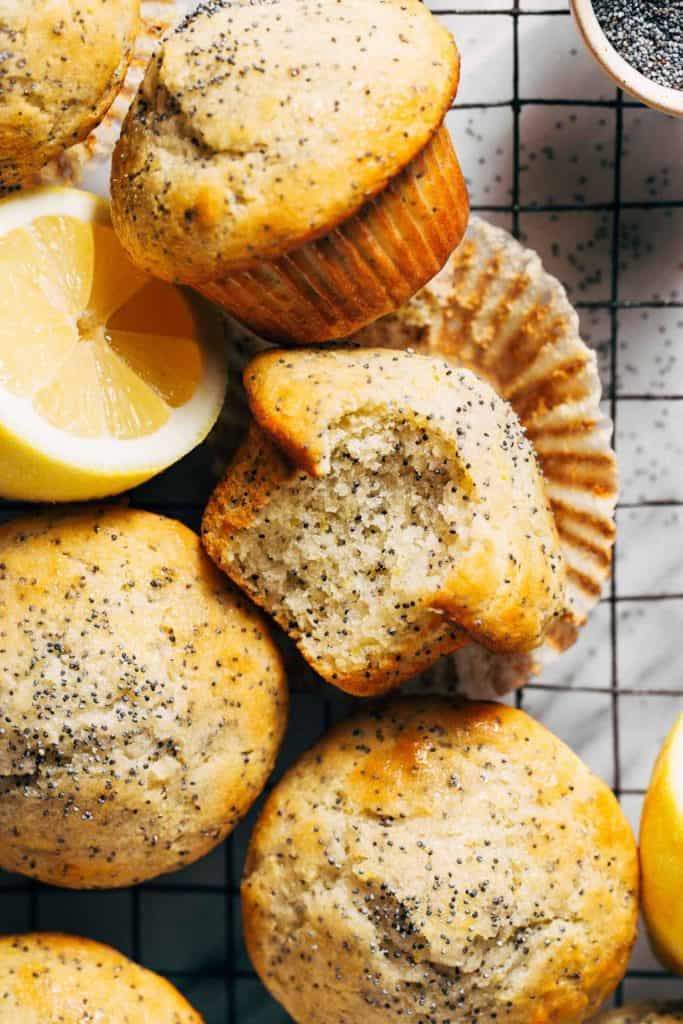 For more muffin recipes, check out my:
Make sure to tag me @butternutbakery on Instagram if you make these lemon poppy seed muffins. I love seeing my recipes come to life in YOUR kitchen! To pin this recipe and save it for later, you can use the button on the recipe card, the buttons above or below this post, or on any of the photos above. Happy baking!

Print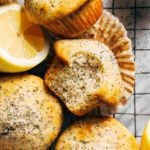 Lemon Poppy Seed Muffins
---
Author: Jenna Barnard
Total Time: 1 hour 46 minutes
Yield: 11 muffins
Description
These are the BEST lemon poppy seed muffins! They're bakery-quality with super tall muffin tops, a moist texture, super fresh lemon flavor, and homemade lemon simple syrup brushed on top. 
---
Lemon Poppy Seed Muffins
2 1/2 cups (320g) all purpose flour*
1 cup (200g) granulated sugar
2 1/2 tsp baking powder
1/2 tsp baking soda
1/2 tsp salt
2 tbsp poppy seeds
1/2 cup (110g) unsalted butter, melted
2 tbsp vegetable oil
2 large eggs, room temp
1/4 cup (65g) sour cream**, room temp
2 tsp vanilla extract
1/4 tsp almond extract (or lemon extract)
2 tbsp lemon zest (about 2 lemons)
1 tbsp lemon juice (about 1/2 lemon)
1 cup (255ml) milk, room temp
Lemon Simple Syrup
1/2 cup (118ml) fresh lemon juice (about 4 lemons)
1/2 cup (100g) granulated sugar
Lemon peel from 1 lemon
---
Instructions
In a large bowl, whisk together the flour, sugar, baking powder, baking soda, salt, and poppy seeds.
In another bowl, mix together the melted butter, oil, eggs, sour cream, vanilla extract, almond extract, and lemon zest, lemon juice, and milk.
Pour the wet mixture into the dry and use a rubber spatula to combine.
Cover the bowl with plastic wrap and rest at room temperature for 1 hour.
In the meantime, make the lemon simple syrup.
Add the lemon juice and sugar to a saucepan and place over medium heat. 
Bring to a boil, then simmer for 10 minutes to let the sugar completely dissolve.
While that simmers, peel the zest from 1 lemon. I recommend using a paring knife to carefully peel away the zest and try not to cut into the pith too much. Place the zest in a heat safe bowl.
Remove the lemon syrup from the heat and pour into the bowl of zest. Let it cool at room temperature while the muffin batter continues to rest.
Close to the 1 hour mark, preheat the oven to 425F and line a cupcake tin with one of these two options: 1 – line with 11 paper liners. 2 – line with 6 paper liners, placing in every other cup so they are evenly spaced. This method means the muffins are baked in 2 batches (if you only have 1 cupcake tin), but it will also lead to taller muffin tops. It's up to you, but I prefer method 2!
Using a large 2 oz scoop (or about 1/4 cup), fill each liner all the way to the top and then some. Be careful not to disrupt the batter too much when scooping. That hour of rest helped fluff up the batter for a taller rise in the oven, so we don't want it to deflate!
Bake for 8 minutes. Then change the oven heat setting to 350F and bake for another 8-10 minutes.
*If baking in two batches, make sure to set the heat back up to 425F once the first batch is done baking.
When the muffins are fresh from the oven, brush with a generous amount of the lemon simple syrup. 
Allow the muffins to cool in the pan for about 5 minutes, then transfer to a cooling rack to cool for another 15-20 minutes. Sprinkle with more poppy seeds if desired and dig in while they're still warm!
Equipment
Notes
*FLOUR – For accuracy, I recommend weighing the flour if you can. Otherwise, spoon and level the flour when measuring. Do so by lightly spooning the flour into the measuring cup and leveling it off with a knife. Do not shake it or pack it down into the cup, otherwise you'll end up with dry and dense muffins.
**SOUR CREAM – Full fat Greek yogurt can also be used here.
Prep Time: 1 hour 30 minutes
Cook Time: 16 minutes
Category: Dessert
Method: Baking
Cuisine: American
Keywords: lemon poppy seed muffins, lemon poppy seed muffins recipe, lemon poppy seed muffin, lemon muffins, poppy seed muffins
Recipe Card powered by