This lemon loaf cake is insanely good! The texture is incredibly moist but still light and tender, and it's bursting with fresh lemon both in the cake and the lemon icing on top. Starbucks iced lemon loaf has nothing on this recipe!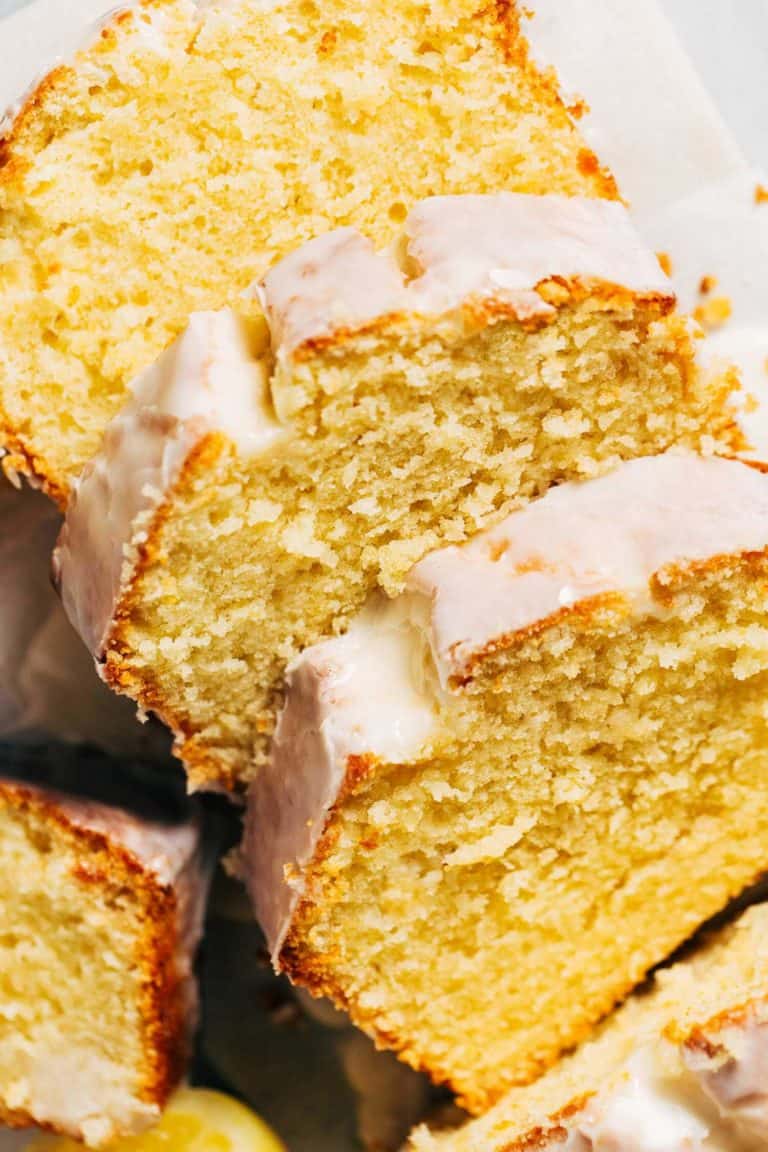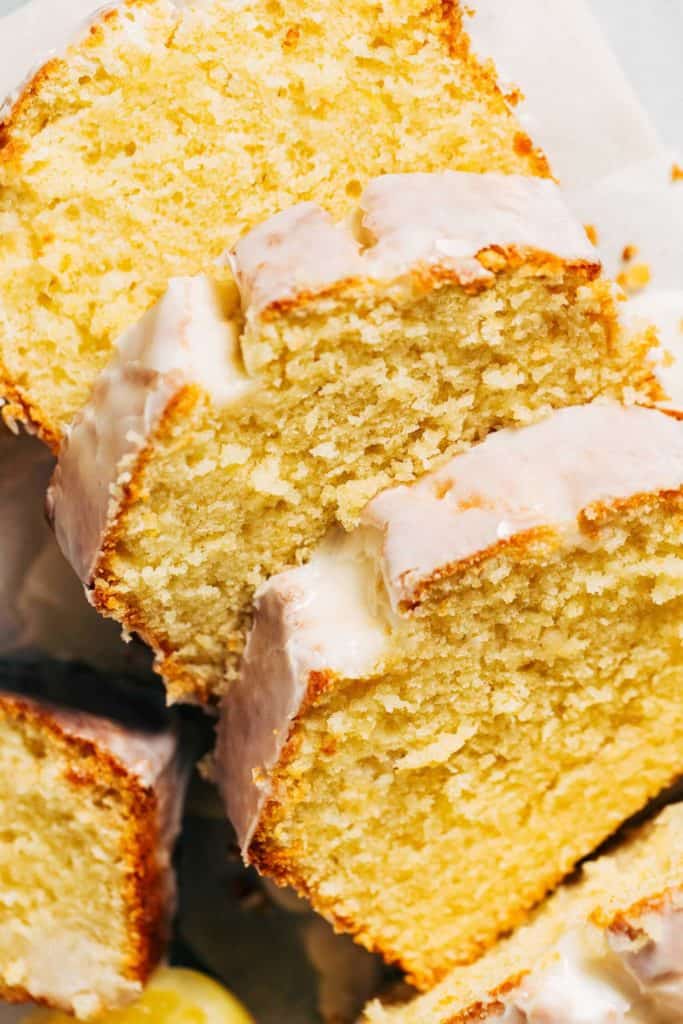 What makes this the BEST lemon loaf cake?
This might just be one of my new favorite desserts for so many reasons. To start, let's talk about the texture.
It's super moist but still very soft and tender and each bite just melts in your mouth. This is because this lemon cake is made using the reverse-creaming method.
Typically, cake is made by first mixing the sugar and butter together until light and fluffy. With reverse creaming, the flour, salt, leaveners, and sugar are all mixed with the butter to start. This coats the flour in a layer of fat which significantly slows the formation of gluten.
With a limited gluten protein formation, the cake bakes into an incredibly tender texture.
On top of that, this lemon loaf cake is baked with cultured butter which contains a higher percentage of butterfat. It's creamy with a strong butter flavor compared to standard butter, so it adds an incredible richness to this cake.
Last but not least, this lemon loaf cake is baked with ONLY fresh lemons. No artificial flavors or colors! Yet it's still bursting with fresh lemon flavor since both the zest and juice are used. So the texture is rich but the flavor is light and bright.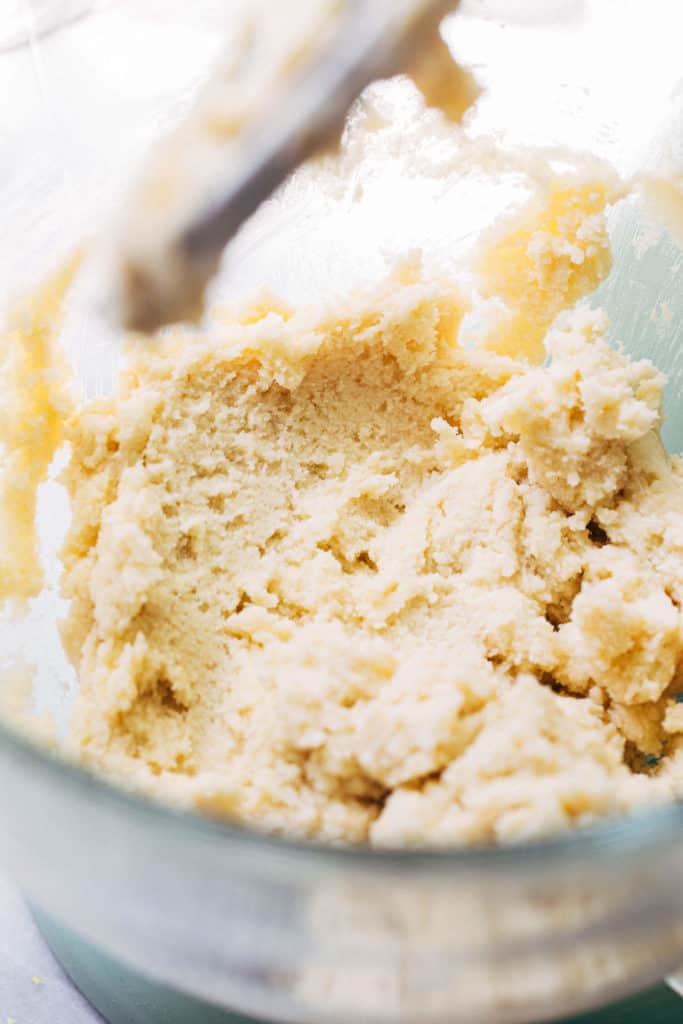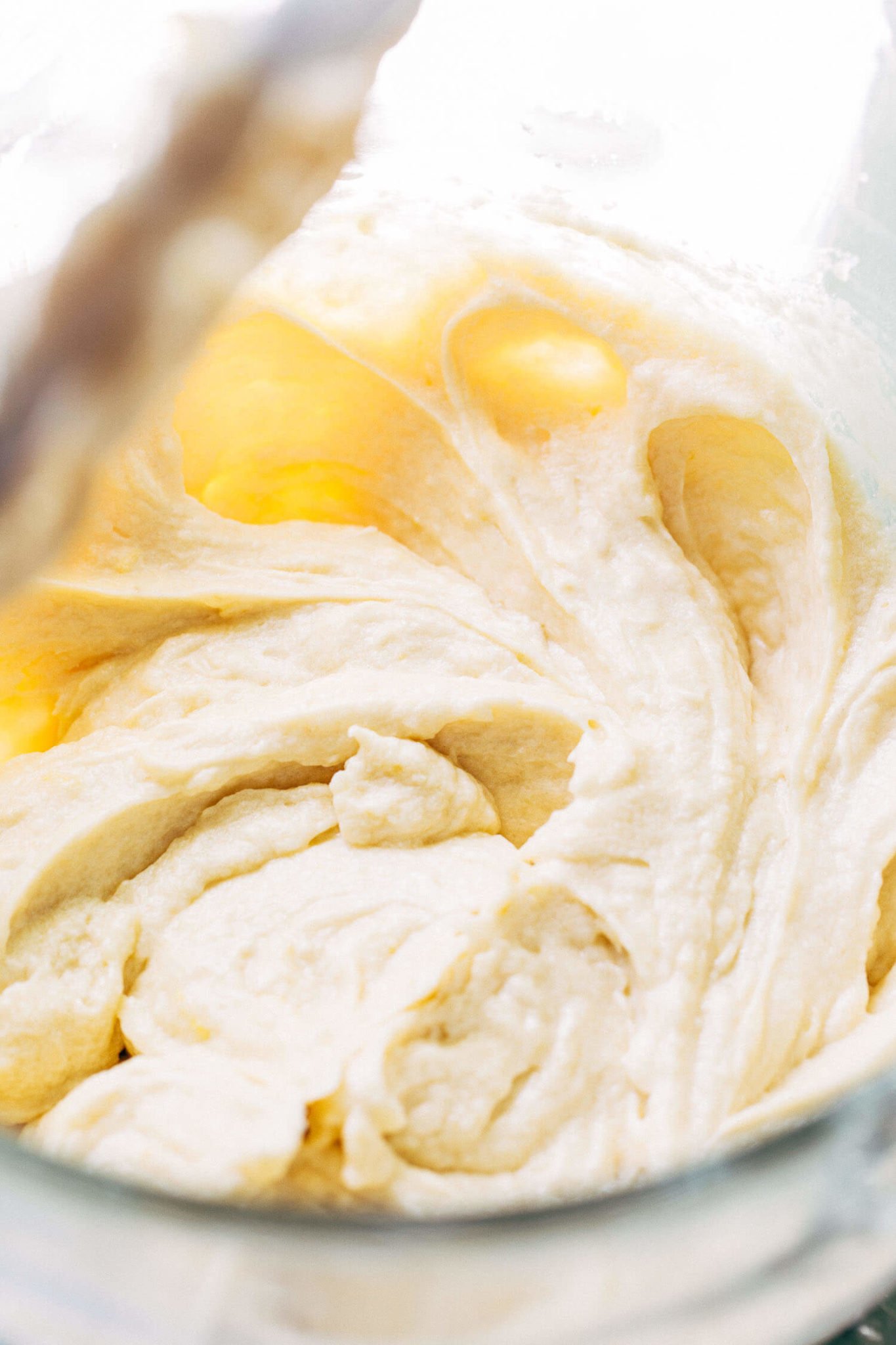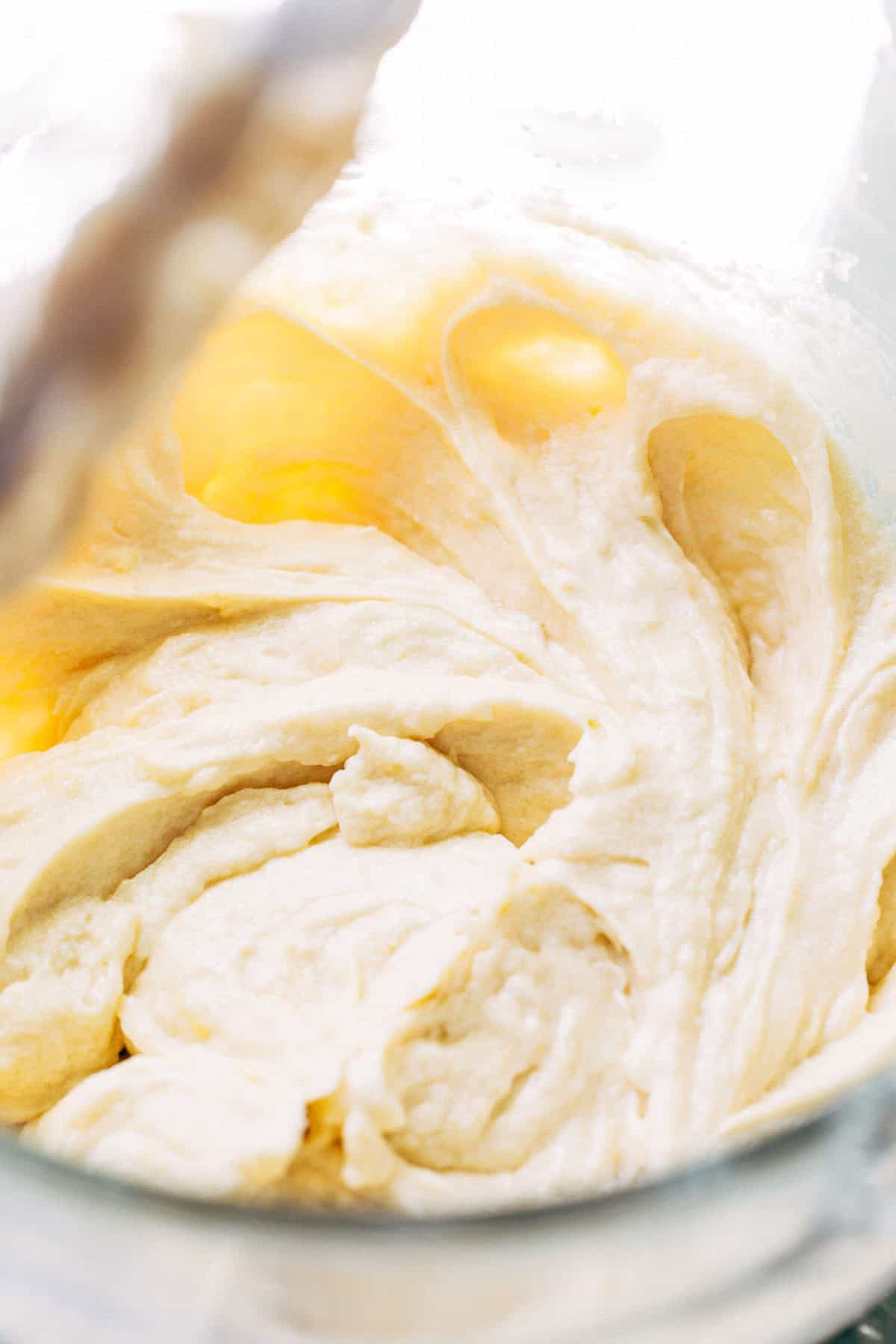 How to make a lemon loaf cake
For this recipe, some sort of electric mixer will need to be used. This can either be a hand mixer or a stand mixer with the paddle attachment.
This is because we're using the reverse-creaming method as previously mentioned. Since the butter is mixed in to the flour and sugar together, a powerful mixer is needed to ensure the butter is fully worked in.
After the butter is fully mixed into the flour, baking powder, salt, and sugar, it should appear very thick and sticky – almost like a soft sugar cookie dough. But make sure to stop right when it reaches that point as we don't want to over work the batter.
At this point, the remaining ingredients are mixed in. This includes the vanilla, eggs, milk, oil, lemon zest, and lemon juice. Slowly pour it in while the mixer is running. If the entire wet mixture is added all at once, it will overwhelm the batter and create a super lumpy consistency.
Keep mixing on medium speed until all of the wet ingredients are incorporated. Then mix on a higher speed to really smooth out the batter, but only do so for about 10-15 seconds.
Pour the batter into a true 1 pound loaf pan that has been greased and lined with parchment paper. Allow the paper to hang over the two longest sides of the pan for easy removal later.
It's ready when the top has a rich golden brown color with a deep crack going down the center. Test with a toothpick to make sure it's done! It's just right when it comes out clean with a few moist crumbs.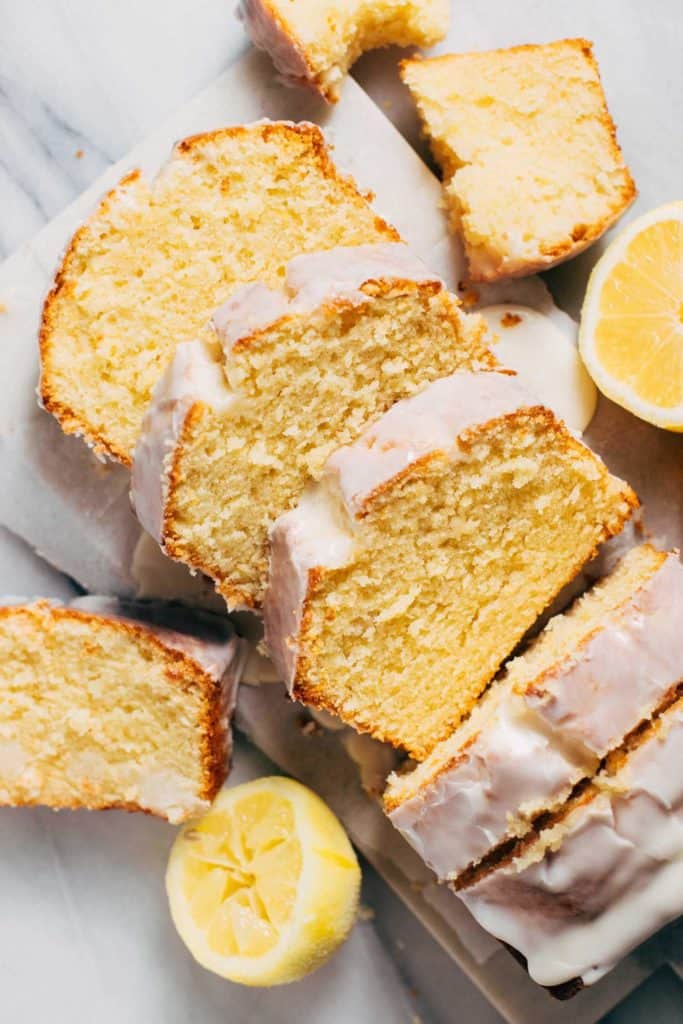 Baking tips for a successful lemon drizzle cake
Flour – I say this in every post, and for good reason. It's the number one reason why most recipes fail, especially for cakes. If there's too much flour, the cake will turn out dry. If possible, measure the flour with a food scale. Otherwise, to ensure the exact amount, gently spoon the flour into a measuring cup and level if off with a flat edge. If you scoop directly into the flour container, it packs it down into the cup which could leave you with 1/4 cup or more of added flour.
Butter – First, I highly recommend using cultured/European style butter. It makes a huge difference in this cake is it makes up a big portion of the ingredients. Regular butter can be used but to get the full effect, stick with the good stuff! Second, make sure it's softened to room temp before use. If cold butter is mixed into the flour and sugar, you'll be left with something more like biscuit dough.
Lemon – Use fresh lemons! They have a much stronger flavor than bottled lemon juice.
Mixing – This batter is all about gentle mixing. When mixing the flour, sugar, and butter, mix on medium speed just until smooth and combined. When mixing in the wet ingredients, continue on medium speed, again, just until combined. The only time it's necessary to go over medium speed is for the last few seconds of mixing. Mix on a higher speed for about 10-15 seconds just to smooth out the batter. This ensures the cake remains super soft and tender.
Baking Pan – Use a true 1 pound loaf pan, which is not to be confused with a 9×5 loaf pan. A 1 pound loaf pan measures 8.5″ x 4.5″. This loss of an inch makes all the difference. The pan is more narrow which allows the cake to bake at a slower rate. To take it a step further, use an aluminized steel pan (I linked my favorite at the bottom of the recipe card). This conducts heat better than glass or ceramic for a more even bake.
Cooling – Allow the cake to cool before adding the icing. If it's added when the cake is too warm, it will just melt all over the place.
How to store lemon loaf cake
The beauty of this recipe is that it stays fresh for quite some time. This is due to the high fat content using both cultured butter and oil. To store for immediate use, the cake can be kept in an airtight container at room temperature for a couple days.
Any longer and it will need to be stored in the refrigerator where it will last for about a week.
To freeze, skip the glaze and allow the cake to cool COMPLETELY. Then, warp it in plastic wrap and then foil. Freeze for up to 3 months. To thaw, let it sit at room temp for about 8 hours. Then add the icing and enjoy!
Can this recipe be made gluten free?
I have not tested a gluten free version for this specific recipe, but I do have a gluten free lemon poppy seed bread that tastes just as good! It's super soft and moist with fresh lemon flavor. If you're not a fan of poppy seeds, they can be left out of the recipe.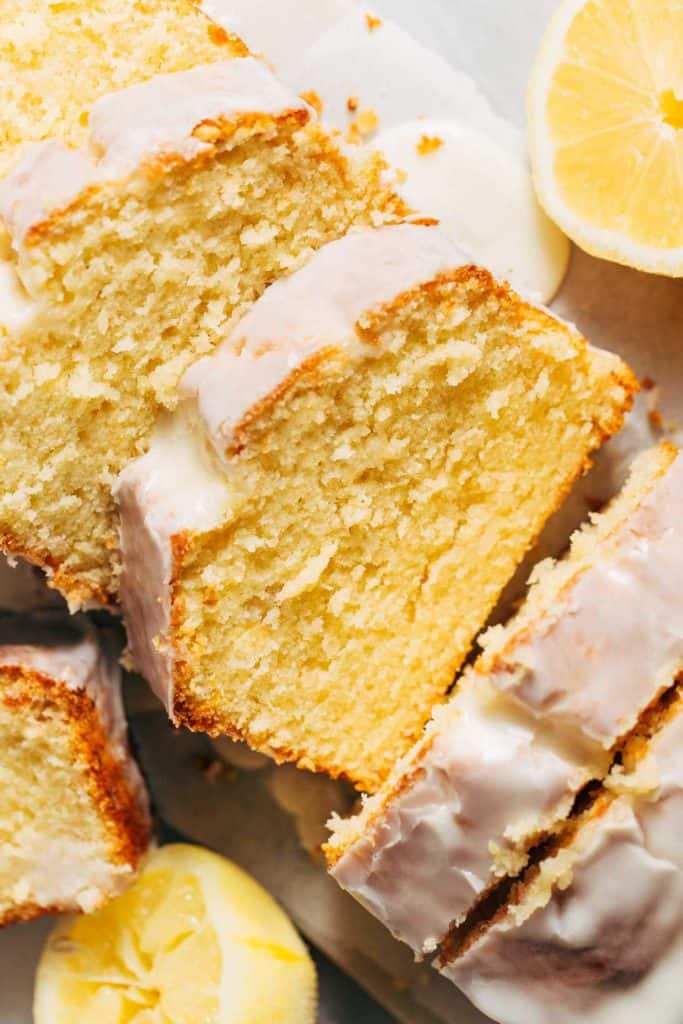 For more of the best lemon dessert recipes, check out my:
Make sure to tag me @butternutbakery on Instagram and leave a review below if you make this lemon loaf cake. To pin this recipe and save it for later, you can use the button on the recipe card, the buttons above or below this post, or on any of the photos above. Happy baking!
Print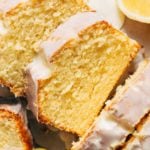 Iced Lemon Loaf Cake
---
Author: Jenna Barnard
Total Time: 1 hour 20 minutes + 40 minutes cooling
Yield: 8-10 slices
Description
This incredibly moist lemon loaf cake is so much better than Starbucks! It's bursting with fresh lemon flavor, both in the cake and the lemon icing. Using a special creamy method, it's also super soft, tender, and buttery.
---
Lemon Loaf Cake
1 1/2 cups (195g) all purpose flour
1 tsp baking powder
1/4 tsp salt
1 cup (200g) granulated sugar
1 cup (210g) unsalted cultured butter*, room temp and sliced into tablespoons
2 tsp vanilla extract
3 large eggs, room temp
2 tbsp vegetable oil
1/4 cup (65ml) milk, room temp
2 tbsp fresh lemon zest (about 2 lemons)
2 tbsp fresh lemon juice (about 1 lemon)
Lemon Icing
1 cup (110g) powdered sugar
1 tbsp fresh lemon juice (about 1/2 lemon)
1 tbsp milk OR 2 tbsp heavy cream
---
Instructions
Lemon Loaf Cake
Preheat the oven to 350F and grease and line a 1 pound 8.5×4.5″ baking pan with parchment paper.
Mix together the flour, baking powder, salt, and sugar in a large bowl using a hand or stand mixer with the paddle attachment.
Add the room temperature butter and mix on medium speed just until smooth and combined.
In a 2 cup measuring glass, combine the vanilla, eggs, oil, milk, lemon zest, and lemon juice.
With the mixer running on medium speed, slowly pour in the wet ingredients and mix to combine. The mixture may appear lumpy, so finish by mixing on a slightly higher speed for about 10-15 seconds if needed.
Use a rubber spatula to hand mix the batter to ensure everything is combined.
Pour the batter into the baking pan and spread even. Bake for 1 hour to 1 hour and 10 minutes. It's ready when the surface is golden brown and puffed with a deep crack down the center.
Allow the cake to cool for about 45 minutes at room temp, then make the icing.
Lemon Icing
Whisk together the powdered sugar, lemon juice, and milk or cream in a bowl until smooth. I prefer cream because it creates a more opaque icing, but milk also works just fine!
It should be the consistency of glue. If it's too thin, gradually mix in a couple spoonfuls of powdered sugar. If it's too thick, mix in tiny splashes of milk or cream until it reaches the right consistency.
Remove the loaf from the pan and pour the icing on top. Spread it around and allow it to drip over the sides. Now slice and enjoy!
Equipment
Notes
*BUTTER – For the best results use cultured butter, also known as European style butter. This has a higher fat content and much more flavor so it really helps elevate this recipe. It will also work with regular unsalted butter, but use the good stuff for the best lemon loaf!
Prep Time: 20 minutes
Cook Time: 1 hour
Category: Dessert
Method: Baking
Cuisine: American
Keywords: lemon loaf cake, iced lemon loaf cake, lemon drizzle cake, lemon cake, lemon loaf cake recipe
Recipe Card powered by