I am so happy to bring this amazing lemon coffee cake into your life. It's dense and moist just like a classic coffee cake, but is baked with fresh lemons and a crunchy crumble topping. Oh, and how could I forget that a layer of lemon cream cheese is baked right into the center! This cake is creamy, sweet, tangy, crunchy, and just so delicious. It's what every brunch needs.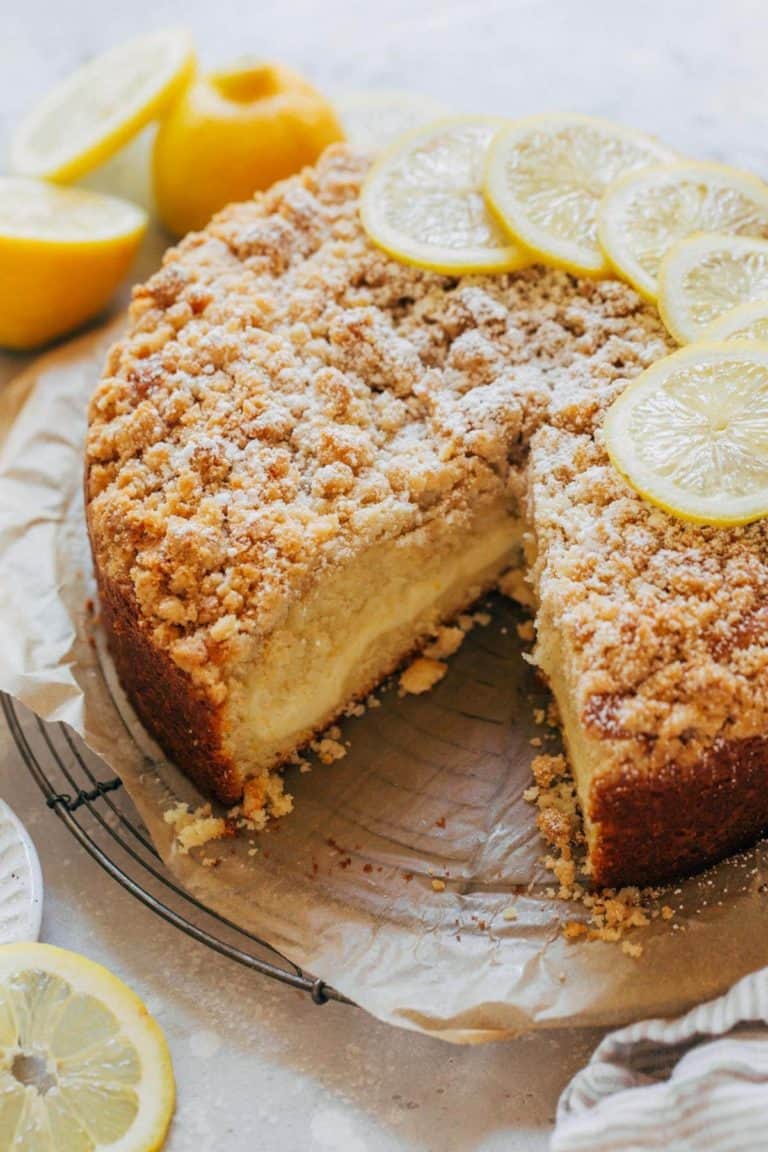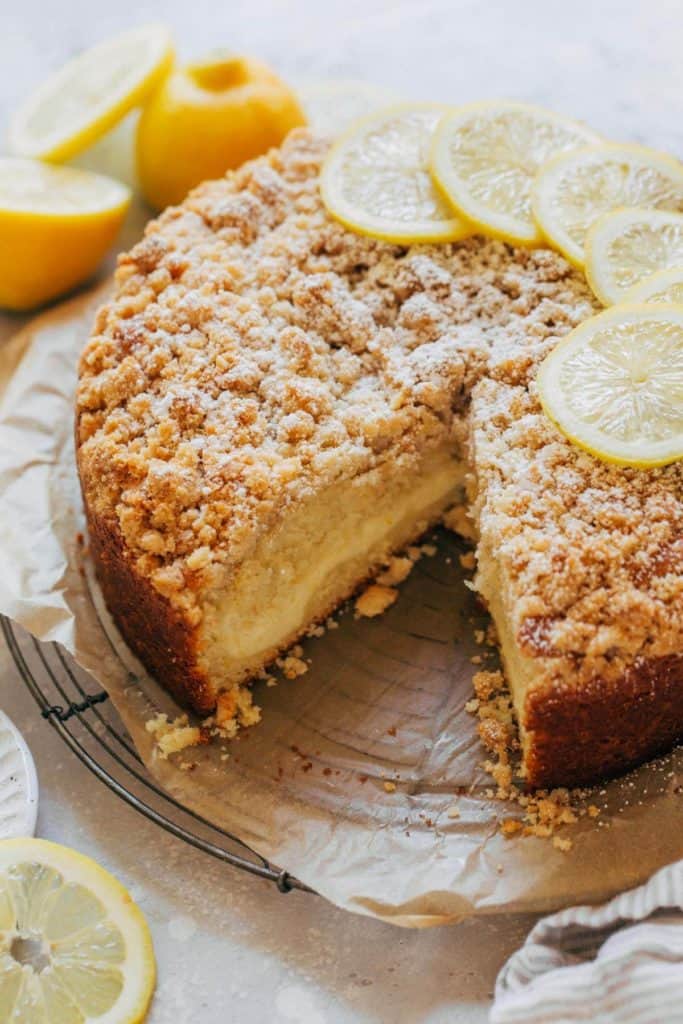 Tips for making the BEST lemon coffee cake
The cream cheese filling is what takes this recipe over the top, but the lemon coffee cake itself it so delicious that you could make it all on its own. It's dense, moist, and bursting with zesty lemon flavor. Here are my top tips to ensure it turns out just right:
The Flour – I say this in almost all of my recipes, and for good reason! Flour is the number one reason why recipes can flop because it is so easy to use too much. To ensure you have the right amount, gently spoon it in your measuring cup and level it off with a flat edge. Don't pack or shake it down and don't scoop directly from the flour bag or container. It can become compacted into the measuring cup, leading to way too much flour in the recipe. If you can, use a food scale first.
The Lemon – A simple trick I like to use in every lemon recipe is to rub the lemon zest into the sugar before starting the batter. This helps loosen up the zest and release those natural oils. It enhances the lemon flavor to create a really delicious lemon cake.
Moisture – The reason why this cake is so dense and moist is mainly due to the use of sour cream. Sour cream is a classic coffee cake ingredient for this exact reason. It falls more on the acidic side, creating a tender texture that helps leaven the cake (especially paired with baking soda and another acidic ingredient like lemon juice). I recommend sticking to sour cream, but you can also use full fat Greek yogurt as well.
How to stuff coffee cake with cream cheese
This is when a springform pan comes in handy. It has tall straight sides that is perfect for this dense lemon coffee cake. I'll go into different pan options in a bit, but just know that a springform pan is your best option for this stuffed cake.
When the batter is ready, pour half of it into the bottom of your pan and spread it even. Make sure it touches all sides.
Next, spread an even layer of the cream cheese filling on top. This is a delicate process so here's what I like to do to make sure it doesn't blend into the cake batter: cascade the cream cheese in a smooth flow all around the cake. If using a larger bowl, it should come out in somewhat of a flat sheet. Using this method will cover the most surface before going in with a spatula to even it out.
Then, take a spoon or small offset spatula and gently spread it even. Leave about a 1 inch gap all around the edge of the pan so you can still see the cake batter poking through underneath. Once the rest of the batter is poured on top, the two will touch and form a seal all around the cake.
Gently pour on the rest of the batter (just like you did with the cream cheese) and spread it all the way to the sides. Now top with the crumble and bake!
What is the best pan to use?
If you have a 9″ or even a 10″ springform pan, use it! It is your best option. If not, this can also be made in a 9″ square baking dish or a 9″ round cake pan, as long as they have tall sides.
Either way, always make sure to line the bottom with parchment paper for easy release. If you're baking in a square dish, let the paper hang up and over the sides so you can just pull the cake right out once it has cooled.
Can I make this into muffins?
I haven't tested it, but I'm sure this recipe would be great as muffins. It should make about 20 muffins, so fill each cup halfway then dollop some of the cream cheese into the center. Top with the rest of the cake batter so each cup is about 3/4 full.
Sprinkle the crumble on top and bake at 375F for 15-20 minutes. Allow them to cool completely before removing from the pan.
Tips for baking a dense coffee cake
This cake takes nearly and hour to bake because of how thick and dense it is. Because of this, it can also be easy for your cake to sink in the middle. To ensure this doesn't happen, here are a few tips:
Don't over fill the pan. If you're modifying this recipe by using a different pan other than a 9″ springform, make sure it isn't overflowing. The crumble should hit right before the top of the pan. If it's filled too high, the center may not bake all the way through.
Do the jiggle test. Since the center is essentially a cheesecake, the cake itself will jiggle a bit when it's hot. To make sure it's done, give the cake a nudge inside the oven. If the center wobbles like a bowl of milk, it's not done. If it jiggles like a jello mold, it's ready.
Cover and bake. For the last 15 minutes of baking, cover the top of the cake with foil. This not only prevents the top from burning, but it also traps in some of that heat which will help the cake bake through to the center.
If your cake isn't baked through to the center, just keep baking it with the foil in 10 minute increments until it's ready. A toothpick in the center should come out clean with a few moist crumbs.
Cooling the cake
Do not skip this step! It is very important to make sure the cake is completely cooled before slicing into it. Otherwise the cream cheese in the center will ooze out. Chilling the cake for about an hour will ensure it is completely set.
How to store coffee cake
Store this cake in an air tight container in the refrigerator for up to 6 days.
For more lemon desserts, check out my:
Make sure to tag me @butternutbakery on Instagram and comment below if you make this Lemon Coffee Cake. To pin this recipe and save it for later, you can use the button on the recipe card or on any of the photos above. Happy baking!
Print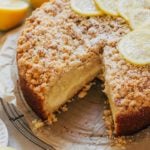 Lemon Cream Cheese Coffee Cake
---
Author: Jenna Barnard
Total Time: 1 hour 20 minutes + 1 hour cooling
Yield: 12-16 slices
Description
This moist lemon coffee cake is swirled with a layer of lemon cream cheese and topped with a crunchy crumble.
---
Crumble
1/2 cup (100g) granulated sugar
2 tbsp light brown sugar, packed
1/4 tsp salt
1 1/2 cups (200g) all purpose flour
1/2 cup (110g) unsalted butter, melted
Lemon Cream Cheese
8oz cream cheese, room temp
1 tbsp lemon zest (about 1 large lemon)
1/4 cup (50g) granulated sugar
1 tbsp all purpose flour
1 large egg
Lemon Coffee Cake
2 cups (265g) all purpose flour
2 tsp baking powder
1/2 tsp baking soda
1/2 tsp salt
1/2 cup (110g) unsalted butter, room temp
1 cup (200g) granulated sugar
1 tbsp lemon zest (about 1 large lemon)
2 tbsp lemon juice
2 tsp vanilla extract
3 large eggs, room temp
1 cup (230g) sour cream or Greek yogurt
---
Instructions
Crumble
Combine all of the ingredients in a bowl until you reach a wet but crumbly consistency. Place in the fridge while you make the rest of the cake. 
Lemon Cream Cheese
Add the cream cheese, lemon zest, sugar, and flour to a bowl. Your cream cheese should be soft enough to mix by hand, so start by mashing together the ingredients with a fork. 
Once it starts to smooth out and loosen, switch to a whisk to get rid of any lumps. Then mix in the egg and set aside.
Lemon Coffee Cake
Preheat the oven to 350F and prepare a 9″ springform pan. Coat all sides with nonstick spray and line the bottom with a sheet of parchment paper.
In a medium sized bowl, whisk together the flour, baking powder, baking soda, and salt. Set aside.
In a large bowl, whether using a hand or stand mixer, add the sugar and lemon zest. Rub the zest into the sugar using your fingers. This helps enhance the lemon flavor. 
Add in the softened butter and mix together (using the paddle attachment if using a stand mixer). 
Once it's light and fluffy, mix in the lemon juice and vanilla. Scrape down the bowl and mix in one egg at a time, scraping down the bowl between each egg. 
Mix in the sour cream until smooth. 
Mix in half of the dry ingredients until just combined, then mix in the rest. Do so on medium speed and stop right when you can no longer see any flour. Scrape down the bowl and mix one more time to blend in any ingredients that might be sitting at the bottom. 
Pour half of the batter into your cake pan and spread it even. Top with all of the cream cheese and spread it almost to the edges, leaving a 1 inch border around the sides.
Pour on the rest of the cake batter and spread it even. Top with the crumble and bake for 40 minutes.
After the 40 minutes, cover the pan in foil and continue baking for 10-15 minutes or until a toothpick in the center comes out clean. 
Let the cake rest inside the pan for about 20 minutes, then remove the springform ring and transfer the cake to the fridge to cool for about an hour. This will ensure the cream cheese sets in the center. 
Top with a dusting of powered sugar and dig in! 
Equipment
Notes
PAN SIZE – This recipe can also be made in a 9″ square baking dish, a round 9″ cake pan, or 10″ springform pan, as long as they have tall sides. Make sure to line the bottom of the pan with parchment paper and allow the cake to cool completely before removing it from the pan, if you choose to do so. 
Prep Time: 30 minutes
Cook Time: 50 minutes
Keywords: lemon coffee cake, coffee cake, lemon cake, cream cheese coffee cake
Recipe Card powered by