These chocolate chip cookie butter bars are one of my absolute favorites because it's double the cookie! With layers of doughy chocolate chip cookie and cookie butter, these bars are soft, chewy, and full of cookie butter flavor.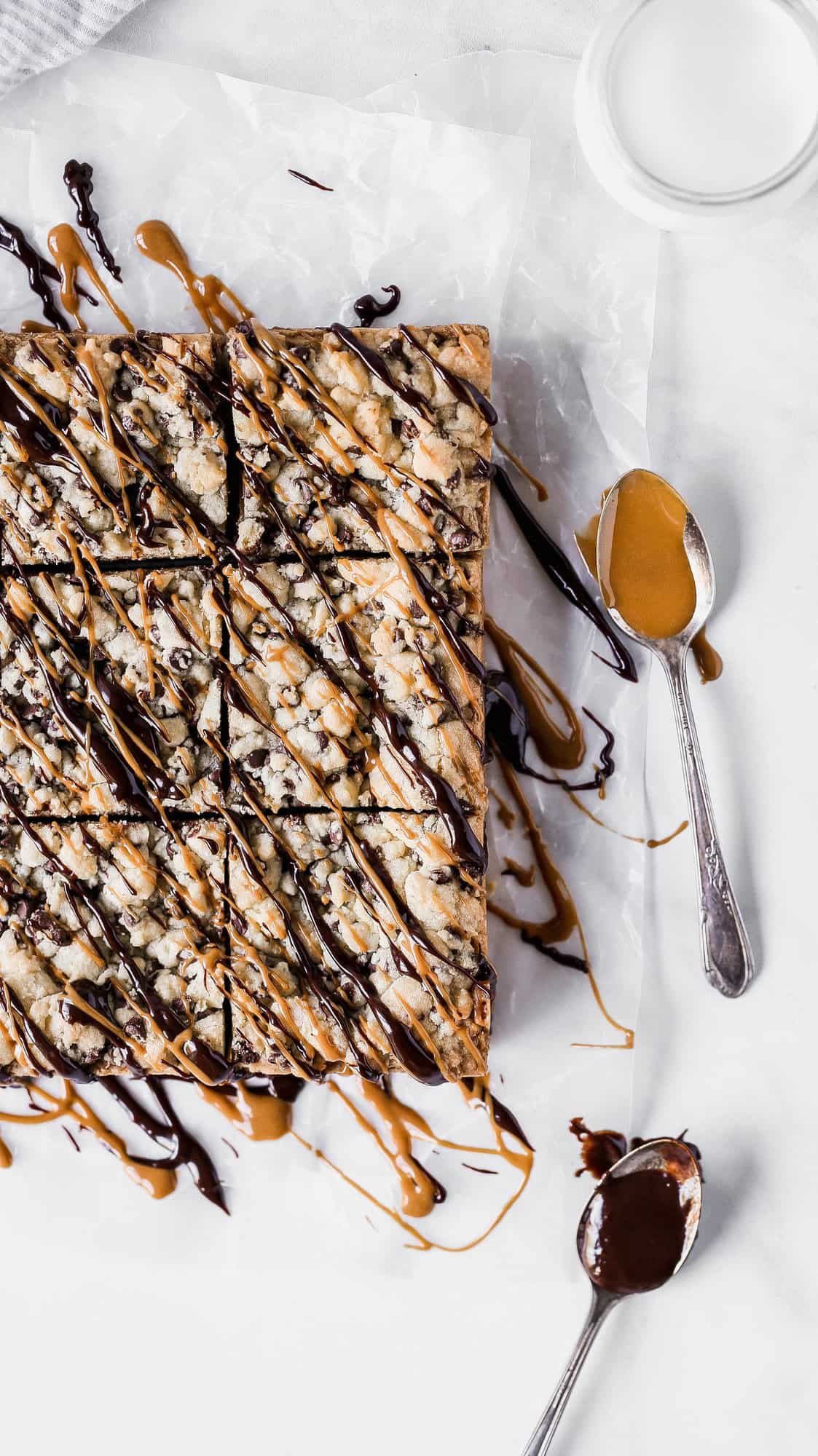 what does cookie butter taste like?
Uh, heaven. Just think of a sweet cinnamon cookie made into a peanut butter-like consistency. I like to think of it as a cross between peanut butter and a cinnamon graham cracker, minus the peanuts.
Some also call it speculoos because that's the base of the butter – a spiced shortcrust pastry. I've even seen jars that are swirled with different flavors.
You can find it at most grocery stores but Trader Joe's is known for their speculoos cookie butter. It's one of their best selling products. They even have a cookies and cream one!
It goes well with just about anything cinnamon would. With chocolate, pancakes, cake, blondies, cookies…or just eat it by the spoonful!
How to layer your cookie butter bars
These are probably the easiest layered cookie bars because there's no mess. Usually you have a center that oozes out and a bar that just won't hold its shape. Not with these!
Taking half of your chocolate chip cookie dough, press it into the bottom of your pan.
The cookie butter layer is a thick paste-like consistency so you want to break it up and dot the top of your cookie layer.
Then, carefully spread and press the cookie butter into an even layer.
Crumble the other half of your cookie dough on top and bake!
Topping your chocolate chip cookie butter bars
For this cookie butter recipe, it was only natural to top it with MORE cookie butter. It's not absolutely necessary but it does add an extra punch of cookie butter flavor.
I also drizzled some extra chocolate on top. This is a super simple chocolate ganache recipe that I use all the time to top my desserts.
When adding the drizzle or topping of your choice, make sure your bars are completely cool. Otherwise it will just run all over the place.
You could also top it with more chocolate chips or crushed up lotus cookies. They're also delicious as is!
For even more chocolate and cookie butter recipes:
Make sure to tag me @butternutbakery on Instagram if you make these chocolate chip cookie butter bars. I love seeing my recipes come to life in YOUR kitchen! To pin this recipe and save it for later, you can use the button on the recipe card, the buttons above or below this post, or on any of the photos above. Happy baking!
Print
Chocolate Chip Cookie Butter Bars
---
Description
Chocolate chip cookie butter bars with cookie butter sandwiched between two layers of soft baked cookie dough.
---
Chocolate Chip Cookie Base
1/2 cup unsalted butter, room temp
1 cup sugar
1 large egg
1 tsp vanilla extract
2 cups all-purpose flour
1/2 tsp salt
1/2 tsp baking soda
1 cup mini semi-sweet chocolate chips
Cookie Butter Layer
1/2 cup cookie butter
1/4 cup unsalted butter, melted
1 tsp vanilla extract
2 tsp milk
1/2 tsp salt
1 1/2 cups powdered sugar
Cookie Butter Drizzle
2 tbsp cookie butter
1 tsp powdered sugar
Chocolate Drizzle
2 tbsp dark chocolate chips
2 tbsp heavy cream
---
Instructions
Preheat oven to 350F and grease and line an 8×8 pan with parchment paper.
Starting with the cookie base, combine the salt, baking soda, and flour in a small bowl and set aside.
In a separate bowl, cream together the butter and sugar using a stand or hand mixer on medium speed. Add the egg and vanilla and mix until combined.
Slowly incorporate the dry ingredients and mix until the dough comes together. Mix in the mini chocolate chips.
Pop the dough in the fridge while you prepare the cookie butter layer.
Start by whisking together the cookie butter and melted butter in a medium sized bowl. Then add in the vanilla, salt, and milk.
Once that's combined, switch to a wooden spoon and mix in the powdered sugar a half a cup at a time until it resembles a dough or paste.
Take the cookie dough base out of the fridge and firmly pack half the mixture into the bottom of your pan. Make sure it's an even layer and it reaches the edges of the pan.
Press the cookie butter dough into an even layer on top of the cookie dough layer. Crumble the other half of the cookie dough on top of the cookie butter layer.
Bake for 25-30 minutes or until the edges are a light golden brown. The inside will stay slightly doughy which is what we're going for. Let the bars cool completely before removing from the pan.
To prepare the drizzles, start by melting the cookie butter in the microwave for about 30 seconds. Mix in the powdered sugar and it's ready to go.
For the chocolate, microwave the chocolate chips and heavy cream in 20 second increments, mixing between each time. It should take about 40-60 seconds total. It might take a minute but just keep mixing it until it looks smooth and glossy. Let that sit for a couple minutes before drizzling. Drizzle as much or as little as you want on top of the bars.
Prep Time: 20 minutes
Cook Time: 25
Keywords: cookie butter bars, chocolate chip cookie butter bars
Recipe Card powered by