Gooey salted caramel, rich dark chocolate, savory toasted nuts, and soft oat cookie all wrapped up in one! These caramel cookie bars are loaded with all the best, making them an absolute crowd favorite.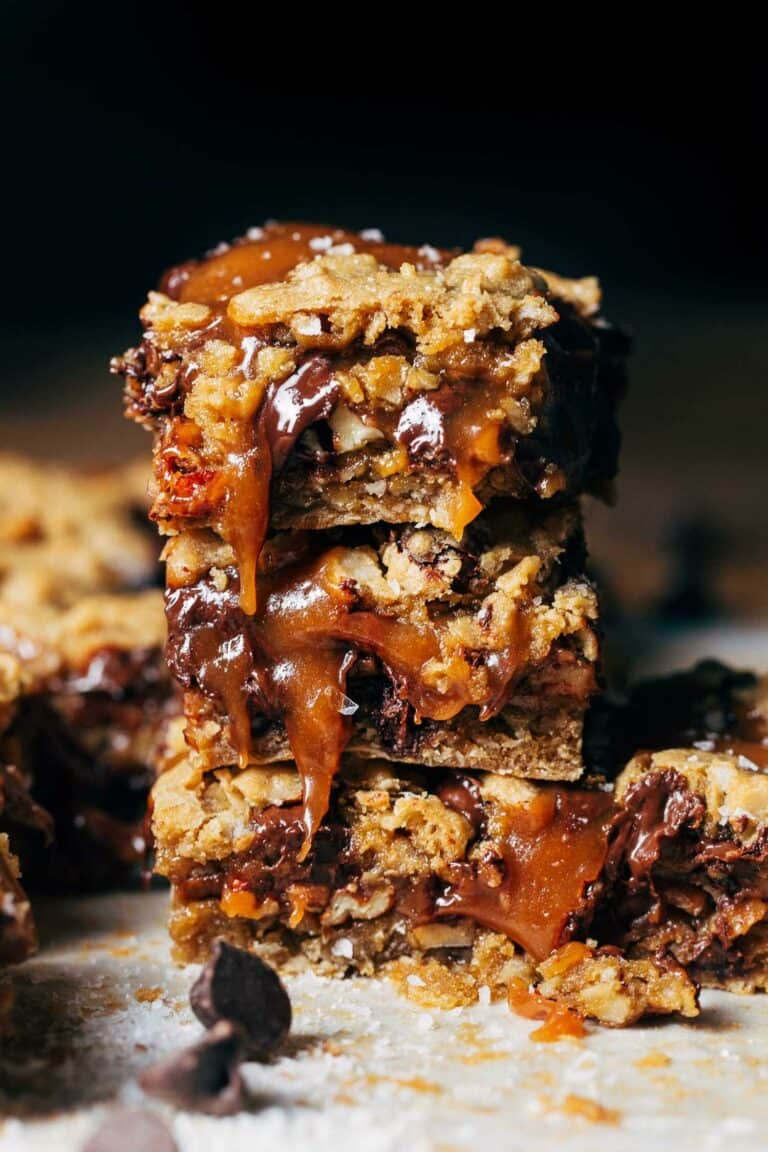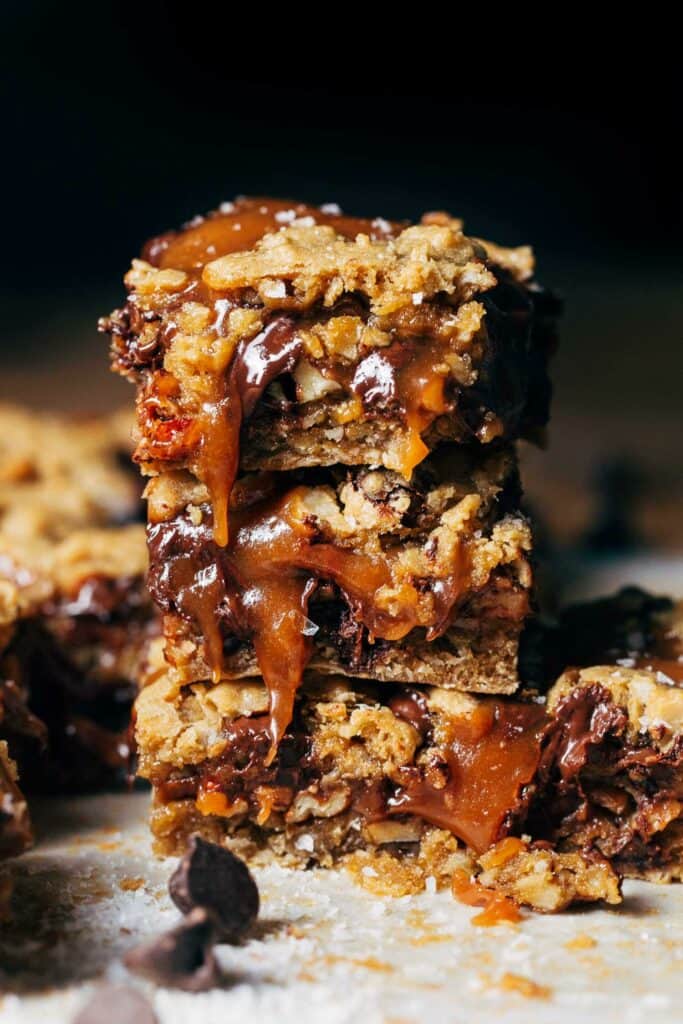 What goes into caramel cookie bars? AKA caramelitas
Four main components make up these delicious salted caramel cookie bars:
Soft Oat Cookie – The crust and the topping is a soft oatmeal cookie dough with chocolate chips baked in.
Toasted Nuts – The crust bakes for 8 minutes on its own before adding all the toppings, so chopped nuts are sprinkled on top so they can toast alongside the crust! These bars taste delicious with walnuts or pecans.
Dark Chocolate Chips – To prevent these bars from going overboard in sweetness, a layer of dark chocolate chips are added on top of the toasted nuts.
Salted Caramel Sauce – Last but not least, a rich and gooey homemade salted caramel sauce is poured on top. It's so flavorful and perfectly salted.
Once the crust is baked and the nuts toasted, everything else is piled on top and baked all together. In then end you're left with a thick and dense cookie bar with loads of delicious textures and flavors!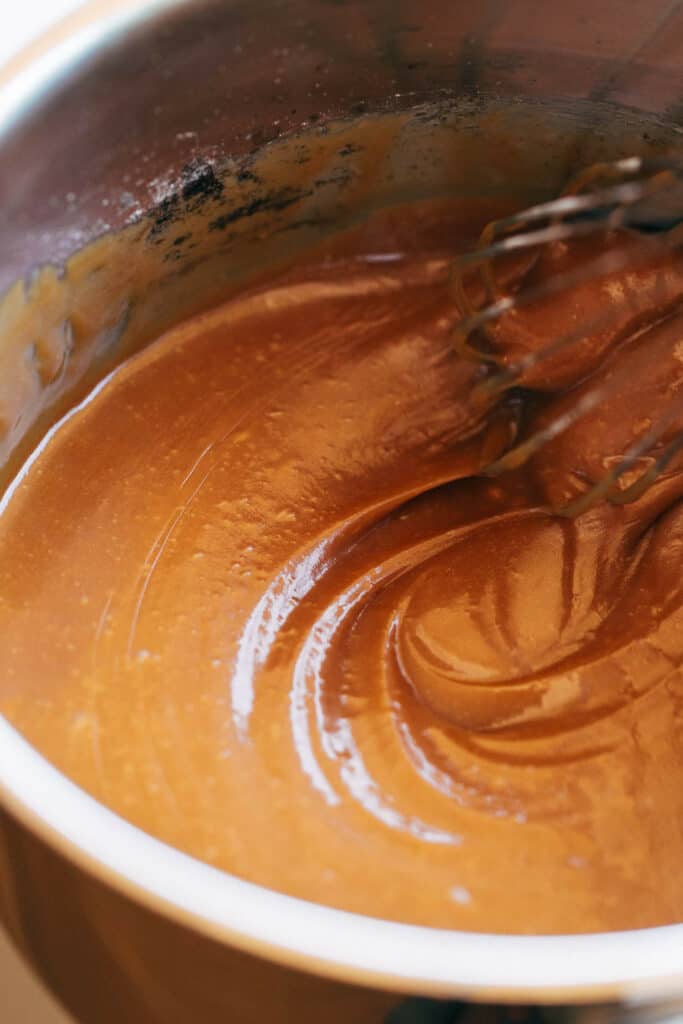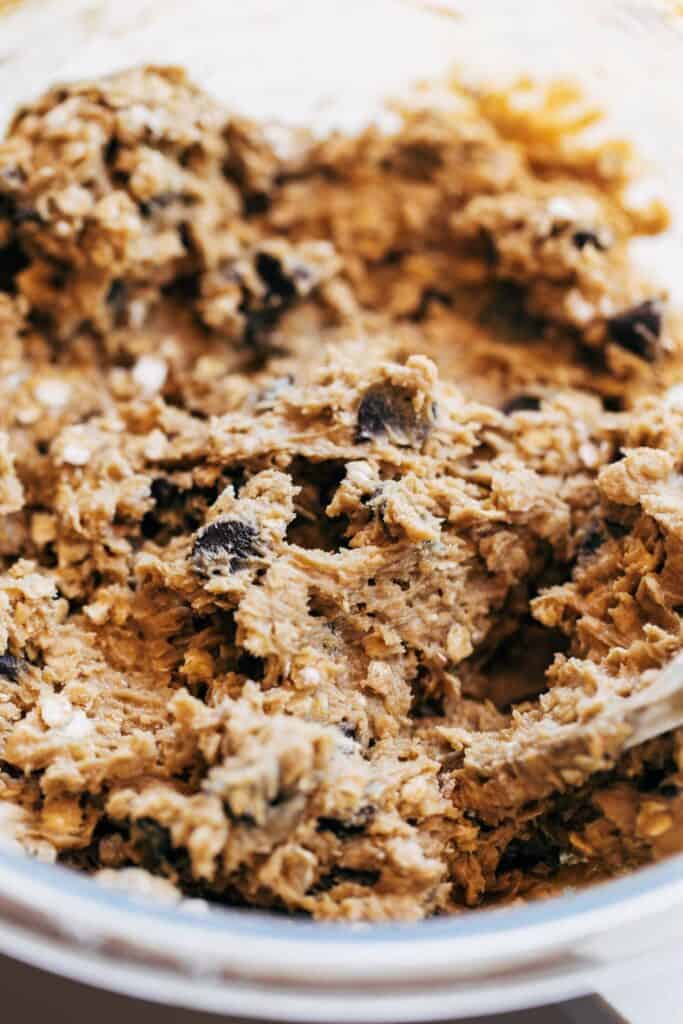 Tips for making homemade salted caramel sauce
Inspired by caramelitas, this recipe shares a lot of similarities. Both have a soft oat topping and crust, both have chocolate chips, and both have caramel.
But a couple things set this recipe apart. First, the oat cookie crust is made like a traditional cookie bar to create a rich and soft texture.
Second, this recipe is made with a rich homemade caramel sauce whereas most caramelitas are made with store bought caramel.
This homemade sauce creates a richer, more complex caramel flavor that pairs perfectly with the dark chocolate and toasted nuts.
When making the caramel sauce, it's important to keep a few things in mind:
The Sugar – Water and sugar are added to a saucepan over medium heat. During this step, the heat will dissolve the sugar into the water to create a completely clear liquid. During this process, it's very important NOT to touch or stir the mixture. Just let it be. Otherwise, this can cause crystallization on the sides of the pan and your caramel will turn out quite lumpy.
Caramelization – Once the mixture is clear, the sugar will remain over the heat. Slowly, the sugar will go from clear, to golden, to a rich amber color. Again, do not mix the sugar during this step. Although it's safe to slowly nudge the caramel (usually from the outside in) to ensure the sugar caramelizes evenly.
Heavy Cream – When the sugar has caramelized, immediately remove from the heat and mix in butter. Then, heavy cream is added. Now it's very important that the cream is at least at room temperature, otherwise it will rapidly bring down the temperature of the caramel which will cause it to seize up. This is also the reason behind slowly pouring in the cream as you mix. Do not pour it in all at once and then begin to mix, otherwise you could be left with a hard glob of sugar in your caramel.
Extra Heat – When the caramel is all mixed, return it to the heat and allow it to bubble for just 2 minutes. The extra heat will not only help smooth out the caramel, but it will thicken it slightly.
Flour – Not traditional to caramel sauce, a bit of flour is added after the caramel is complete. This will thicken the caramel further, preventing it from oozing out of the bars once sliced.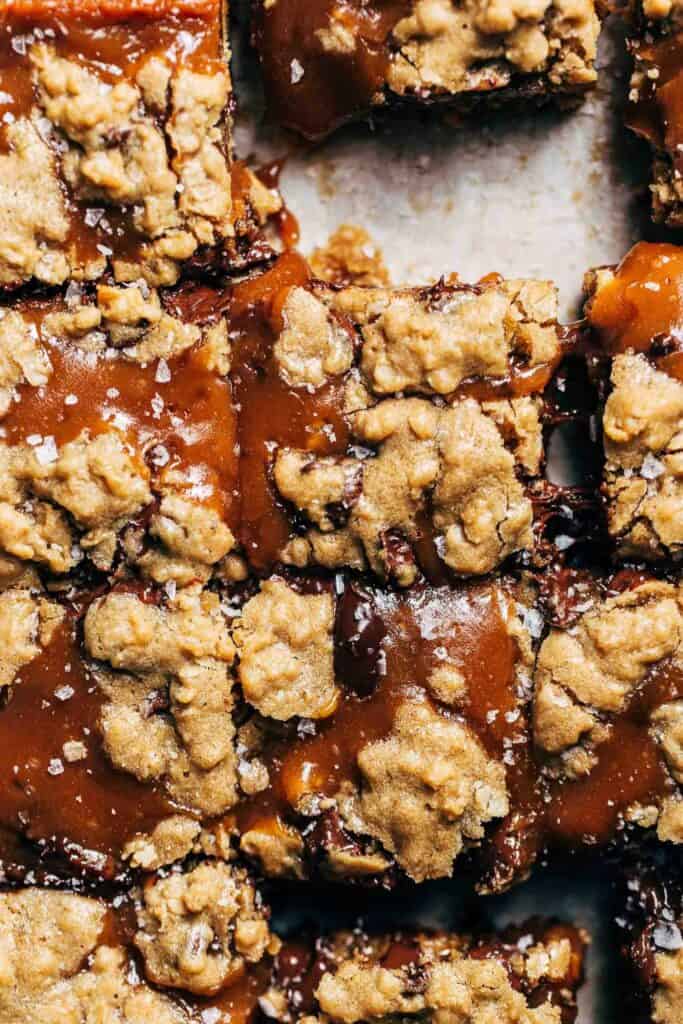 Caramelitas FAQs
Can I leave out the nuts?
Yes, if you're not a fan of nuts they can be left out.
Why did my oat cookie turn out dry?
This is usually due to too much flour. When measuring the flour, make sure to spoon it into a measuring cup and level it off. Don't shake it down or pack it in, we always want light and fluffy cups of flour.
Can I use old fashioned oats in place of the quick oats?
Unfortunately not, as old fashioned oats absorb liquid at a much slower rate than quick oats.
Can I use light brown sugar instead of dark brown sugar?
You can, but just know that the oat cookie won't turn out as moist.
Why did my caramel turn out lumpy?
This could be because the heavy cream was too cold once added to the sugar, or it was added too fast. Try returning it to the heat and continue whisking to help smooth it out. If this does not work, unfortunately you will have to start over.
Can I use store bought caramel instead?
You can, but homemade gives the best flavor! If you choose store bought, measure out 280g of the sauce and then mix in the flour.
How long do caramel cookie bars keep?
Store in the refrigerator and these bars will keep for about a week.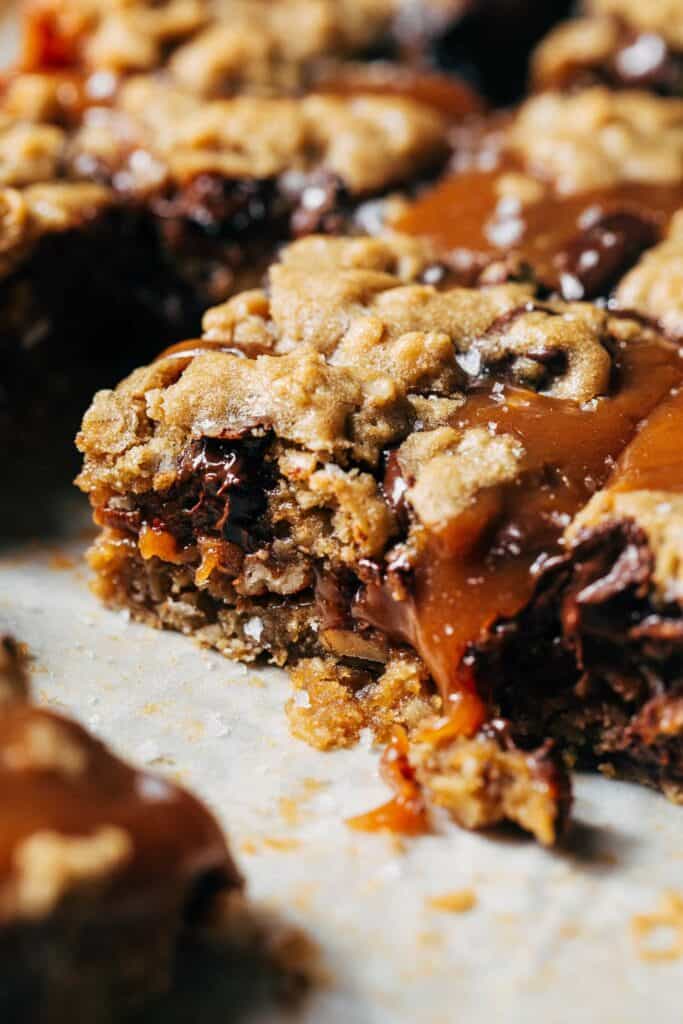 For more cookie bar recipes, check out my:
Make sure to tag me @butternutbakery on Instagram and leave a review below if you make these caramel cookie bars. To pin this recipe and save it for later, you can use the button on the recipe card, the buttons above or below this post, or on any of the photos above. Happy baking!
Print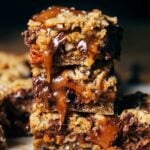 Salted Caramel Chocolate Chip Oat Cookie Bars
---
Author: Jenna Barnard
Total Time: 2 hours 30 minutes
Yield: 16 bars
Description
These caramel cookie bars (aka caramelitas) have a soft chocolate chip oatmeal cookie crust, gooey homemade salted caramel, rich dark chocolate, toasted nuts, and another layer of cookie dough. They're loaded up with all the best flavors and textures!
---
Homemade Salted Caramel
3/4 cup (150g) granulated sugar
1/4 cup + 2 tbsp (90g) water
4 1/2 tbsp unsalted butter, sliced
1/4 cup + 2 tbsp (100g) heavy cream, room temperature
1 tsp vanilla extract
Hefty pinch of kosher salt
7 tbsp (60g) all purpose flour
Oatmeal Chocolate Chip Cookie Dough
1 cup (95g) quick oats
1 1/4 cup (165g) all purpose flour
1/2 tsp baking powder
1/2 tsp kosher salt
1/2 cup (110g) unsalted butter, room temp
1 cup (210g) dark brown sugar, packed
1 large egg + 1 egg yolk
2 tsp vanilla extract
1/2 cup (85g) semisweet chocolate chips
3/4 cup (130g) dark chocolate chips
3/4 cup (95g) walnuts or pecans, finely chopped
Flaky sea salt, for sprinkling
---
Instructions
Homemade Salted Caramel
First, get all of the caramel ingredients ready because everything needs to be mixed in while the caramel is still hot. Most importantly, the heavy cream must be at least room temperature, otherwise the caramel can seize up. If it's too cold, pop it into the microwave to warm up beforehand.
Add the water and sugar to a heavy-bottomed saucepan. Gently stir to evenly mix, careful not to allow any of the sugar to slosh up against the sides of the pot.
Place over medium heat and allow the sugar to dissolve on its own. Do not touch.
Once the mixture turns completely clear and bubbling, sit and watch as it turns from clear, to light golden, to a rich amber. If the sugar is browning unevenly, gently nudge the sugar around in the pot to evenly distribute the darker sections.
When the sugar turns evenly amber, immediately remove from the heat and whisk in the butter.
While gently whisking, slowly pour in the heavy cream and mix until smooth.
Now whisk in the vanilla and salt.
Return to medium heat and bubble for about 2 minutes.
Then remove from the heat and whisk in the flour.
Set the pot of caramel off to the side while we make the cookie dough.
Oatmeal Chocolate Chip Cookie Dough
Preheat the oven to 350F and grease and line all sides of an 8×8 baking dish with parchment paper.
In a medium bowl, whisk together the oats, flour, baking powder, and salt. Set aside.
In a large mixing bowl, mix together the softened butter and dark brown sugar until smooth. This can be done by hand with a wooden spoon, or with an electric mixer.
Now mix in the egg, egg yolk, and vanilla.
Pour in the dry ingredients and mix to combine. Just before the flour is fully mixed in, add in the 1/2 cup of semisweet chocolate chips.
Spread about 2/3 of the dough in the bottom of the baking dish. Top with an even layer of the chopped nuts.
Bake for 8 minutes and place the leftover dough in the refrigerator.
After those 8 minutes, remove the crust from the oven and top with an even layer of the dark chocolate chips.
Now pour over the caramel. It should be easily pourable but if it thickened too much while cooling, return it to the stove and heat just enough to loosen it up again.
Then pour an even layer of the caramel over the chocolate chips and top with random blobs of the leftover cookie dough.
Bake for 20-25 minutes or until very lightly golden.
Allow the bars to cool at room temperature for about 30 minutes, then chill for about an hour.
To release from the pan, you may need to wedge a knife around the corners depending on how well lined your pan is. Then just lift out, sprinkle with sea salt, and slice!
Equipment
Prep Time: 30 minutes
Cooling Time: 1 hour 30 minutes
Cook Time: 30 minutes
Category: Dessert
Method: Baking
Cuisine: American
Keywords: caramelitas, caramel cookie bars, salted caramel cookie bars, oatmeal chocolate chip cookie bars, caramel chocolate chip cookie bars, salted caramel, homemade salted caramel.
Recipe Card powered by