These oatmeal fudge bars are heaven in a slice. Ooey gooey chocolate fudge is baked in the center of chewy oatmeal cookie bars. Each bite is rich, buttery, and so delicious. They're also fun and easy to make!
This post is sponsored by Danish Creamery but all thoughts and opinions are my own. Thank you for supporting the brands that make Butternut Bakery possible!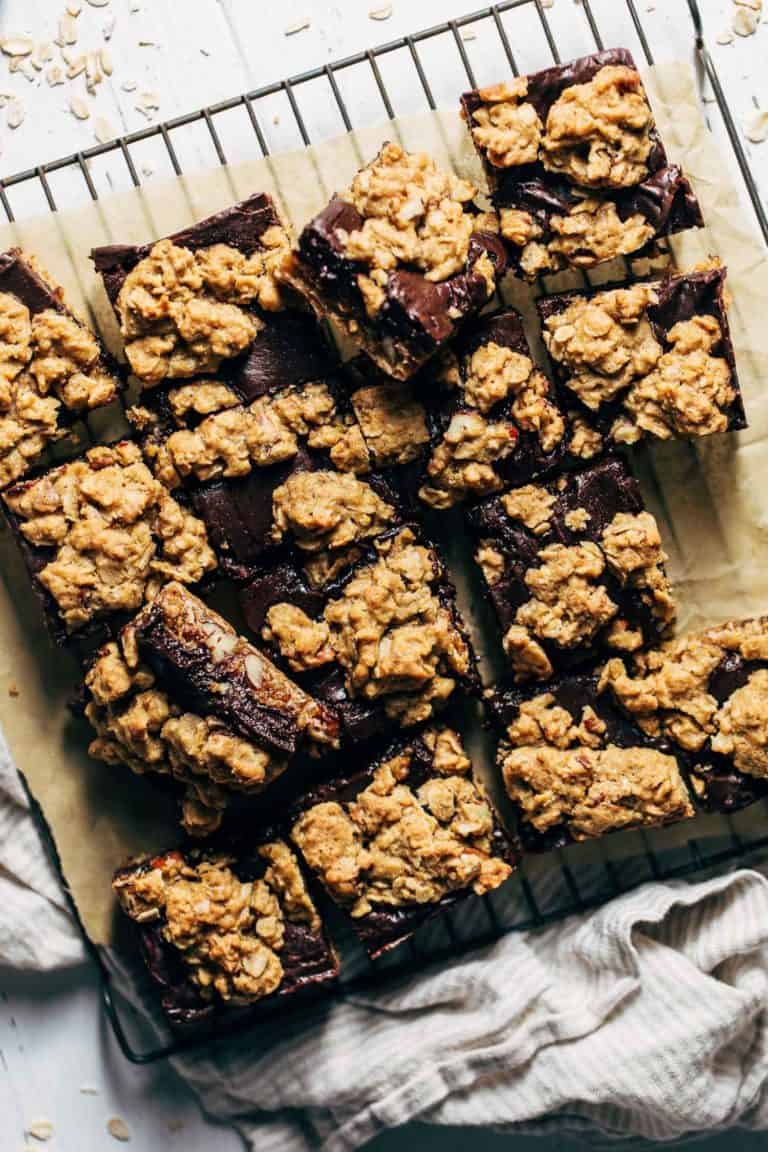 What makes these the BEST oatmeal fudge bars?
This is a simple recipe but it is packed with the best flavors and textures. The oatmeal cookie is perfectly balanced and chewy and the chocolate fudge is rich and gooey but not too sweet.
Oatmeal Cookie Base – This dough is made using Danish Creamery sea salted butter. Not only does Danish Creamery make the most rich and flavorful butter using high quality cream, but the addition of salt helps balance out the flavors of this dough. The sea salt prevents the dough from turning overly sweet, and the super creamy butter lends the most tender oatmeal cookie.
The dough also has the perfect amount of oats as they don't overwhelm but still add just the right amount of chew. Pecans are also added for a savory crunch that pairs well with the soft oat cookie and fudgy filling.
Chocolate Fudge – This is basically liquid gold. Semisweet chocolate, sweetened condensed milk, and Danish Creamery salted butter make up this delicious chocolate filling. Since the oat cookie isn't too sweet, the use of semisweet chocolate adds the best flavor. I tried it with dark chocolate, but it just wasn't the same!
Sweetened condensed milk creates that fudgy consistency and Danish Creamery salted butter adds richness and a touch of salt. It's just the right amount to prevent the fudge from becoming a bit TOO rich.
When these two elements come together, it's the best combination of soft and chewy oat cookie with melt-in-your-mouth chocolate fudge. That's why they're the BEST!
Tips for making oatmeal fudge bars
With so many layers these bars could appear a bit daunting, but trust me they are so easy to make. Here are some of my top tips to ensure your oat fudge bars turn out just right:
Dry Ingredients – I say this in almost every recipe, but the method for measuring your flour can make or break a recipe. If you can, I highly recommend weighing the flour and oats for accuracy. If you don't have a kitchen scale, gently spoon the flour into a measuring cup and scrape away the excess. Don't scoop directly into the flour and don't shake or pack it down into the cup. This will leave you with WAY too much, creating a tough and dry cookie dough.
Danish Creamery Butter – This is the real highlight of this recipe because a high quality butter makes all the difference. Danish Creamery butter is slow churned using high quality cream, so it creates a flavorful and rich cookie dough. Also make sure it's at room temperature before use. The soft butter whipped with the sugar will aerate the dough so it can lift and bake evenly.
Dark Brown Sugar – Speaking of sugar, I suggest using dark brown sugar for the best results. The extra hit of molasses makes these bars extra chewy and flavorful. Light brown sugar can be subbed, but use dark brown for the best results.
Resting the Dough – Allow the dough to rest off to the side while making the fudge layer. Resting the dough will allow the flour to really hydrate. This creates a sturdy dough with a light and chewy consistency.
How to bake oat fudge bars
The dough is ready and the fudge is melted – it's time to assemble. Start with a greased and lined square 8×8 baking pan. Give it a light spray, then lay a sheet of parchment paper down so that it sticks to the bottom and two sides of the pan. Allow the paper to hang over the edges for easy removal later on.
Take about 2/3 of the dough and press it into the bottom of the pan. The dough is soft and sticky, so I suggest spraying your fingers with some nonstick spray to help this process. I also find that using your hands is best, so you can ditch the spatula at this point.
Next, spread the fudge on top in an even layer. Make sure it reaches all the way out to the edges. Now take the remaining cookie dough and crumble random pieces on top. Some can be large, some can be small. The only important part is to make sure they are evenly scattered about.
Now it's ready to bake! The bars are done when the tops of the crumbled cookie dough turn a very light golden color and the fudge looks like it has a skin on top. Allow the bars to cool for about 45 minutes, or until all sides of the pan no longer feel warm. Then lift them out and slice!
How to store oatmeal fudge bars
When the bars have cooled at room temperature for 45 minutes, they can either be covered and chilled in the refrigerator or sliced and store in an air tight container also in the fridge.
Either way, the bars will keep in the fridge for about a week. I suggest warming up a slice for about 10-15 seconds in the microwave to regain that fudgy consistency.
But if you plan to serve the bars that day or the next, they are fine to sit out at room temperature for 24 hours as long as they are in a container.
Can I use quick oats instead of old fashioned oats?
For the best results, I highly recommend old fashioned. If you aren't a fan of the consistency, try blitzing the oats in a food processor a couple times just to break them up.
Otherwise, quick oats can be used but just know that it may change the consistency of the oat cookie.
Can these be made gluten free?
I haven't tested it, but I do believe that a good quality gluten free baking flour could be used in place of the flour in this recipe. Also make sure to use certified gluten free oats.
The bars may be a bit more delicate as well, so I suggest chilling the bars before removing from the pan and slicing.
For more delicious oat recipes, check out my:
Make sure to tag me @butternutbakery on Instagram if you make these oatmeal fudge bars. I love seeing my recipes come to life in YOUR kitchen! To pin this recipe and save it for later, you can use the button on the recipe card, the buttons above or below this post, or on any of the photos above. Happy baking!
Print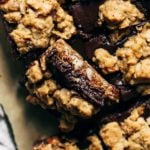 Gooey Oatmeal Fudge Bars
---
Author: Jenna Barnard
Total Time: 45 minutes + 45 minutes cooling
Yield: 16 bars
Description
These oatmeal fudge bars are rich, gooey, and so chocolatey. Soft oatmeal cookie is baked with a layer of chocolate fudge in the center. Each bite is tender, fudgy, and too good for words.
---
Oatmeal Cookie
1 1/2 cups (150g) old fashioned rolled oats
1 1/4 cup (165g) all purpose flour
1/2 tsp baking soda
1/4 tsp cinnamon
1/2 cup (110g) Danish Creamery salted butter, room temp
1 cup (200g) dark brown sugar, packed
1 large egg + 1 egg yolk, room temp
2 tsp vanilla extract
1/2 cup finely chopped pecans (optional)
Chocolate Fudge
1 cup (6oz) semisweet chocolate chips
7oz sweetened condensed milk
---
Instructions
Oatmeal Cookie
Preheat the oven to 350F and grease and line an 8×8 square baking dish with parchment paper.
In a medium bowl, whisk together the oats, flour, baking soda, and cinnamon. Set aside.
In a large mixing bowl using a hand or stand mixer with the paddle attachment, add the butter and sugar and mix on medium-high speed until light and creamy.
Mix in the eggs and vanilla, then scrape down the bowl and mix again until smooth.
Pour in the dry ingredients and mix on low speed. Mix in the pecans right before the dry ingredients are fully incorporated. Then use a rubber spatula to mix in any dry bits that might be sitting at the bottom of the bowl. Set aside.
Chocolate Fudge
Add all of the ingredients to a heat-safe dish and microwave in 30 second intervals until smooth. It shouldn't take more than 60-90 seconds.
Press about 2/3 of the cookie dough into the bottom of the baking dish. It will be a bit sticky so I recommend spritzing your fingers with some nonstick spray.
Spread the fudge in an even layer over the oatmeal cookie base, then crumble the rest of the oatmeal cookie dough on top.
Bake at 350F for 22-25 minutes, or until the tops of the oat cookie are a pale golden brown.
Allow the bars to cool at room temperature for about 45 minutes. Then slice and enjoy! 
Equipment
Notes
UNSALTED BUTTER – For unsalted butter, add 1/2 tsp of kosher salt to the dough (mix in with all of the dry ingredients) and use a small pinch of kosher salt in the fudge. 
Prep Time: 20 minutes
Cook Time: 25 minutes
Category: Dessert
Method: Baking
Cuisine: American
Keywords: oatmeal fudge bars, oat fudge bars, starbucks oat fudge bar
Recipe Card powered by