These cookie butter blondies are chewy, gooey, buttery, and SO DELICIOUS. With tons of cookie butter baked into the batter and speculoos cookies scattered on top, you're left with a bite that's both soft and crunchy. They're so easy to make and tastes just as good as they look!
What is cookie butter?
If you've never tried cookie butter, you are in for a TREAT. Cookie butter is a spread with a very similar texture and color to peanut butter. It's made up of ground speculoos cookies which are a buttery spiced cookie created in Europe.
The ground cookies are then mixed with oils and other ingredients to create a smooth spread. Its flavor is very similar to gingerbread, but with more of a warm spiced flavor rather than a molasses flavor.
Where can I find it?
The most popular and well known cookie butter can be found at Trader Joe's. They have a variety of Speculoos Cookie Butters ranging from original to cocoa swirl.
But if you don't have a Trader Joe's near you, Lotus Biscoff Cookie Butter is also a great option. It can be found in most grocery stores right by the peanut butter.
Biscoff is the Lotus brand name given to Speculoos. Speculoos is a type of cookie, where Biscoff is a Speculoos cookie made by Lotus. Because of this, they also make the cookie by itself which is what's scattered on top of these cookie butter blondies.
How to make gooey cookie butter blondies
These bars are so easy to make and only require a bowl and a rubber spatula. The entire process takes under an hour and you're left with a batch of gooey and chewy blondies.
To start, mix together the melted butter, cookie butter, and dark brown sugar. Using dark brown sugar makes these blondies extra rich and chewy. If you only have light brown sugar on hand, that will also work.
Since the cookie butter is thick, you may need to press and smear around the ingredients to get then well combined. Once they are, mix in the egg and vanilla.
At this point your batter should look like the first picture above.
Lastly, dump in the flour, salt, and cinnamon and mix to combine. It should come together like a buttery cookie dough.
Press the dough into an 8×8 baking pan, sprayed with nonstick spray and lined with parchment paper. It's not sticky, so it should be pretty easy to press it even using your rubber spatula.
Break apart 6-8 biscoff cookies and press them into the surface of the blondies. Now they're ready to bake!
How to bake cookie butter bars
These blondies bake at 350F for 25-30 minutes. Due to the fact that these don't contain any leaveners, they will not puff up in the oven.
Instead, you're looking for a nice and even color all throughout with some SLIGHTLY darker and wrinkly edges. The cookies will turn a darker caramel color and the center should be dull and not sticky.
Remove them from the oven and let them rest at room temperature for about 20 minutes. From there, move the pan to the fridge for about 30 minutes.
These blondies act very similar to brownies. You never want to dig straight into a pan of freshly baked brownies because they will be too melty and gooey. Allowing the blondies to chill in the fridge will allow the butter to set up, so the blondies will hold their shape when sliced.
When slicing, you'll notice the bars are very buttery which is a good thing! This adds to the delicious gooey texture and warm cinnamon flavor. If you like, you can leave the blondies in the fridge for an extra hour to fully solidify the butter.
How to store your blondies
You have the option of storing these at room temperature or in the fridge. At room temperature, you'll keep that really buttery and gooey texture. In the fridge, they'll firm up and become more chewy.
Either way, they should be stored in an air tight container and will last up to 4 days. The cookies on top may loose their crunch after 2 days.
Can I use different cookies on top?
Absolutely. Whether you're unable to find biscoff cookies or you'd rather use a different kind, it's all up to your preference. A cookie that's very similar to the taste and texture are gingersnap cookies. Just make sure you use a firm cookie that will snap when broken apart.
Does cookie butter contain gluten?
Yes, cookie butter and speculoos cookies contain both gluten and dairy. Unfortunately this recipe can not be made gluten free or dairy free.
For more delicious bars and brownies, check out my:
Make sure to tag me @butternutbakery on Instagram and comment below if you make these Cookie Butter Blondies. To pin this recipe and save it for later, you can use the button on the recipe card, the buttons above or below this post, or on any of the photos above. Happy baking!
Watch how to make these cookie butter blondies:
Print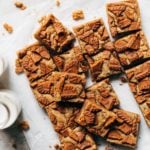 Cookie Butter Blondies
---
Description
Chewy blondies full of cookie butter flavor. With speculoos cookies baked on top and cookie butter mixed into the batter, you're left with a soft and crunchy bite. 
---
1/2 cup (110g) unsalted butter, melted
1/2 cup (150g) cookie butter*
1 cup (185g) dark brown sugar
1 large egg
2 tsp vanilla extract
1 1/2 cups (200g) all-purpose flour
1/2 tsp cinnamon
1/4 tsp salt
6–8 speculoos cookies, broken into pieces (I used Lotus Biscoff cookies)
---
Instructions
Preheat your oven to 350F and grease and line an 8×8 baking pan with parchment paper. Allow the paper to stick up and over the sides so that the bars are easily to lift out.
In a large bowl, mix together the melted butter, cookie butter, and sugar using a rubber spatula. You may need to press and spread the ingredients together as the cookie butter is pretty thick. 
Mix in the eggs and vanilla until fully combined.
Add in the flour, cinnamon, and salt and mix until the dough comes together. It should look like buttery cookie dough when you're done.
Press the dough into your prepared pan so that it touches the edges and is nice and even. Press the crumbled cookies on top.
Bake for 25-30 minutes or until the center is dull/not sticky to the touch. They will not rise much and the cookies should turn a dark caramel color.
Leave them in the pan and let them cool at room temperature for 20 minutes then transfer to the fridge for 30-45 minutes. This is to help the bars solidify as they will be too gooey to cut into when they're fresh from the oven.
Once cooled, slice and enjoy! This should be buttery and chewy.
Notes
*Cookie butter can be found at most grocery stores. Trader Joe's is known for theres, but you can also find Lotus Biscoff cookie butter in most grocery stores by the peanut butter. 
Prep Time: 15 minutes
Cook Time: 25 minutes
Keywords: cookie butter, blondies, cookie butter blondies, blondie recipe
Recipe Card powered by