Get ready for the most delicious gluten free chocolate cupcakes you've ever had. They're super moist and full of rich chocolate from top to bottom. With a silky chocolate ganache frosting AND moist chocolate cake, this will definitely satisfy any chocolate lovers' sweet tooth!
This post is sponsored by Ghirardelli but all thoughts and opinions are my own. Thank you for supporting the brands that make Butternut Bakery possible!
Perfect gluten free chocolate cupcakes
This recipe is so easy to make and yet tastes so amazing! The trick is to use high quality chocolate by Ghirardelli for bold flavor and a rich texture. They're also perfect for any Holiday occasion. Since they're gluten free, everyone can enjoy them! And trust me, even those who still eat gluten will never know these are gluten free.
They're made just like any other cupcake recipe, but with a super simple chocolate frosting made of just two ingredients. Each bite is silky smooth, making these cupcakes irresistible.
Tips for baking gluten free chocolate cupcakes
It's tough to mess up this recipe, but following these few simple tips will ensure they turn out perfect every time:
Use good quality chocolate – Don't cut corners here! High quality chocolate is key to getting the most flavor out of these cupcakes. Ghirardelli 60% Cacao Bittersweet baking chips make these cupcakes extra chocolatey.
Sift the cocoa powder – For a smooth batter, sift the cocoa powder into the dry ingredients. Cocoa powder tends to clump up, so doing so will eliminate any chunks.
Gluten free baking flour – Use an all purpose gluten free baking flour with xanthan gum already mixed in. This is what gives the cake that chewy and bouncy texture otherwise provided by gluten. If yours doesn't have any xanthan gum, add 1 tsp to this recipe.
Apple cider vinegar – Adding vinegar helps to break down the texture, leaving you with a tender chocolate cake. For a dairy free chocolate cupcake, use any variety of nondairy milk with the vinegar added.
Don't overfill – This is the most crucial step in this recipe. Make sure to fill the cupcakes only halfway full. Anymore and your cupcakes will sink in the middle once baked.
How to make chocolate ganache frosting
After making chocolate ganache frosting, you'll never make regular chocolate frosting again! It's rich, smooth, and extra chocolatey.
It's also very easy to make, using just two ingredients; heavy cream and chocolate. But don't just use any chocolate here, as it can definitely make or break the ganache.
I always use Ghirardelli 60% Cacao Bittersweet baking chips to make my ganache because it melts beautifully and tastes SO GOOD. Chocolate is just one of those things that you can't cut corners on in baking.
Ghirardelli 60% Cacao Bittersweet baking chips are perfect for this recipe because they aren't too sweet. Since it's going on top of a rich and sweet cupcake, the slight bitterness of the chocolate helps to balance out the flavors.
To make chocolate ganache frosting:
Heat the heavy cream on a saucepan over medium heat. It only needs a few minutes to warm up, so pull it off the heat once you see steam rising from the surface.
Meanwhile, fill a bowl full of the Ghirardelli 60% Cacao Bittersweet baking chips. Pour the warm heavy cream to completely cover the chips and let it sit for about 2 minutes
Whisk the two ingredients together until you reach a super silky and rich texture, just like the picture below.
To thicken the ganache for frosting, pop it into the refrigerator for about 45 minutes. Stir the ganache every so often to keep that smooth texture.
It's ready when the ganache holds its shape (see picture below), but is still easy to mix. Too thin and it will slip off the cupcakes, too thick and it will be very difficult to pipe.
If yours gets too thick, leave it out at room temperature until it loosens up. Then you're ready to pipe!
How to frost and decorate your gluten free chocolate cupcakes
To frost these cupcakes, you will need a piping bag and a large closed star piping tip. This gives you those beautiful swirls and ridges.
It's important to frost your cupcakes once they're completely cool, otherwise the ganache will melt on top.
Once cooled, create a double swirl on top of each cupcake. Start in the center and work your way all around the edge of the cupcake. Once you've come full circle, continue piping up towards the center and quickly pull the tip off to the side to break free. Don't pull up on the tip otherwise your ganache frosting will lift off the cake.
How to make chocolate curls
To add a little extra chocolate to these cupcakes, I love sprinkling some chocolate curls on top. They're so easy to make but look professional.
To make them, you will need Ghirardelli 60% cacao baking bars. Break off a bar and run a peeler along the edge to shave off the chocolate. Do so over top of the cupcake so the curls naturally fall onto the frosting.
Work the peeler slowly with some light pressure for tight curls, or quickly run it across the bar for chocolate shavings.
Can I use a different oil?
Yes, just make sure to stick with an oil. Don't use melted butter or apple sauce otherwise the cupcakes turn a little claggy. Any mild-flavored oil will work.
Can I use regular all-purpose flour instead?
If you don't need a gluten free version, you can use regular all-purpose flour instead. Use one cup minus one tablespoon and follow the rest of the instructions as is.
Can I use nondairy milk?
Yes, any nondairy milk will work! Almond, coconut, cashew, oat…use whatever you have on hand. You can also use regular milk if you don't need a dairy free version. Or you can opt for buttermilk, just omit the apple cider vinegar from the recipe.
To make the ganache dairy free, use 10 oz of chocolate and swap the heavy cream with coconut cream.
How to store gluten free chocolate cupcakes
Once frosted, store your cupcakes in an air tight container in the refrigerator. This prevents the ganache from turning too soft.
They will keep in the fridge for up to one week, if they don't get gobbled up by then! But for the best texture, consume within the first 3 days.
If you would like to bake the cupcakes and make the ganache later, you can definitely do so. Store the cupcakes in an air tight container in the fridge and make the ganache fresh when you need it.
These cupcakes are best consumed at room temperature as the ganache thickens when chilled. But it definitely doesn't make or break these cupcakes. They are delicious either way!
For more delicious chocolate desserts, check out my:
Make sure to tag me @butternutbakery on Instagram and comment below if you make these Gluten Free Chocolate Cupcakes. To pin this recipe and save it for later, you can use the button on the recipe card, the buttons above or below this post, or on any of the photos above. Happy baking!
Print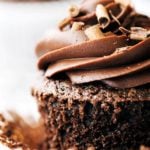 Gluten Free Chocolate Cupcakes
---
Author:

Jenna Barnard

Prep Time:

30 minutes

Cook Time:

15 minutes

Total Time:

45 minutes

Yield:

15

cupcakes

1

x
Description
These gluten free chocolate cupcakes are super rich and moist, with a silky chocolate ganache frosting.
---
Chocolate Cupcakes
1 cup

all purpose gluten free flour (with xanthan gum*)

1/2 cup

Ghirardelli Unsweetened Premium Baking Cocoa, sifted

3/4 tsp

baking powder

1/4 tsp

baking soda

1/4 tsp

salt

3/4 cup

granulated sugar

1/4 cup

brown sugar

1/3 cup

coconut oil

2 oz

Ghirardelli Semi-Sweet Baking Chips**, melted

2

large eggs, room temp

1 1/2 tsp

vanilla extract

1/2 cup

milk, room temp (dairy or non-dairy)

1/2 tsp

apple cider vinegar
Chocolate Ganache Frosting
---
Instructions
Chocolate Ganache Frosting
Start by making the ganache. Measure out the chocolate chips into a medium-sized bowl and set aside.
Heat the heavy cream in a saucepan over medium heat. Remove from heat when you see steam rising from the surface.
Pour the warm cream over the chocolate and let it sit for 2 minutes. 
Whisk the two ingredients together until it's silky smooth. Place the ganache into the fridge to reach the perfect frosting constancy (about 30-45 minutes). Give it a good stir every so often so that it chills evenly.
Gluten Free Chocolate Cupcakes
Preheat the oven to 350F and line a cupcake tray with 12 liners. The recipe makes 15 so if you have two trays, fill them accordingly.
Whisk together the flour, cocoa powder, baking powder, baking soda, and salt. Set aside.
In a large bowl, mix together the sugars and oil. It should look like wet sand. You can do so using a hand or stand mixer fitted with the whisk attachment. This can also be done by hand. 
Mix in the melted chocolate. Once combined, mix in the eggs and vanilla. Scrape down the sides and bottom of the bowl and mix again.
On the side, pour your milk into a measuring glass and add the vinegar.
Mix in half of the dry ingredients, then the milk mixture, then the rest of the dry ingredients. You should be left with a smooth batter that isn't too thin or too thick (see picture in post).
Fill your cupcake liners only halfway, no more no less. If you fill them too high the cupcakes will sink in the middle.
Bake for 15-18 minutes or until a toothpick in the center comes out clean. 
After about 5 minutes, transfer the cupcakes to a cooling rack and allow them to cool completely before frosting.
At this point, your ganache should be thickened. It should be thick enough to hold its shape but easy to mix (see picture above). If it's not there yet, keep it in the fridge until then.
To frost, use a piping bag with a large closed star tip. Make sure the cupcakes are completely cooled before doing so.
Using a peeler and a Ghirardelli 60% Cacao Baking Bar, shave some chocolate curls on top for extra decoration. Enjoy!
Notes
*If your flour doesn't have xanthan gum, add 1 tsp of xanthan gum to the recipe.
**To melt, heat in the microwave in 30 second intervals, stirring each time. It should take about 90 seconds total.
Keywords: gluten free chocolate cupcakes, chocolate cupcakes, chocolate ganache, chocolate ganache frosting, ghirardelli
Recipe Card powered by