This blueberry cobbler recipe is a take on a southern-style version! The cobbler itself leans more toward cake-like with loads of fresh blueberries throughout. It's not overly mushy or jammy and has the perfect ratio of berries to batter. It's also made with brown butter and baked with bits of cream cheese scattered throughout so you KNOW it's going to be good!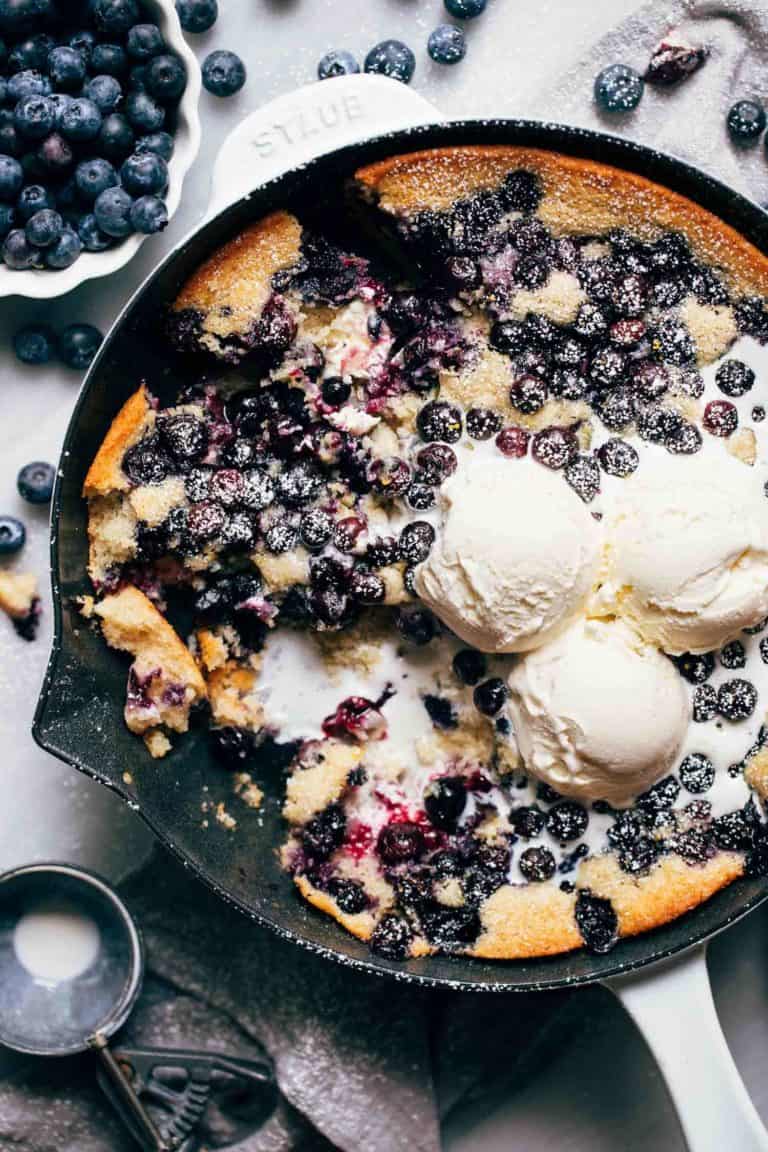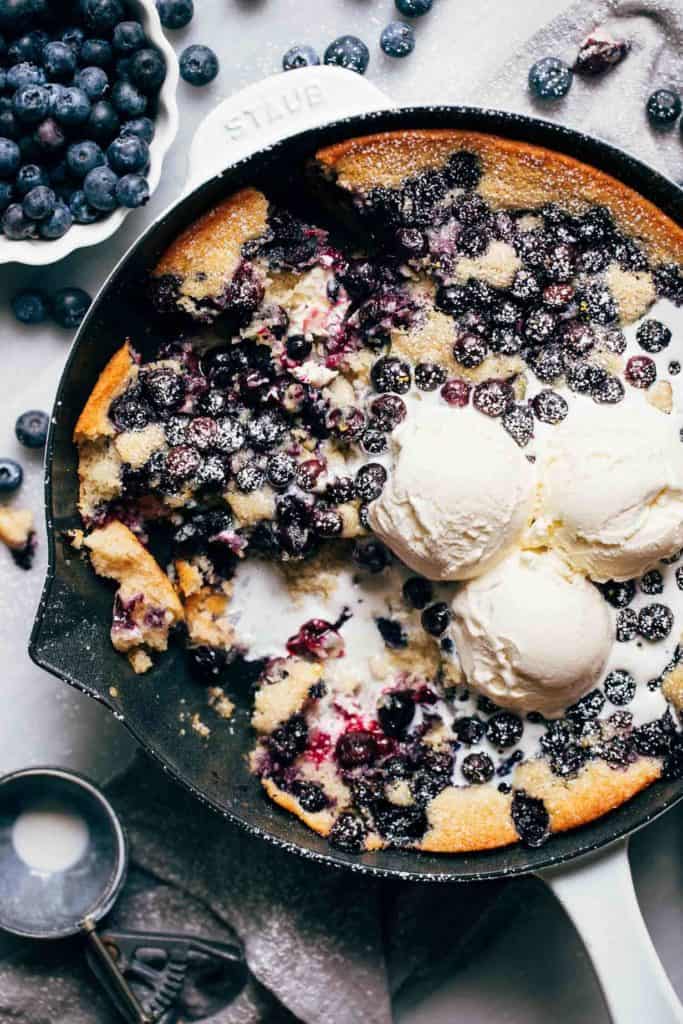 What makes this blueberry cobbler recipe so good?
This recipe is so unique that I struggled with what to name it for the longest time! It's not jammy enough to be a cobbler but it also has way too much fruit for it to be skillet cake.
Ultimately I leaned towards cobbler because it's more of a scoop-and-serve type of dessert rather than a slice and eat cake.
Even though it's labeled as a cobbler, it's definitely the most unique blueberry cobbler you'll ever try.
First, the cobbler batter is made very similar to pancake batter. It's poured into the bottom of the skillet and the berries are then scattered on top. This is opposite to most cobbler recipes, but it yields a super light and fluffy cobbler base with loads of fresh blueberries that don't turn mushy when baked!
To top it all off, the batter is made using brown butter which gives it a delicious rich flavor. Not only that, but pieces of cream cheese are pressed into the cobbler before baking. These globs of cream cheese all throughout the cobbler really help to balance out the sweet but slightly tart berries.
All in all, this recipe is basically a mix between blueberry pancakes and blueberry cobbler. If that doesn't make you want to try it, I don't know what will!
Tips for making blueberry cobbler
This recipe is so quick and easy to make, but here are a few things to look out for when baking this cobbler:
Flour – If possible, weigh the flour with a food scale. Otherwise, spoon the flour into the measuring cup and level it off with a flat edge. NEVER scoop directly into the flour as this packs the flour down into the cup, leaving you with way too much added flour.
Blueberries – Pick through the blueberries and throw out any stems or bad berries. Then give them a good rise. Once rinsed, pat the berries with a paper towel. This just ensures that no excess water can make its way into the cobbler.
Brown Butter – If you've never browned butter before, head on over to my post dedicated to the browning process. In a nutshell, the butter is melted down in the cast-iron skillet until it goes from loud and bubbly to quiet and foamy. When it goes quiet, the butter should also appear brown and it will give off a nutty aroma. Once browned, pour into a mixing bowl and leave the skillet as is. The residual butter will prevent the cobbler from sticking to the pan.
Mixing – When mixing the cobbler batter, be careful not to over mix at the end. Stop mixing right when everything comes together.
Outside of these 4 tips, everything else should be smooth sailing! What I love about this blueberry cobbler is just how quick and easy it is to whip up.
Making blueberry cream cheese cobbler
Berries and cream is a combination that I will never grow tired of. The sweet but tart berries mixed with the smooth cream cheese is just perfection.
That's why this cobbler is baked with pieces of cream cheese all throughout! Before baking, a block of cream cheese is cut into tiny pieces and scattered throughout the batter.
As the cobbler bakes, the cream cheese becomes super soft and almost melts into the berries and cobbler.
For the best results, use full fat cream cheese (Philadelphia is my go-to).
And between the pancake-like cobbler batter, fresh berries, and tart cream cheese, this cobbler isn't overly sweet so it's perfect to pair with vanilla ice cream and powdered sugar.
How to serve blueberry skillet cobbler
Let the cobbler cool for at least 30 minutes before serving. This is important as it allows the very center of the cobbler to set.
Then, top with powdered sugar and use a large serving spoon to scoop into bowls alongside some vanilla ice cream.
Can this cobbler be made gluten free?
I haven't tested it, but I do believe this recipe could work well with cup for cup gluten free baking flour!
Can I use frozen blueberries?
I don't recommend this as frozen blueberries contain more water and tend to bake into a softer consistency.
What is the best type of skillet to use?
I recommend using a cast-iron skillet as this conducts heat the best. I linked my two favorite cast-iron skillets at the bottom of the recipe card below. But any 10″ oven-safe skillet will do!
For more blueberry recipes, check out my:
Make sure to tag me @butternutbakery on Instagram and leave a review below if you make this blueberry cobbler. To pin this recipe and save it for later, you can use the button on the recipe card, the buttons above or below this post, or on any of the photos above. Happy baking!
Watch how to make this blueberry cobbler:
Print
Blueberry Cream Cheese Cobbler
---
Author: Jenna Barnard
Total Time: 1 hour 10 minutes + 30 minutes cooling
Yield: 6-8 servings
Description
This blueberry cobbler is a southern-style version with a soft and cake-like batter with loads of fresh blueberries scattered on top. To take things up a notch, this cobbler is baked with brown butter and pieces of cream cheese scattered throughout. It's also not overly sweet so it's perfect to pair with a scoop of vanilla ice cream!
---
Blueberry Cobbler
1/2 cup (110g) unsalted butter
1/2 cup (100g) granulated sugar
1 tsp vanilla extract
3/4 cup (190ml) milk
1 cup (130g) all purpose flour
1 1/2 tsp baking powder
1/2 tsp salt
3 cups (450g) fresh blueberries
Zest of 1 lemon
1 tbsp sugar
4 oz cream cheese, cold and cut into bite-sized pieces
Powdered sugar, for dusting
Vanilla ice cream, for serving
---
Instructions
Preheat the oven to 350F.
Brown the butter in a 10″ cast iron skillet over medium heat. Melt down the butter and continue to stir until it goes quiet and turns brown.
Pour the butter into a mixing bowl and let it cool for about 15 minutes. Don't clean the skillet as this is what we will use to bake the cobbler.
While the butter cools, whisk together the flour, baking powder, and salt in a small bowl and set aside.
Then, combine the blueberries, lemon zest, and 1 tbsp sugar in another bowl and set aside.
Once the butter has cooled (it can be a little warm but not hot), pour in the sugar and vanilla and whisk to combine.
Then whisk in half of the dry ingredients, then the milk, then the rest of the dry ingredients. The batter should be the consistency of thin pancake batter.
Pour the batter into the same skillet used to brown the butter.
Scatter a handful of blueberries on top, then evenly disperse the cream cheese bits throughout the cobbler.
Top with the remaining blueberries and bake for 35-40 minutes.
Allow the cobbler to cool for at least 30 minutes. Then sprinkle with a dusting of powdered sugar and serve with vanilla ice cream. Enjoy!
Prep Time: 30 minutes
Cook Time: 40 minutes
Category: Dessert
Method: Baking
Cuisine: American
Keywords: blueberry cobbler, blueberry cobbler recipe, cream cheese blueberry cobbler, blueberry cream cheese cobbler, blueberry skillet
Recipe Card powered by