These vegan blueberry cheesecake bars are so creamy that you'd never even know they're dairy free! Made with a soft walnut date crust, cashew cheesecake filling, and sweet blueberry jam, these bars are completely vegan, gluten free, and naturally sweetened. They're also so easy to make! Just blend, spread, and freeze for delicious vegan cheesecake bars.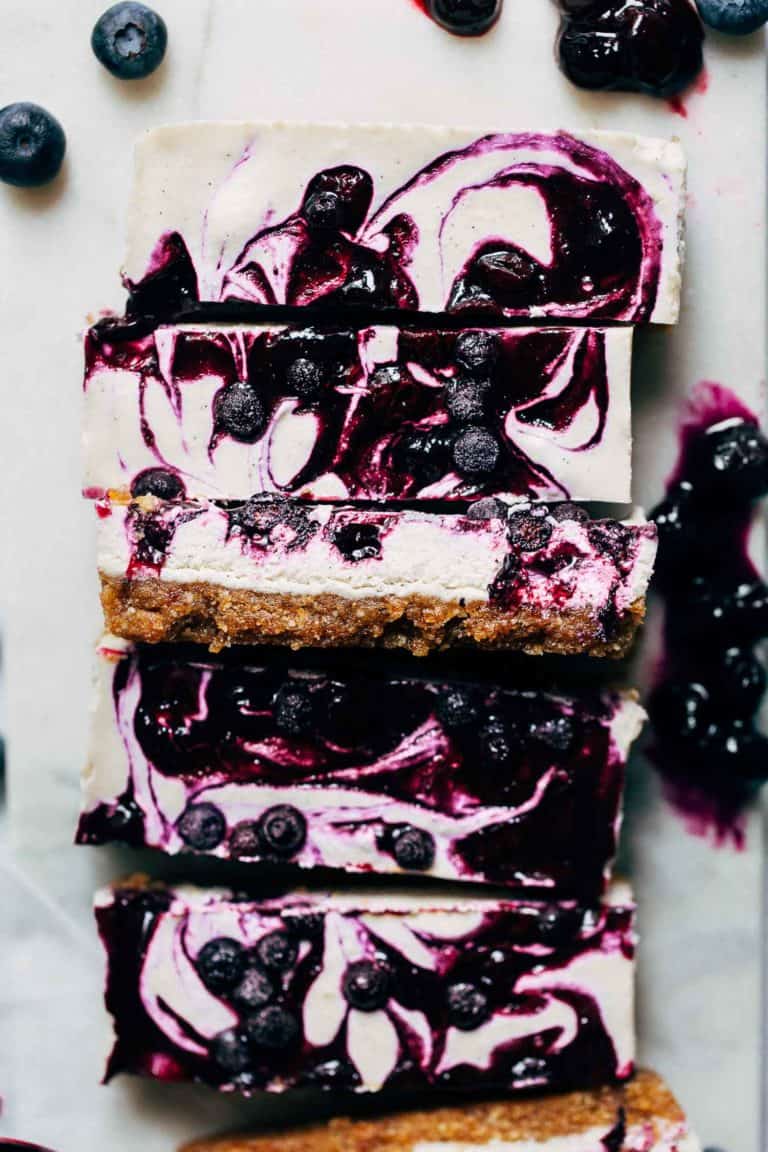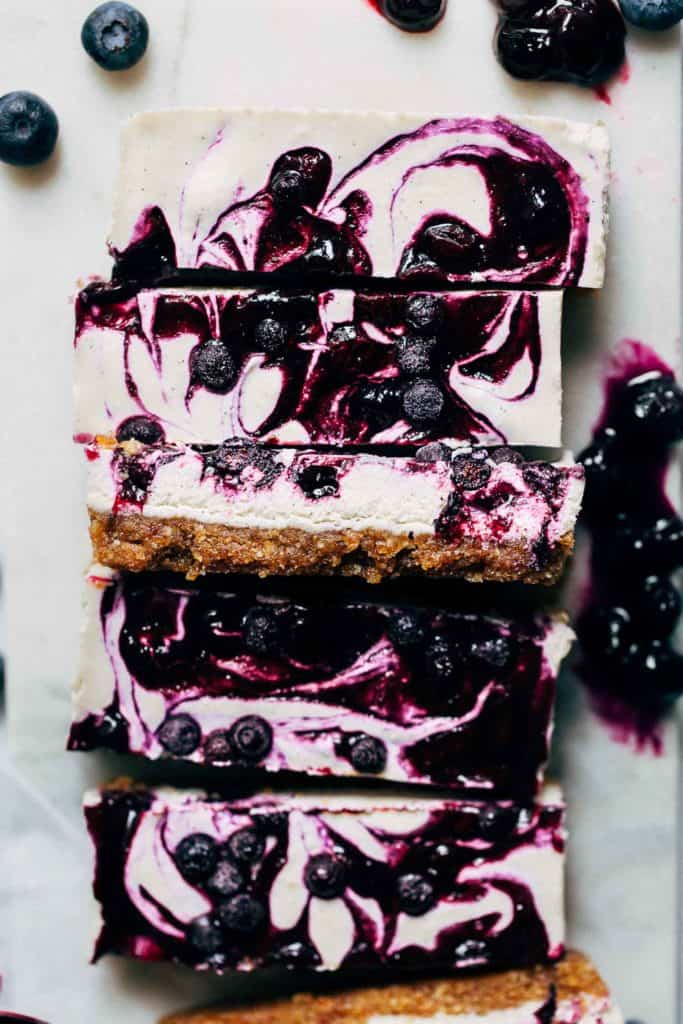 No Bake Vegan Blueberry Cheesecake
This is my go-to recipe for just about any party because it's so easy to whip up and everyone can enjoy them! They also don't feel so over the top indulgent to where people can't find room in their stomachs for a slice…although can't relate because I definitely have a section in mine that's specifically reserved for dessert.
So what makes these bars so special? Other than being vegan, gluten free, and naturally sweetened, these bars are also no bake and the easiest thing to make. Here's what we're looking at:
Blueberry Jam – This naturally sweetened jam is made up of just 4 ingredients and is so easy to make. Just combine blueberries, maple syrup, lemon juice, and tapioca starch in a saucepan. Heat until thickened and let it chill while the rest of the cheesecake is made.
Walnut Date Crust – Another 4 ingredient component that's just walnuts, dates, salt, and coconut oil. Blitz these together in a food processor before pressing into the bottom of a loaf pan.
Cashew Cheesecake – This has the most ingredients, but all are very simple. Just toss everything into a blender and let it run until the mixture turns ultra smooth and creamy.
After assembly, the cheesecake is stored in the freezer for a few hours or overnight. That's another reason why I love this recipe – I can make it a day ahead, and then just transfer it to the refrigerator a couple hours before the party and they're ready to go. In the freezer, they turn firm and hard. Then, once thawed in the refrigerator, they'll change to a super smooth and creamy texture just like cheesecake.
What is vegan blueberry cheesecake made of?
As you may know, I've cut gluten and dairy out of my diet within the past couple years due to a digestive sensitivity. Cheesecake was one of my FAVORITE desserts so I knew I had to make a dairy free version that tastes just as good.
The secret? Cashews! Due to their mild flavor but creamy and fatty texture, they're the perfect substitute for cream cheese when paired with the right ingredients. The trick so to hydrate the cashews before use, as this will help create a really smooth cheesecake texture once blended.
To hydrate, you can either allow the cashews to soak in water overnight OR boil them for 10 minutes before use. I tend to forget to prep them the night before, so I typically opt for boiling. Either way, the water helps plump up the cashews, making them soft and pliable.
After they've boiled, the cashews are drained and added to a high speed blender along with coconut cream, lemon juice, maple syrup, and vanilla. The coconut cream helps enrich the batter, while the lemon juice adds that signature cream cheese tang.
Once blended, it turns into an ultra creamy batter that's ready to be poured into your loaf pan. Refrain from eating it straight out of the blender with a spoon…you've been warned.
Naturally sweetened blueberry jam
The component that brings this entire dish together is the blueberry jam. The tender berries and jammy sauce add a delicious textural and flavor element to these cheesecake bars – adding a touch of extra sweetness.
The jam is made up of fresh blueberries, lemon juice, a hint of maple syrup, and tapioca starch. The maple syrup is what adds sweetness, but you cannot taste the maple itself. To thicken, tapioca starch is added to create that perfect jammy texture. If you don't have tapioca starch, cornstarch is also OK to use.
Just heat the mixture in a saucepan until the berries tenderize and thicken. To get the perfect consistency, mash about half of the berries either with the back of a spoon or a potato masher (which makes it much faster).
Spreading the jam into a wide and shallow dish will help it cool down much faster. As it cools, it will thicken slightly – making it the perfect consistency for swirling into the cheesecake.
Then, just dollop a few spoonfuls on top of the spread cheesecake layer and swirl it with a toothpick. Remember, less is more with swirling, Just give it one good pass through and stop. Too much and the jam will just mix right into the cheesecake.
Top with some extra fresh blueberries if desired before freezing firm.
Why are the bars frozen?
The delicious creamy texture happens when the cheesecake batter is chilled. To speed up this process, the bars are frozen until solid. This just ensures they're fully set and ready to eat.
But rather than eating them frozen, transfer the bars to the refrigerator a couple hours before eating or serving. This slowly thaws the bars into that soft and creamy texture. From here, the bars can either be left in the fridge for easy access, or placed back in the freezer to keep for about a month.
What can I substitute for coconut cream?
Coconut cream can be found in a can of coconut milk that has been chilled overnight. When chilled, the liquid of the milk sinks to the bottom, while the cream floats to the top. It's thick and lush, kind of like yogurt.
If you can't get your hands on coconut cream, you can also sub in 1/2 cup of vegan cream cheese.
Can I double the recipe?
Yep! If you want to make enough for a crowd, double the recipe and use an 8×8 square baking dish in place of the loaf pan. All other instructions remain the same.
Can I use frozen blueberries?
I haven't tested it, but I recommend thawing the blueberries in a colander to allow the excess water to drip out. Then make the jam as instructed. Mashing may not be needed as frozen berries are softer than fresh.
Can I use a different kind of fruit?
Sure! Feel free to use any type of berry you like. I would avoid anything outside of a berry, though, as I have not tested the jam otherwise.
For more vegan dessert recipes, check out my:
Make sure to tag me @butternutbakery on Instagram and comment below if you make these Vegan Blueberry Cheesecake Bars. To pin this recipe and save it for later, you can use the button on the recipe card or on any of the photos above. Happy baking!
Print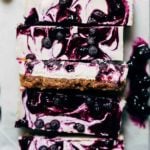 Vegan Blueberry Cheesecake Bars
---
Author: Jenna Barnard
Total Time: 30 minutes + 4 hours chilling
Yield: 6 bars
Description
Ultra creamy no bake vegan cheesecake is swirled with homemade blueberry jam and layered with a soft walnut date crust – completely vegan, gluten free, and naturally sweetened. 
---
Blueberry Jam
6 oz (about 1 cup) fresh blueberries
1 tbsp pure maple syrup
1 tsp fresh lemon juice
1 tsp tapioca starch
Crust
1 cup (165g) raw unsalted walnuts
6 large pitted medjool dates
Pinch of salt
2 tsp melted coconut oil
Cashew Cheesecake
1 cup (165g) raw cashews, soaked in water overnight or boiled for 10 minutes
1/2 cup (120g) coconut cream* (from a can of full fat coconut milk)
2 tbsp pure maple syrup
1 tsp fresh lemon juice
1/2 tsp vanilla extract (or the seeds from 1/2 vanilla bean pod)
---
Instructions
Blueberry Jam
Add all of the ingredients to a saucepan and stir to combine. Place over medium heat and continue to stir as the mixture thickens. Once the blueberries become tender, begin to mash about half of the berries with the back of a wooden spoon or potato masher.
Continue to stir and cook for about 15 minutes, or until thickened. You know it's ready when you can run a spoon down the center of the mixture and it takes about a second for it to pool back together.
Pour the hot jam into a wide and shallow dish, so the jam is in a thin layer. Place it into the refrigerator to cool and thicken further while we make the rest of the cheesecake.
Crust
Add the walnuts, dates, and salt to a food processor. Blitz on high speed for about 1-2 minutes, or until you reach a fine crumb.
Spoon in the coconut oil and blitz again for another minute. It should be moist and able to hold its shape.
Press into the bottom of a 9×5 loaf pan that has been greased and lined with parchment paper. Allow the paper to hang over the sides for easy release. 
Place the crust into the refrigerator while we make the cheesecake.
Cheesecake
For the cashews, you can either soak them in a bowl of water overnight in the refrigerator OR boil them for about 10 minutes. This makes them tender and easier to blend into a smooth consistency.
Drain your cashews and place into a high speed blender with the rest of the ingredients. Blend until completely smooth.
Pour the cheesecake over the crust and spread it even. Dollop a few spoonfuls of the jam over the surface and use a toothpick to swirl it in.
Cover the cheesecake with plastic wrap and then foil. Freeze for at least 4 hours or overnight. 
Transfer the cheesecake to the refrigerator for a couple hours before eating. Enjoy!
Notes
COCONUT CREAM – For the coconut cream, scoop it from the top of a can of full fat coconut milk. This is done so by chilling the coconut milk overnight, as this separates the liquid from the cream. You can also buy a can of coconut cream. If you can't access it, use vegan cream cheese instead. 
STORAGE – After the bars are frozen solid, you can choose to store them in the freezer or the refrigerator. For longevity, do the freezer (they'll keep for up to 1 month). For easy access and snacking (since they stay soft and creamy here), store in the refrigerator. They'll keep here for about a week. 
Keywords: vegan cheesecake, blueberry cheesecake, vegan blueberry cheesecake, vegan blueberry cheesecake bars
Recipe Card powered by