These blueberry muffins have it all! They bake with perfect tall muffin tops, have a rich and moist texture, and are incredibly flavorful with bursting blueberries all throughout. It's tough to check all these boxes with homemade muffins, but this recipe proves that you can make bakery-worthy muffins right at home!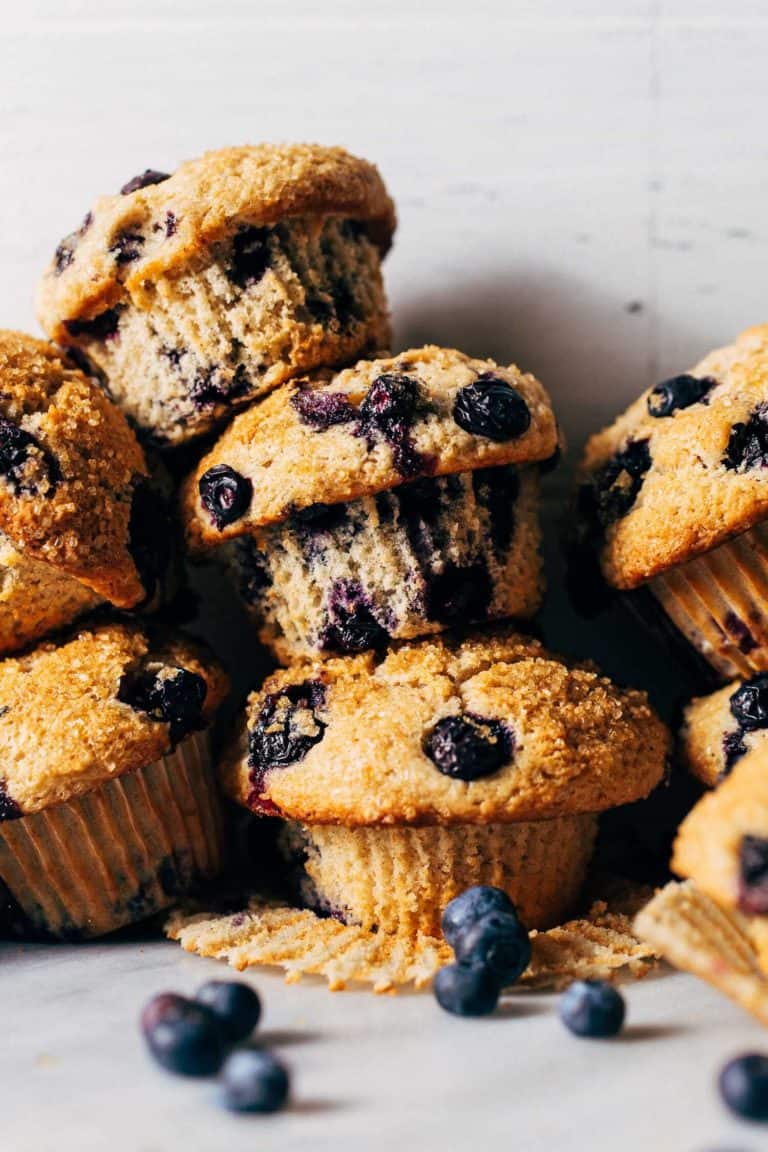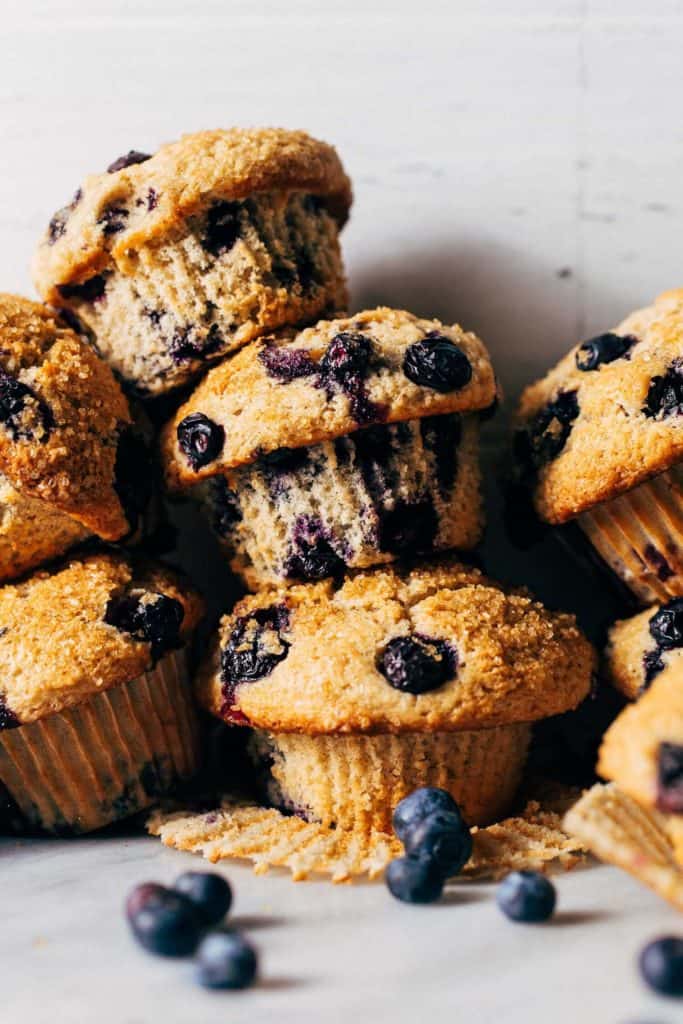 What makes this the BEST blueberry muffin recipe?
There are TONS of blueberry muffin recipes out there, so what makes this one so good?
For starters, these bake with perfect round muffin tops. Each liner is filled to the brim and the batter is made with the right ratio of flour to sugar to fat. Because of this, these muffins bake nice and tall. Not to mention the crunchy sugar crust on top!
Even though they're tall, they still have an incredibly moist texture. This is due to the fact that the batter is made with half oil and half butter. The butter provides flavor, while the oil allows these muffins to remain super moist. They stay this way days after baking.
It's not enough to have a tall and moist muffin, because they also need to be super flavorful. I find a lot of homemade blueberry muffins lack in this category. So here are the secret ingredients for this blueberry muffin recipe:
Almond Extract – The almond extract doesn't overpower these muffins. It's there to enhance the blueberry flavor along with vanilla extract.
Brown Sugar – The brown sugar not only adds extra moisture, but the subtle kick of molasses works so well in these muffins.
Cinnamon – This hint of warmth really helps to elevate the flavors of these muffins. The tart blueberries against the warm cinnamon is a delicious combination!
Sour Cream – Sour cream is there to help thicken the batter but it also accompanies the tartness of the blueberries which allows them to stand out even more.
EXTRA blueberries – Because duh! The more blueberries, the better when it comes to blueberry muffins. A whole 2 cups is used in this recipe, plus more for sprinkling on top.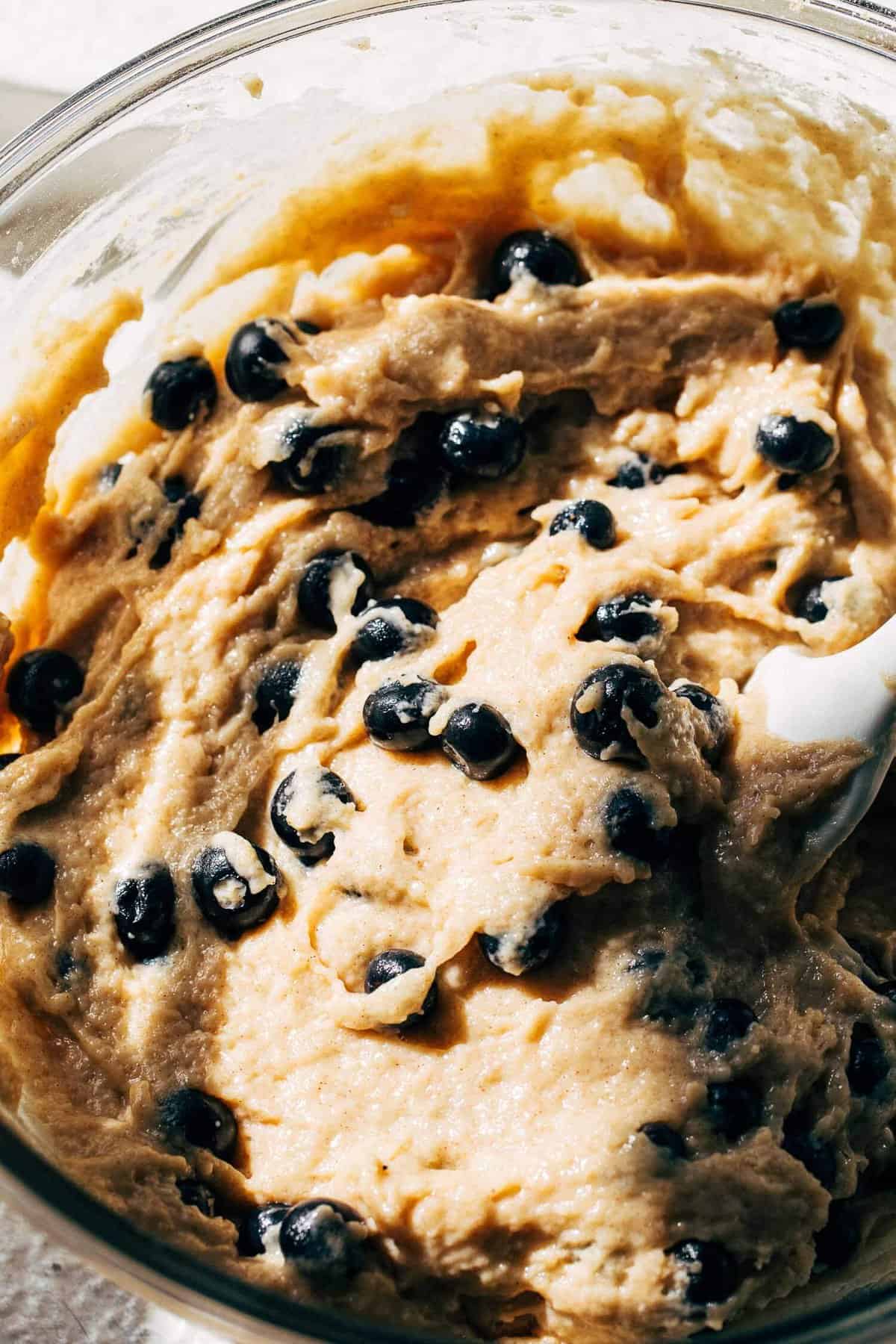 How to make blueberry muffins
Muffins are probably one of the trickiest recipes for me to test. Mainly because I'm VERY picky about them! They have to bake tall with a moist consistency and tons of flavor, which is something difficult to achieve.
Luckily, the process of making blueberry muffins is very easy! So while testing takes a while, once it's nailed down its quick to whip up a batch. There are three main steps:
Dry Ingredients – This includes the flour, salt, spices, leaveners, AND sugar! Truly anything that is dry. These are well combined in a large mixing bowl and then the blueberries are tossed in. By coating the blueberries in the dry mixture, the dry coating will prevent the berries from sinking to the bottom of the muffins.
Wet Ingredients – All of the remaining ingredients are combined in a separate bowl. This is the butter, oil, eggs, extracts, milk, and sour cream. They may not FULLY blend together, but that's ok. As long as it's as smooth as possible.
Combine – Pour the wet ingredients into the dry ingredients and mix to combine. It's that easy!
This mixing method is used for most muffin recipes as well as quick breads, cornbread, pancakes, and waffles. The reason is because these batters tend to be rather thick. By limiting the dry and wet mixing to just one go, this reduces the chances of overworking the gluten strands. The end result is a super light and tender muffin!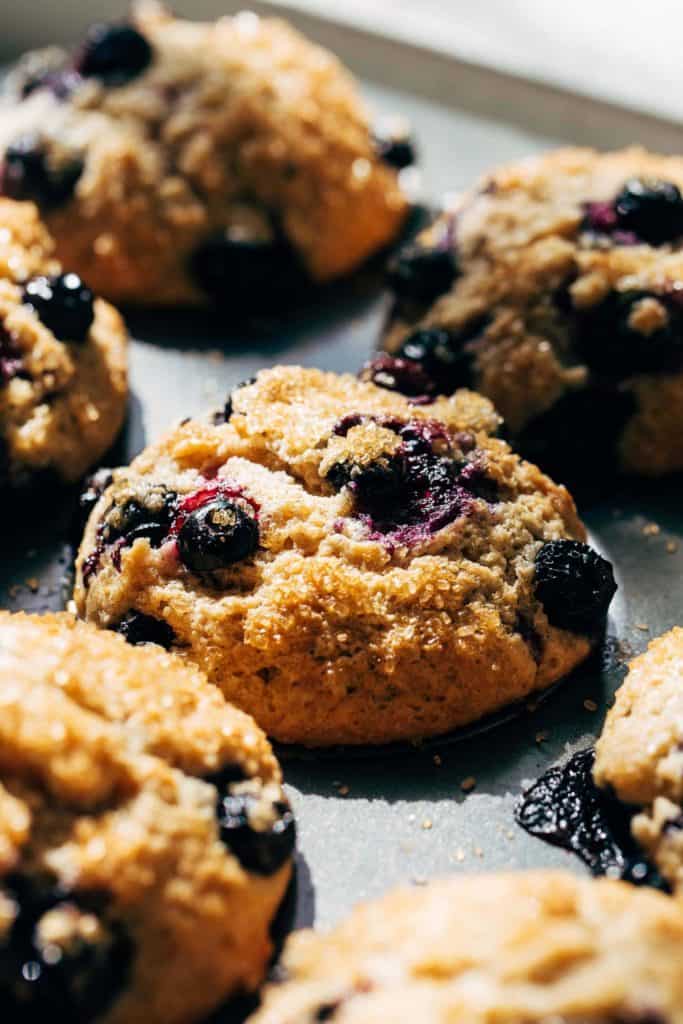 Tips for baking blueberry muffins
While the process of making blueberry muffins is very easy, there are a few tips and tricks to know along the way:
Flour – I say this in every post, and for good reason. It's the number one reason why most recipes fail. If there's too much flour, the muffins will turn out dense and dry. If possible, measure the flour with a food scale. Otherwise, gently spoon the flour into the measuring cup and level if off with a flat edge. When you scoop directly into the flour container, this packs the flour down into the cup which could leave you with 1/4 cup or more of added flour.
Blueberries – For the best results, use fresh organic blueberries. Also try to find blueberries that are very tiny! The small berries create a much more even ratio of muffin to berry in every bite. This also goes against the norm, but do not wash or rinse the berries right before use. Instead, rinse them an hour before use and scatter the wet berries on a towel to dry. The drier the berries, the more consistent the batter.
Room Temp Ingredients – For all of the refrigerated ingredients, bring them up to room temp before baking. No only does this lead to a smoother batter, but it also ensures the batter is at room temperature. This allows the heat of the oven to evenly bake the muffins for the best tall muffin tops.
Scooping – The batter makes exactly 11 muffins, so don't be afraid to really fill the liners. Over filling is what leads to those gorgeous muffin tops!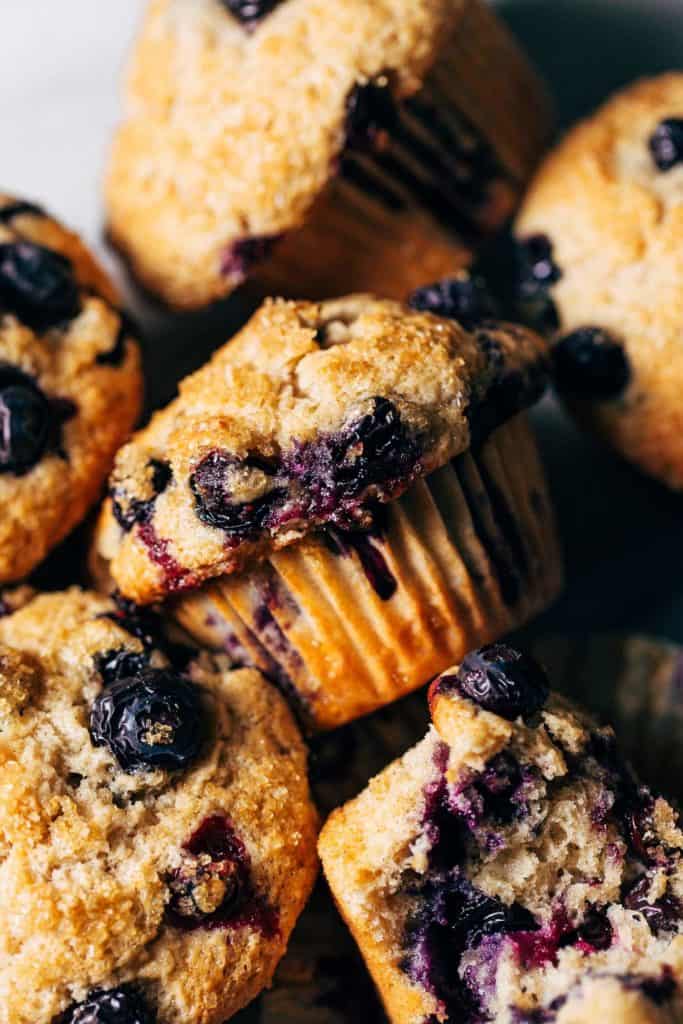 Can I use frozen blueberries?
You CAN, but I highly recommend sticking to fresh! For starters, frozen blueberries have to be mixed in frozen because thawed berries will bleed into the batter and turn the muffins purple.
Because they're frozen when they hit the oven, this can change how the muffins bake. They will need to bake for a few extra minutes and they may not bake as tall as they can.
Can these be made gluten free?
I haven't tested it, but my readers have had a lot of luck using gluten free flour in my chocolate chip muffin recipe, so I assume it would work well here too! Use a good quality gluten free baking flour blend in place of the all purpose flour in this recipe.
How long do blueberry muffins keep?
Since the batter is made with oil, these muffins stay moist for days. If you know they'll only be around for a couple days, store in an air tight container at room temperature. If you plan on having them around for longer, store in an air tight container in the refrigerator instead. They'll keep for about a week. I recommend heating one up for about 10 seconds in the microwave for the best texture!
For more muffin recipes, check out my:
Make sure to tag me @butternutbakery on Instagram if you make these blueberry muffins. I love seeing my recipes come to life in YOUR kitchen! To pin this recipe and save it for later, you can use the button on the recipe card, the buttons above or below this post, or on any of the photos above. Happy baking!
Print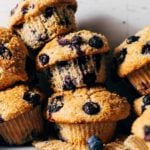 BEST Blueberry Muffins
---
Author: Jenna Barnard
Total Time: 40 minutes + 20 minutes cooling
Yield: 11 muffins
Description
These are seriously the BEST blueberry muffins. Not only do they bake with the most perfect muffin tops, but they're also incredibly moist and flavorful. They're also made with extra blueberries, so there's a burst of fresh berries in every single bite. 
---
Blueberry Muffins
2 1/2 cups (320g) all purpose flour
1 cup (200g) granulated sugar
1/4 cup (50g) light brown sugar
3 tsp baking powder
1 tsp cinnamon
1/4 tsp salt
2 cups (280g) fresh blueberries, plus more for sprinkling on top
1/4 cup (55g) unsalted butter, melted
1/4 cup (50g) vegetable or canola oil
2 large eggs, room temp
1/2 cup (120g) sour cream, room temp
1/2 cup (118ml) milk, room temp
2 tsp vanilla extract
1/4 tsp almond extract
Raw sugar, for sprinkling on top
---
Instructions
Preheat the oven to 425F and line a cupcake tin with 11 paper liners.
In a large mixing bowl, whisk together the flour, sugar, brown sugar, baking powder, cinnamon, and salt. Then add in the blueberries and mix to distribute. 
In a medium mixing bowl, whisk together the butter, oil, eggs, sour cream, milk, vanilla, and almond extract.
Pour the wet ingredients into the dry ingredients and use a rubber spatula to stir the two together.
Evenly distribute the batter between the 11 liners (I use a large ice cream scoop to make this process easy). They should more than fill each liner.
Dot the tops with a few extra blueberries and sprinkle with raw sugar.
Bake for 20-23 minutes or until the edges are golden brown, the blueberries have burst, and a toothpick in the center comes out clean with a few moist crumbs.
Allow the muffins to cool in the pan for about 10 minutes. To release, you may need to use a small knife to slice between the edge of the muffin tops and the cupcake tin because some of the blueberries may stick.
Transfer the muffins to a cooling rack and continue to cool until they're just barely warm (this is the best time to eat them). Enjoy!
Notes
STORAGE – Once the muffins are completely cooled, store in an air tight container. They can be kept at room temperature for a couple days, or the refrigerator for about a week. Luckily these stay really moist!
Prep Time: 20 minutes
Cook Time: 20 minutes
Category: Breakfast
Method: Baking
Cuisine: American
Keywords: blueberry muffins, blueberry muffin recipe, homemade blueberry muffins
Recipe Card powered by