Don't be mislead by the word "healthy" because these blueberry crumble bars taste anything but. Made with all gluten free ingredients, zero animal products, and sweetened with maple syrup, these bars check all the healthy boxes but pack a punch in flavor and texture. The soft base is topped with juicy fresh blueberries and sprinkled with a hefty layer of a crunchy oat crumble.
This post is sponsored by Bob's Red Mill but all thoughts and opinions are my own. Thank you for supporting the brands that make Butternut Bakery possible!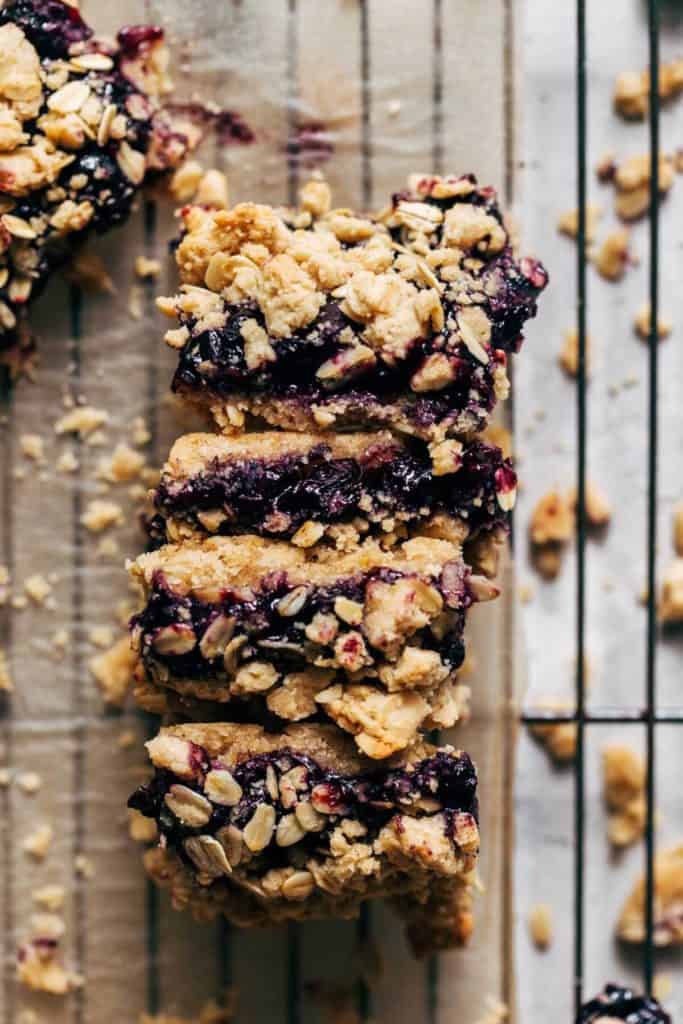 What makes these bars healthy?
These blueberry crumble bars are gluten free, vegan, and refined sugar free. So how are they so good?? The key is to use the right combination of quality ingredients in order to get the perfect flavor and texture. The base is soft and flavorful, the filling is gooey and juicy, and the crumble topping is golden and crunchy.
The base and crumble are made with a combination of Bob's Red Mill Super-Fine Almond Flour, Organic Old Fashioned Rolled Oats, and Cassava Flour. The combination of these three not only makes a completely gluten free dessert, but it also closely mimics regular flour to create a delicious tender texture.
What I also love about these flours and grains is that they're all natural. Bob's Red Mill Super-Fine Almond Flour is made with just almonds. The Organic Gluten Free Rolled Oats are non-GMO and made with quality grain oats. Lastly, Bob's Red Mill Cassava Flour is made with just cassava. These are all ingredients that are nutritious with zero additives! So you know exactly what's going into your blueberry bars.
As far as sweetness, much of it comes from the fresh blueberries. To kick it up a bit, the rest of the dish is sweetened with pure maple syrup. Don't worry, the flavor doesn't overpower these bars. In fact, you probably wouldn't even know there's maple syrup in there had you not seen the ingredients!
All together, the natural flours and grains with the pure maple syrup create a dessert that's a delicious healthy treat.
What is cassava flour?
Cassava flour is made from cassava which is a starchy root vegetable. This flour is often used in gluten free and paleo baking because it's nut free, grain free, and (of course) gluten free!
The consistency is very fine and light and is often compared to regular or whole wheat flour. In fact, it's a very close substitute for whole wheat flour. It absorbs moisture fairly quickly and has a very mild flavor. The only downside is that it has less protein than regular flour, so it needs a little extra help in binding dishes together. This could be fixed by adding a bit more water, milk, or oil to the recipe.
Cassava flour is also much more nutritious than regular flour, containing vitamin C and potassium.
When it comes to which cassava flour to use, I always go with Bob's Red Mill Cassava Flour. It's non-GMO and is not processed alongside any gluten or dairy containing products. It also has a very fine texture, making it perfect for baking!
How to make the crumble base and topping
Now that we have a clear understanding of the ingredients, it's time to make these bars! All you need is a bowl, a whisk, and a rubber spatula.
What I love about this recipe is that the base and crumble topping come from one single dough. The crumble base is made by combining the flours, oats, cinnamon, baking powder, vanilla, maple syrup, and melted vegan butter. This creates a cookie dough-like consistency, just like the second picture above.
All but about 1/2 cup of the dough is patted down into a baking dish. It's baked for a few minutes in order to give it a head start. Allowing the bottom to bake provides a strong base for the blueberry filling.
To the remaining dough, add even more of the Bob's Red Mill Organic Gluten Free Rolled Oats to create the perfect crumble consistency. This is then placed in the freezer to firm up while the base bakes. Freezing makes it much easier to crumble it on top of the blueberry filling.
Fresh blueberry bar filling
Healthy fruit desserts are so easy to make when using fresh fruit! The berries in this recipe do much of the heavy lifting as far as flavor goes, but they need a little extra help to transform them into a thick and lush filling.
The fresh berries and added to a saucepan with sugar, lemon juice, and Bob's Red Mill Tapioca Flour. This is a healthier alternative to cornstarch and helps to thicken the berry filling.
The mixture is cooked down for a few minutes, until thickened and glossy. Once cooled, it's spread on top of the base layer to act as the filling.
Can I use frozen blueberries?
It's important to use fresh berries here as they produce a thick and juicy filling. I've tried with frozen berries, but the filling turns out a bit too thin and watery, with the filling turning more to mush than with whole berries throughout.
Cooled blueberry crumble bars
The most important step in this entire recipe is to allow these bars to cool completely. This allows the base to firm up and the filling to fully thicken. If they're sliced into too soon, they'll fall apart.
Once baked, let the bars cool at room temperature for about 30 minutes. Then transfer the baking pan to the refrigerator to cool for about an hour, or until the bottom of the pan is no longer warm.
Now they're ready to slice!
Can I replace the flours?
There isn't a simple replacement for the flours in this recipe because it's a unique blend that produces the perfect texture for these bars.
If you're in a pinch, although I haven't tested it, try replacing both the almond flour and cassava flour with Bob's Red Mill 1-to-1 Gluten Free Baking Flour. It has a very similar consistency to the cassava flour so it should be a solid replacement.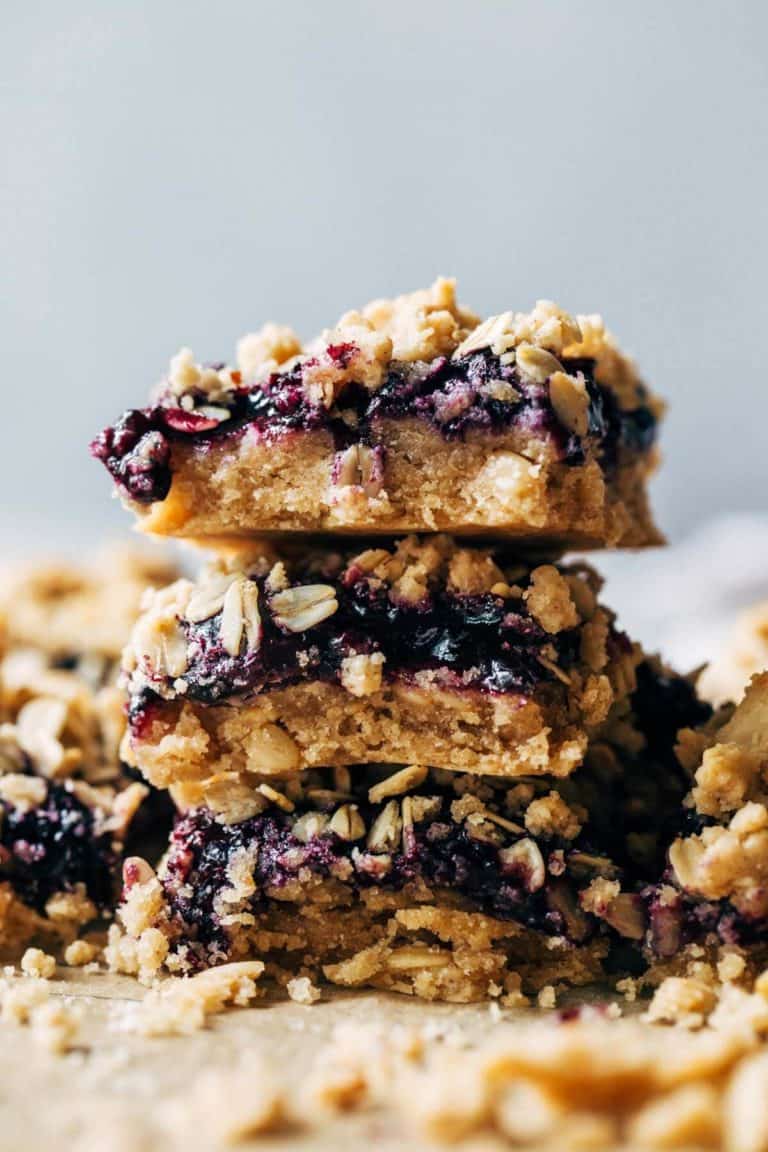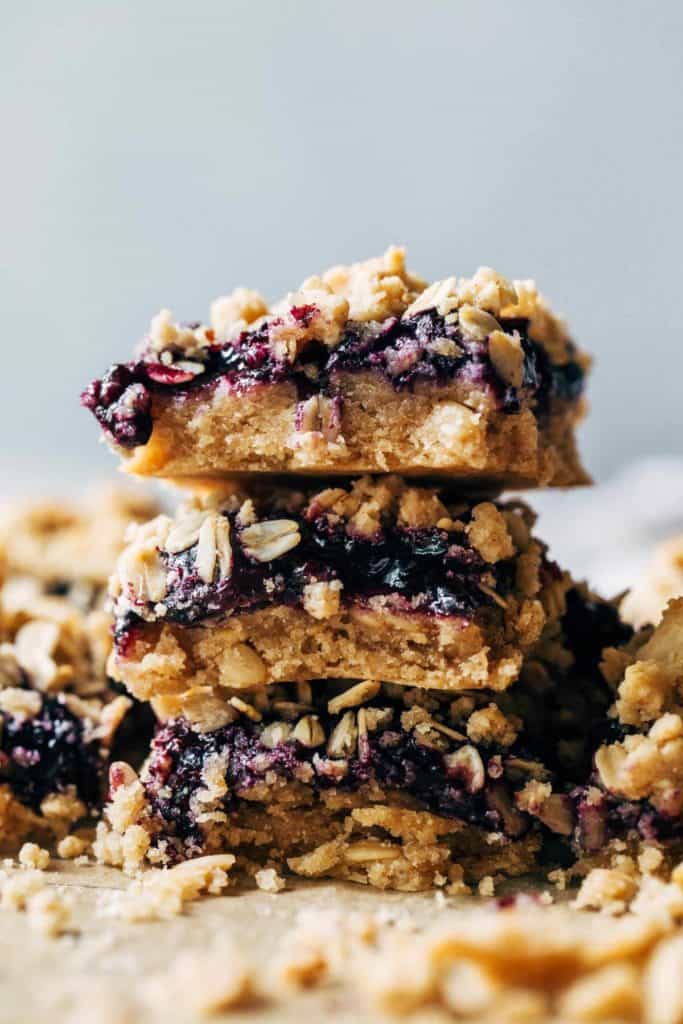 What can I use instead of oats?
If you'd like to make a paleo version of these blueberry bars, try replacing the oats with unsweetened shredded coconut and add a couple extra tablespoons of cassava flour to the recipe.
How to store blueberry crumble bars
These bars are best served fresh, but store any leftovers in a closed container in the refrigerator. Keep in mind that they're loose some of their crispiness after about a day, but they're still so delicious! Expect a more tender and soft base and crumble when eating any leftovers.
For more delicious gluten free desserts, check out my:
Make sure to tag me @butternutbakery on Instagram and leave a review below if you make these Healthy Blueberry Crumble Bars. To pin this recipe and save it for later, you can use the button on the recipe card, the buttons above or below this post, or on any of the photos above. Happy baking!
Print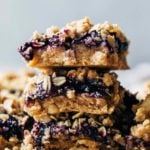 Healthy Blueberry Crumble Bars
---
Author: Jenna Barnard
Total Time: 1 hour + 1 hour chilling
Yield: 16 bars
Description
These blueberry crumble bars are made with a blend of gluten free flours, zero animal products, and are naturally sweetened with maple syrup. They may be healthy, but they taste anything but!
---
Crumble Base and Topping
Blueberry Filling
12oz fresh blueberries*
2 tbsp pure maple syrup
1 tsp lemon juice
---
Instructions
Blueberry Filling
Stir together all of the ingredients into a saucepan over medium heat.
Keep stirring until the berries start to break down and the mixture begins to bubble. Allow to boil for a few minutes to thicken, still stirring. It's done when the berries are thickened, glossy, and the coats the back of a spoon.
Remove from heat and allow it to cool while you make the crumble.
Crumble Base and Topping
Preheat the oven to 350F, spray an 8×8 pan with nonstick spray, and line all sides with parchment paper.
In a large bowl, whisk together the flours, oats, cinnamon, and baking powder.
In a separate bowl or measuring glass, stir together the melted butter, maple syrup, and vanilla.
Pour the butter mixture into the dry ingredients and stir to combine. It should reach a cookie dough-like consistency.
Press all but 1/2 cup of the dough into the bottom of the baking pan. Press it even and bake for 10 minutes.
With the remaining 1/2 cup, add 1/4 cup of oats and toss to combine. Place the crumble in the freezer while the base bakes.
After the 10 minutes is up, allow the base to cool for a couple minutes. Then pour in the blueberry filling and spread it even, leaving a very small gap around the edges.
Take the dough out of the freezer and crumble it on top of the blueberry filling.
Bake for 25-30 minutes, or until the top is lightly golden. The bars will not brown so don't expect to see a golden brown crust on top.
Allow the bars to cool at room temperature for 15 minutes, then transfer the pan to the fridge and chill for about 45 minutes.
Slice into the bars once they're completely chilled and enjoy!
Notes
*Fresh blueberries are best for this recipe. When using frozen, I found the filling became too thin and watery. 
**This is a healthy alternative to cornstarch but if you're in a pinch, cornstarch can be subbed. 
Prep Time: 30 minutes
Cook Time: 30 minutes
Keywords: blueberry crumble bars, blueberry bars, gluten free blueberry crumble bars, healthy blueberry crumble bars, vegan desserts
Recipe Card powered by