You may have tried tried classic chocolate babka, but this blueberry babka is the perfect balance of sweet, soft, fluffy, fruity, and tart. Rich brioche dough is swirled with a layer of homemade sticky blueberry jam. When baked, the center remains soft while the crust becomes golden and crisp. Top with simple syrup, vanilla icing, or leave it as is. It's the perfect treat to make for brunch that everyone will love!
This post is sponsored by Bob's Red Mill but all thoughts and opinions are my own. Thank you for supporting the brands that make Butternut Bakery possible!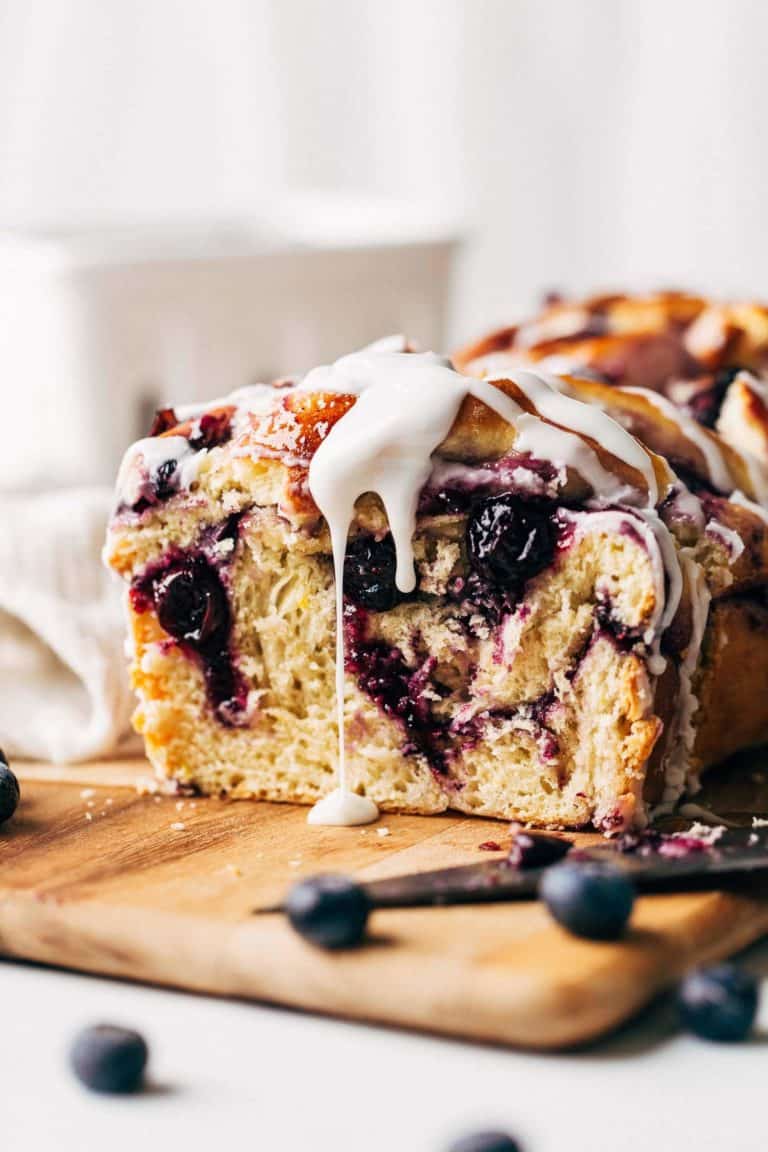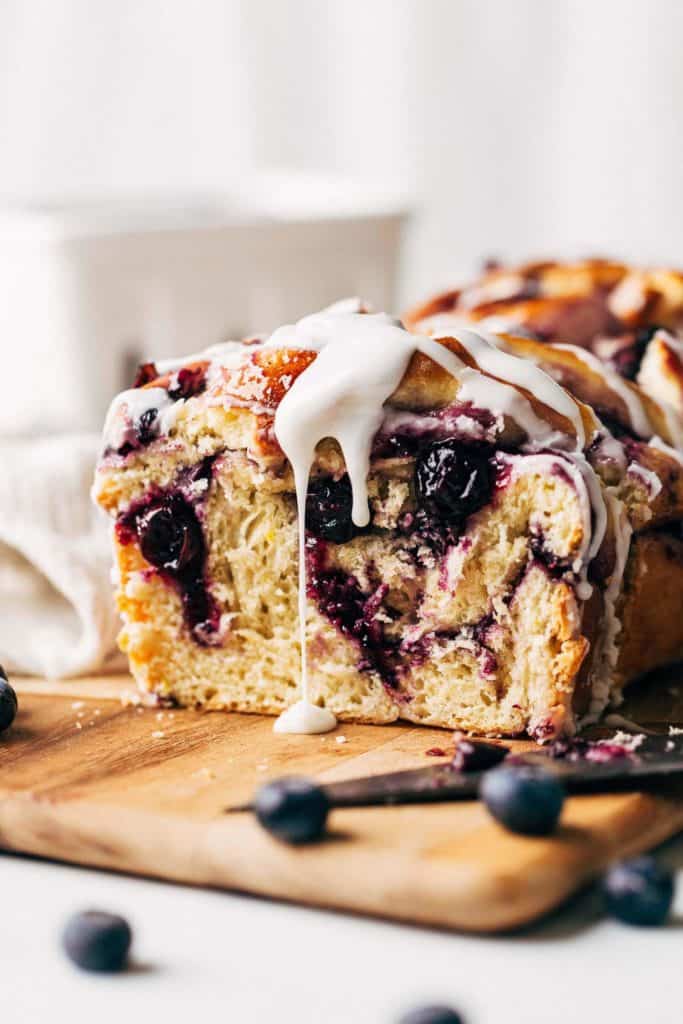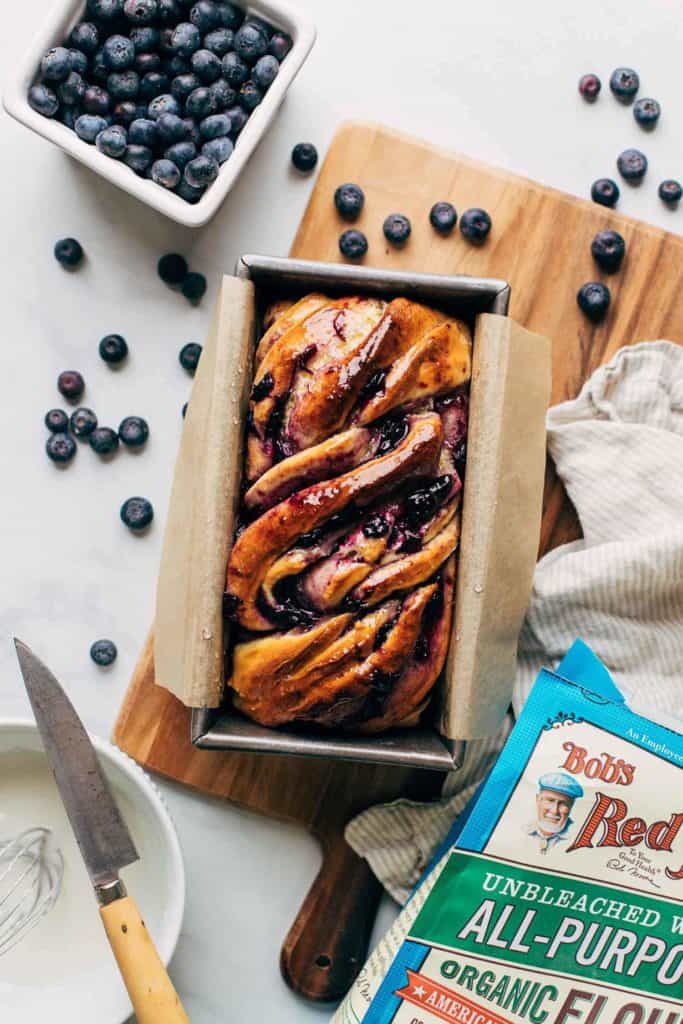 What is babka?
Babka is a Jewish dish made of a sweet braided enriched bread that is traditionally filled with chocolate. The dough itself is a rich and soft brioche that's sweeter and softer than traditional bread dough. And although it's known more so as a bread, it's actually treated as a dessert as it's coated in simple syrup and swirled with a sweet filling.
How to make blueberry babka
Blueberry babka is comprised of two main components: brioche dough and blueberry jam. Although they're both easy to make using simple ingredients, it's important to ensure both are made using quality products to ensure your babka turns out rich and flavorful.
That's why I prefer to use Bob's Red Mill Organic All Purpose Flour in all of my dough-based recipes. Not only does it produce quality desserts, but the lack of pesticides and chemicals also just makes desserts taste better. Since dough relies heavily on flour, the flavor of the flour plays a major role in the final result.
When making the dough, the process does require patience as the dough must chill overnight. This allows the butter to fully solidify, making this rich sticky dough much easier to roll out and form into a babka loaf. Luckily you can make both the dough and jam a day ahead and then form and bake your babka the next day.
To shape the babka, roll the chilled dough into a 10×12 rectangle. To get the perfect shape, first press the dough down using your fingers, forming it into a rough rectangle. If it starts out in the shape you're trying to roll it into, you'll likely be left with a perfect rectangle in the end.
Once rolled, spread a thin layer of the chilled blueberry filling. Working on the 10 inch end, roll the dough into a log. Then, turn the log perpendicular to yourself and slice it right down the center. This should expose multiple layers of dough and filling.
Cross the two sliced logs to form an X, then work on one end at a time to twist it into the traditional babka shape. Twist each end about 2 1/2 times, tucking under the ends. Transfer the twisted loaf into a prepared 1 lb loaf pan and allow the babka to sit for 1 1/2 hours. This will help thaw and puff up the dough, ensuring it bakes all the way through in the oven.
Once baked, top with simple syrup and allow it to cool. Then slice and dig in!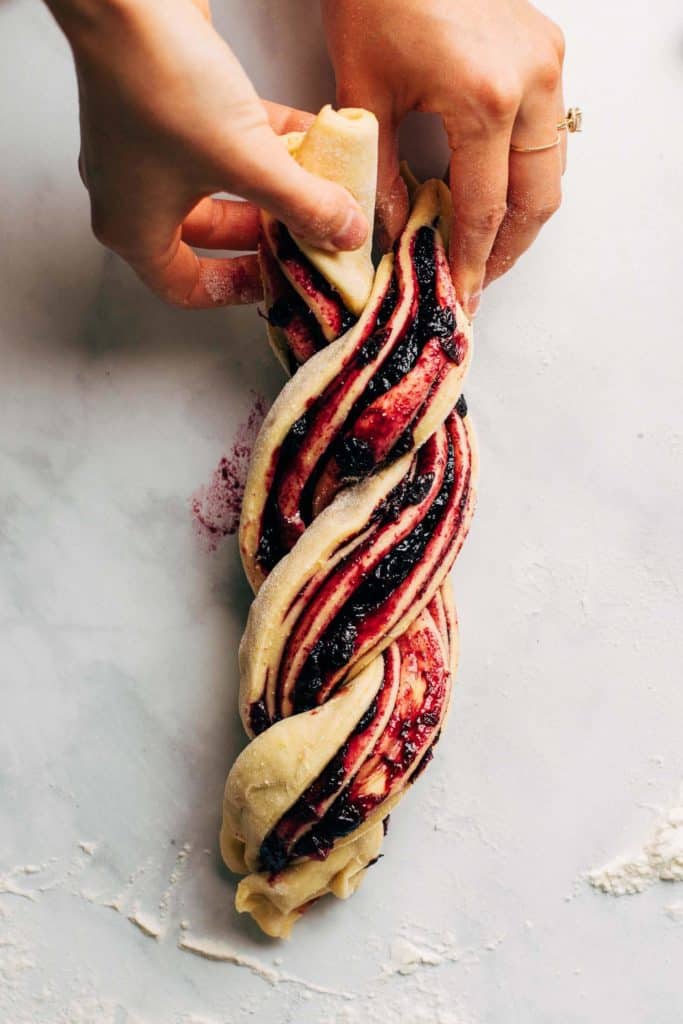 Tips for making a successful blueberry babka loaf
Both the dough and filling are easy to make, but here are a few tips to ensure they turn out just right:
The Blueberry Filling
I recommend using fresh blueberries as they will give you a much chunkier filling. You can use frozen, just make sure you thaw them beforehand. The filling will also have to cook a bit longer to steam off any excess water.
Cook the filling until it is reduced by half. It should thicken and become very sticky. If you don't cook it long enough, the jam will be a bit too thin. If it's too thin, that excess moisture will make it hard for the babka to bake all the way through.
Depending on how much you were able to cook down, spread a very thin layer of the blueberry filling onto the rolled dough. Again, if you spread a thick layer the babka will also turn out a bit underdone within each swirl.
The Brioche Dough
Use good quality flour to ensure a sturdy structure. That's why I always so Bob's Red Mill Organic All Purpose Flour when it comes to doughs that rely heavily on flour. This flour is not artificially processed or sprayed with pesticides, so you know you'll be left with a quality brioche dough in the end.
Weigh the flour to ensure accuracy. If you don't have a food scale, make sure you spoon the flour into your measuring cup and level it off. Don't shake it down or pack it into the cup, and never scoop directly into the bag or container of flour. This compacts the flour down into your cup and leaves you with way too much excess flour.
Keep an eye on the final mixing process. If the dough still looks to sticky and moist after 10 minutes of mixing, and 1-2 tablespoons of extra flour. It's best to have a dough that as a bit too much flour than a bit too little, so err on the side of caution.
Use room temperature butter, otherwise you'll be left with a dry dough and pockets of butter scattered throughout. This is create for pie dough, but not for an enriched dough.
Also use room temperature eggs and milk. This will prevent the dough from seizing up when mixing.
Have patience and let the dough chill for at least 6 hours or preferably overnight. This is essential for the forming and baking process, as a chilled dough is easy to roll out into a thin sheet.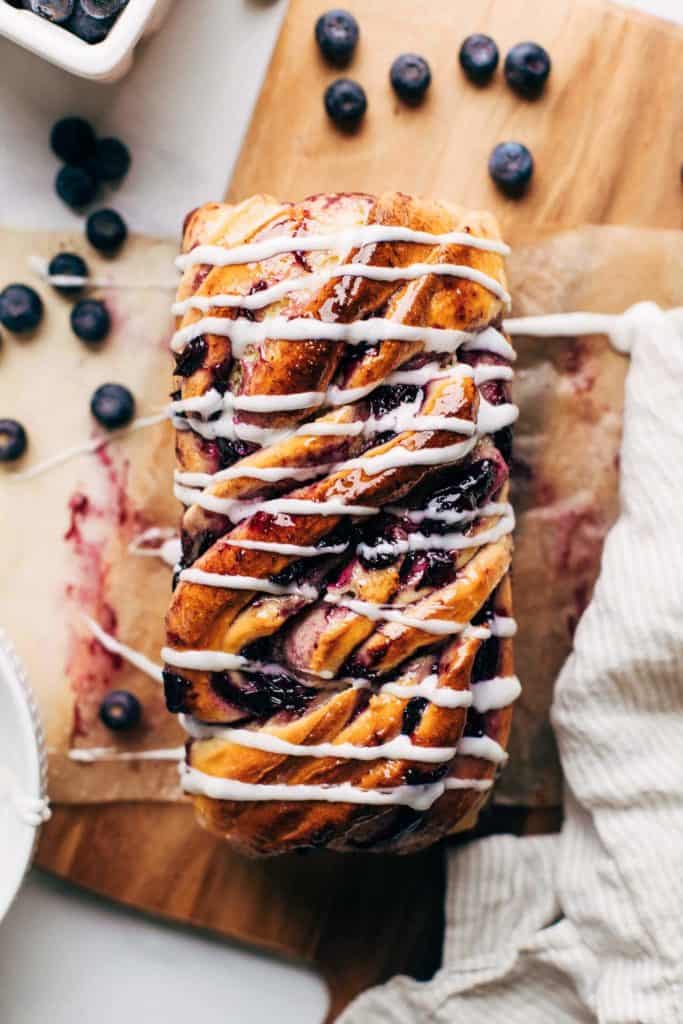 How long does babka keep?
The babka will keep in an air tight container at room temperature for up to 2 days. You can also store it in the refrigerator for a couple extra days. When you want a slice, wrap it in a damp paper towel and microwave for 10-15 seconds to bring back that warm and soft texture. You can also freeze the loaf. Slice the loaf and wrap it in plastic wrap and then foil. Freeze for up to 2 months. When you want a slice, let it thaw at room temp for about 1 hour. Then you can eat it as is or microwave as instructed previously.
Can I use store-bought jam?
I haven't tested it, but I would assume store-bought would be OK. As long as you remember to spread a THIN layer. I also recommend working with chilled jam, so let it chill overnight with the dough beforehand.
Can I use instant yeast?
I don't recommend this as the dough must chill for a long period of time in order to solidify the butter. Instant yeast works much faster than active dry, so it will cause the babka to puff up rapidly which can cause it to collapse in the oven.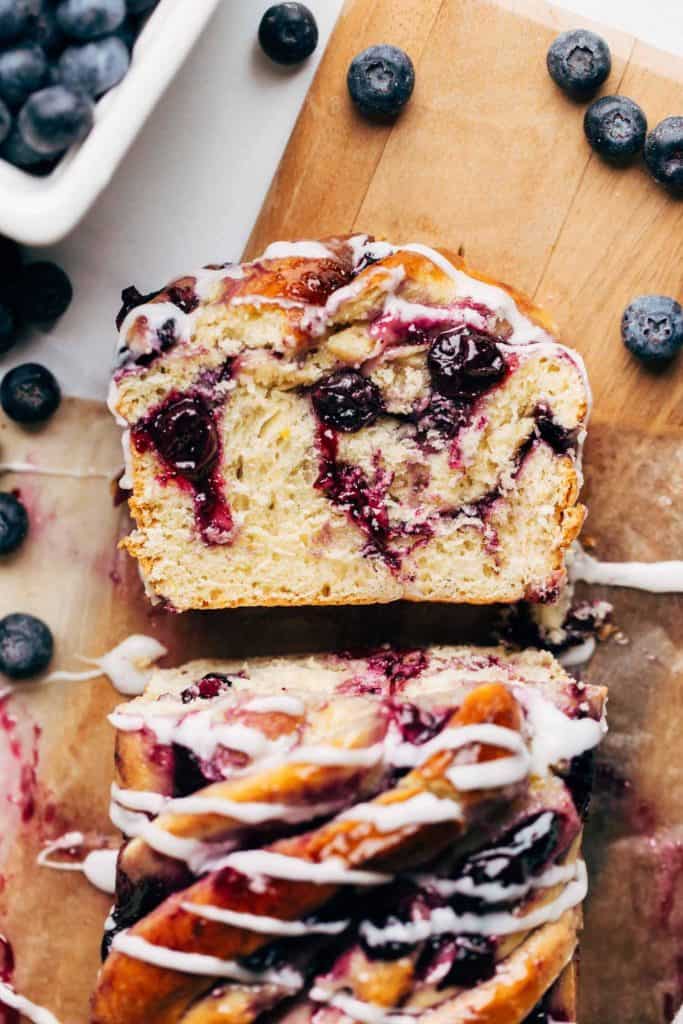 For more blueberry recipes, check out my:
Make sure to tag me @butternutbakery on Instagram and comment below if you make this Blueberry Babka. To pin this recipe and save it for later, you can use the button on the recipe card or on any of the photos above. Happy baking!
Print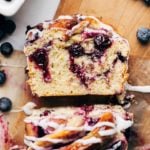 Blueberry Babka
---
Author: Jenna Barnard
Total Time: 10 hours 40 minutes
Yield: 10-12 slices
Description
This blueberry babka is the perfect balance of sweet and fruity with a rich and soft brioche dough swirled with a simple homemade blueberry jam. 
---
Blueberry Filling
8 oz fresh blueberries (about 1 heaping cup)
1/2 cup (100g) granulated sugar
Juice of 1/2 lemon (about 2 tsp)
Brioche Dough
2 1/4 cups (295g) Bob's Red Mill Organic Unbleached White All Purpose Flour
1/4 cup (50g) granulated sugar
1 1/2 tsp active dry yeast
Zest of 1 lemon
2 large eggs, room temp
1/4 cup (60ml) whole milk, room temp
1 tsp vanilla extract
1/4 tsp almond extract
1/2 tsp salt
5 tbsp unsalted butter, room temp and sliced into tablespoons
Simple Syrup
2 tbsp granulated sugar
2 tbsp water
Icing (optional)
1/2 cup (60g) powdered sugar
1 tbsp milk or water
---
Instructions
Blueberry Filling
Add all of the ingredients to a saucepan over medium heat and mix to combine.
Continue cooking until the mixture starts to break down and bubble. Stir occasionally to prevent the bottom from burning. Heat the mixture for about 30 minutes or until reduced by half. It should have thickened, testing to see if the mixture coats the back of a spoon.
Scoop the jam into a heat safe dish. Cover and chill. 
Brioche Dough
Whisk together the flour, sugar, yeast, and zest in the bottom of the bowl of a stand mixer.
With the dough hook attachment, mix in eggs, milk and vanilla until it comes together into a somewhat dry clump.
With the mixer on low, add the salt then the butter, one tablespoon at a time, until it's fully incorporated into the dough. Then, run the mixer on medium speed for about 10 minutes until the dough is completely smooth. Stop and scrape down the bowl a couple times during this process. You want the dough to pull away from the sides of the bowl. Add another 1-2 tbsp of flour if the dough is still too sticky after 10 minutes.
Coat a large bowl with oil and scoop the dough inside. Cover in plastic wrap and refrigerate overnight. The dough won't double in size so don't worry if it looks like yours hasn't grown much.
When your dough is ready, coat at 9×5 1 lb loaf pan with oil and line the bottom and long sides with one long strip of parchment paper. This makes it easier to take out of the pan.
Take the dough out of the fridge and roll it out onto a well-floured surface to 10-inches wide (the side closest to you) and 12-inches long (away from you). Dust the top of the dough with extra flour as needed to prevent your rolling pin from sticking. 
Spread the blueberry filling in an even layer over the dough, leaving 1/2 inch all around the outside. If the filling is too sticky and thick, microwave it for about 30 seconds before spreading on top. Also make sure you spread a thin layer, as a thick layer will prevent the dough from baking all the way through.
Brush the end farthest away from you with water. Roll the dough up into a log (like making cinnamon rolls). 
Gently cut the log lengthwise and lay one piece on the top of the other to form an X (not a +, but an X). Make sure the cut sides are facing up. Working on one side of the X, twist the two pieces together twice, still making sure the cut sides are facing up. Do the same to the other side of the X. You should be left with a twisted log with the blueberry layers facing up (see step-by-step photos in post for reference).
Place the log into the bread pan and cover it with a damp tea towel. Leave it to rise for 1 1/2 hours at room temperature.
To bake, preheat the oven to 350F. Remove the tea towel and bake on the middle rack for 40-45 minutes. If it starts to brown too quickly around 30-35 minutes, cover it with foil. When inserting a toothpick and you feel a bit of a give or stretch, that means it isn't done. When it's done, you'll feel almost no resistance. 
Right when you pull the babka from the oven, make the simple syrup. Add the sugar and water to a heat proof dish and microwave for 1 minute, or until the sugar is completely dissolved.
When the babka is still hot, brush the simple syrup all over. Don't skimp on this, make sure to use up every last drop. Let it cool half in the pan, and half on a cooling rack before eating.
When it's cooled, you can also top it with icing if desired. Simply whisk together the sugar and milk until you reach a glue-like consistency. Drizzle it on top and enjoy!
Equipment
Notes
STORING & FREEZING – The babka will keep fresh for up to 2 days at room temperature, as long as it's kept in an air tight container. Any more than that and it will start to become a bit stale. But it does freeze well. Wrap it in plastic wrap and then foil. To thaw, leave it at room temperature for about 1 hour or until softened. I recommend heating up a thawed slice in the microwave for about 10 seconds (wrapping it in a damp paper towel) to bring back that warm soft texture. 
Prep Time: 10 hours
Cook Time: 40 minutes
Keywords: bakba, blueberry babka, babka recipe
Recipe Card powered by