This chocolate peanut butter pie is one of my favorite no bake pie recipes. With rich homemade chocolate pudding layered with peanut butter mousse, you can't go wrong! It's also topped with a potato chip crumble that gives you the perfect salty and sweet bite.
No bake Oreo pie crust
The base of this chocolate peanut butter pie is a delicious and easy Oreo pie crust. So easy that it only consists of two ingredients!
Place about 25 Oreos in a food processor and pulse until you're left with a very fine crumb. It should be enough to fill 2 cups.
If you don't have a food processor, you can use a ziplock back and a rolling pin to get them as fine as possible.
Mix the Oreos with 4 tablespoons of melted butter then press it into your 9 inch pie dish. I like to dump it in, even it out with my hands, and press it into the pan with the bottom of a measuring cup.
Chill in the fridge for about an hour to firm up.
I also like to add a thin layer of chocolate at the very bottom to prevent any moisture from the chocolate pudding seeping through the pie. Just melt some chocolate, spread it even, and chill the crust again for about 30 minutes.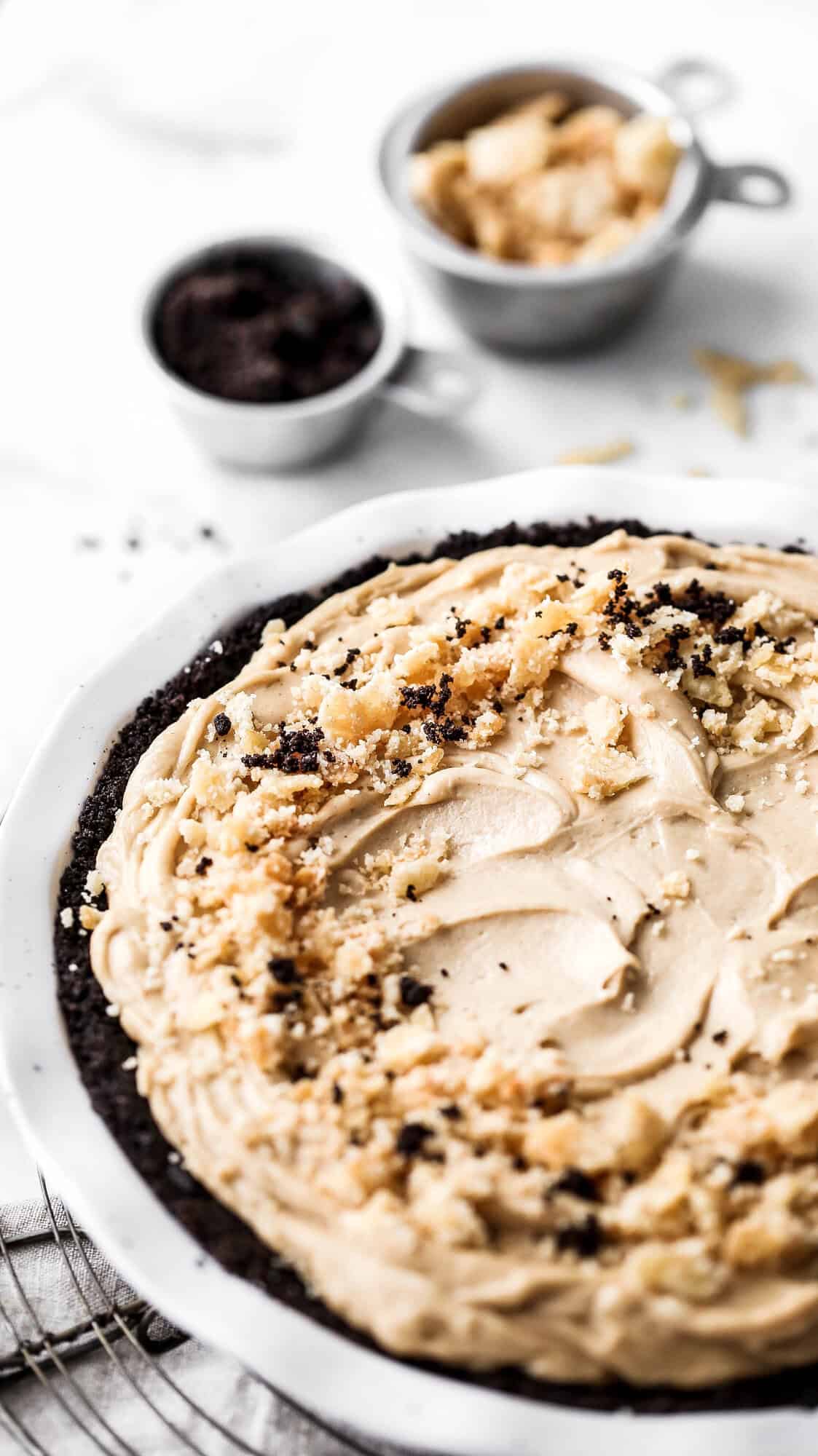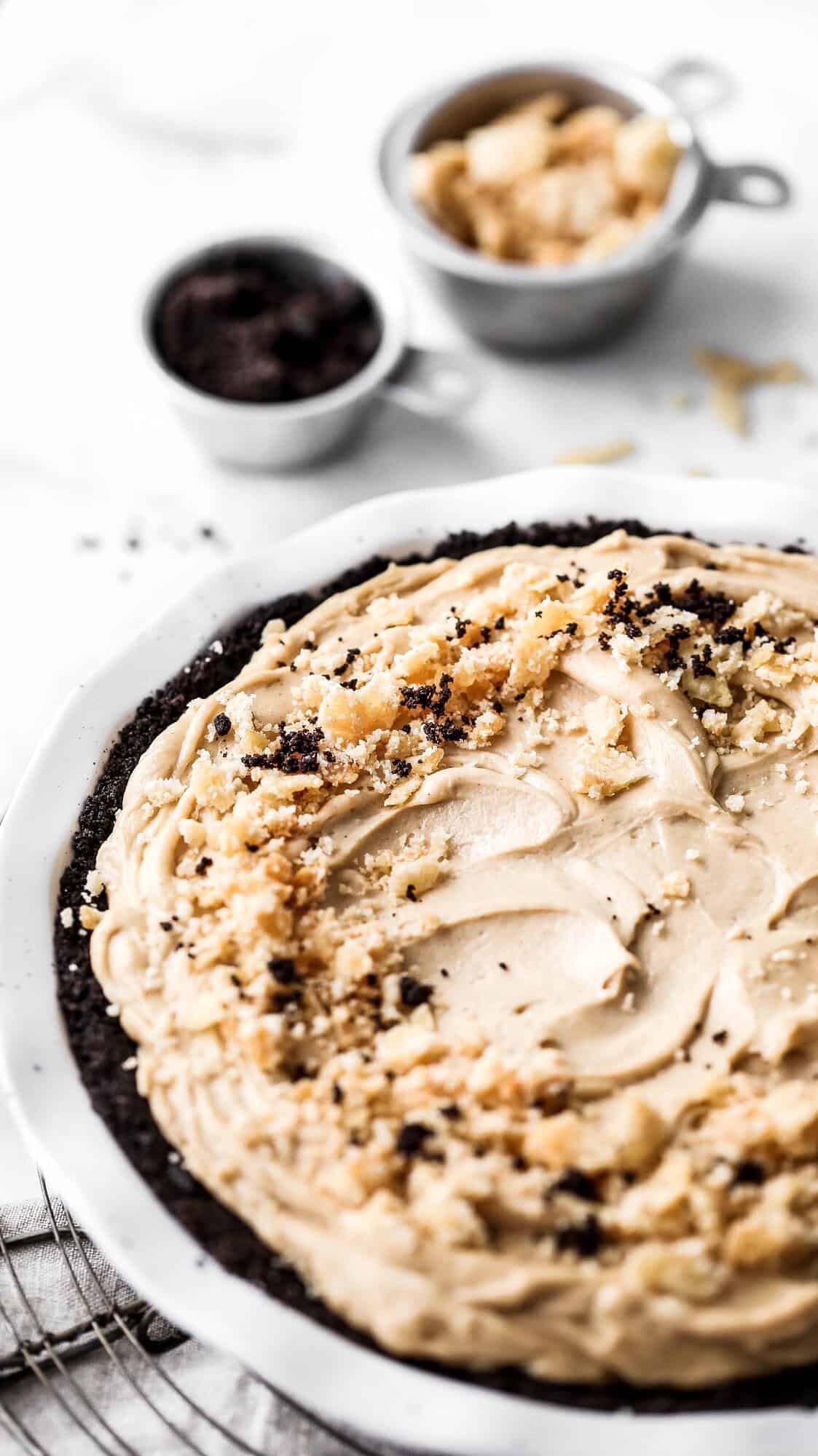 How to make homemade chocolate pudding
This chocolate pudding peanut butter pie contains a dark and decadent layer of homemade chocolate pudding. But it isn't your typical pudding as it's much thicker and richer than the instant chocolate pudding we all know and love.
You start by whisking together your dry ingredients (sugar, cornstarch, salt, and cocoa powder) in a medium saucepan. Then mix in milk and egg yolks and turn the heat to on high. We want to bring this mixture to a boil.
It will seem very thin for a while, right up until it starts boiling. Then it REALLY thickens up.
Once it's thickened, take it off the heat and mix in chocolate, butter, and vanilla. For this recipe, I used bittersweet chocolate because I love the bitterness against the sweet Oreo crust and peanut butter topping. Feel free to use your favorite type of chocolate.
Pour it into your chilled Oreo pie crust and spread it even. Let it chill before topping with your delicious peanut butter mousse!
Easy peanut butter mousse
I could seriously eat this stuff by the spoonful. The peanut butter mousse topping is so easy to make and only uses 5 ingredients.
All you have to do is cream together the peanut butter, cream cheese, powdered sugar, and vanilla.
Then, in a separate bowl, whisk up some heavy cream until you reach stiff peaks. Fold it into your peanut butter mixer and there you have it, easy peanut butter mousse!
Make sure to use ROOM TEMPERATURE cream cheese so there are no lumps. Also use a creamy peanut butter like Jif or Skippy. Using a natural peanut butter could separate the mousse and turn into an oily mess.
Salty and sweet potato chip crumble
I'm sure half of you are thinking "what the?" but trust me, the potato chips on top MAKE this pie!
Although this is a no bake chocolate peanut butter pie recipe, there is some baking involved with the potato chip crumble. I know, I'm sorry, I just couldn't help it!
I prefer to use kettle chips for this recipe (and just for snacking in general) because they're extra crunchy and hold their crispness once baked.
In a bowl, mix together your crumbled potato chips, flour, sugar, butter, and a pinch of salt. Spread it even on a baking sheet and bake for 10 minutes.
Let it cool completely then crumble it up on top of your pie. Add as much or as little as you like but I'm happy with a hefty amount. That bite of Oreo, chocolate, peanut butter, and salty potato chip crumble is sheer heaven!
For more peanut butter and chocolate recipes:
Make sure to tag me @butternutbakery on Instagram if you make this chocolate peanut butter pie. I love seeing my recipes come to life in YOUR kitchen! To pin this recipe and save it for later, you can use the button on the recipe card, the buttons above or below this post, or on any of the photos above. And if you have any questions, ask me on Instagram! That's the best way to reach me. Happy baking!
Print
Chocolate Peanut Butter Pie
---
Author: Jenna Barnard
Total Time: 1 hour 25 minutes + chill time
Yield: 9 inch pie
Description
This chocolate peanut butter pie recipe is layered with homemade chocolate pudding, peanut butter mousse, and topped with a potato chip crumble for the perfect salty and sweet dessert!
---
Oreo Crust
2 cups finely crushed Oreos (about 25 Oreo cookies)
4 tbsp unsalted butter, melted
1/4 cup semisweet chocolate, melted
Potato Chip Crumble
1/3 heaping cup crushed kettle cooked potato chips
3 tbsp all-purpose flour
1 1/2 tsp granulated sugar
Pinch of salt
2 tbsp unsalted butter, melted
Chocolate Pudding
½ cup sugar
¼ cup cornstarch
¼ tsp salt
¼ cup unsweetened cocoa powder
3 egg yolks
2 ½ cups whole milk
4 oz bittersweet chocolate, chopped
2 tbsp unsalted butter, cut into cubed
1 tsp vanilla extract
Peanut Butter Mousse
1 cup heavy whipping cream
8 oz cream cheese, room temp
1 cup creamy peanut butter
1/2 cup powdered sugar
1 teaspoon vanilla extract
---
Instructions
Oreo Crust
Run your Oreos through a food process until finely ground. Mix it in a bowl with the melted butter until completely moistened.
Pour it into a 9 inch pie dish and press it into the bottom and up the sides. Place your pie crust in the fridge for at least 1 hour to set.
Once set, take your melted chocolate and spread it in an even and thin layer on the bottom of your crust. This creates a barrier between the pudding and the crust so it doesn't get soggy. Place it back in the fridge for 30 minutes for the chocolate to set.
Potato Chip Crumble
Preheat the oven to 325F and line a baking sheet with parchment paper. Crush up your potato chips in a ziplock bag. You want it to be mostly small pieces about the size of old fashioned oats.
Mix together all the ingredients in a bowl and spread it even on your baking sheet. Bake for 10 minutes. It will still look pretty pale when it's done so just take a fork to it to make sure it crumbles. That's when you know it's ready.
Let it sit out at room temperature to cool then transfer to an air tight container until you're ready to top your pie. Do not put it in a closed container when it's hot because it will get soggy and don't put it in the fridge.
Chocolate Pudding
In a medium saucepan, whisk together the dry ingredients (sugar, cornstarch, salt, and cocoa powder).
In a separate bowl, whisk together the milk and egg yolks.
Mix this into the dry ingredients and bring to a boil over medium high heat, stir constantly. It will be liquid up until it reaches a boil. At that point it should get pretty thick but cook for about one or two minutes longer then take it off the heat.
Whisk in the chocolate and then the butter and vanilla.
Pour into your cooled crust and spread it even. Let it sit out for 45 minutes then move it to the fridge. Cover in plastic wrap and press it to the surface of the pudding so you don't get a skin. Refrigerate for at least 2 hours or until the pudding is somewhat firm to the touch.
Peanut Butter Mousse
When your pudding is ready, make the peanut butter mousse. Start by creaming together your room temperature cream cheese and peanut butter. Once combined, mix in the powdered sugar and vanilla.
In a separate bowl, whisk your heavy cream on high until it forms soft peaks (3-5 minutes).
Scoop about ⅓ of the whipped cream into the peanut butter mixture and fold it in. Once it's almost combined, add in the rest of the whipped cream and continue to fold until it's fully combined.
Spread this over top the pudding layer of your pie. You can also make little swirls with the back of a spoon. Pop the pie in the fridge for another hour to set.
Before serving, crumble the potato chips all over the top with as much or as little as you like. I recommend being a little heavy handed because the salty crunch helps to balance out the sweetness of the pie. You can also add more crushed Oreos.
Serve chilled or at room temperature but store it in the fridge. Enjoy!
Prep Time: 1 hour
Cook Time: 25 minutes
Keywords: chocolate peanut butter pie, peanut butter pie, homemade chocolate pudding
Recipe Card powered by
*Some of the links above are affiliate links, which pay me a small commission for my referral at no extra cost to you!