These strawberry shortcake cheesecake bars take strawberry shortcake WAY up a notch! The classic pairing of sweet and fresh strawberries with soft cake is now accompanied by a graham cracker crust and a layer of no bake cheesecake. This dessert has basically ruined strawberry shortcake for me because now this is the only way I'll ever want to have it!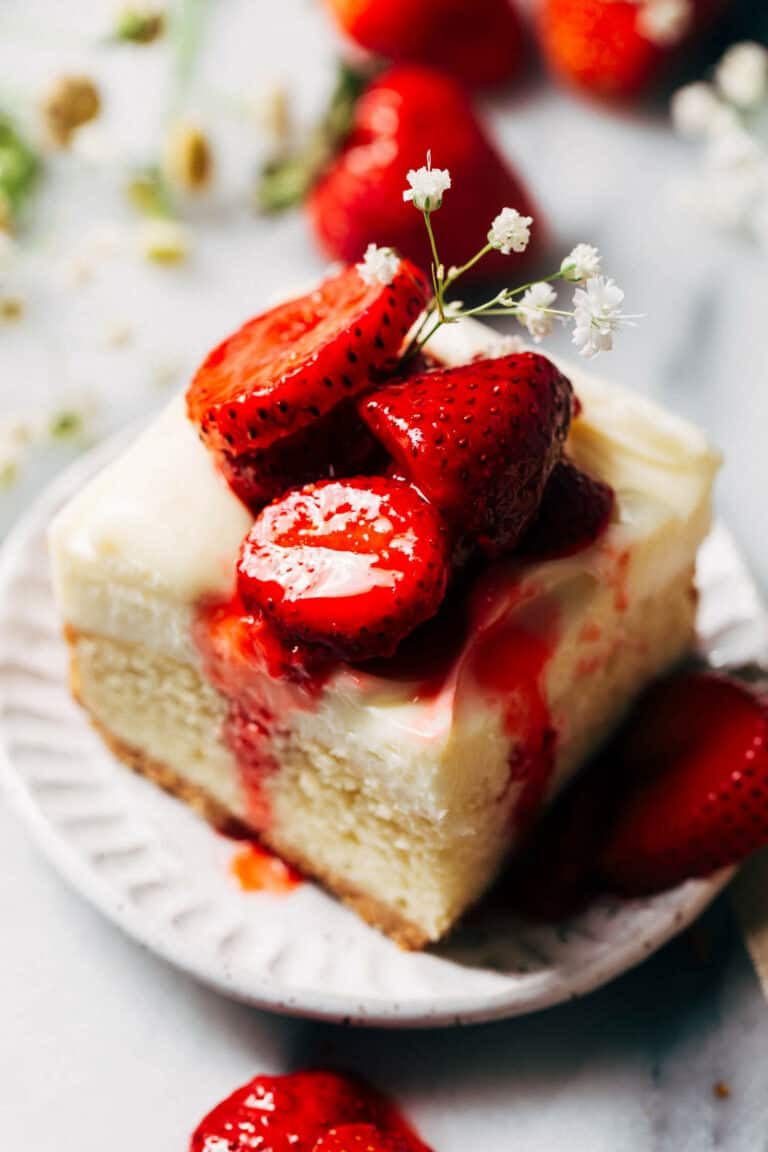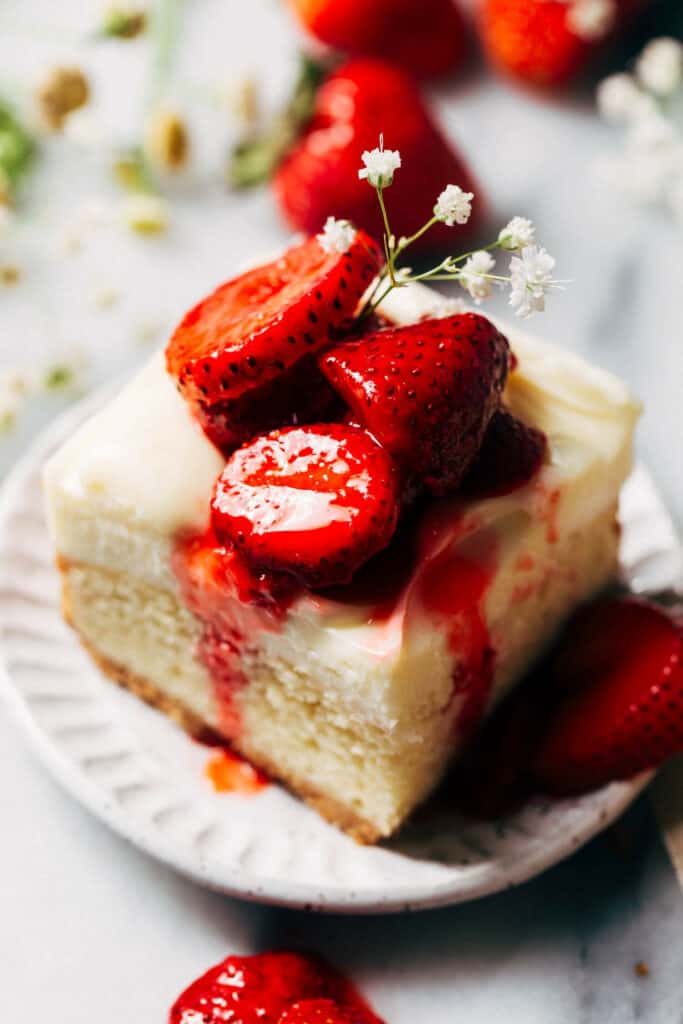 Strawberry shortcake cheesecake
These strawberry shortcake cheesecake bars were inspired by my very mild love for strawberry shortcake. It's classic, it's good, but I'm just never wowed by it. But you know what makes everything better? Cream cheese.
So thus this strawberry shortcake cheesecake was born. Layered with:
Graham Cracker Crust – It's just not a cheesecake without a graham cracker crust. But this one is baked underneath a layer of vanilla cake.
Vanilla Cake – Stay true to a traditional strawberry shortcake, a thick layer of cake is baked right on top of our graham cracker crust.
No Bake Cheesecake – Once the cake has cooled, a thick and creamy no bake cheesecake is spread on top. It's spread with deep swirls for the strawberries and juices to sink into.
Macerated Strawberries – Fresh sliced strawberries are piled high! These are heated with a bit of sugar to release even more sweetness and flavor.
These four homemade components may seem like a lot of work, but each individual portion is very quick and easy to make. We aren't using any special or fancy methods here – just standard baking used in a very unique way!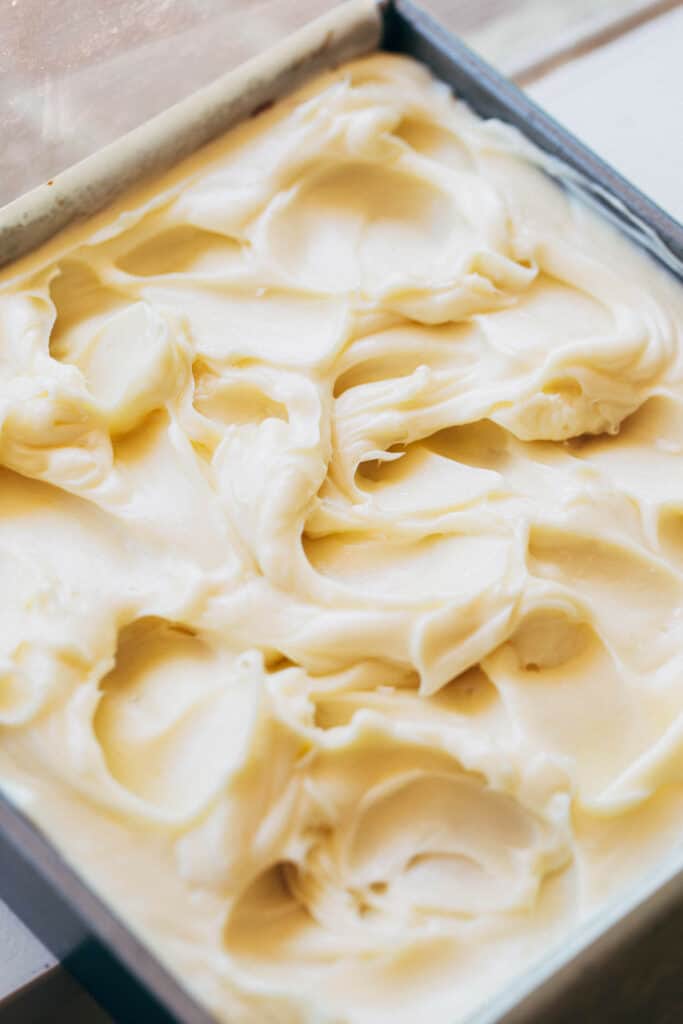 Strawberry shortcake cheesecake bars baking tips
Each section of this dessert is very straight forward, but here are a few tips to ensure your bars turn out just right:
Graham Cracker Crust
Make sure to tightly back in the crust in order to create a strong base for the many layers on top.
Vanilla Cake
Weigh the flour if possible, otherwise spoon the flour into a measuring cup and level it off. Scooping directly into the flour can pack it down into the cup, thus adding too much flour to the batter.
Really mix the butter and sugar until it's smooth and lightened in color. This creates little air pockets which allows the baking powder to lift the cake.
No Bake Cheesecake
Make sure the cream cheese is at room temperature before starting, otherwise you will have a lumpy layer of cheesecake on top.
Use good quality white chocolate when possible. I prefer Lindt white chocolate bars as they provide a very mild and not overly sweet flavor.
Strawberries
Slice the strawberries about 1/8 inch thick. Too thin and the strawberries will turn to mush, but too thick and they'll be too firm.
Once the sugar is dissolved, allow the strawberries to heat for another 5 minutes. This extra heat will release even more flavor out of the berries.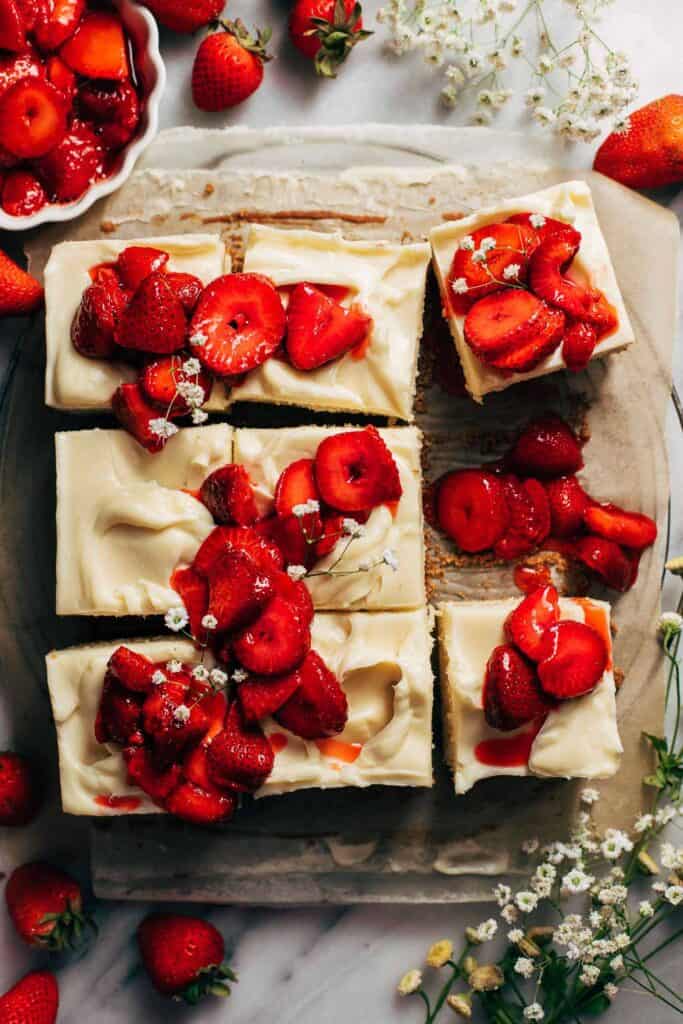 How to serve strawberry shortcake cheesecake squares
When the bars have chilled long enough for the cheesecake layer to set, the bars are ready to serve.
First, lift the bars out of the pan using the excess parchment paper hanging over the sides.
Then slice into 9 individual squares. I suggest cutting with a large knife in once swift motion, rather than dragging the knife along. Also wipe the knife off between each cut for clean slices.
Plate the slice and then spoon the strawberries on top (as much or as little as you like).
This dessert is served very similar to regular strawberry shortcake. Each person gets they're own slice but can top with their own strawberries.
I don't suggest stopping the entire dish with strawberries as it won't store as well. Storing the cake and the strawberries separate will lengthen the shelf life of these bars.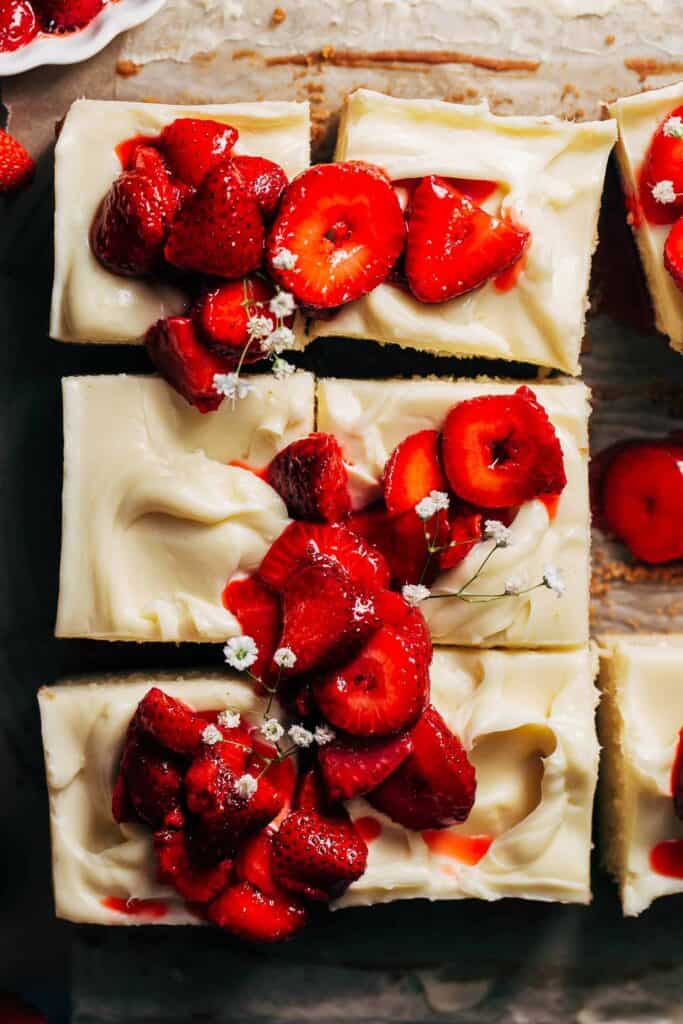 Strawberry Shortcake Cheesecake Bars FAQs
Can this strawberry shortcake cheesecake recipe be made gluten free?
I haven't tested it, but I do think it could work well with a gluten free cup for cup flour as well as gluten free graham crackers.
Do I need an electric mixer to make these bars?
Nope! I actually made these completely by hand. It takes a little more elbow grease, but each step can be made using basic kitchen utensils.
Can I leave out the graham cracker crust?
This layer can be left out, but for flavor I suggest keeping it in!
Can this recipe be doubled?
I haven't tested it, but I do think it could work well in a 9×13 pan if all ingredients are doubled.
Can I make these strawberry shortcake cheesecake bars in advance?
Absolutely. Once the cheesecake is spread on top, the bars can chill in the refrigerator for up to 2 days (for optimal freshness). Just make sure to store the strawberries in a separate container.
How long do strawberry shortcake cheesecake bars keep?
Keeping the bars and the strawberries in separate containers, they will keep for about 5 days. Just note that the strawberries will become more and more tender as the days go on.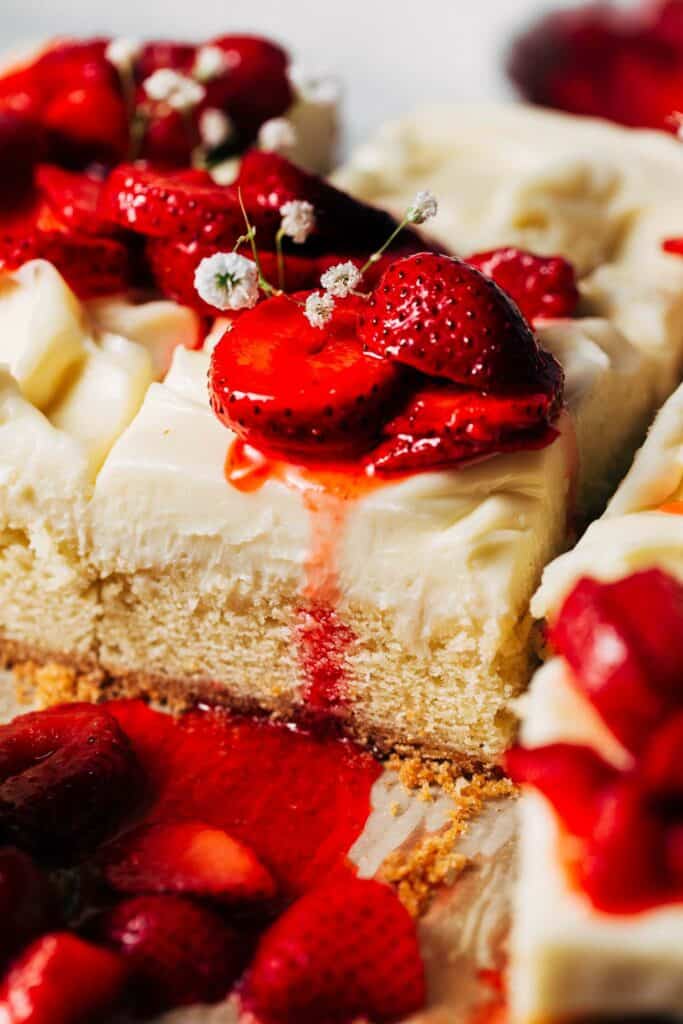 For more delicious strawberry dessert recipes, check out my:
Make sure to tag me @butternutbakery on Instagram or leave a comment below if you make this strawberry shortcake cheesecake. I love seeing my recipes come to life in YOUR kitchen! To pin this recipe and save it for later, you can use the button on the recipe card, the buttons above or below this post, or on any of the photos above. Happy baking!
Print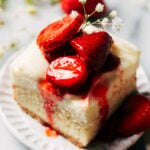 Strawberry Shortcake Cheesecake Bars
---
Author: Jenna Barnard
Total Time: 4 hours 20 minutes
Yield: 9 squares
Description
These strawberry shortcake cheesecake bars are a twist on a classic dessert! Layered with a graham cracker crust, vanilla cake, no bake cheesecake, and juicy strawberries on top, this is strawberry shortcake on a whole other level.
---
Graham Cracker Crust
1 cup (140g) ground graham cracker crumbs (about 1 sleeve)
3 tbsp granulated sugar
1/4 tsp ground cinnamon
Pinch of kosher salt
1/4 cup (55g) unsalted butter, melted
Shortcake
1/2 cup (110g) unsalted butter, softened
3/4 cup (150g) granulated sugar
1 large egg
1 tsp vanilla extract
1/2 cup (120g) milk
1 1/2 cups (195g) all purpose flour
1 tsp baking powder
1/4 tsp kosher salt
Strawberries
32 oz container strawberries, sliced
1/4 cup (50g) granulated sugar
Cheesecake
16 oz full fat cream cheese, room temp
1 cup (110g) powdered sugar
1/2 tsp vanilla extract
4 oz white chocolate, melted
---
Instructions
Graham Cracker Crust
Preheat the oven to 350F and grease and line the bottom and all sides of an 8×8 baking dish. 
Mix together all of the crust ingredients and press into the bottom of the baking pan.
Bake for 10 minutes.
Shortcake
In a medium bowl, whisk together the flour, baking powder, and salt. Set aside.
In a large mixing bowl, mixing by hand or with an electric mixer, mix together the softened butter and sugar until smooth and lightened in color.
Then mix in the egg and vanilla.
Roughly mix in half of the dry ingredients, then the milk, then the rest of the dry ingredients. 
Spread the batter over the baked crust and bake for 25-30 minutes.
Strawberries
While the cake bakes, prep the strawberries. Cut the tops and slice the strawberries, then give them a good rinse.
Transfer the berries to a large saucepan and add the sugar.
Place over medium-low heat for gas or medium for electric and stir until the sugar is fully dissolved. 
Then allow the strawberries to heat for about 5 minutes or until bright red, slightly tender, and glossy.
Transfer the berries into a heat safe dish and store in the fridge.
Cheesecake
When the cake has cooled, make the cheesecake layer.
Mix together the cream cheese and powdered sugar either by hand or with an electric mixer.
Then mix in the vanilla, followed by the melted white chocolate. To melt, heat in the microwave in 30 second intervals until smooth.
Spread the cheesecake over the cooled cake and create deep swirls all over the surface. These swirls will create little cavities for the strawberries and juices to sit. 
Chill the cheesecake bars for at least 2 hours or until set. It can also chill overnight. 
To serve, remove the bars from the pan and slice into 9 squares.
Spoon a hefty amount of strawberries over a slice and enjoy!
Equipment
Prep Time: 45 minutes
Chilling Time: 3 hours
Cook Time: 35 minutes
Category: Dessert
Method: Baking
Cuisine: American
Keywords: strawberry shortcake, strawberry shortcake cheesecake, strawberry shortcake cheesecake bars, strawberry shortcake cheesecake squares
Recipe Card powered by