This strawberry rhubarb crisp recipe is near and dear to my heart. It's a dessert my mom would make every summer using the rhubarb stalks we picked from our backyard. And while her recipe was absolutely delicious, I decided it was time to make my own version! This rhubarb crisp has a thick fresh fruit filling with DOUBLE the amount of crisp on top.
This recipe can be made in a skillet, as shown here, or in a square baking dish. Serve with ice cream or leave it as is. Either way, it makes for a delicious summer dessert!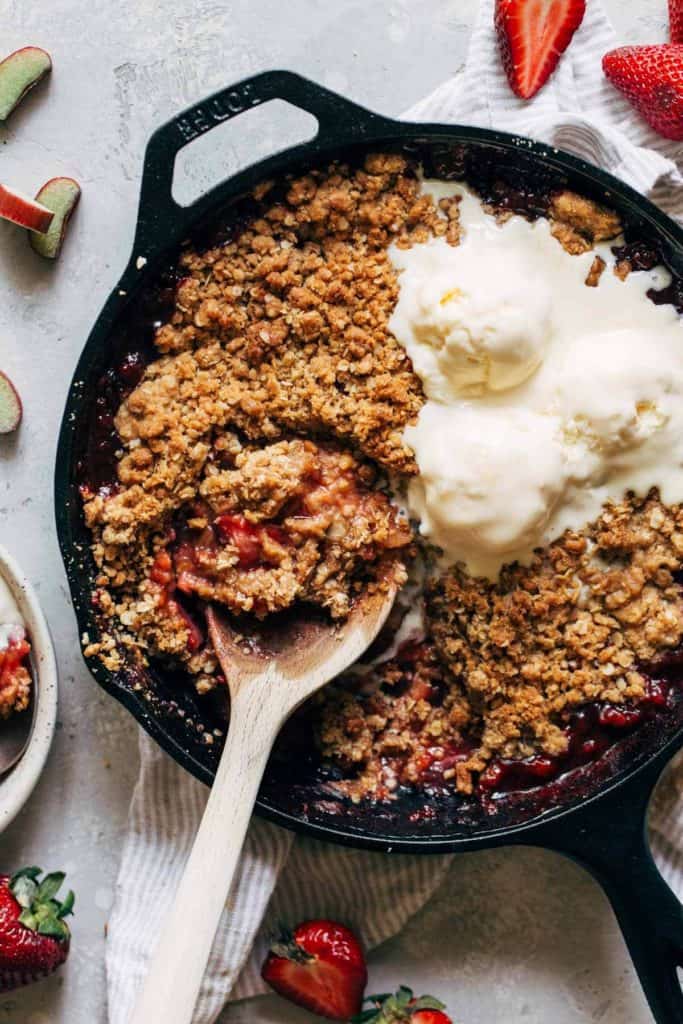 What is rhubarb?
Rhubarb is a vegetable that grows straight from the ground. It consists of long pink stalks with large leafy greens at the end. Each stalk is cut at the very end, where the plant meets the ground. Then, the leaves are chopped off to be left with just the pink stalks (the edible portion).
These pink stalks almost resemble celery and are green in the middle. They're firm, crisp, and contain lots of water (but aren't super stringy like celery). Once washed, the stalks are ready to be chopped up and added to any dessert.
What does rhubarb taste like?
The flavor of rhubarb is pretty tart and sour, but still somewhat fruity. That's why it goes great in desserts because sugar helps balanced out the sharp flavor.
It's also the reason why it makes a great companion to strawberries as they're super sweet and juicy. Once cooked down, the rhubarb becomes tender and a little less sour, creating a really delicious texture that goes well in any fruity dessert.
Where can I find rhubarb?
Rhubarb is in season during the summer months (mainly May – July). It grows really well in warm climates with some shade, so it can be found almost anywhere. I was lucky enough to find it at my local supermarket (right next to the strawberries). They're displayed as the whole stalk, so keep an eye out for long pink individual stalks that look like celery.
If you can't find it fresh, you might be able to get your hands on some frozen rhubarb. Just make sure to thaw it out and drain any excess water before adding to the crisp.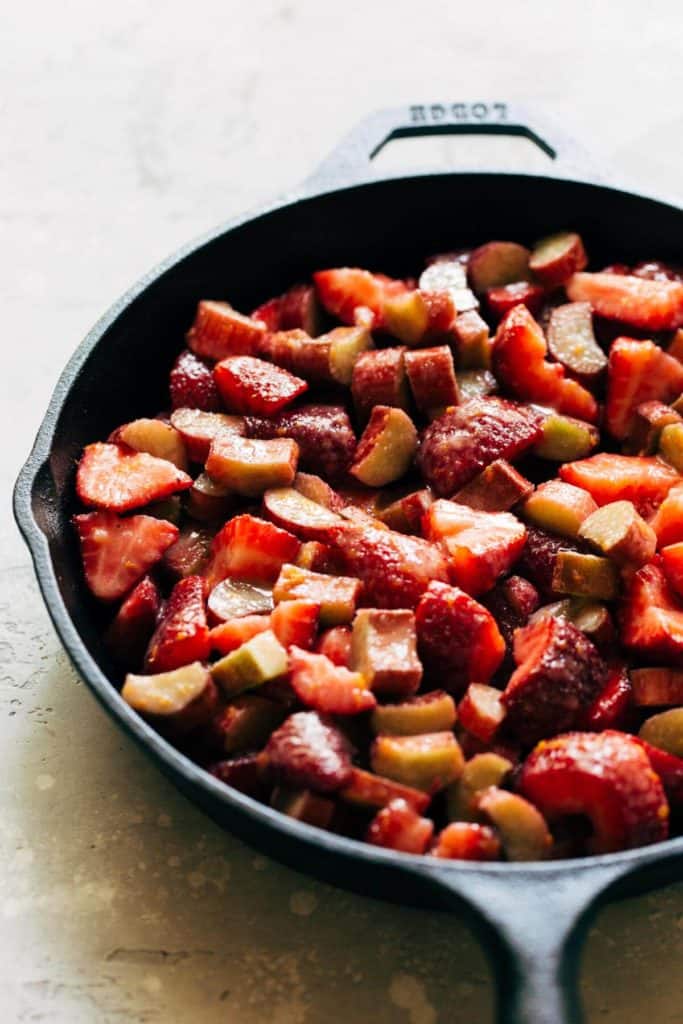 What makes this the BEST strawberry rhubarb crisp?
So now that we know a little bit more about rhubarb, let's talk about why this recipe is SO GOOD. It honestly has everything you need in a dessert – it's sweet, gooey, crisp, tart, and buttery.
The base consists of 70% strawberries and 30% rhubarb which is the perfect balance. It makes the filling not too sweet but not too sour. Fresh orange zest is added to help bring out that rhubarb flavor. My moms recipe used mandarine oranges, so this is a nod to the original.
The rhubarb crisp filling is also thick and luscious once baked. I don't know about you, but I do not want a soupy or watery fruit filling. Cornstarch is added to create a homogenous filling that thickens the entire dish.
Last but not least, the crisp on top. It's a super simple recipe that you make entirely by hand, then it's piled right on top. It's almost double the amount of a regular crisp recipe, making this the BEST strawberry rhubarb crisp. And while there's plenty of it, the crisp topping doesn't overpower the fruit filling. It's the perfect ratio that provides you with just enough of each.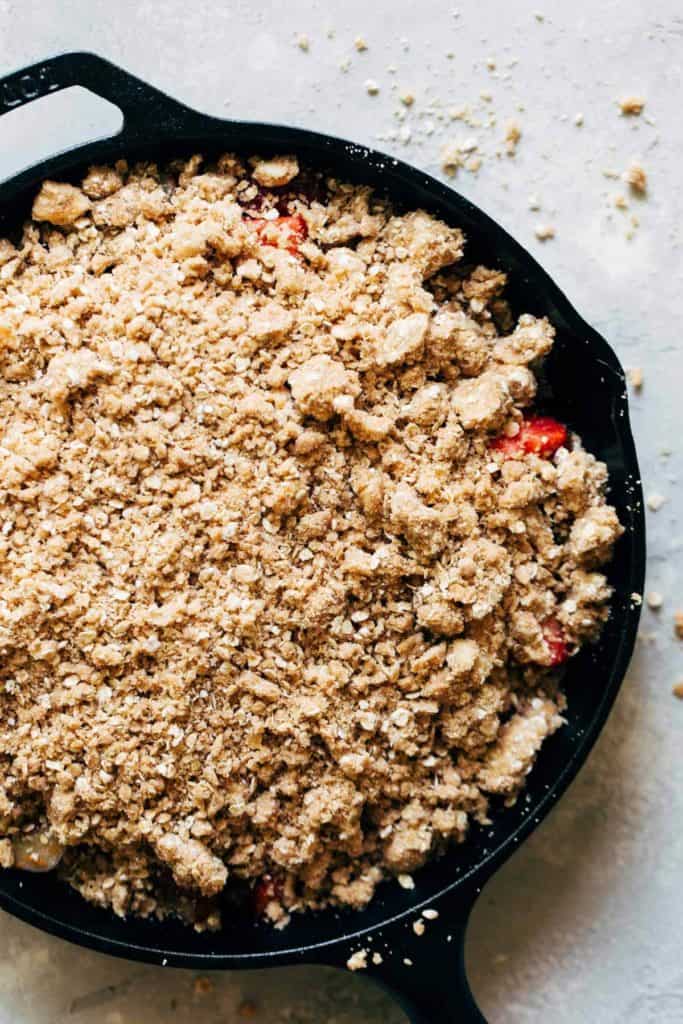 How to make rhubarb crisp with strawberries
Start by preheating the oven to 350F and choose a baking dish. I opted for a 10″ cast iron skillet. If you don't have one, you could also use a 9″ or 8″ square baking dish, just keep in mind that the crisp may have to bake for a couple extra minutes.
To prep the fruit, wash the strawberries and rhubarb stalks. Chop the strawberries in half or in quarters, depending on their size. Then, chop the rhubarb stalk into bite sized pieces (about 1/2 an inch).
Add the fruit to a large bowl and toss with sugar, cornstarch, and fresh orange zest. I highly recommend keeping in the orange zest because it really helps brighten the entire dish and bring out that fresh rhubarb flavor.
Dump the rhubarb filling into your baking dish and then make the crumble topping. Whisk together flour, quick oats, light brown sugar, cinnamon, and salt. Once combined, toss in the butter.
This recipe calls for 12 tablespoons of cold and cubed butter. It's very important that the butter is cold, as this is what makes that crumble consistency. Cut the butter in half lengthwise, then turn over the stick and cut lengthwise again. Now you should have 4 long sticks of butter. Then, chop the butter widthwise to get tiny cubes of butter.
Add the butter to the flour mixture then gently toss to coat. Coating before rubbing them in to the mixture prevents the cubes from sticking to each other. Then use your fingers to squish and smoosh the butter into the flour. It's ready when you're left with pea sized lumps of butter and the mixture can hold together when you squeeze it into a fist.
Crumble it on top of the fruity base in an even layer. Now bake for 25 minutes or until golden brown and the outside edges are bubbling.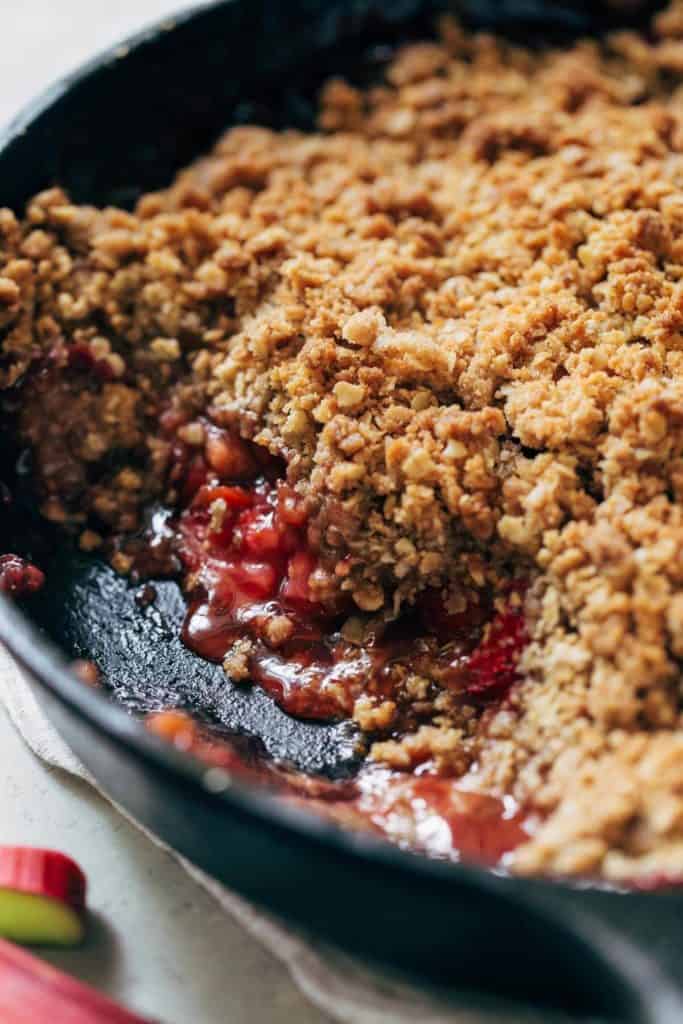 Cooling the rhubarb crisp
Before digging in, let the crisp cool for about 30 minutes. This allows the filling to thicken and the crisp to get that soft layer right where the crisp meets the filling.
What can I substitute for the rhubarb?
If you'd like to make this recipe but can't find rhubarb anywhere, substitute with any tart fruit. This could be some firm cherries, blackberries, or granny smith apples.
Rhubarb is the best choice, so try finding that first. If you come up empty handed, any of these alternatives will be delicious!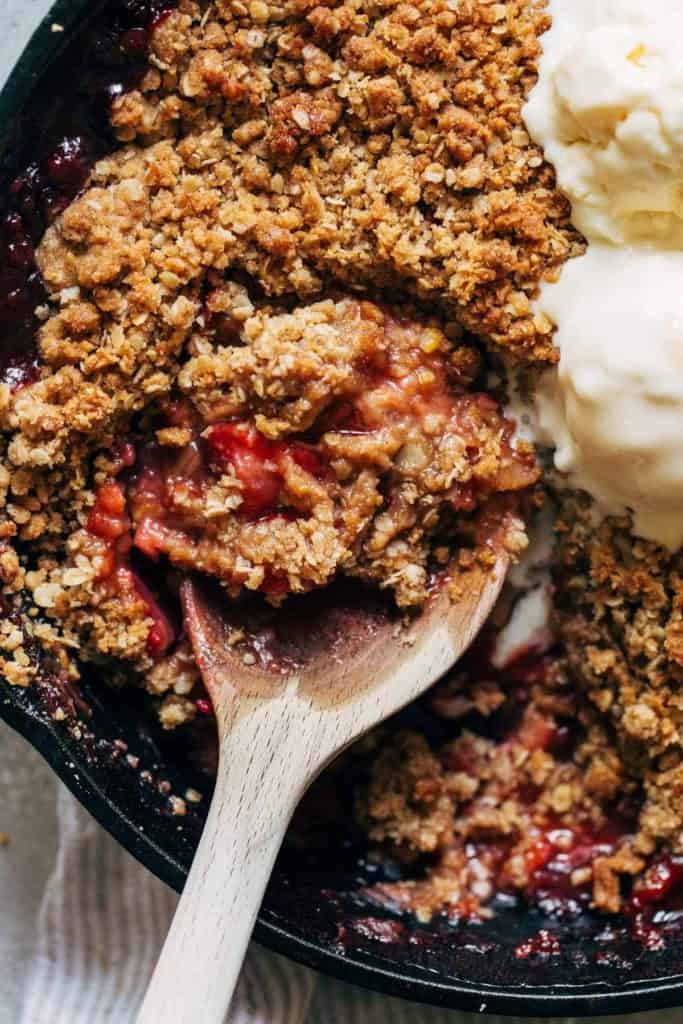 How to make this rhubarb crisp recipe gluten free
Luckily this recipe is SO easy to turn gluten free. For the crumble topping, sub the quick oats for certified gluten free quick oats. As for the flour, sub the 1 cup of all purpose flour with 3/4 cup gluten free flour and 1/3 cup of almond flour.
Just expect the crumble to not turn as golden brown as it would with regular flour, but it will still be just as crispy!
How to make this rhubarb crisp recipe vegan
A really easy swap is to use vegan butter instead of regular butter. My favorites are Country Crock almond oil butter, Earth Balance vegan butter sticks, or Miyokos European style butter.
You can also implement both changes to make this a completely vegan and gluten free strawberry rhubarb crisp.
Does rhubarb crisp need to be refrigerated?
Yes! Store the extra crisp in the refrigerator and heat up a plate before consuming (or eat it cold which I also like!). I found the best way to store it is to keep it in the original baking dish and cover in foil. Poke a couple holes in the top with a toothpick to prevent the inside from holding too much moisture. It will keep in the fridge for up to 5 days.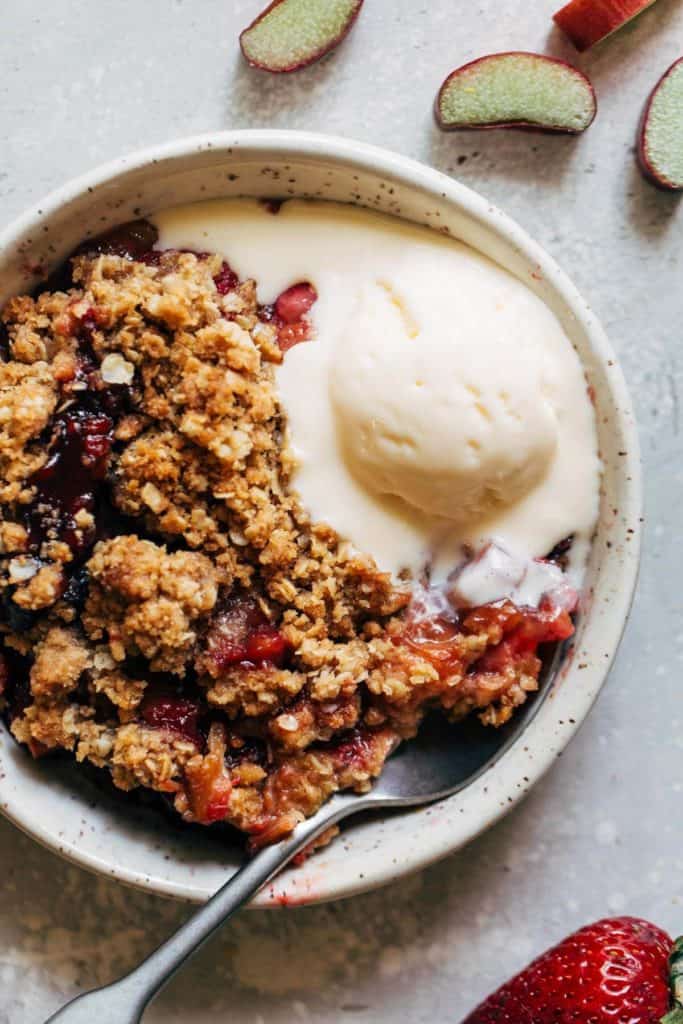 For more fruit desserts, check out my:
Make sure to tag me @butternutbakery on Instagram and leave a review below if you make this Strawberry Rhubarb Crisp. To pin this recipe and save it for later, you can use the button on the recipe card, the buttons above or below this post, or on any of the photos above. Happy baking!
Print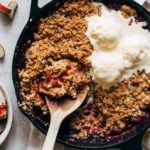 Strawberry Rhubarb Crisp
---
Author: Jenna Barnard
Total Time: 45 minutes
Yield: 9-10 servings
Description
This is the BEST strawberry rhubarb crisp! The filling is thick, sweet, and tart with the perfect balance of fresh strawberries and rhubarb. It's all topped with a hefty layer of buttery and crumbly oat crisp – almost double the amount of a normal rhubarb crisp! 
---
Strawberry Rhubarb Filling
4 cups (550g) fresh strawberries, washed and quartered 
2 cups (200g) fresh rhubarb, sliced into 1/2 inch chunks *see notes for alternatives
1/2 cup (100g) granulated sugar
2 tbsp cornstarch
1 1/2 tsp fresh orange zest
Crisp Topping
1 cup (130g) all purpose flour *see notes for GF option
1 cup (100g) quick oats
2/3 cup (145g) light brown sugar, packed
2 tsp cinnamon
3/4 tsp kosher salt
12 tbsp unsalted butter (or vegan butter), cold and cubed
---
Instructions
Preheat the oven to 350F and choose a baking dish. A 10″ cast iron skillet is preferred, but you could also use a 9″ or 8″ baking dish. Keep in mind it will need to bake for a few extra minutes if not using a cast iron skillet. 
Note – make sure your butter is in the fridge at this point. Take it out and chop it right before adding to the crumble.
Combine all of the strawberry rhubarb filling ingredients in a large bowl and toss to coat. Add to your baking dish and spread it even. Set aside.
In another large bowl, whisk together the flour, oats, brown sugar, cinnamon, and salt.
Add in the very cold butter, cut into small cubes, and toss to coat. Then, use your fingers to squish and smoosh the butter into the dry ingredients. Work at it for a few minutes until you're left with pea sized lumps of butter and the mixture holds together when you squeeze it in a fist.
Crumble on top of the fruit in an even layer and bake for 35-40 minutes, or until the top is golden brown and the edges are bubbling.
Let the crisp cool for at least 30 minutes to allow the filling to thicken. Now dig in!
Equipment
Notes
RHUBARB – If you can't get your hands on fresh rhubarb (I found mine at my local supermarket next to the berries, but you can also try farmers markets), you could also use frozen rhubarb that's been thawed and drained of excess water. If you can't find either, use any tart fruit like firm cherries, blackberries, or granny smith apples.
TO MAKE GLUTEN FREE – Sub 1 cup of flour with 3/4 cup all purpose gluten free baking flour and 1/3 cup fine almond flour. Also make sure to use certified gluten free oats.
Prep Time: 20 minutes
Cook Time: 25 minutes
Category: Dessert
Method: Baking
Cuisine: American
Keywords: strawberry rhubarb crisp, strawberry rhubarb crumble, rhubarb recipes, strawberry rhubarb
Recipe Card powered by