Being from the Midwest, you can't go to a party without someone bringing strawberry pretzel salad. With a crushed pretzel crust, whipped cream cheese filling, and jellied strawberries on top, it's the perfect mix of sweet, salty, creamy, and tangy. This dish holds many memories for me, which is why I wanted to take it up a notch and turn it into a beautiful strawberry pretzel dessert tart. It has all the flavors of this classic combo, including a pretzel pie crust, soft cream cheese filling, and jammy strawberries with a sweet and salty pretzel crumble sprinkled on top.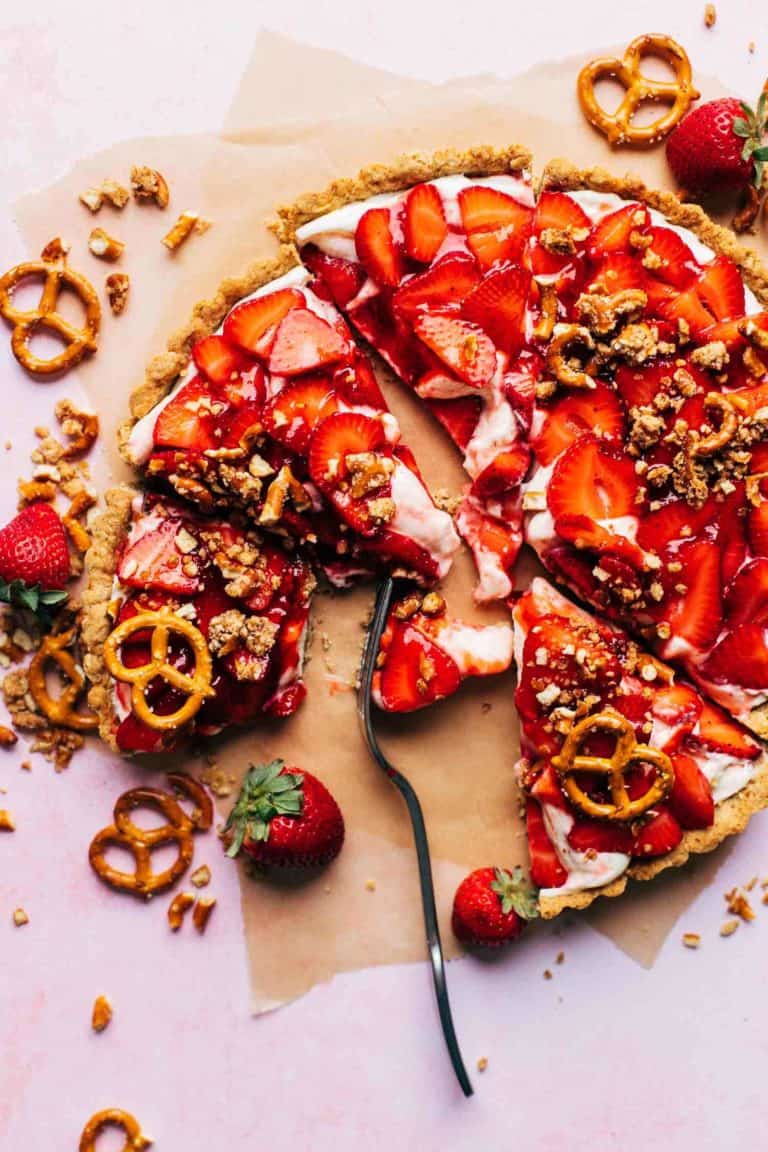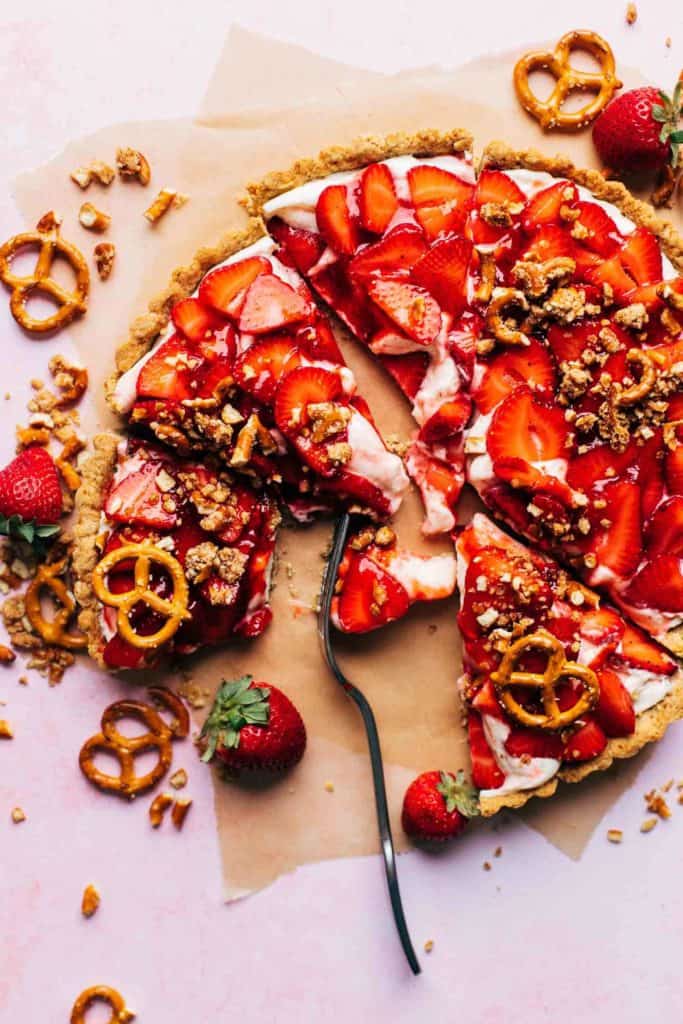 Tips for making a pretzel pie crust
Typical strawberry pretzel salad is made with a crushed pretzel crust that's mixed with butter and sugar. For this recipe, I wanted to make a sturdy base that wouldn't crumble when sliced. So instead, I combined a flaky pie crust with crushed pretzels to create a salty pretzel pie dough. Here's how you make it:
Flour – Make sure you carefully measure the flour. I recommend using a food scale if you can. If you pack the flour into your measuring cup by either scooping directly into the flour bag or shaking down your cup, you'll densify that flour which will give you a super dry dough.
Pretzels – To incorporate this salty snack, the pretzels are finely ground in a food processor. This allows it to blend seamlessly into the pie dough, giving it that salted malted flavor.
Food Processor – Since the pretzels must be finely crushed, I recommend making the dough all in one food processor. It makes the entire process so quick and easy with minimal clean up. Just crush the pretzels in your food processor, measure them to ensure you have the right amount, then return to the food processor with the remaining ingredients.
Cold Ingredients – After the pretzels, flour, salt, and sugar are pulsed together, it's time to add the fats (aka the binders). These are what help hold the dough together. It's important that the butter, shortening, and egg are all cold before mixing into the dough. This will leave you with tiny bits of fat all throughout the dough which create a flaky pie crust. If the ingredients are soft or room temp, the dough will become very sticky and unmanageable.
Chilling – Once formed, the dough will appear very clumpy and somewhat dry. Form the dough into one mass and press it down into a disk. Wrap and chill for 1 hour. This will solidify the fats inside the dough and make it easier to roll out layer on.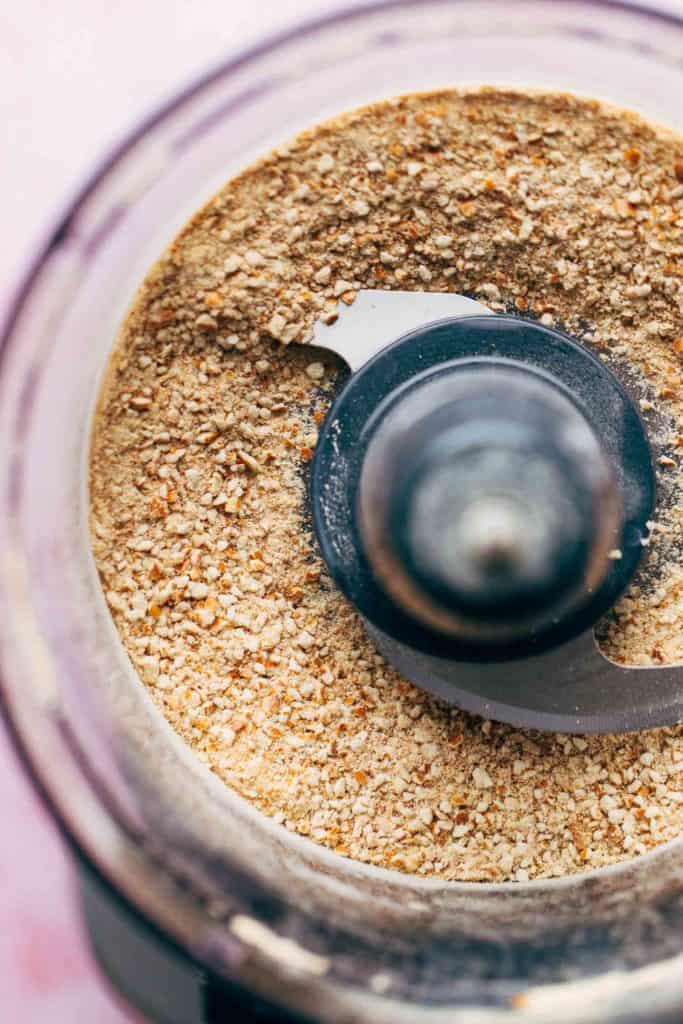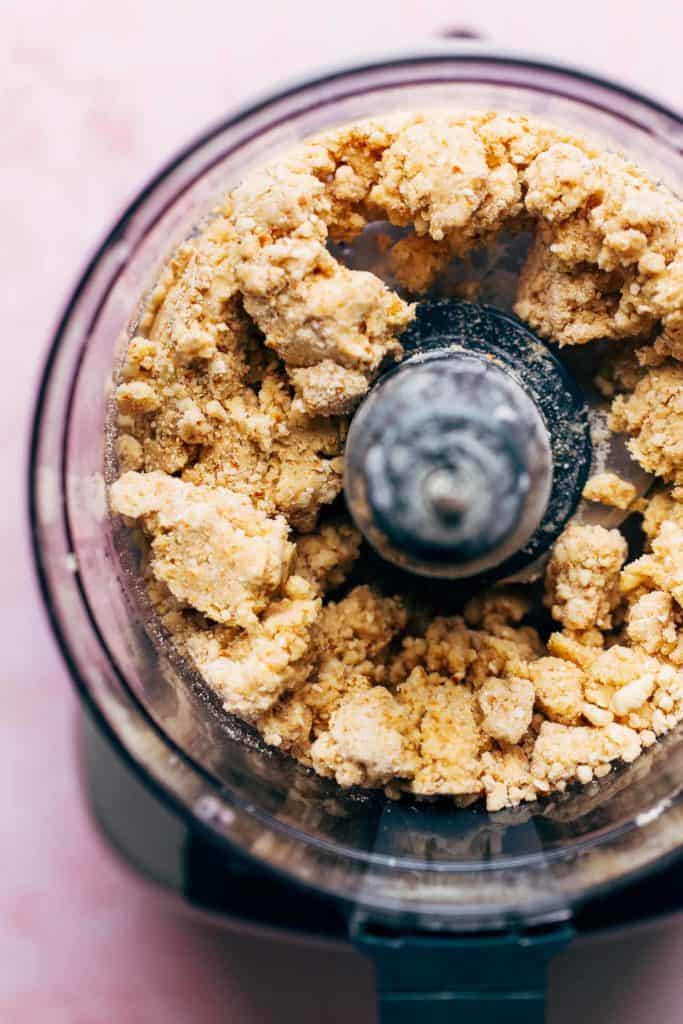 How to bake pie dough in a tart pan
Once the dough has chilled, roll it out to about 1 inch larger than your 9″ tart pan. It will most likely crack, so don't panic! Transfer the dough as best you can to your tart pan, then press the dough in to mend any breaks and cracks. Make sure you pack it in as tight as possible, allow it to reach up the sides of the tart pan.
Now to prevent the tart shell from shrinking or bubbling up in the oven, three things must happen:
Freeze the pie shell once the dough is pressed into the tart pan. Do so while the oven is preheating. This will prevent the shell from heating too quickly.
Blind baking the tart crust with pie weights will prevent the sides and bottom from puffing up. To do this, wrinkle up a sheet of parchment paper and unravel it to fit into the pie dough. Fill the paper with pie weights or dried beans. This weight will stop the dough from moving as it bakes.
Once the dough is mostly baked though, remove the weights and then continue to bake to allow the crust to set on the surface.
Can I make the crust ahead of time?
Yes, you have two options. You can either make the pie dough and chill it for up to 4 days or you can bake the pie shell and chill it for up to 2 days. Just make sure you keep it in an air tight container to prevent it from drying out. Why would you want to chill the shell without the filling? The tart shell will keep its freshness without the filling. Once filled, the moisture from the cream cheese will slowly sink into the crust. So if you plan to make this a few days ahead, I recommend making the crust one day and the fillings the next to ensure freshness.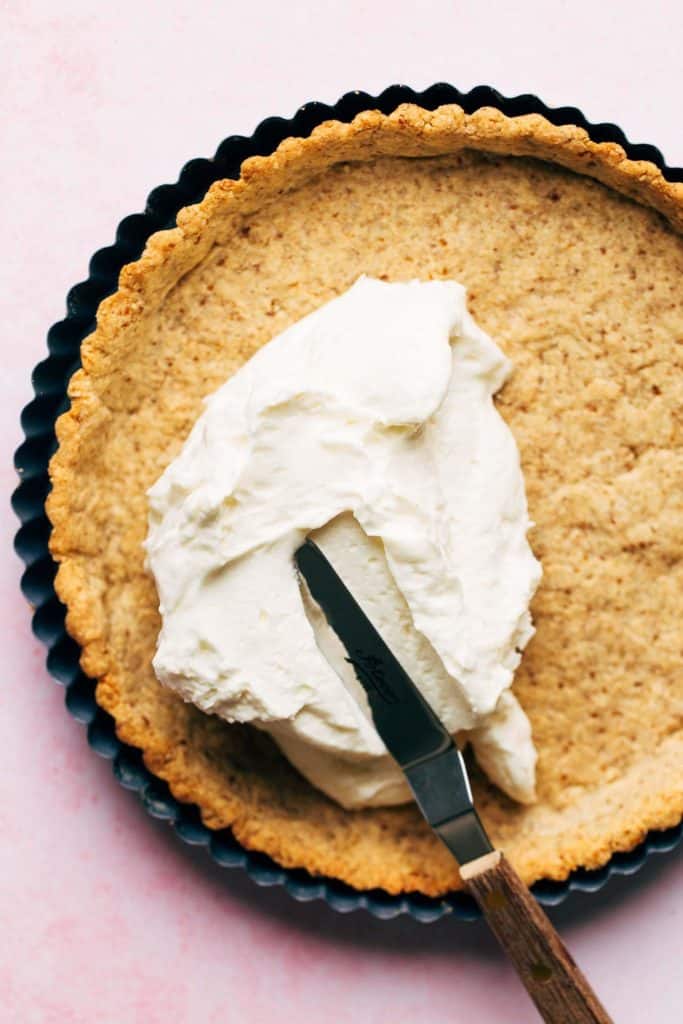 How to make an easy no bake cream cheese filling
Once the shell has baked and cooled, it's time to fill it up. The entire tart is loaded with a delicous and light cream cheese whip. It's comprised of four ingredients:
Cream Cheese
Sugar
Heavy Cream
Vanilla
It's a very easy filling to make, but the ingredients must be at specific temperatures in order to create a smooth consistency. First, the cream cheese must be softened to room temperature. When mixed with the sugar, it must turn out soft and creamy. If it doesn't, the entire filling will be lumpy and clunky.
Next, the heavy cream must be cold. This is added to help lighten the heaviness of the cream cheese. If it's not cold, it will have a hard time fluffing up. It's also important that you slowly pour it in with the mixer running as you don't want to shock the room temperature cream cheese with cold cream. It could cause the cream cheese to curdle.
Otherwise, just keep mixing on high speed until you reach a light but cream consistency. It's the perfect amount for the tart shell so make sure you fill it all the way to the top!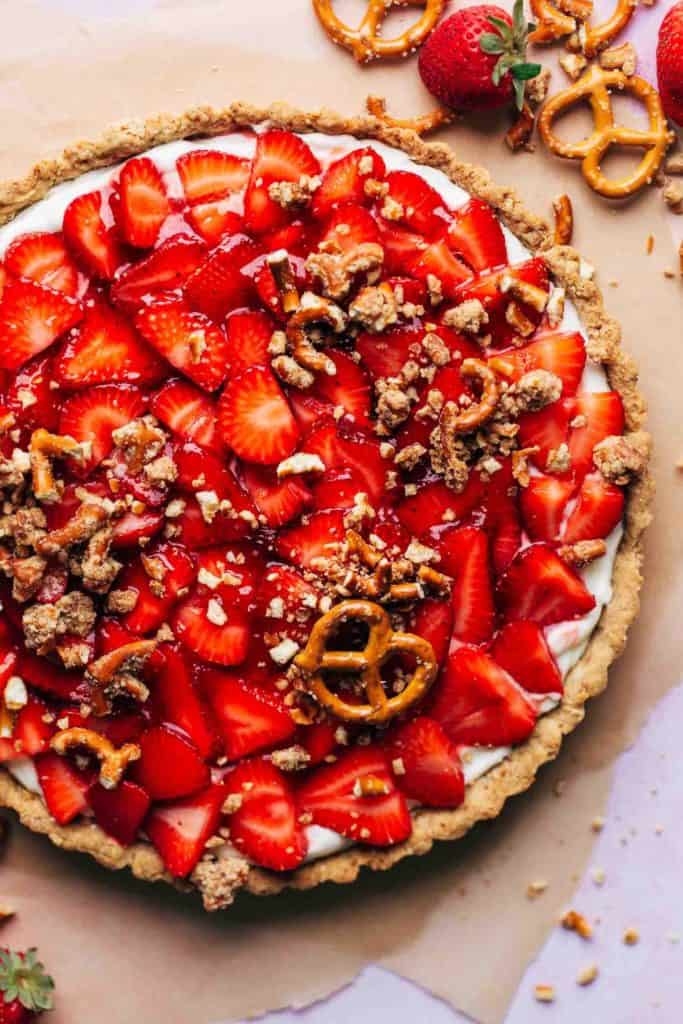 Finishing your strawberry pretzel dessert tart
Once the pretzel pie shell is filled with cream cheese, it's then topped with tender macerated strawberries and chilled to set. Once chilled, the center will firm up but still remain soft and creamy.
My favorite part about this dish is the salty and sweet pretzel crumble. It adds even more pretzel flavor and gives you that crunch that you would get in a traditional strawberry pretzel salad.
To get the most out of it, reserve the crumble and add it on top right before you serve the tart. Otherwise, the crumble will turn a bit soggy as it's chilled with the tart.
How to store strawberry pretzel dessert
Keep the tart in an air tight container in the refrigerator where it will keep for up to 5 days. Again, reserve the topping if you can. If you prefer, you can keep the crumble on the side and it can then be sprinkled on each individual slice as it's served.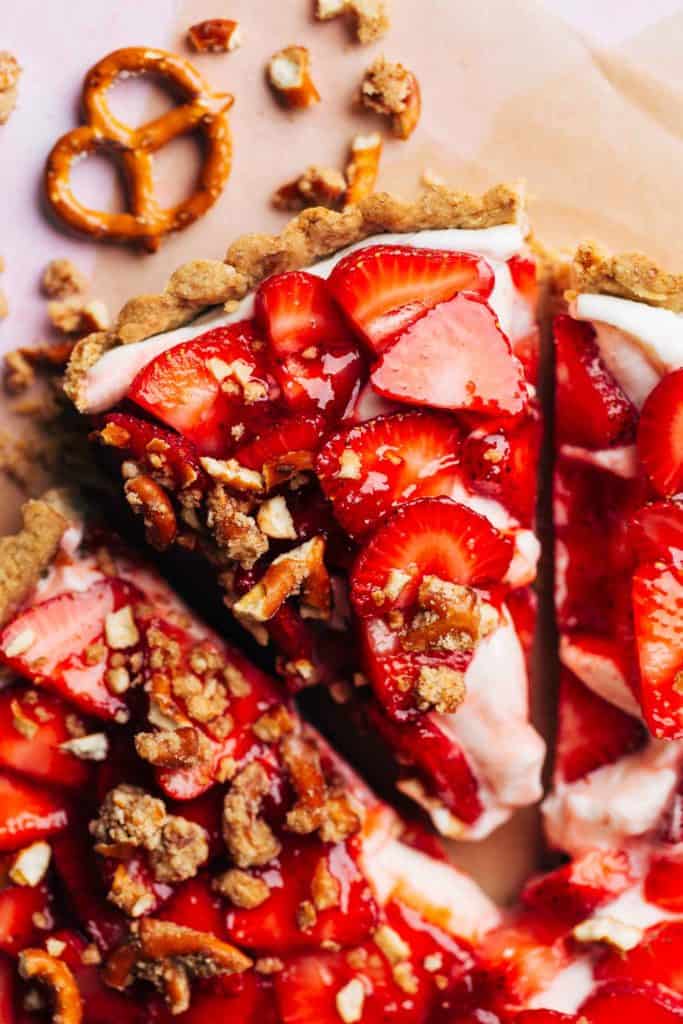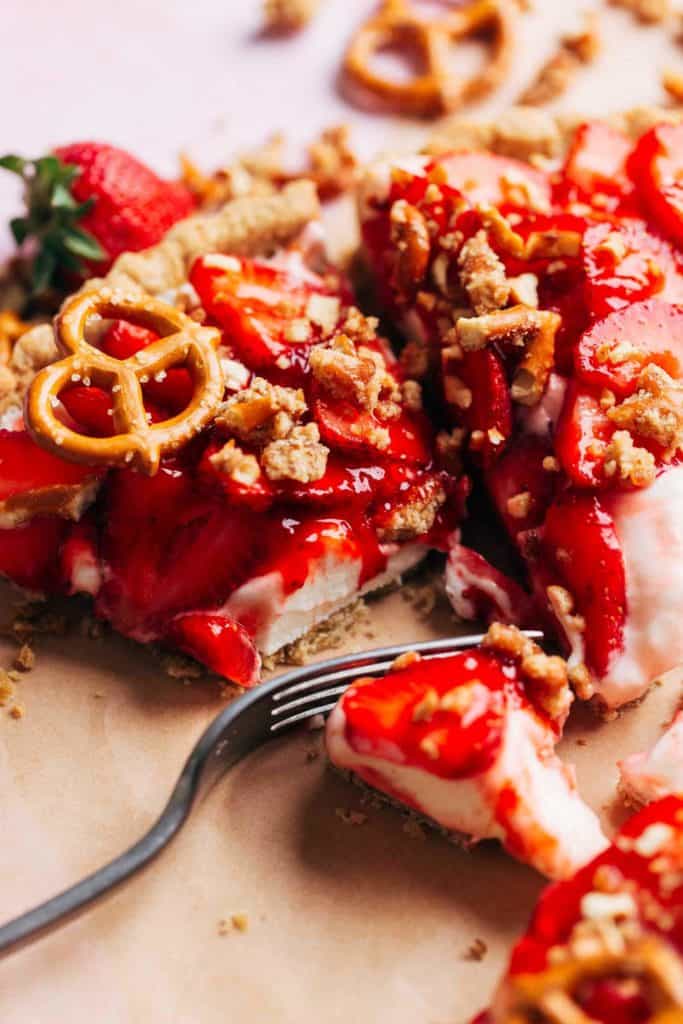 For more strawberry desserts, check out my:
Make sure to tag me @butternutbakery on Instagram and leave a review below if you make this Strawberry Pretzel Tart. To pin this recipe and save it for later, you can use the button on the recipe card, the buttons above or below this post, or on any of the photos above. Happy baking!
Print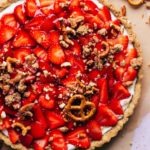 Strawberry Pretzel Dessert Tart
---
Author: Jenna Barnard
Total Time: 1 hour 30 minutes + 3 hours chilling
Yield: 10-12 slices
Description
Everything you love about strawberry pretzel dessert in a tart – a salty pretzel pie curst filled with whipped sweet cream cheese and topped with tender strawberries and a pretzel crumble.
---
Pretzel Pie Crust
1/2 cup (60g) ground pretzels
3/4 cup (95g) all purpose flour
2 tsp granulated sugar
1/2 tsp salt
6 tbsp unsalted butter, cold and cubed
2 tbsp vegetable shortening
1 large egg, chilled
Pretzel Crunch
1 cup (110g) crushed pretzels
3 tbsp unsalted butter
2 tbsp light brown sugar
1 tbsp granulated sugar
2 tbsp all purpose flour
Cream Cheese Filling
8 oz full fat cream cheese, room temp
3/4 cup (150g) granulated sugar
1/2 cup (135ml) heavy whipping cream, chilled
1/2 tsp vanilla extract
Strawberry Topping
1 lb fresh strawberries, cleaned and sliced
1 tbsp granulated sugar
1/4 cup strawberry jam
---
Instructions
Pretzel Pie Crust
Ground the pretzels into a fine powder using a food processor. Measure to ensure you have 1/2 cup, then return to the food processor along with the flour, sugar, and salt. Pulse until well distributed.
Add the butter, shortening, and egg and pulse until it forms a thick dough with large crumbly chunks. 
Turn it out onto a sheet of plastic wrap and form it into a disk. Wrap and chill for 1 hour.
Pretzel Crumble
While that chills, making the pretzel crumble topping. Preheat the oven to 300F and line a medium-sized baking sheet with parchment paper.
Combine all of the ingredients in a bowl and then spread out in an even layer on the baking sheet.
Bake for 15 minutes, tossing halfway. 
Transfer to a bowl to cool. 
Strawberry Topping
Add the strawberries and sugar to a bowl and toss to combine. Let them sit out at room temperature to macerate.
Pretzel Pie Crust
Back to the crust. Take it out of the refrigerator and leave it out for about 15 minutes to soften slightly. Then roll it out into a circle about 10 inches in diameter to fit a 9 inch tart pan. If may crack and crumble which is OK. Carefully transfer the crust to the tart pan. Again, if it breaks apart just mend it back together inside the a tart pan.
Press it tight and then freeze for 10 minutes while you preheat the oven to 350F.
Once chilled, tear off a sheet of parchment paper that's large enough to cover the tart. Scrunch it up into a ball and then unwrap it. This helps loosen it up so you can fit it inside the pie shell. Fill with pie weights (or dried beans) and bake for 20 minutes.
Remove the pie weights and bake for an additional 10 minutes.
While the pie shell cools, make the cream cheese filling.
Cream Cheese Filling
In a bowl using a hand or stand mixer with the whisk attachment, mix together the softened cream cheese and sugar. Once it's smooth and well combined, add the heavy cream and vanilla. 
Crank it up to medium-high speed and whip for about 3-5 minutes or until it becomes smooth and fluffy.
Spread the filling inside the cooled pie shell.
Allow any juices to drain off the strawberries and lay them on top of the cream cheese filling. 
Mix the jam with about 2 teaspoons of water and brush it on top of the strawberries. Heat it up in the microwave for about 15-20 seconds if it's still too thick to brush. 
Chill the tart for 2 hours to set. To serve, top with a layer of the pretzel crunch. Enjoy!
Notes
PIE CRUST – You can also make this a day ahead and let it chill overnight in the refrigerator. Then continue on with the rest of the instructions the following day. 
STORAGE – If you plan to serve the pie the next day, reserve the crumble for the very last minute as it will turn soggy if chilled with the pie. To store the pie, keep in an air tight container in the refrigerator where it will keep for up to 5 days. You can also freeze the pie. Place it into the freezer uncovered for about 1 hour to firm up. Then wrap in plastic wrap and then foil. It will keep for up to 2 months.
Prep Time: 1 hour
Cook Time: 30 minutes
Keywords: strawberry pretzel dessert, strawberry pretzel pie, strawberry pretzel salad, strawberry pie, strawberry tart
Recipe Card powered by