This strawberry pizza is my FAVORITE type of fruit pizza! It's the perfect combination of sweet berries and smooth cream with a buttery shortbread crust, sweet cream cheese spread, fresh strawberries, and a strawberry jelly sauce on top.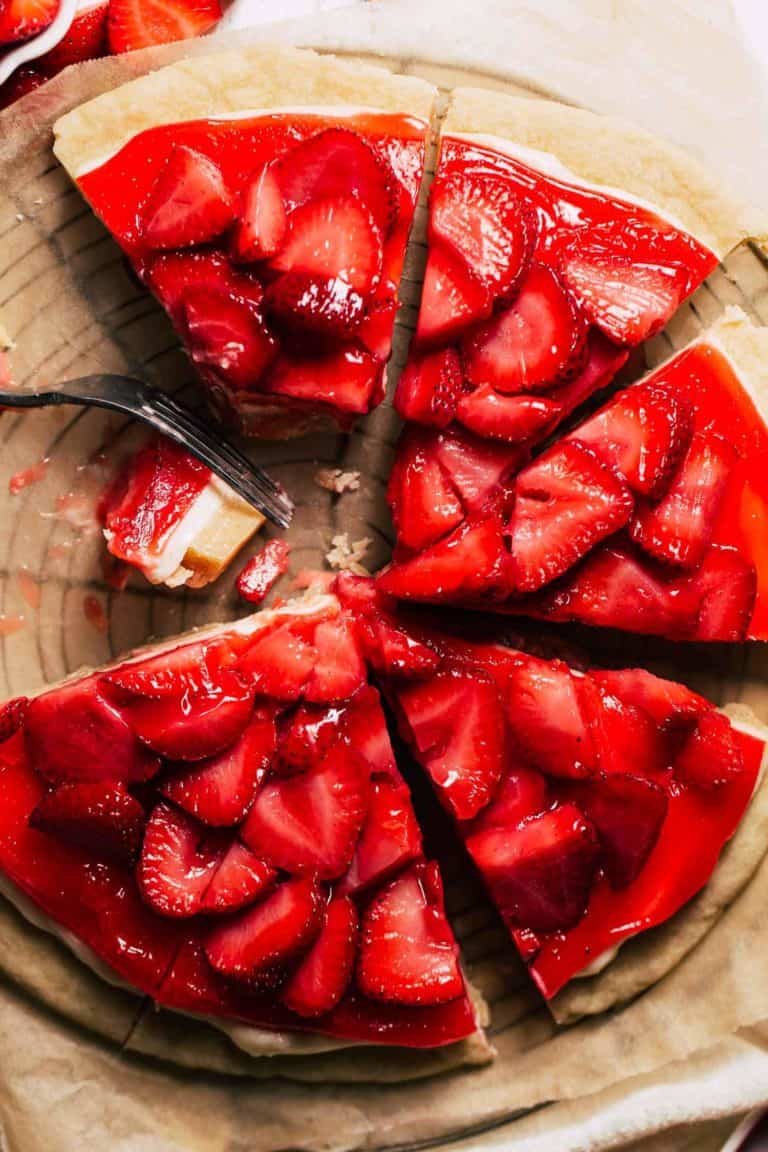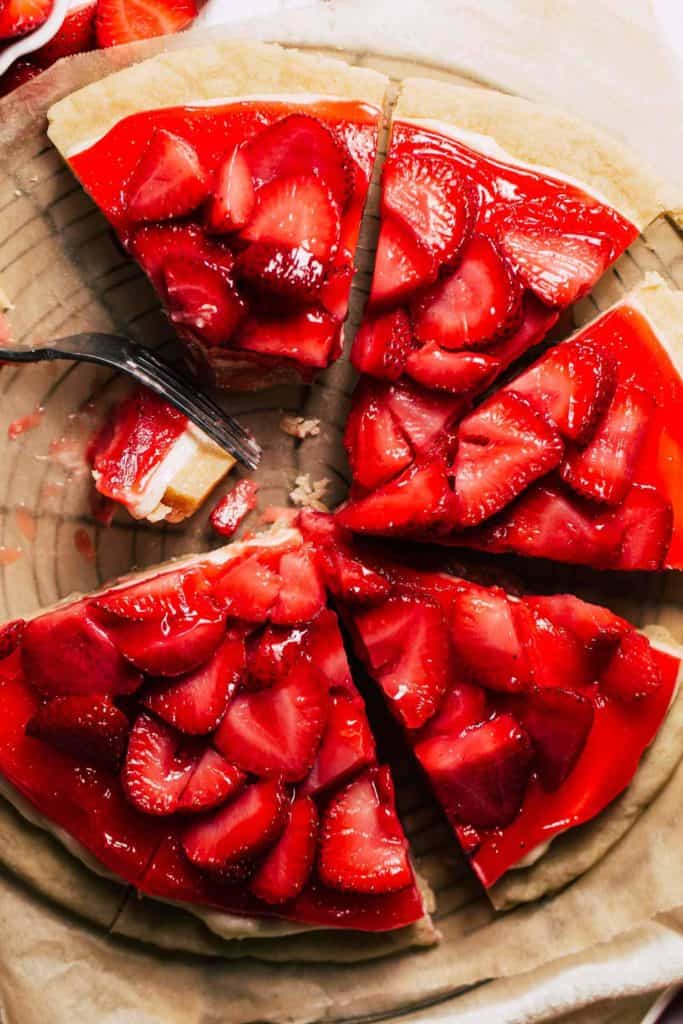 What makes this the BEST fruit pizza?
So much time and love went into developing this recipe because it's something that is very near and dear to me.
Growing up in a very small town in the midwest, my community held 2 major events every year – Fall Festival and Strawberry Festival. Can you guess which one this originates from?
Every Strawberry Festival, the Boy Scouts would make the most amazing strawberry pizzas that they would sell to raise money. Let me tell you, these were the talk of the town EVERY single year and the boys made bank. The pizza slices were always served frozen (which was perfect to beat the June humidity), and they had a cookie-like shortbread crust, sweet cream cheese spread, strawberry slices, and strawberry jello to encase the berries.
I should also mention that this recipe was top secret. Barely anyone had it and if they did, they were very hush hush about sharing it. Many people would go as far as to buy a few full size pizzas just to keep in their freezers year round!
So after lots of trial and error, I think I finally nailed down a recipe that's nearly identical to the original…maybe even better??
My recipe has a buttery shortbread crust made with actual butter for the best flavor (because I believe they used shortening the OG), super smooth and sweetened cream cheese spread, EXTRA strawberry slices, and a glossy strawberry sauce that's thick but not bouncy like jello. It's smooth and sweet and the perfect topping for this strawberry pizza.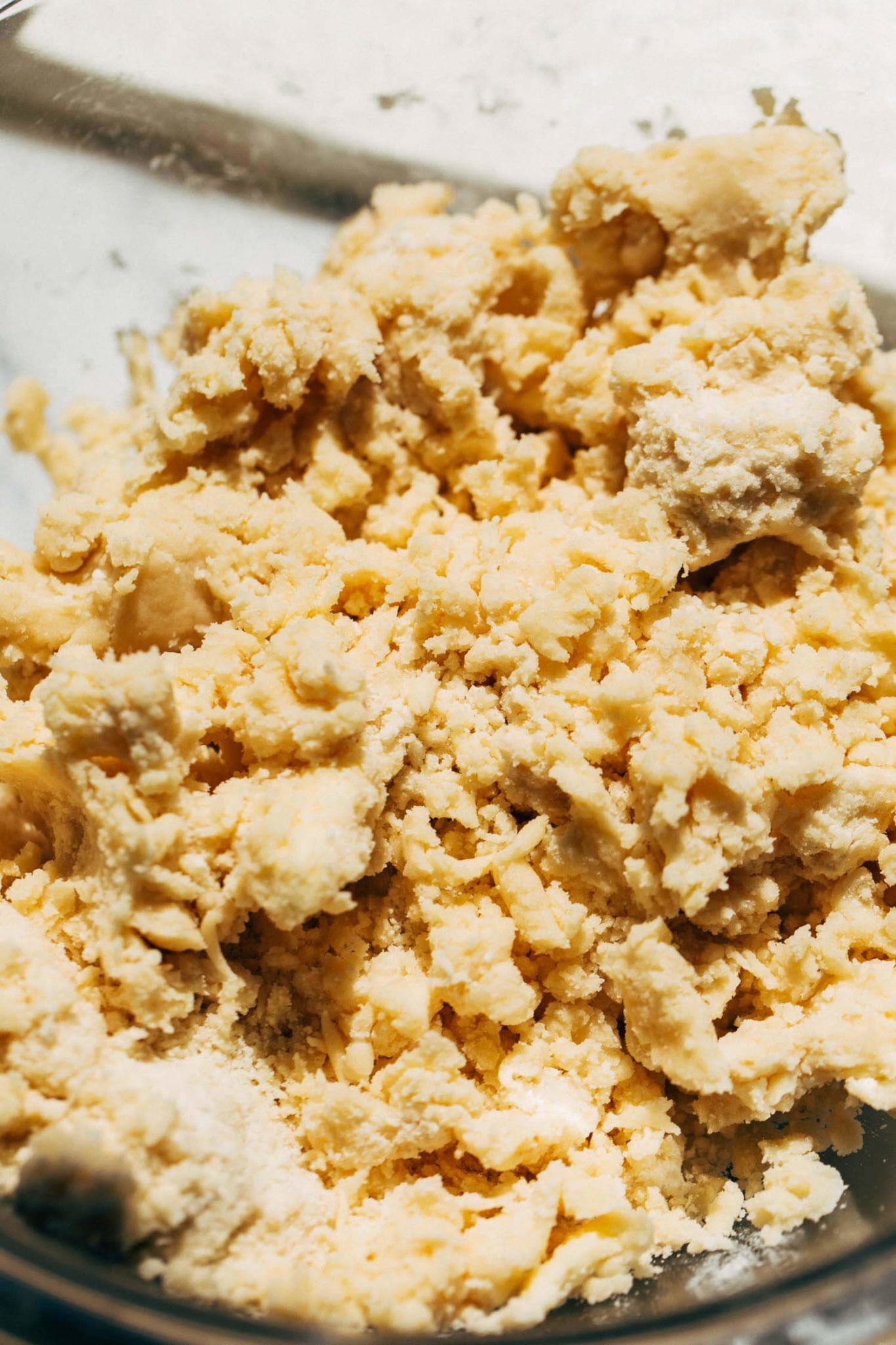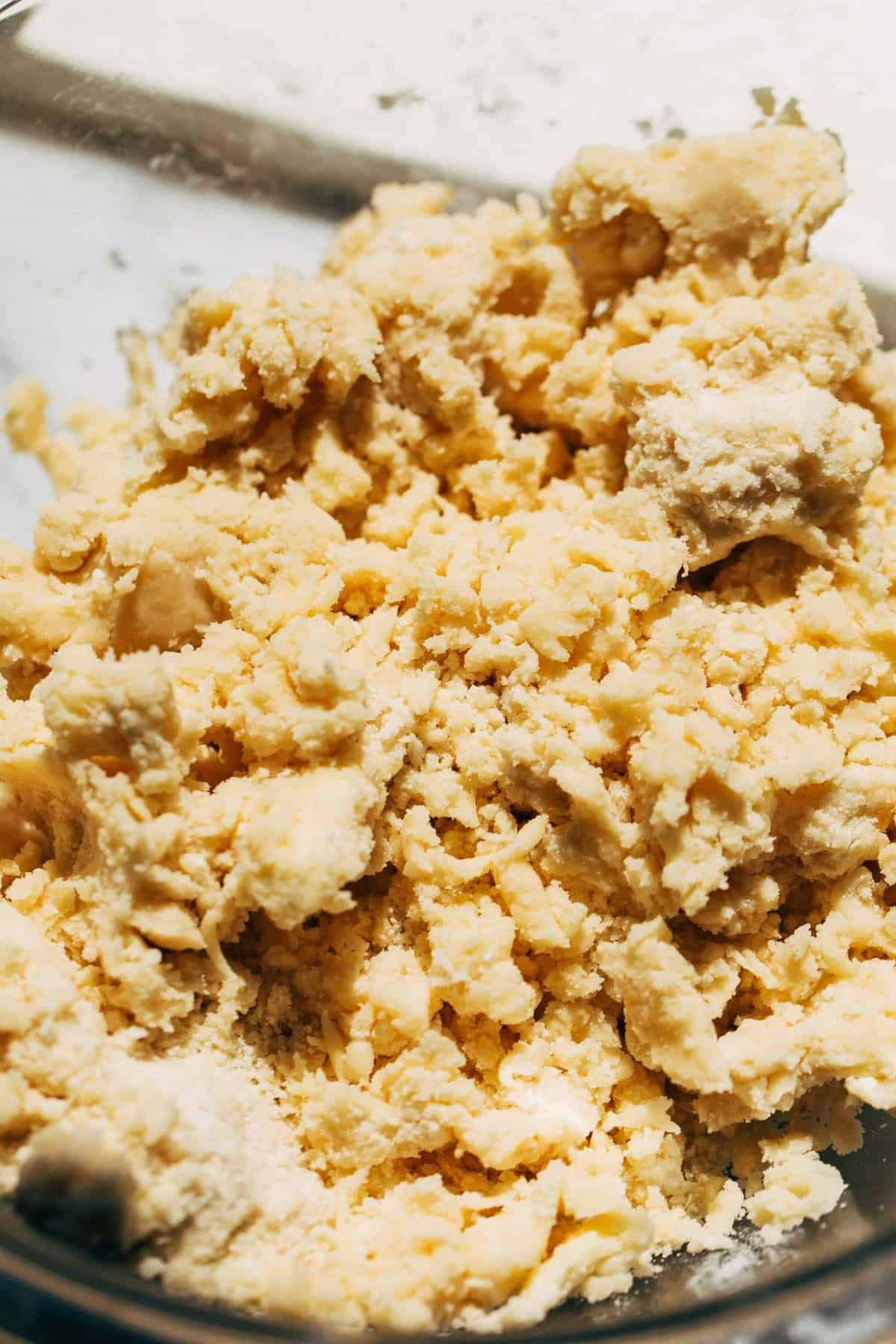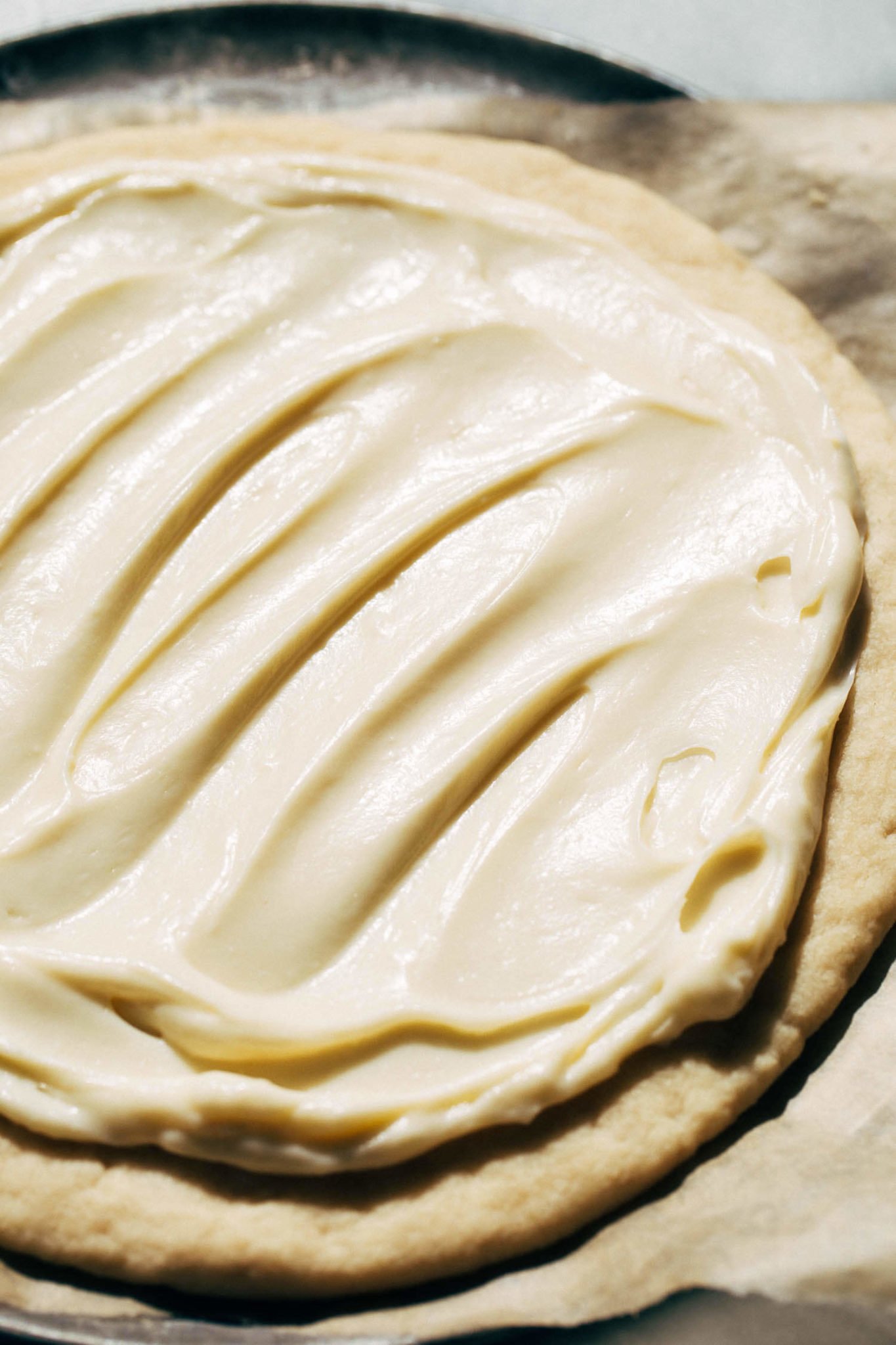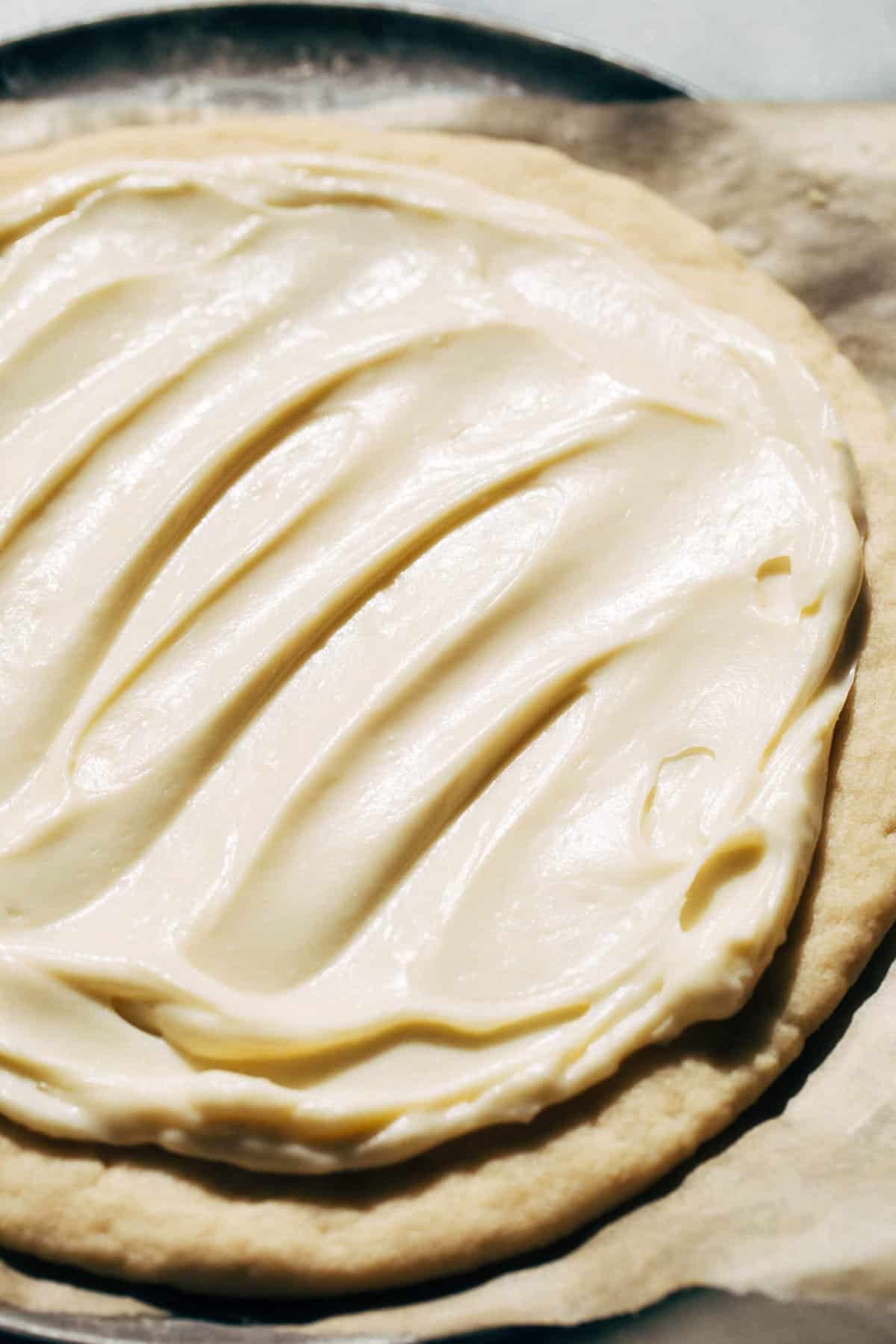 How to make strawberry pizza
This strawberry pizza is comprised of 4 layers:
Shortbread Crust – This is a simple crust made up of 3 ingredients; flour, powdered sugar, and butter. These can either be mashed together by hand or pulsed in a food processor. Either way, it turns into a crumbly dough that's pressed into a round pizza crust and baked to golden perfection.
Cream Cheese Spread – This simple spread is made up of cream cheese, sugar, vanilla, and lemon juice for some extra tang! Using room temperature cream cheese, everything is mixed by hand and spread on top of a completely cooled shortbread crust. It's important that the crust is cooled otherwise the cream cheese will melt!
Strawberry Sauce – This is a unique component of this strawberry pizza because it's almost too thick to be a sauce but definitely not jiggly like jello. It's made up of water, sugar, cornstarch, and strawberry jello mix for added flavor and color. Once it's cooled, it turns incredibly thick and spreadable as it's the next layer on top of the cream cheese.
Strawberries – Of course, this isn't a fruit pizza without the fruit! Sliced strawberries are nestled on top of the sauce layer. To lock everything in place, more sauce is brushed on top. It's thinned out with just a bit of water to reach the perfect syrup-like consistency.
After everything has chilled and set together, this pizza is ready to slice and serve!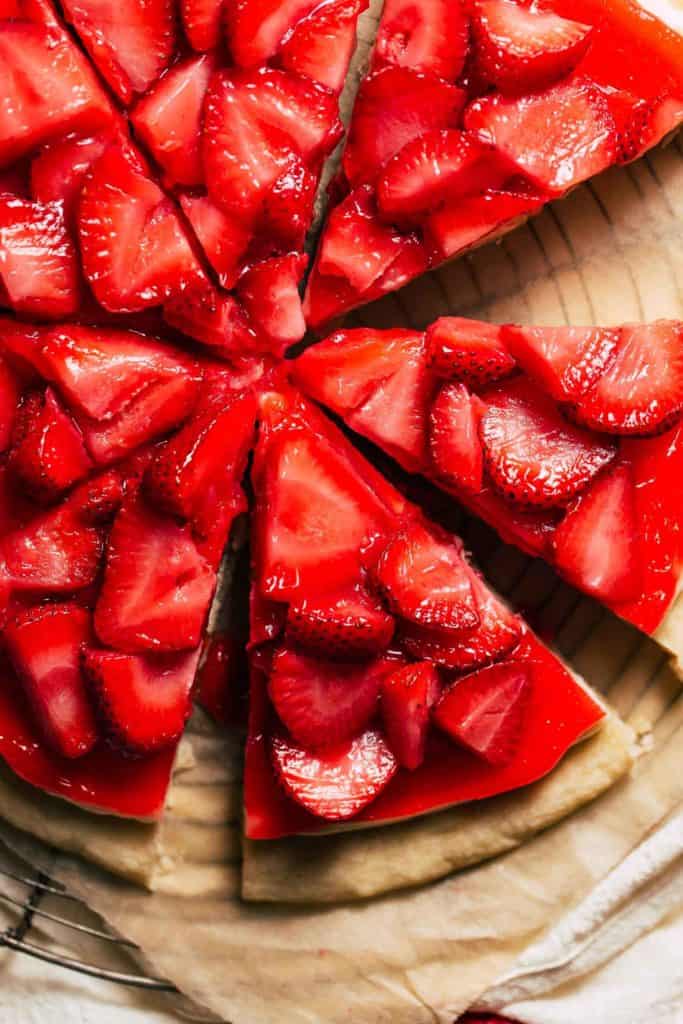 Strawberry Pizza FAQs
Help! Why is my crust dry and crumbly?
The dough for the crust should be fairly crumbly, like pie dough, but still sticky enough to hold its shape when packed together. If it turns TOO crumbly, this could be a flour issue. Always weigh your ingredients for accuracy but if you prefer cups, spoon the flour into the measuring cup and level it off for a true cup of flour. Don't shake it down, pack it in, or scoop directly into the flour as this will leave you with way too much excess flour.
How do you serve strawberry pizza?
This is all about preference! The original Boy Scouts pizza sold at Strawberry Fest was always served frozen, but it can also be served chilled from the refrigerator. Either way, it'll hold its shape!
How do you store strawberry pizza?
If you plan to keep it around for just a couple days, store the pizza in the refrigerator in an air tight container. Otherwise, keep the pizza in the freezer were it will keep for a couple months. Simply let it freeze uncovered until solid, then wrap it in foil and continue to freeze.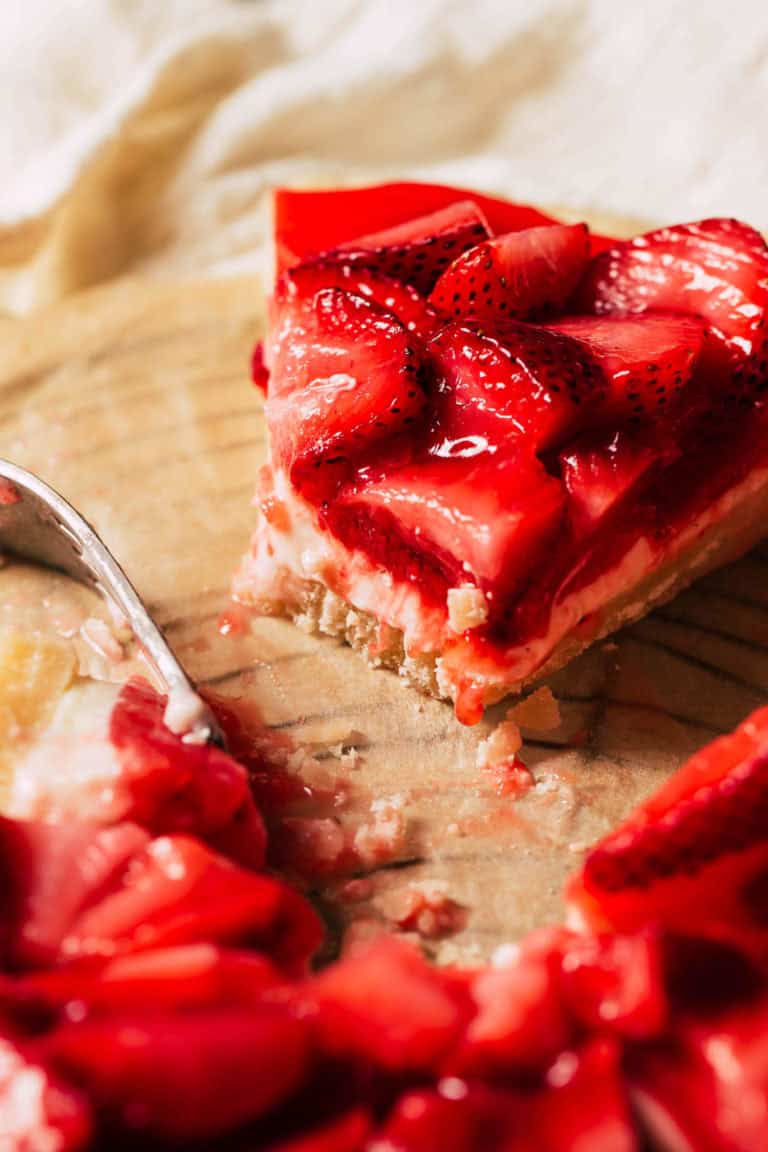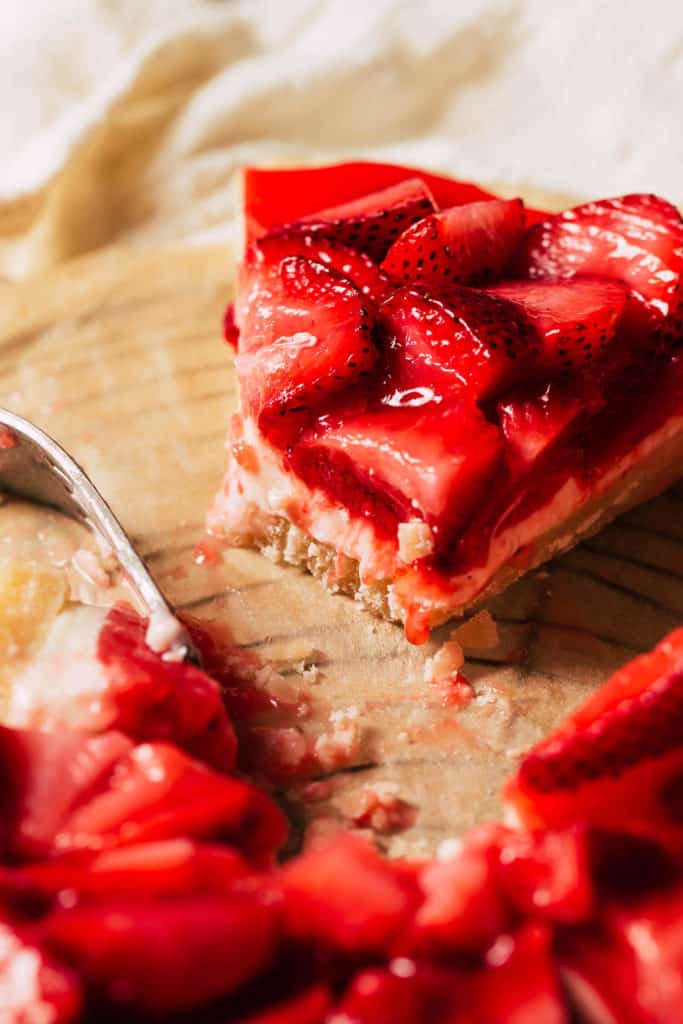 For more strawberry dessert recipes, check out my:
Make sure to tag me @butternutbakery on Instagram or leave a comment below if you make this strawberry pizza. I love seeing my recipes come to life in YOUR kitchen! To pin this recipe and save it for later, you can use the button on the recipe card, the buttons above or below this post, or on any of the photos above. Happy baking!
Watch how to make this strawberry pizza:
Print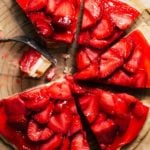 Strawberry Pizza
---
Description
Nothing screams Summer more than strawberry pizza! This recipe has a buttery shortbread crust, sweet cream cheese spread, fresh strawberries, and a jammy strawberry sauce on top. It's the ultimate pairing of berries and cream!
---
Shortbread Crust
1 cup (220g) unsalted butter, cold and cut into cubes
1/2 cup (55g) powdered sugar
2 cups (265g) all-purpose flour
Strawberry Sauce
1 cup (235ml) water
1/2 cup + 2 tbsp (120g) granulated sugar
2 tbsp cornstarch
1/2 3 oz box of strawberry jello mix
3 cups fresh strawberries, sliced (about 1 lb)
Cream Cheese Spread
8 oz full fat cream cheese, room temp
1/2 cup (100g) granulated sugar
1/2 tsp vanilla extract
1/4 tsp fresh lemon juice
---
Instructions
Shortbread Crust
Preheat oven to 350F and line a pizza pan with parchment paper.
Add the cubed butter, sugar, and flour to a large bowl. Combine using a pastry cutter or your hands until it forms uniform small crumbles that are evenly blended (this can also be done in a food processor).
Dump the loose dough out onto the pizza pan and press it down to a 10 inch crust. The dough will be pretty crumbly, so just keep working to pack it down tightly and then shape the edges at the end.
Bake for 10-12 minutes. Let it rest at room temp for about 15 minutes, then transfer to the refrigerator to chill completely. It can also be transferred to the freezer to speed up this process.
Strawberry Sauce
While the crust bakes, make the strawberry sauce.
Place the water, sugar, and cornstarch in a medium saucepan on medium heat. Whisk occasionally but keep an eye on it. It should become glossy and thick when it's done (about 10 minutes).
Remove it from the heat and mix in the strawberry jello mix. Transfer to the refrigerator to chill while we make the cream cheese spread.
Cream Cheese Spread
When the crust has completely cooled, make the cream cheese spread.
Using a fork, mash and stir together the room temperature cream cheese and sugar. Once smooth, mix in the vanilla and lemon juice.
Spread it evenly onto the cooled crust then freeze for about 15 minutes, or until the strawberry sauce is completely cooled.
When the cream cheese is set and the sauce is cooled, spread all but 1/2 cup of the sauce on top of the cream cheese.
Lay the slices of strawberries on top of the sauce. With the reminding 1/2 cup of sauce, mix in 1-2 tbsp of water to thin it out to a thick syrup-like consistency.
Using a pastry brush, brush the thinned sauce on the strawberries making sure to get the sauce into all the gaps and crevasses.
Chill the pizza in the refrigerator for about 2 hours or until the sauce has set. It can also be frozen if you prefer to eat it that way. Then slice and enjoy!
Equipment
Prep Time: 40 minutes
Cooling Time: 2 hours
Cook Time: 20 minutes
Category: Dessert
Method: Baking
Cuisine: American
Keywords: strawberry pizza, summer recipes, strawberry recipes, strawberry pizza recipe, fruit pizza, fruit pizza recipe, strawberry fruit pizza
Recipe Card powered by