This double chocolate cream pie is easily one of my favorite recipes I've made! Not only is it so easy to make, but the textures and flavors are irresistible. With a chocolate cookie crust, creamy chocolate pudding filling, and fluffy chocolate mousse topping, this pie should really be called a TRIPLE chocolate cream pie. It's also very easy to make gluten free if needed!
This post is sponsored by SunButter and all thoughts and opinions are my own. Thank you for supporting the brands that make Butternut Bakery possible!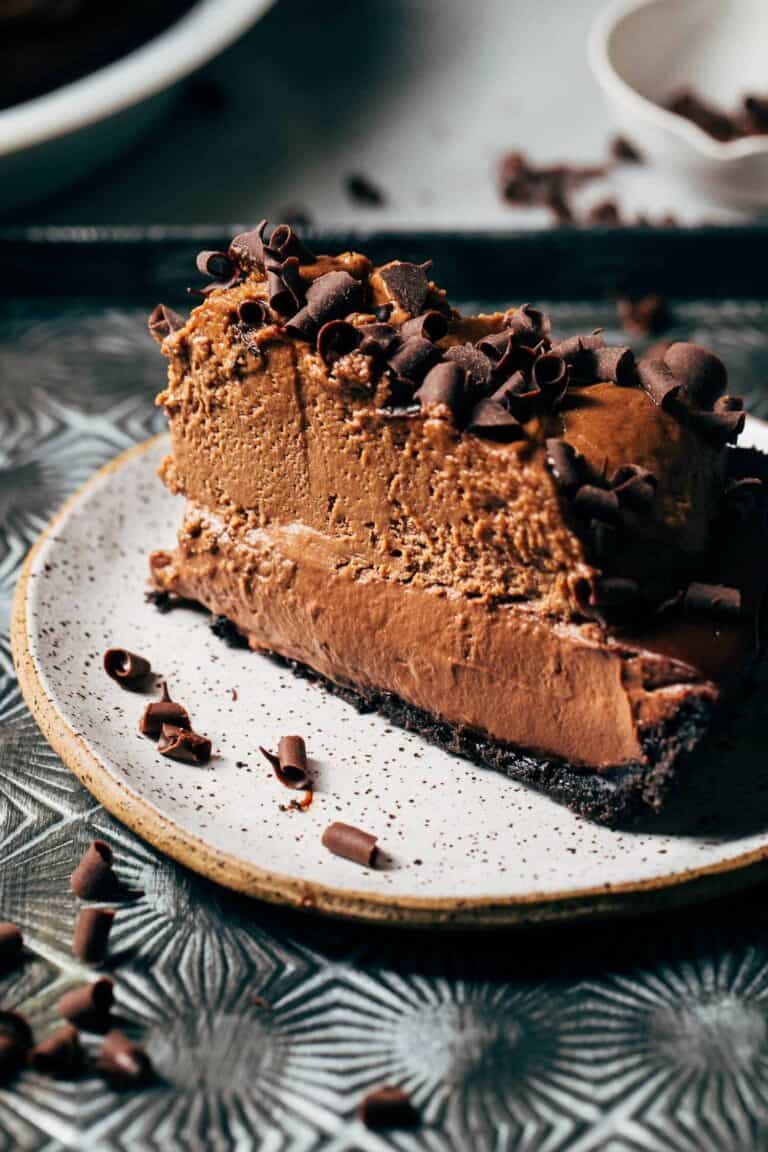 What makes this the BEST chocolate cream pie?
Hello?? Double the chocolate?? This chocolate cream pie is loaded up with chocolate at every layer to appease any chocolate lover.
Layer 1: Chocolate Cookie Crust – This is made with just two ingredients: chocolate sandwich cookies and butter. Once baked, it forms a buttery and sturdy crust to hold our pie filling. Plus it's very easy to make gluten free by substituting gluten free sandwich cookies!
Layer 2: Chocolate Pudding – This chocolate pudding is so rich and creamy and is perfectly balanced with both dark and milk chocolate. Plus, it's eggless!
Layer 3: Chocolate Mousse – Inspired by easy peanut butter mousse, this chocolate mousse is made with Chocolate SunButter. It adds a light chocolate flavor that pairs perfectly with the rich chocolate pudding. Chocolate SunButter basically does all the work for us with this layer.
When all three are brought together, it creates a heavenly chocolate pie that is piled high with different levels of chocolate in every bite. There's definitely a reason why this is one of the best recipes I've made to date!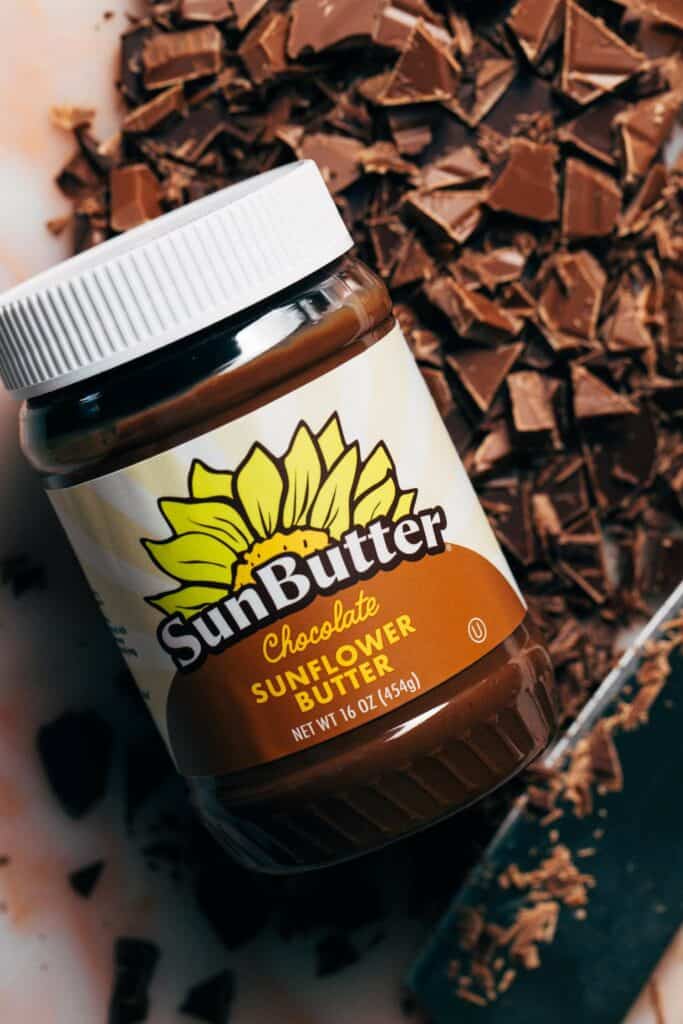 Tips for Making Silky Smooth Chocolate Cream Pie Filling
This section is going to be short and sweet because making this pudding is incredibly easy, especially because there are no eggs involved! Here is what you need to know:
Milk & Cream – Slowly pour in the milk and cream as you whisk. This will prevent the sugar and cocoa powder from lumping up.
Cocoa Powder – This recipe uses standard unsweetened cocoa powder but feel free to use dutch process if that's all you have on hand.
Whisking – Continuously whisk the heated sugar and milk mixture. This will prevent any scorching at the bottom of the pot.
Heating – Pull the pudding off of the burner after it has bubbled for about 30 seconds and thickened into a slightly thinner-than-pudding consistency (it will thicken as it chills).
Chocolate – I suggest using really good chocolate as it provides a lot of the flavor. Go for a 70% chocolate bar as well as a milk chocolate bar. Avoid chips if you can.
Pouring – The pudding might overtake the crust just a bit but that's perfectly fine. The more filling the better!
How to Make Easy Chocolate Mousse
The mousse layer is really quick to make and only requires 5 ingredients:
Cream Cheese
Powdered Sugar
Vanilla
Heavy Whipping Cream
First, heavy cream is whipped to stiff peaks and transferred to another bowl. This can be done with a hand or stand mixer with the whisk attachment.
To the same bowl (no need to clean it), room temperature cream cheese and Chocolate SunButter are mixed until combined. The Chocolate SunButter is providing all of the flavor as well as stability so it makes this mousse super easy!
After the vanilla and powdered sugar are mixed in, the mousse will look very thick and dry. This is when the whipped cream comes in.
Half of the whipped cream is folded into the mousse to help thin it out. To fold, use a rubber spatula and gently fold the mousse in on itself. Swipe around the bowl and through until most of the whipped cream is incorporated.
Then, the rest of the whipped cream is folded in. By now, the mousse should be light and fluffy with a pale chocolate color.
The mousse is piled high on top of the chocolate pudding filling and garnished with chocolate curls!
Chocolate Cream Pie FAQs
Can chocolate cream pie be made gluten free?
Sure! Just substitute gluten free sandwich cookies for the crust and the rest of the pie is naturally gluten free.
Can chocolate cream pie be made dairy free?
Yes. First substitute the butter for a plant-based butter. For the chocolate pudding, substitute all of the milk and cream for equal parts full fat coconut milk. You can also sub in all dark chocolate if you can't find a dairy free milk chocolate. As for the mousse, use dairy free alternatives for both the heavy cream and cream cheese (there are a few great ones on the market).
How do you store chocolate cream pie?
The pie must chill uncovered overnight in the refrigerator to set. Once it's set, keep the pie in an air tight container in the refrigerator.
How long does chocolate cream pie keep?
In the refrigerator, this double chocolate cream pie can keep for about 5-7 days.
When is the best time to serve chocolate cream pie?
It is served chilled after it has set overnight. It's a great pie to make the day before an event!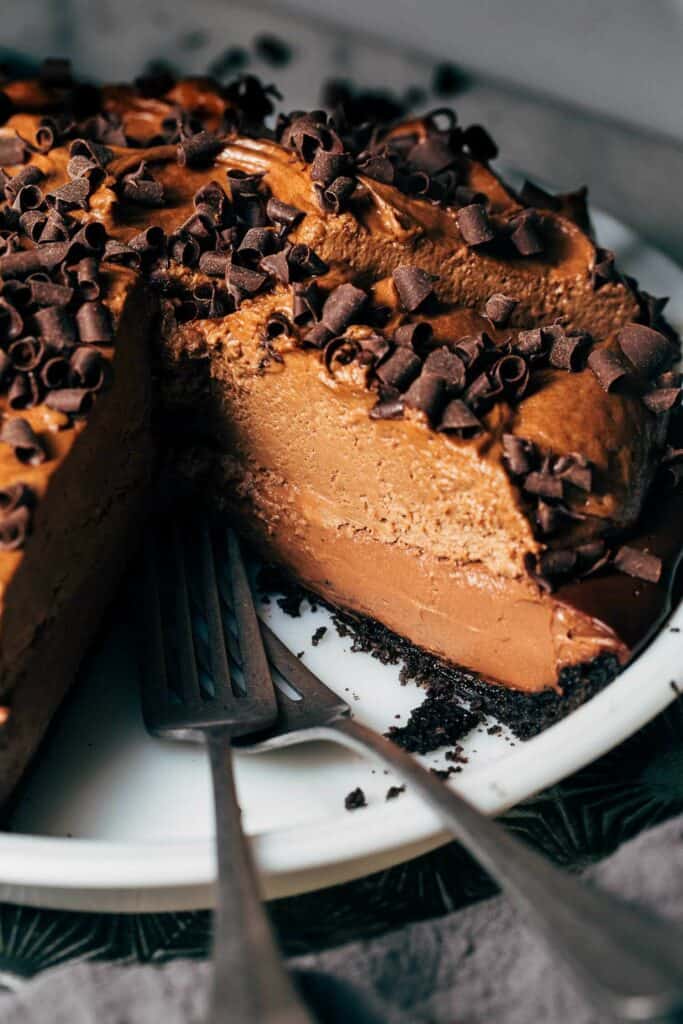 For more delicious chocolate dessert recipes, check out my:
Make sure to tag me @butternutbakery on Instagram and comment below if you make this chocolate cream pie. To pin this recipe and save it for later, you can use the button on the recipe card or on any of the photos above. Happy baking!
Print
Double Chocolate Cream Pie
---
Author: Jenna Barnard
Total Time: 55 minutes + overnight chill
Yield: 8-10 servings
Diet: Gluten Free
Description
This incredibly rich chocolate cream pie is made with a chocolate cookie crust, eggless chocolate pudding filling, and a fluffy chocolate mousse mound on top. My friends and family absolutely LOVE this pie and I know yours will too!
---
Chocolate Crust
20 (8oz) chocolate sandwich cookies (regular or gluten free)
4 tbsp unsalted butter, melted
Chocolate Cream Pie Filling
1/2 cup (100g) granulated sugar
1/4 cup (32g) cornstarch
1/4 cup (25g) regular unsweetened cocoa powder
1/4 tsp kosher salt
2 cups (480g) whole milk
1 cup (240g) heavy cream
4 oz 70% dark chocolate, chopped
2 oz milk chocolate, chopped
2 tbsp unsalted butter
1 tsp vanilla extract
Chocolate Mousse
1 cup (240g) heavy cream
1 cup (250g) Chocolate SunButter
8oz cream cheese, room temp
1/2 cup (55g) powdered sugar
1 tsp vanilla extract
---
Instructions
Chocolate Crust
Preheat the oven to 350F.
Blitz the cookies in a food processor until they reach a fine crumb consistency.
Mix in the melted butter and then dump the mixture into a 9″ pie dish. 
Press the crust into the bottom and sides of the pan, reaching as far up as the crust can go. This pie makes a lot of filling, so it helps to have tall sides.
Bake the crust for 10 minutes, then use the back of a spoon to press down any bits that may have puffed up while baking. Also turn off the oven as we will no longer need it.
Chocolate Cream Pie Filling
In a medium saucepan, whisk together the sugar, cornstarch, cocoa powder, and salt.
Slowly pour in the milk and cream as you whisk.
Once incorporated, place the saucepan over medium heat. Whisk continuously until the mixture starts to bubble. Allow to bubble for 30 seconds as the pudding thickens. Remove from heat. (This step should take about 8-10 minutes on a gas stove top).
Off heat, whisk in the chopped chocolate followed by the butter and vanilla.
Pour the pudding into the crust (it might overtake the crust just a bit). Allow the pie to cool at room temperature for about 15 minutes, then transfer to the fridge to chill for 30 minutes uncovered.
Chocolate Mousse
After those 30 minutes, make the mousse.
In a large bowl using a hand or stand mixer with the paddle attachment, whip the heavy cream until it reaches stiff peaks. 
Scoop the whipped cream into a separate bowl.
To the original mixing bowl (no need to clean it), add the cream cheese and Chocolate SunButter. Mix until combined.
Now mix in the powdered sugar and vanilla. The mixture should turn very thick and somewhat dry.
Scoop in half of the whipped cream and use a rubber spatula to fold the mousse. 
Once the heavy cream is almost all incorporated, scoop in the rest of the whipped cream and fold until everything is well combined and the mousse reaches a pale chocolate color.
Dollop the mousse on top of the chocolate pudding (careful as the pudding will still be soft) and use the back of a spoon to make little swooping swirls. 
Sprinkle with chocolate curls and chill the pie uncovered overnight.
The next day, allow the pie to sit at room temperature for about 30 minutes. Then slice and enjoy!
Equipment
Prep Time: 45 minutes
Chill Time: Overnight
Cook Time: 10 minutes
Category: Dessert
Method: Baking
Cuisine: American
Keywords: chocolate cream pie, chocolate cream pie recipe, easy chocolate cream pie, double chocolate cream pie
Recipe Card powered by