If you're someone who craves a little something sweet in the afternoon, or just 24/7 like I do, these crunchy peanut butter energy balls are the perfect snack. Made with filling complex carbs, healthy fats, and natural sweeteners, they're a guilt-free treat that will satisfy any sweet tooth.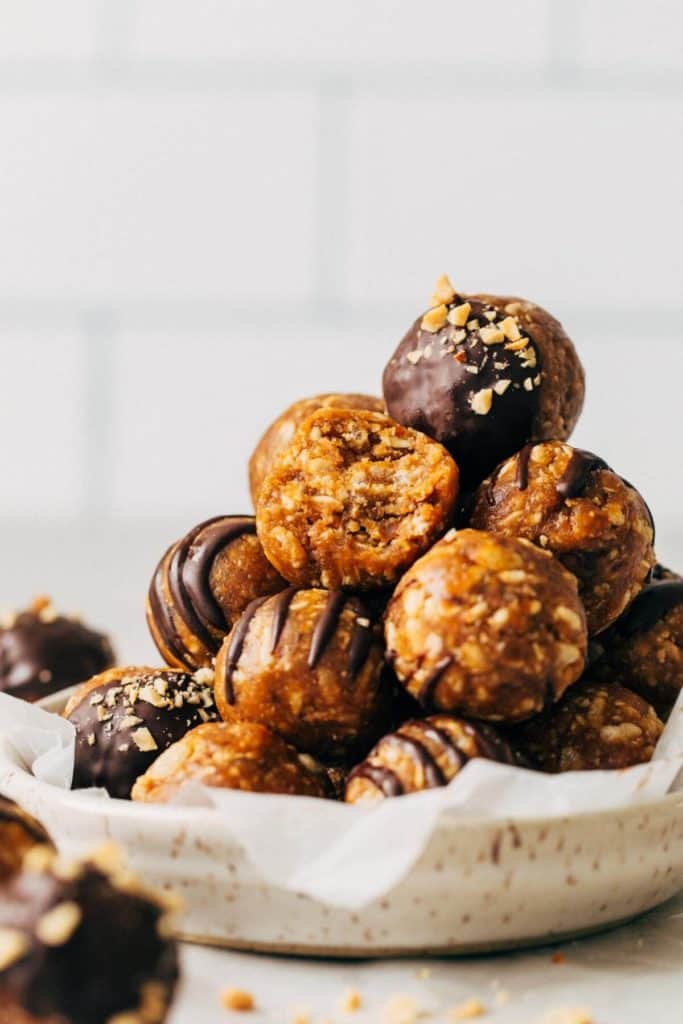 What gives these peanut butter energy balls their crunch?
I love energy bites because it always feels like I'm eating something indulgent but without the guilt. They're made with clean ingredients that help fuel your day rather than give you that late afternoon slump.
But most of the time, I find energy bites all have the same texture – smooth, creamy, and slightly chewy. There's absolutely nothing wrong with that, but I wanted to break up the monotony and throw in some texture and CRUNCH.
Each bite of these energy balls is so satisfying. You get the creaminess from the peanut butter, the chewiness from the oats, and now a hearty crunch from puffed brown rice cereal. Yep, just like chocolate crunch bars.
The puffed brown rice cereal not only adds that textural bite, but it also adds volume to these energy balls so it feels like you're eating even more.
And to ensure these bites remain healthy and gluten free, BROWN puffed rice cereal is key. You can find it in just about any health food store or on Amazon. But if you can't get your hands on it, you can opt for regular puffed rice cereal if you aren't gluten free. Otherwise, sub in more oats plus a couple tablespoons of chia seeds. These will help provide some crunch.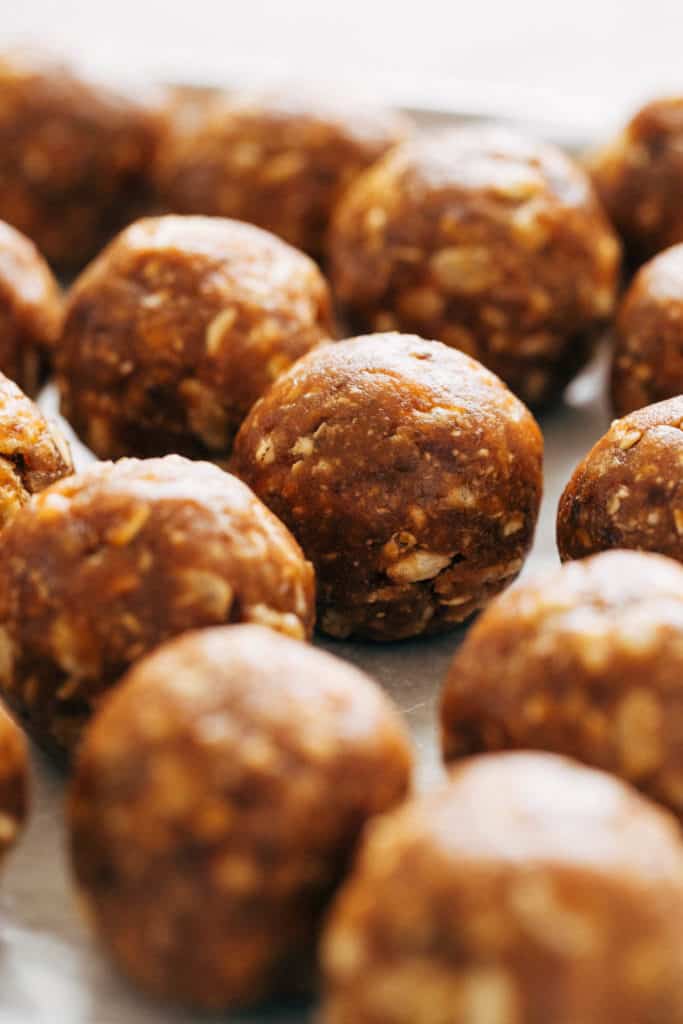 What makes these energy bites healthy?
Energy bites may be small, but they can be so satisfying and filling. When they're made with whole ingredients, the fats and fiber help keep you full all afternoon. Here's what I packed into my peanut butter energy balls to make them tasty and filling:
Old Fashioned Rolled Oats – Oats are a great source of vitamins, minerals, and antioxidants. This includes thiamine, magnesium, phosphorus, zinc, manganese, selenium, and iron. All of which are essential for boosting our immune system (I actually attest my good iron levels to my daily bowl of oatmeal!). And because oats are high in fiber, they help you feel fuller for longer and keep you more regular.
Medjool Dates – This little fruit is so sweet that it tastes just like candy. It's a great way to sweeten up a dish while adding fiber, vitamins, and minerals. Some sweet snacks can be loaded with "empty calories" from processed sugar, but the fiber in dates keeps you fuller for longer. And when paired with additional fibrous ingredients, it prevents a sugar spike and crash.
Natural Peanut Butter – I'm not kidding when I say I eat peanut butter (or any other type of nut butter) every single day. But I ALWAYS make sure it's natural and made with JUST peanuts. Conventional peanut butter is typically filled with additional oils and sugars to prevent it from separating in the jar. But you know it's healthy when the nut butter has a pool of oil sitting at the top. This is what will help you feel satisfied for hours after eating your energy bites. It's also a great source of protein, healthy fats, and helps keep your blood sugar stable.
Dark Chocolate – This is an optional addition, but it does add a deep flavor to these energy balls. Dark chocolate is known to be rich in antioxidants which can help prevent heart disease, diabetes, and other common chronic illnesses. But it's important that you find dark chocolate in its strongest form, such as 75%+ intense dark chocolate.
How to make a nut-free version
The main ingredient of these energy bites is peanut butter, giving it a soft and creamy texture. But if you are allergic to nuts, it's very easy to swap it out with either of these options:
Sunflower Seed Butter – Again, make sure this is natural and made with just sunflower seeds. I actually love sunflower seed butter and often use it when I get bored of nut butters. I find it's even creamier than nut butter and has a slightly savory taste.
Almond Butter (if you are not allergic to tree nuts) – This also must be used in its natural form, made with just almonds. It doesn't provide as strong of a flavor, but it will still give you that delicious creamy texture.
How long do energy balls keep?
Store the finished energy balls in an air tight container in the refrigerator. They will keep for up to 10 days. I find around the 6 day mark the rice cereal starts to get a bit more chewy, but still crunchy.
For more healthy recipes, check out my:
Make sure to tag me @butternutbakery on Instagram and comment below if you make these Peanut Butter Energy Balls. To pin this recipe and save it for later, you can use the button on the recipe card or on any of the photos above. Happy baking!
Print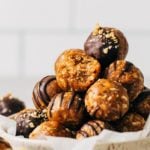 Crunchy Peanut Butter Energy Balls
---
Description
These peanut butter energy bites are made with filling complex carbs, healthy fats, and natural sweeteners. They're the perfect afternoon snack to satisfy your sweet tooth!
---
Peanut Butter Energy Balls
1 cup (100g) old fashioned rolled oats*
1 cup (180g) pitted Medjool dates (roughly 10–12 dates)
1/4 cup (75g) pure maple syrup (or honey if not vegan)
3/4 cup (200g) natural peanut butter
1 tsp vanilla extract
Pinch of salt (only add if using unsalted nut butter)
2 tbsp plant-based milk (any milk will work)
Chocolate and Toppings (optional)
1/4 cup dark chocolate chips (vegan if needed)
1 tsp coconut oil
1/4 cup chopped peanuts
---
Instructions
Add the oats, dates, maple syrup, peanut butter, vanilla, salt, and milk to a food processor and blend into a really thick paste.
Next, add the puffed rice cereal and work it into the peanut butter mixture with your hands. You can either do this inside the food processor container with the blade removed, or transfer the dough to a bowl and work it in there.
Once well distributed, roll the dough into 2 tablespoon sized balls. Place onto a large plate or pan lined with parchment paper if you plan to add the chocolate. Otherwise, just place them into whichever container you plan to store them in. You should end up with about 20-22 energy balls total.
For the chocolate, melt the chocolate chips and coconut oil in a heat safe container in the microwave. Heat in 30 second intervals, mixing between each time, until smooth (it should only take 60 seconds total).
You can either drizzle the chocolate on top or dunk half of each ball in the chocolate. Top with chopped peanuts if desired.
Let the balls chill in the refrigerator for about 20 minutes to set. Then transfer to a storage container and enjoy!
Store the energy balls in the refrigerator where they will keep for up to 10 days.
Notes
OATS – You can also use quick oats, but I recommend old fashioned rolled oats for more texture and chew.
CEREAL – If you can't find this type of cereal, you can also just use more oats. Just know that the cereal is the source of the crunchy texture, so swapping for oats will give you a more chewy energy ball (but still just as delicious).
Nutrition
Serving Size: 2 balls
Calories: 130
Sugar: 15g
Fat: 5g
Carbohydrates: 20g
Protein: 3.6g
Keywords: energy bites, energy balls, peanut butter energy balls
Recipe Card powered by