These peanut butter banana muffins are SO dang good that you would never know they're gluten free, dairy free, and refined sugar free! Using banana, coconut sugar, and honey, these muffins are naturally sweetened but so flavorful. They're also really easy to make and are perfect to keep around as sweet but healthy snack!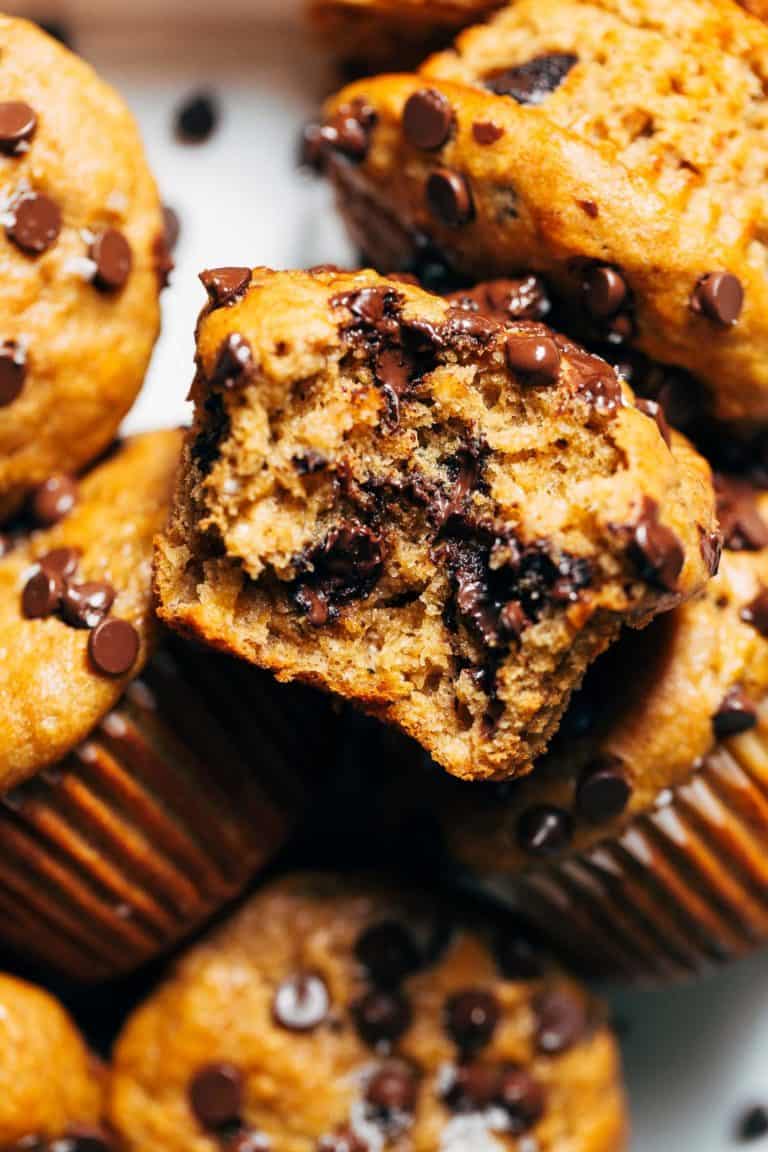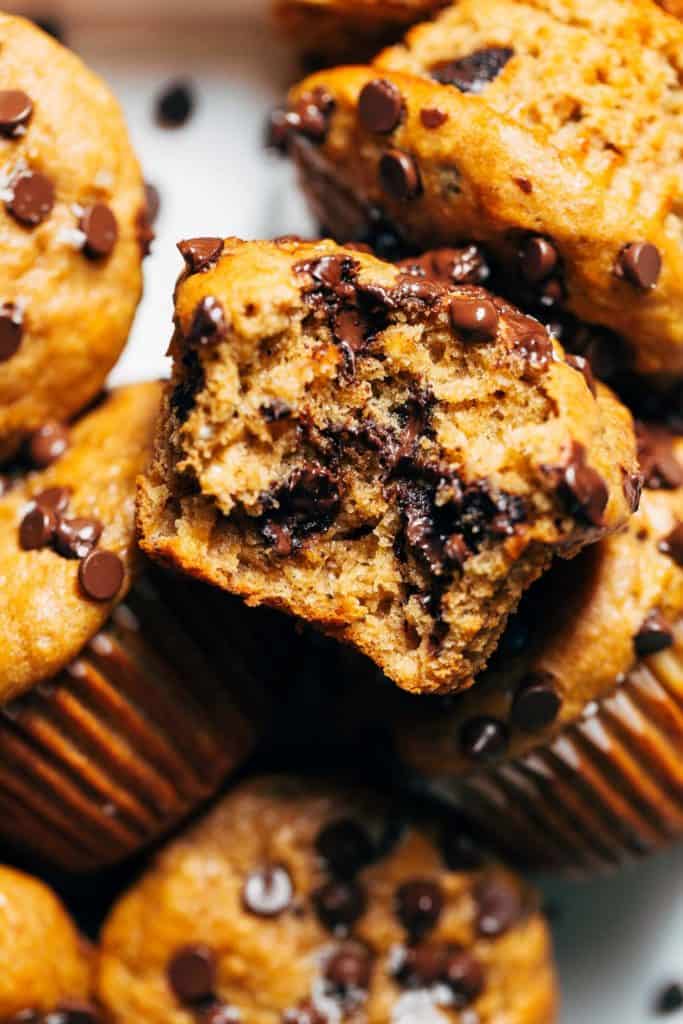 The secret to incredibly moist peanut butter banana muffins
The key to getting moist banana peanut butter muffins is all in the main two ingredients – banana and peanut butter. Of course, the banana is a given because it's known for creating a delicious soft texture in desserts. But it's the quantity in these muffins that matters.
When I first tested this recipe, I added precisely 1 cup of mashed banana. It made a delicious batch of peanut butter banana muffins, but I thought they could still be a bit more moist. So for the second batch, I added a heaping cup of mashed banana which is about 1 cup plus 2 tablespoons. It made a world of a difference!
The texture was much softer and the muffins stayed moist for longer compared to the first batch. They're even on par with my extra extra moist chocolate chip banana bread…which is saying a lot because it's my number one reader favorite recipe!
But let's not forget about to real MVP in these banana muffins. The peanut butter is what really brings this recipe together. It's all about the type of peanut butter because regular Jif or Skippy just isn't going to cut it.
The peanut butter most people are used to is one that holds its shape when scooped it out of the jar. In baking, this type of peanut butter definitely has a time and a place. For example, since the oil content is much lower, it works great in things like cookies, pies, bars…basically anything that you wouldn't typically add oil to.
But for these muffins, it's very important to use drippy natural peanut butter made with just peanuts. It helps create a moist muffin because of its smooth texture. Not only that, but the flavor is much stronger so you can definitely taste the peanut butter in this recipe.
Most grocery stores carry this type of nut butter nowadays, just make sure to read the ingredients. It can contain salt as well which, in that case, reduce the salt in this recipe to 1/4 teaspoon.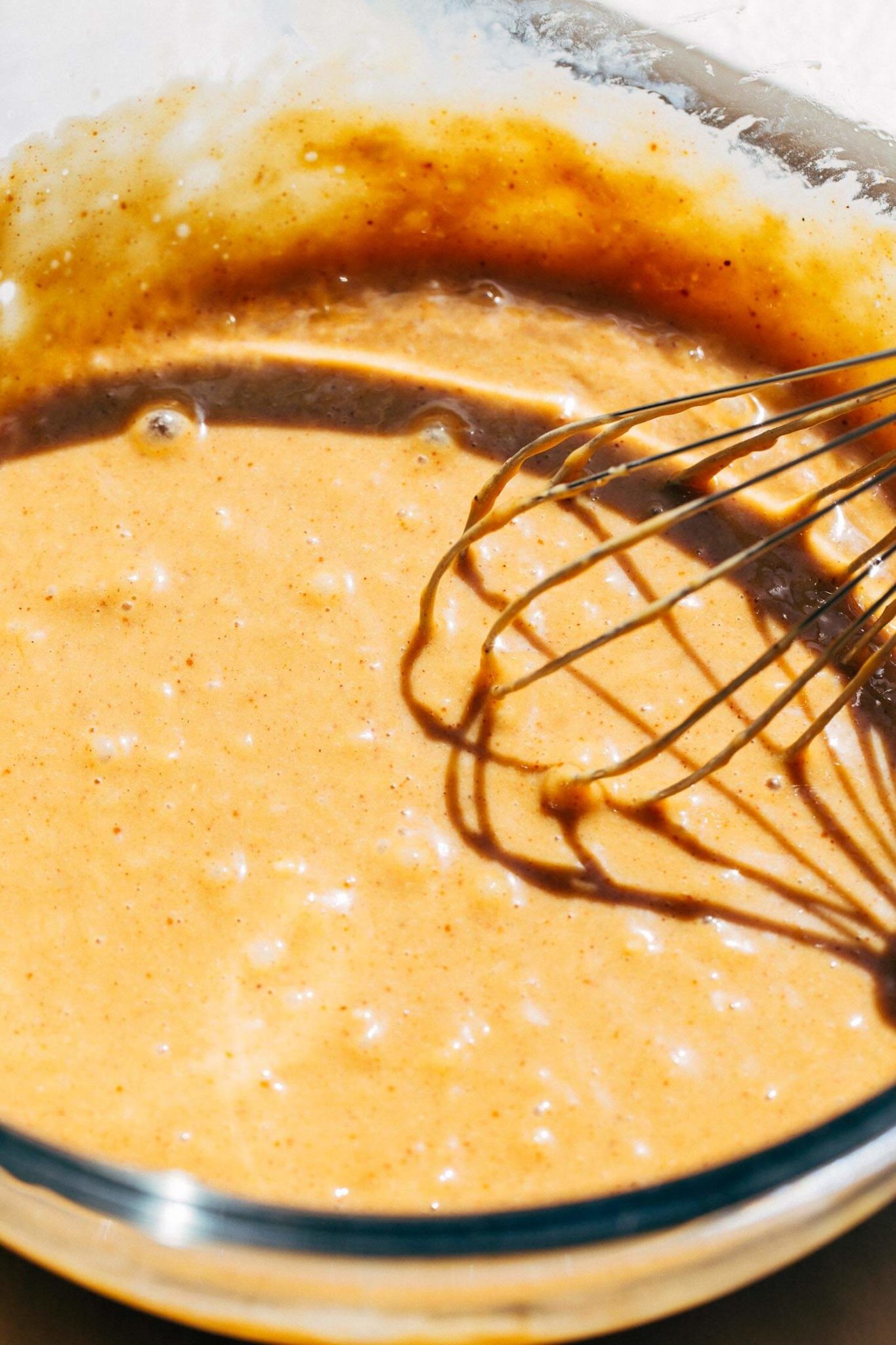 How to make healthy peanut butter banana muffins
Healthy is a relative term but for me, healthy means quality ingredients that don't disrupt my digestion. These muffins are made up of just that!
Natural Peanut Butter – made up of JUST peanuts
Bananas
Honey
Coconut Sugar
Eggs
Gluten Free Flour
Gluten Free Oats
These ingredients are what makes these muffins gluten, dairy, and refined sugar free but still so moist and flavorful!
So instead of sugar, these muffins are sweetened with banana, honey, and coconut sugar. Coconut sugar comes from coconut palm sap which is a natural alternative to refined sugar.
Then in place of butter, peanut butter is used to give these healthy muffins a rich and flavorful consistency.
To be gluten free, gluten free baking flour and oats are used instead. The combination of the two helps mimic the texture of regular flour to the point where you can hardly tell a difference!
How to make peanut butter banana chocolate chip muffins
These muffins are delicious on their own, but they taste even better with chocolate chips! Because what doesn't??
If you love big pockets of melty chocolate, Trader Joe's semisweet chocolate chips are gluten and dairy free and melty BEAUTIFULLY! They're my favorite chocolate chips!
But if you don't have access to a Trader Joe's, Guittard dark chocolate chips are also dairy free and melt so well. Enjoy Life is another option but I find they don't melt AS well. They're still just as tasty though!
For a little extra chocolate, sprinkle the muffins with chocolate chips before baking. I personally prefer mini chocolate chips on top but they can also be topped with regular chocolate chips instead. It's really just an appearance preference!
Last but not least, I highly recommend sprinkling these muffins with flaky sea salt. It's optional, but it really helps bring out the flavors in these peanut butter banana muffins.
How long do peanut butter banana muffins keep?
These muffins will keep for about 5 days in an air tight container at room temperature. I prefer room temp because they keep that same moist and soft texture without having to heat them up.
For even longer, keep them in the fridge for 7-10 days. If you prefer a chilled muffin, then just grab and go. If not, pop them in the microwave for about 10 seconds and they'll be good as new.
Although…these muffins really won't last that long. One bite and everyone is hooked!
For more gluten free banana recipes, check out my:
Make sure to tag me @butternutbakery on Instagram and comment below if you make these Peanut Butter Banana Muffins. To pin this recipe and save it for later, you can use the button on the recipe card, the buttons above or below this post, or on any of the photos above. Happy baking!
Print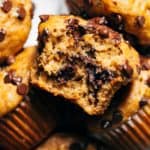 Peanut Butter Banana Muffins
---
Author: Jenna Barnard
Total Time: 35 minutes
Yield: 12 muffins
Diet: Gluten Free
Description
These peanut butter banana muffins are not only incredibly moist, but they're also gluten free, dairy free, and refined sugar free! Although they're so delicious that it's impossible to tell that they're free of anything. These muffins are so easy to make and are perfect to have a round as a sweet snack!
---
---
Instructions
Preheat the oven to 350F and line a cupcake tin with 12 liners.
Whisk together the flour, oats, baking powder, and salt. Set aside.
In a large bowl, mix together the banana, peanut butter, coconut sugar, and honey.
Once smooth, mix in the eggs and vanilla.
Mix in the dry ingredients and then the chocolate chips.
Evenly distribute the batter between the liners, filled almost all the way to the top. Sprinkle on some extra chocolate chips if desired.
Bake for 18-22 minutes or until a toothpick in the center comes out clean.
Let the muffins cool in the tin for about 10 minutes then transfer to a cooling rack. Let them cool to room temperature before eating. Enjoy!
Prep Time: 15 minutes
Cook Time: 20 minutes
Category: Muffins
Method: Baked
Cuisine: American
Keywords: peanut butter banana muffins, banana muffins, gluten free muffins, dairy free muffins, banana peanut butter muffins, healthy muffins, healthy muffin recipe, peanut butter banana chocolate chip muffins
Recipe Card powered by