These miso chocolate chip cookies will blow your mind! Made with rich brown butter, melty dark chocolate, and umami miso, they have a unique flavor that's slightly savory and so irresistible. They also have the perfect crisp and chewy edges with a tender and gooey center. If you've never baked with miso, this is the recipe to start with!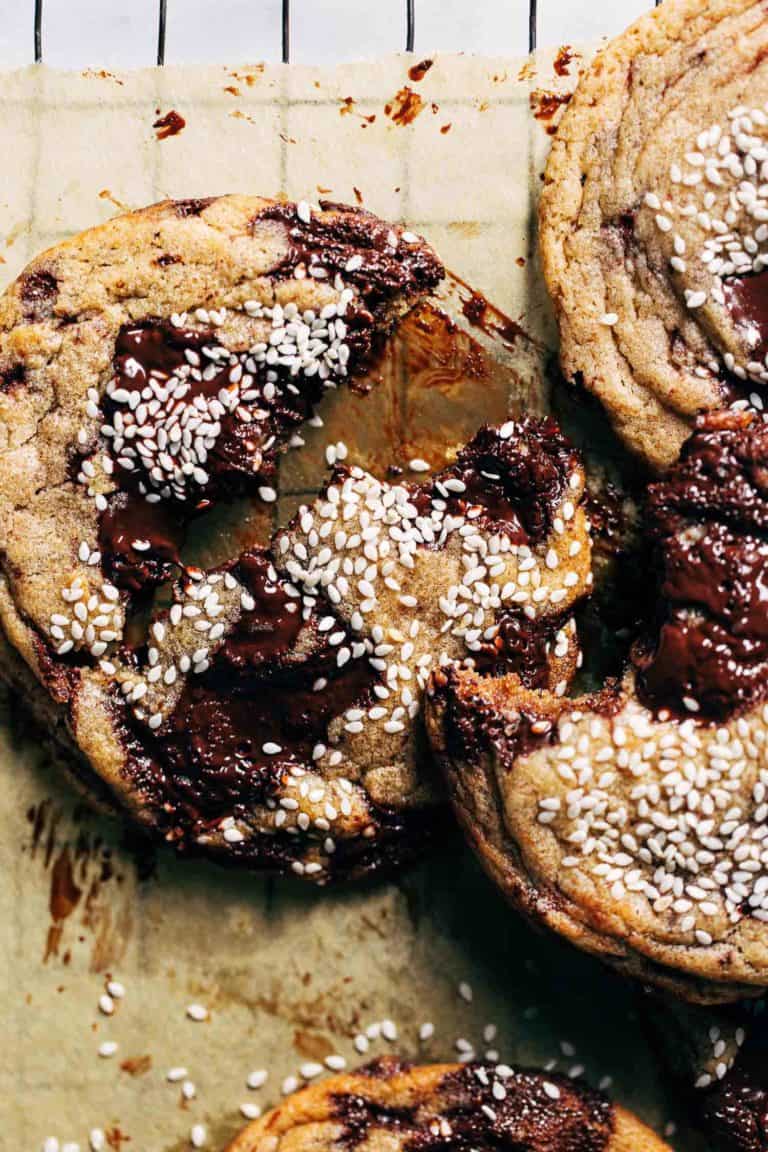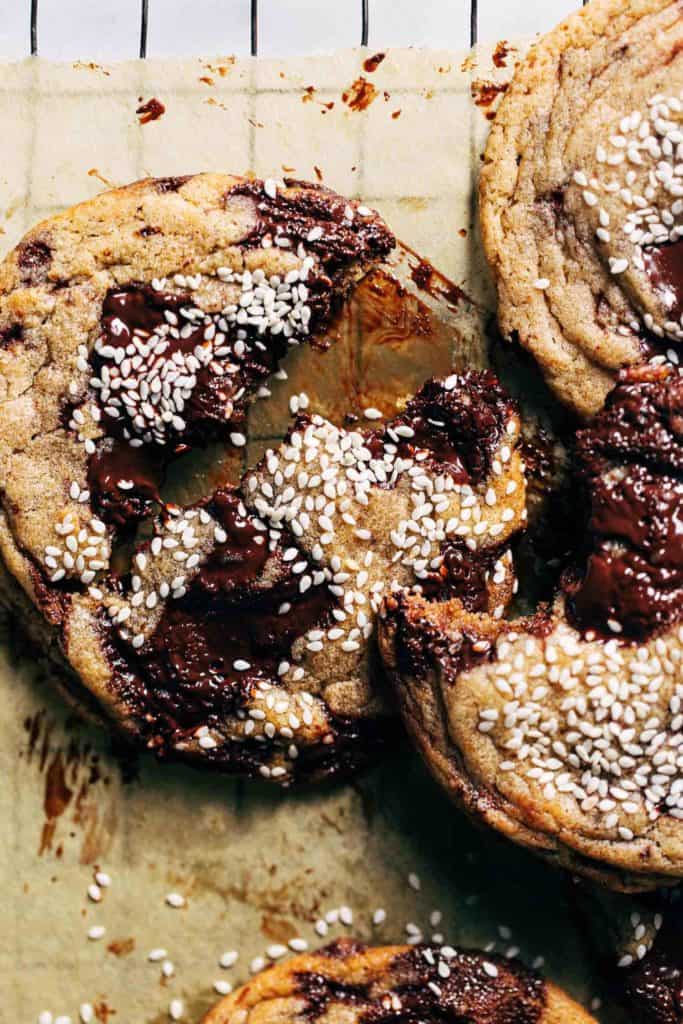 What is miso?
Miso is a Japanese seasoning made from fermented soybeans and salt. It's made into a paste and packs a punch in potency. It's very salty and adds umami flavor to any dish. It only takes a tablespoon or two to get that rich fermented flavor.
Where to buy miso
If you don't have it on hand, miso paste can be found in the refrigerated section. This could either be by other fermented foods or near the cheese section. It's not commonly available at conventional grocery stores, so I recommend checking out a local Asian grocery store or a natural foods market.
What does miso do to chocolate chip cookies?
Miso and sweets don't often come together, but when they do it's pretty magical. The ultra salty and umami miso helps balance out the sweetness of these cookies.
Since these cookies are made with brown butter, sugar, and chocolate, the miso cuts through those flavors to help mellow out the cookie. At the same time, it adds an incredibly unique flavor that's hard to put your finger on. It's somewhat earthy, somewhat savory, and definitely unexpected in a chocolate chip cookie.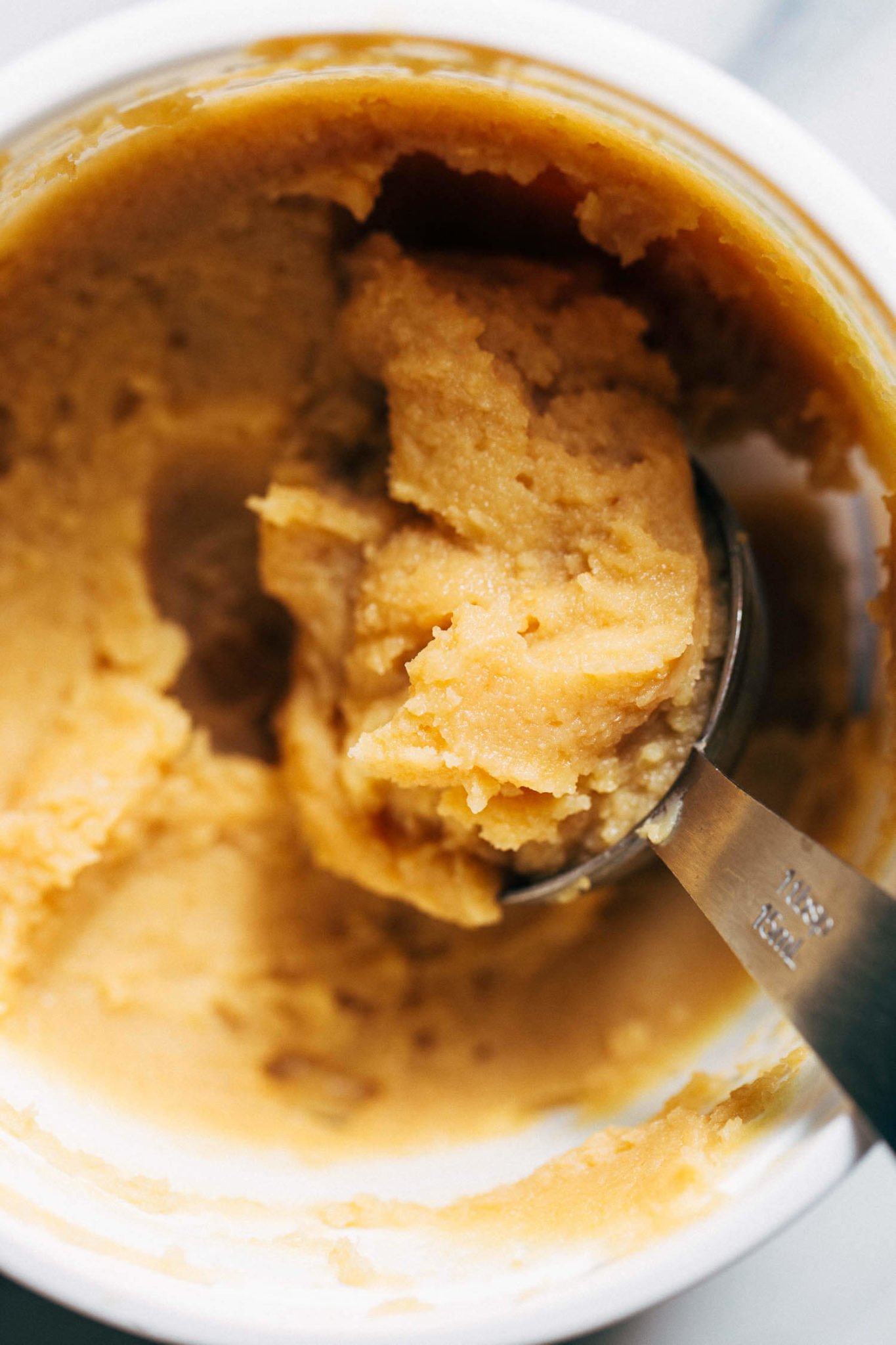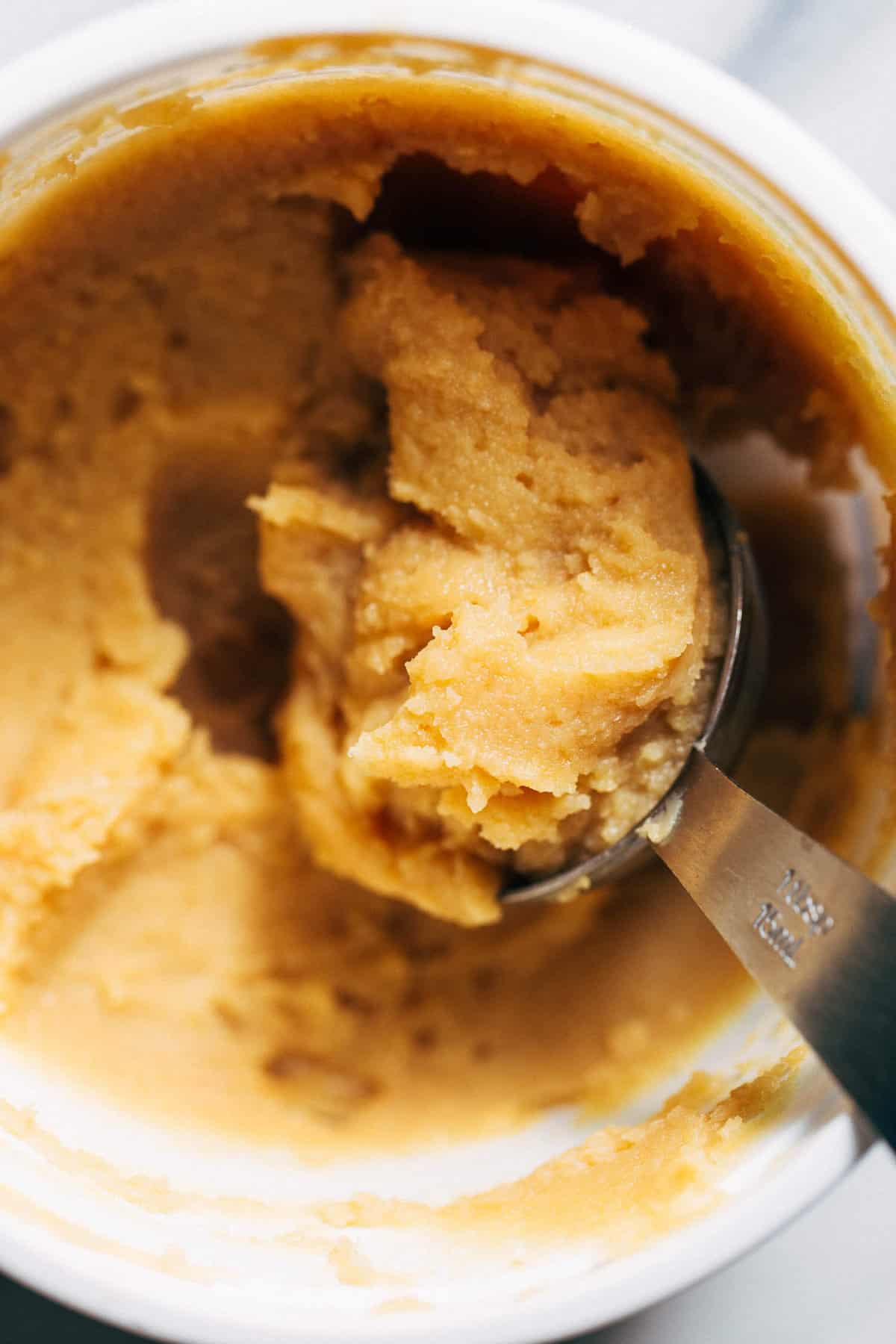 Tips for making miso chocolate chip cookies
What makes this miso chocolate chip cookie recipe SO good, besides the incredible flavors, is just how easy they are to make. The dough is mixed by hand, and the cookies can be baked right away.
But to ensure these miso chocolate chip cookies turn out just right, here are my top tips:
Flour – I say this in every post, and for good reason. It's the number one reason why most recipes fail, especially for cookies. If there's too much flour, the cookies will become thick, dry, and will not spread properly. If possible, measure the flour with a food scale. Otherwise, gently spoon the flour into the measuring cup and level if off with a flat edge. If you scoop directly into the flour container, the flour will pack into the cup which could leave you with 1/4 cup or more of added flour.
Dark Brown Sugar – This is specifically used to add extra moisture and chewiness. It also has a deeper flavor than light brown sugar which plays really well with the rich and savory miso. In other words, I don't recommend swapping with light brown sugar!
Brown Butter – I have an entire post dedicated to this topic on how to brown butter. These cookies just aren't the same without it as the miso needs the depth of rich brown butter. If plain butter is used, the miso flavor is almost too strong and it completely throws off the cookie.
Mixing – After the egg is added, give the cookies a REALLY good mix. Vigorously whisk for about 2 minutes until the mixture becomes light and creamy. This emulsifies the egg to create a strong cookie structure. But after the dry ingredients are added, gently mix just until the dough comes together. Otherwise, overworked dough leads to a tough cookie.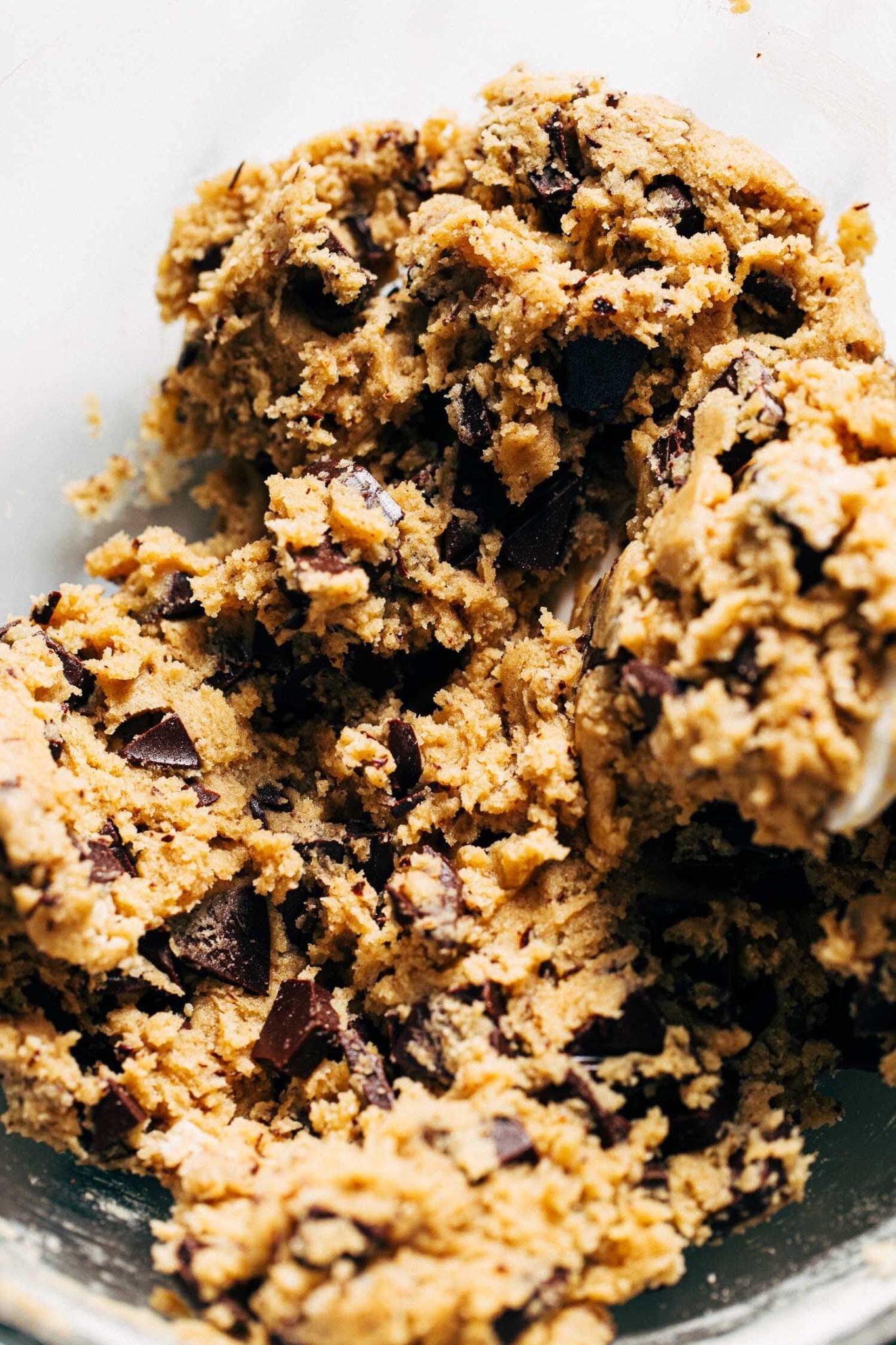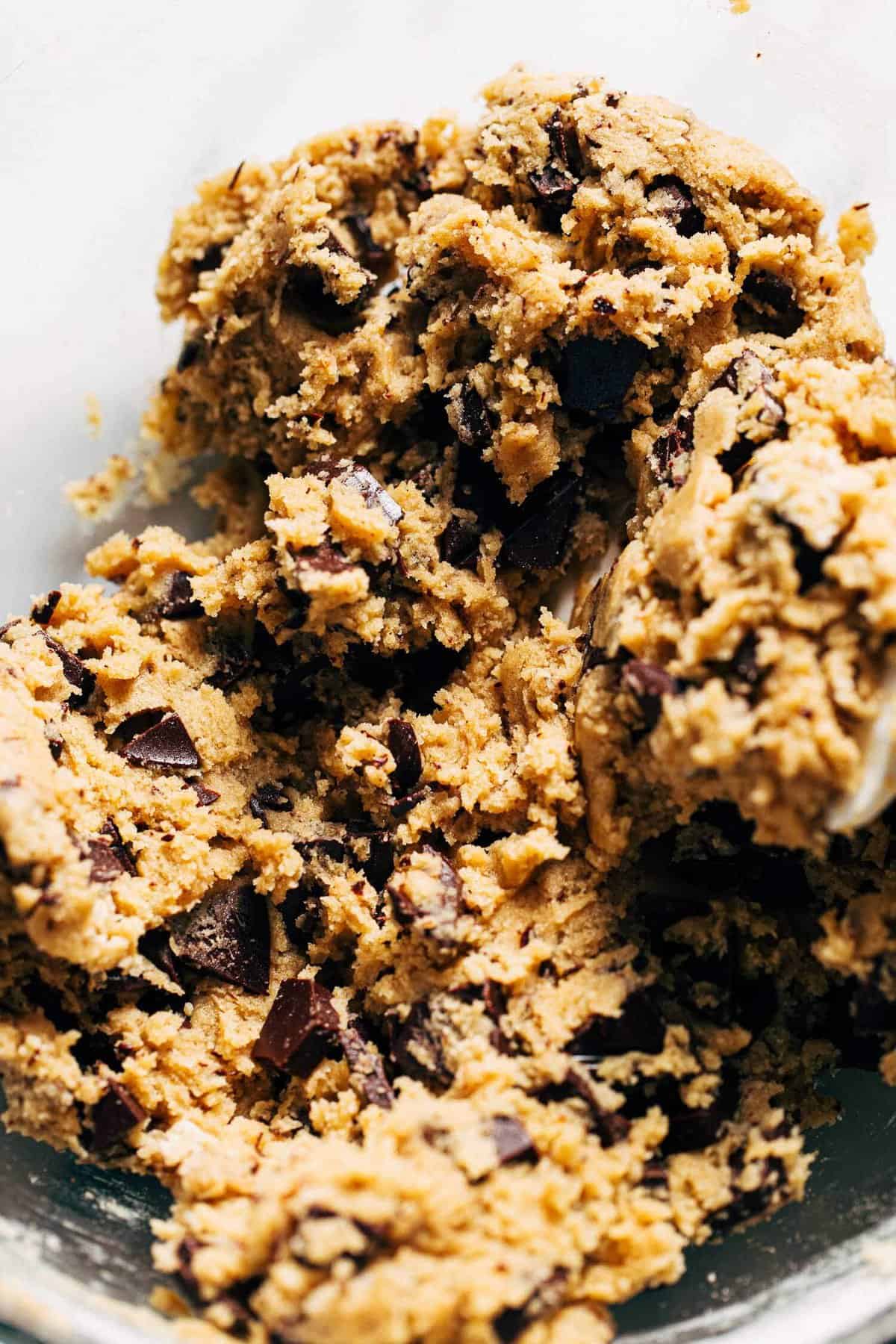 Why are sesame seeds used in this recipe?
Since the miso is already incredibly salty, a sprinkle of flaky sea salt on top of these cookies isn't necessary. But, I still felt like they needed a little something extra.
Sesame seeds are slightly nutty and savory which pairs perfectly with the sweet cookie and the fermented miso. It's basically a whole other layer of flavor that takes these cookies over the top!
What is the best chocolate to use?
For the thin melty puddles shown in these miso chocolate chip cookies, go with a chocolate bar that is at least 70% cocoa. The higher the cocoa content, the meltier the chocolate.
The use of a chocolate BAR is also key. Chocolate chips have a coating which prevents them from losing their shape once baked. Chocolate bars do not need or have this, so they melt quite a bit when baked.
I prefer Lindt chocolate bars because they're found at most grocery stores and yield a really rich flavor. They're found in the candy aisle!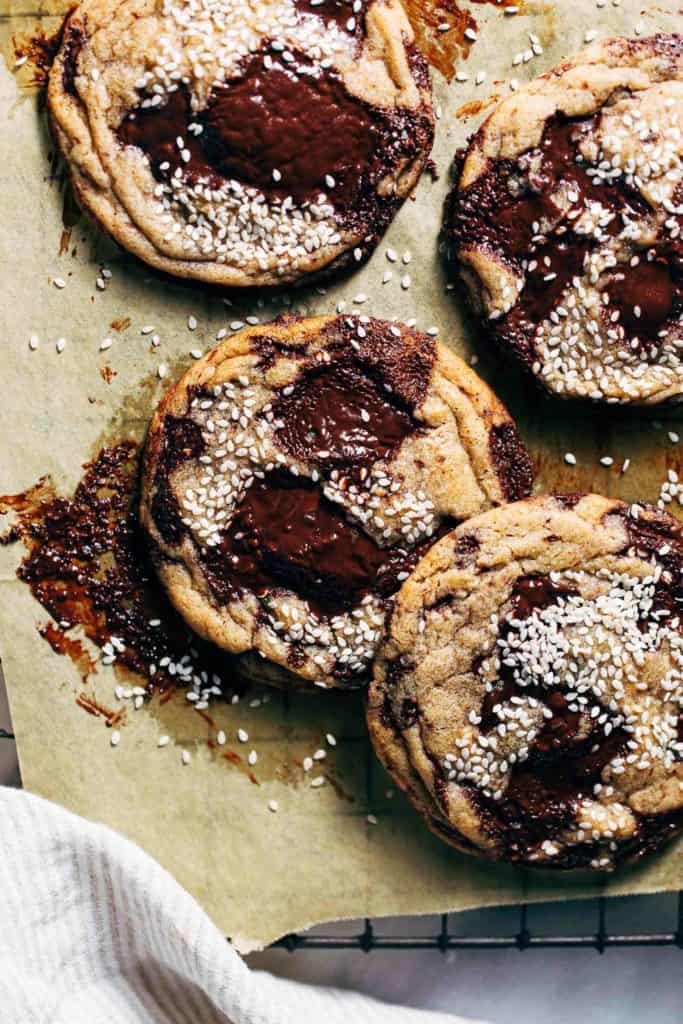 Chilling miso chocolate chip cookie dough
After the dough is scooped, it can either be baked right away or chilled. Although this isn't mandatory, it is definitely recommend if you have some time on your hands.
There's nothing wrong with baking them right away as this will yield a cookie that's somewhat thin but perfectly chewy on the outside with a soft center.
But to take it a step further, scoop the dough and then chill it uncovered in the refrigerator. This can be for a couple hours or a couple days. The longer these chill, the stronger the miso flavor.
If chilling is the route you'd like to go, add a minute or two on to the bake time. When the chilled dough is baked, it will still have those chewy and crispy edges but an even meltier center.
How to store miso chocolate chip cookies
Allow the cookies to cool completely before placing in an air tight container. They can be stored at room temperature for about 5 days.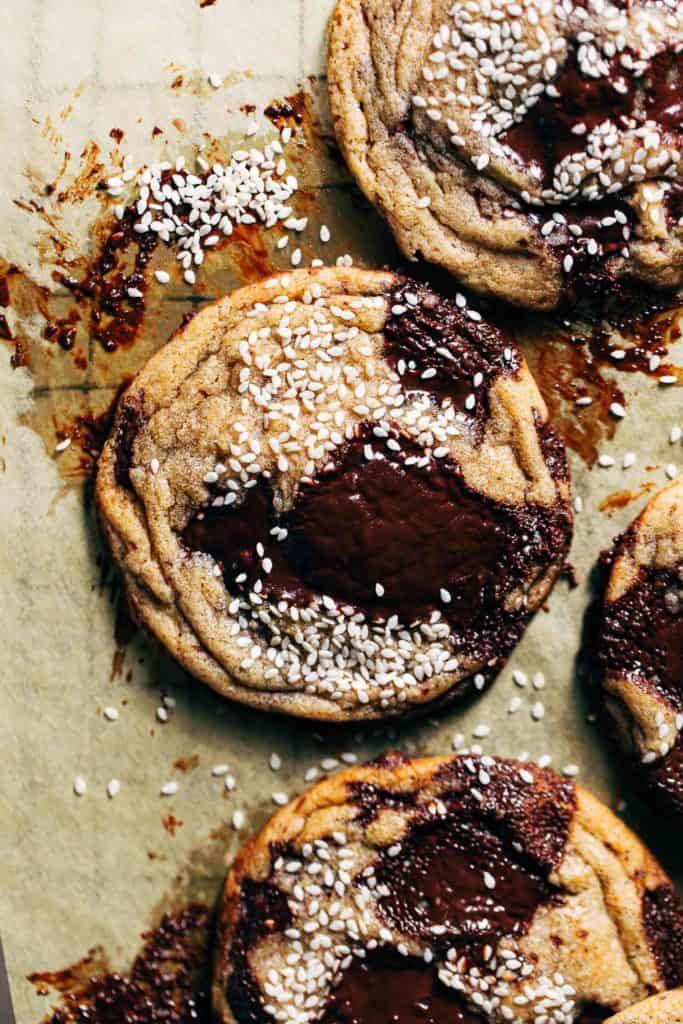 For more chocolate chip cookie recipes, check out my:
Make sure to tag me @butternutbakery on Instagram and leave a review below if you make these miso chocolate chip cookies. To pin this recipe and save it for later, you can use the button on the recipe card, the buttons above or below this post, or on any of the photos above. Happy baking!
Print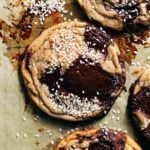 Brown Butter Miso Chocolate Chip Cookies
---
Author: Jenna Barnard
Total Time: 44 minutes
Yield: 8 large cookies
Description
You HAVE to try baking with miso, starting with these cookies. Umami miso mixed with rich brown butter and melty dark chocolate is just a mind blowing combination. It's warm, sweet, savory, and has so many layers of flavor. It's unlike any other chocolate chip cookie!
---
1/2 cup (110g) unsalted butter
1 1/2 tbsp white miso paste
1/2 cup (100g) granulated sugar
1/2 cup (100g) dark brown sugar, packed
1 tsp vanilla extract
1 large egg
1 1/4 cup (165g) all purpose flour
1/2 tsp baking powder
1/4 tsp baking soda
1/4 tsp salt
6 oz 70-80% cocoa dark chocolate, chopped
3 tbsp white sesame seeds
---
Instructions
Add the butter to a saucepan over medium heat. Melt down and heat until browned. *See my post all about how to brown butter for more detail. 
Pour the brown butter into a measuring glass and add the miso paste. Whisk to combine and set aside.
Preheat the oven to 350F (SEE NOTES) and line a large baking sheet with parchment paper.
In a medium mixing bowl, whisk together the flour, baking powder, baking soda, and salt and set aside.
In a large mixing bowl, add the sugar, dark brown sugar, and cooled miso brown butter. Whisk to combine.
Add in the egg and vanilla and whisk vigorously until the mixture turns pale and creamy.
Pour in the dry ingredients and use a rubber spatula to fold the two together. Right before the dry ingredients are fully mixed in, add in the chopped chocolate and fold to fully combine.
Use a large 2 oz scoop or 1/4 measuring cup and scoop out the cookies.
Add the sesame seeds to a small dish. Then press the tops of the cookie dough balls into the sesame seeds so they cover the very tops of each cookie.
Place 4 cookies on the baking sheet spaced a few inches apart. Bake for 11-13 minutes, or until the edges are a light golden brown and the centers look barely underdone.
Allow the cookies to rest on the baking sheet for about 5 minutes, then transfer to a cooling rack and bake the remaining cookies.
Let the cookies cool for about 20-30 minutes, then dig in! Enjoy!
Equipment
Notes
BAKING TEMP / CHILLING – For a stronger and more well-rounded miso flavor, chill the cookies for about an hour or up to 2 days before baking. This is optional, but it does help bring out the miso flavor. The longer they chill, the stronger the flavor. To chill, scoop out the cookies and top with sesame seeds. Store uncovered in the refrigerator. Then bake at 350F for 12-14 minutes.
Prep Time: 20 minutes
Cook Time: 24 minutes
Category: Dessert
Method: Baking
Cuisine: American, Japanese
Keywords: miso chocolate chip cookies, brown butter chocolate chip cookies, chocolate chip cookie recipe, miso cookies
Recipe Card powered by