Not only are these pistachio cookies baked with puddles of melty dark chocolate chunks, but they're also made with brown butter for a rich toffee flavor! Flaky sea salt is added to help tame the sweetness while bringing out the rich dark chocolate and sweet and nutty pistachios. They're crispy, soft, chewy, melty, and basically have everything going for them.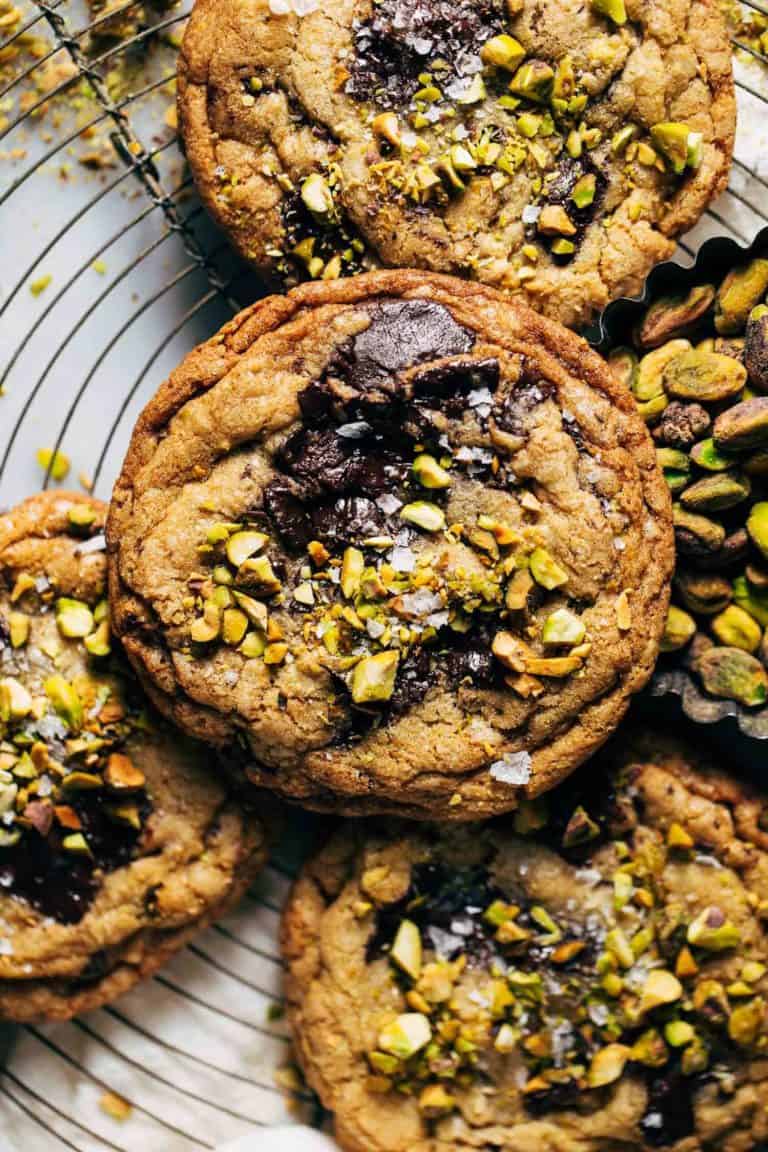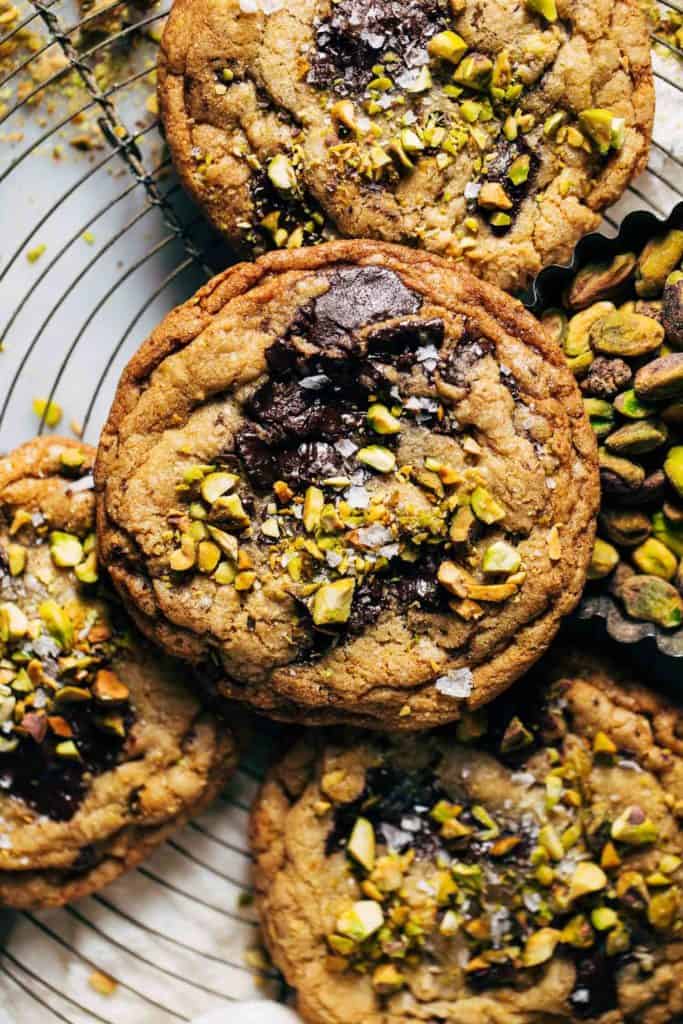 How to make chocolate chunk pistachio cookies
These cookies are so much more than just chocolate and pistachios! They have layers of flavors and textures that make these cookies bakery-worthy. Follow these tips and your cookies will turn out just right:
Brown Butter – To add a layer of extra flavor to these cookies, the butter is browned before mixing it into the dough. It takes on a toffee-like flavor that pairs perfectly with the slightly bitter dark chocolate and nutty pistachios. If you've never browned butter, check out my post all about the browning process to learn more! For this recipe, just make sure to cool the butter before use.
Four – I say this in every post, and for good reason. It's the number one reason why most recipes fail, especially for cookies. If there's too much flour, the cookies will turn out dry and they will not spread. If possible, measure the flour with a food scale. Otherwise, to ensure the exact amount, gently spoon the flour into the measuring cup and level if off with a flat edge. If you scoop directly into the flour container, the flour packs down into the cup which could leave you with 1/4 cup or more of added flour.
Sugars – There's a reason why both light brown sugar and granulated sugar are used in this recipe, so don't make any substitutions! The molasses in the light brown sugar is what gives these cookies a soft but chewy texture. While granulated sugar provides a golden and crisp ring around the edge. Utilizing both sugars is what creates a well rounded cookie, one that's soft in the middle and crisp and chewy on the outside.
Mixing – Mix as much as you want with the wet ingredients, but once the dry ingredients are added switch to a rubber spatula. Gently stir and fold the dough together to prevent over mixing and stop right when the dough comes together. Over mixing can lead to a tough cookie so take your time with this step!
Scooping – Once the dough has chilled, use a large 2 oz scoop to bake these cookies. A larger scoop creates a more dynamic cookie, with crispy edges and a soft and chewy center. This process doesn't have to be precious, just scoop and plop.
Bonus points if you press a couple extra chunks of chocolate on top the cookies before baking! This will create puddles of chocolate on the surface of these cookies which is perfect for glueing the extra pistachios and flaky sea salt on top.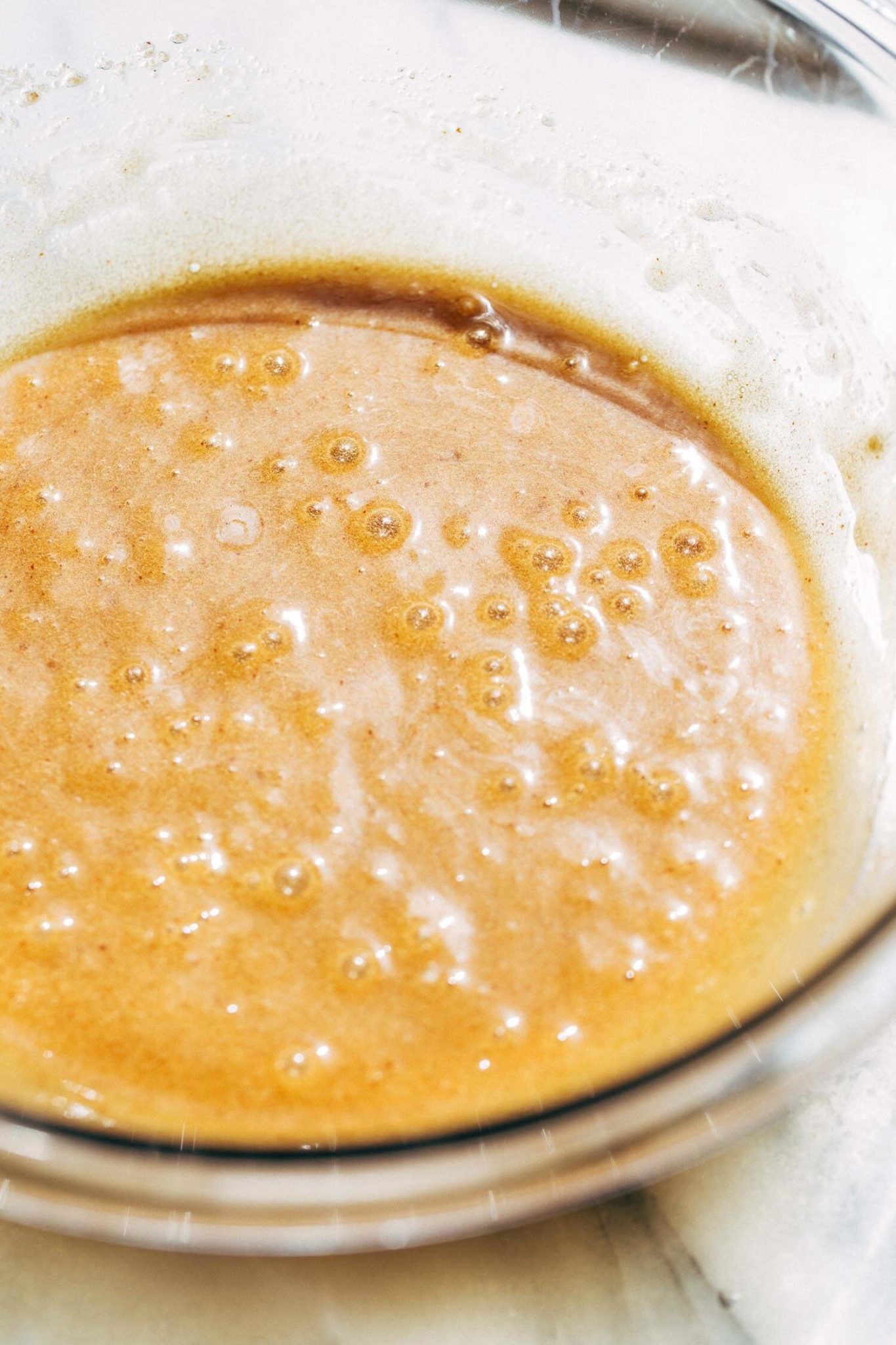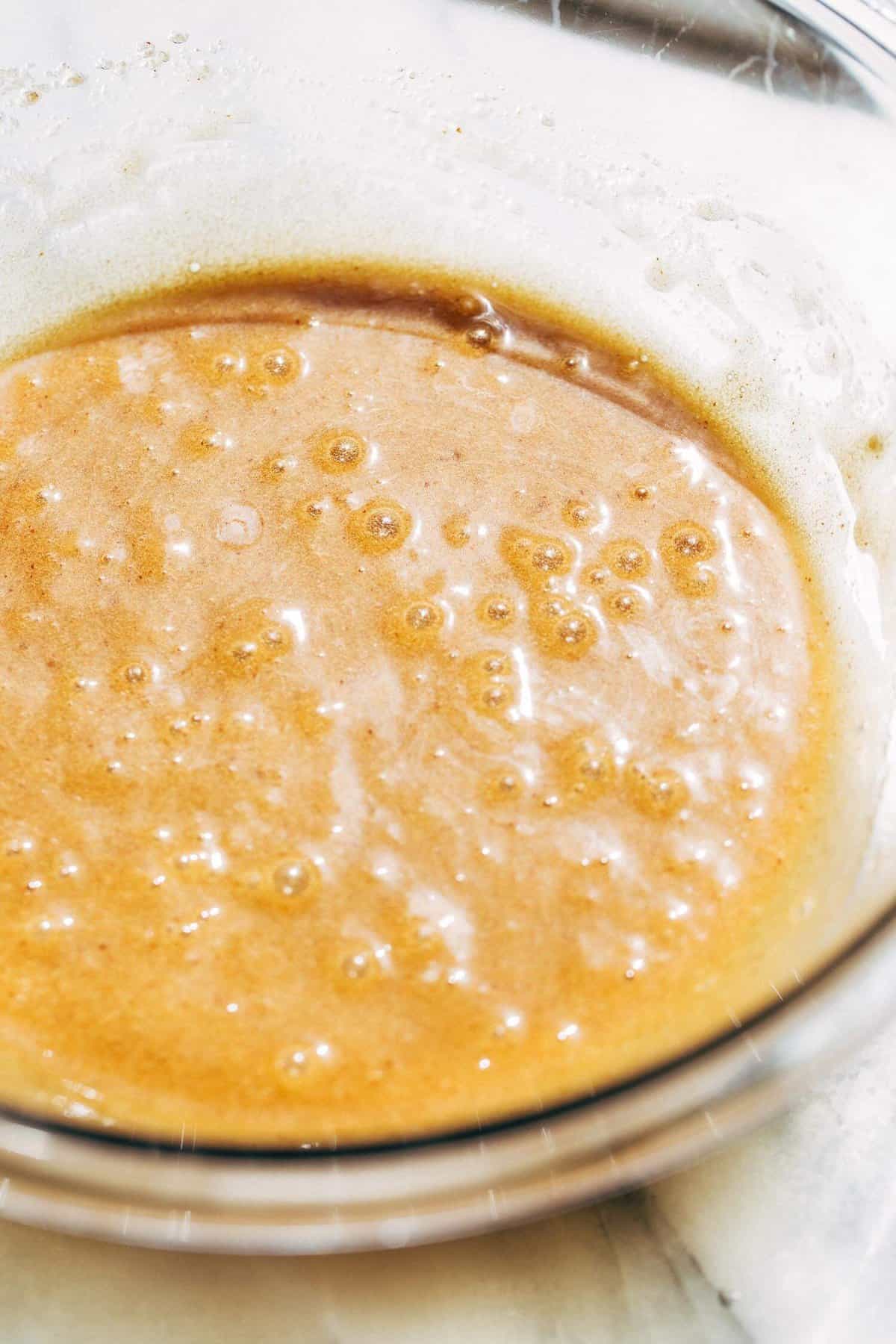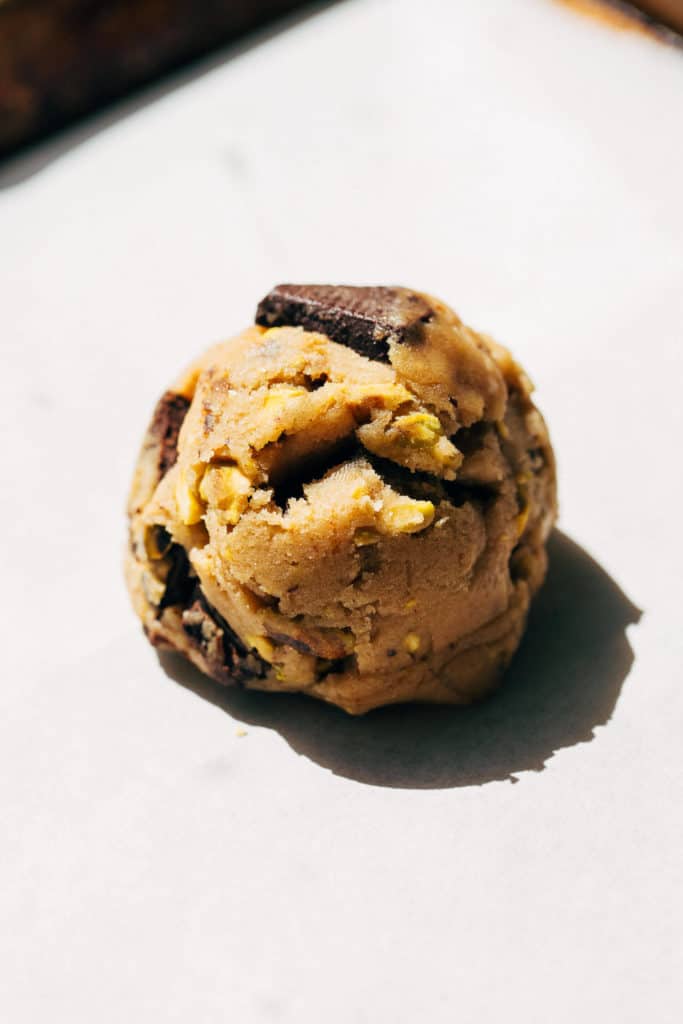 Why is extra butter added to the brown butter?
After the butter is browned, there's an interesting extra step added to this recipe. The brown butter is poured into a measuring glass and then 1-2 tablespoons of extra butter are added. Why is this the case?
This recipe works best with a level 1/2 cup of butter, but when butter is browned some of the water evaporates which leaves you with less butter than what you started with.
To make up the difference, a smidge of extra butter is added after the fact to ensure the exact amount is there. The extra butter also helps speed up the cooling process which is an added bonus!
What are the best pistachios to use?
Shelled roasted and salted pistachios are best for these cookies. Roasted pistachios have much more flavor and pre-shelled nuts makes the baking process move a whole lot faster.
Plus, the added salt helps balance out the other rich flavors in these cookies.
What is the best dark chocolate to use in these pistachio cookies?
Did you know that the type of chocolate used in your cookies will dictate how they spread? Whether its chips, chunks, or chocolate bars OR semisweet, dark, or extract dark…they all have a different affect on cookies.
But that's a whole other lesson for another time. Just know that not any old chocolate can be used on this specific recipe. Go for a dark chocolate bar (found in the candy aisle) that is at least 75% cacao or more. I prefer Lindt chocolate bars because they melt beautifully and have a smooth flavor.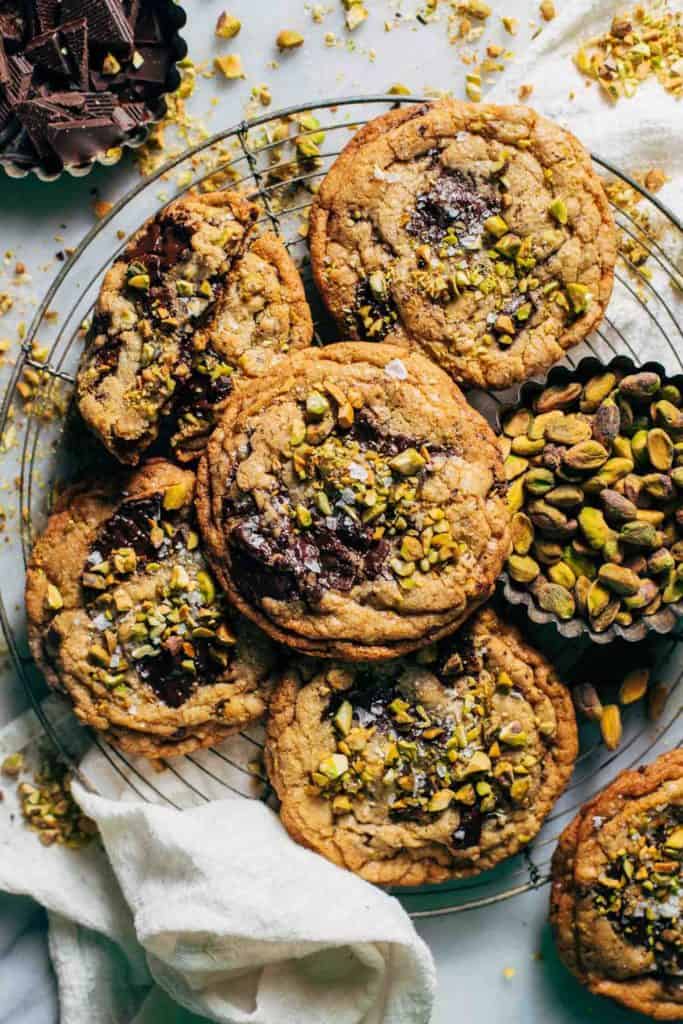 Can the dough be frozen?
Sure! If you plan on baking some cookies now and freezing the rest, still chill the dough for 30 minutes before baking the fresh cookies. Then scoop the rest of the cookie dough balls into a freezer safe bag and freeze for a couple months.
If you don't plan on baking any cookies right away, scoop out the cookie dough balls onto a plate or small tray and chill until firm. Then transfer the balls to a freezer safe bag.
Then to bake, place the frozen cookie dough balls on a baking sheet and preheat the oven to 340F. Bake for 14-16 minutes and enjoy!
How to store pistachio cookies
Keep the cookies in an air tight container at room temperature and they will keep for about 5 days. I like to reheat a cookie in the microwave for about 10 seconds to bring back its soft and gooey consistency.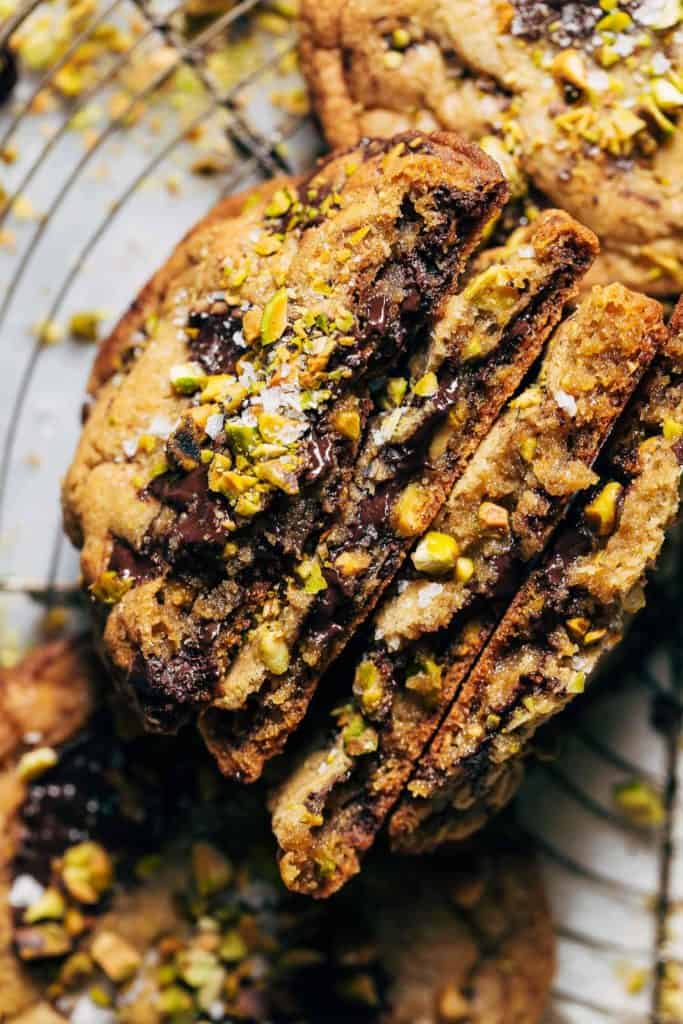 For more chocolate chip cookie recipes, check out my:
Make sure to tag me @butternutbakery on Instagram and comment below if you make these pistachio cookies. To pin this recipe and save it for later, you can use the button on the recipe card or on any of the photos above. Happy baking!
Watch how to make these cookies:
Print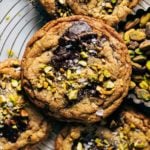 Dark Chocolate Chunk Pistachio Cookies
---
Author: Jenna Barnard
Total Time: 1 hour 2 minutes
Yield: 9 large cookies
Description
These pistachio cookies are baked with brown butter and melty puddles of dark chocolate chunks! They're crispy on the outside, thin and chewy on the inside, and loaded with sweet and nutty pistachios.
---
1/2 cup + 2 tbsp unsalted butter, divided
2/3 cup (130g) light brown sugar, packed
1/4 cup (50g) granulated sugar
1 large egg, room temp
1 tsp vanilla extract
1/4 tsp pistachio extract (optional)
1 cup + 2 tbsp (145g) all purpose flour
1/2 tsp baking soda
1/2 tsp kosher salt
3/4 cup (3.5oz bar) 75%+ dark chocolate, roughly chopped
1/2 cup (75g) roasted and salted pistachios, finely chopped (plus more for sprinkling on top)
Flaky sea salt, for sprinkling on top
---
Instructions
Add 1/2 cup of the butter to a saucepan over medium heat. Melt and stir until it goes from loud and bubbly to quiet and frothy. Once it goes quiet, keep a close eye and remove the pan from the heat once the butter turns a rich amber color and gives off a nutty aroma.
Pour the brown butter into a measuring glass (scraping in the bits at the bottom of the pan) and drop 1-2 tbsp of extra butter in to make it a level 1/2 cup. Place in the fridge to cool down for about 20 minutes.
In a small bowl, whisk together the flour, baking soda, and salt. Set aside.
In a large bowl, whisk together the cooled butter (it's ok if it's still slightly warm), brown sugar, and sugar.
Add in the egg, vanilla and pistachio extract (if using) and whisk vigorously for about 2 minutes. The mixture should turn light in color and very smooth in consistency.
Pour in the dry ingredients and switch to a rubber spatula. Gently stir and fold the dough together and right before it's fully mixed, toss in the chopped dark chocolate and pistachios. Continue to fold until the dough is completely combined.
Cover the bowl and chill the dough in the refrigerator for 30 minutes.
When it's close to the 30 minute mark, preheat the oven to 350F and line a large baking sheet with parchment paper.
Using a large 2oz cookie scoop (also equal to 1/4 cup) scoop 4-5 cookie dough balls onto the baking sheet, all well spaced apart.
Bake for 12-14 minutes, or until the edges are golden brown and the center looks pale, puffed, and slightly underdone.
When they're fresh from the oven, sprinkle each cookie with more chopped pistachios and a pinch of flaky sea salt.
Transfer to a cooling rack and continue to bake the rest of the dough.
Allow the cookies to cool for about 20 minutes, then enjoy!
Equipment
Prep Time: 20 minutes
Chill Time: 30 minutes
Cook Time: 12 minutes
Category: Dessert
Method: Baking
Cuisine: American
Keywords: pistachio cookies, pistachio cookie recipe, chocolate chip pistachio cookies, pistachio chocolate chip cookies
Recipe Card powered by