This lemon poppy seed bread is extra moist and bursting with fresh lemon flavor, making it the perfect treat to make this Spring. This recipe is also gluten free and dairy free but remains super fluffy and tender. Top it off with a heavy pour of lemon icing for some extra flavor and sweetness, making each slice absolute perfection!
This post is sponsored by Bob's Red Mill but all thoughts and opinions are my own. Thank you for supporting the brands that make Butternut Bakery possible!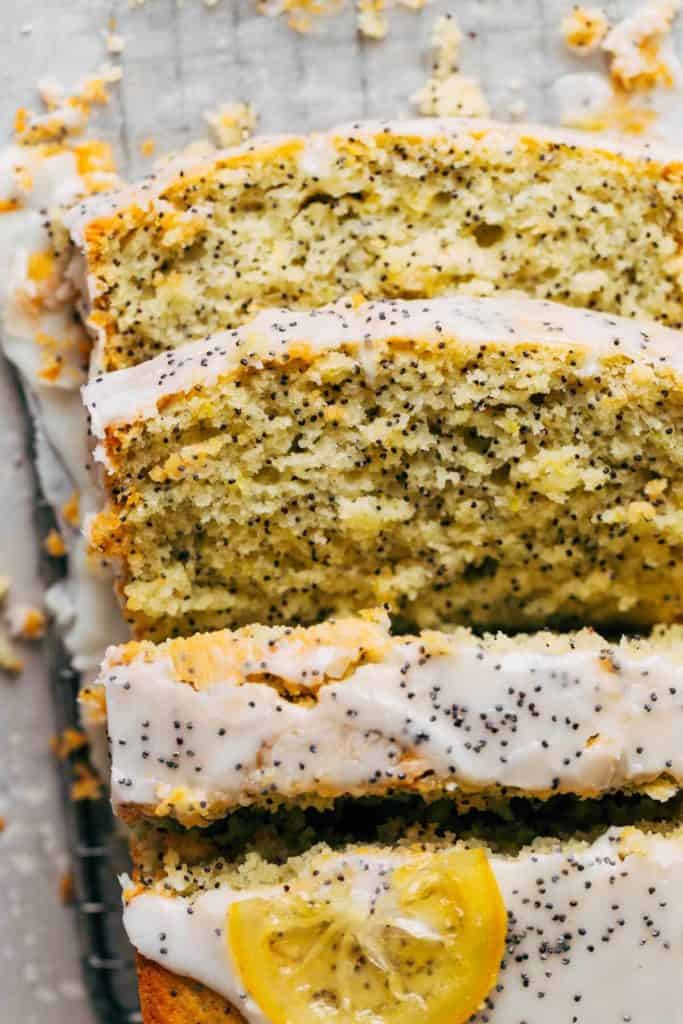 How to make gluten free lemon poppy seed bread
Although this recipe is gluten and dairy free, it consists of really simple ingredients. Everything is mixed together by hand and all in one bowl, making this a really quick and easy recipe for when you're craving a delicious lemon dessert.
But without gluten and dairy, this loaf still comes out super moist and fluffy which is made possible by these few key ingredients:
Bob's Red Mill 1-to-1 Gluten Free Baking Flour – This is my go-to flour whenever I need to develop a gluten free recipe. It's the best alternative to regular flour because it's so easy to incorporate into any dessert. It closely mimics all purpose flour, providing a strong structure and lift to this loaf. Trust me, when you use Bob's Red Mill gluten free flour, you can never tell the difference!
Coconut Oil – Rather than butter, coconut oil is used in this bread to give it a rich and moist texture. I also chose to use coconut oil because of its mild flavor that compliments the fresh lemon juice. Most importantly, it won't make the loaf feel too heavy or dense.
Milk Alternative – This is used to give the cake extra moisture. You can choose to use any milk alternative, but for the best results I recommend soy milk for its high protein content.
Tips for making moist and fluffy lemon bread
This recipe is very easy to make, but here are a few extra tips to ensure yours turns out just right:
Flour – Gluten free and all purpose flour tend to have different densities, meaning 1 cup of gluten free flour can be heavier than 1 cup of regular flour. For this reason, it's important to weigh your flour if you can. Otherwise, carefully spoon the gluten free flour into your measuring cup and level it off. Don't shake it down into the cup or pack it in. This will leave you with way too much flour and a dry and dense lemon loaf.
Organic Lemons – If you can, I recommend using organic lemons. Regular lemons often have a thin wax layer all around the outside. So for a stronger lemon flavor, go with organic as the lemon zest is free of any waxes or coatings.
Don't Over Mix – The biggest downfall for any loaf or bread is over mixing. When this happens, the bread sinks in the middle as it bakes, giving you a dense and sometimes raw center. Take things slow and mix JUST until the ingredients are combined.
Loaf Pan – I used a true 1 pound loaf pan for this recipe, although it will also work with any 9×5 baking pan. 1 pound loaf pans tend to be a bit smaller in size than a standard 9×5 loaf pan. So if yours doesn't turn out as tall as the photos seen here, you likely have a larger pan which is perfectly fine.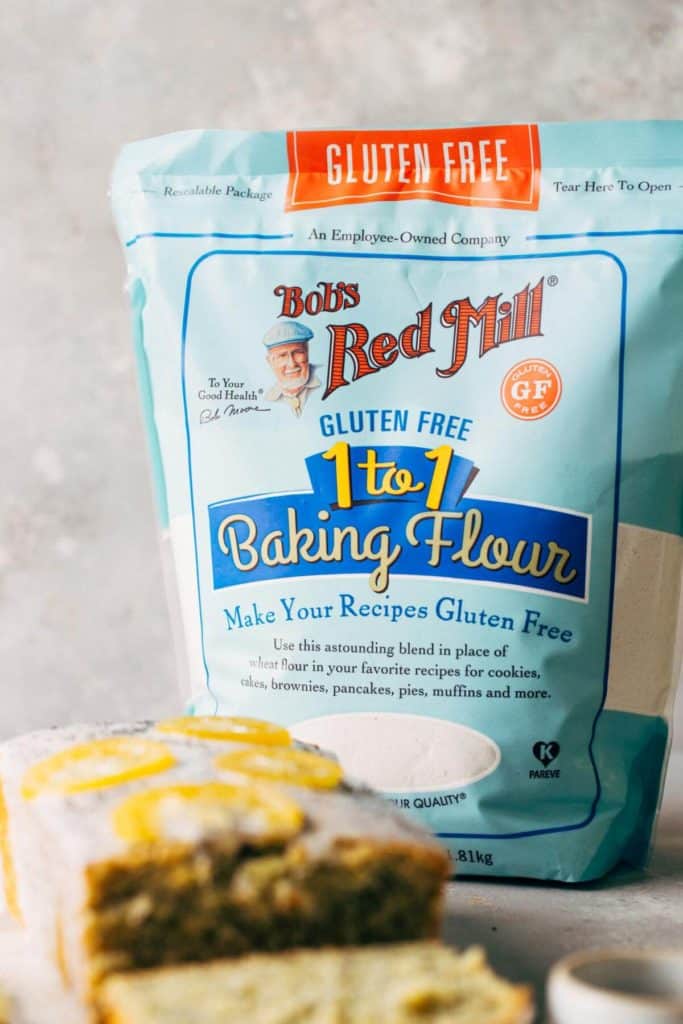 How to make lemon icing
For extra sweetness and flavor, the loaf is drizzled with lemon icing. It's super easy to make and only takes about 5 minutes to whip up. Here is what you'll need:
Powdered Sugar
Lemon Juice
Milk
Almond Extract
Whisk together all of the ingredients, leaving the almond extract for last. If you don't like the flavor of almond extract, you can either leave it out or swap with 1/2 tsp vanilla extract.
In the end you should be left with an icing that's similar to the consistency of glue. It should be thick but run off your whisk in a steady stream. If it's too thin, add a couple extra tablespoons of powdered sugar. If it's too thick, add 1-2 tsp of milk or lemon juice.
Pour the icing over the cooled. loaf. It's important that the loaf is cooled, otherwise, the icing will melt right off. Then sprinkle some additional poppy seeds on top which creates a beautiful contrast against the bright white icing.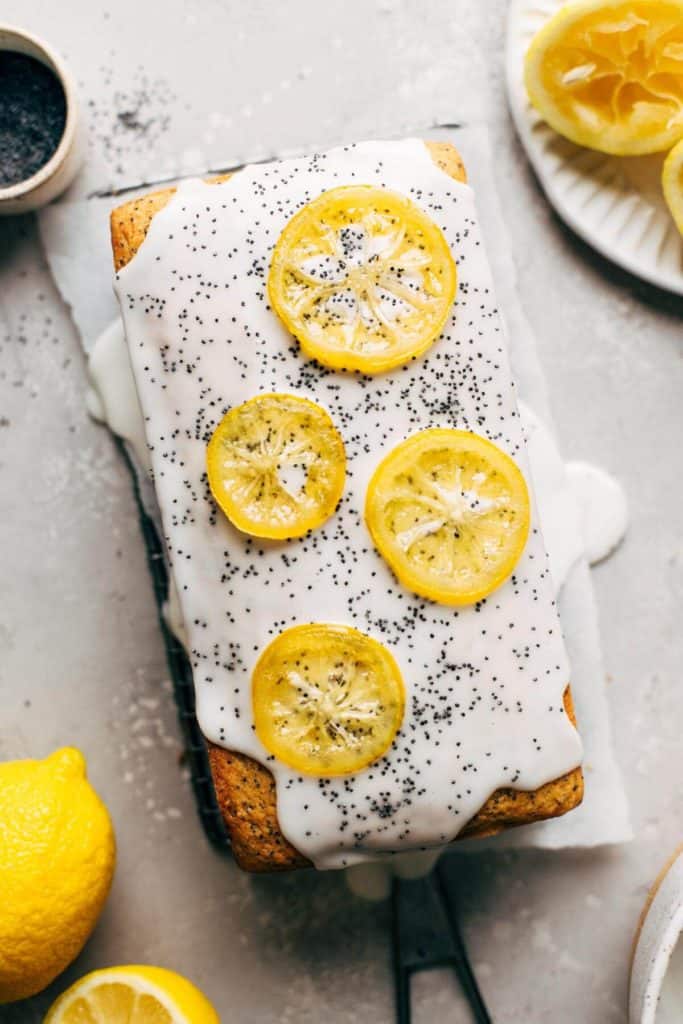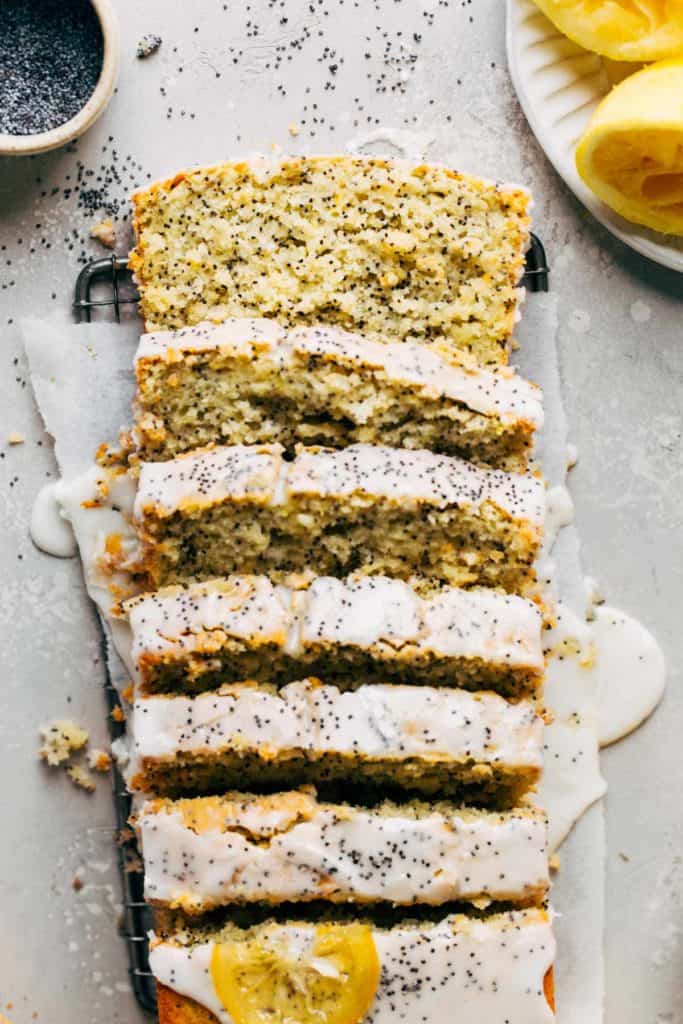 What can I substitute for the sugar?
For a healthier option, swap the sugar with coconut sugar. Just know that this will give your loaf a darker color. You can also try swapping it with 3/4 cup pure maple syrup.
Can I use a different flour?
No, as not all gluten free flours are created equal. Bob's Red Mill 1-to-1 Gluten Free Baking Flour will give you the best results as it has the perfect blend of gluten free flours plus xanthan gum which mimics the affects of gluten.
How to store lemon poppy seed bread
Store your loaf in an air tight container at room temperature for up to 3 days, or in the refrigerator for up to 1 week. Each slice can be eaten cold, room temperature, or warmed up. It's delicious either way!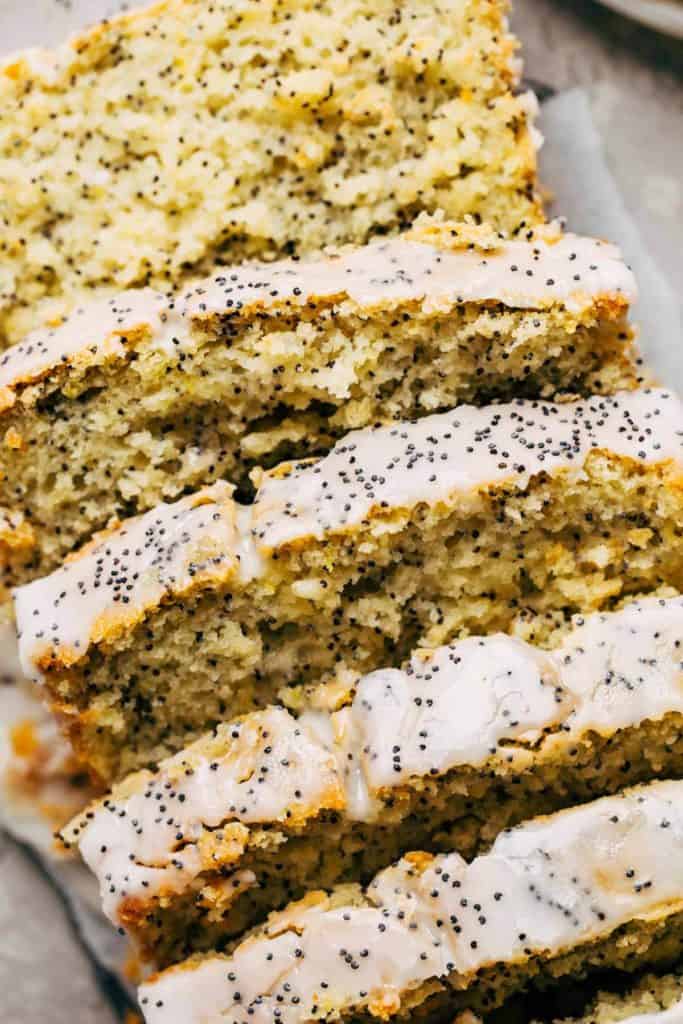 For more gluten free recipes, check out my:
Make sure to tag me @butternutbakery on Instagram and leave a review below if you make this Gluten Free Lemon Poppy Seed Bread. To pin this recipe and save it for later, you can use the button on the recipe card, the buttons above or below this post, or on any of the photos above. Happy baking!
Print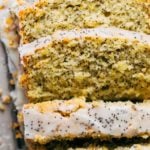 Gluten Free Lemon Poppy Seed Bread
---
Author: Jenna Barnard
Total Time: 1 hour 10 minutes + 1 hour cooling
Yield: 10 slices
Description
This moist and fluffy lemon poppy seed is topped with a heavy pour of lemon icing. It's also gluten and dairy free! 
---
Lemon Poppy Seed Bread
1 cup (200g) granulated sugar
2 tbsp lemon zest (about 2 large lemons)
1/2 cup (110g) coconut oil, melted
3/4 cup (160ml) milk alternative (almond, oat, soy..etc.)
3 tbsp fresh lemon juice
3 large eggs
1 tsp vanilla extract
2 cups (265g) Bob's Red Mill 1-to-1 Gluten Free Baking Flour
2 tsp baking powder
1/4 tsp salt
3 tbsp poppy seeds
Lemon Icing
1 cup (120g) powdered sugar
1 tbsp fresh lemon juice
1 tbsp milk alternative (almond, oat, soy…etc.)
1/4 tsp almond extract (optional)
---
Instructions
Preheat the oven to 350F and grease and line a 9×5 (1lb) loaf pan with parchment paper. Allow the paper to hang over the sides for easy removal. 
In a medium bowl, whisk together the flour, baking powder, and salt. Set aside.
In a large mixing bowl add the sugar and lemon zest. Use your fingers to rub the zest into the sugar in order to release more flavor.
Whisk in the coconut oil, milk, lemon juice, eggs, and vanilla.
Pour in the dry ingredients and whisk until it's just barely combined. Then mix in the poppy seeds. Do not over mix.
Pour the batter into your prepared loaf pan and bake for 45-50 minutes, or until a toothpick in the center comes out clean with a few moist crumbs.
Allow the loaf to cool in the pan for 20 minutes, then lift it out of the pan to cool completely at room temperature.
Once cooled, make the icing by whisking together all of the ingredients. It should be the consistency of glue. If it's too thin, add a couple tablespoons of powdered sugar. If it's too thick, and 1-2 tsp of lemon juice or milk. 
Pour over the cooled loaf pan, then slice and enjoy!
Prep Time: 20 minutes
Cook Time: 50 minutes
Keywords: lemon poppy seed bread, gluten free lemon loaf, lemon poppy seed, gluten free
Recipe Card powered by