These no bake healthy brownie cookie dough bars are like heaven in a slice. And just because they're healthy does NOT mean they aren't absolutely delicious! These bars are made with a chewy chocolate brownie layer that's topped with creamy edible cookie dough and an extra layer of chocolate for good measure. Plus this recipe is completely vegan, gluten free, and refined sugar free.
This post is sponsored by Bob's Red Mill but all thoughts and opinions are my own. Thank you for supporting the brands that make Butternut Bakery possible!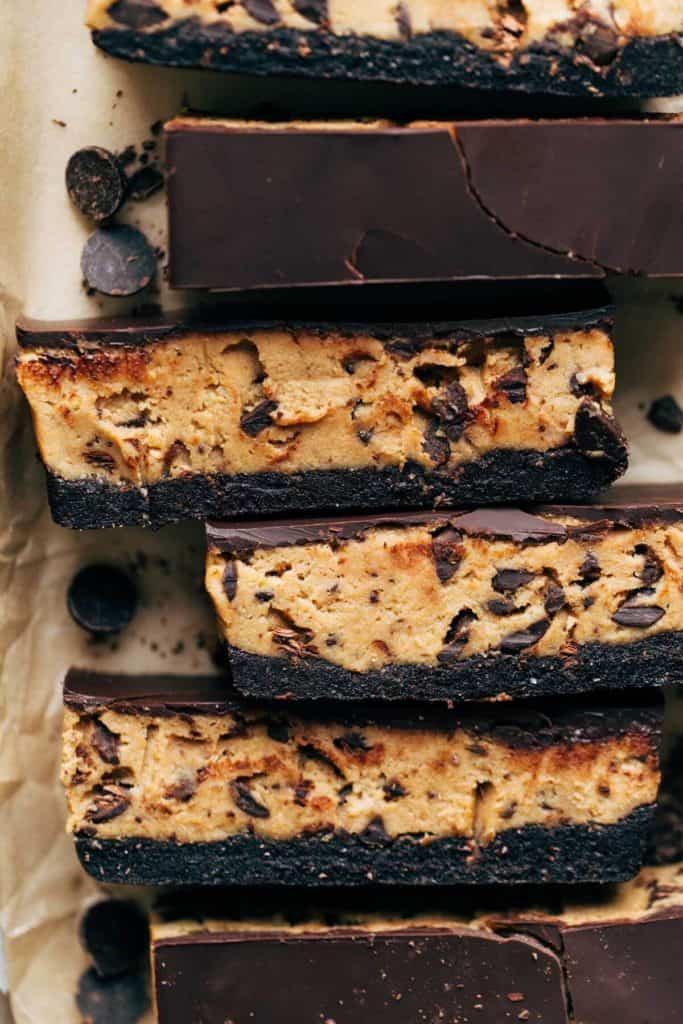 How to make healthy cookie dough you can eat
The cornerstone of this recipe is the vegan and gluten free cookie dough. It's creamy, it's buttery, and it tastes JUST like classic cookie dough but without all of the ingredients that make it inedible.
The secret to achieving that thick cookie dough texture may sound odd…but it works perfectly. So would you ever guess that the base of the dough is made using CHICKPEAS? I know, beans in cookie dough? But trust me, you cannot taste them.
If you think I'd share a recipe with you that tastes like beans, then I must have gone wrong somewhere. So even if there was a HINT of chickpea flavor in these, I would have completely scrapped the idea. Luckily it worked out perfectly and they provide that delicious creamy but thick texture that's essential to cookie dough.
Once it's paired with cashew butter, maple syrup, and chocolate chips, the dough tastes sweet but not overly rich. And to get that classic thickness and flour flavor of raw cookie dough, I chose to use Bob's Red Mill Super-Fine Almond Flour and Gluten Free 1-to-1 Baking Flour.
Bob's Red Mill Super-Fine Almond Flour is ALWAYS my go-to because, well, it's in the name. The texture is very fine and never gives a gritty texture which is especially important when using it in a no bake dish. It helps create a really smooth cookie dough texture without disrupting the flavor of the dough.
And because cookie dough always has that slight raw flour flavor, I included Bob's Red Mill Gluten Free 1-to-1 Baking Flour in the dough. It gives you that raw flour flavor and texture minus the gluten (or contamination that regular flour tends to have). Combining these two flours gives you a healthy gluten free cookie dough that tastes just like the real deal!
Tips for making a raw vegan brownie
The bottom brownie layer of these bars adds so much flavor and texture to this dessert. It's rich, chocolatey, chewy, and sweet. It's also only made up of 5 simple ingredients and is so quick and easy to make! But here are a few things to keep in mind when making the brownie layer:
Use good quality Medjool dates. This is what provides that chewy texture and sweet flavor to the brownie layer, so it's important that the dates are both soft and sweet. My favorite dates are the Medjool Dates that can be found in the produce section at Trader Joe's.
Give the dates a rough chop before adding to the food processor. This makes it easier to create a really smooth brownie dough.
Use dark cocoa powder instead of regular cocoa powder. Not only does it provide a deeper color, but it also has a smoother chocolate flavor.
Also make sure to use Bob's Red Mill Super-Fine Almond Flour. For the same reason as the cookie dough, this specific flour provides the best texture. Its fine granules prevents the brownies from having a sandy or gritty consistency.
When the ingredients are blending in the food processor, they will start to clump up into one large ball. This is what we want to see. It should be like the consistency of play-doh but still a bit tacky. And to make it easier to press into the loaf pan, I recommend working with completely clean fingers. If there are some remnants of sticky dough stuck on your hands, it will be much more difficult to press in that brownie layer.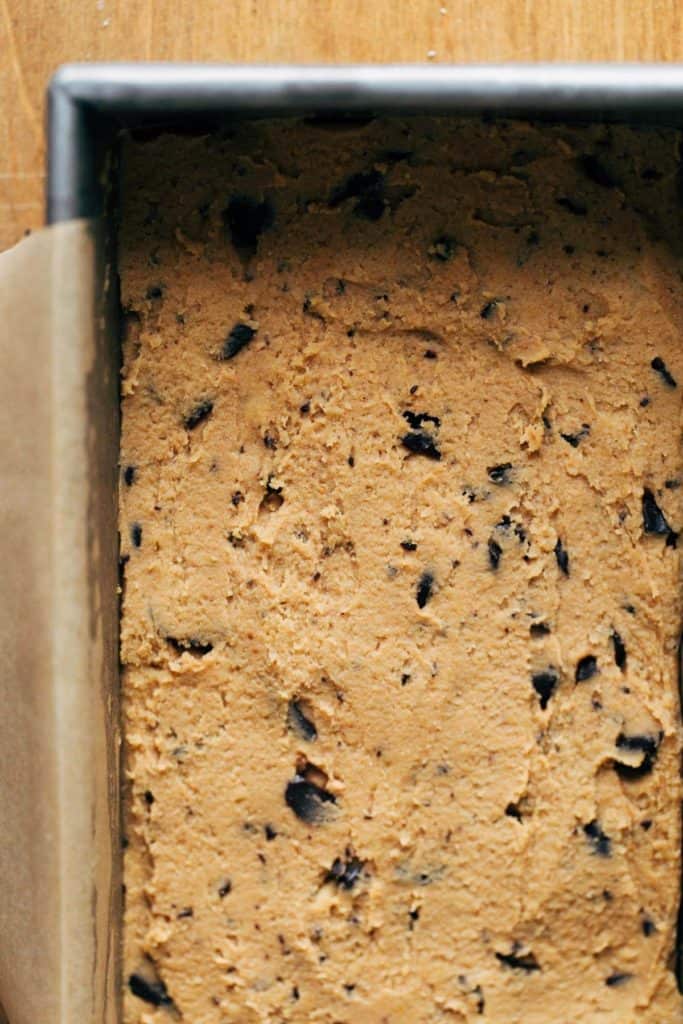 How to remove canned chickpeas skins
Since chickpeas are the main ingredient of the cookie dough, it's important to mask their flavor in order to reap the benefits of their texture alone.
To get the most out of the chickpeas, they must be drained, rinsed, and skinned before use. It's a tedious extra step that's essential to getting the best healthy cookie dough. If this step is skipped, the cookie dough turns out a bit gummy with a more prominent chickpea flavor…two things I do NOT want in my cookie dough!
To skin them, scatter the drained and rinsed chickpeas on a paper towel. Lay another paper towel on top and begin to gently roll around the chickpeas between the two sheets. This will loosen up the skins.
Then pick up each chickpea one by one and pop off the thin translucent skin. It should be really easy to just pinch it right off. It also may sound like a lot of extra work but the entire process should only take about 10 minutes.
How to make this a nut-free cookie dough recipe
Both almond flour and cashew butter are used in this recipe in order to provide to best flavor and texture. But if you have a nut allergy, these are the swaps you can make in order to create a cookie dough bar that's equally delicious:
Swap Bob's Red Mill Super-Fine Almond Flour with Bob's Red Mill Gluten Free Oat Flour or Gluten Free Rolled Oats. The easiest route is to use the pre-made oat flour, but you can also make your own by blending rolled oats in a food processor until it reaches a fine flour consistency.
Swap cashew butter with natural sunflower seed butter. I love sunflower seed butter because it's super creamy but doesn't have a very strong flavor. Just make sure to use a sunflower seed butter that's natural and only made up of sunflower seeds. Just know that the cookie dough may turn out a tad bit darker in color when using sunflower seed butter.
How to store vegan cookie dough bars
Any leftovers should be stored in an air tight container in the refrigerator. They will keep for up to one week and taste just as delicious on day seven as they did when they were freshly made.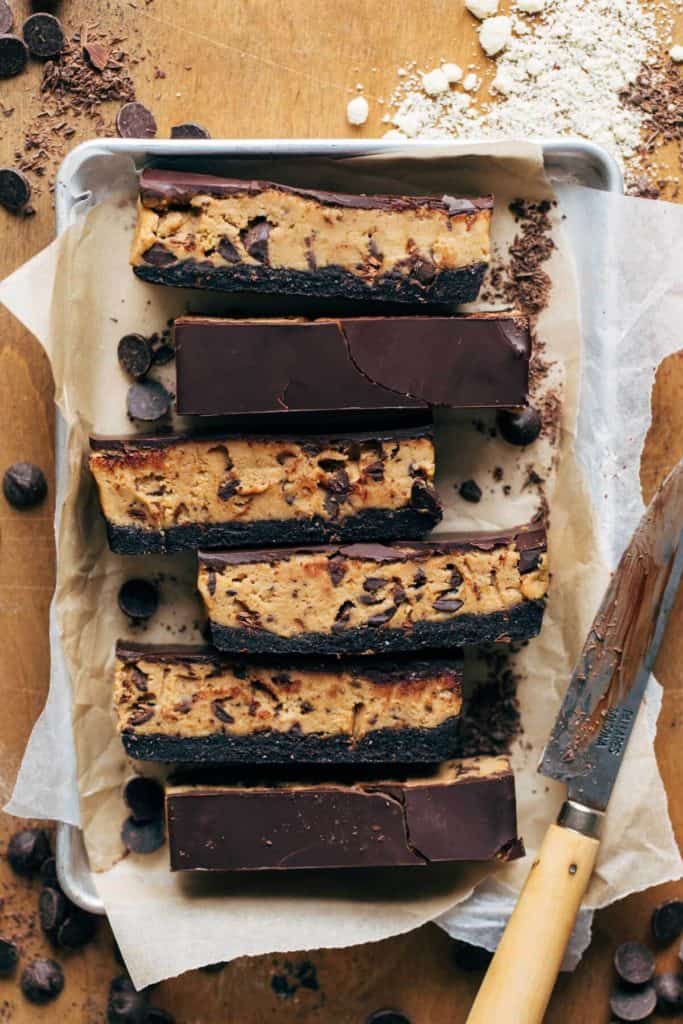 For more healthy dessert recipes, check out my:
Make sure to tag me @butternutbakery on Instagram and comment below if you make these Brownie Cookie Dough Bars. To pin this recipe and save it for later, you can use the button on the recipe card or on any of the photos above. Happy baking!
Print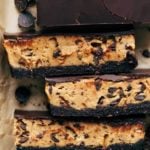 Brownie Cookie Dough Bars
---
Author: Jenna Barnard
Total Time: 1 hour 15 minutes
Yield: 7-8 bars
Description
These brownie bottom cookie dough bars are made with clean ingredients and are completely vegan and gluten free, but they're so delicious that you would never know!
---
Brownie Layer
3/4 cup (160g) pitted Medjool dates (about 8 dates)
2 tbsp pure maple syrup
1/2 cup (50g) Bob's Red Mill Super-Fine Almond Flour *SEE NOTES FOR NUT-FREE SUBS
1/3 cup (30g) dark unsweetened cocoa powder
1 tsp vanilla extract
Cookie Dough
Chocolate Coating
1/2 cup vegan dark chocolate chips
2 tsp coconut oil
---
Instructions
Brownie Layer
Add all of the ingredients to a food processor and blend until smooth. It should form into one large ball of tacky chocolate dough.
Press into the bottom of a loaf pan that's been lined with parchment paper. Set aside and clean out the food processor.
Cookie Dough
First, drain, rinse and skin the chickpeas. It's important to remove the skins otherwise the cookie dough will have a strong chickpea flavor and an odd gummy texture. To do so, place the drained and rinsed chickpeas on to a paper towel. Place another paper towel on top and gently roll around the chickpeas to loosen up the skins.
Then remove all the translucent skins one by one. It's a tedious step but it's very worth it and should only take about 10 minutes.
Once skinned, add all of the cookie dough ingredients to a food processor minus the chocolate chips.
Blend until smooth and creamy, just like a cookie dough. Then fold in the chocolate chips by hand.
Spread the cookie dough on top of the brownie base in an even layer.
Chocolate Coating
Add the chocolate and oil to a heat safe bowl and microwave in 30 second intervals, mixing between each time, until smooth (it should only take about 1 minute total).
Pour over the cookie dough layer and spread it even.
Chill the bars in the refrigerator for about 45 minutes to set.
Once the chocolate on top is firm, lift the bars out of the loaf pan and slice. I recommend using a large sharp knife to do so. Run it under hot water and wipe it dry between each cut. Using a warm knife will make it easier to slice through the hard chocolate on top and prevent the cookie dough from squishing out with each cut.
Store any extras in the refrigerator in an air tight container. They will keep for up to a week. Enjoy!
Equipment
Notes
ALMOND FLOUR SUBS – For a nut-free recipe, swap the almond flour with oat flour. I recommend Bob's Red Mill Gluten Free Oat Flour or you can make your own by blending Bob's Red Mill Gluten Free Rolled Oats in a food processor until finely ground.
HEAT TREATED – Microwave the flour for 1 minute to 1 minute 30 seconds. This kills any potential bacteria to make it safe to eat raw. 
CASHEW BUTTER SUBS – I highly recommend cashew butter is it provides the best cookie dough-like flavor. But you can't find any or prefer a nut-free option, I recommend using natural sunflower seed butter (made with just sunflower seeds and no added oils or sugars). You can also use natural peanut butter but just know that the peanut butter flavor will come through in these bars.
Prep Time: 1 hour 15 minutes
Keywords: cookie dough, vegan cookie dough, cookie dough bars, edible cookie dough
Recipe Card powered by