This creamy and fudgy chocolate tart is so rich and set in a crunchy salted pretzel crust! It's so simple, so quick, no bake, and made with only a few simple ingredients. This recipe is also completely gluten free and vegan!
This post is sponsored by SunButter and all thoughts and opinions are my own. Thank you for supporting the brands that make Butternut Bakery possible!
How to make a no bake pretzel crust
The creamy chocolate filling mixed with the crunchy pretzel crust is the best combination! What makes this EVEN BETTER is that the crust is so easy to make and only requires three ingredients:
Pretzels (regular or gluten free)
Sugar
Butter (regular or plant-based)
The pretzels and sugar are pulsed in a food processor until it turns into a pebble consistency – it kind of reminds me of the little rocks in the bottom of a fish bowl.
This can also be done by hand if you don't have a food processor. Chuck the pretzels into a ziplock bag and hammer away until evenly crushed.
Once the pretzels reach the right consistency, pour in the melted butter and mix to evenly coat.
Then the crust is pressed into a tart pan. It will appear very loose and crumbly, but it will hold firm once the crust is chilled. Just try your best to cover any visible gaps.
Once chilled, the crust is ready to fill!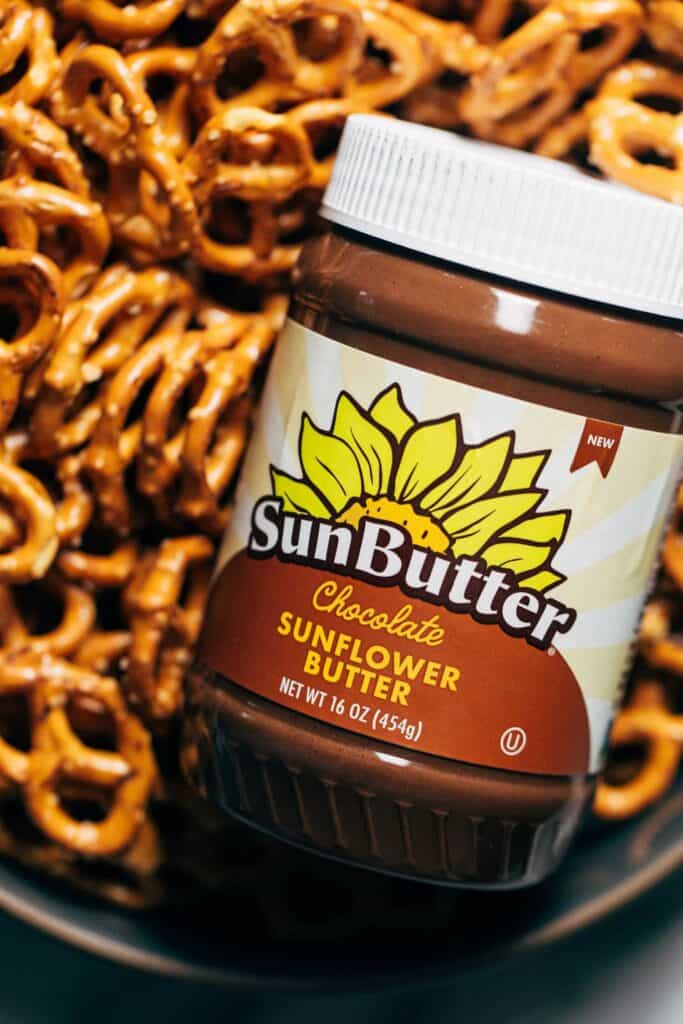 Vegan chocolate tart
Now for my favorite part, the filling. This chocolate tart is so rich and creamy thanks to our secret ingredient – Chocolate SunButter.
This sunflower seed spread is flavored with cocoa and a hint of sweetness. It's so incredibly smooth, creamy, and rich so it transforms this ganache filling into an extra fudgy consistency.
The Chocolate SunButter also adds just the right amount of sweetness! Since it's a dark chocolate filling, the sweet Chocolate SunButter helps liven up the chocolate to create the perfect balance of salty and sweet.
Aside from our Chocolate SunButter, the filling is built around two main ingredients:
Dark Chocolate
Coconut Milk
These two ingredients make the best vegan chocolate ganache. It's silky, glossy, smooth, and tastes JUST like regular ganache. Just make sure to use CANNED full fat coconut milk as this closely mimics heavy cream.
Troubleshooting chocolate tart filling
All of the filling ingredients are melted together in the bain-marie, aka a bowl over a pot of simmering water.
It's important that the water is lightly simmering but not boiling. If the water gets too hot, it will heat up the ganache and cause separation. This separation will create an oily sheen on top of the tart once it's chilled.
If you notice your ganache is looking a bit oily, there's an easy fix.
Heat up any leftover coconut milk until it's hot and bubbly. This can be done quickly in the microwave.
With the heat turned down on the bain-marie, pour in about 1-2 tablespoons of the milk and whisk to combine. This extra liquid will help smooth out the ganache and revive that glossy shine.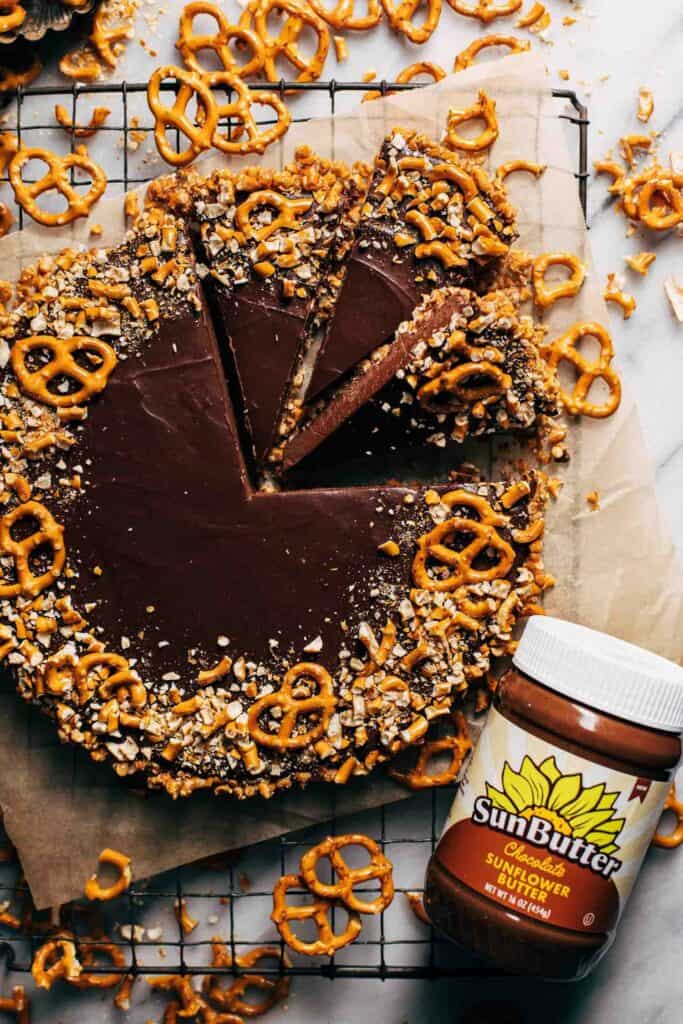 No Bake Chocolate Tart FAQs
Can I use regular pretzels instead?
Yes, if you do not follow a gluten free diet then regular pretzels can be used!
Can I use regular butter instead?
Yes, if you do not follow a plant-based or dairy free diet, regular butter can be used in its place.
What is the best chocolate to use?
Chocolate chips usually come in 10 oz bags which makes this recipe easy, so any dark chocolate chips will work! Just make sure to look at the size of the bag. And if you are vegan or gluten free, make sure the chocolate checks both boxes.
Can I use a different type of milk in place of the coconut milk?
Full fat canned coconut milk is very similar to heavy cream which is why it's used to make a rich vegan chocolate tart. I do not suggest swapping with carton milk as it's not fatty enough. If anything, swap in heavy cream or plant-based heavy cream.
How do I store pretzel crust chocolate tart?
Store the tart in the freezer to help prevent the crust from going stale. If stored in the refrigerator, the crust tends to turn soft rather quickly. That being said, it can be chilled in the refrigerator for about a day and it's best to serve the tart the day it's made.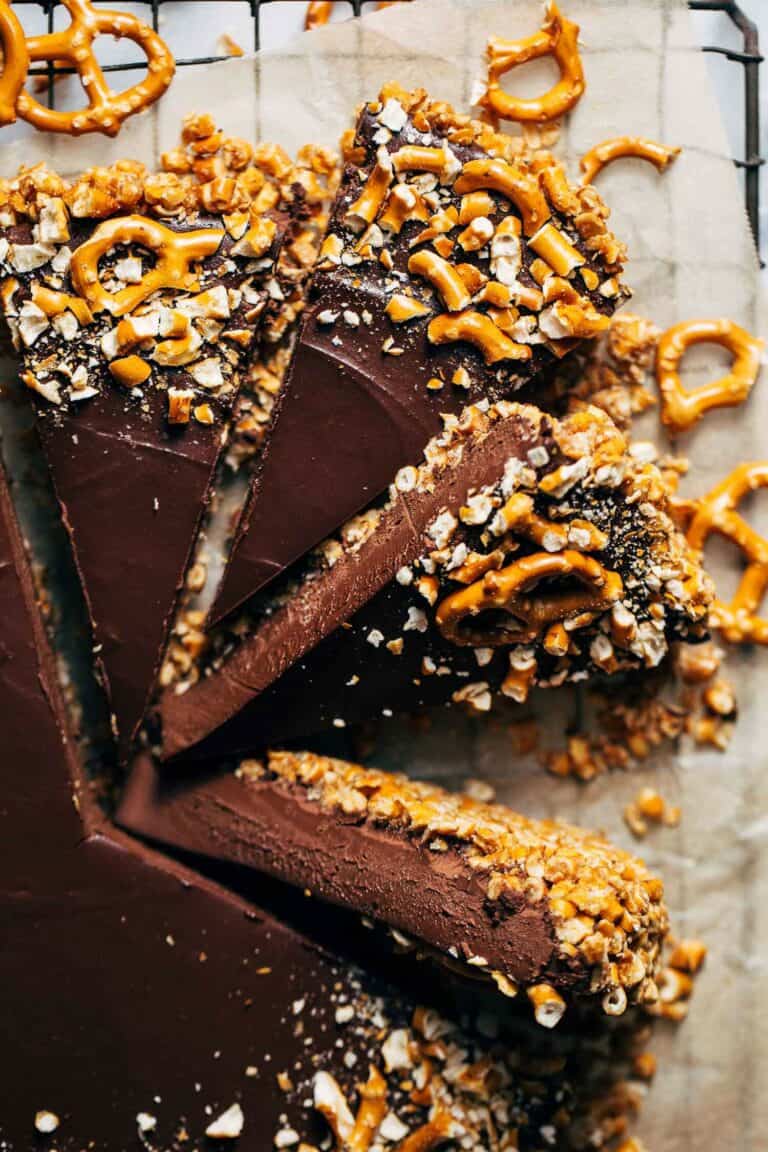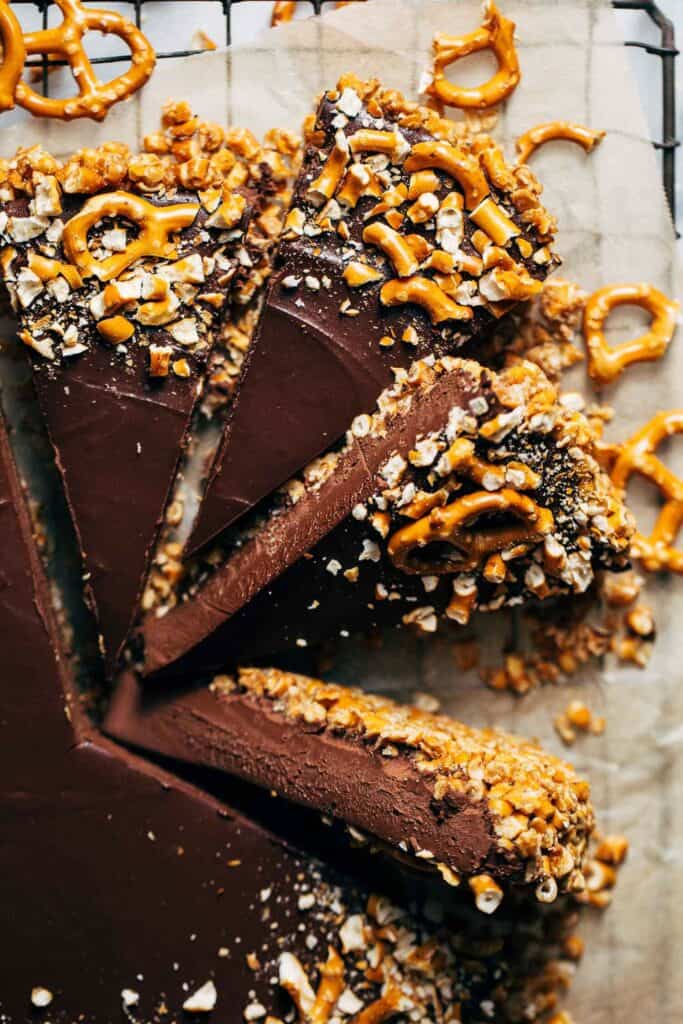 For more no bake vegan recipes, check out my:
Make sure to tag me @butternutbakery on Instagram and leave a review below if you make this chocolate tart. To pin this recipe and save it for later, you can use the button on the recipe card, the buttons above or below this post, or on any of the photos above. Happy baking!
Print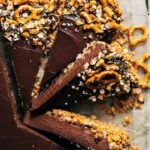 Double Chocolate Salted Pretzel Tart
---
Author: Jenna Barnard
Total Time: 1 hour 30 minutes
Yield: 10-12 slices
Diet: Vegan
Description
This creamy chocolate tart is so rich and fudgy – balanced by a crunchy salted pretzel crust! It's quick, easy, no bake, and completely gluten free and vegan.
---
Pretzel Crust
5 oz gluten free pretzels (about 4 1/2 cups), plus more for topping
2 tbsp granulated sugar
1/2 cup (110g) unsalted plant-based butter, melted
Double Chocolate Tart Filling
10 oz vegan dark chocolate chips
1 1/4 cup (300g) full fat canned coconut milk (reserve what's left in the can)
1/2 cup (110g) Chocolate SunButter
1 tbsp pure maple syrup
---
Instructions
Pretzel Crust
Add the pretzels and sugar to a food processor and pulse until it turns into a pebble consistency.
Pour in the melted butter and stir to coat.
Dump into a 9″ round tart pan (I suggest placing the tart pan on a plate for easy transporting) and evenly press in the crust. Make sure to cover the entire bottom and sides. It will feel a bit loose and crumbly, but it will hold firm once it's chilled.
Pop the tart into the freezer while we make the filling.
Double Chocolate Tart Filling
Fill a pot about 1/4 full of water and place over medium-low heat.
Once simmering, place a heat safe bowl on top of the pot (do not let it touch the water) and add in all of the tart filling ingredients.
Stir to melt. In the end it should be very smooth, rich, and glossy. If it looks oily and separated (caused by too much heat), there's an easy fix.
First, turn down the heat. Then pour the leftover coconut milk into a heat safe dish and microwave until hot.
Pour about 1-2 tbsp of the hot coconut milk into the ganache and whisk to combine. This should smooth the consistency. Remove from heat.
Pour the filling into the frozen crust and spread even. Top with extra crushed pretzels if desired.
Place back in the freezer for about 1 hour or until set.
Now slice and enjoy! For the best consistency, serve the day of.
Equipment
Prep Time: 30 minutes
Chill Time: 1 hour
Category: Dessert
Method: No Bake
Cuisine: American
Keywords: vegan chocolate tart, chocolate tart recipe, no bake pretzel crust, pretzel chocolate tart, chocolate pretzel tart, no bake chocolate tart
Recipe Card powered by