This recipe for chickpea brownies is my new go-to for when I'm craving something chocolatey but want something a bit healthier than traditional brownies. Yes, they're made with chickpeas but you can't taste them one bit! They create a rich and fudgy texture alongside a few other natural ingredients. The result is a delicious gluten free and vegan brownie that tastes way too good to be true.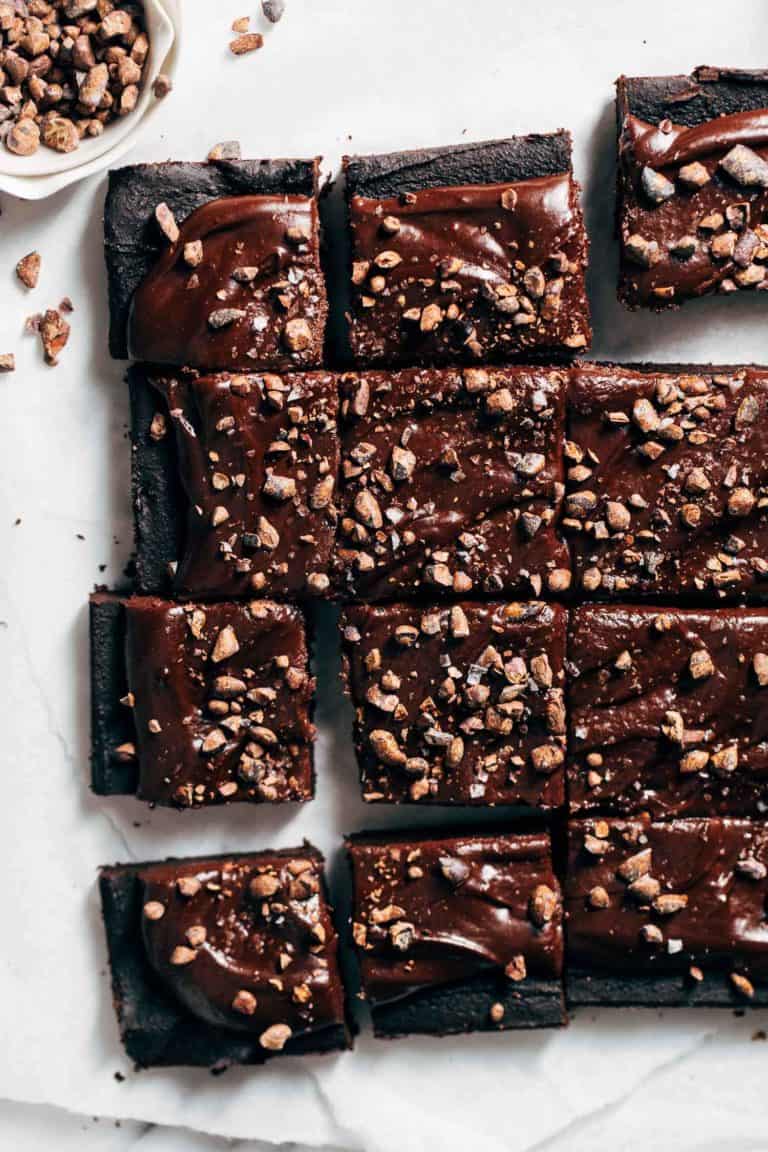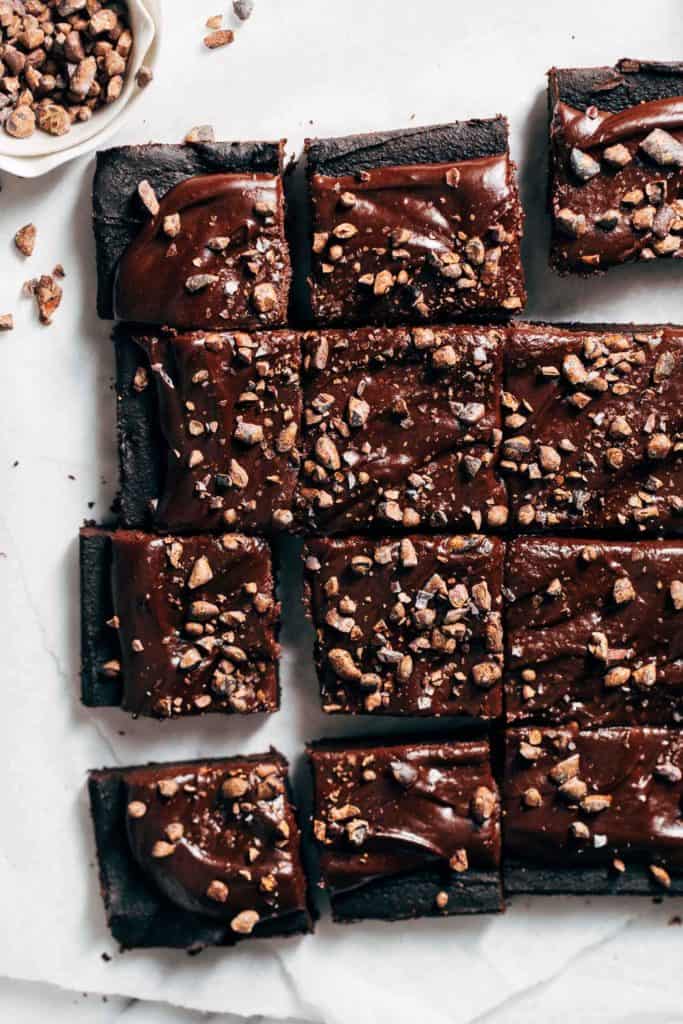 How to incorporate chickpeas into brownies (without the taste!)
I know, chickpeas in brownies is an odd concept but trust me when I say IT WORKS! Chickpeas are high in starch and protein, creating a really rich and delicious brownie batter that is so tempting to eat with a spoon (I will not judge if that is you eat the whole bowl).
But how does it work? First and foremost, it's very important to ensure the flavor and texture of chickpeas goes completely undetected in these chickpea brownies. It's all in how the chickpeas are prepped.
The chickpeas are first cooked in a mixture of water and baking soda. This concoction is boiled until the chickpeas become SUPER tender, allowing them to blend seamlessly into the batter.
As for the baking soda, the acid helps break down the shells of the chickpeas. This both helps with blending and also mellows out the chickpea flavor.
After the chickpeas are boiled and then simmered for about 15 minutes, they are drained and added to a food processor. Blended with the other wet ingredients, the chickpeas quickly blend into a very smooth consistency. Zero bits, chunks, or flavor detected!
How to make chickpea brownies
Once the chickpeas are prepped, now all that's left is to blend the batter. Yes, the batter is blended and not stirred which makes this chickpea brownie recipe SUPER easy.
The cooked chickpeas are blended alongside these wet ingredients:
Pure maple syrup – It's important to use PURE maple syrup. Traditional pancake syrup is basically corn syrup so it has a different flavor and consistency. Plus, pure maple syrup tastes way better!
Natural sunflower seed butter – I prefer natural sunflower seed butter for this recipe for a few reasons. One, it makes this a nut-free brownie recipe. Two, sunflower seed butter is fairly mild in flavor but super creamy. It blends seamlessly into the batter and doesn't compete with the chocolate.
Vanilla extract – This is for an extra kick of flavor!
Non dairy milk – For a nut-free recipe, opt for coconut or oat milk. Otherwise, any non dairy milk will work!
After the wet ingredients are blended, the batter will be very thin and watery. But after oat flour and cocoa powder are added, the brownie batter turns rich and fudgy just like traditional brownies.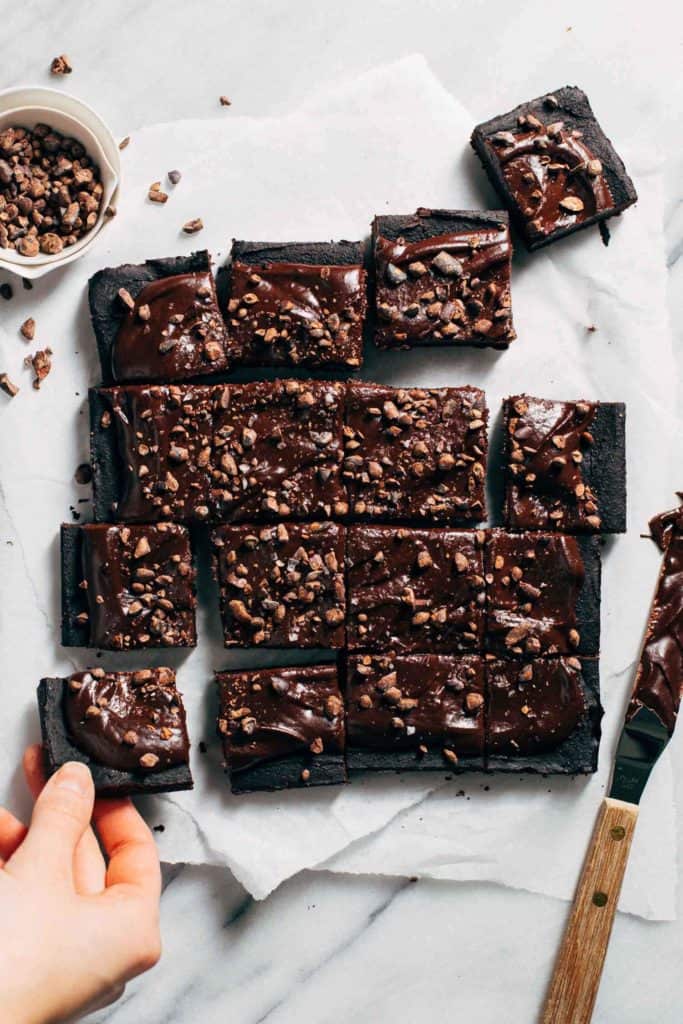 Baking chickpea brownies
The batter is baked in a greased and lined 8×8 square baking dish. In other words, give the entire pan a light spritz of coconut oil spray (I prefer coconut oil here as it's a healthier alternative to vegetable oil spray).
Once coated, place a sheet of parchment paper inside the pan so that it covers the bottom and two sides. Allow the paper to reach up and over the sides for easy removal later on.
Now, the batter does not budge when baked. This is why it's important to smooth out the batter as even as possible before baking. Otherwise, you'll be left with some pretty uneven slices!
These brownies only need to bake for 15 minutes. They're done when the surface is dark and dull. Press a finger into the surface to feel some resistance, which is another tell that they're ready.
Allow the brownie to cool for about 30 minutes at room temp, then another hour in the fridge. It's important that the brownies are fully cooled before adding the ganache and slicing. Otherwise the ganache will melt and the slices will fall apart.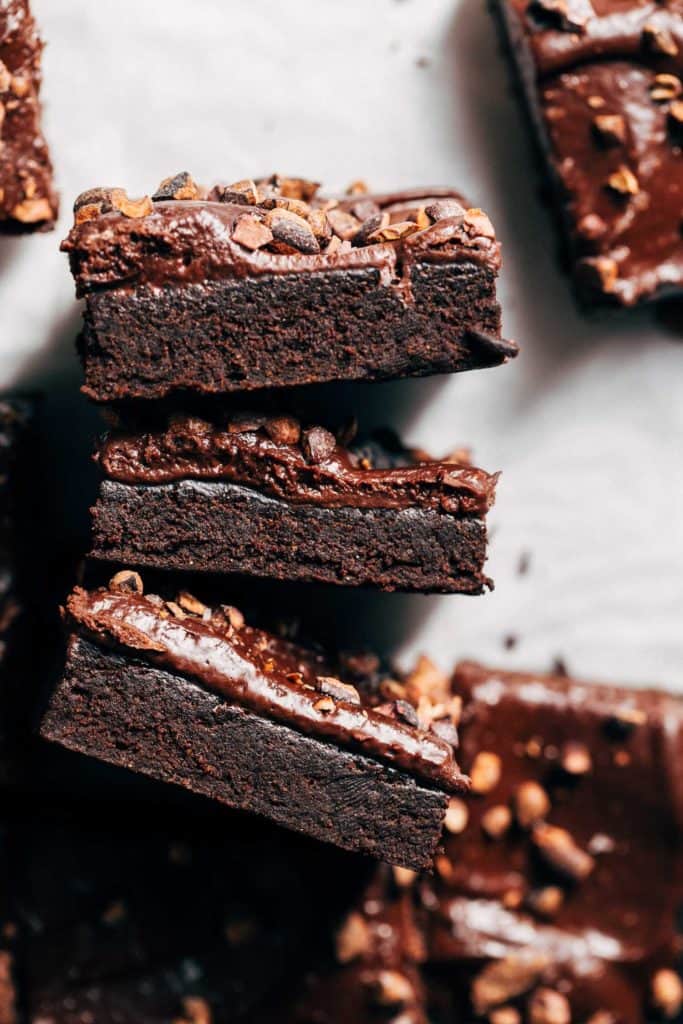 Healthy chickpea brownie toppings
Chocolate ganache is my personal favorite addition to these brownies. It accompanies the already fudgy consistency of the brownies and adds even more rich chocolate flavor.
If ganache isn't your thing or you prefer something a bit lighter, here are a few other options:
Sprinkle chocolate chip on top of the batter before baking. The chips adds just a hint of extra sweetness but are not as rich as a layer of ganache.
Spread a layer of sunflower seed butter or any nut or seed butter on top of the cooled brownies.
Melt down 1/4 cup of chocolate with 1/2 tsp coconut oil. Drizzle over the cooled brownies and top with flaky sea salt.
What can be substituted for the sunflower seed butter?
If you have a different nut or seed butter on hand, no need to go out of your way to grab a fresh jar of sunflower seed butter. Any nut or seed butter can be used, as long as it's natural and made with only one ingredient.
What can be substituted for the oat flour?
If you don't have oat FLOUR, you can easily make your own by blending oats in a food processor. But if oats aren't an option for you, try swapping in almond flour. I haven't tested this myself, but oat flour and almond flour are great substitutes for one another.
How to store chickpea brownies
After the brownies are frosted with ganache and sliced, they can be stored in an air tight container in the refrigerator where they will keep for up to a week.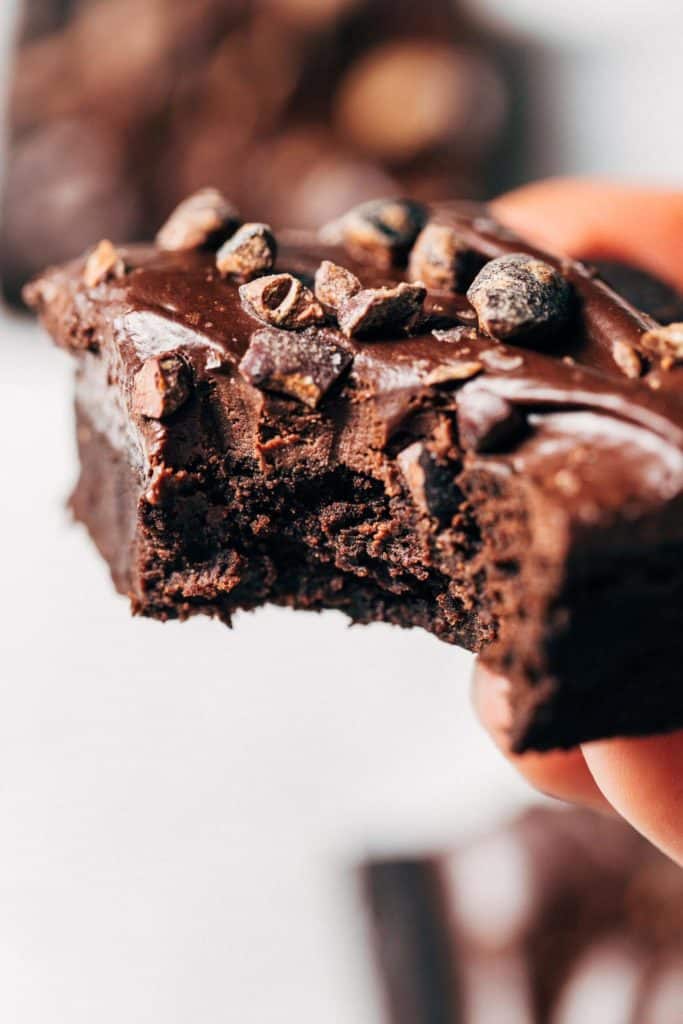 For more healthier dessert recipes, check out my:
Make sure to tag me @butternutbakery on Instagram and leave a review below if you make these fudgy chickpea brownies. To pin this recipe and save it for later, you can use the button on the recipe card, the buttons above or below this post, or on any of the photos above. Happy baking!
Print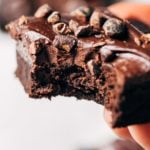 Fudgy Chickpea Brownies
---
Author: Jenna Barnard
Total Time: 45 minutes + 1 hour cooling
Yield: 16 brownies
Description
These chickpea brownies taste super rich and fudgy but are completely gluten free, vegan, and made with natural ingredients. If you're craving brownies but want something a bit more light, this recipe is for you. Don't worry, you cannot taste the chickpeas one bit!
---
Chickpea Brownies
1 15oz can chickpeas (aka garbanzo beans), drained and rinsed
1/4 tsp baking soda
1/2 cup pure maple syrup
1/4 cup natural sunflower seed butter*
2 tsp vanilla extract
1/4 cup non dairy milk
1/2 cup oat flour
1/2 cup dark cocoa powder
1/4 tsp kosher salt
Chocolate Ganache
---
Instructions
Chickpea Brownies
Add the drained and rinsed chickpeas to a saucepan and fill with enough water to cover the chickpeas by 1/2 an inch. Sprinkle in the baking soda.
Bring to a boil, then reduce the heat to medium and simmer for about 15 minutes.
The chickpeas should turn really tender. Drain the chickpeas in a fine mesh strainer but do not rinse.
Transfer the hot chickpeas to a food processor and spread the chickpeas around so they can cool down a bit faster. Allow the chickpeas to cool for 10 minutes before continuing on.
In the meantime, preheat the oven to 350F and grease and line a 8×8 square baking dish with parchment paper. Allow the paper to hang up and over the sides for easy removal later on.
Once the chickpeas have cooled, add the maple syrup, sunflower seed butter, vanilla, and milk to the food processor. Blend until smooth.
Add in the oat flour, cocoa powder, and salt and blend again until smooth. The mixture should turn thick, just like brownie batter.
Scoop the batter in the prepared pan and spread it as even as possible.
Bake for 15-17 minutes, then allow the brownies to cool at room temperature for about 30 minutes. Chill in the refrigerator for another hour or until completely cooled. If you're storing for longer than an hour, cover the pan before chilling.
Chocolate Ganache
Add the chocolate to a heat-safe bowl and the coconut milk to a separate heat-safe measuring glass.
Microwave the milk for about 1 minute, or until bubbling and steaming.
Pour the hot milk over the chocolate and let it sit for 3 minutes.
Then whisk the two together until smooth. Allow the ganache to cool at room temperature for about 20-30 minutes to thicken. (Cooling is an optional step. Otherwise, feel free to pour the thin and warm ganache on top. Either way is fine!)
Once thickened, spread the ganache over the chilled brownies and top with cacao nibs and sea salt (optional). Now slice and enjoy!
Equipment
Notes
*SUNFLOWER SEED BUTTER – I prefer sunflower seed butter for this recipe because it has a mild flavor and is suuuuper creamy. You can choose to use any natural nut or seed butter, as long as it's only made up of just one ingredient.
STORAGE – Store the brownies in an air tight container in the refrigerator where they will keep for about a week.
Prep Time: 30 minutes
Cook Time: 15 minutes
Category: Dessert
Method: Baking
Cuisine: American
Keywords: chickpea brownies, healthy brownies, healthy brownie recipe, gluten free brownies, vegan brownies, chickpea brownie recipe
Recipe Card powered by