This gluten free banana bread is super soft, moist and does NOT lack flavor! Filled with ripe mashed bananas and coarse ground oats, it has the perfect texture that isn't gluey or dry. It's also dairy free and can be made refined sugar free!
This post is sponsored by Bob's Red Mill but all thoughts and opinions are my own. Thank you for supporting the brands that make Butternut Bakery possible!
What makes this the most perfect gluten free banana bread?
For starters, it is SUPER moist. It just breaks apart and melts in your mouth…unlike some gluten free banana bread recipes that tend to be dry or gluey.
Because of how moist it is, it stays that way for days. It won't dry out quickly, so you can snack on it the whole week!
It's also very easy to make using really accessible gluten free baking ingredients. My go-to gluten free baking flour is Bob's Red Mill 1-to-1 Gluten Free Baking Flour. Using that in addition to their Gluten Free Organic Old Fashioned Rolled Oats creates a delicious texture.
Tips of baking gluten free dairy free banana bread
This recipe is super easy to make, but these extra tips will ensure it's baked perfectly every time:
Use really ripe bananas and mash them as finely as you can. I'll be explaining how to ripen bananas for baking in the next couple paragraphs.
Measure your bananas. Don't just mash up 3 bananas and call it a day. Make sure you use exactly 1 1/2 cups of finely mashed bananas because there are many variations in sizes and amounts a single banana can produce.
Loosely ground your oats. Using rolled oats in this recipe breaks up the soft monotony in the texture. But using whole rolled oats makes the bread a little clunky, so use a food processor and pour in 1/2 cup of oats. Give it 3-4 pulses and you're good to go.
Make sure all of the ingredients are well mixed together. Without gluten, you don't have to worry about over mixing. Stop when all of the dry ingredients are fully blended into the batter.
Bake it alllll the way through. If you're on the fence on whether or not it's done, keep baking it a couple more minutes (it's tough to over bake this banana bread). It's ready when the center is puffed up and a toothpick comes out clean.
Allow the bread to cool COMPLETELY before slicing. Fresh from the oven, the bread is too soft for slicing. You might even think it's under baked at this point. Allowing the bread to cool helps thicken the texture of the bread so that it holds together when sliced.
If you have any other questions that are not answered in this post, make sure to leave a comment below and I'll respond as soon as I can!
How to make banana bread gluten free
There is a very fine line between delicious moist gluten free banana bread, and soggy gluey gluten free banana bread. That's why I used two of my favorite gluten free baking ingredients to ensure this banana bread turned out PERFECT.
First, I started with my tried and true Bob's Red Mill 1-to-1 Gluten Free Baking Flour. I use this in almost ALL of my gluten free recipes because it just never fails. It's the perfect blend of rice flour, healthy starches, and xanthan gum that just takes the guess work out of gluten free baking.
To add a bit of texture into this smooth batter, I included another gluten free baking favorite. Bob's Red Mill Organic Gluten Free Old Fashioned Oats are, like they say, completely gluten free. You have to be careful with oats, because most brands mill their oats in the same factory as wheat ingredients.
But, whenever I bake with old fashioned oats, I always like to give them a quick pulse in a food processor. I love the texture from old fashioned oats, but sometimes it's a bit too chunky for what I'm looking for. Loosely ground old fashioned oats give you that extra bit of texture without any chewiness.
The blend of these two ingredients is the key to baking DELICIOUS gluten free banana bread.
How to ripen bananas FAST for baking
Want to bake banana bread but only have green bananas? This trick allows you to have super ripe bananas in 15 minutes! It's the method I use all the time because it's quick and effective.
Line a baking sheet with aluminum foil and preheat your oven to 300F. Lay your bananas on a large baking sheet, evenly spaced.
Bake for 15 minutes or until they turn completely black. It's very jarring, but trust me it works! They should be super dark all the way around and somewhat shiny.
Allow the bananas to cool on the baking sheet for about 20 minutes, then peal and mash. The bananas themselves will be very soft (and kind of slug-like which is as disgusting as it sounds) but PERFECT for baking.
Over ripe bananas are bursting with flavor and are super easy to mash, so your end result will be a very flavorful banana bread with very few banana chunks.
How to make your banana bread look *fancy*
Making your banana bread magazine-worthy is super simple! All you need is an extra banana, preferably one that's still yellow.
For my banana bread, I chose to slice my banana length wise. Peal a yellow banana and slice it right down the middle, hotdog style. Lay your bananas, sliced side up, on top of the banana bread batter inside the loaf pan.
Once baked, the bananas on top will caramelize and provide even MORE banana flavor.
Another option is to slice your banana like normal, width wise. Take your slices and scatter them around the top of the bread in any pattern or design you like.
You could also add some chopped walnuts or pecans on top. Once baked the nuts will be nice and toasted and the bananas caramelized. Or even better…add some chocolate chips!
Can I add mix-ins to the batter?
Yep! Mix in whatever you like…chocolate chips, nuts, or dried fruit. Use about 3/4 cup total.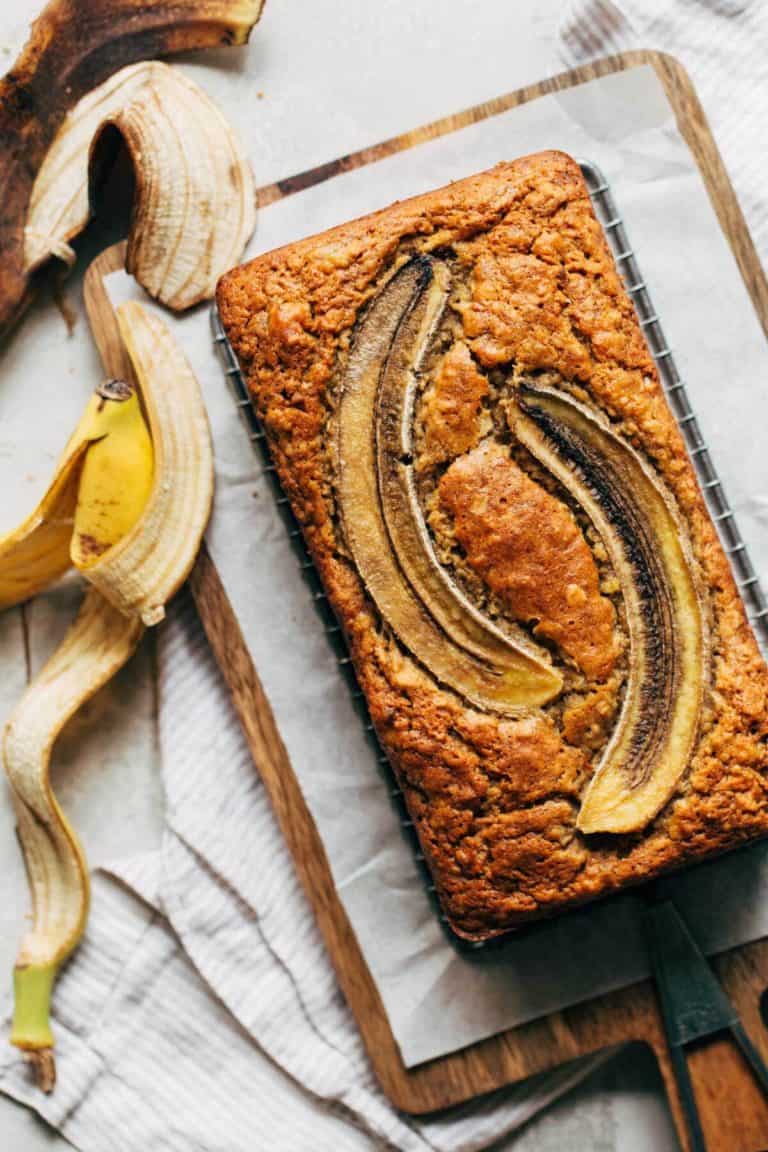 Do I have to make this diary free?
Nope! To make this dairy free, I used coconut cream. If you'd prefer to use dairy in your recipe, swap the same amount in regular plain yogurt. It works just as well.
What if I don't have a food processor for the oats?
To achieve loosely ground outs without a food processor, you could pour 1/4 cup at a time onto a cutting board and give them a rough chop. It will feel kind of odd, but it will get the job done!
What types of oil can I use?
I used vegetable oil in the final recipe, but you can use canola oil, coconut oil (melted), olive oil (if you're ok with some of the flavor), or any other mild flavored oil. I do not recommend using butter or apple sauce as the water content is too high, creating a soggy banana bread.
How do I make this refined sugar free?
To make this banana bread even healthier, swap the brown sugar for coconut sugar. You could also swap the maple syrup for honey if you prefer.
How to know when it's done
The most important step is to make sure this bread is baked all the way through. Because of how moist it is, the center could come out raw if it hasn't had enough time in the oven.
It's ready when the top is golden brown and puffed up. Test it with a toothpick by inserting it into one of the cracks close to the center of the bread. If it comes out clean, it's done.
It's also tough to over bake this banana bread, so if you're unsure, allow it to bake for a couple extra minutes.
Another important step is to allow it to cool COMPLETELY before slicing. Again, it all comes back to how moist this bread is. Cooling before slicing helps to firm up the bread, so each slice will hold together.
How to store banana bread
To keep the banana bread as long as possible, store it in an air tight container in the fridge. This will keep for up to 5 days.
If you like your banana bread warm, head up a slice in the microwave for about 20 seconds before eating. Spread some butter (or DF butter) on top and dig in!
For more delicious banana bread recipes, check out my:
Make sure to tag me @butternutbakery on Instagram and leave a review below if you make this Gluten Free Banana Bread. To pin this recipe and save it for later, you can use the button on the recipe card, the buttons above or below this post, or on any of the photos above. Happy baking!
Print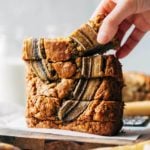 Gluten Free Banana Bread
---
Author: Jenna Barnard
Total Time: 1 hour 20 minutes
Yield: 1 loaf 1x
Description
This gluten free banana bread is super soft, moist, and loaded with delicious ripe bananas. It's the perfect texture and can also be made dairy free!
---
1 1/2 cups (350g) finely mashed ripe bananas (about 3 1/2 medium bananas)
3/4 cup (175g) packed light brown sugar (or coconut sugar)
3 tbsp pure maple syrup
1/4 cup (55g) any mild oil (vegetable, canola, melted coconut oil..etc).
2 large eggs
1 tsp vanilla extract
1/4 cup (60g) canned full fat coconut milk, skim the cream from the top* (or plain yogurt)
1 1/4 cups (195g) Bob's Red Mill 1-to-1 Gluten Free Baking Flour
1/2 cup (50g) Bob's Red Mill Gluten Free Organic Old Fashioned Rolled Oats, loosely ground
1 tsp baking powder
1/2 tsp baking soda
1/4 tsp salt
1/2 tsp cinnamon
1 yellow banana for decorating (optional)
---
Instructions
Preheat the oven to 350F and spray and line a 9×5 loaf pan with parchment paper. Allow the paper to hang over the two long sides so it's easy to lift out later.
Add 1/2 cup of oats to a food processor and pulse 3-4 times. Mix this into a bowl of flour, baking powder, baking soda, salt, and cinnamon. Set aside.
Measure out your bananas to ensure you have 1 1/2 cups. Try to mash them up as fine as possible and set aside. (see notes below on how to ripen bananas)
Whisk together the sugar, maple syrup, oil, eggs, vanilla, and coconut cream. Once smooth, mix in the banana.
Fold in the dry ingredients and pour the batter into your prepped pan.
As an optional step – peal and slice your extra yellow banana length wise and lay the slices cut side up on top of the batter.
Bake for 50 minutes to an hour. It's ready when the top is completely golden brown, the center is puffed up, and a toothpick comes out clean.
Allow the banana bread to cool in the pan for 30 minutes. Lift it out of the pan and allow it to cool for an hour. It's important that the bread is COMPLETELY cooled before slicing. You can place it in the fridge to speed up this process.
Now slice and enjoy!
Notes
To ripen bananas fast – Bake at 300F for 15 minutes on a baking sheet lined with foil. They will turn black and shiny. Allow them to cool, then peal and mash.
To properly measure the coconut milk – Open the can and skim the thick cream off the top. The cream rests on top of the can while the liquid sinks to the bottom. Avoid using the liquid. It's much easier to separate the two if you place the can in the fridge the day before baking.
Prep Time: 20 minutes
Cook Time: 1 hour
Keywords: banana bread, gluten free banana bread, gluten free banana bread recipe, gluten free dairy free banana bread
Recipe Card powered by