These Gluten Free Chocolate Chip Cookies are everything a cookie should be – golden and crisp on the outside, melty and chewy on the inside, and loaded with chocolate chips with a sprinkling of sea salt on top! They're bursting with the flavor and texture of a regular chocolate chip cookie… only better!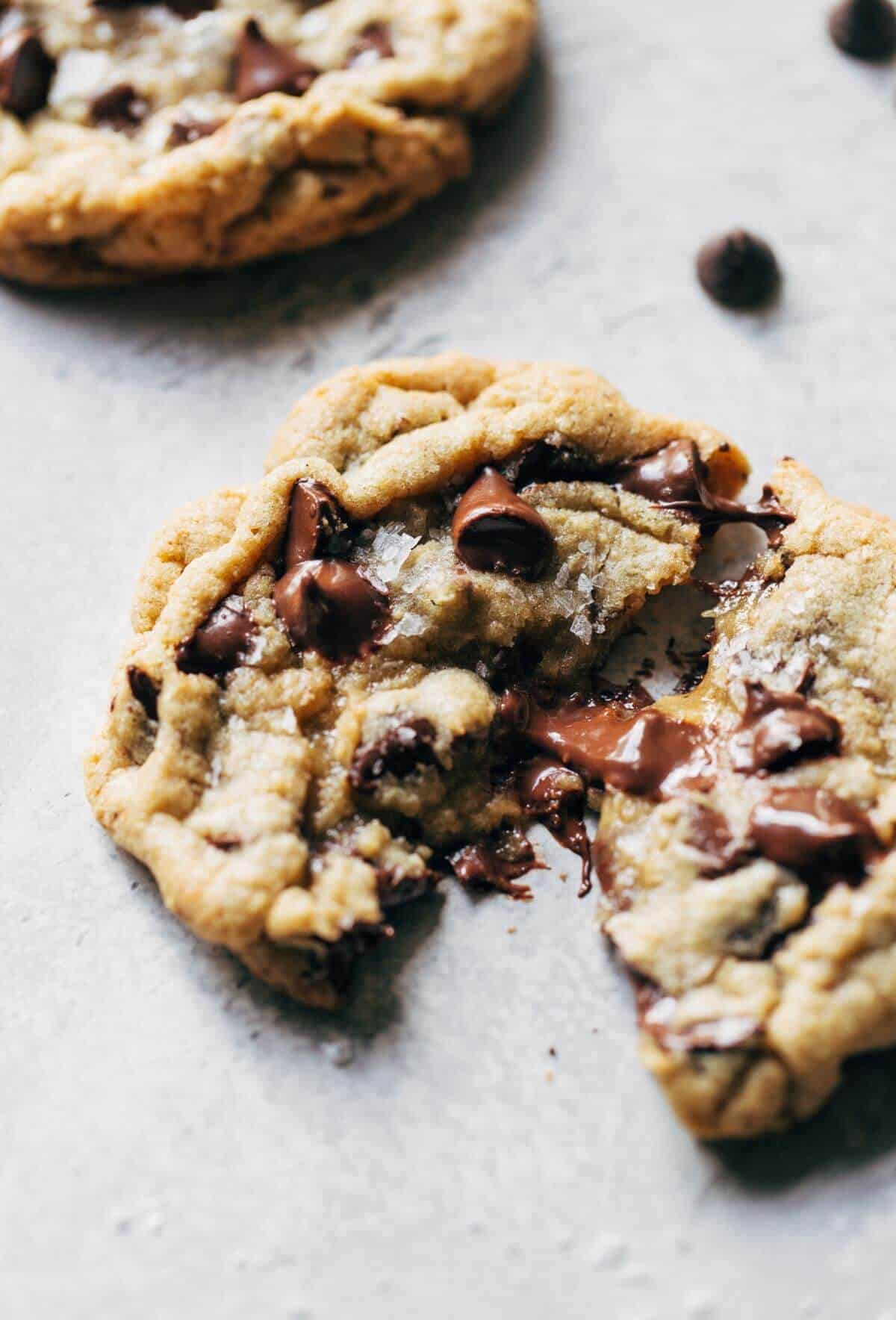 What makes these the best gluten free chocolate chip cookies?
For starters, just look at that texture! These cookies are definitely up to par with regular gluten-filled chocolate chip cookies. They have all the right chewiness and gooiness that can sometimes be lacking in gluten free cookies.
This recipe also only calls for 2 types of gluten free flours – all purpose gluten free flour blend and oat flour. Both are very easy to get ahold of and helps makes this recipe super simple.
The dough also only needs to chill for 2 hours. Many of my cookie recipes require the dough to chill overnight, but not these! Just prep the dough in the morning and you can have freshly baked chocolate chip cookies by noon.
Last but not least, these cookies are NOT cakey. Gluten free cookies tend to be on the puffy and cakey side because it's tough to achieve that chewy texture without the cookie falling apart. But with the use of brown sugar and an extra egg yolk, these cookies are dense and chewy perfection.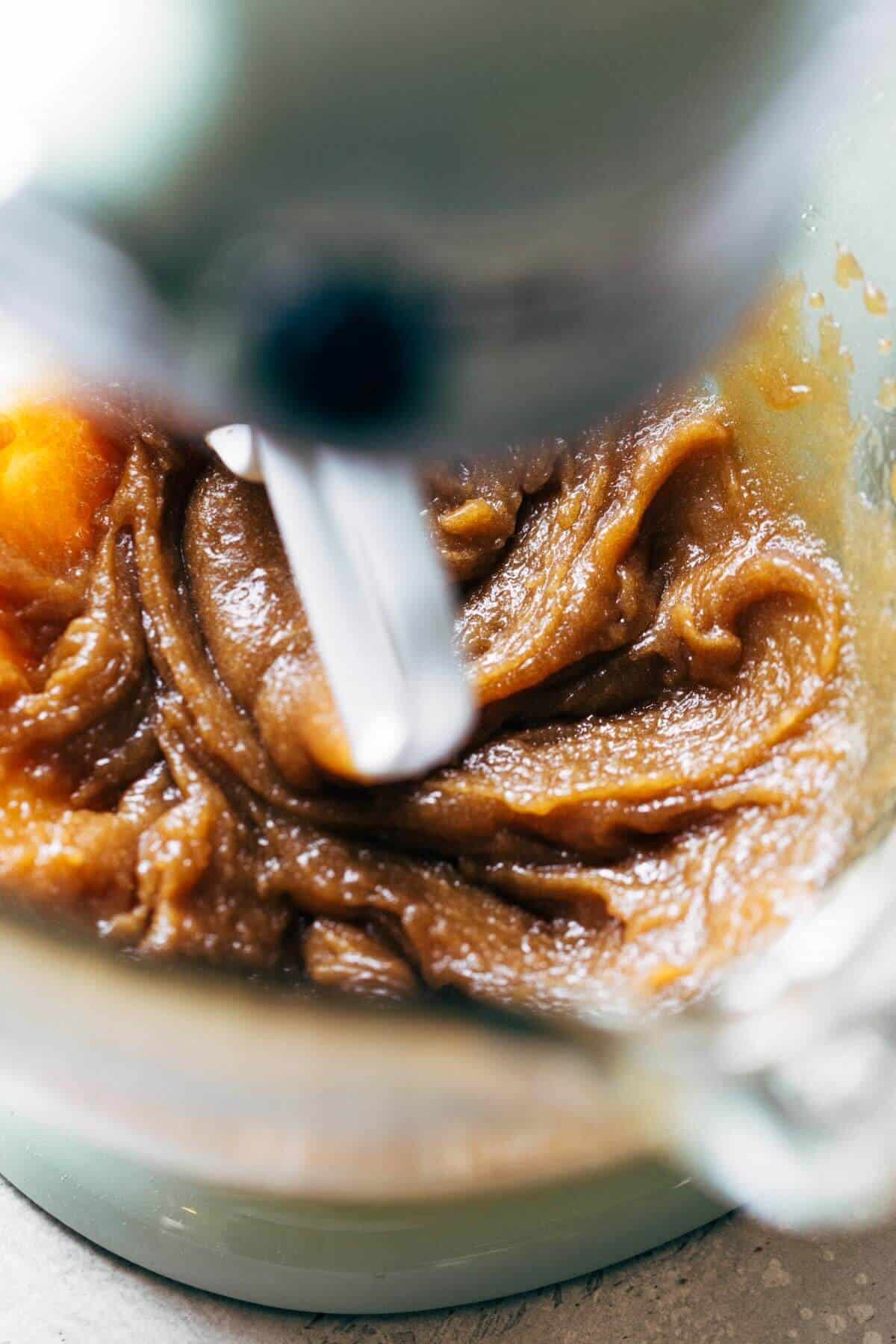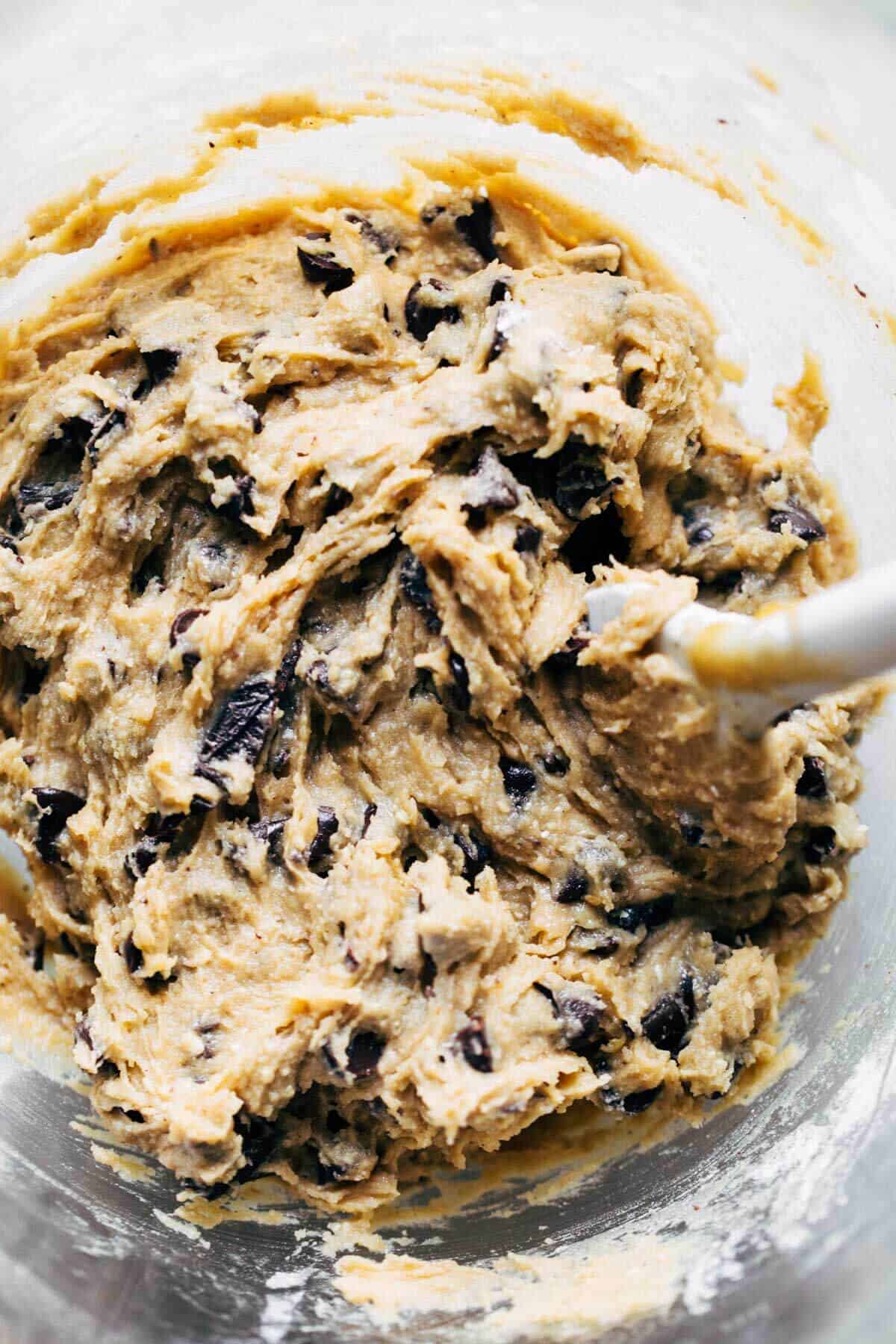 Tips for making gluten free cookies
The cookie dough is made just like any other, by creaming together the butter and sugar, mixing in the vanilla and eggs, then finishing it off with the dry ingredients and chocolate.
For this recipe, there are a few things to keep in mind when making the dough:
Completely cream together the butter and sugar. And by that, I mean it should look like a thin paste when it's ready. Run the mixer on medium high speed until the two blend together, just like the mixture above.
Make sure to spoon and level your flours to ensure you don't use too much, otherwise the cookies won't spread properly. Spoon the flour into the measuring cup and level it off with a straight edge. Don't pack it into the cup, otherwise it will be too much.
You can choose to use vanilla bean paste or vanilla extract, but vanilla bean paste creates a deeper vanilla flavor that's so delicious in this recipe!
The extra egg yolk helps add that chewiness factor to create a much richer cookie. Don't leave it out!
Using a blend of semi sweet chocolate and bittersweet chocolate helps create an interesting depth of flavor in these cookies. You can choose whichever chocolate you like best, but I recommend this combo for the best results.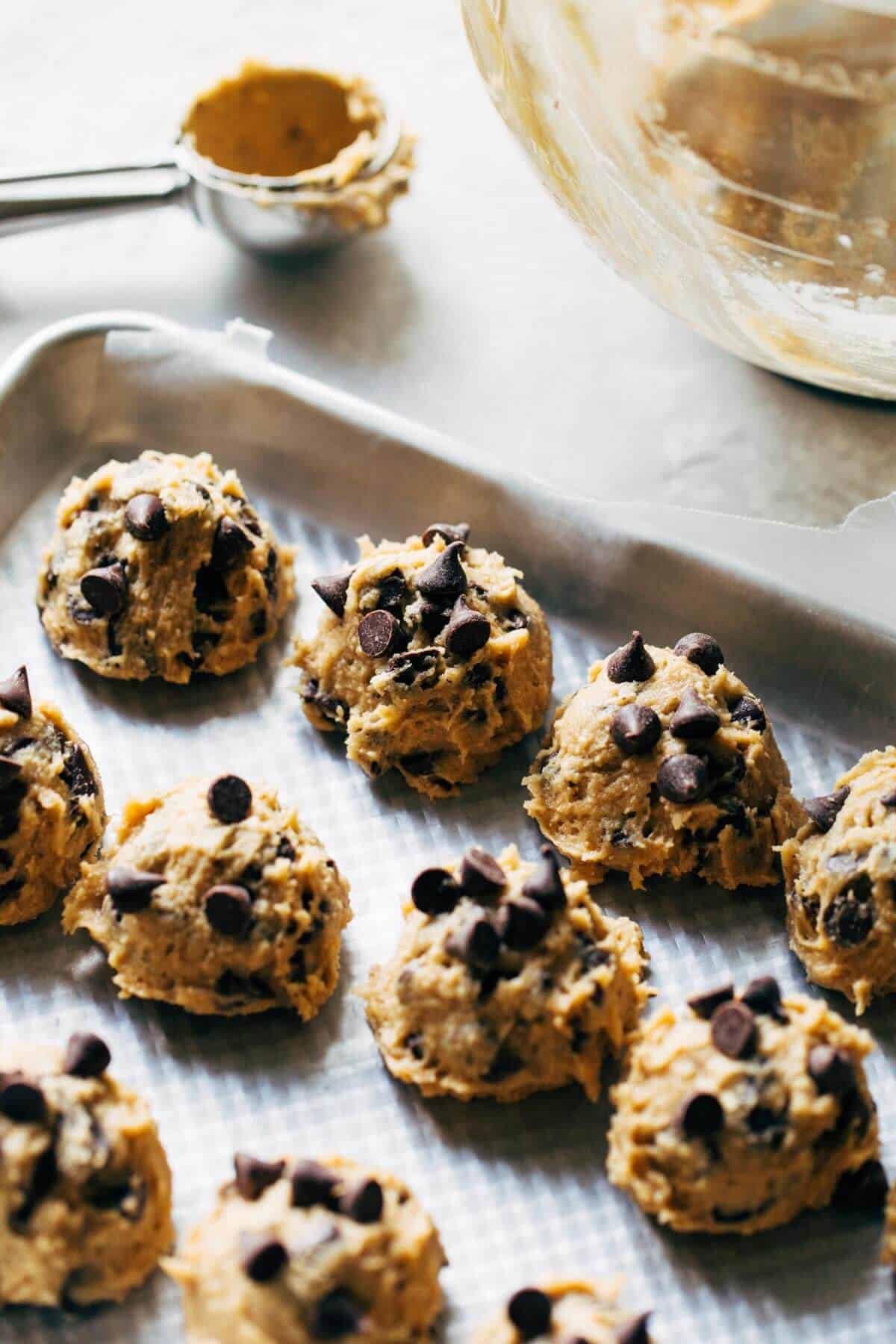 The best way to chill cookie dough
This is another important step that you can't skip! Chilling the dough allows the dry ingredients to fully absorb the wet ingredients, creating a more robust dough that will spread more evenly when baked.
Pre-scoop the cookie dough using a large cookie scoop. Dot the tops with a few extra chocolate chips and transfer the uncovered dough to the fridge. They must chill for at least 2 hours, but it's OK if they chill for longer.
If you need to let them chill overnight, allow them to sit in the fridge uncovered for 2-4 hours, then wrap the tray in plastic wrap and continue to let them chill overnight. This prevents the dough from drying out.
The trick to baking perfect chocolate chip cookies
This is the trick that makes these the BEST gluten free chocolate chip cookies… although it may seem kind of odd!
When the cookies come straight out of the oven, they'll spread quite a bit. The center will still be soft and doughy while the edges will be a light golden brown.
Right when you take them out, use the inside curve of a fork to push in the sides. Work fast because as the cookies cool, the sides will firm up which makes it much for difficult to round out your cookies. See the picture above for how this works.
This creates a perfectly round cookie with those crispy and chewy wrinkly edges without over-baking the center. Sprinkle with a little sea salt and transfer to a cooling rack while you bake the second batch.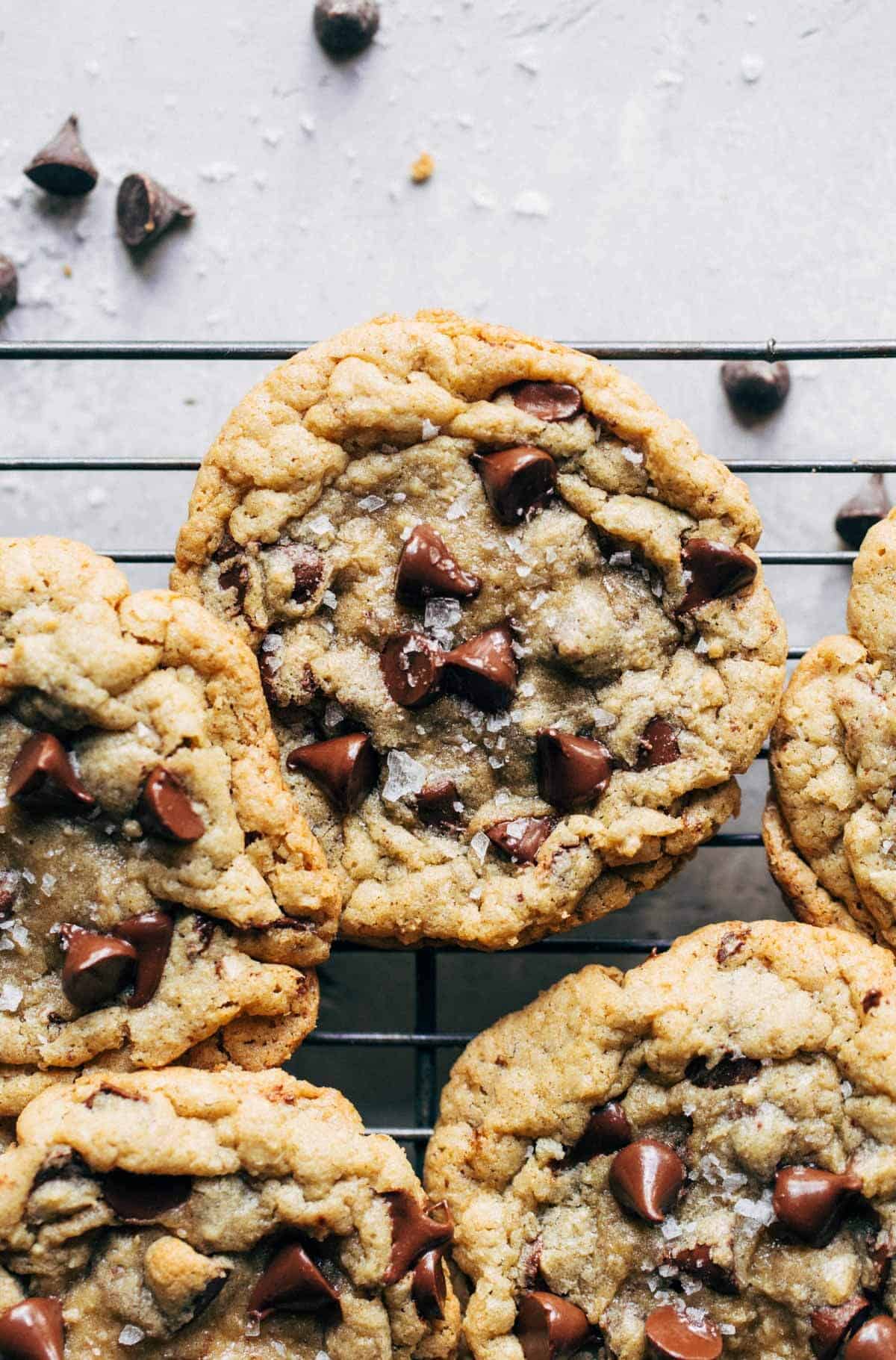 FAQs
What is the best flour to use for gluten free cookies?
My go-to for gluten free baking is always the Bob's Red Mill gluten free 1-to-1 baking flour. It already has xanthan gum mixed in (the ingredient that mimics gluten), and it just never fails. It's the perfect blend of gluten free flours that is as close to regular flour that you can get! The other flour in this recipe is oat flour. This flour is very absorbent, so it works really well to create that doughy but sturdy texture.
Can I make my own oat flour?
Yes! This is actually how I typically work with oat flour as I always have oats on hand. Simply add some gluten free oats to a food processor and blend them up into a flour… or as close as you can get. It's OK if it's not perfectly powder-like. Just make sure to use gluten free oats, whether they're quick minute oats or old fashioned. Either will work!
What can I use instead of oat flour?
If you can't use oats, another great option is almond flour. These two are a great swap for one another in most instances. Although, almond flour isn't as absorbent as oat flour. Try to use super-fine almond flour for best results. Just make sure the cookie dough is easily scoopable and holds its shape. If the dough is too thin, add a couple extra tablespoons of the all purpose gluten free flour blend.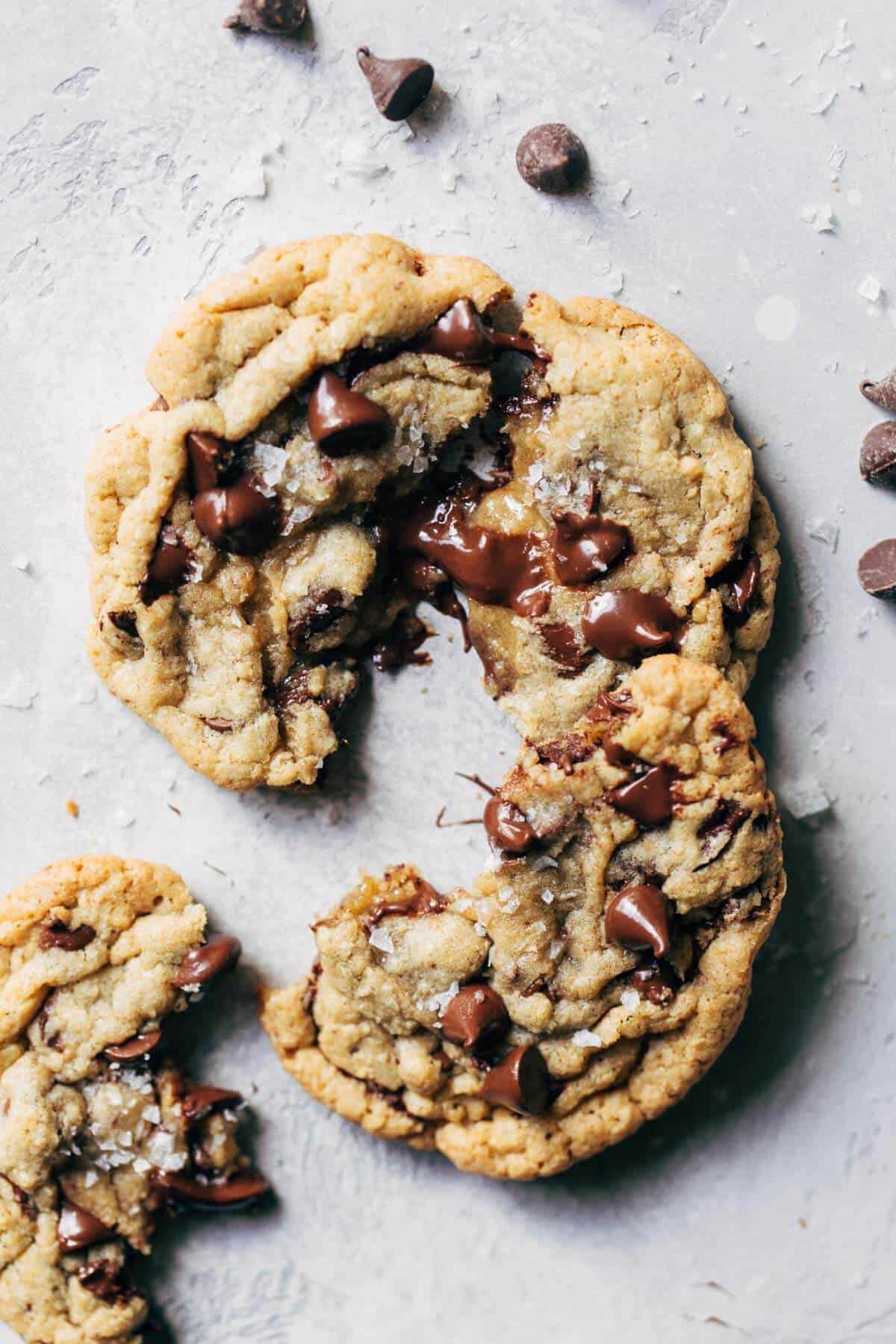 For more delicious gluten free dessert recipes, check out my:
Make sure to tag me @butternutbakery on Instagram and comment below if you make these Gluten Free Chocolate Chip Cookies. To pin this recipe and save it for later, you can use the button on the recipe card, the buttons above or below this post, or on any of the photos above. Happy baking!
Print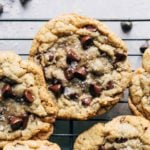 Gluten Free Chocolate Chip Cookies
---
Author: Jenna Barnard
Total Time: 40 minutes + 2 hours chilling
Yield: 15-16 cookies
Diet: Gluten Free
Description
You would never guess that these chocolate chip cookies are gluten free. They're soft and chewy on the inside, crispy on the outside, and loaded with chocolate chips!
---
1/2 cup (110g) unsalted butter, melted 
1/2 cup (110g) dark brown sugar, packed
1/2 cup (100g) granulated sugar
1 tsp vanilla bean paste (or 2 tsp vanilla extract)
1 large egg + 1 egg yolk
1 cup + 1 tbsp (150g) gluten free all-purpose flour with xathan gum (I recommend this one)
1/2 cup (60g) oat flour *SEE NOTES 
1/4 tsp baking soda
1/4 tsp salt
1/2 cup (80g) bittersweet chocolate, chopped
1 cup (160g) semisweet chocolate chips + a handful more for sprinkling
Flaky sea salt for sprinkling
---
Instructions
Whisk together the flour, oat flour, baking soda, and salt and set aside.
Cream together the melted butter and sugars until it turns into a paste-like consistency (mix on medium-high speed with the paddle attachment for 3-5 minutes).
Mix in the vanilla and eggs until smooth. Scrape down the bowl and mix again.
Mix in the dry ingredients. Once combined, fold in the chocolate.
Use a large cookie scoop and scoop the cookie dough side-by-side on a small tray lined with wax paper. You should have 15-16 cookies. Dot the tops with a few more chocolate chips and place in the fridge for at least 2 hours.
Once chilled, bake at 375F on a large baking sheet lined with parchment paper (do not use a silpat). Bake 5-6 cookies at a time for 10-12 minutes. They should be lightly golden around the edges and puffed/doughy in the center.
Right when you take them out of the oven, quickly push in the sides of the cookies using the inside curve of a fork (see picture in post). They'll spread quite a bit, so pushing in the sides to form perfectly round cookies gives you wrinkly and crispy edges. 
Sprinkle the tops with a little flaky sea salt and transfer to a cooling rack.
Allow them to cool for about 15 minutes then dig in!
Notes
*Oat flour is preferred, but almond flour can also be used. Add an additional tablespoon of the all purpose gluten free flour when using almond flour. 
Prep Time: 30 minutes
Cook Time: 10 minutes
Category: Dessert
Method: Baking
Cuisine: American
Keywords: gluten free chocolate chip cookies, gluten free cookies, gluten free
Recipe Card powered by