This gooey lemon butter cake is the ultimate lemon dessert! Tender lemon cake is baked with a layer of lemon cream curd on top. The curd sinks into the cake as it bakes, creating a super moist lemon cake with a puddle of creamy lemon curd on top. It tastes just as good as it looks and sounds…if not better!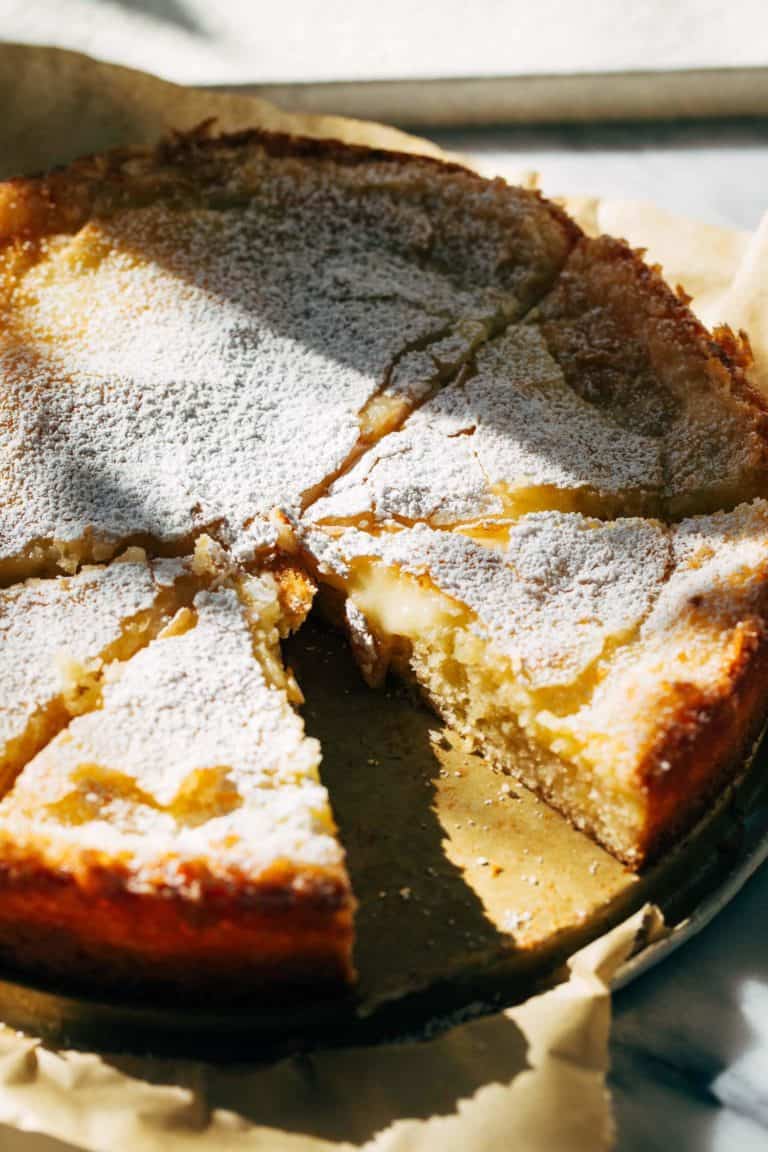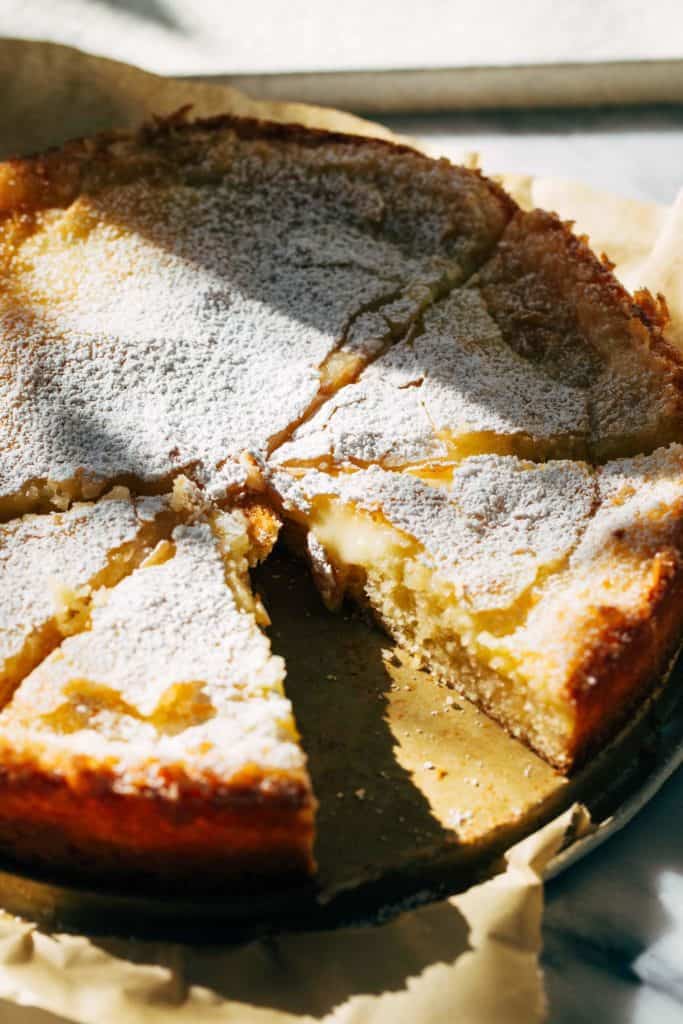 What is gooey lemon butter cake?
The inspiration for this recipe came from classic gooey butter cake. If you've never tried it, it's essentially a thin and dense cake baked with a layer of cream cheese and butter on top.
Basically, it's sweet ooey gooey goodness. But for this lemon version, I wanted to create something that was more of a mash up between fluffy lemon cake and rich lemon bars.
To do so, the base is made up of a lemon cake that isn't too dense or too light. It's able to hold the weight of the topping while also baking all the way through.
The topping was the trickiest part because it kept overpowering the cake which made it difficult to set and cook through. But through the power of testing, this cake is now just right!
It bakes with a super tender and moist fresh lemon cake with a layer of rich and smooth lemon cream on top. The cream bakes into a creamy and pudding-like consistency that melts in your mouth.
Both layers are baked with fresh lemon, which means the entire dessert is bursting with zesty lemon flavor. It pairs perfectly with the rich cake and creamy topping.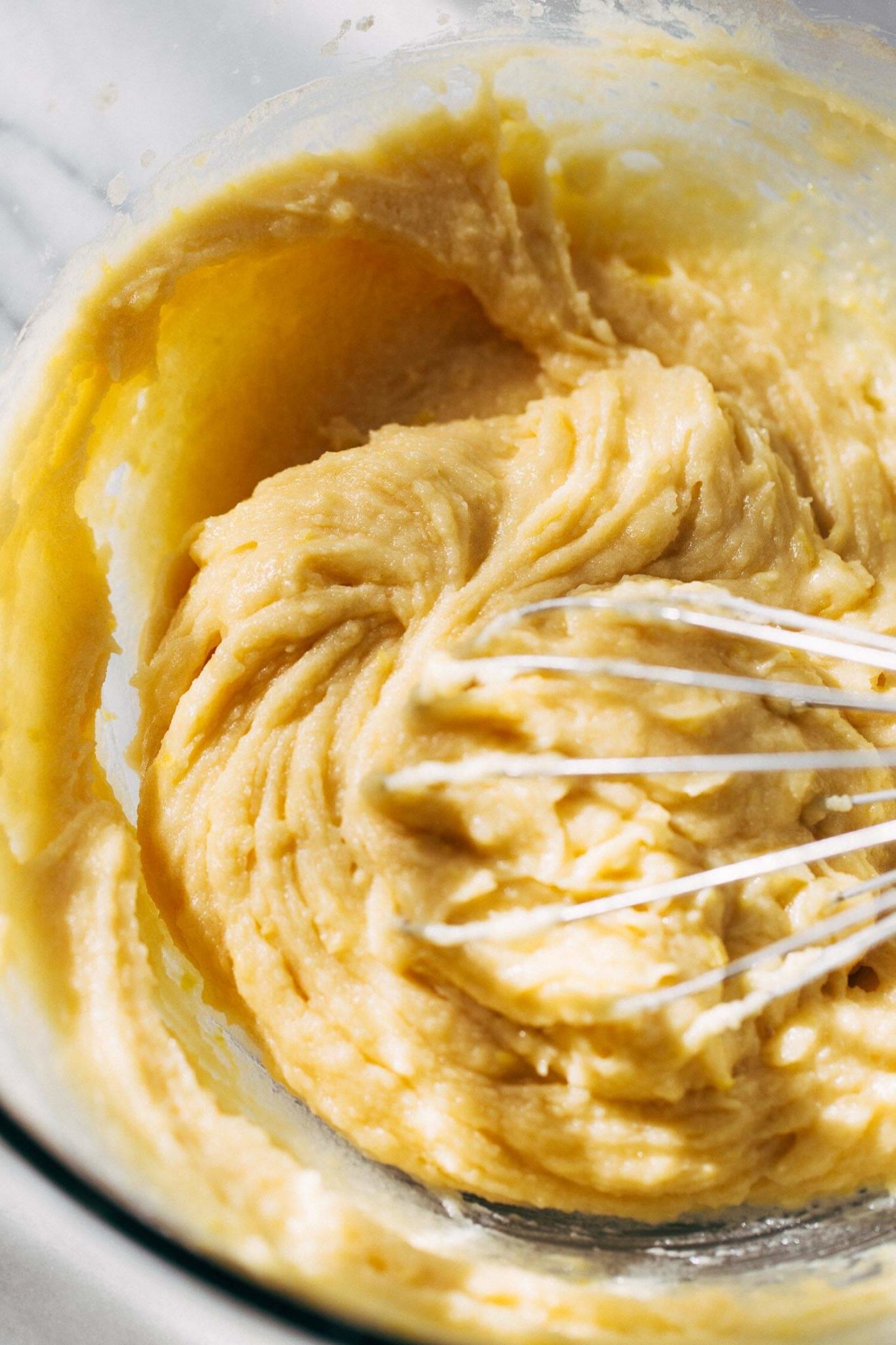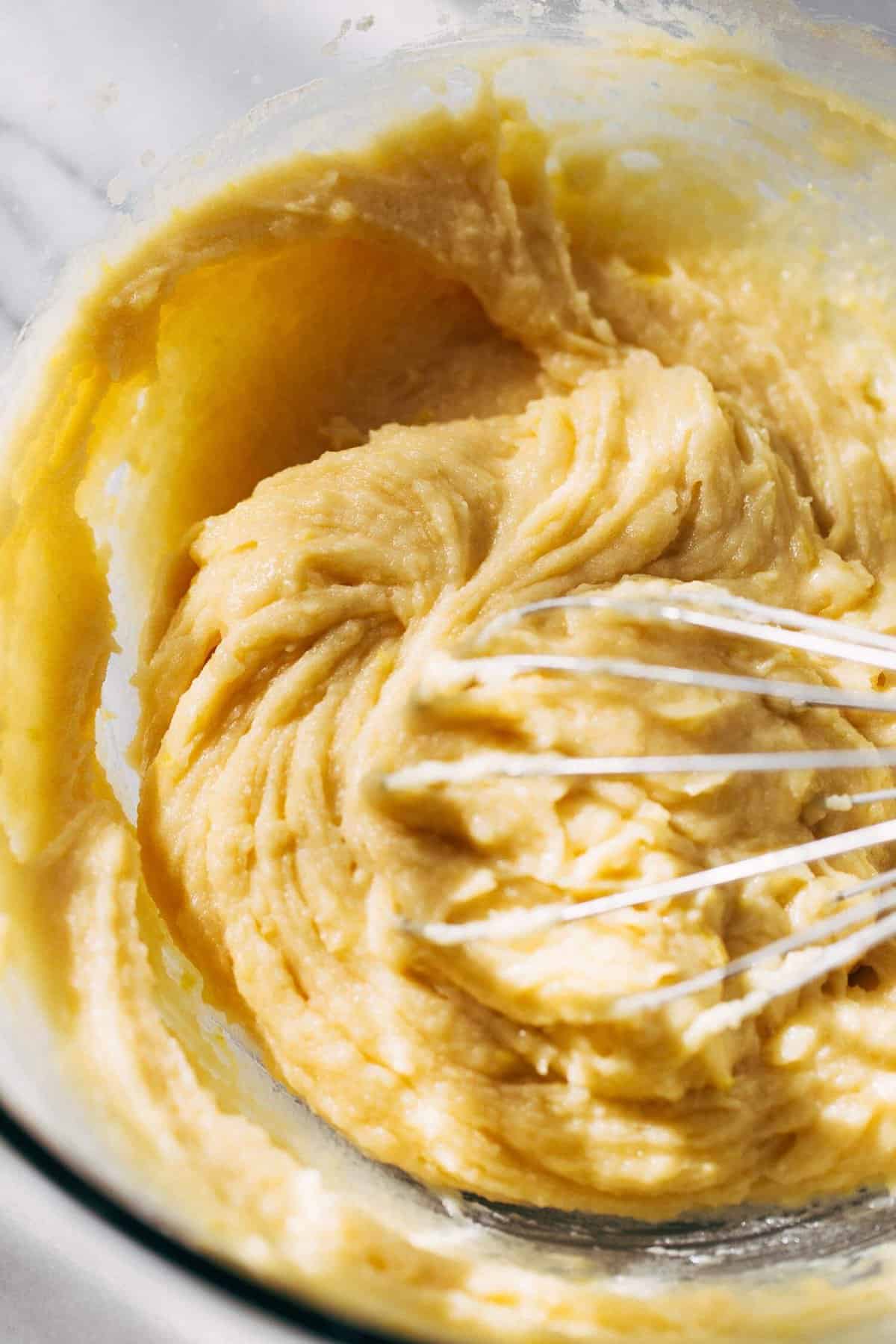 How to make lemon butter cake
Not only is this cake a major crowd pleaser, but it's also really easy to make! Just spread and pour into a pan, bake, chill, and it's done. But to ensure it turns out just right, here are my top tips:
Lemon Cake
Flour – I say this for every recipe, and especially cake. If possible, weigh the flour rather than measure by cups. This is the most accurate way of baking. If a kitchen scale isn't available, gently spoon the flour into a measuring cup and level it off with a flat edge. This prevents the flour from packing down into the cup, creating a tough and dry cake.
Butter – For the best flavor, I suggest using quality butter like cultured European style. Of course this isn't mandatory, but it does give the cake tons of flavor. Also make sure the melted butter has cooled before use.
Lemons – Don't skip on the zest and definitely use fresh lemon juice! It has a much stronger and true flavor and it's not as tart as packaged lemon juice.
Mixing – The batter is mixed by hand, so it's difficult to over mix. In any case, stop mixing right when the flour disappears. If the cake batter is over worked, it will likely struggle to bake all the way through.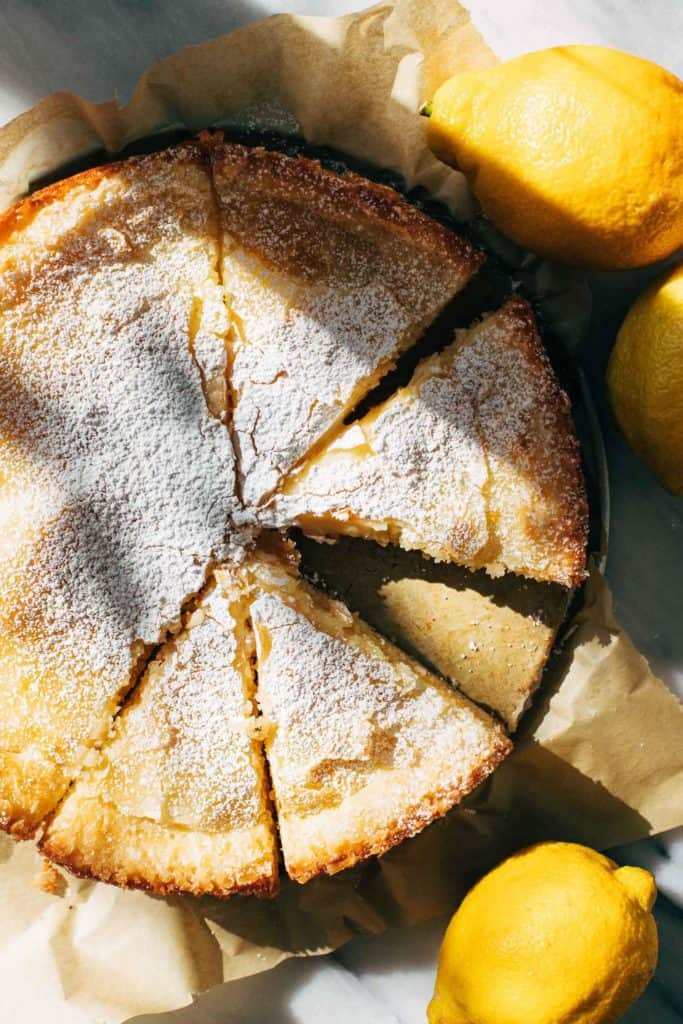 Lemon Cream
Cream Cheese – First and foremost, make sure the cream cheese is at room temperature before use. If not, the cream will turn out lumpy with clumps of cream cheese throughout. Second, I highly recommend Philadelphia block cream cheese as it has the best consistency and flavor out of any other cream cheese I've tried.
Mixing – Mix in the powdered sugar one cup at a time, ensuring each is fully incorporated before adding the next. The sugar helps smooth and thin out the cream cheese which helps when mixing in the egg after.
Egg – Speaking of, use a room temperature egg. If the egg is too cold, it could freeze up some of the cream cheese.
Pouring – Pour the cream into the center of the spread lemon cake batter. It's thin enough to where it will naturally spread out to the edges. It does not have to touch the sides of the pan, but it should nearly cover the entire surface of the cake.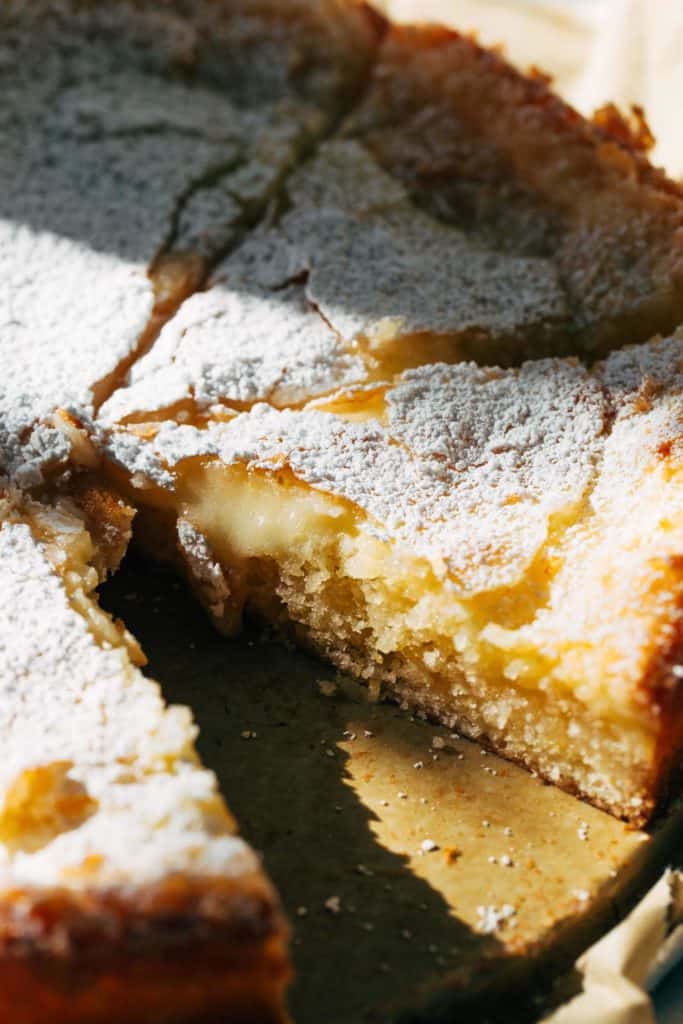 How to tell when lemon butter cake is done
The toothpick test doesn't work here as it will pick up the wet cream topping on the way out. To tell that it's done, look at the surface of the cake.
The cream should form a dry and golden skin with small cracks around the edges. The cake will also have a golden ring around the edge and be slightly puffed in the center.
Chilling lemon butter cake
This part is ESSENTIAL to the process, as chilling the cake allows the cream to set. The cake will rest for about 30 minutes at room temperature and then it's chilled uncovered for a least 2 hours.
Serving gooey lemon butter cake
This cake can be served straight from the refrigerator, but I like it to soften up at room temperature for about 30 minutes before eating. This allows the cake to loosen up so each bite just melts in your mouth.
How to store lemon cake
Keep the cake in an airtight container in the refrigerator. It will keep for up to a week!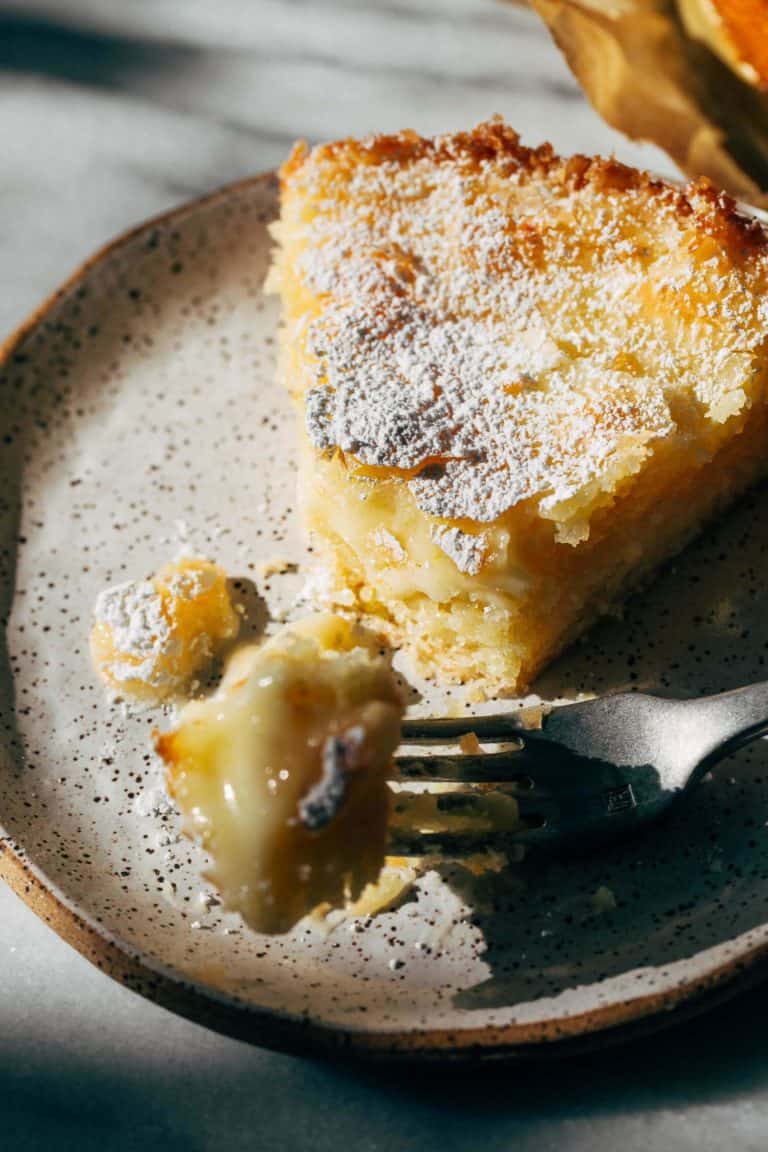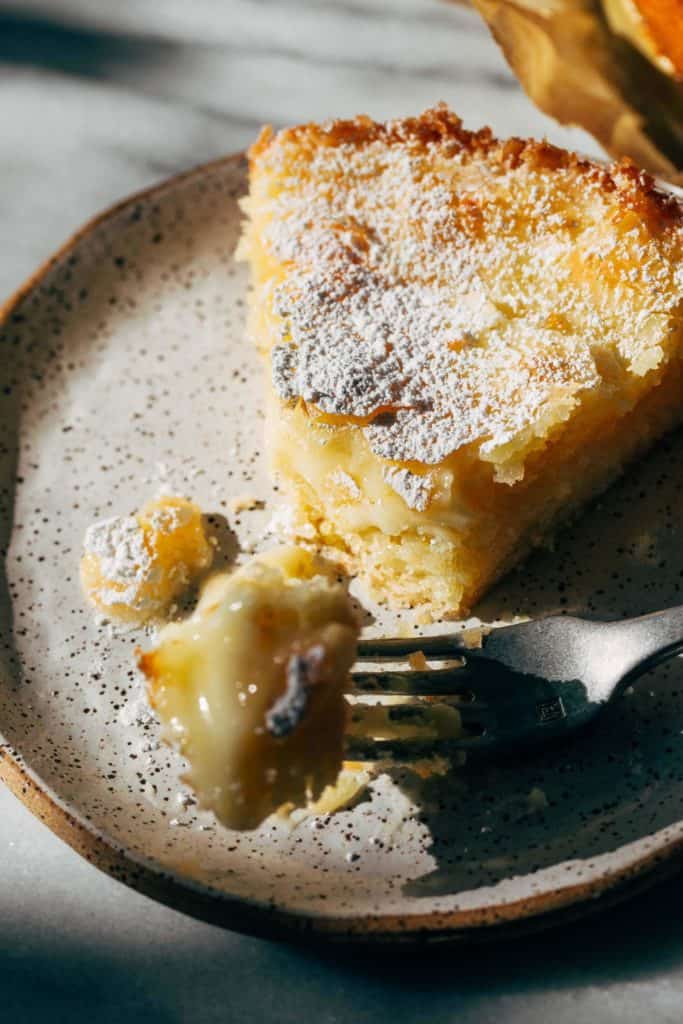 For more lemon desserts, check out my:
Make sure to tag me @butternutbakery on Instagram and leave a review below if you make this gooey lemon butter cake. To pin this recipe and save it for later, you can use the button on the recipe card, the buttons above or below this post, or on any of the photos above. Happy baking!
Print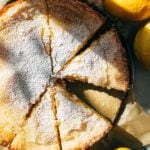 Gooey Lemon Butter Cake
---
Author: Jenna Barnard
Total Time: 55 minutes + 2 hours cooling
Yield: 8-10 slices
Description
This gooey lemon butter cake is a combination of the two best lemon desserts – lemon bars and lemon cake. A soft lemon cake is baked with a puddle of lemon cream curd on top. It sinks into the cake as it bakes, creating a tender and moist cake that is bursting with fresh lemon flavor.
---
Lemon Cake
1/2 cup (110g) unsalted butter, melted
3/4 cup (150g) granulated sugar
1 large egg, room temp
1 tsp vanilla extract
Zest of 2 lemons (2 tbsp)
2 tbsp fresh lemon juice
1 1/4 cup (165g) all purpose flour
1 tsp baking powder
1/4 tsp salt
Lemon Cream
6 oz cream cheese, room temp
3 cups (360g) powdered sugar, plus more for dusting on top
1 large egg, room temp
Zest of 1 lemon (1 tbsp)
---
Instructions
Lemon Cake
Preheat the oven to 350F and grease and line a 9″ round springform pan.
Whisk together the flour, baking powder, and salt in a medium bowl and set aside.
In a large mixing bowl, whisk together the butter and sugar. Then add the egg, vanilla, lemon zest, and lemon juice and mix to combine.
Add the dry ingredients and mix until smooth.
Spread the thick batter in an even layer in the bottom of the springform pan. Set aside.
Lemon Cream
In a mixing bowl using a hand or stand mixer with the whisk attachment, mix the cream cheese until smooth.
Mix in the powdered sugar, one cup at a time, until thin and creamy.
Then mix in the egg and lemon zest.
Pour the cream on top of the lemon batter, pouring right in the middle and allowing it to naturally spread close to the edges. It may need some help fully spreading, so use a spoon to nudge it out close to the sides.
Bake for 35-40 minutes, or until the top has formed a golden skin and it's evenly puffed.
Allow the cake to cool at room temperature for about 30 minutes, then transfer to the refrigerator and chill uncovered for about 2 hours. This is important as it allows the cream to set.
Run a knife around the edge of the pan and release the cake. Top with a dusting of powdered sugar then slice and enjoy!
Equipment
Prep Time: 20 minutes
Cook Time: 35 minutes
Keywords: lemon cake, lemon butter cake, gooey butter cake, gooey lemon butter cake, lemon cake recipe
Recipe Card powered by