These vegan brownies taste just as rich and indulgent as traditional brownies. They just so happen to also be gluten free and nut free! This one bowl brownie recipe is so quick and easy to make and yields super fudgy brownies every time.
This post is sponsored by SunButter and all thoughts and opinions are my own. Thank you for supporting the brands that make Butternut Bakery possible!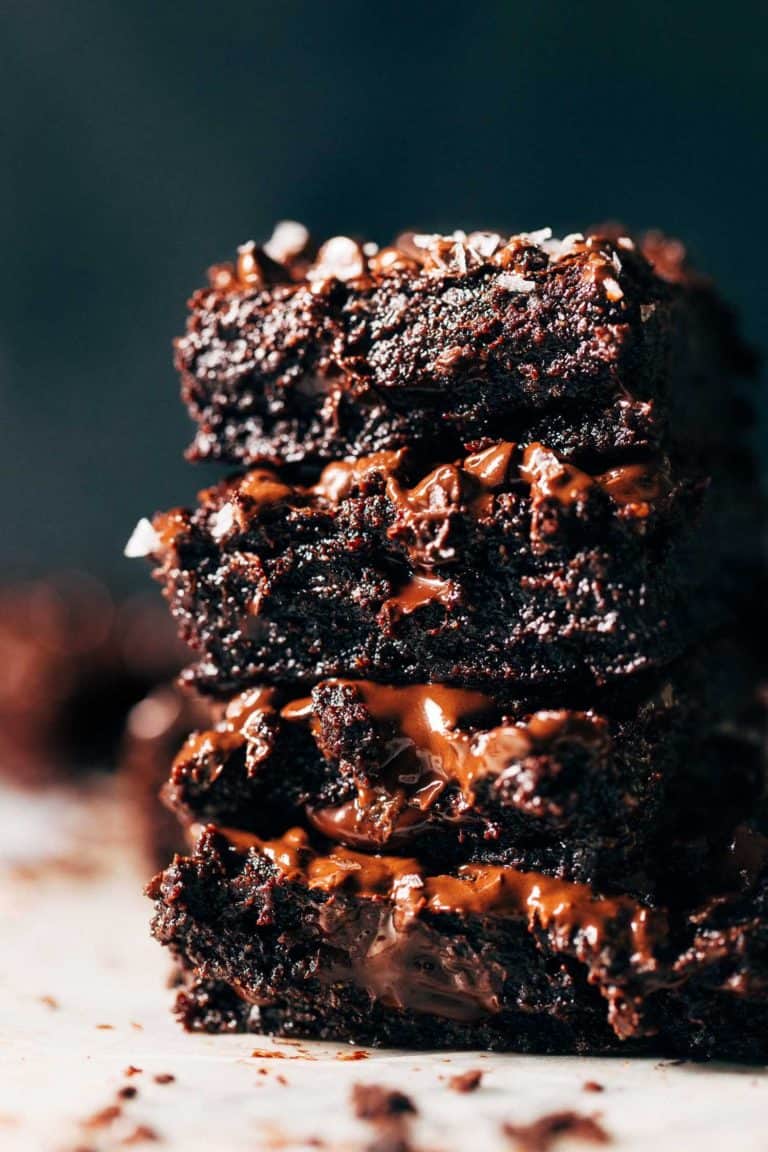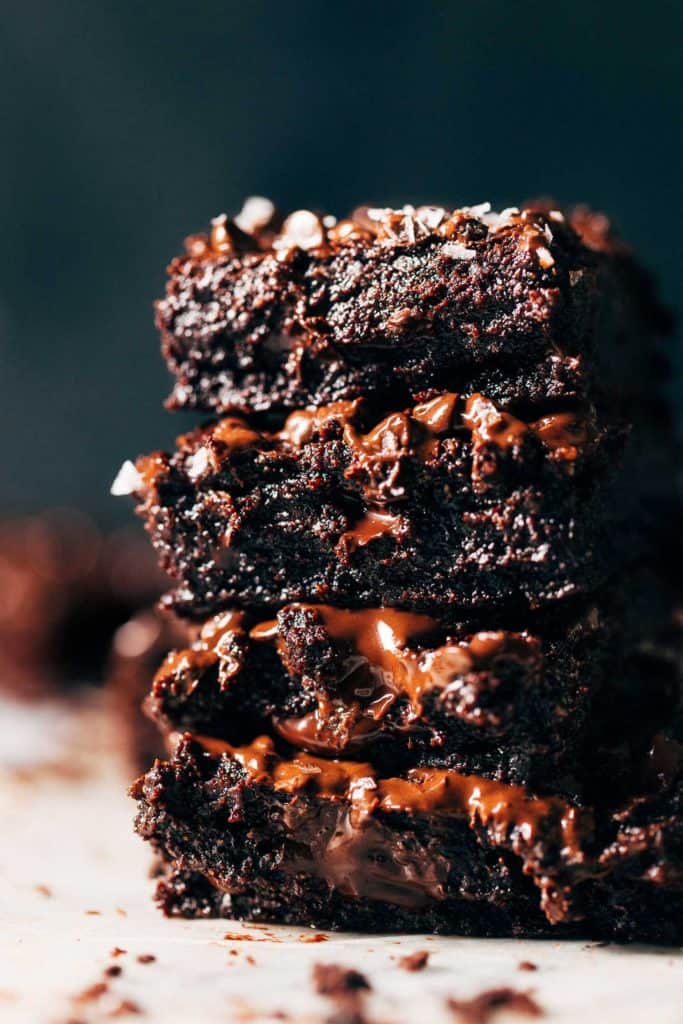 What makes these the BEST vegan brownies?
If you've been on the hunt for a delicious gluten free vegan brownie recipe, you can stop here. These brownies are insanely fudgy with puddles of melty chocolate and a pinch of flaky sea salt.
But that's just in a nutshell, because these brownies are so much more! Here's what makes them so special:
Coffee – To make these vegan, regular eggs are swapped with flax eggs which is ground flaxseed mixed with water. But at the time of testing, I had some coffee sitting in the fridge that needed to be used up. So, instead of water, the flax eggs are made with coffee! Coffee helps bring out a stronger chocolate flavor, making these brownies extra rich.
Organic SunButter – These brownies are EXTRA gooey all due to Organic SunButter. It's made with organic roasted sunflower seeds and nothing else, so it's completely free of added ingredients or pesticides. Because of this, it's incredibly smooth and creamy which is perfect for mixing in to this brownie batter! Not only does it add a gooey textural element, but it also helps hold these eggless brownies together.
Pure Maple Syrup – Instead of granulated sugar, these brownies are sweetened with pure maple syrup. This liquid form of sugar creates an incredibly smooth and extra fudgy brownie consistency that isn't too sweet.
Dutch Process Cocoa – This type of cocoa is alkalized, creating a deep color and smooth flavor. Dutch process cocoa isn't as sharp or tangy as regular cocoa which is why these brownies have such a rich chocolate flavor.
Gluten Free – Yep, not only are these brownies vegan but they're also gluten free! Using oat flour creates a super fudgy consistency that tastes anything but gluten free. Plus, in combination with the Organic SunButter, these brownies are also nut free!
One Bowl – Outside of the ingredients, the brownie batter is mixed all in one bowl completely by hand. Because of this, the batter is ready to bake in under 15 minutes.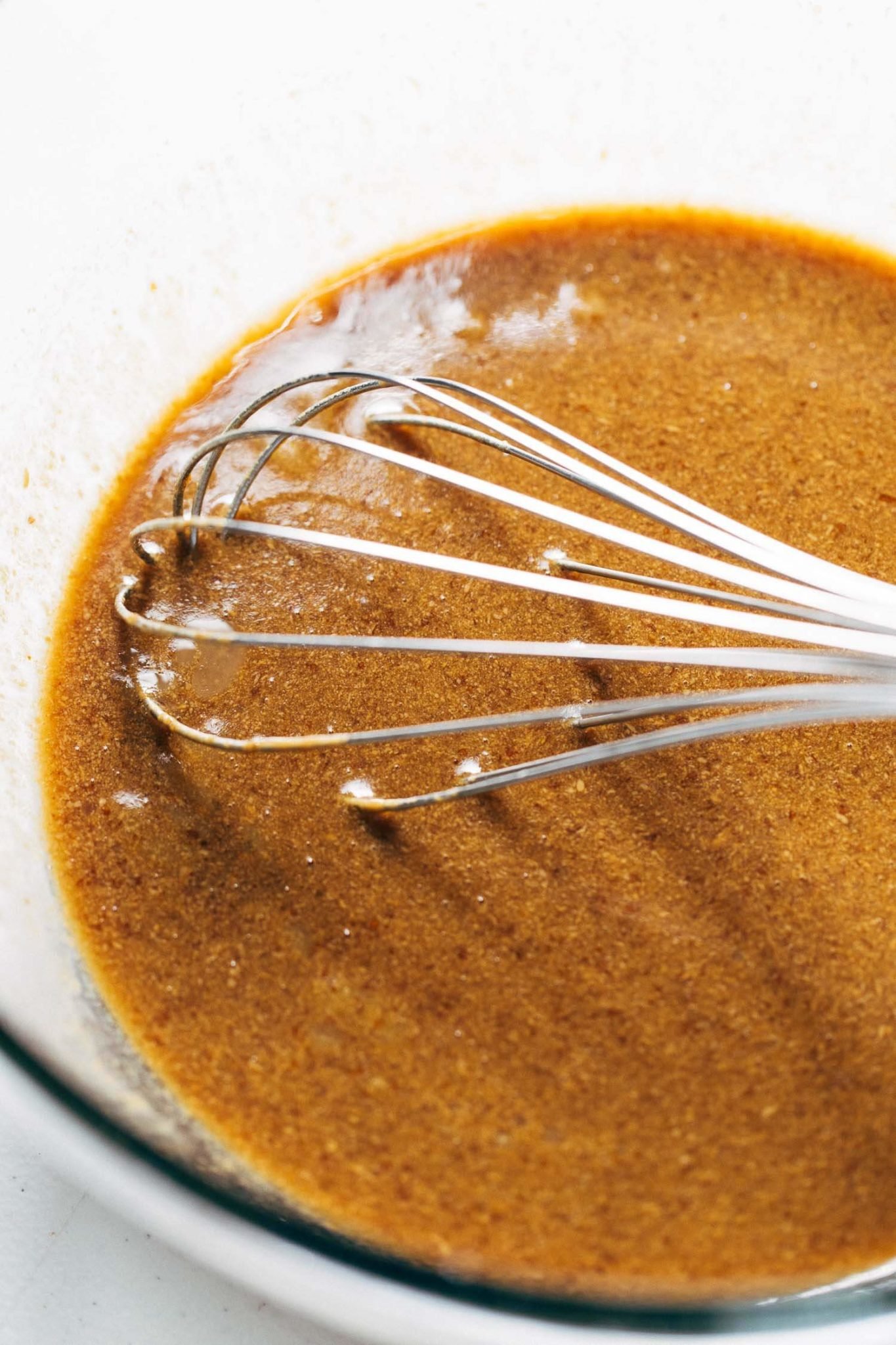 How to make vegan brownies
Since this is a one bowl recipe, these are probably the easiest brownies you will ever make! There are just three main steps to this recipe:
Flax Eggs – First, ground flaxseed and coffee are mixed together in a small dish. This then sits for about 5 minutes to gel, creating an egg-like consistency. Along with the Organic SunButter, these help bind the brownies into a texture that is just like traditional brownies.
Wet Ingredients – In a large bowl, the Organic SunButter, coconut oil, maple syrup, vanilla, and flax eggs are all whisked together until smooth.
Dry Ingredients – Then the oat flour, cocoa powder, and salt are mixed in followed by chopped dark chocolate. The batter will appear to be very thick and fudgy.
Then the batter is poured into the pan and baked! To make this process even faster, I suggest using a kitchen scale to weigh out the ingredients. This not only cuts down on time, but there will also be way fewer cups and dishes to clean at the end.
Plus, weighing the ingredients is much more accurate than measuring by cups. Doing so will ensure a super rich and fudgy brownie every time.
Tips for making vegan gluten free brownies
This vegan brownie recipe is so incredibly easy, but here are a few tips to ensure yours turn out just right:
Grams vs Cups – If possible, I always suggest baking by grams rather than cups. It is much more accurate and will lead to the same outcome every time. If you don't have a kitchen scale, just be careful when measuring the dry ingredients in particular. Gently spoon it into the cup and level it off with a flat edge. Don't pack it in or shake it down, as this will leave you with way too much oat flour or cocoa thus creating a dry brownie.
Pure Maple Syrup – Make sure to use pure maple syrup instead of pancake syrup. Pancake syrup is mostly corn syrup which could change the flavor and consistency of these brownies.
Organic Oat Flour – Use organic gluten free oat flour to prevent any sort of cross contamination, especially if you have celiac's disease.
Organic SunButter – Stick with Organic SunButter for this recipe! Not only is it much smoother than other nut or seed butters, but the flavor also pairs the best with the chocolate in these brownies. It's not overpowering, so you get the textural payoff without any distractions from the brownie itself.
Dark Chocolate – Use 70% or more cacao for the chopped chocolate in these brownies. The higher the cacao, the meltier the chocolate. This will give you the best chocolate puddles throughout these brownies. I also suggest giving it a rough chop to create larger pockets of melted chocolate.
How to tell when brownies are done
These brownies bake really fast, so I suggest checking on them after 20 minutes. But the toothpick test won't work here as these brownies are SUPER fudgy. If the toothpick comes out clean, that means the brownies are already over done.
To test for doneness, look at the center of the pan. If the surface appears too wet and shiny and is sticky to the touch, the brownies need a few more minutes. If the surface is just a bit shiny and no longer tacky to the touch, they're done. The center should also appear underdone which is the key to a fudgy consistency.
How to serve brownies
The most crucial step in any brownie recipe is the cooling process. Allowing brownies to cool for at least 30 minutes will help tighten up the texture. If they're cut into right away, the brownies will likely be much too soft and melty.
Since these are vegan gluten free brownies, this step is even MORE important. These brownies are a bit more delicate than traditional brownies, but cooling will help the structure tremendously.
Allow these brownies to cool for about 30-45 minutes, or until the bottom of the pan is barely warm to the touch. Then they're ready to slice and enjoy!
For more vegan gluten free dessert recipes, check out my:
Make sure to tag me @butternutbakery on Instagram and comment below if you make these vegan gluten free brownies. To pin this recipe and save it for later, you can use the button on the recipe card or on any of the photos above. Happy baking!
Print
Fudgy Vegan Brownies
---
Author: Jenna Barnard
Total Time: 35 minutes + 45 minutes cooling
Yield: 16 brownies
Diet: Vegan
Description
These are the BEST vegan brownies! They're so incredibly rich and fudgy that you would never even know they're also gluten free. Better yet, this is a one-bowl brownie recipe so they're super quick and easy to make!
---
2 tbsp ground flaxseed
5 tbsp brewed coffee*
1/2 cup (120g) Organic SunButter
1/2 cup (105g) melted coconut oil
1 cup (280g) pure maple syrup**
1 tsp vanilla extract
1 1/4 cup (130g) organic gluten free oat flour
3/4 cup (70g) unsweetened dutch process cocoa powder
1/2 tsp salt
3.5 oz vegan dark chocolate, chopped
1/4 cup mini vegan semisweet chocolate chips
Flaky sea salt, for sprinkling
---
Instructions
Preheat the oven to 350F and grease and line an 8×8 square baking dish with parchment paper. Allow the paper to hang over the sides for easy removal.
In a small dish, combine the ground flaxseed and coffee (this makes 2 flax eggs). Mix and let it sit for about 5 minutes before moving on to the next step.
In a large bowl, whisk together the SunButter, coconut oil, maple syrup, vanilla, and flax eggs.
Once smooth, add in the oat flour, cocoa powder, and salt. Whisk to combine.
Fold in the chopped chocolate using a rubber spatula.
Pour the batter into the prepared pan and spread it even. Sprinkle with mini chocolate chips if desired.
Bake for 20-25 minutes, or until the very center is no longer sticky to the touch but may appear slightly underdone.
Allow the brownies to cool for about 45 minutes, or until the bottom of the pan is barely warm. Then sprinkle with sea salt, slice and enjoy!
Equipment
Notes
*COFFEE – Water can be subbed, but coffee will give you a much better flavor!
**MAPLE SYRUP – Make sure to use pure maple syrup and not pancake syrup. Pancake syrup is mostly corn syrup, so it could change the texture and sweetness of these brownies.
Prep Time: 15 minutes
Cook Time: 20 minutes
Category: Dessert
Method: Baking
Cuisine: American
Keywords: vegan brownies, vegan gluten free brownies, gluten free vegan brownies, vegan brownie recipe
Recipe Card powered by