This chocolate pudding cake is the easiest cake you will ever make! Baked in a skillet, chocolate cake batter is layered with a topping of sugar, cocoa powder, and boiling water. As it bakes the water and sugar sink to the bottom to create hot fudge. Each bite has warm and moist chocolate cake with melty hot fudge. In other words, it is heaven in a skillet.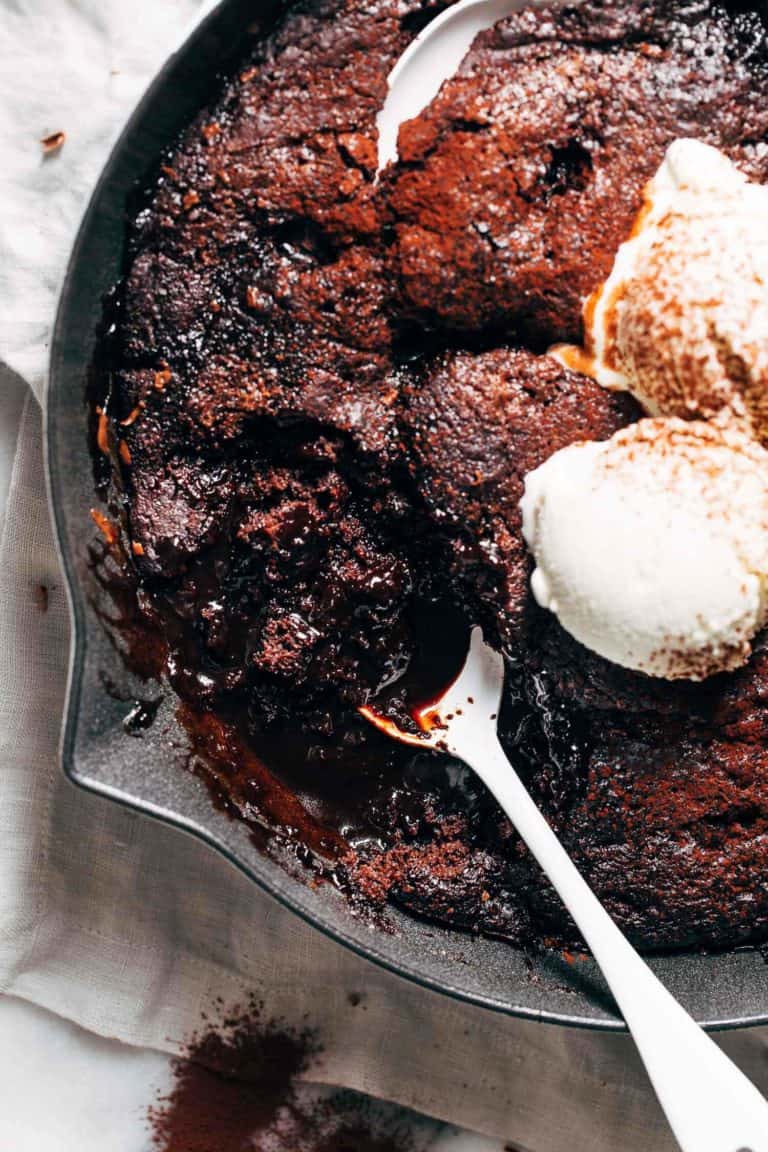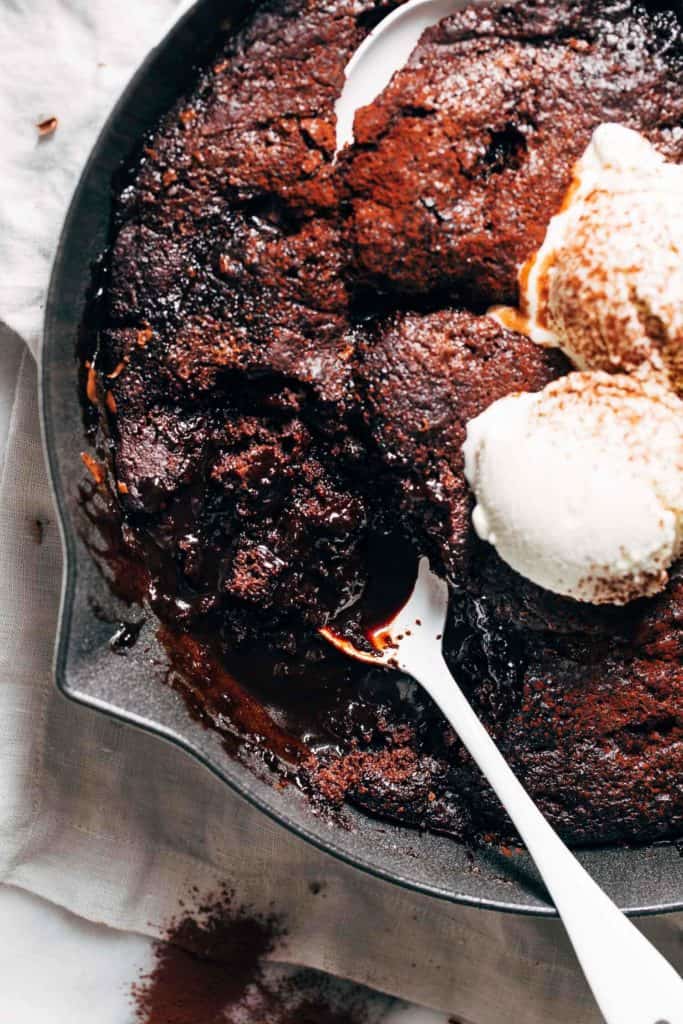 What is chocolate pudding cake?
Chocolate pudding cake is a cake in its own league. It's completely unique because it's a combination of eggless chocolate cake and baked hot fudge sauce.
The cake batter is spread in the bottom of a skillet. Then, it's topped with a layer of sugar and cocoa powder. Before baking it's then covered in a layer of boiling water.
As the cake bakes, the water combines with the sugar. Some of the water evaporates, but most of it passes through the cake and sinks down to the bottom of the skillet. The end results is a puddle of warm hot fudge at the bottom of an incredibly moist chocolate cake.
The cake itself is super tender, so the entire dish is best eaten with a spoon! And although it's made from scratch, the cake itself has a box-mix flavor quality to it…but in a good way. It's very reminiscent of easy bake oven cake and if you're a life long baker like me, you know exactly what I mean! It's just the perfect combination of soft, chocolatey, and sweet.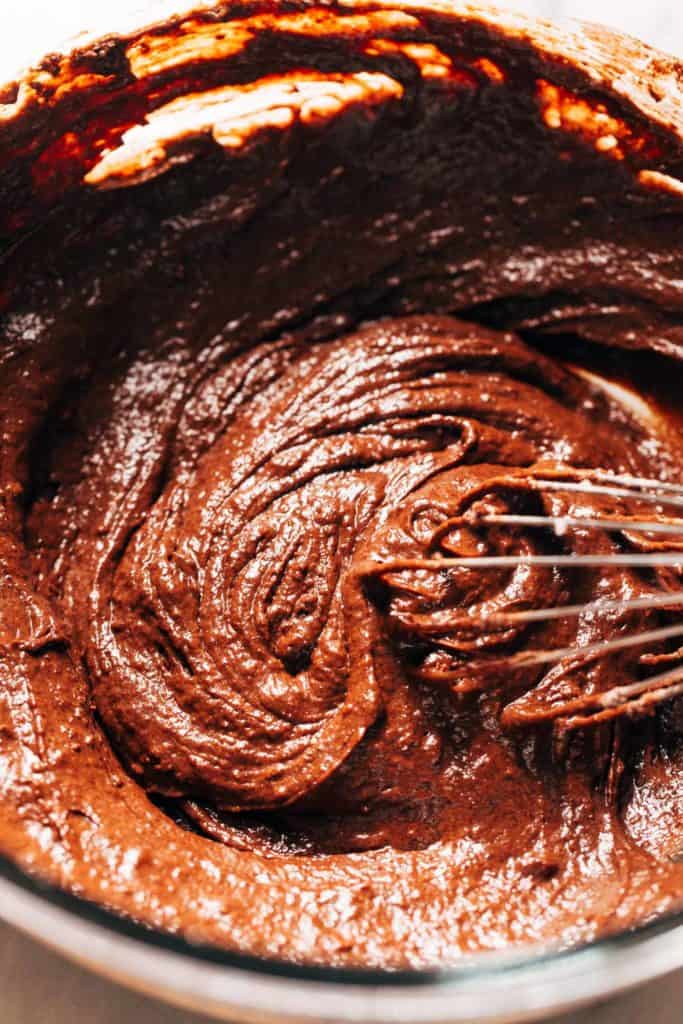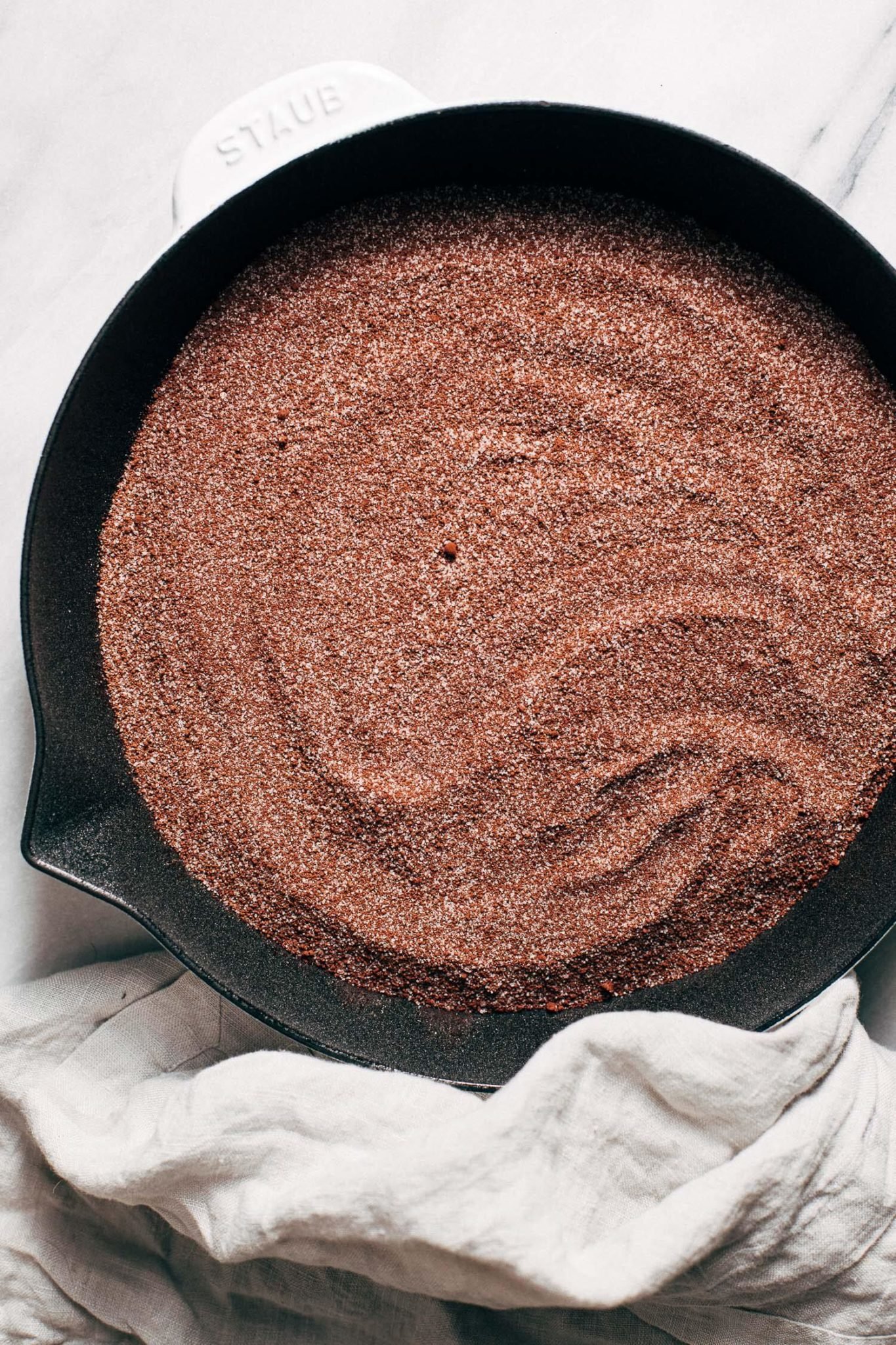 How to make chocolate pudding cake
The cake is so quick and easy to make, and takes a total of 2 main steps:
Chocolate Cake Batter
This is the first step as it's spread in the bottom of the skillet. It's all mixed by hand and is really quick to make. Here are my tips for this step:
Flour – If possible, weight it out with a kitchen scale. Otherwise, spoon it into the measuring cup and level it off with a flat edge. This will prevent you from using too much flour.
Dutch Process Cocoa – This type of cocoa is alkalized to create a much smoother flavor with a rich chocolate brown color. It's definitely the way to go with this recipe.
Mixing – Don't over mix! Right when the batter comes together, stop mixing and transfer it straight to the skillet. Over mixing can lead to a tough cake.
Hot Fudge Sauce
This is a completely unique process that feels all wrong as you're making it, but will definitely turn out just right. Especially if you follow these tips:
Mixing – Combine the sugars and cocoa using your hand. This will lead to the most even blend of ingredients and it also allows you to break down any brown sugar bits.
Spreading – Cover the entire surface of the cake batter and spread it even with your hands.
Water – Start a pot of boiling water while making the cake batter. By the time the sugar and cocoa is added, the water will be ready.
Serving chocolate pudding cake
The cake is best served while it's still warm but allow it to cool for about 20-30 minutes before digging in. During this time, the hot fudge will thicken into a rich sauce.
Scoop the cake into a bowl with ice cream, or eat it straight from the skillet. Either way works, as long as your able to get it in your mouth!
Can this be made gluten free?
Yes! This recipe is very versatile, so gluten free flour works just as good as all purpose flour. Just make sure to use a good gluten free baking flour and measure it with a food scale if possible.
Can this be made vegan?
Yes! Since chocolate pudding cake is eggless, it can be made vegan using plant-based milk and butter. It tastes and bakes the exact same. If you want to make it both vegan AND gluten free, that's definitely possible. I couldn't even tell a difference when I made it this way!
Chocolate pudding cake toppings
This cake is delicious on it's own, but to take it up a notch I definitely recommend topping the warm cake with ice cream. This can be any flavor, but vanilla is definitely my go-to when it comes to chocolate cake.
It can also be dusted with some extra cocoa powder, powdered sugar, or a shower of shaved chocolate.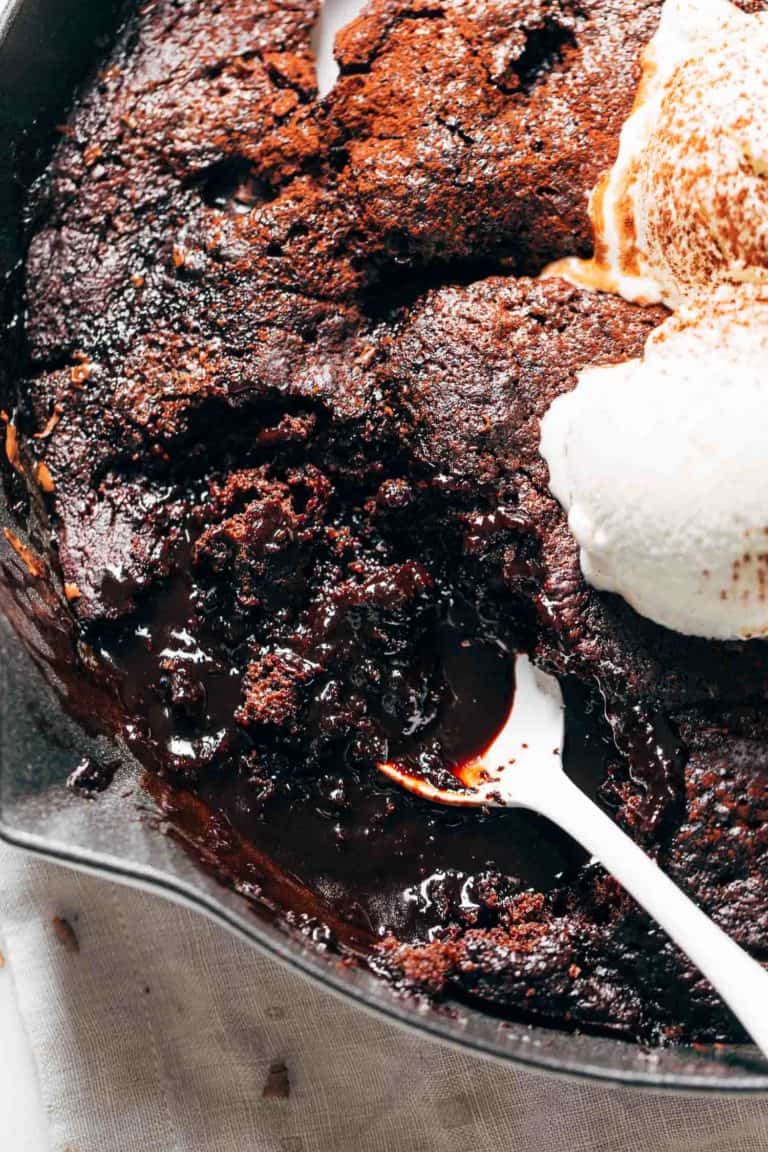 For more chocolate dessert recipes, check out my:
Make sure to tag me @butternutbakery on Instagram and comment below if you make this chocolate pudding cake. To pin this recipe and save it for later, you can use the button on the recipe card or on any of the photos above. Happy baking!
Print
Chocolate Pudding Cake
---
Description
This chocolate pudding cake is basically magic. Fluffy chocolate cake is baked with sugar, cocoa, and boiling hot water on top. As it bakes, the concoction turns into hot fudge and sinks to the bottom of the cake. So each bite has warm and moist chocolate cake with melty hot fudge! This can also be made traditional, gluten free, and/or vegan.
---
Chocolate Cake
1 cup (130g) all purpose flour or gluten free baking flour
1/2 cup (100g) light brown sugar, packed
1/3 cup (30g) dutch process cocoa powder
2 tsp baking powder
1 tsp instant coffee granules
1/4 tsp salt
3/4 cup milk (regular or plant-based)
1/4 cup unsalted butter, melted (regular or plant-based)
1 tsp vanilla extract
Hot Fudge
1/2 cup (100g) granulated sugar
1/2 cup (100g) light brown sugar, packed
1/4 cup (25g) dutch process cocoa
1 1/4 cup (295ml) boiling hot water
---
Instructions
Chocolate Cake
Preheat the oven to 350F and grease a 10″ oven-safe skillet. Set aside.
In a large mixing bowl, whisk together the flour, sugar, cocoa, baking powder, coffee granules, and salt.
In a separate bowl or measuring glass, combine the milk, melted butter, and vanilla. If the cold milk causes the butter to clump up, microwave the mixture for about 20 seconds to melt again.
Pour the wet ingredients into the dry ingredients and stir to combine.
Pour the batter into the skillet and spread it even. Set aside.
Hot Fudge
Add the sugars and cocoa powder to a bowl and combine using your hands. This is better than a whisk as you're able to break up any brown sugar clumps while mixing.
Sprinkle the sugar mixture on top of the cake batter and spread it even. Pour the boiling water on top. It should completely submerge the sugar mixture.
Carefully transfer the skillet to the oven and bake for 25-30 minutes. The cake will appear a bit jiggly but that's perfectly fine.
Allow the cake to cool for about 20 minutes. Then top with ice cream and serve right away. Enjoy!
Equipment
Prep Time: 20 minutes
Cook Time: 30 minutes
Category: Dessert
Method: Baking
Cuisine: American
Keywords: chocolate pudding cake, hot fudge cake, hot fudge chocolate pudding cake, chocolate skillet cake
Recipe Card powered by